"Autumn carries more gold in its pocket than all the other seasons." Jim Bishop couldn't have said it more perfectly! I pulled a little gold out of Autumn's pocket and used it as the inspiration for this year's Golden Harvest Fall Home Tour.
Many of you know I grew up in sunny, Southern California. Falls were different from the rest of the country. Our trees lost their leaves around Christmastime and the colors weren't nearly as magical as the rest of the country. I didn't experience my first "true fall" until I attended collage in a tiny little town in Idaho. I will never forget the feeling that flooded over me when my eyes beheld golden fields of wheat as far as the eye could see. They were in full harvest right as the leaves started changing into vibrant colors. Tears filled my eyes as I took in the absolute beauty that surrounded me. The crisp blue sky met a brilliant sea of never-ending gold. The breeze moved the wheat like waves in the ocean. This memory became etched in my heart and soul. Autumn was forever changed for me that year. I never looked at it the same again.
So this year, I am bringing the magic of my first golden fall into our home. Living in Arizona, my children have never experienced the magic of a golden fall harvest. I hope that our home gives them a little taste of that magic I got to experience all those years ago.
To help create this gold harvest look, I turned to my dear friend and creative genius, Daria, owner and artist of Hot Skwash. You may remember the gorgeous velvet pumpkins I have featured in past fall home tours. They are exquisite! Each pumpkin is a work of art and is signed by Daria on the real pumpkin stem. Daria and her team created white and gold pumpkins and velvety crystal pomegranates to help me design this year's golden tour. You can start your own collection by visiting her site Hot Skwash. There you will find countless color options and many specialty pumpkins featuring designer fabrics and one of a kind accents.
***As a special thank you to you, my loyal readers,  we want to help one of you build your own Hot Skwash collection. I will be choosing one reader to receive a trio of velvet pumpkins. All you need to do to be considered is leave a comment at the end of this blog post! I will announce the winner in next week's newsletter (which goes out on Thursday subscribe here).***
Thank you from the bottom of my heart for visiting my site, for all of your kind comments here and on social media. I have said it before, and I will say it again, I have the best supporters around!
Now I hope you enjoy this Golden Harvest Fall Home Tour!
* This post is done in partnership with Hot Skwash and contains affiliate links. Read my full disclosure policy here.
Lace Top (my favorite top ever!!!) | White Pants | White Gold Sandals (similar white studded heels)
Golden Harvest Fall Home Tour
Entryway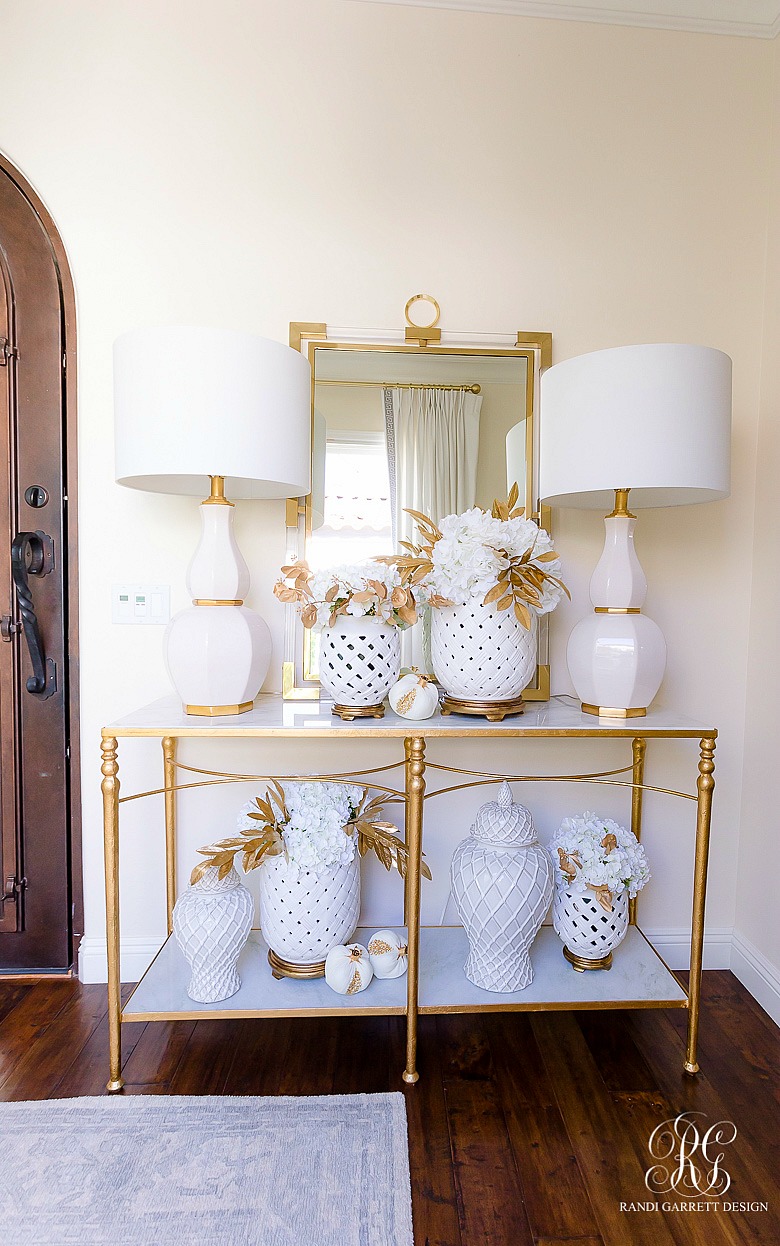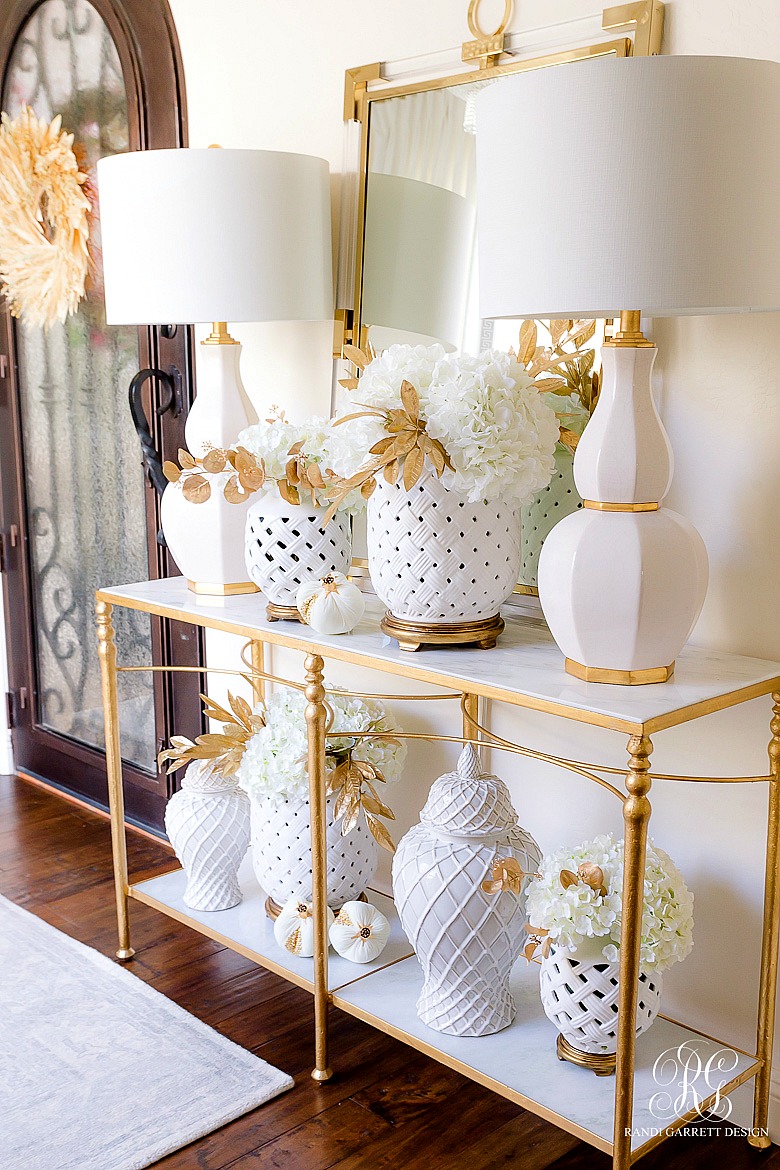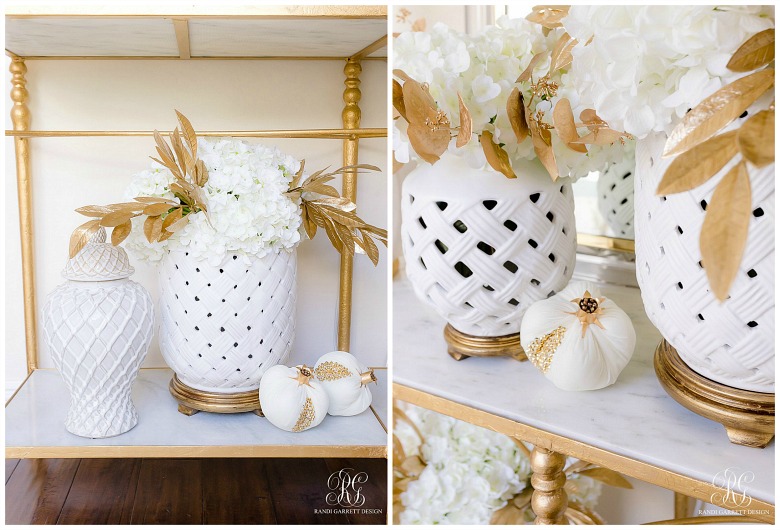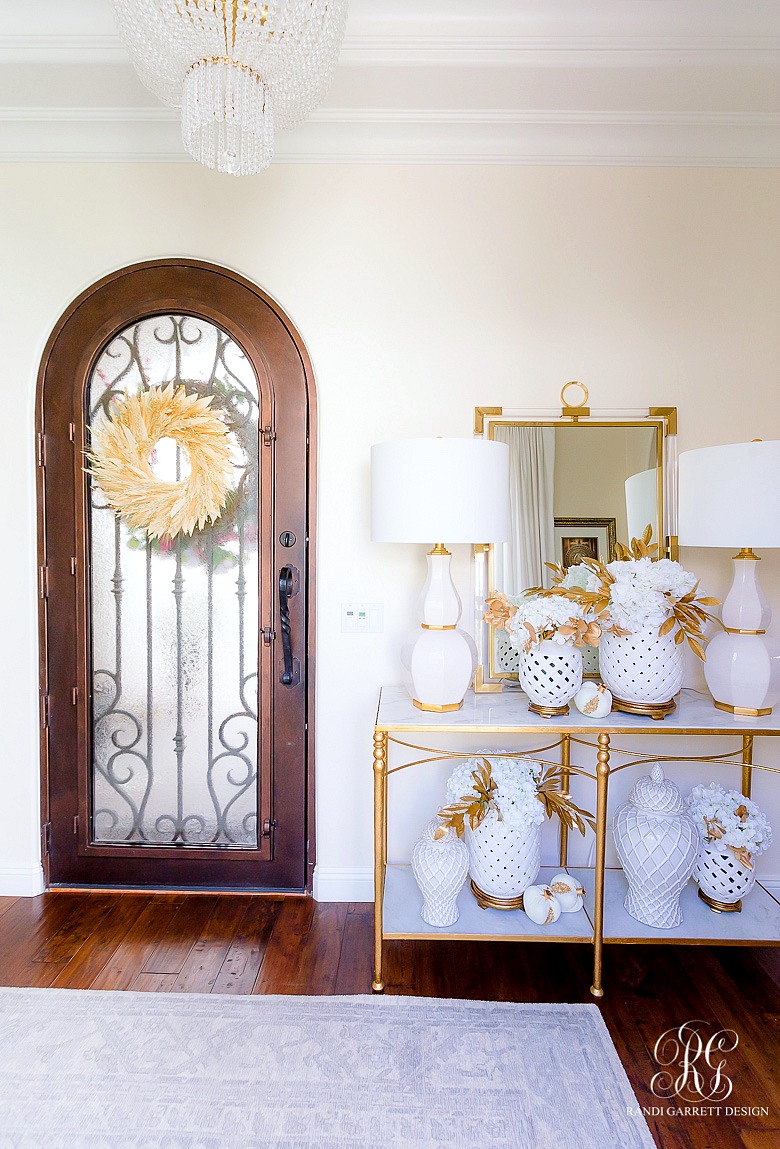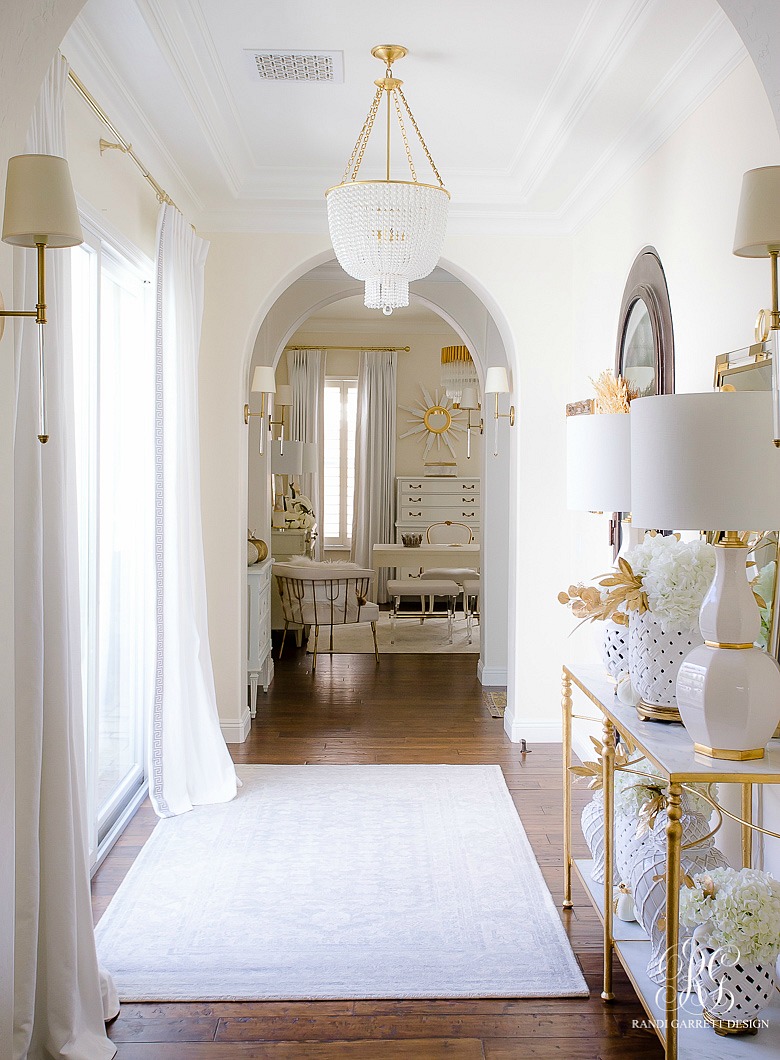 Entry Table (similar) | Entry Mirror | White Gold Lamps | Vases (similar) | White Ginger Jars  (similar) | Ginger Jar Stands | Gold Rub and Buff | Faux White Hydrangeas | Gold Leave Picks | Gold Eucalyptus |Wheat Wreath | Chandelier | Rug | Sconces |White Linen Drapes





Our entryway features lots of my favorite white ginger jars and vases filled with these stunning faux hydrangeas! They are the most realistic ones I've found! To add to the magic, I added gold leaf picks (from my Christmas stash) and gold eucalyptus to the hydrangeas. You can also add more of a pop by taking a ginger jar stand and using Rub and Buff (antique gold color) to make it gold. Then place a white vase or ginger jar on top. So glam!
A beautiful wheat wreath, a simple reminder of those golden wheat fields, hangs on the front door with a command hook.
Kitchen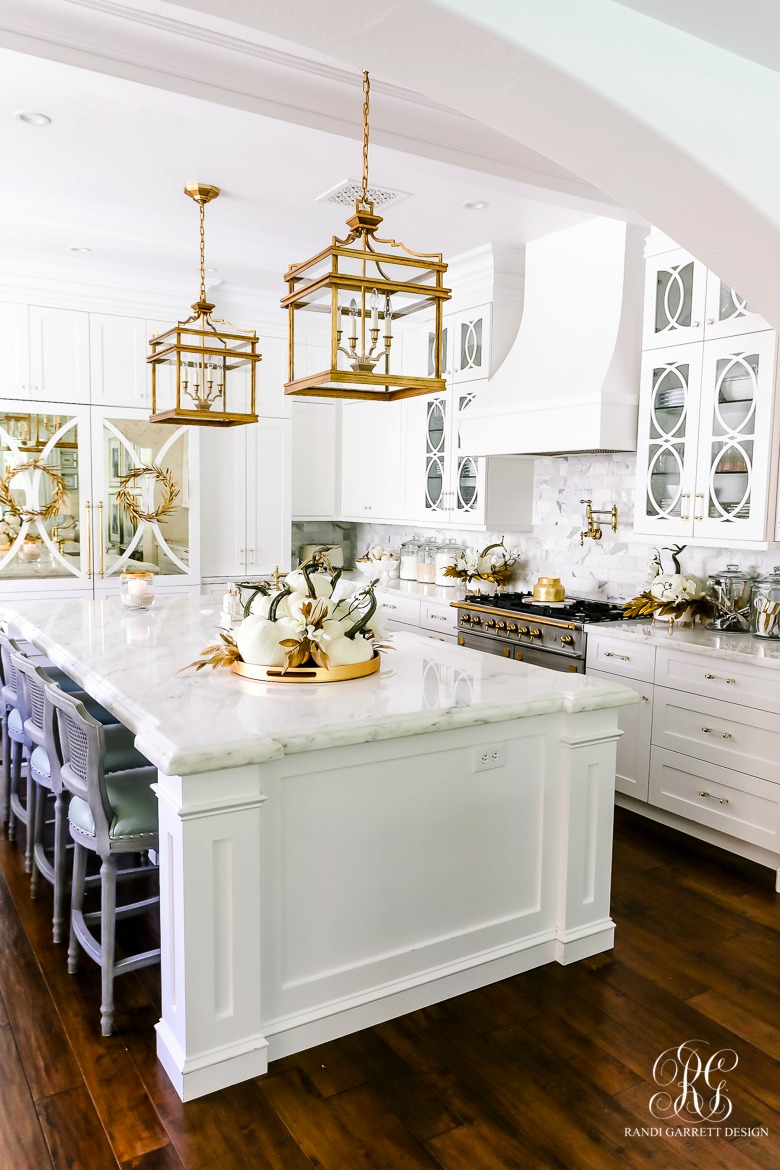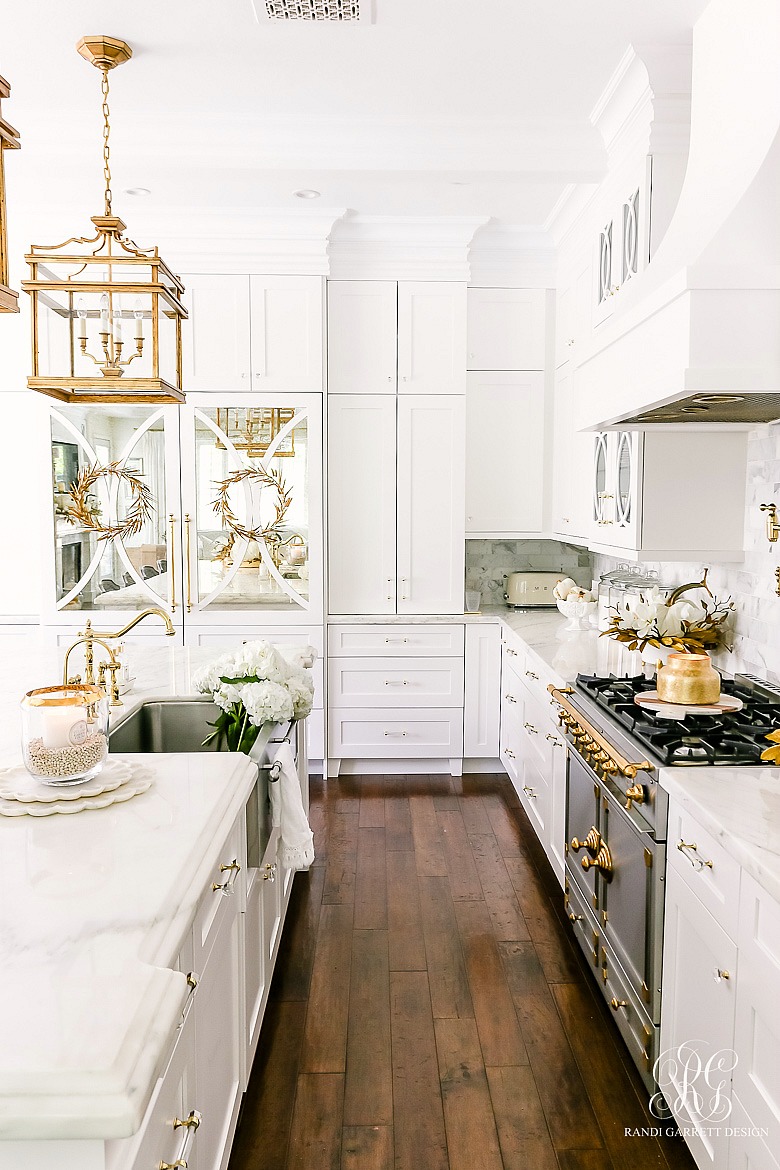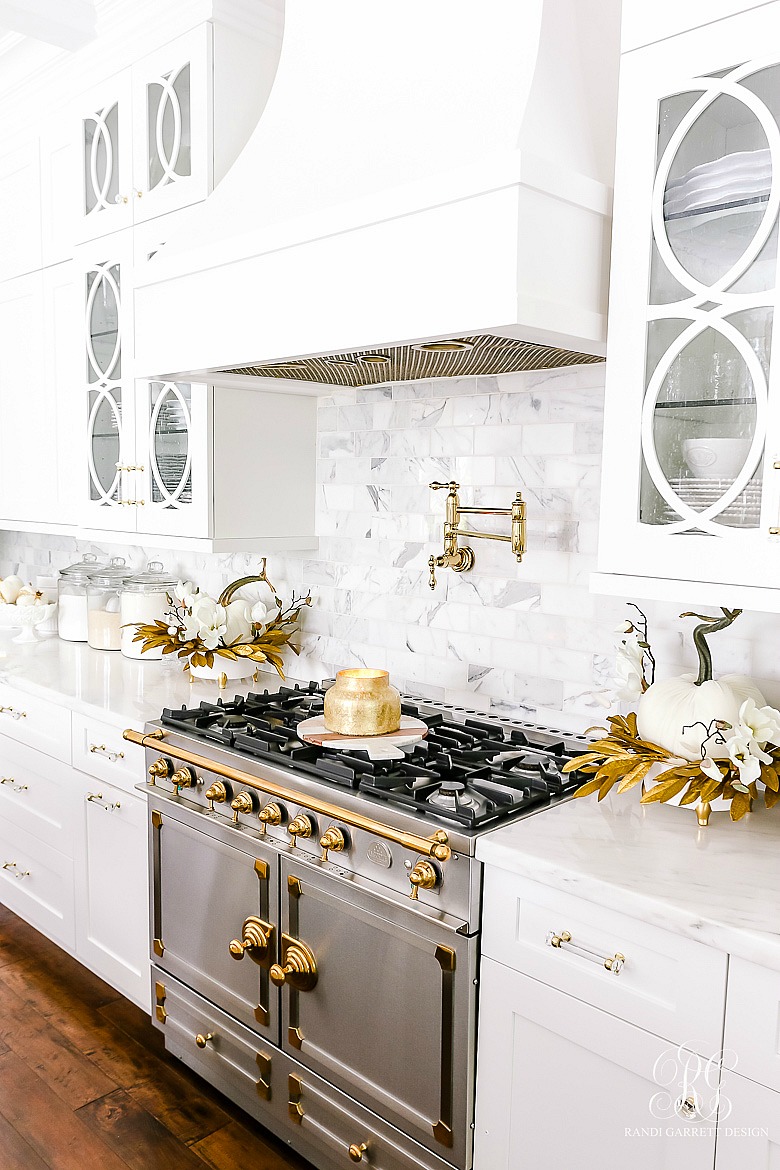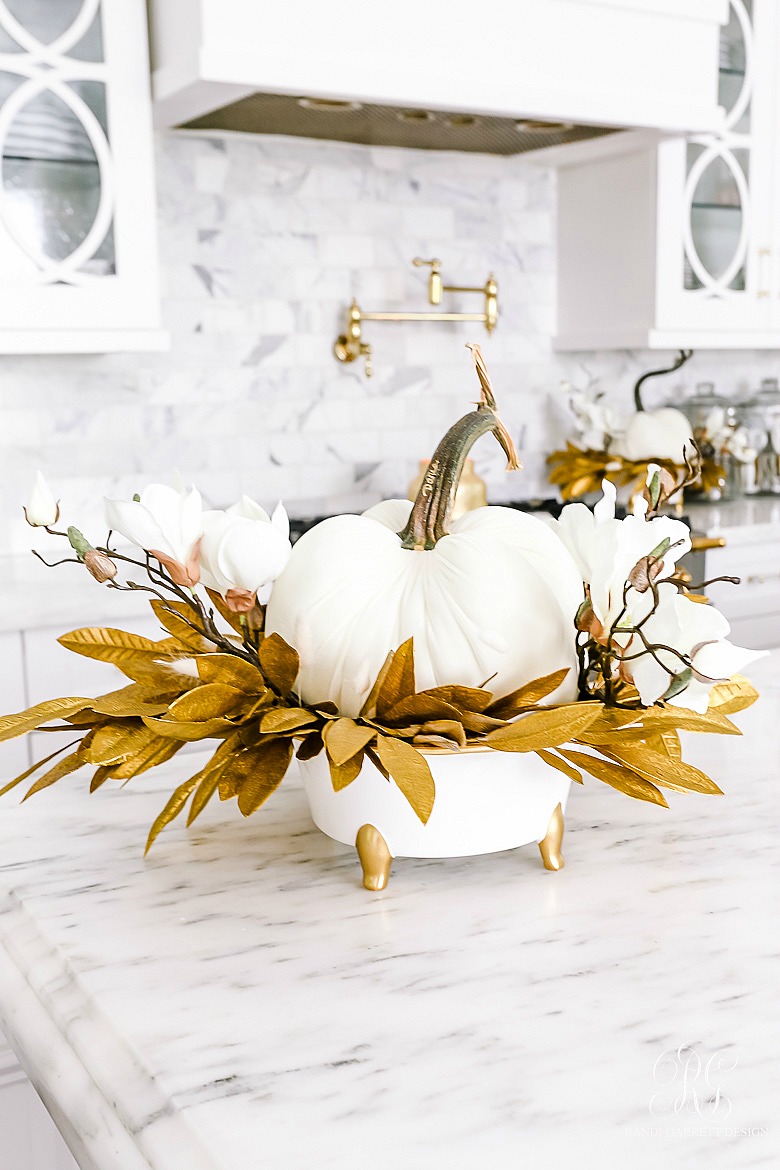 Gold and White Footed Bowl | Gold Leaf Garland or Gold Leaf Stems | Velvet Pumpkin | Faux Magnolia Stem | White Bunny Tail Grass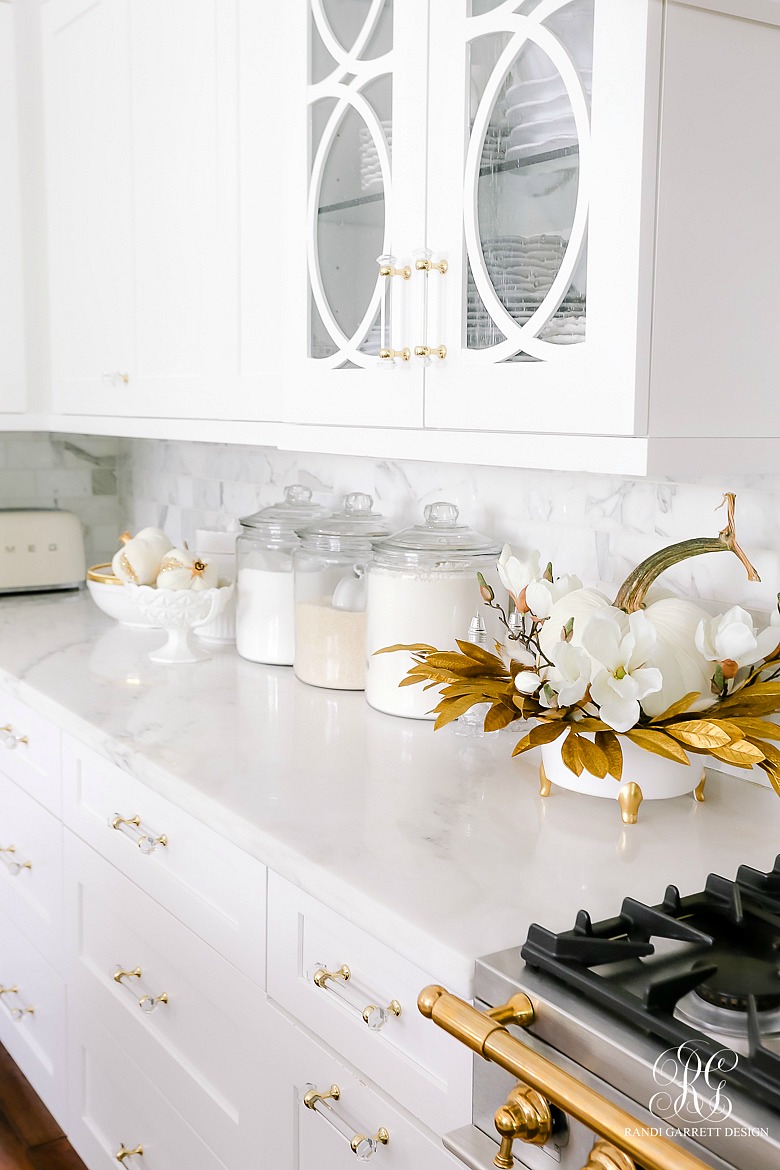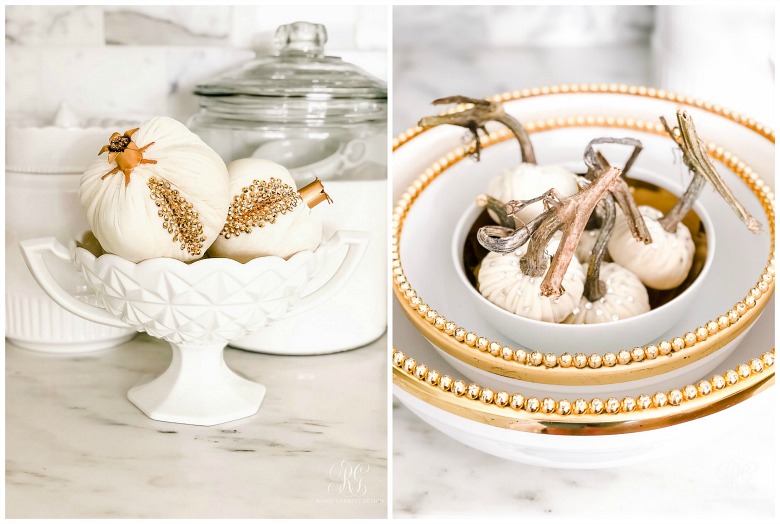 White Bowl | White Pomegranates | White Gold Bowls  | Small White and Gold Bowl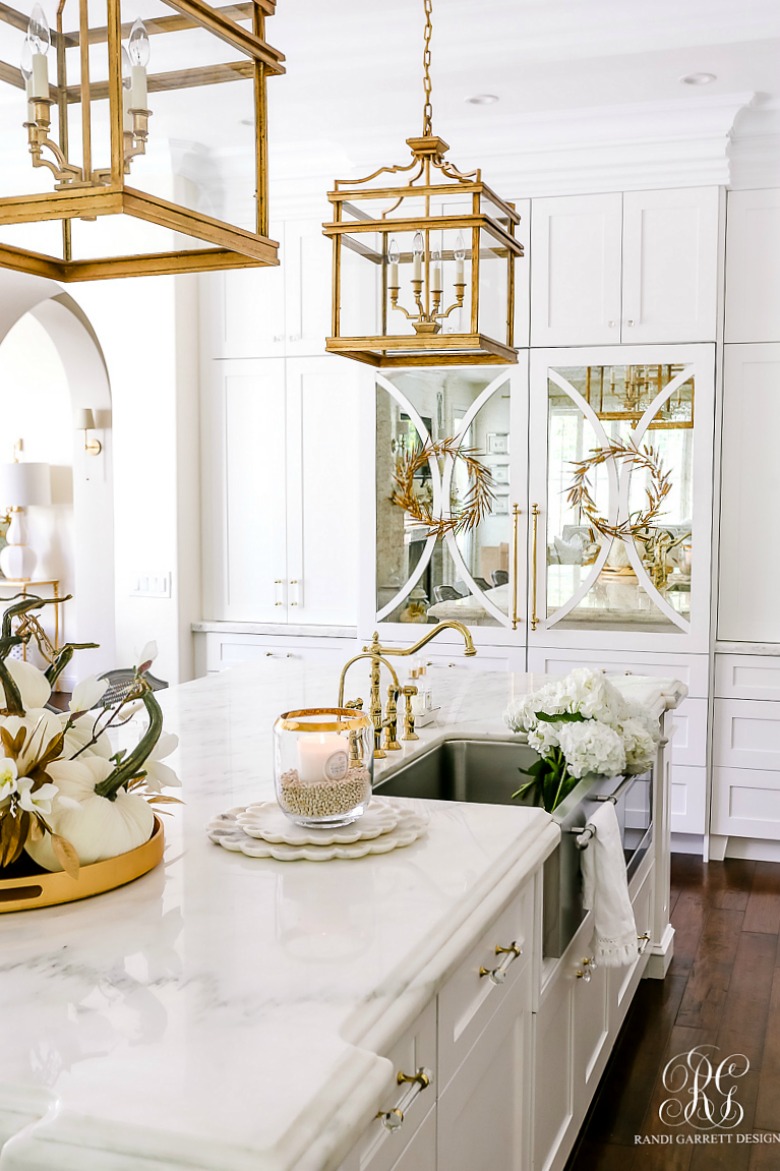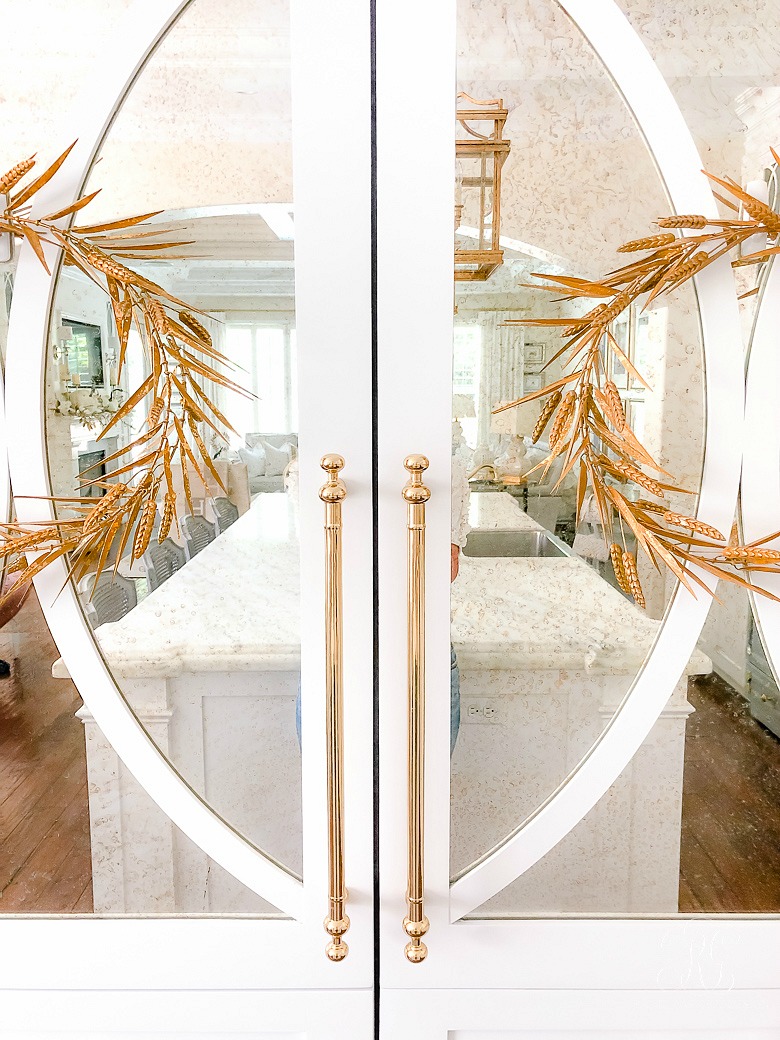 Gold Wheat Wreaths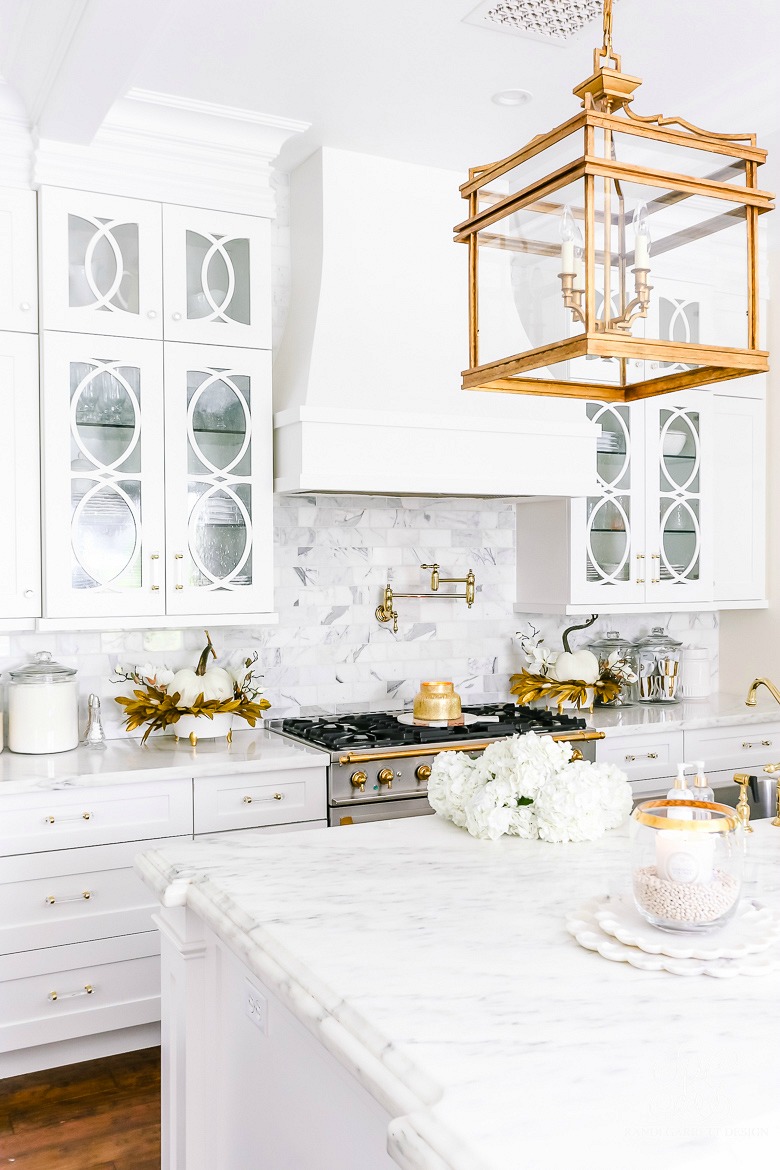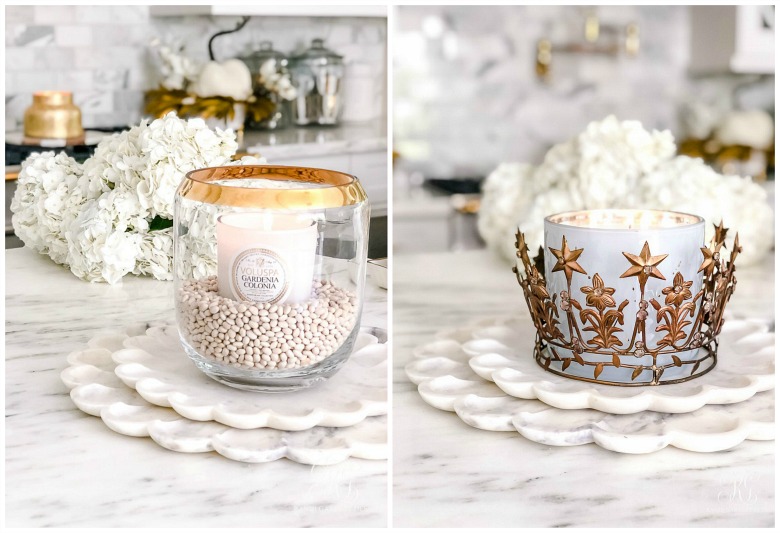 Marble Tray | Gold Rimmed Hurricane | Gardenia Candle | Dried Navy Beans | Golden Crown | Vanilla Candle (36 oz.)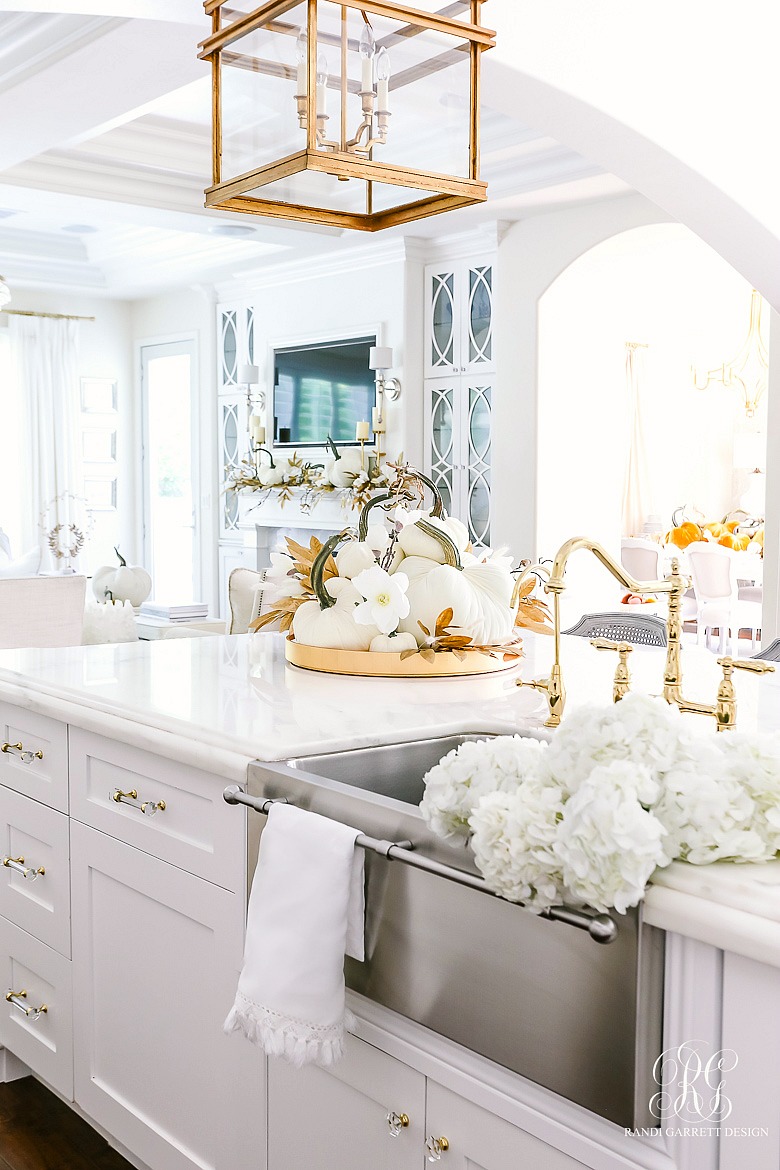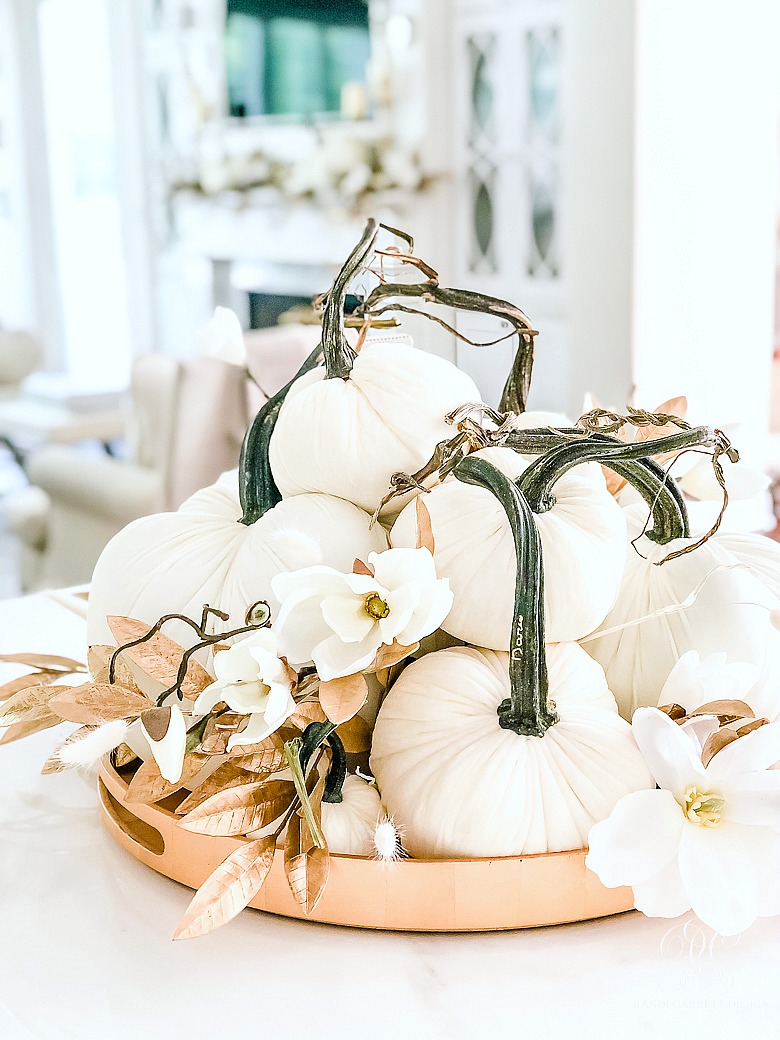 Hot Skwash Pumpkins | Gold Tray | Gold Leave Stems | Magnolia Stems | Bunny Tail Grass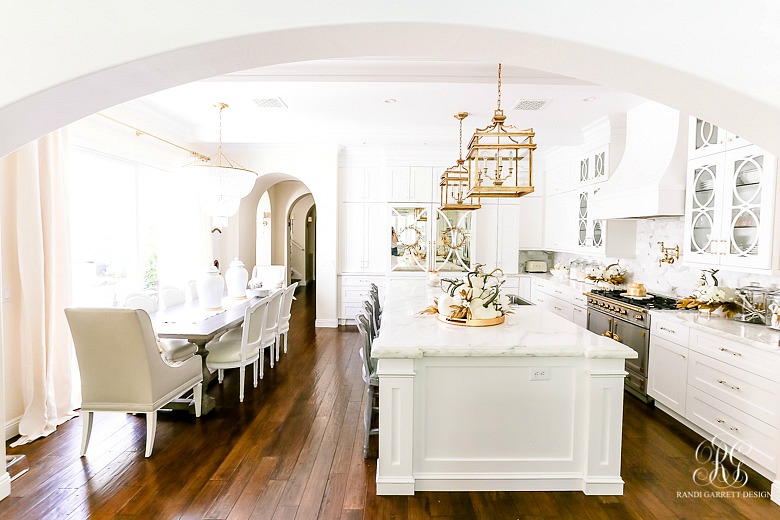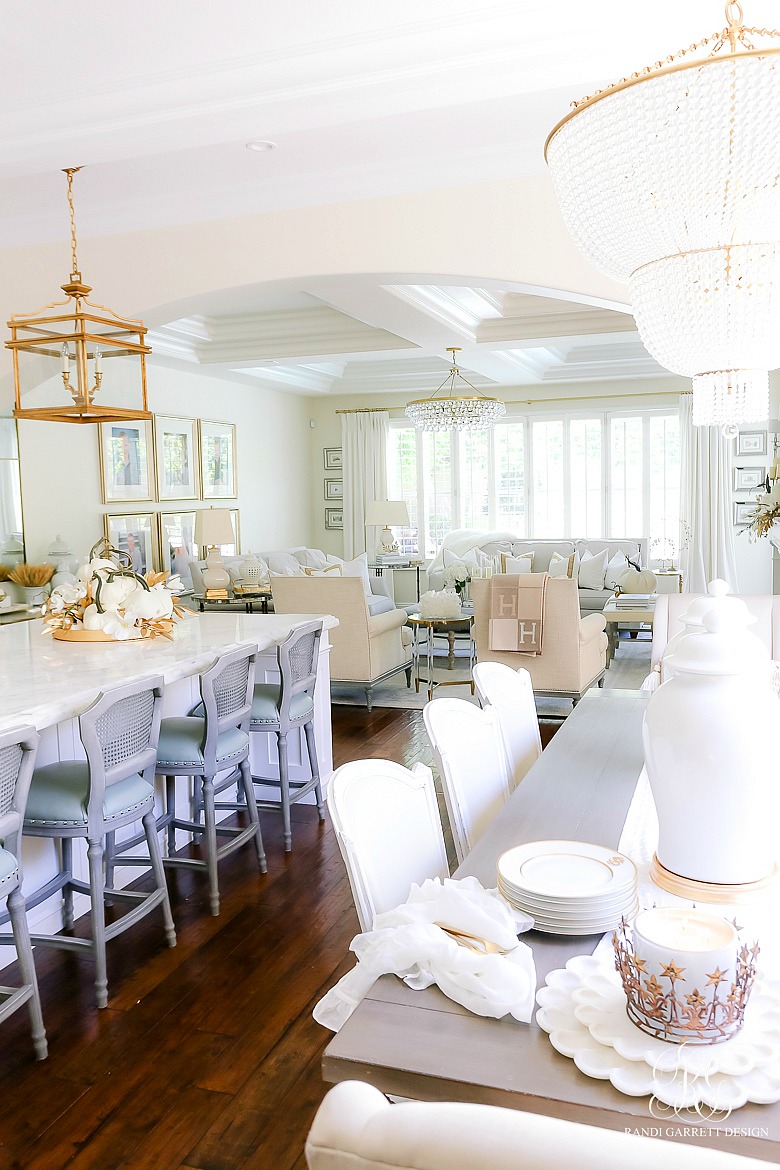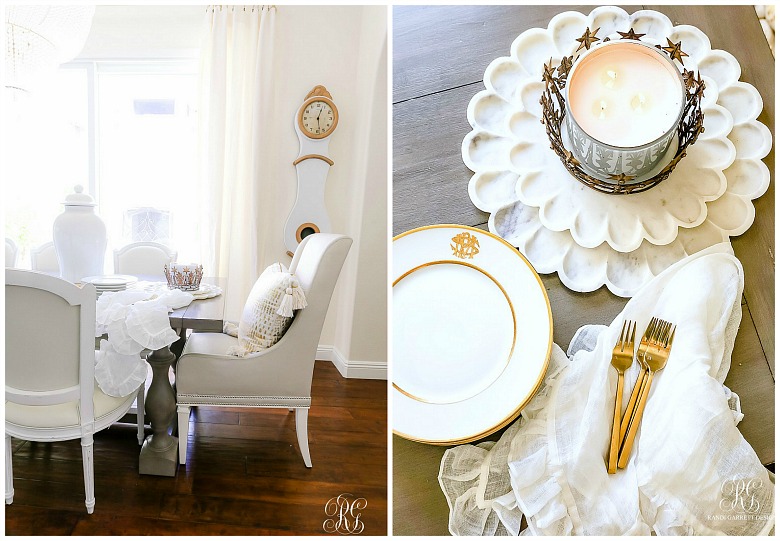 Kitchen Lighting and Sources click here | Gold Candle on Stove | Round Marble Wood Cutting Board | Gold Wheat Wreaths 








In the kitchen, I flanked the range with gold footed bowls filled with an ivory velvet pumpkin, gold stems, faux magnolia picks and a few bunny grass stems. This will give your countertop an elegant look for Fall!
On the island I filled my favorite gold tray with a pile of velvet pumpkins. Next I tucked some faux magnolia stems, gold leaves and bunny grass stems into the pumpkins. It's the most elegant pile of pumpkins ever!
To dress up the fridge, I hung two gold wheat wreaths with a command hook. I used these last Fall as accents to my candles. I love them for Fall!!! They would also be fabulous hung on a door, window or above your stove.
Candles are the quintessential, warm up your home accessory! Give them a glam look by placing them on a pretty marble tray. Place them inside a gorgeous hurricane or set a beautiful gold candle on a marble cutting board.
Family Room

Similar Lucite Tray | Faux Hydrangeas | White and Gold Vase | Marble Lidded Box | Gardenia Candle | Mercury Glass Hurricanes | Beads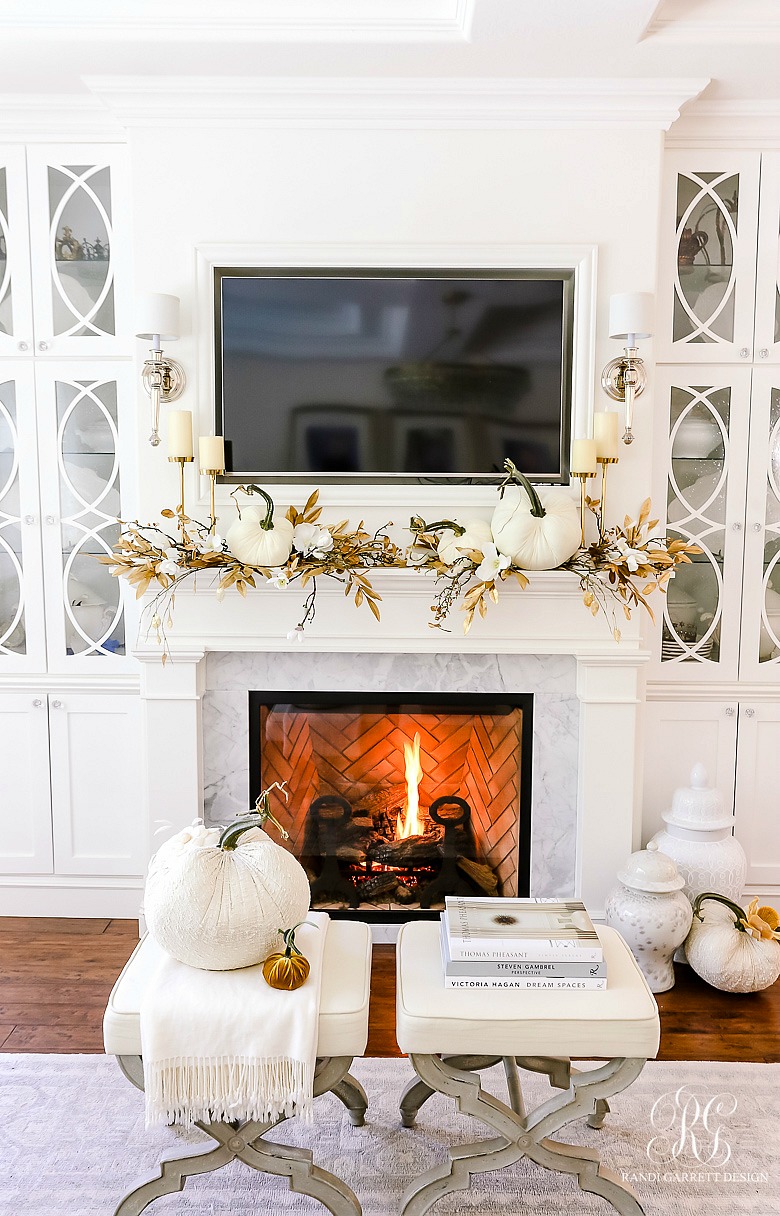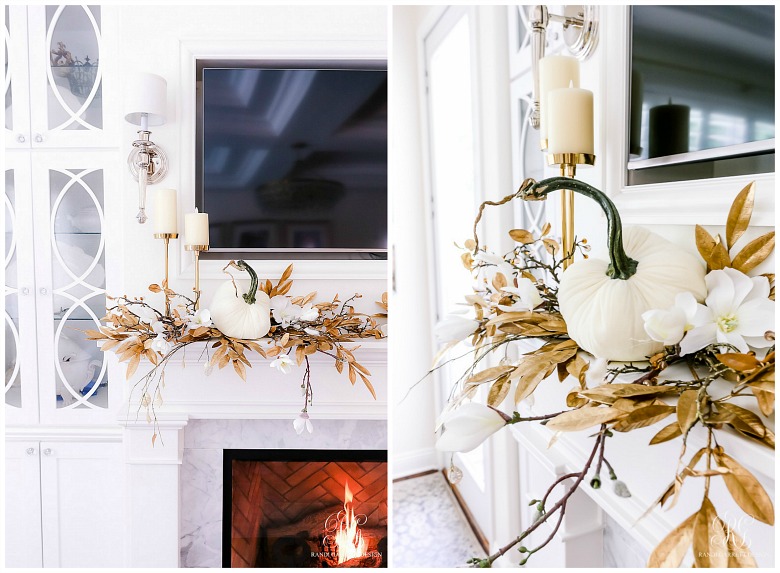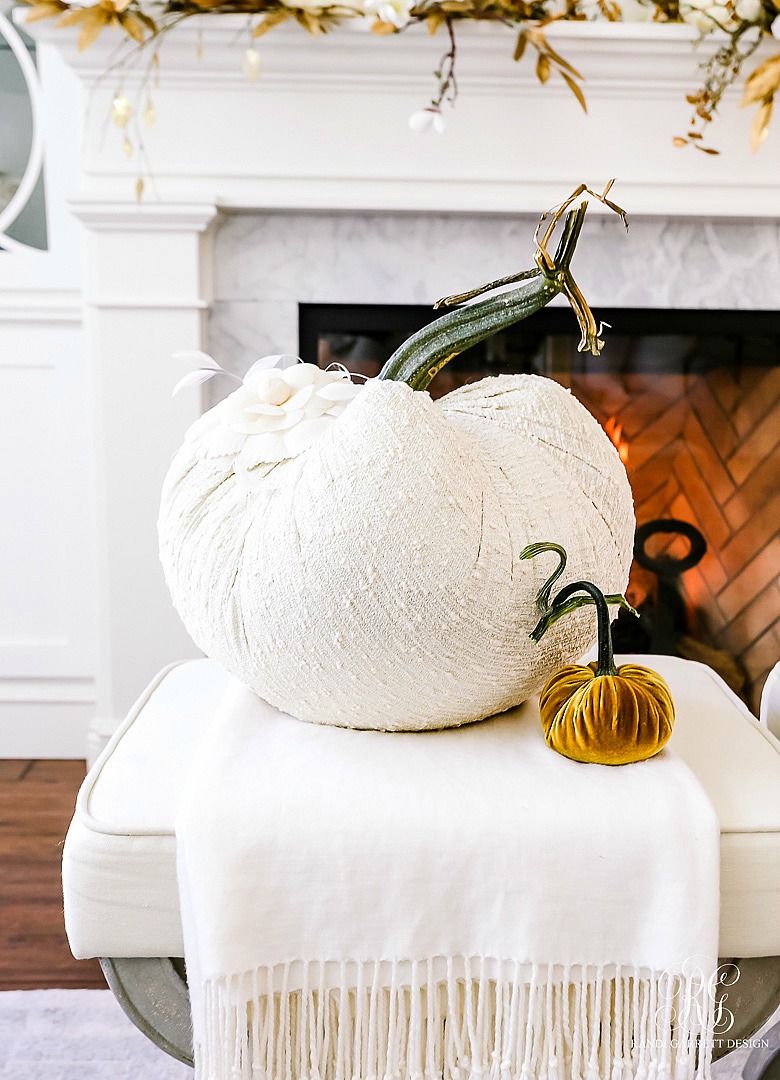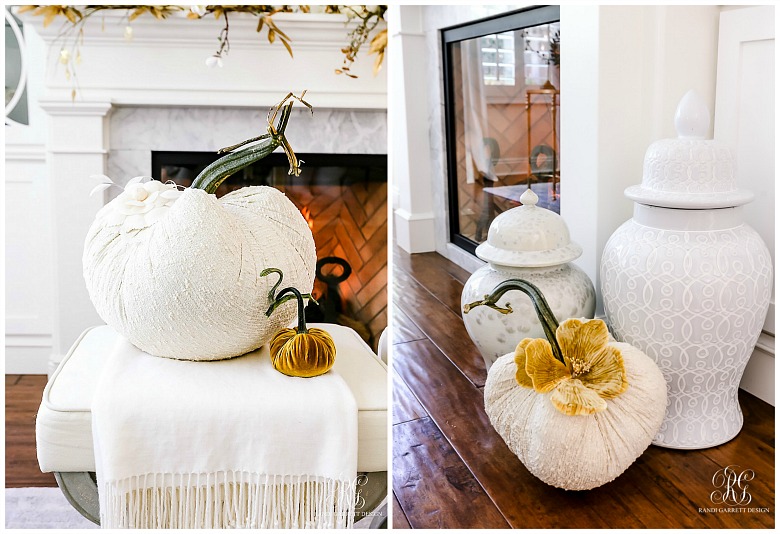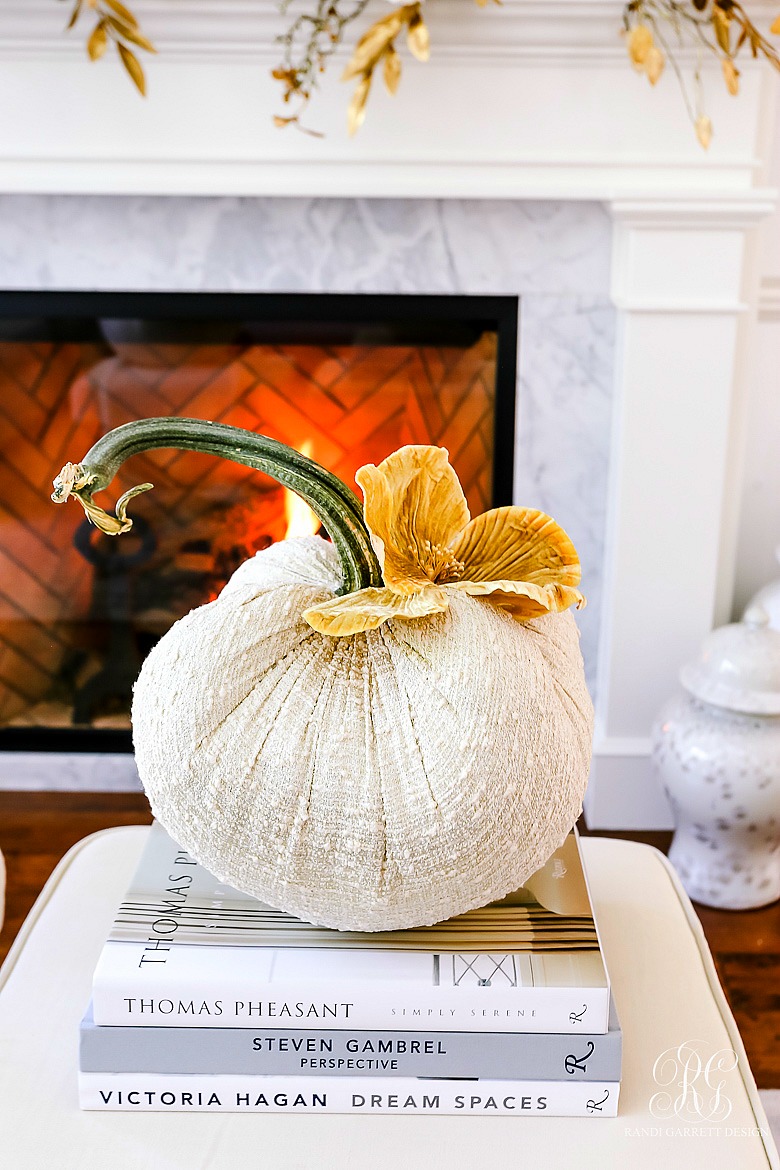 Daria created these specialty pumpkins for me that mimic a gorgeous Chanel handbag. My jaw hit the floor when they arrived! One features a beautiful cream colored flower and one a vintage gold velvet flower. These are piece I will treasure for a lifetime.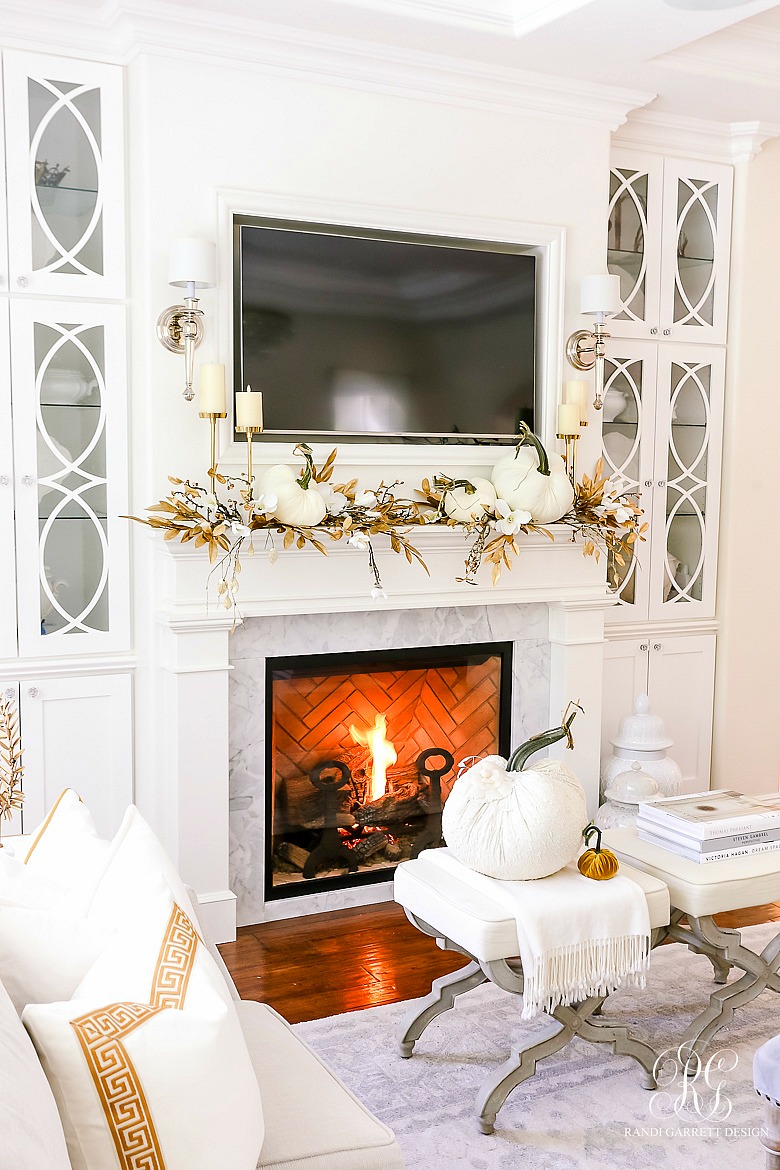 To Recreate the Mantel
You will need:
First put the pumpkins on the mantel. Next tuck in the gold leaf stem under the pumpkins. Clip the stem on the gold branches. Nestle the  under and in between the pumpkins and leaf stems. Trim the stems on the faux magnolias. Push them under the pumpkins and into the gold branches. Finally place the dollar leaf stems on each side of the mantel, draping down. SO simple and so elegant!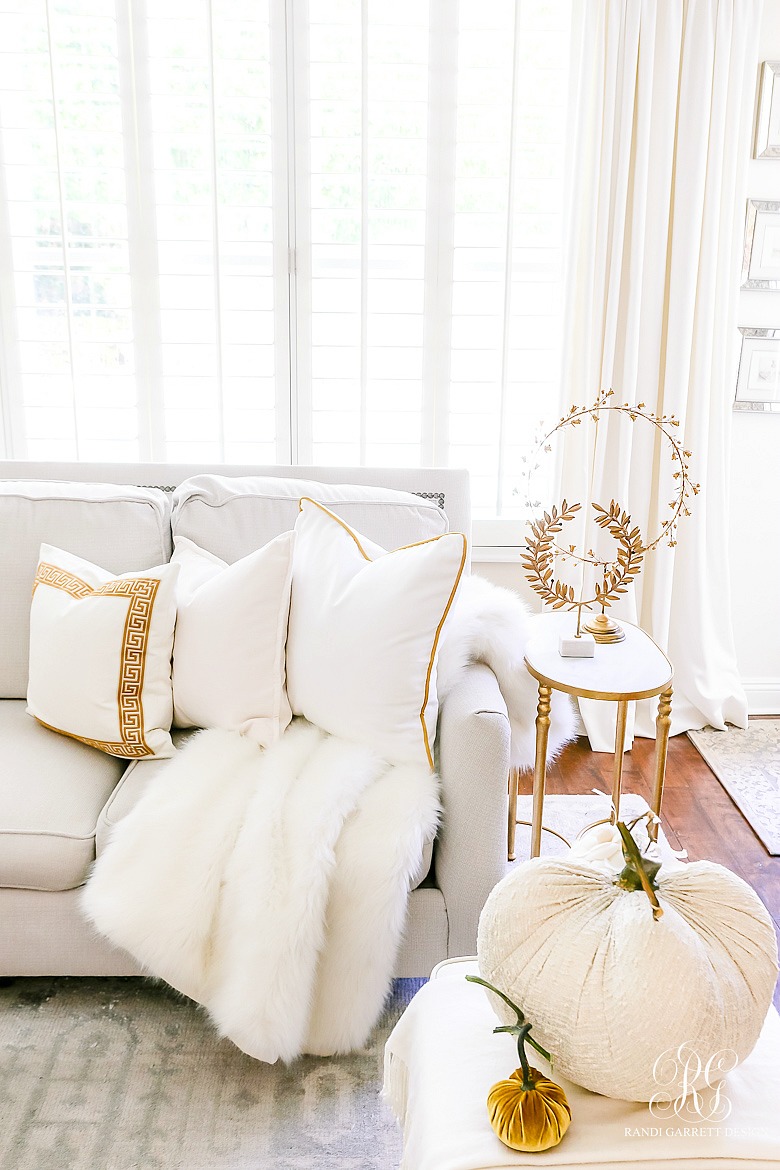 Gold Greek Key Pillow (20″) | Ivory Velvet Pillow (20″) | Velvet Pillow with Gold Piping (22″) | Fur Throw | Gold Laurel Wreath Stand (similar more affordable option) | Gold Leaf Stand | Marble Side Table | Ivory Fringe Throw | Coffee Table Books

Mirrored Side Table | Selenite Votives |White and Gold Lamp | Design Books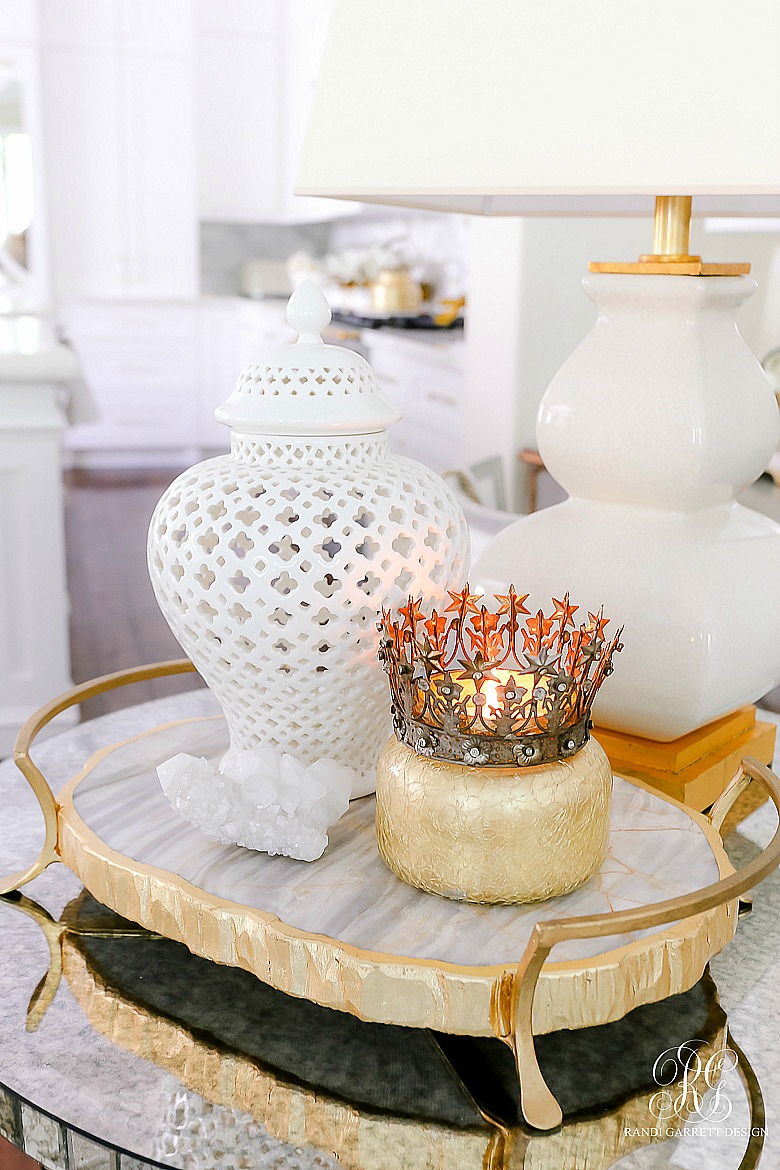 Gold Marble Tray | Lattice Ginger Jar | Gold Candle | Crown |White Gold Lamp | Quartz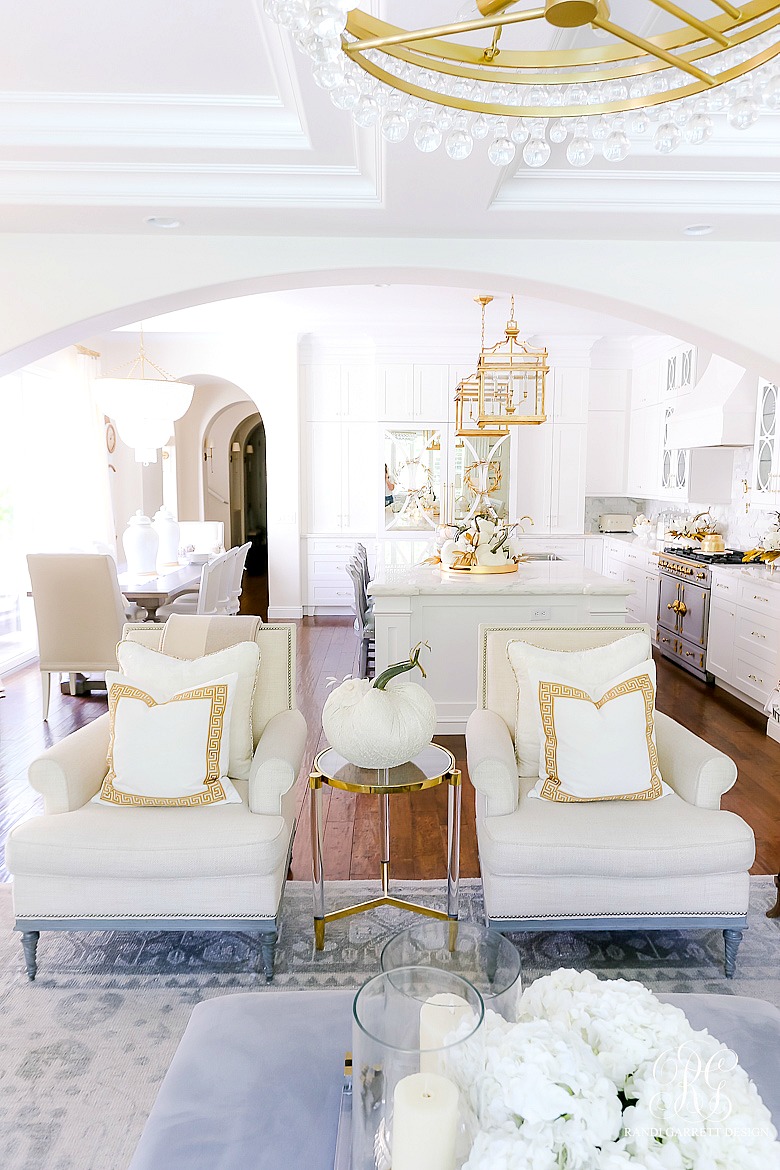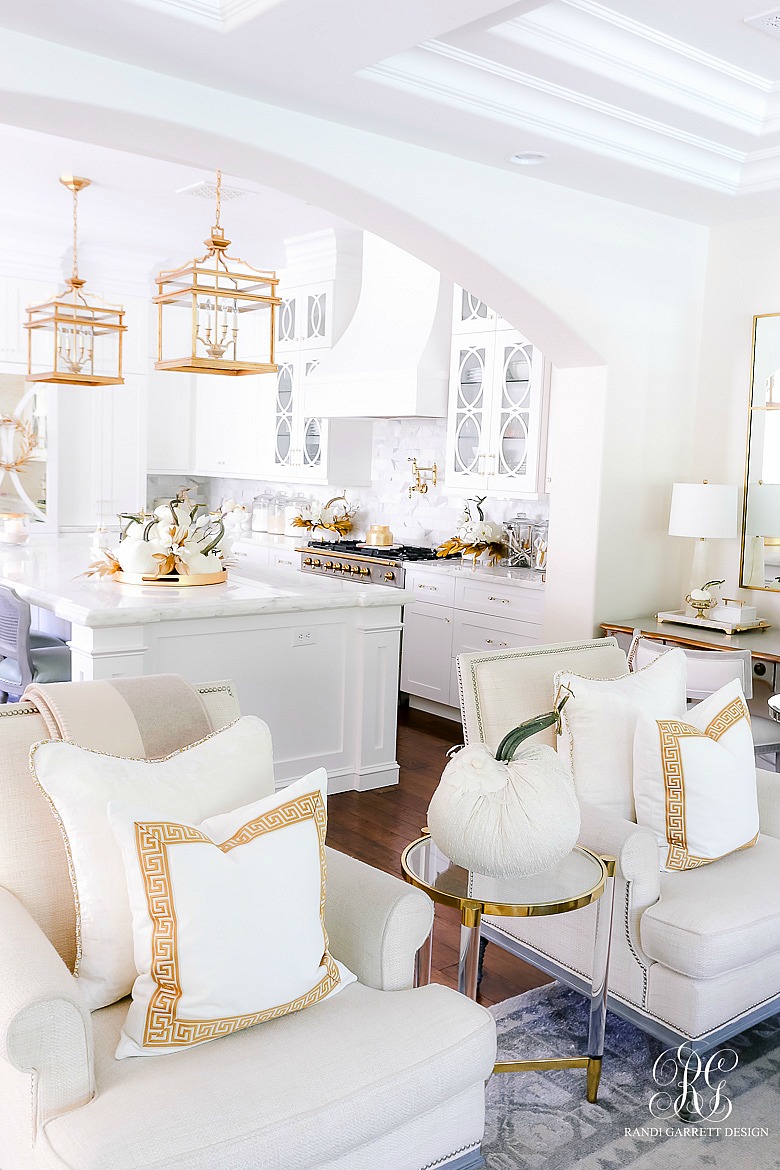 Club Chairs | Lucite Side Table | Ivory Bouchle Pumpkin | Velvet Gold Beaded Pillows | Gold Greek Key Pillows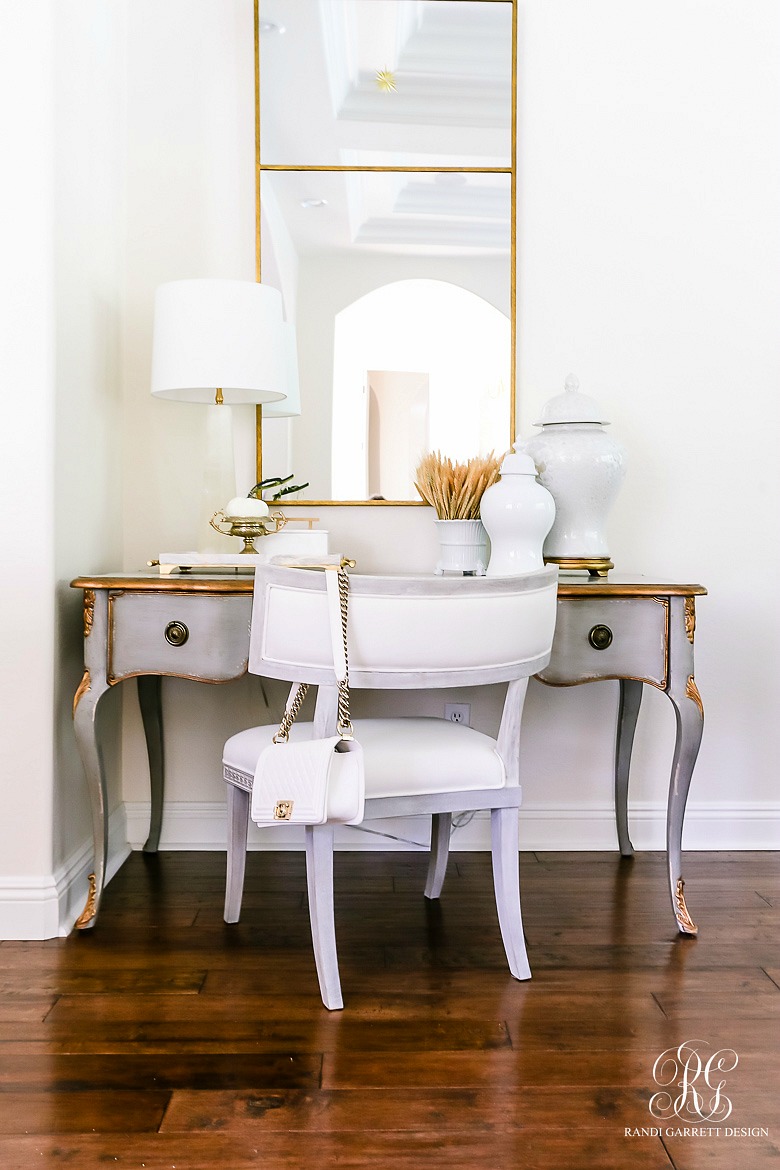 Desk | Lamp | White Footed Planter | Wheat | Chair | Similar Chanel Style Purse | White Ginger Jar | Large Ginger Jar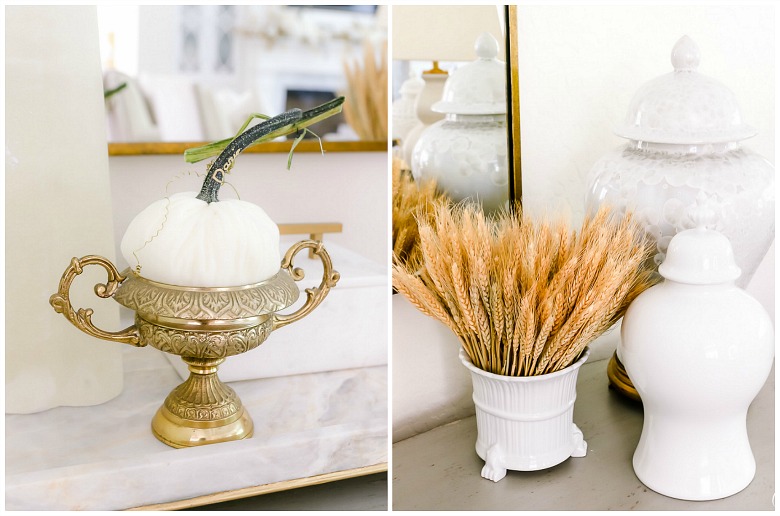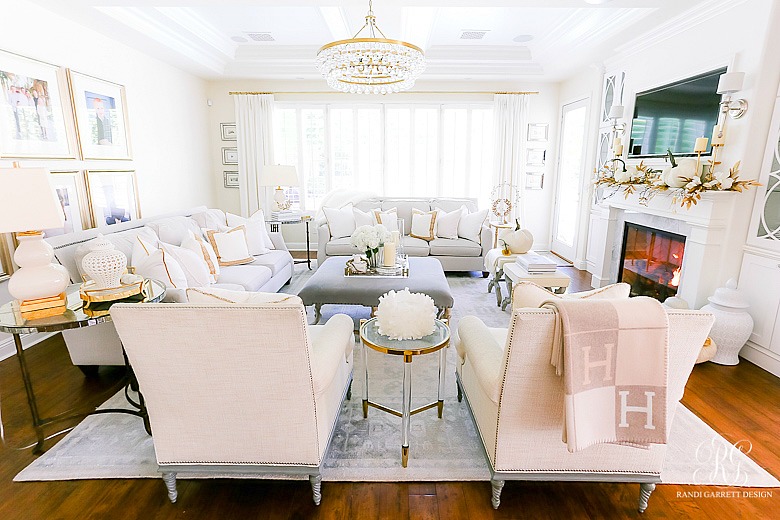 Living Room Sources click here | H Throw  (similar) | Gold Greek Key Pillows | Gold Piped Velvet Pillows 









My Office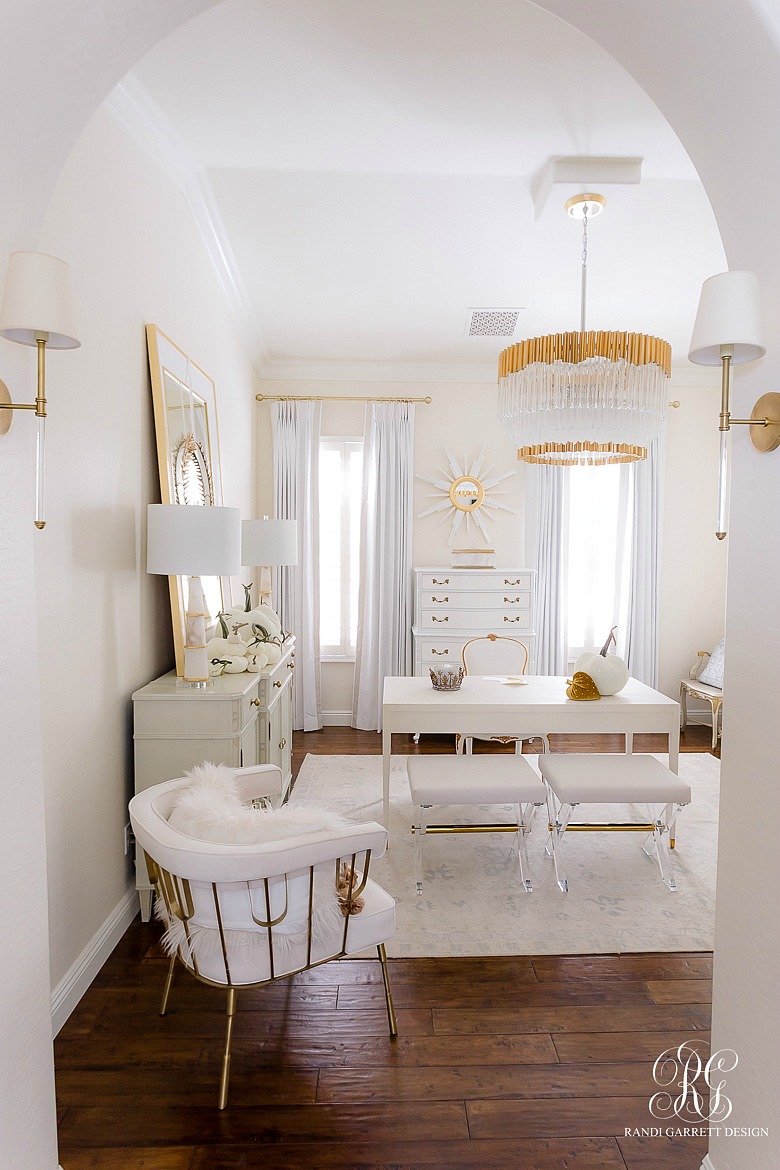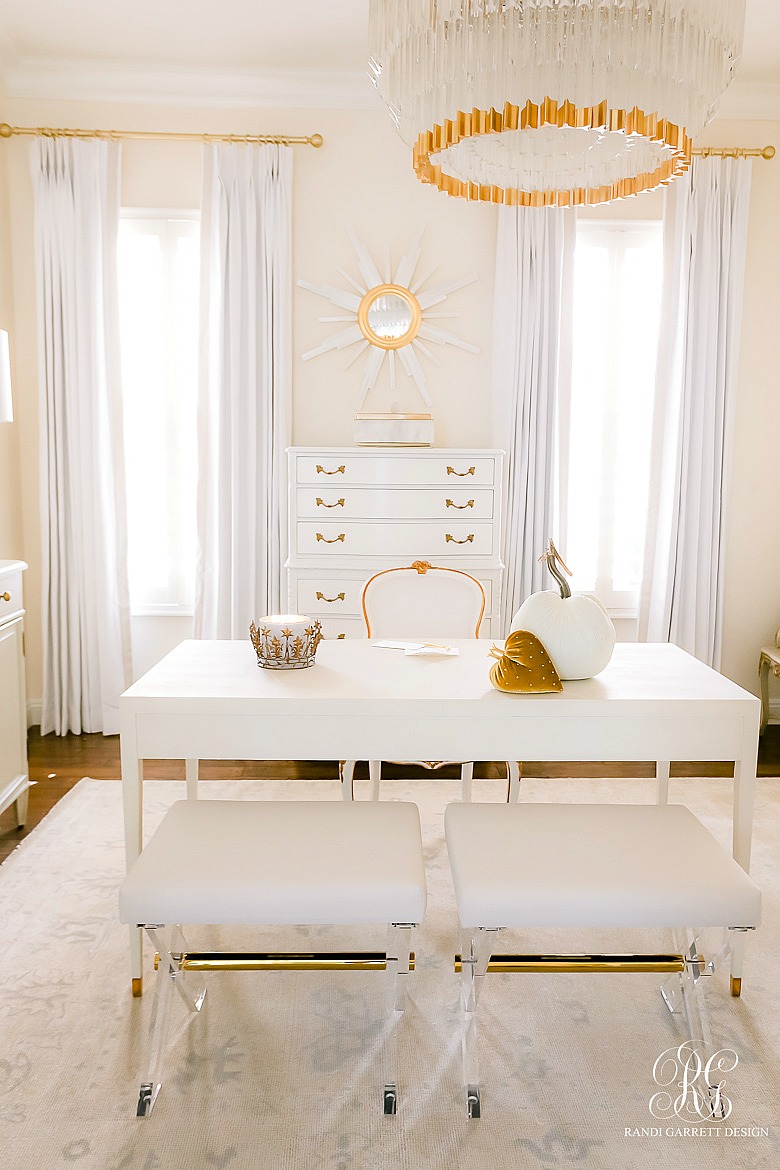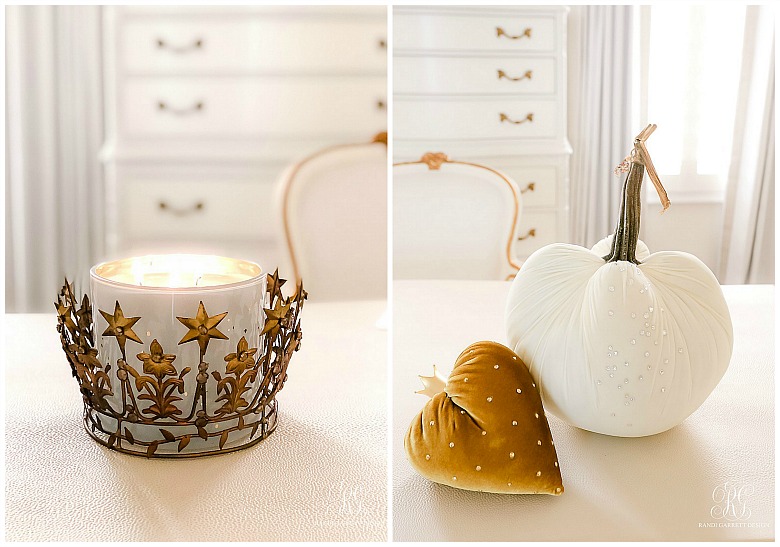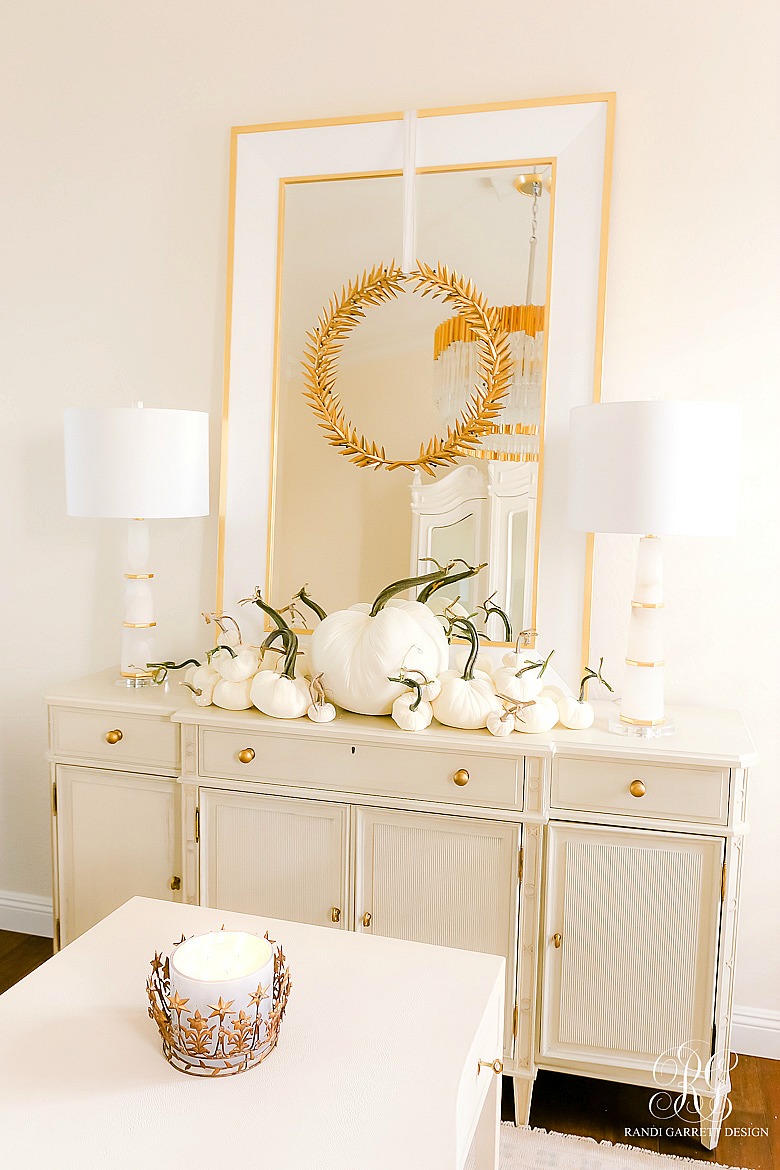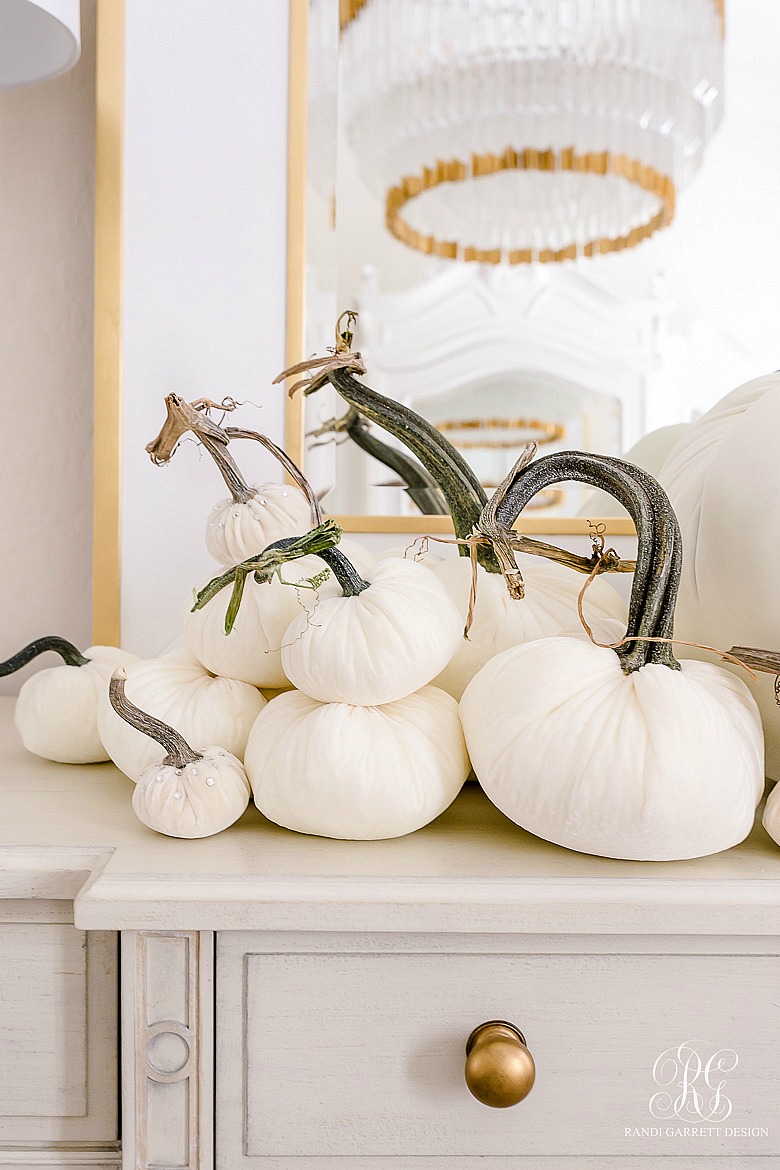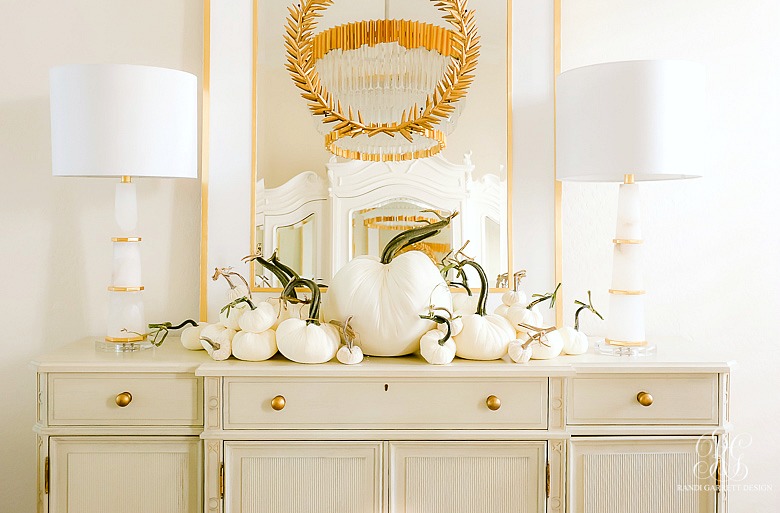 For a detailed list of my office sources click here | Ivory Velvet Pumpkins | Gold Heart | Gold Wreath | Alabaster Lamps



Den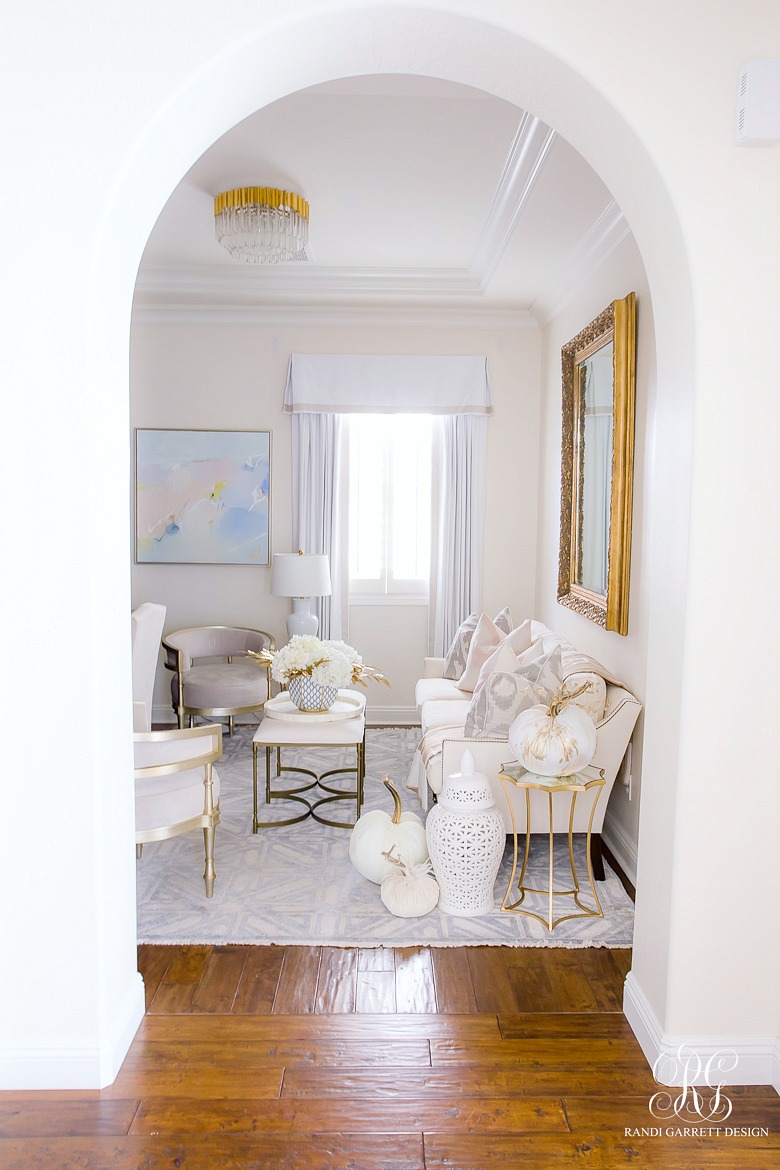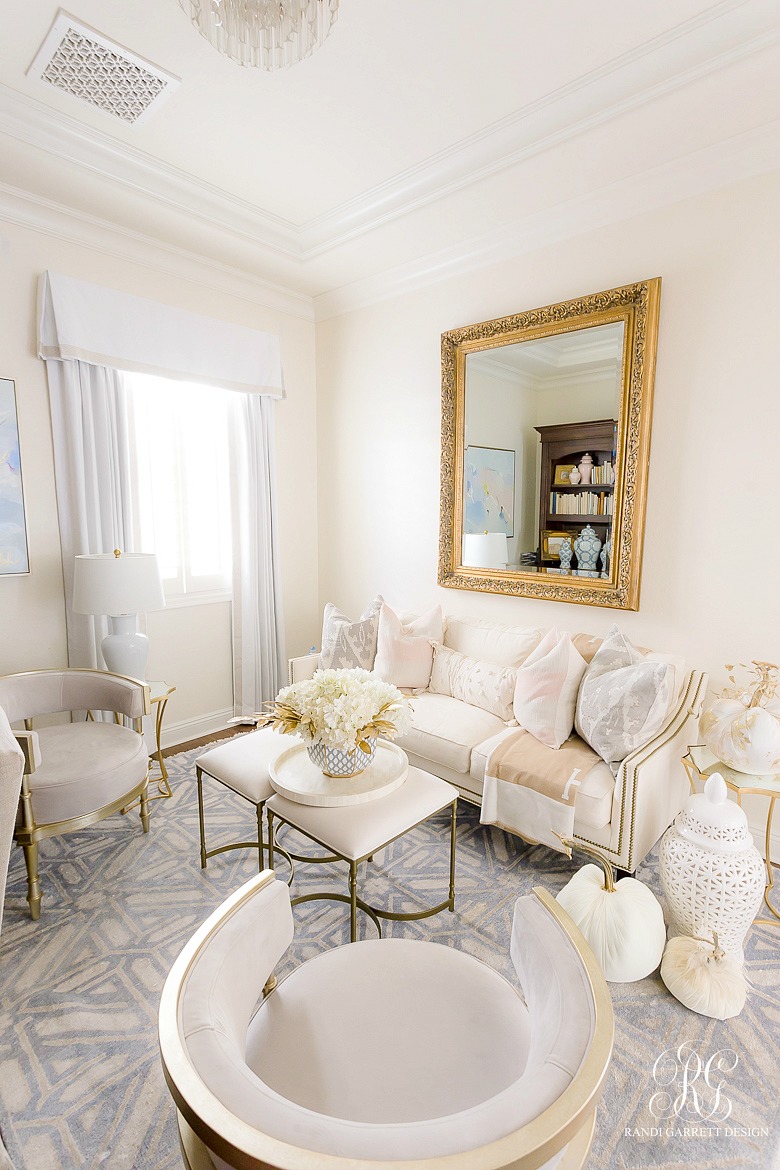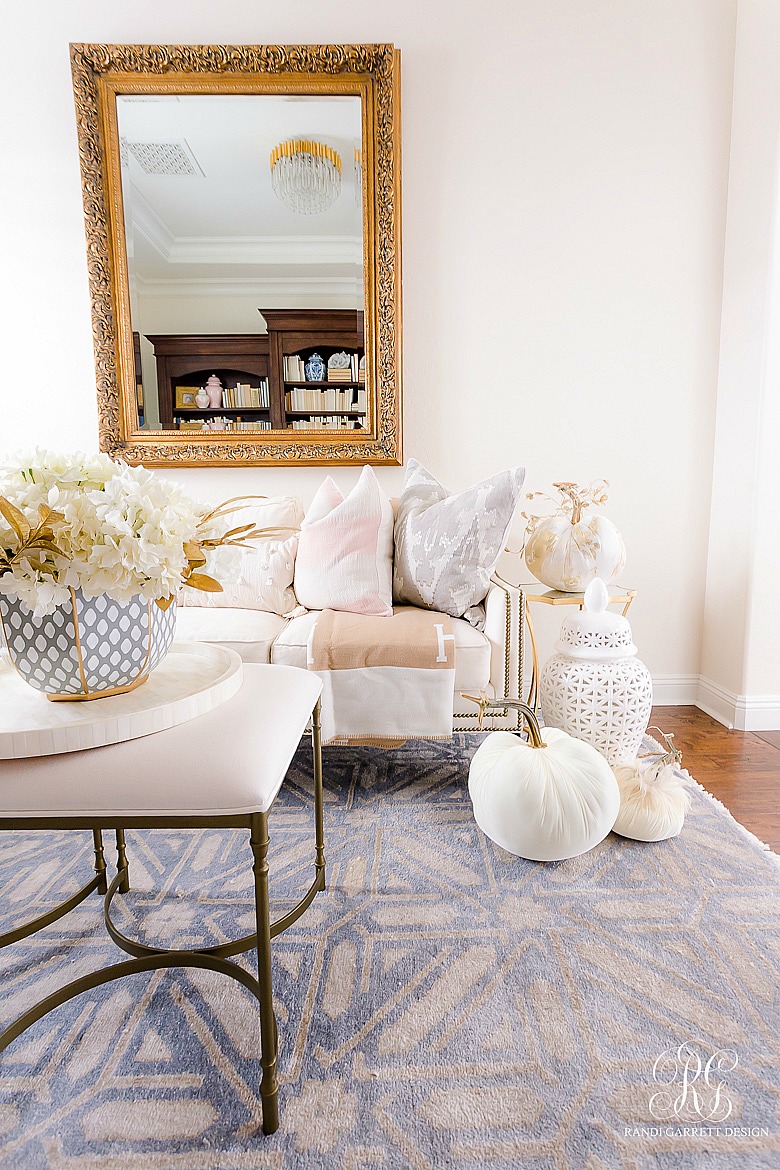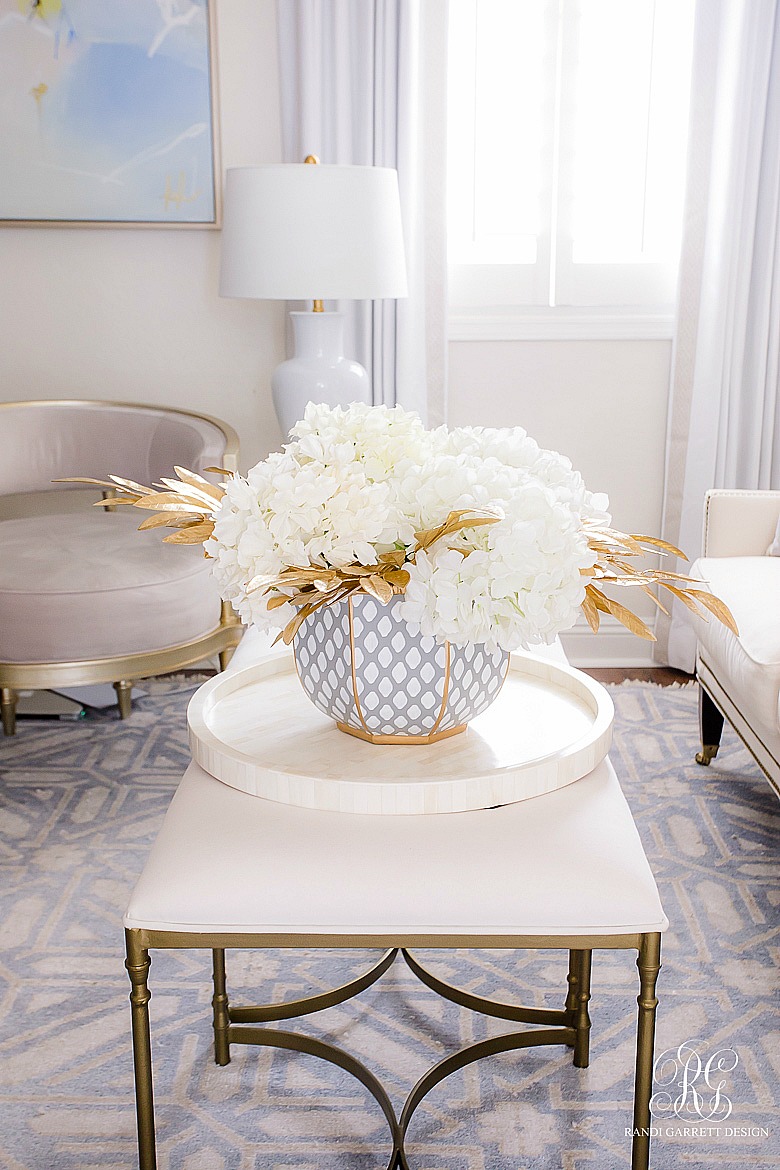 Gold Stools | White Tray | Gray and Gold Vase | Faux Hydrangeas | Gold Leaves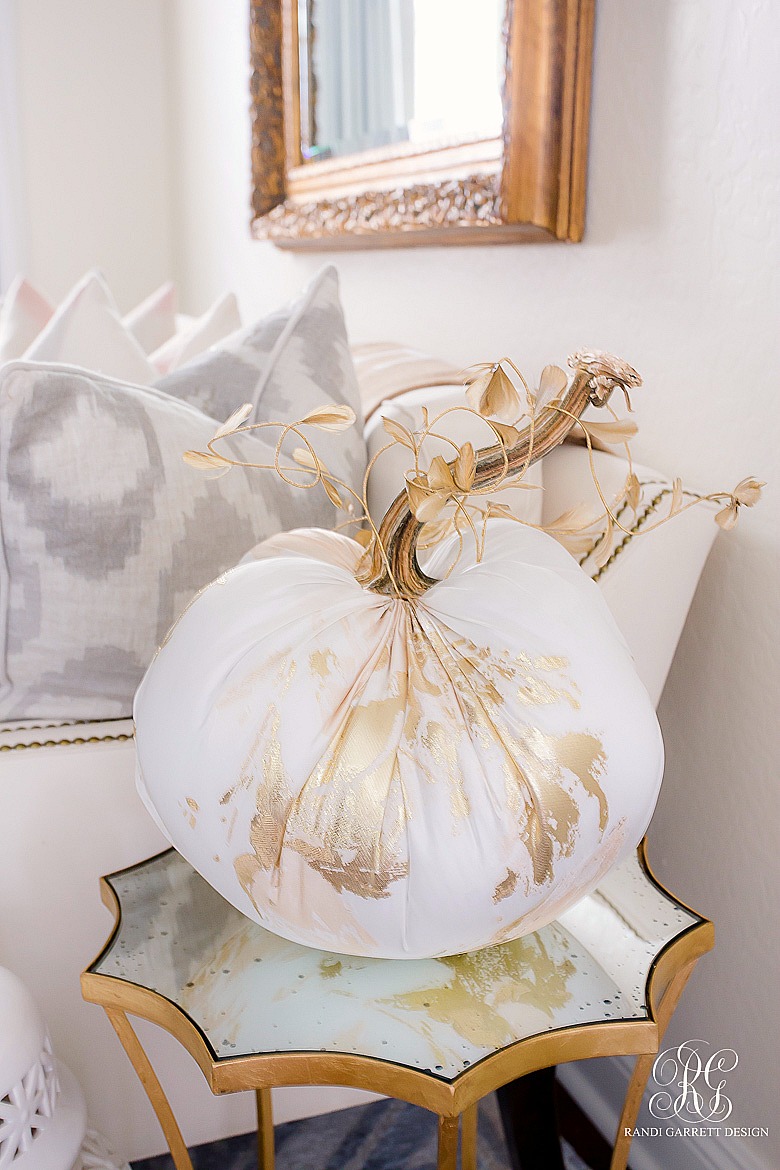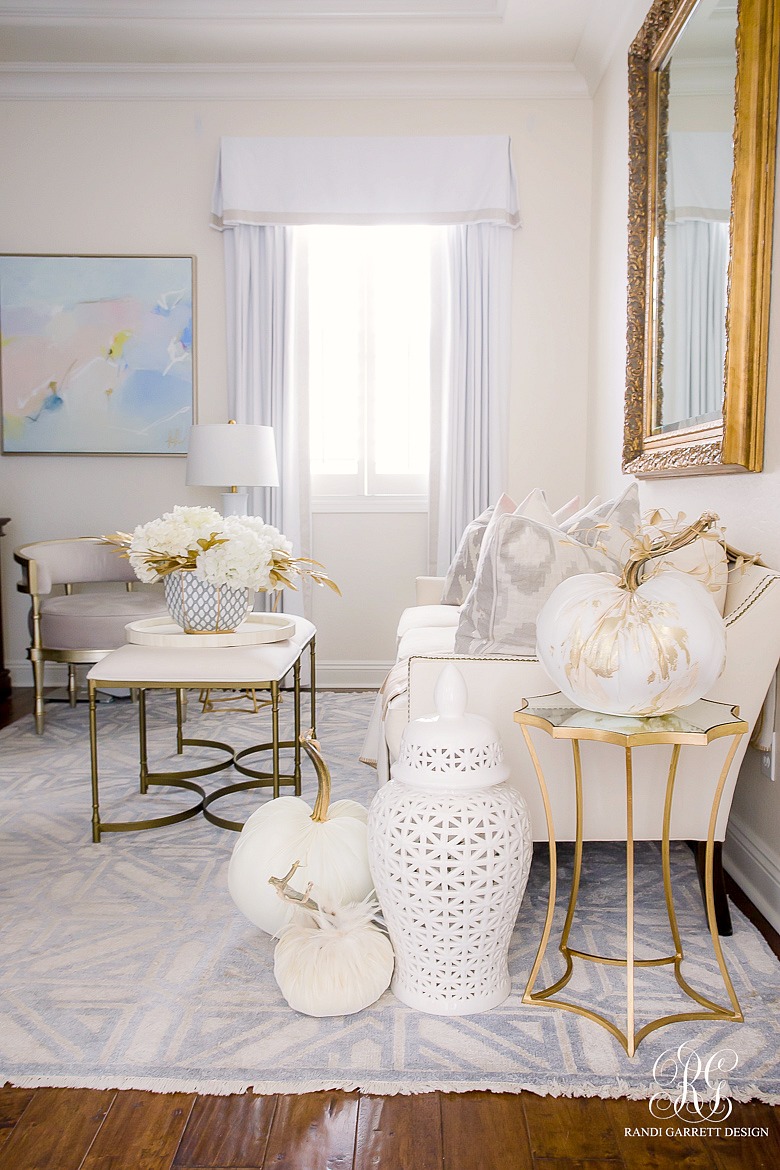 For a detailed list of den sources click here | Pumpkins



Wow! That was A LOT of photos!!! I am saving the dining room and our bedroom for another day so I don't crash my site! Here is a sneak peel of both spaces! They will be coming next week!
Dining Room Sneak PeekMaster Bedroom Sneak Peek
I hope this gold harvest tour tour sparks your imagination this fall! Be different, be unique, be you! Draw inspiration from special parts of your life!
Don't forget to comment below for a chance to start your own Hot Skwash collection!