This post is done in partnership with Armac Martin, Baldwin Hardware, DXV, Havwood and Classic Custom Metal Work and Designs and contains affiliate links for your convenience. Read my disclosure policy here.
It is with great joy, I announce that today is the day I finally get to share The Wren Kitchen Reveal with you! This room has so much heart and soul poured into her. I hope you feel the love and labors of love, so many gave in bringing her to life, as you scroll through this special post.
They say the kitchen is the heart of the home, this kitchen truly is the heart of our's for so many reasons. I can't look at one element and not remember with fondness the many creative minds and hands that have brought her to life. Countless hours of designing, redesigning, building and installing have come together to create the kitchen of our dreams! I cannot thank all of the subs, brands, family and friends who have helped me along the way. This kitchen is truly the result of a magnificent team!
Almost 5 years ago to the day, I shared our kitchen remodel (see it here) in our last home. It's hard to believe it's been that long! I didn't think it was possible to create another kitchen I loved as much as our last. But, I stand corrected! The kitchen at The Wren embodies all the elements I loved about our last kitchen with some new layers of surprise and uniqueness. Our kitchen on Palo Verde will always hold a special place in my heart. Thank you for sharing her with me for so many years!
Today, I am beyond thrilled to start a new chapter as I share our new kitchen with you. Welcome to The kitchen at The Wren! Let's step inside! A detailed source list is curated at the end of the post for you.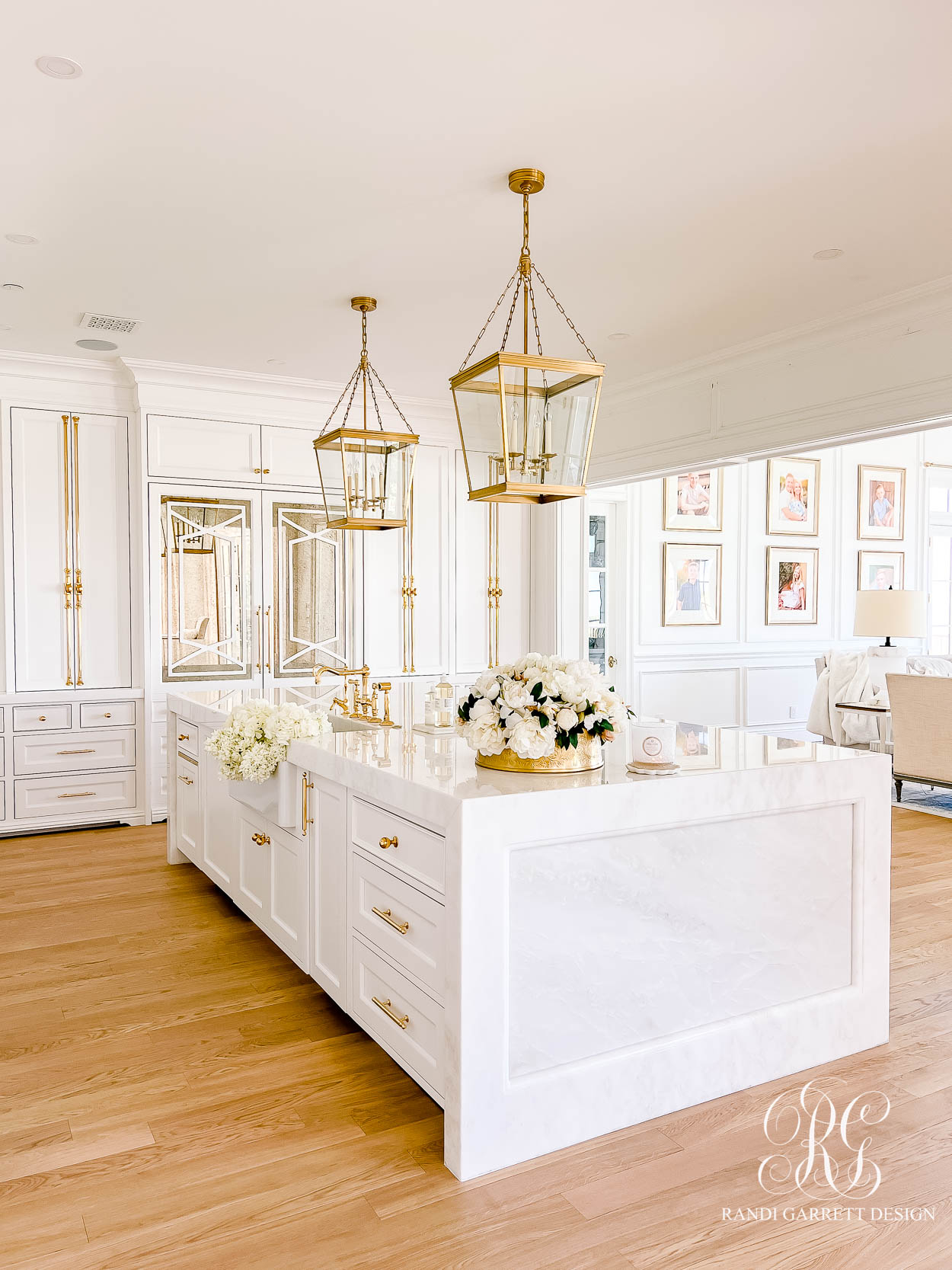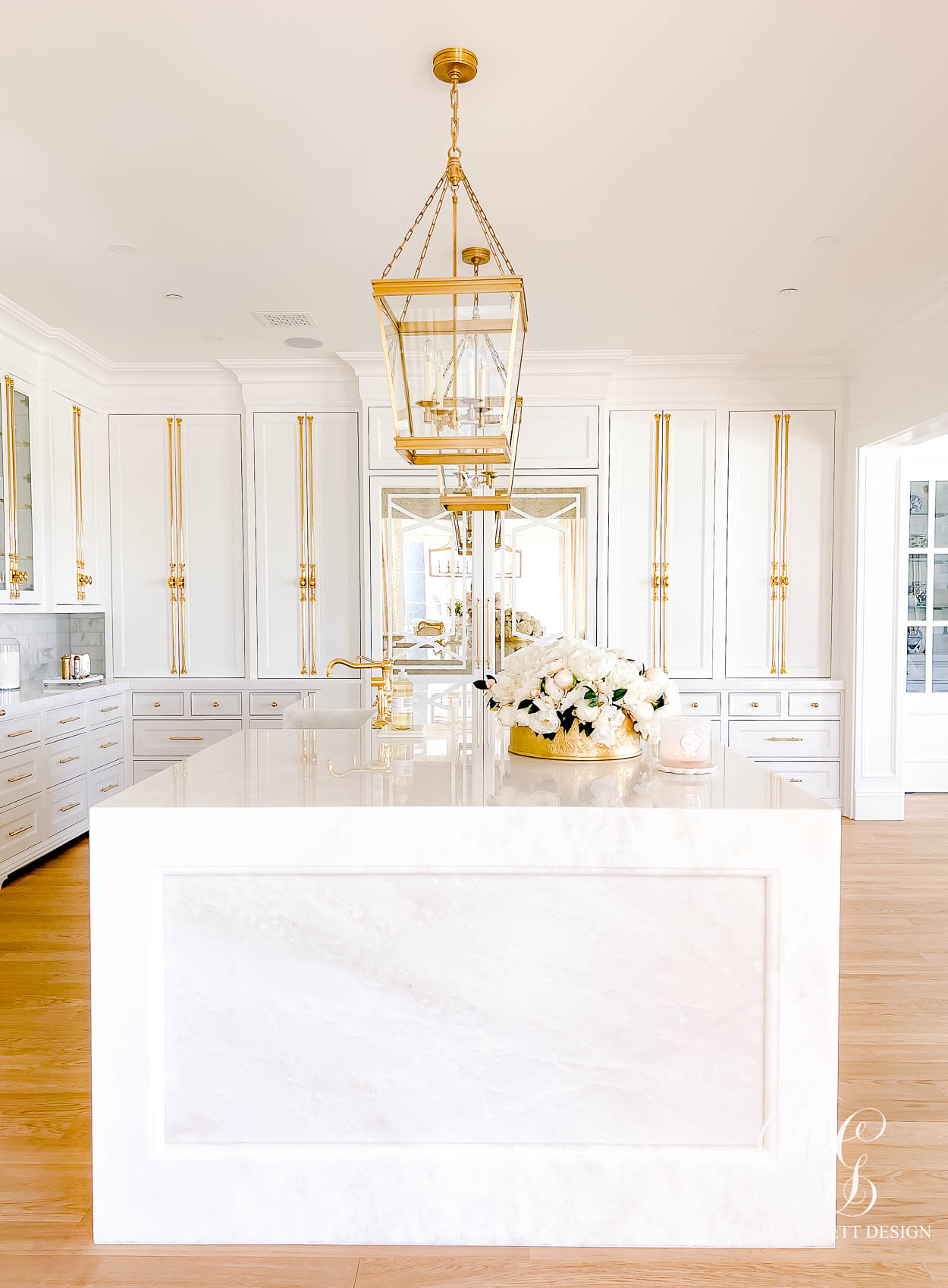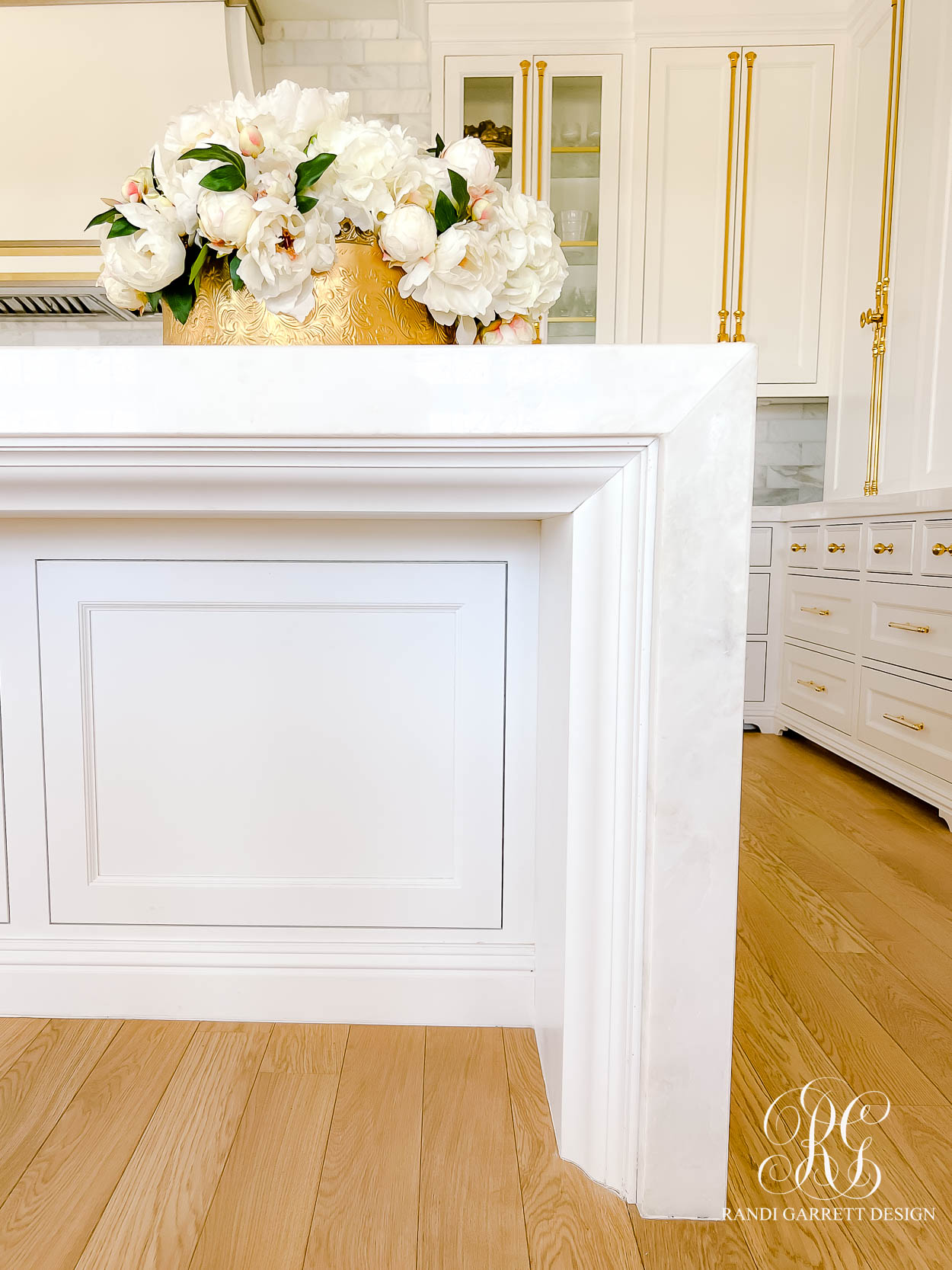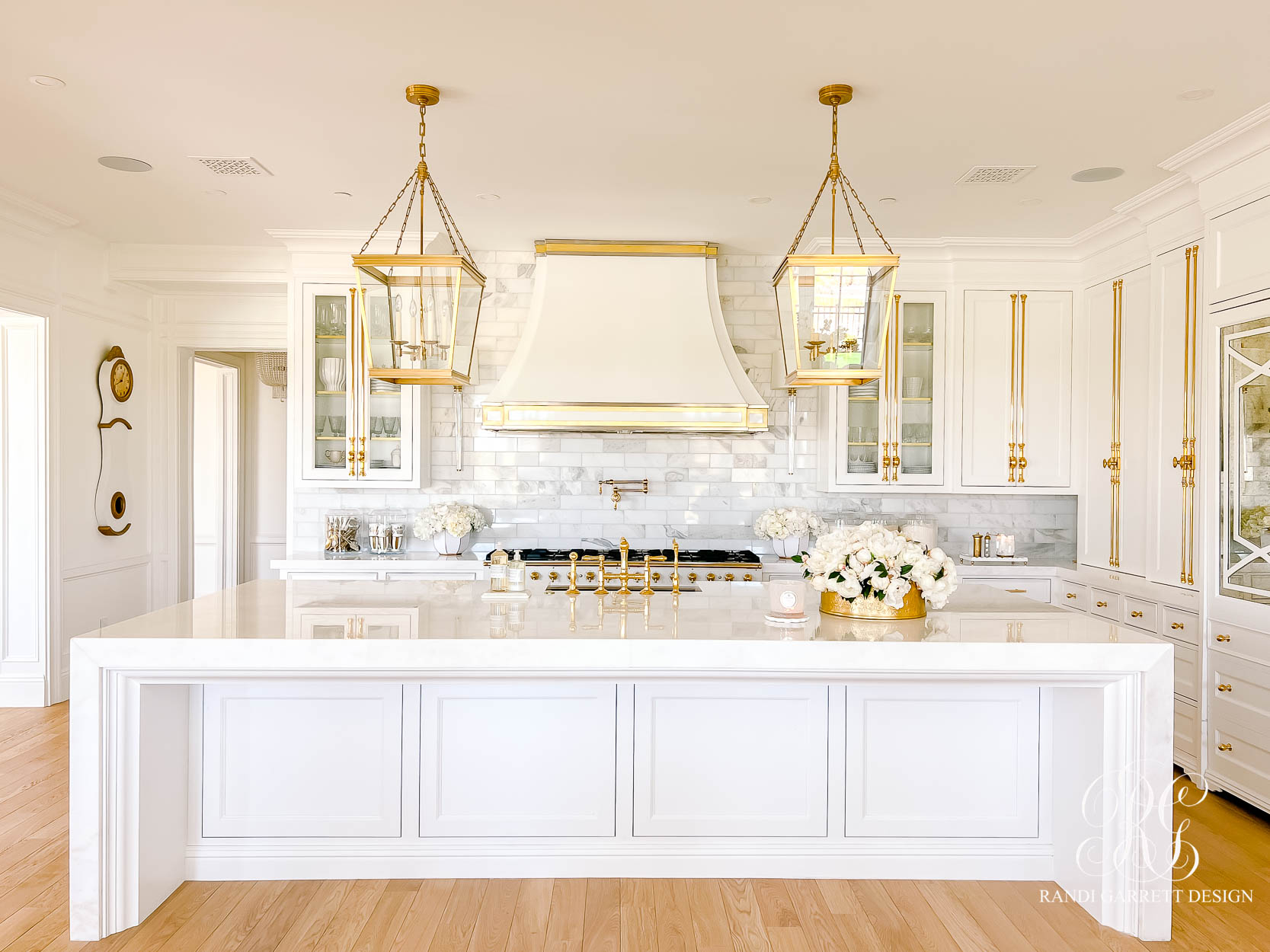 The waterfall, marble wainscot island is just one of the stars of this kitchen. Matt and I hemmed and hawed over whether or not to do the marble wainscot and waterfall on our kitchen island! We are so glad we stepped out of our comfort zone and did it! This island features Bianco Rhino Extra marble with a polished finish. The marble fabricators and cabinet guys did an amazing job on bringing our vision to life.
Bianco Rhino marble has a creamy white background with gorgeous cream marbling instead of veining. Since we have so many details in our kitchen, I thought traditional marble veining would be too busy for the eye. The soft marbling detail of the Bianco Rhino is absolute perfection. We went with a simple mitered edge to let the other details in the kitchen sing.
We chose inset cabinets and a shaker style door with a pretty router detail on the interior edge. The cabinets are painted with Benjamin Moore's Chantilly Lace. They feature a charming furniture base at the bottom and gorgeous heavy crown at the top! The crew at Kindred Custom Cabinets did a fabulous job!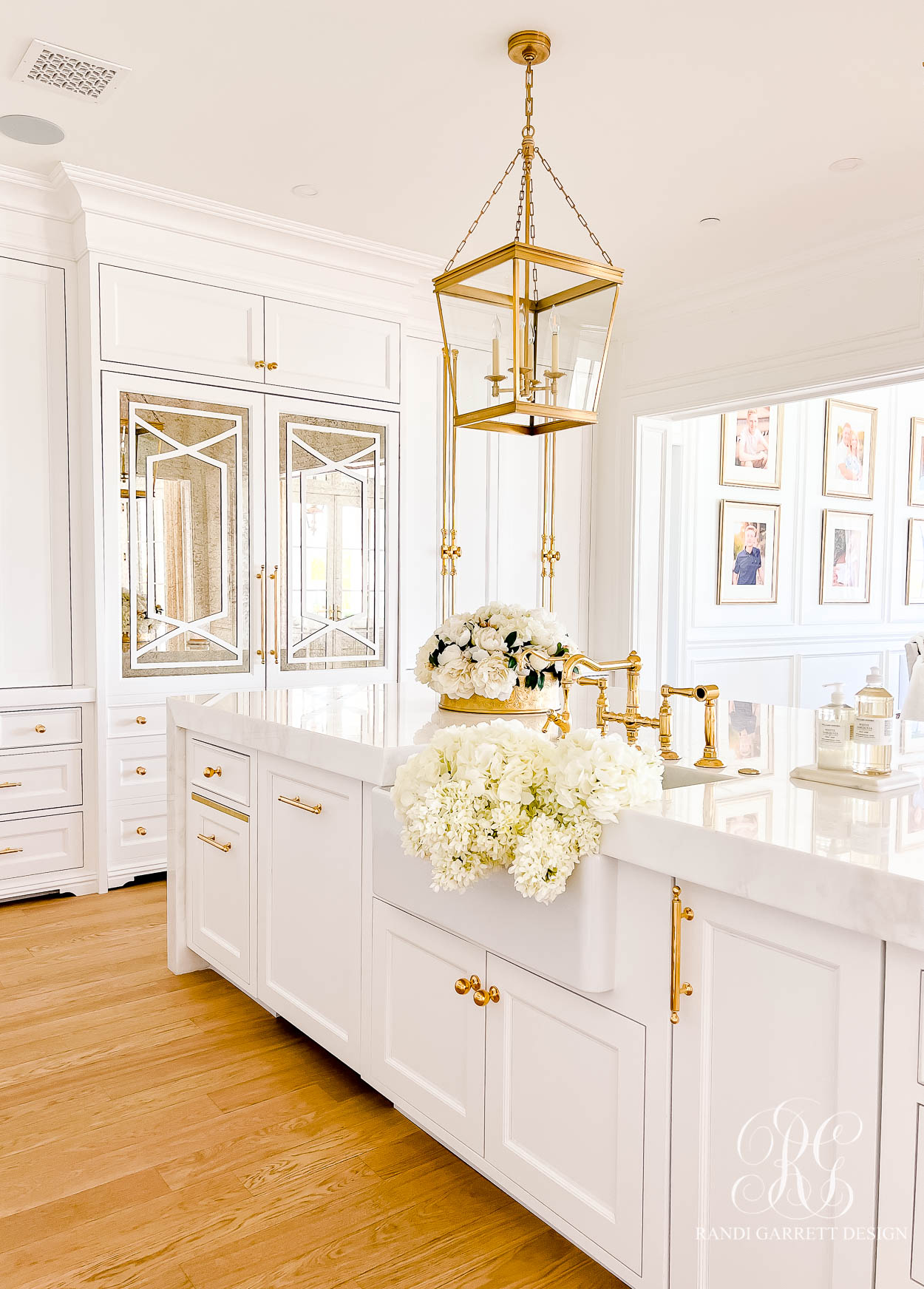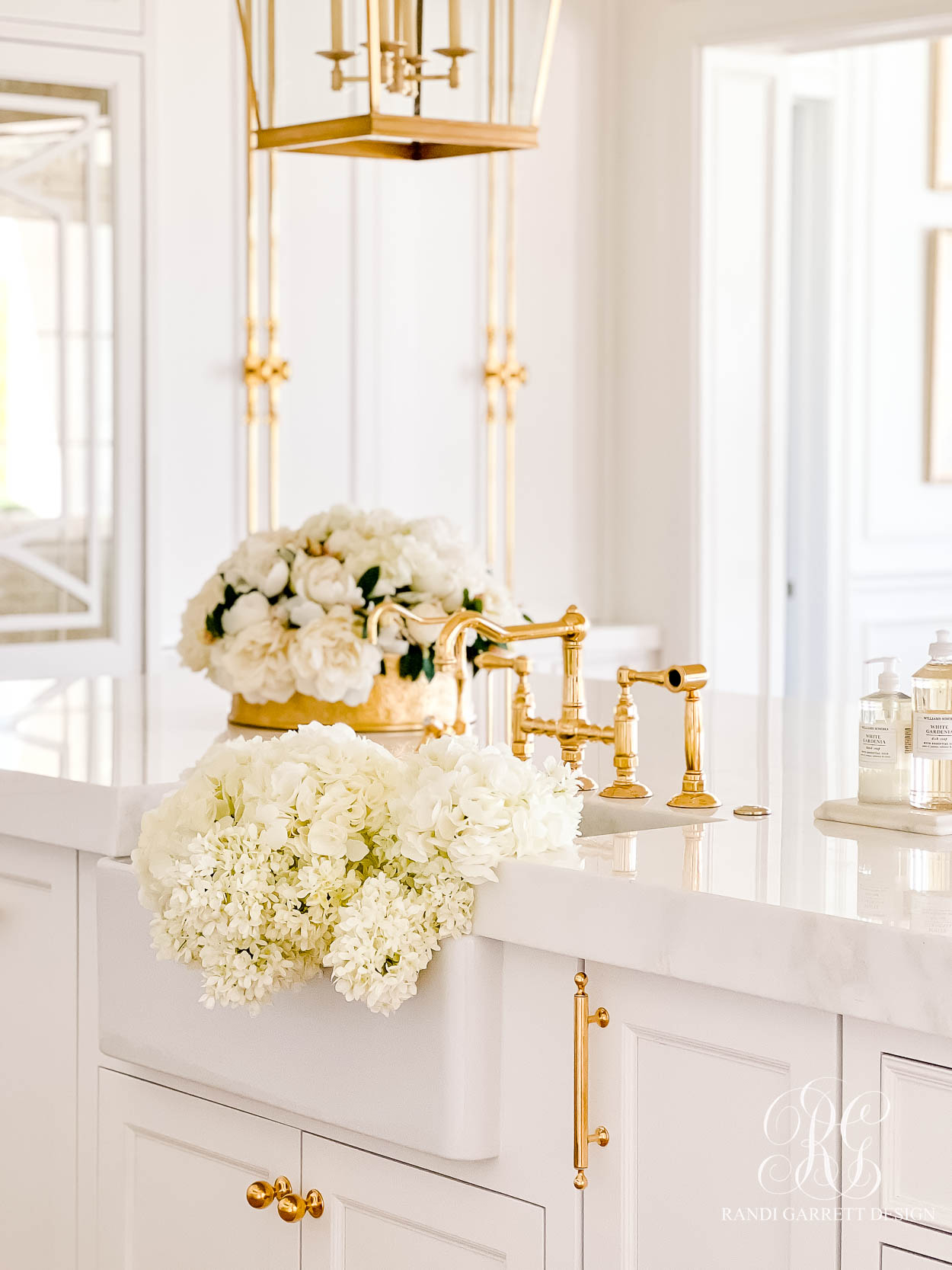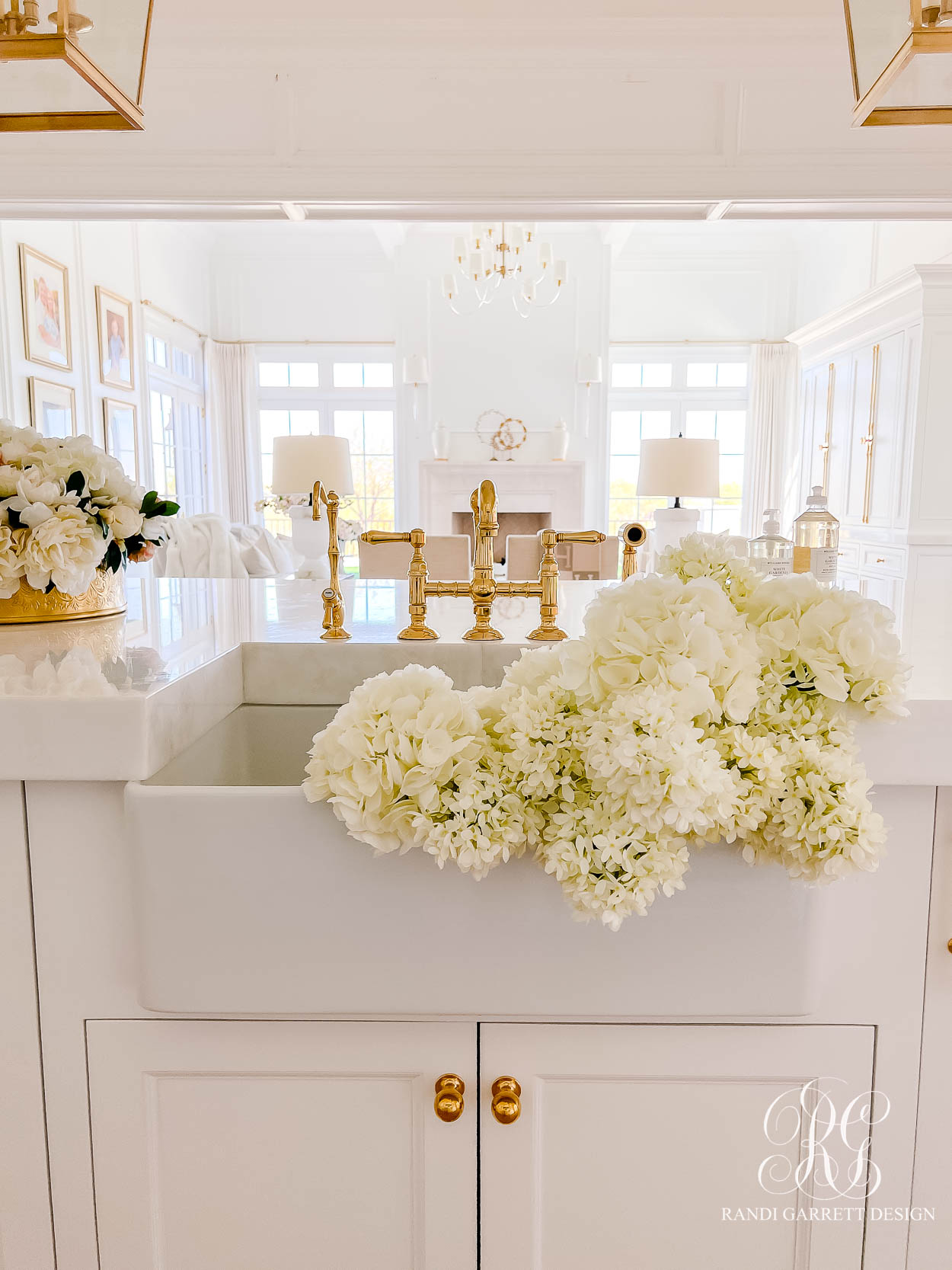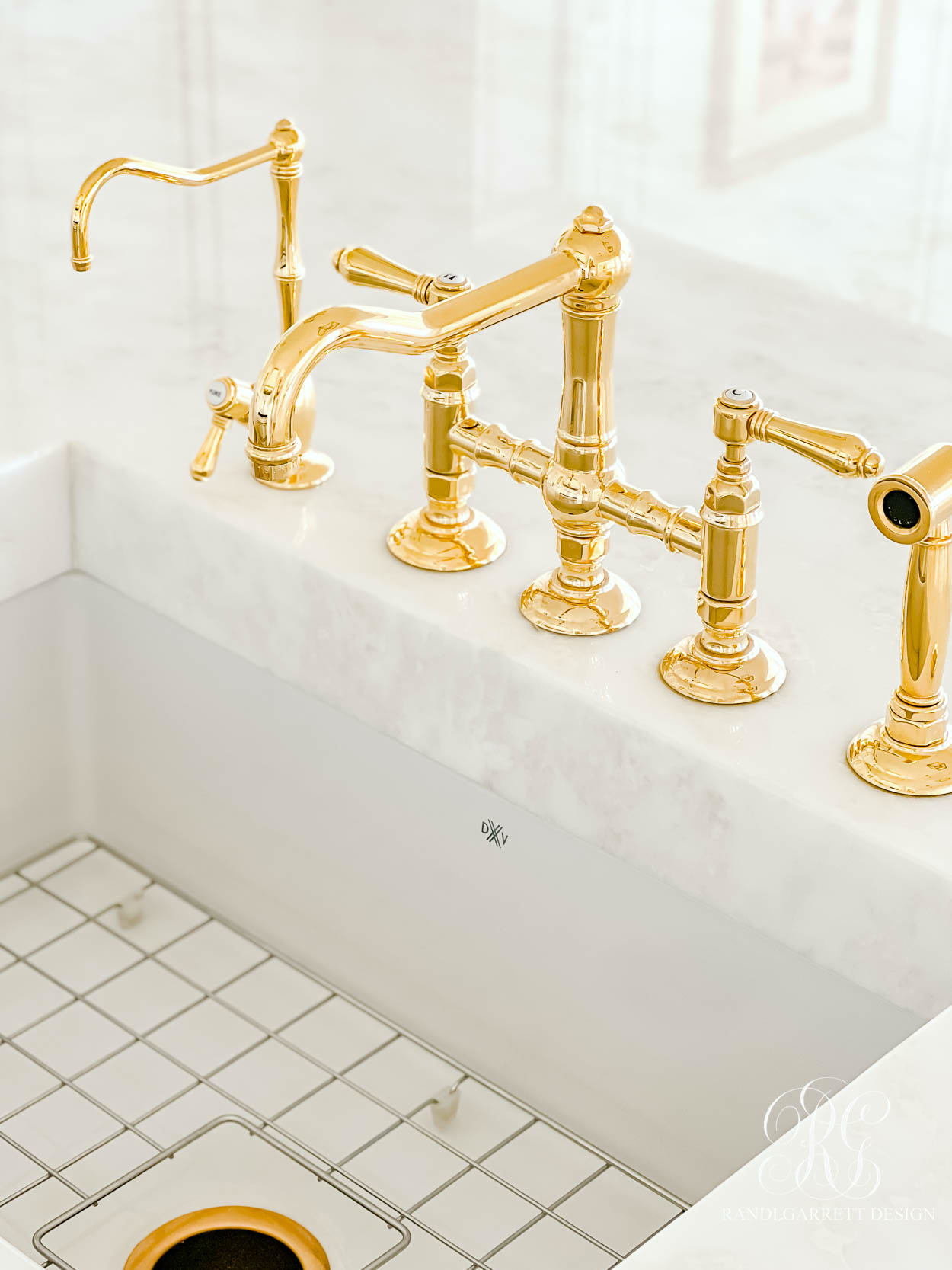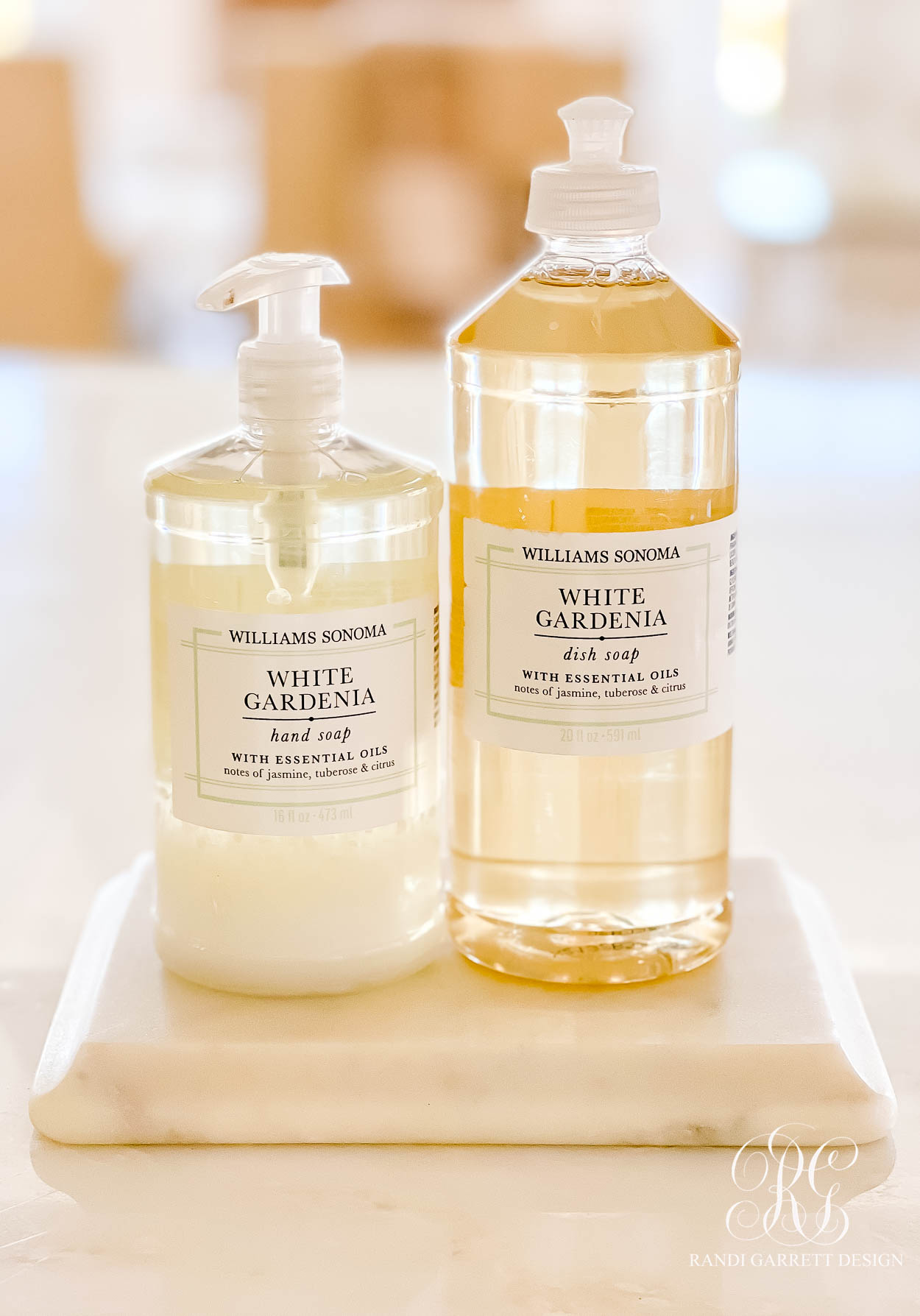 Our apron sink is a gorgeous 30″ fire clay sink by DXV. It is reversible allowing you to choose a sleek flat front or transitional apron (transitional apron side featured in our laundry room). The sink comes with a beautiful wire grate to help keep your sink looking brand new. Their products are indeed absolute luxury! The details and charm each piece features are exquisite. I can't wait to show you more of them! You will see DXV throughout our entire home.
The bridge faucet, sprayer and pure water faucet are a beautiful Italian Brass finish. Matching the different gold finishes in the room almost drove me to insanity! My best tip for you when trying to match finishes – get them close! They don't have to be exact. Your eye will make up the difference.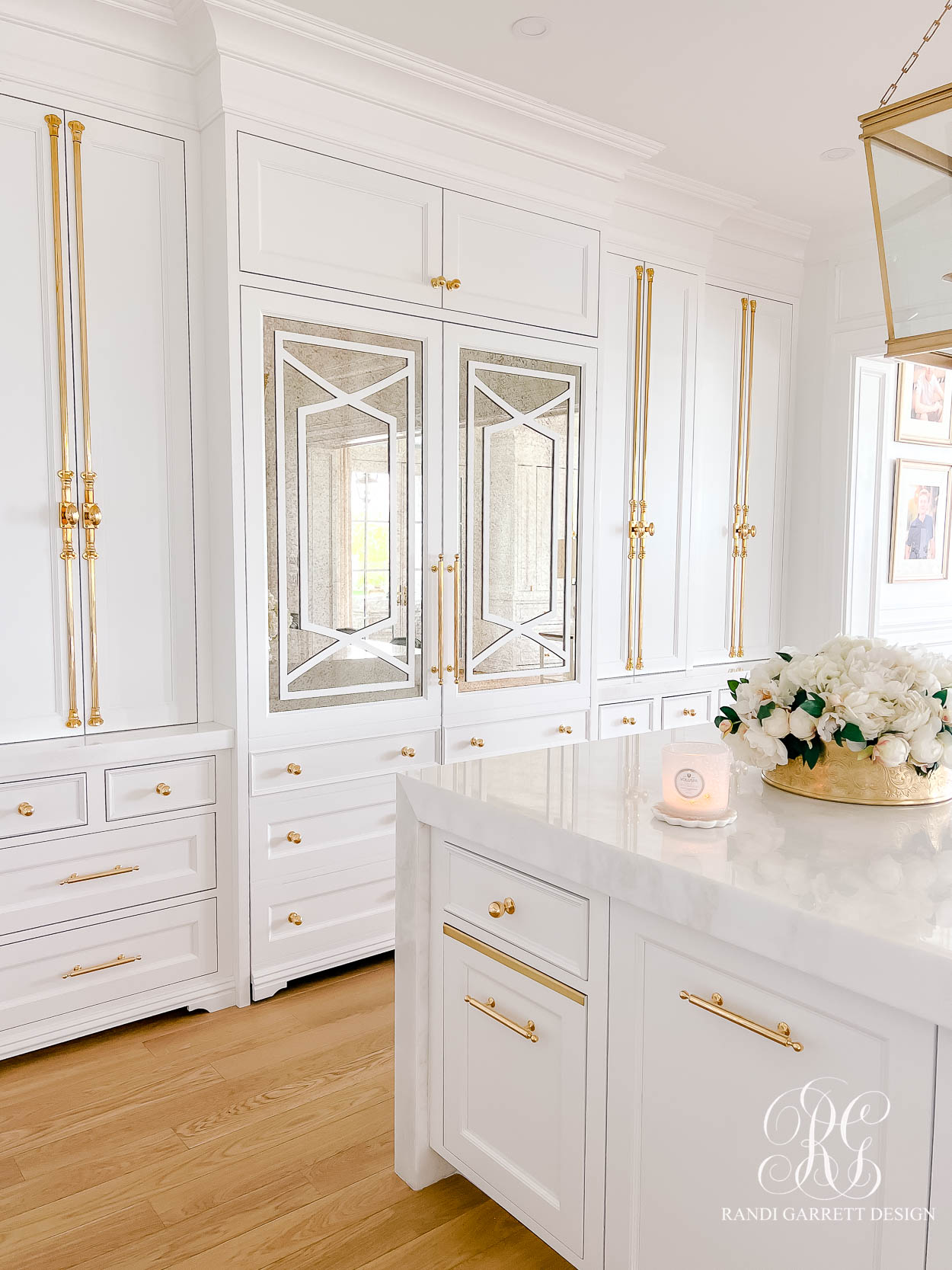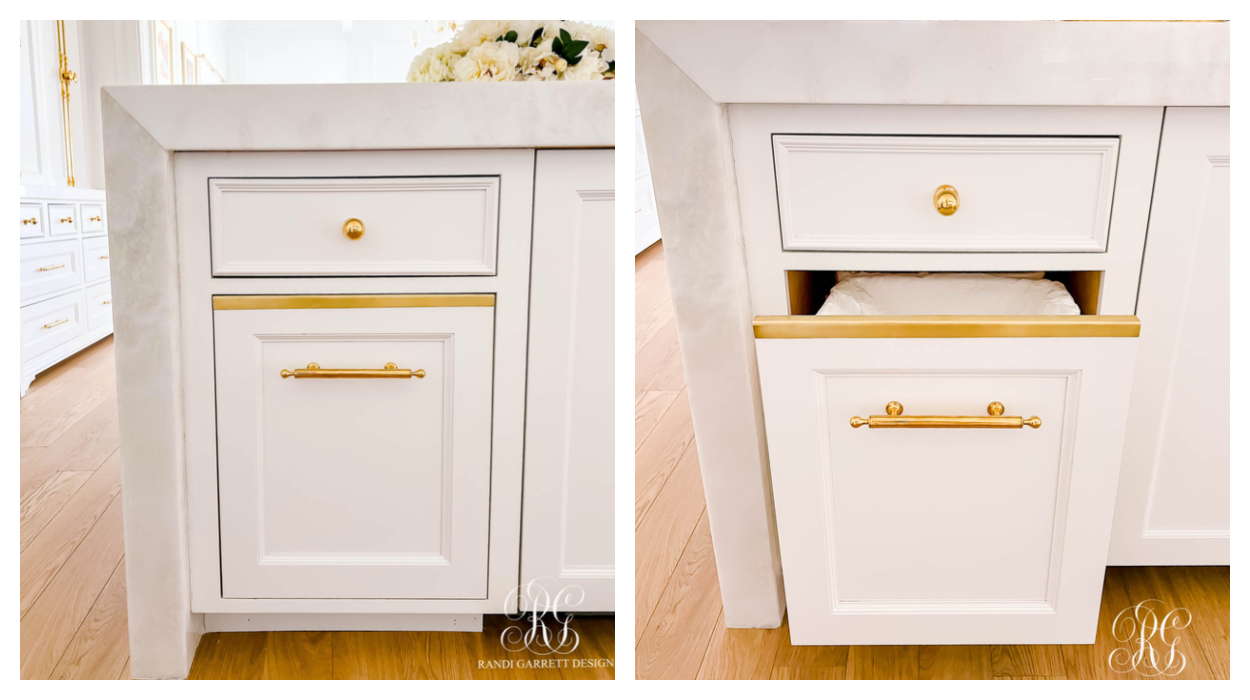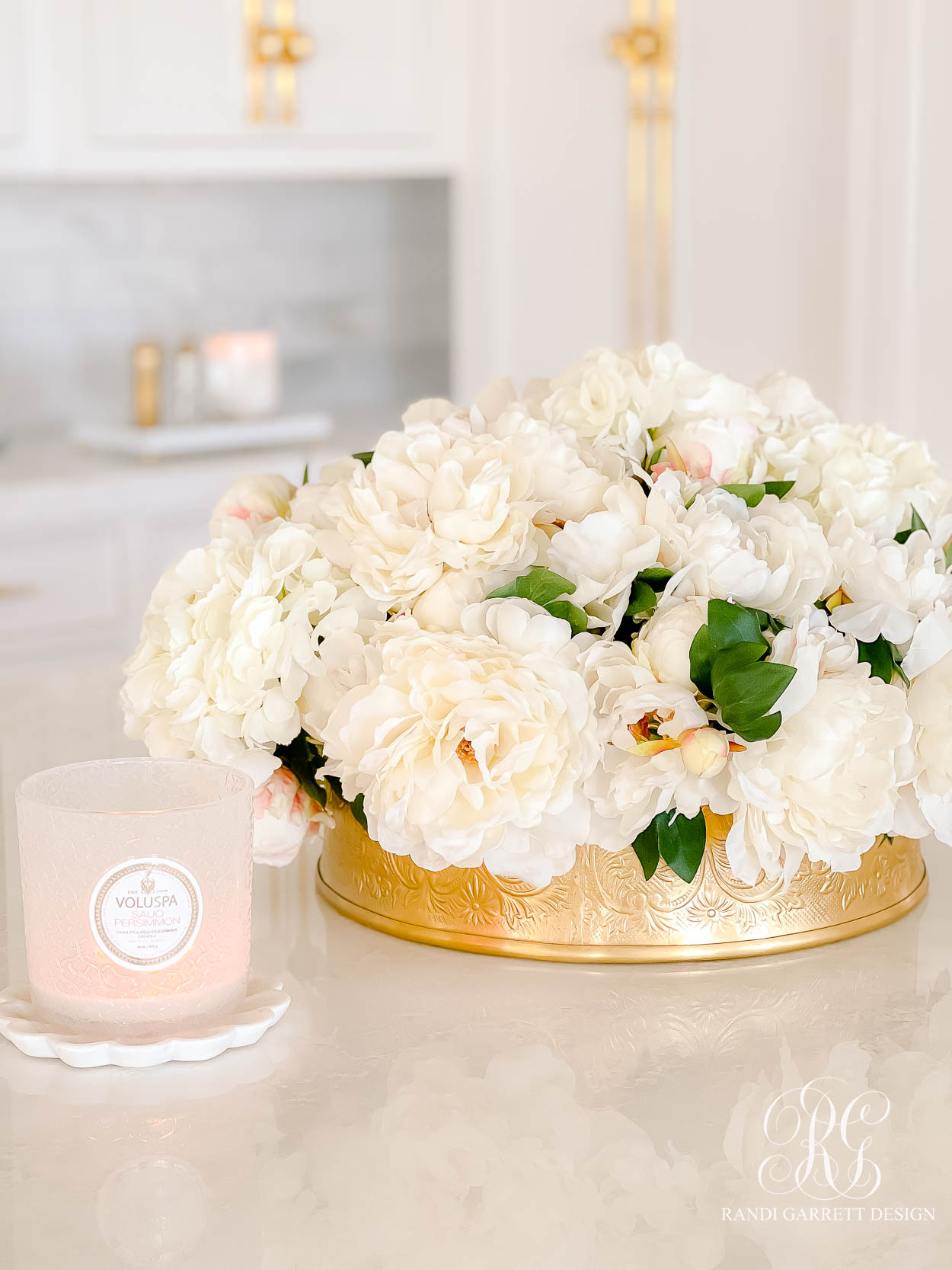 The trash cabinet always takes a beating. So to protect the paint, I had our talented iron guy craft a brass lip to protect the cabinet lip. We love it so much we are having him make one for the dishwasher as well!
My mom came up with a brilliant idea to use my large gold cake pedestal to hold my favorite peonies for a grand arrangement on the island. I turned it upside down and filled it with 8 peony bunches, 6 white hydrangea and 8 peony buds.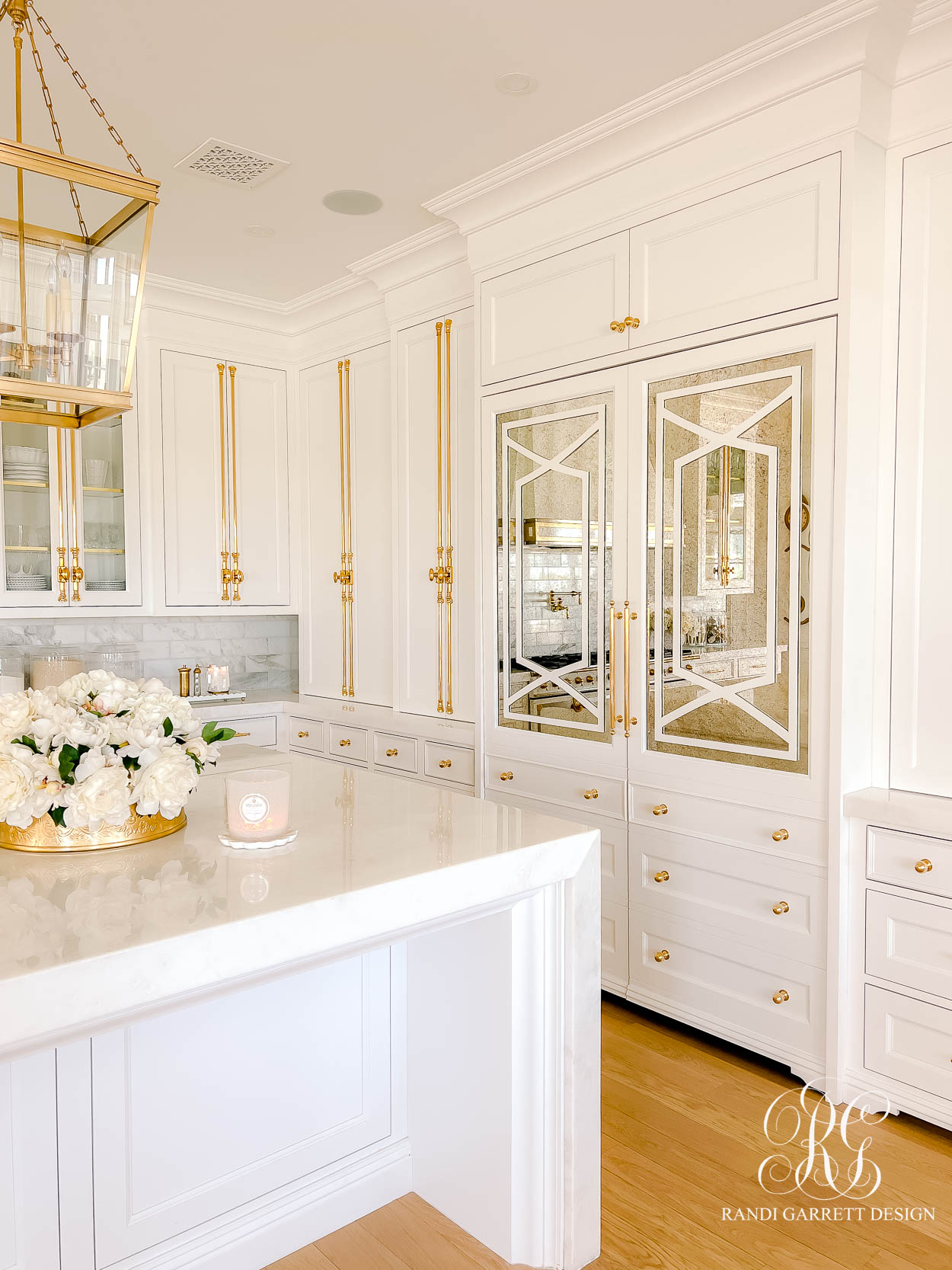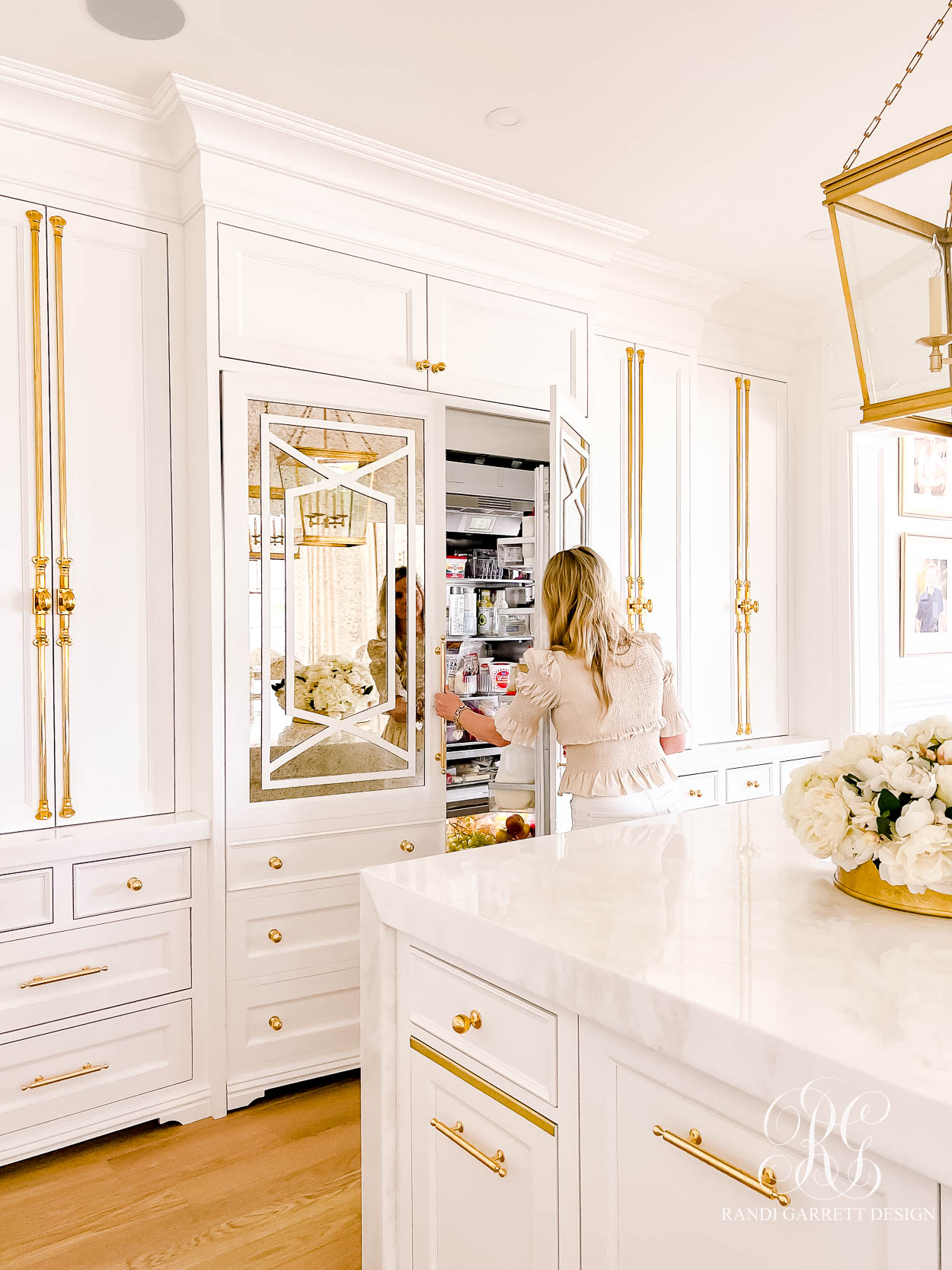 We absolutely loved the mullion detail on our last fridge, but wanted The Wren's fridge to be unique to her. I searched for inspiration for months until I found this classic design to incorporate on the fridge front. We carried this same design detail throughout the house on trim work and doors. Repeating a design detail creates a beautiful, intentional flow from room to room. Hollywood glass (vintage glass) gives the fridge a French antique feel. I love to mix clean, modern transitional elements with French details. To me it is a beautiful mix of old and new.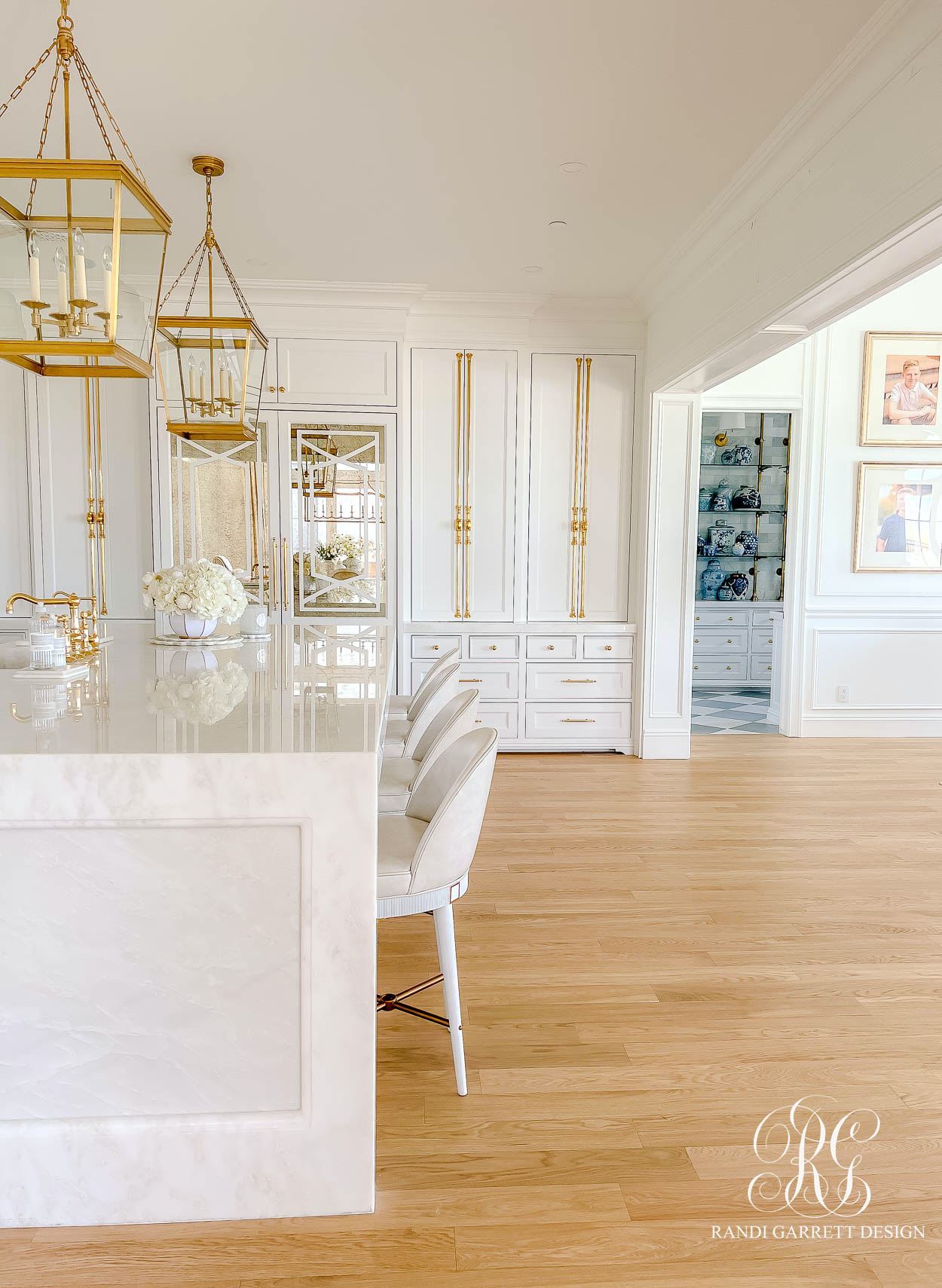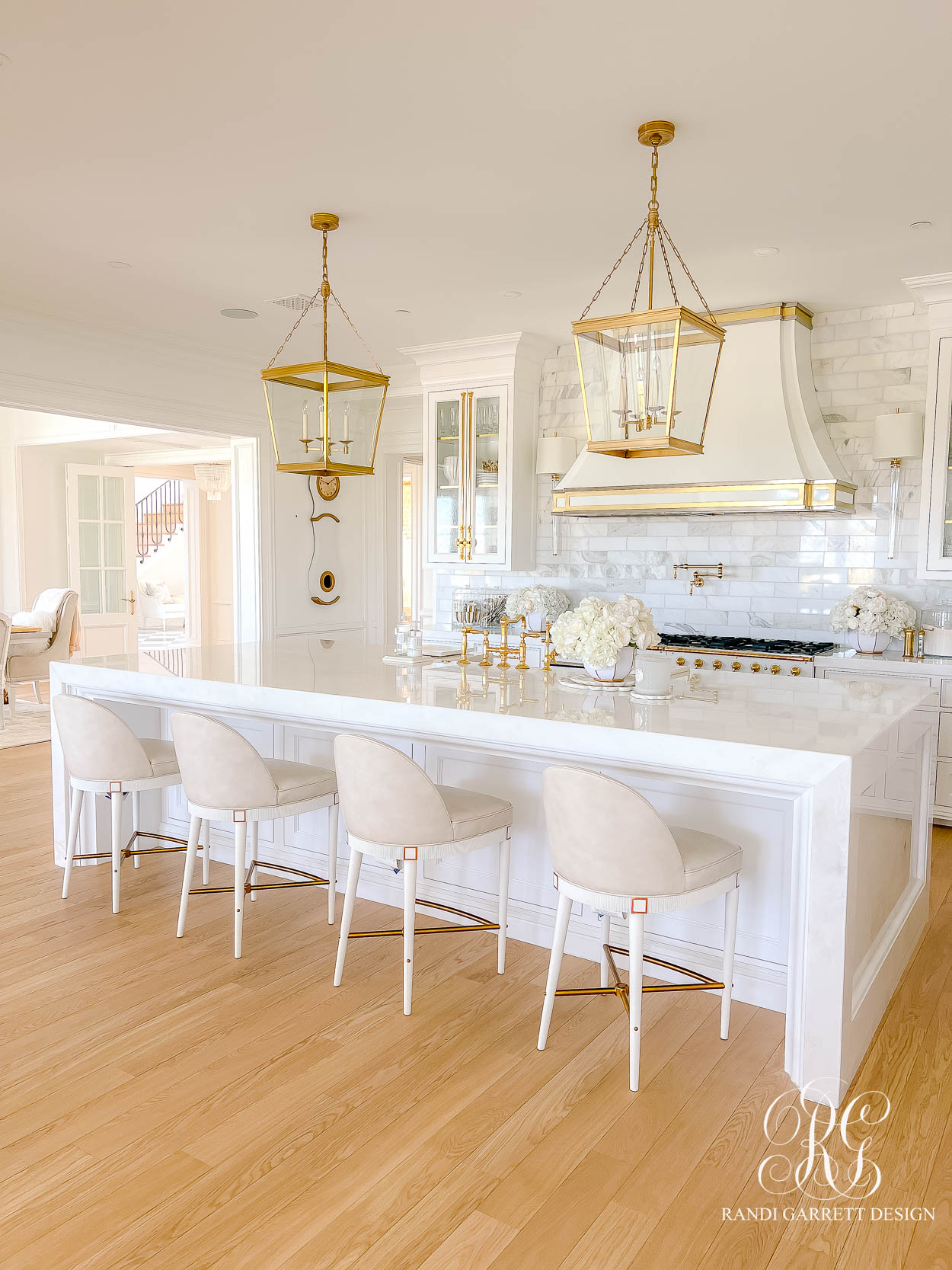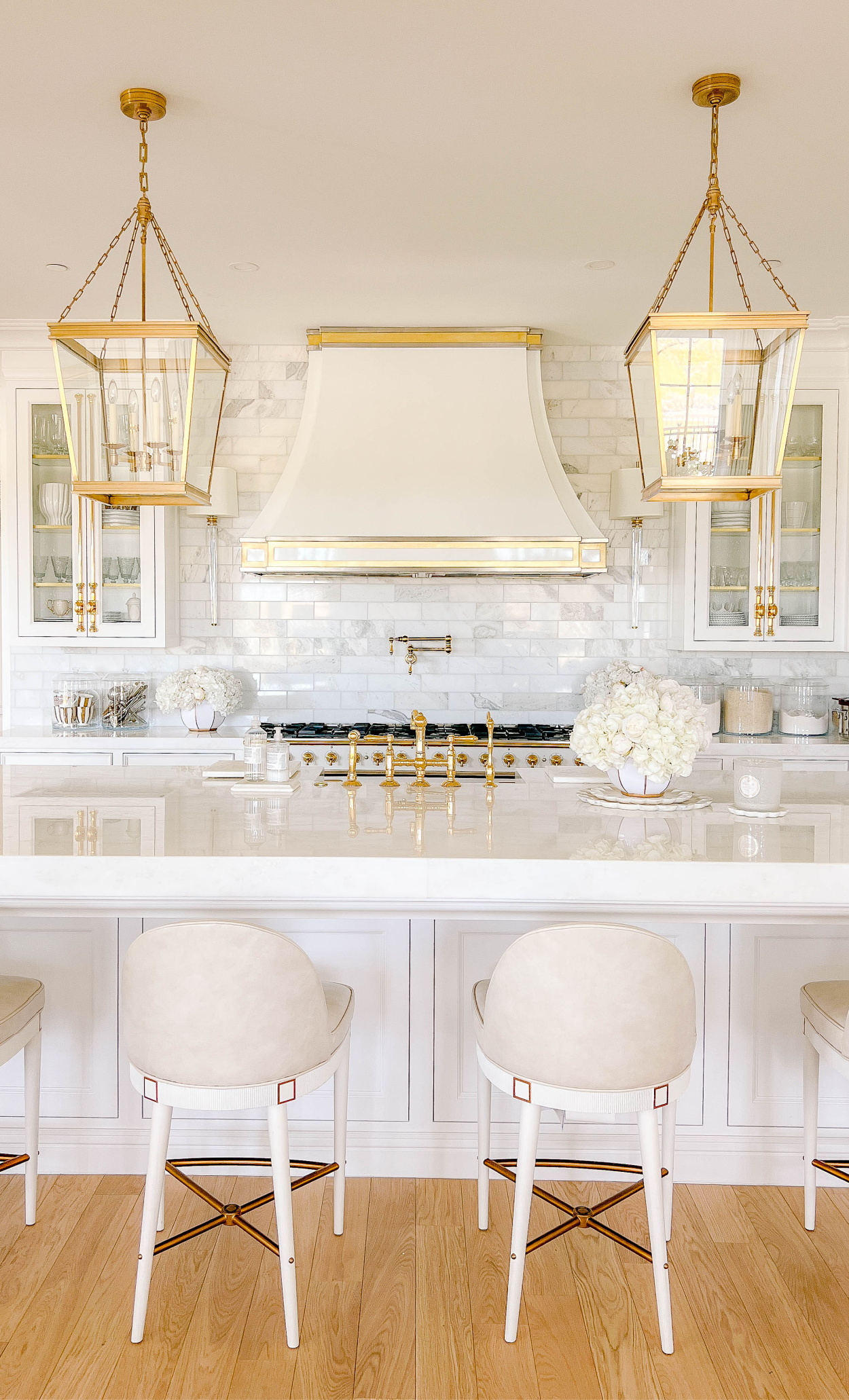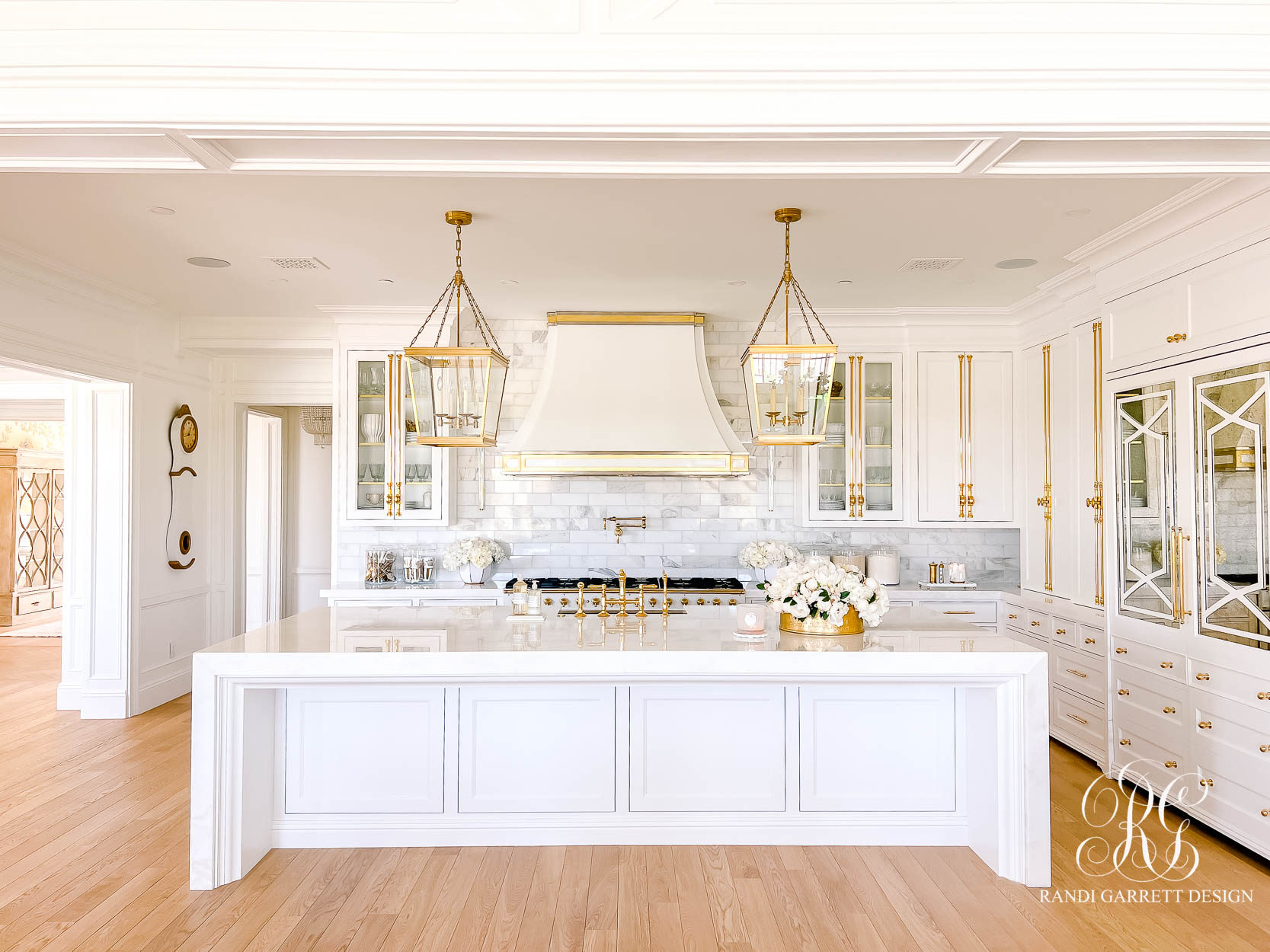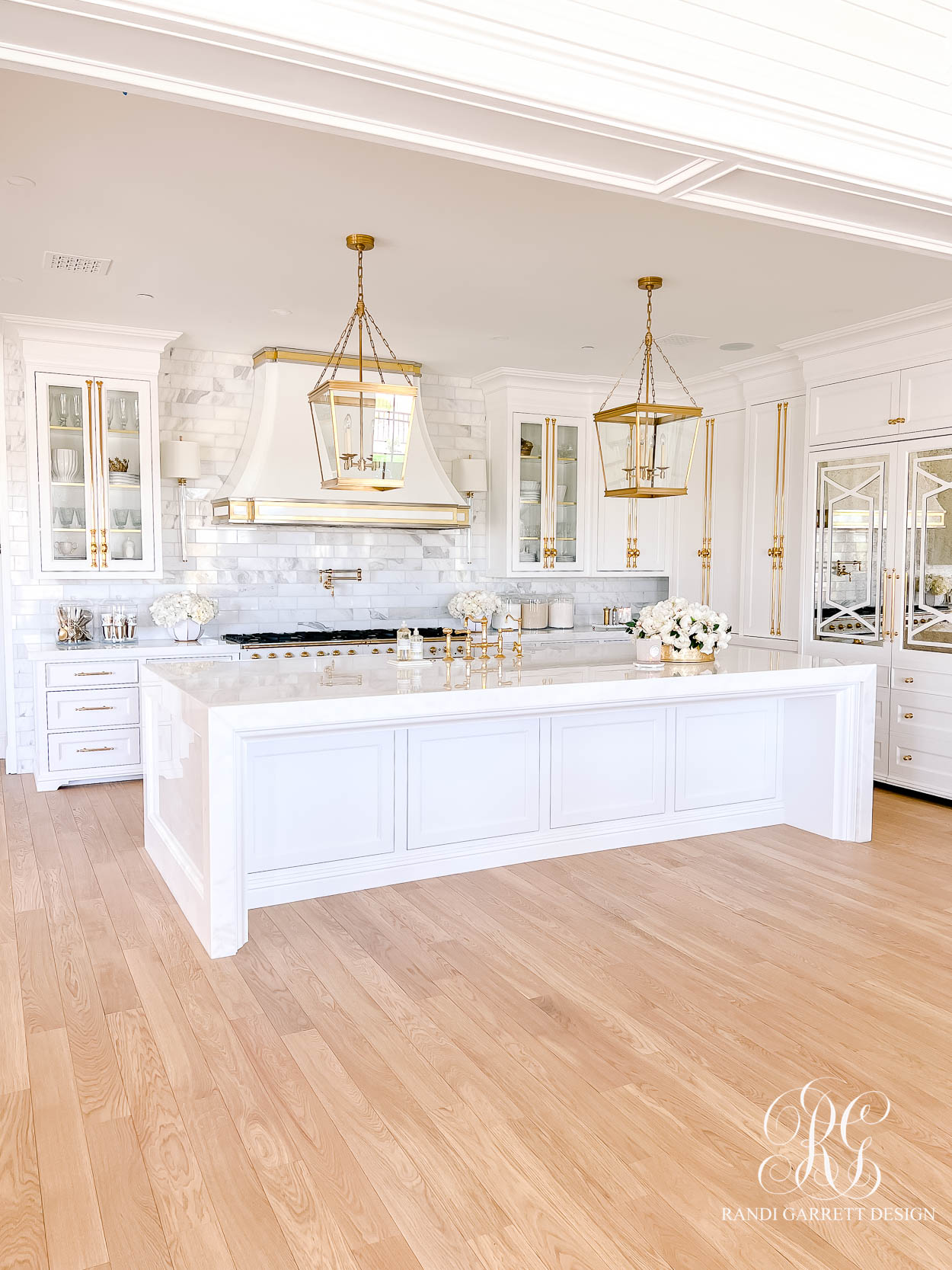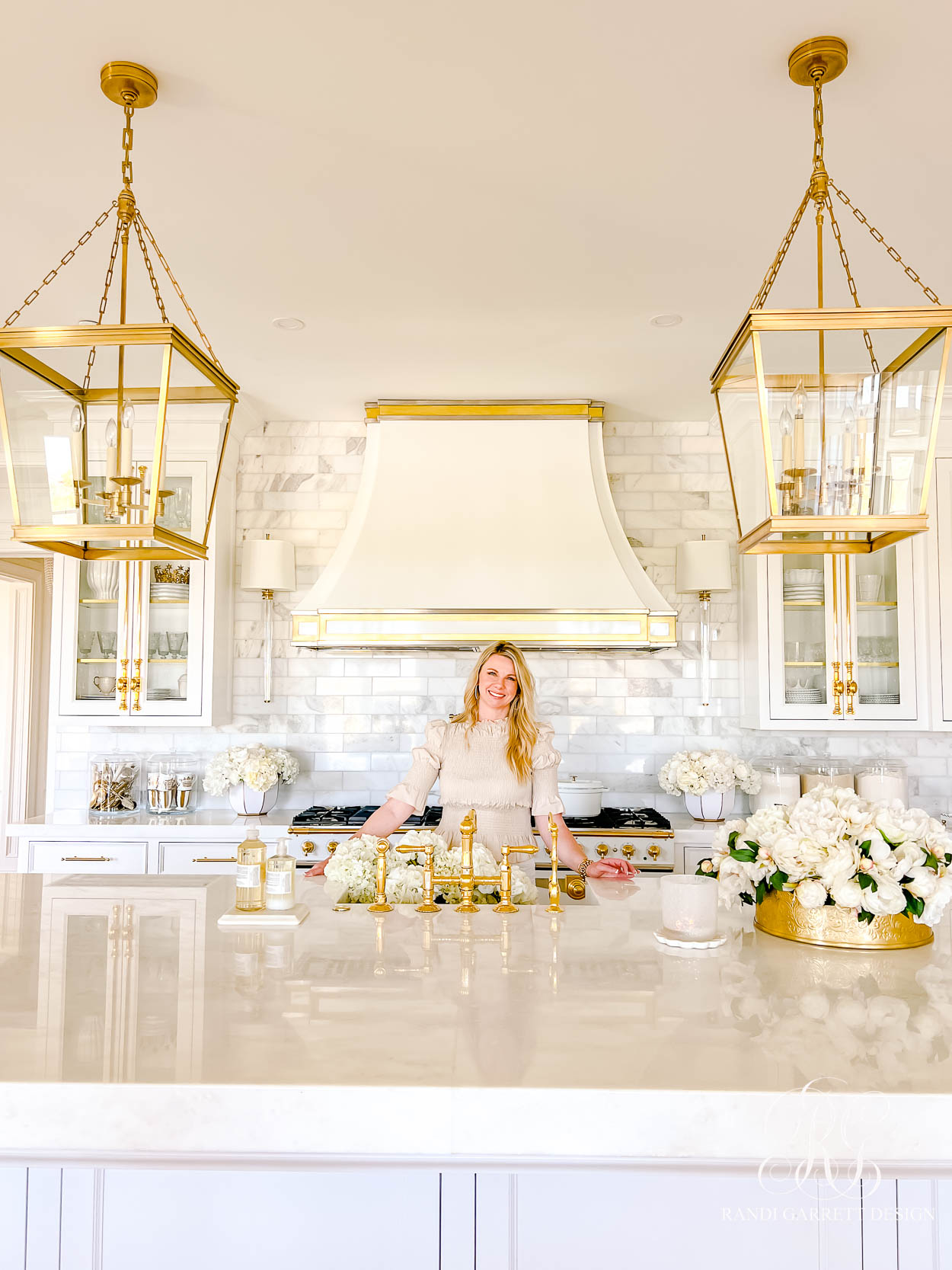 Our island lantern lights have pretty tailored lines with lots of charming details. I love to balance clean lines with fancy details. The contrast is so lovely to me. Clean lines also give your eye a place to rest.
Notice the new counter stools? They are leather too, making them great for the kids! You can order your's here. They are missing a few of the gold painted details on around the skirt of the chair, so we had to send them back until June. They are worth the wait!
The breathtaking wood floors are from Havwood in their Amalgama finish which is part of their gorgeous Italian collection. It's a beautiful engineered, European Oak. They are protected by a UV coat and are very easy to maintain. Here is a link to how they suggest cleaning them. I use this vacuum mop combo to clean mine a few times a week and LOVE it! I can't tell you how much we love the floors! The color is so soft and inviting. I can't wait to show you the areas of the house we used their herringbone Amalgama!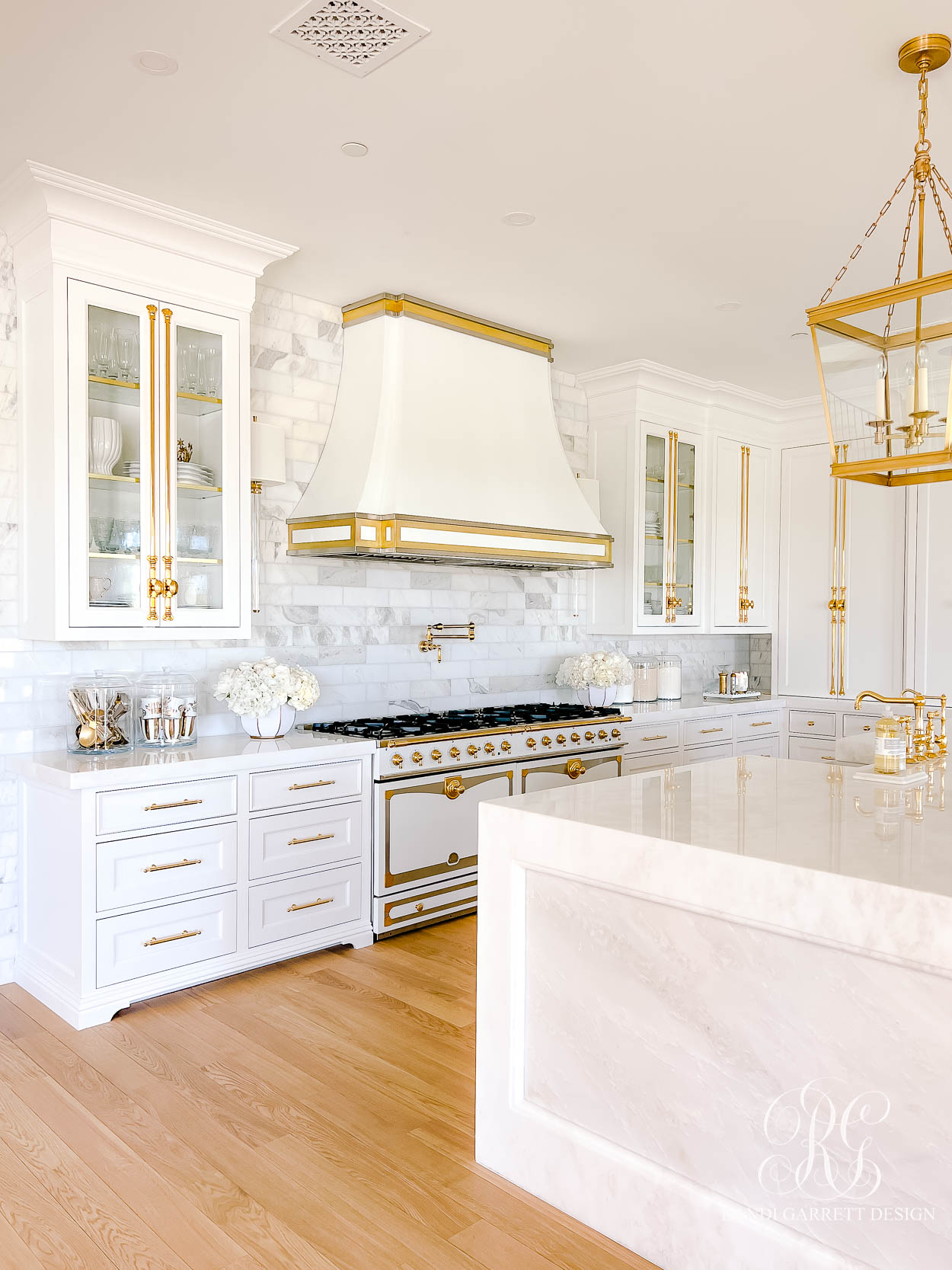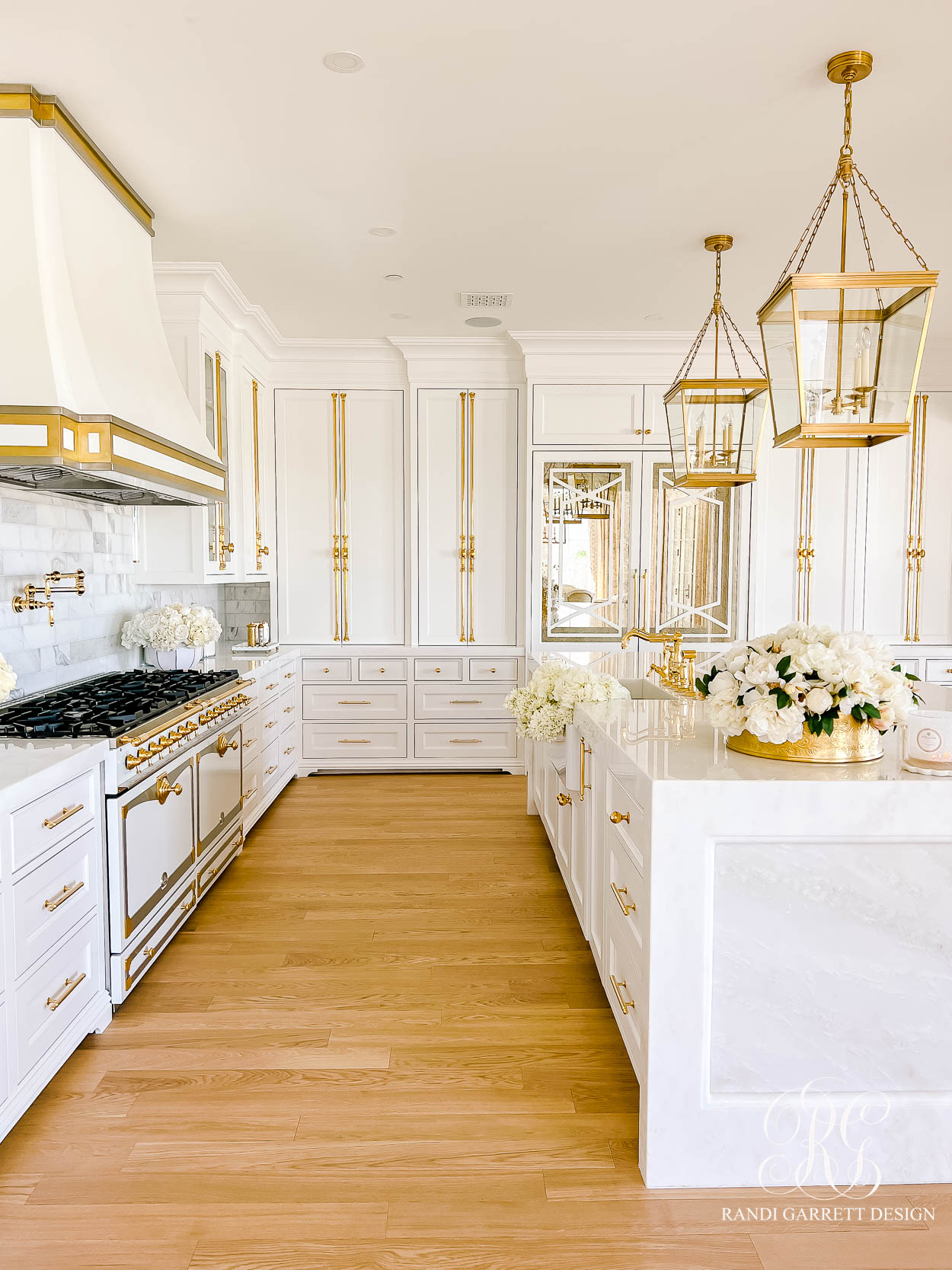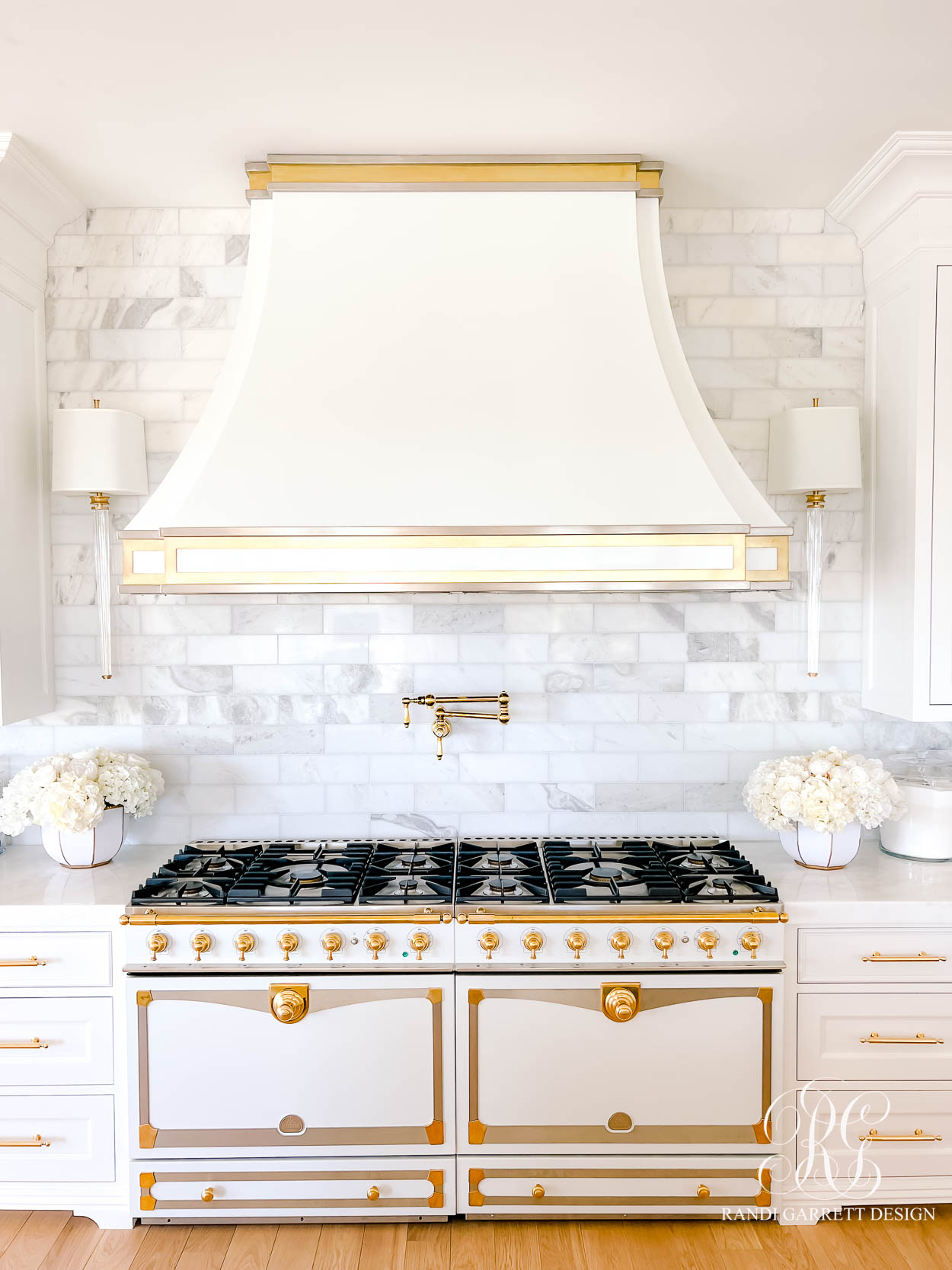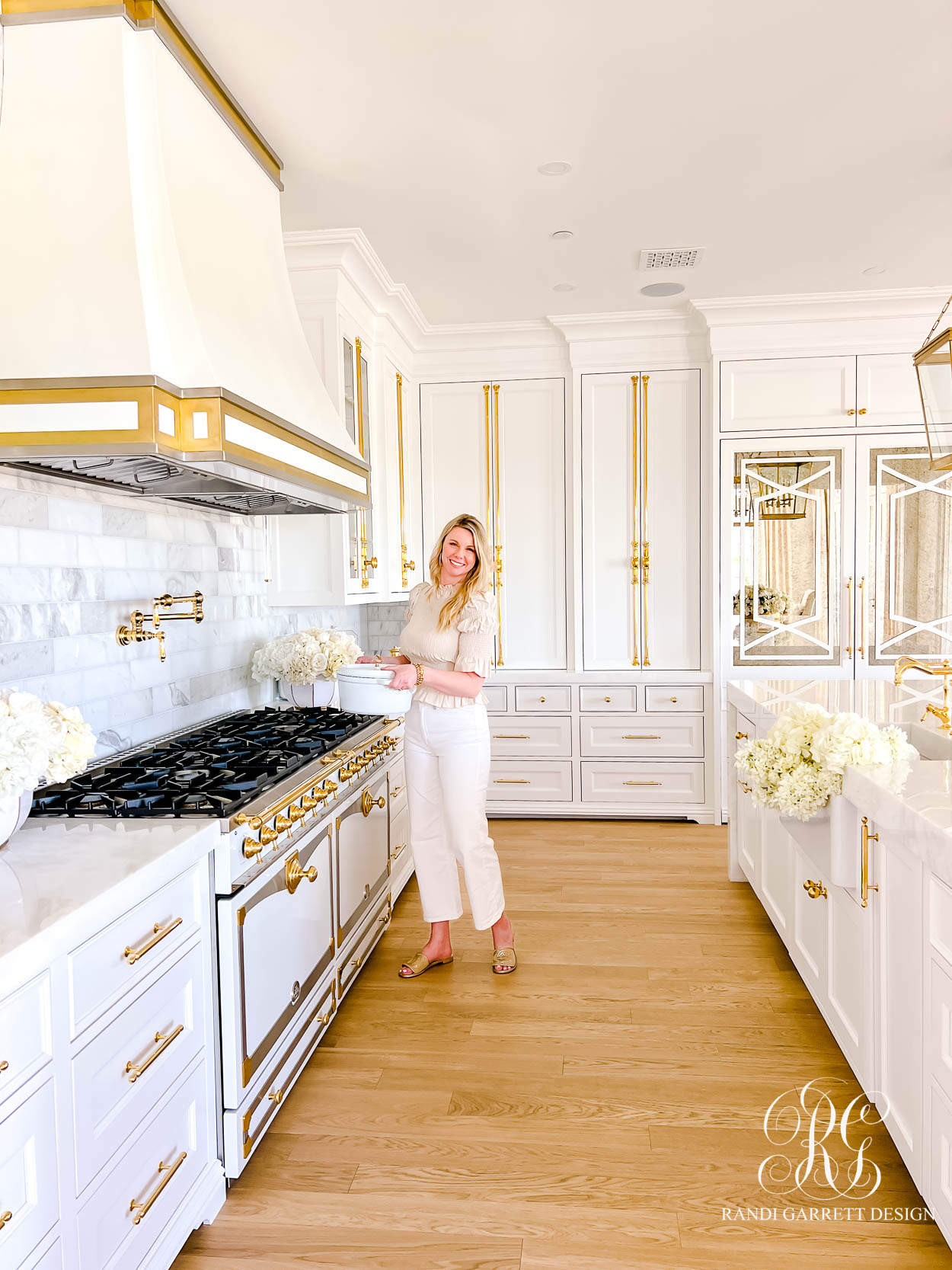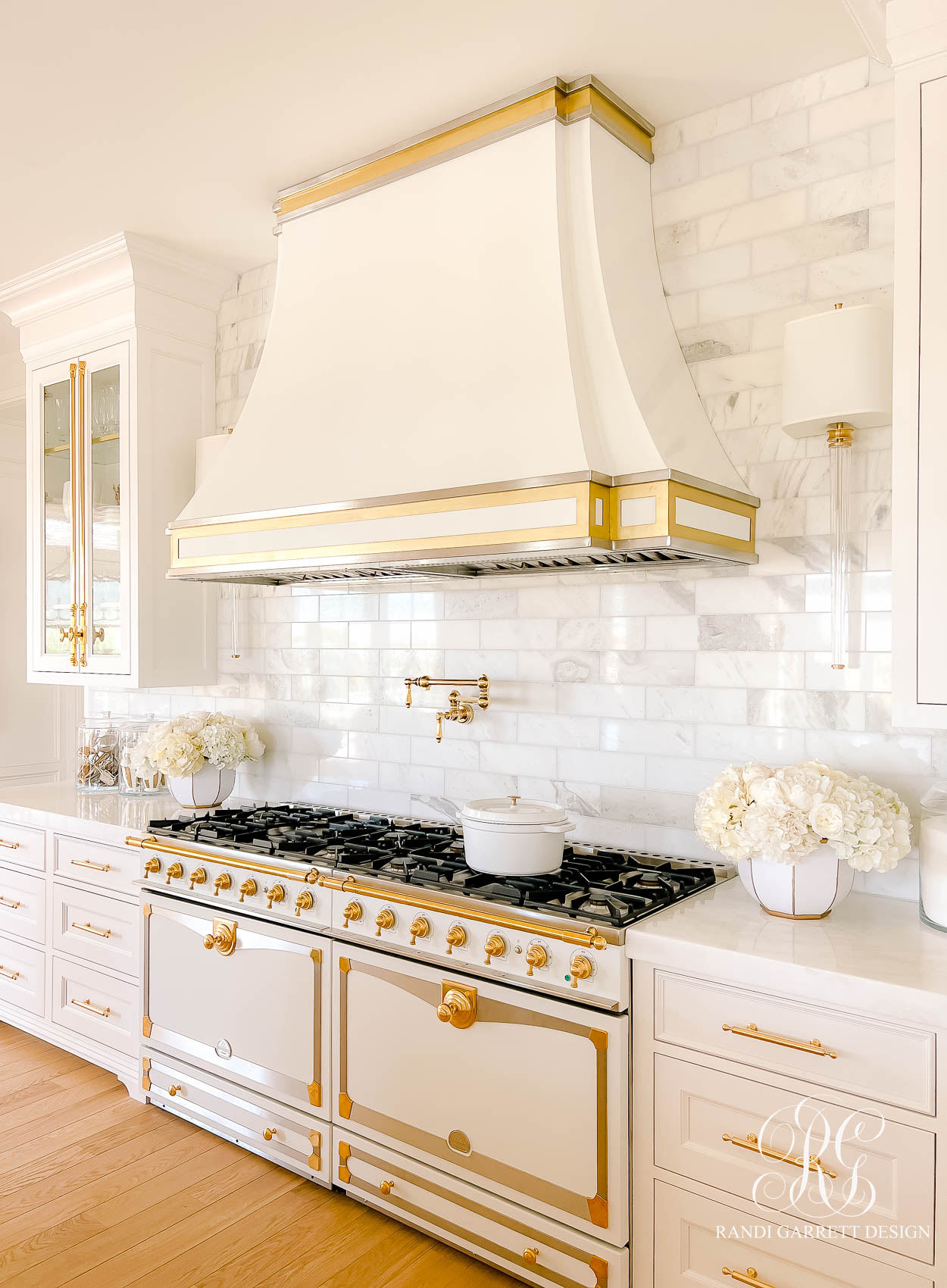 Custom Hood created by Classic Custom Metal Works and Design – Click here for more details.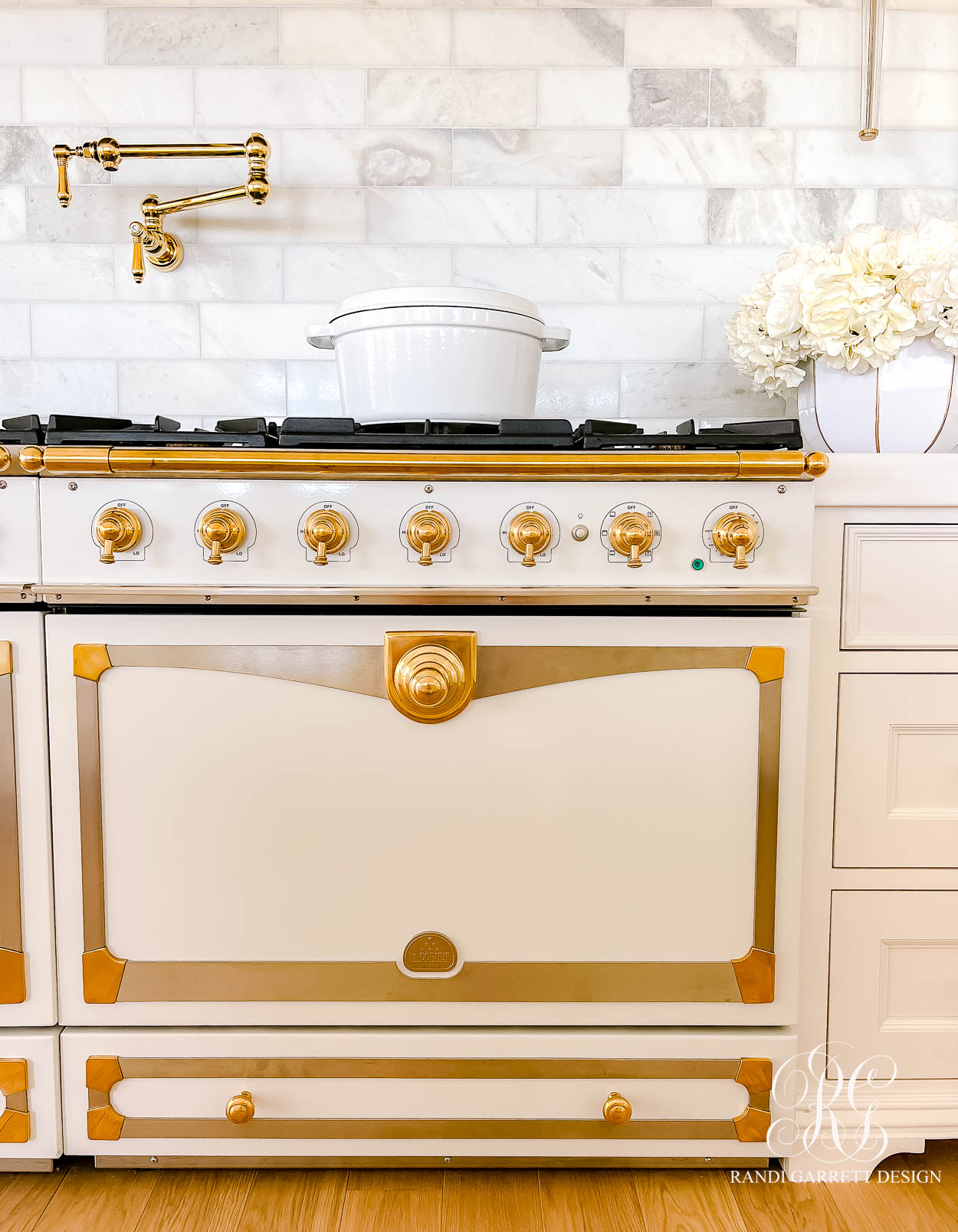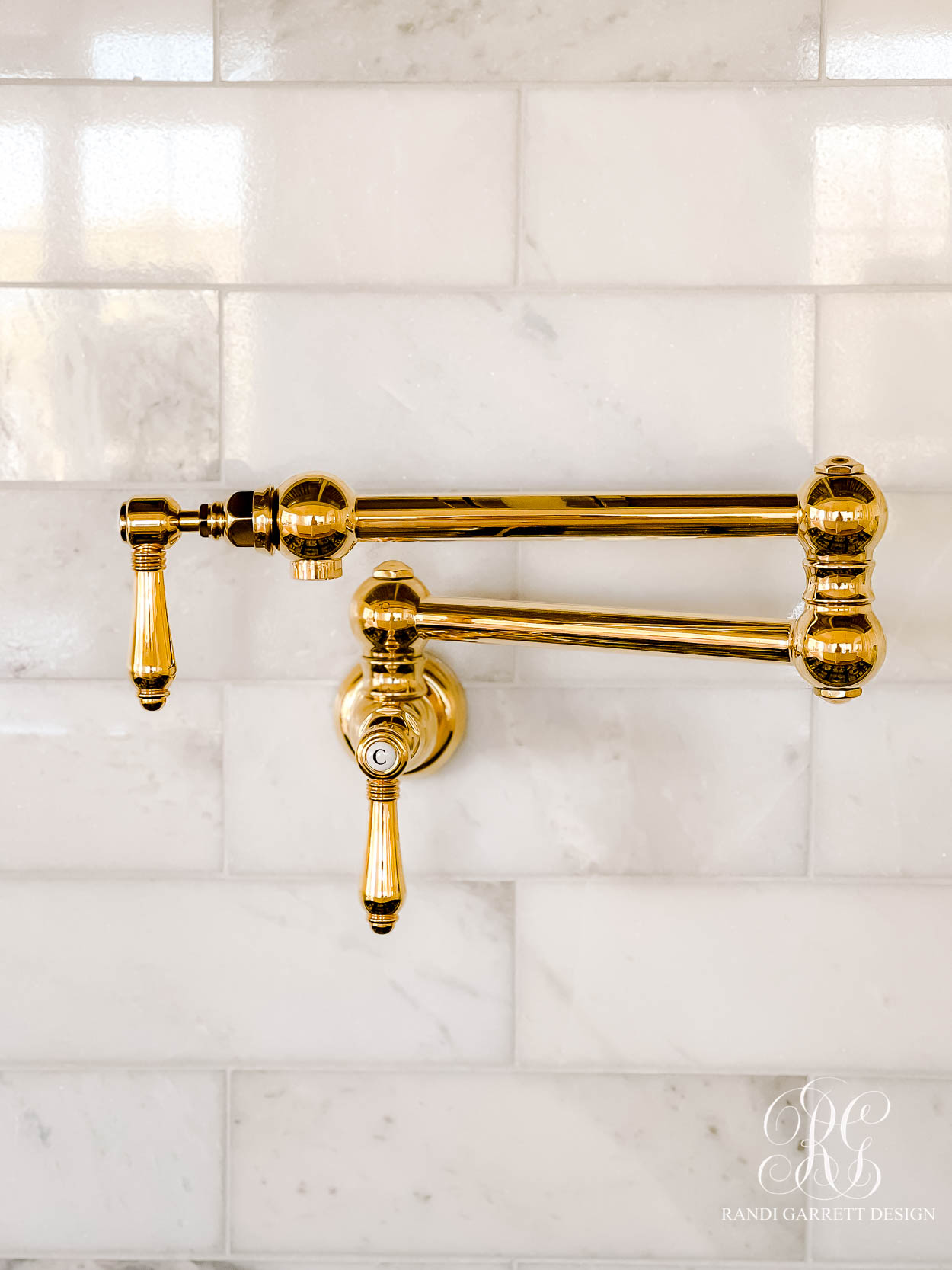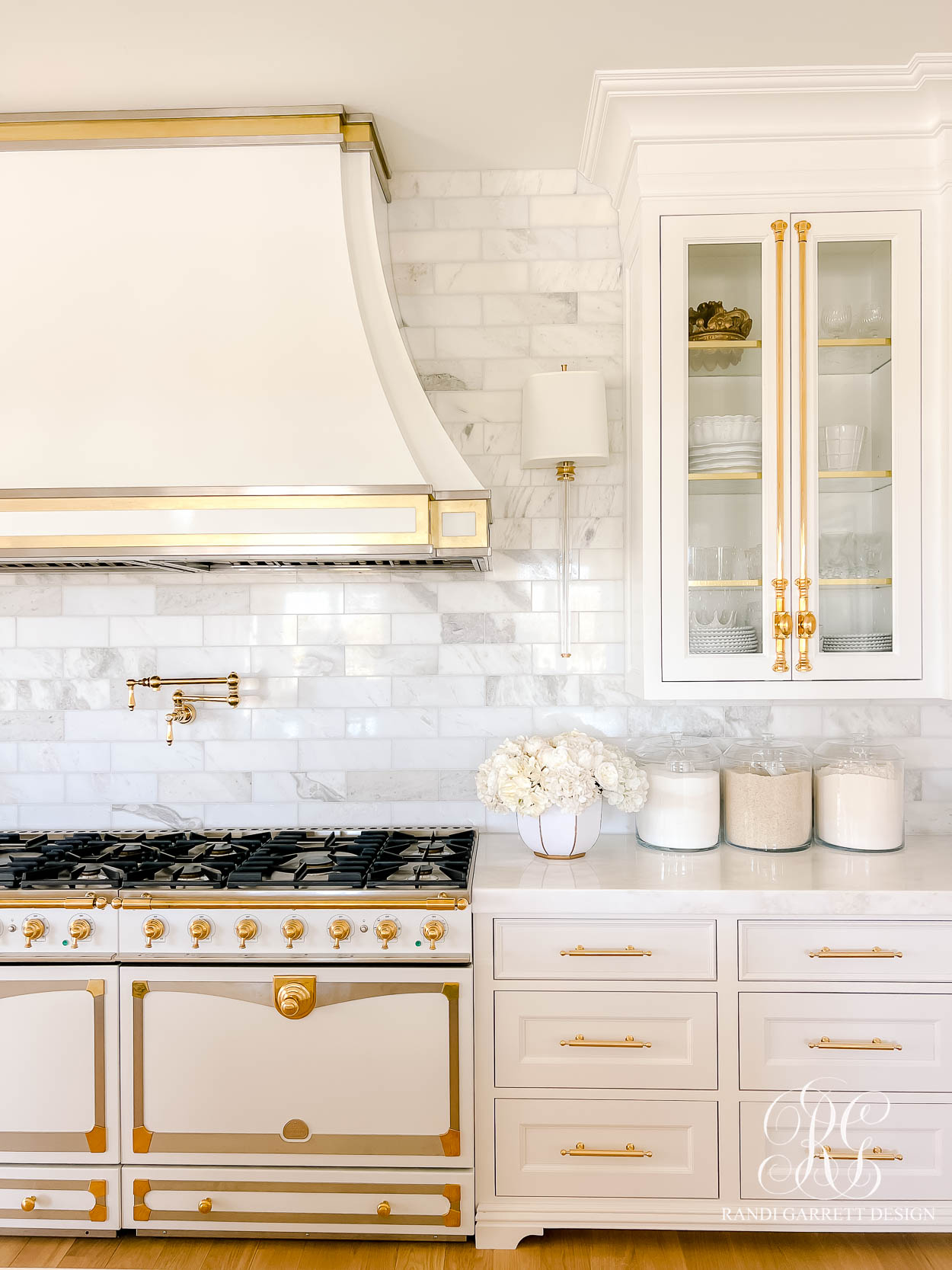 Our range wall takes my breath away! We worked with Cindy and her team at Classic Custom Metal Works and Design to design the range hood of our dreams! The process was so fun and easy! You can read more about the process here. Something I really love about working with them, your hood is completely custom and unique to your home. No one else will have your exact hood making it a one of a kind piece of art in your home. Cindy and her team were able to color match the color and finish of our La Cornue Range. The results are simply stunning!
They are located in Florida and work with customers all over the country. Our hood was fabricated in Florida and shipped to us in Arizona. It was a smooth, pleasant process. Cindy and her team at Custom Metal Works and Design were an absolute dream to work with.
You guys know how much I loved my La Conrue Range in our previous home. Read my review on La Cornue here. I knew I wanted one in The Wren. The price jump from the size I had to the larger size, which we needed, was about $30,000. Not in the budget! One day when scrolling on Pinterest, I found a photo that stopped me in my tracks! This kitchen has two La Cornuefe Albertine ranges side by side. It looked like their larger range at a fraction of the cost! One of my friends on Instagram had just installed two black and gold ones in her kitchen so I was able to see how they looked. They were fabulous, so we purchased two white and gold La Cornuefe Albertine ranges and have been absolutely thrilled with them.
I know I am going to get lots of questions about why I placed two sconces next to the stove! Well, they soften the wall and add a beautiful sparkle day and night. They do not get dirty with grease because they are high enough that any flying grease won't land on them. Our marble backsplash takes any splashing like a champ! We used Africa Tempesta 4×12 subway tiles for our backsplash. I took a sample of our countertop to the tile store and matched this with it. I wanted the walls to have some gray to tie in the stainless steel on the hood and range.
The glass door cabinets flanking the stove have seeded glass with thick glass shelves and a custom gold lipped edge. The glass shelves had a blue edge we weren't in love with. The glass guys suggested using shower glass edging to cover the blue. Brilliant! They cut it to size and attached it with some adhesive. It's one of my favorite details in the kitchen.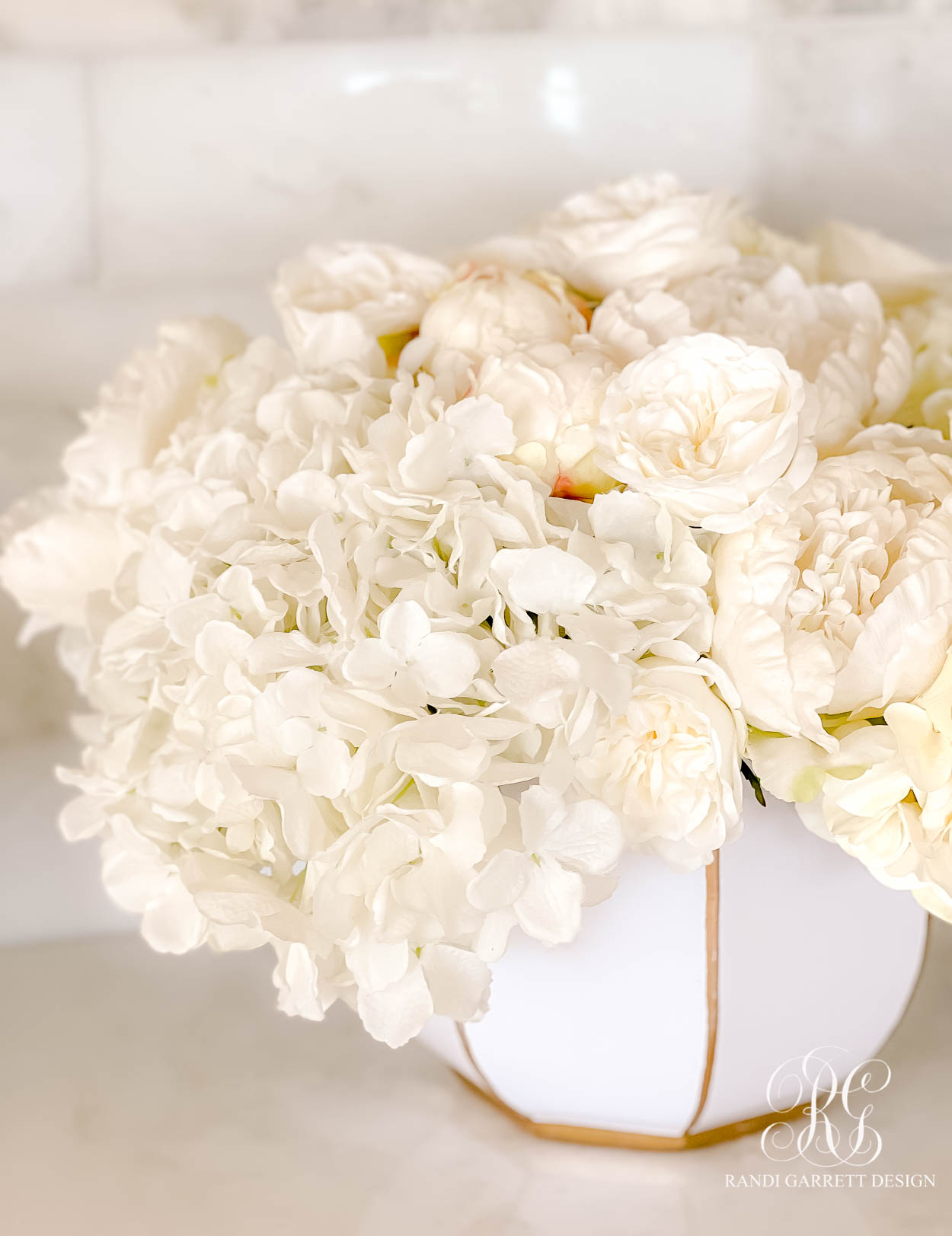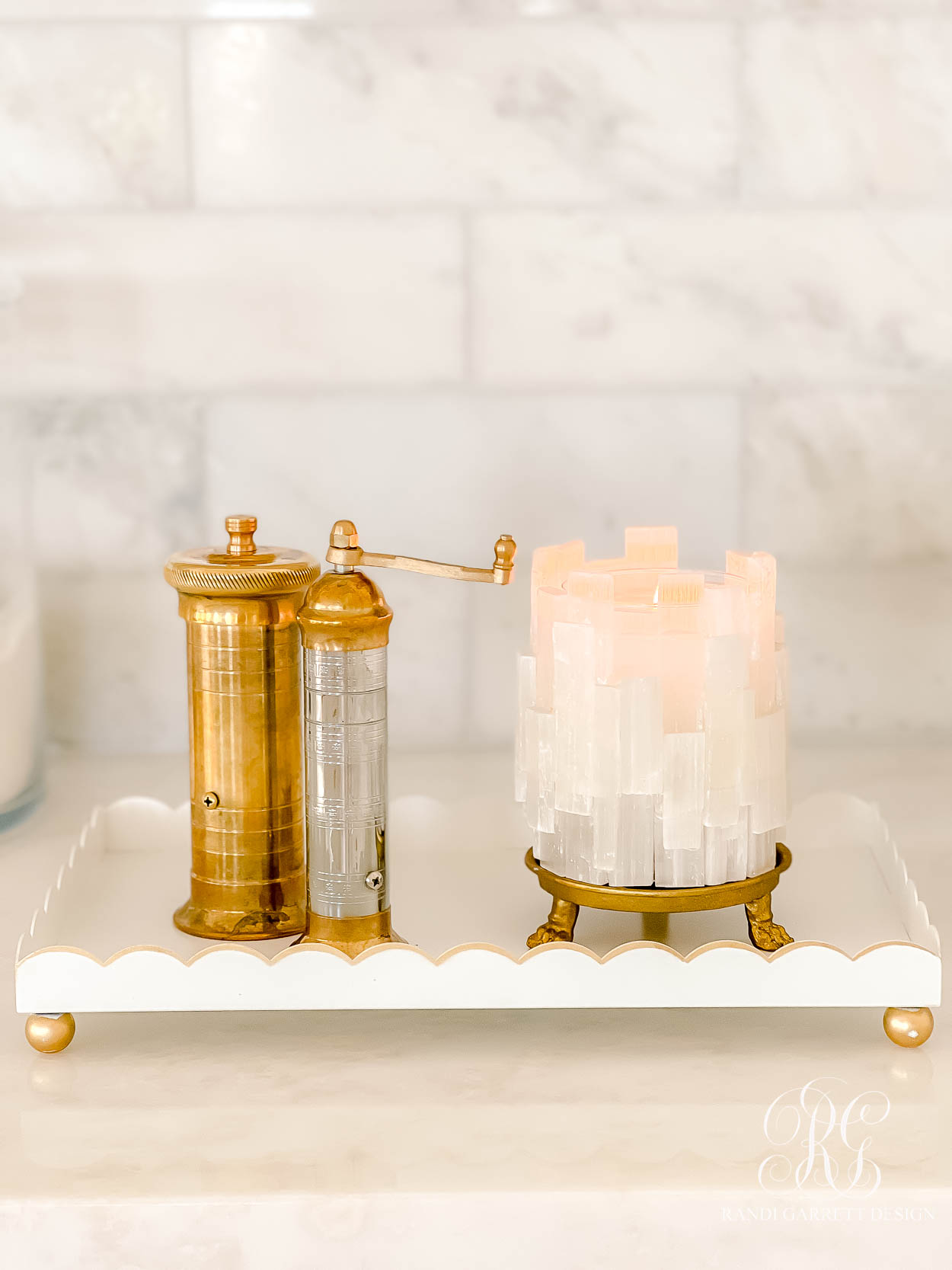 I kept the accessories to a minimum. Simple floral arrangements (sources below) flank the stove. My favorite scalloped tray holds a few kitchen staples (sources below).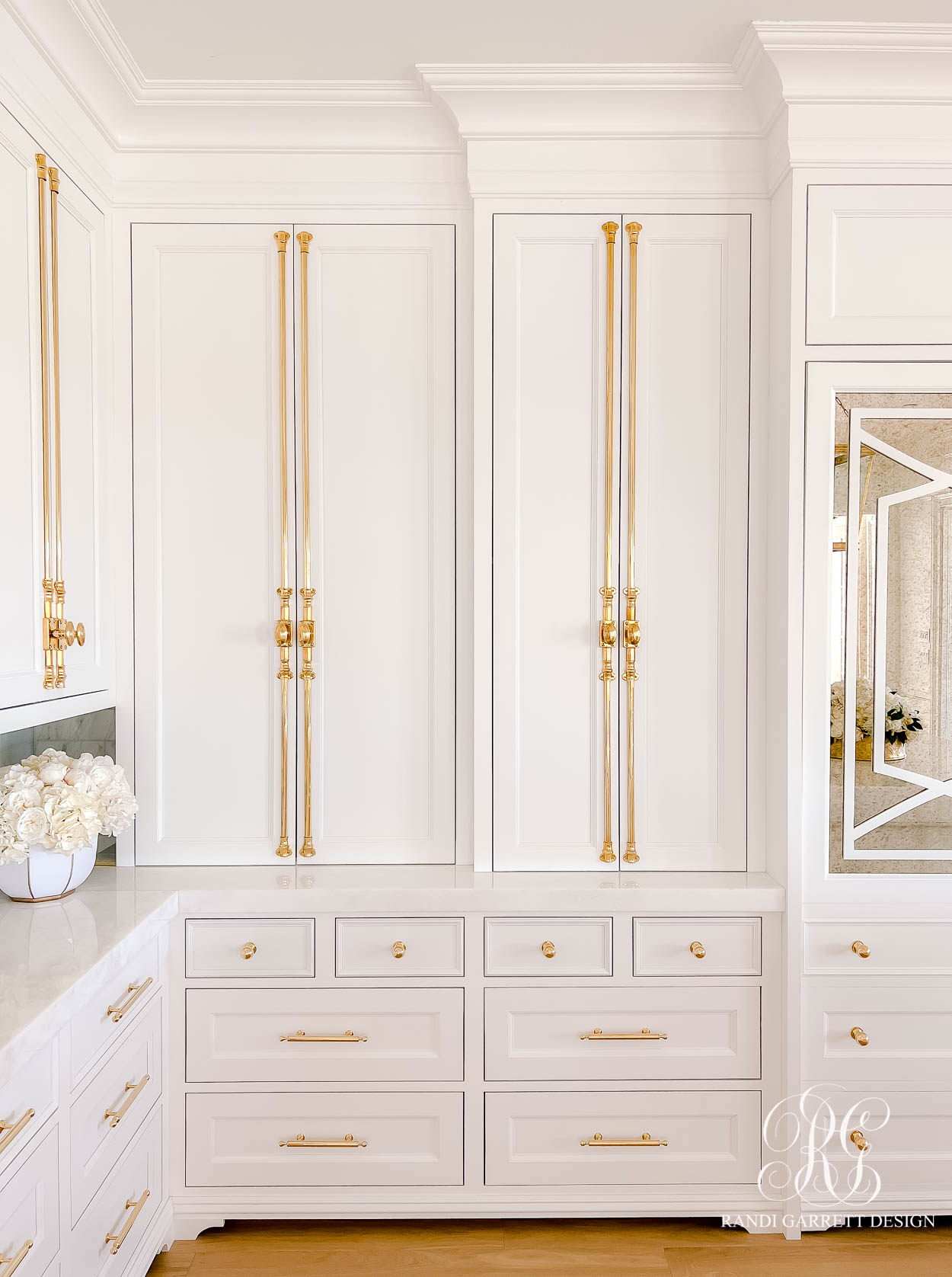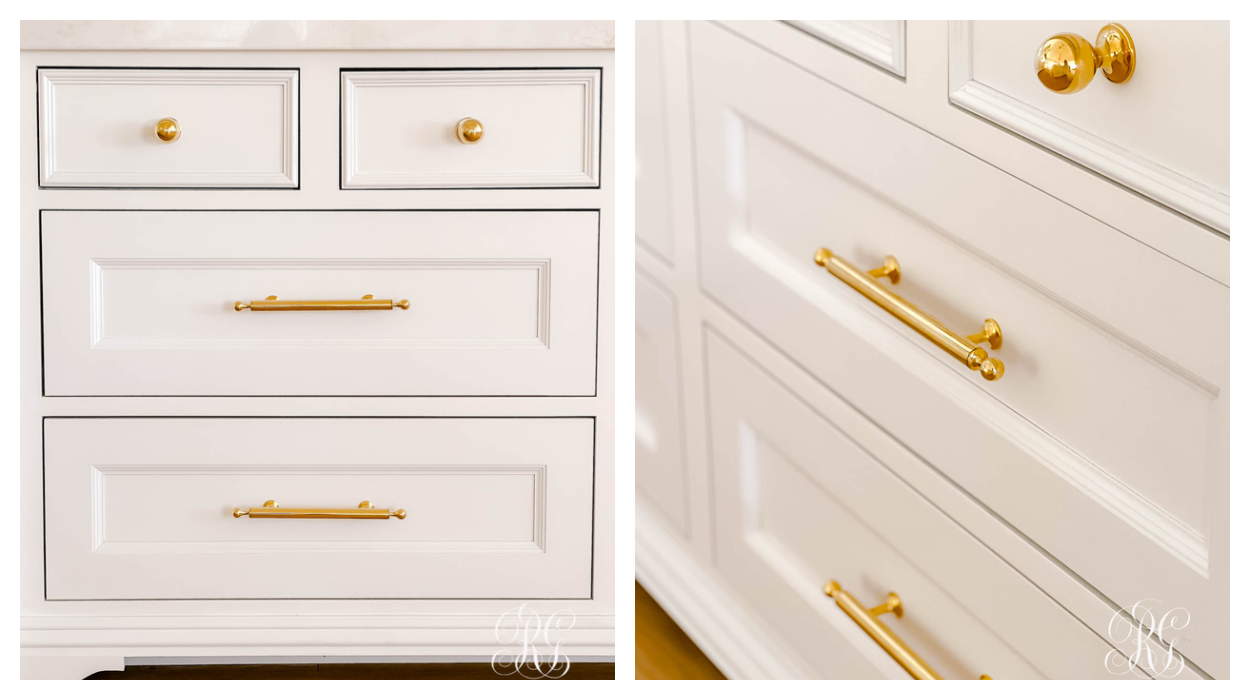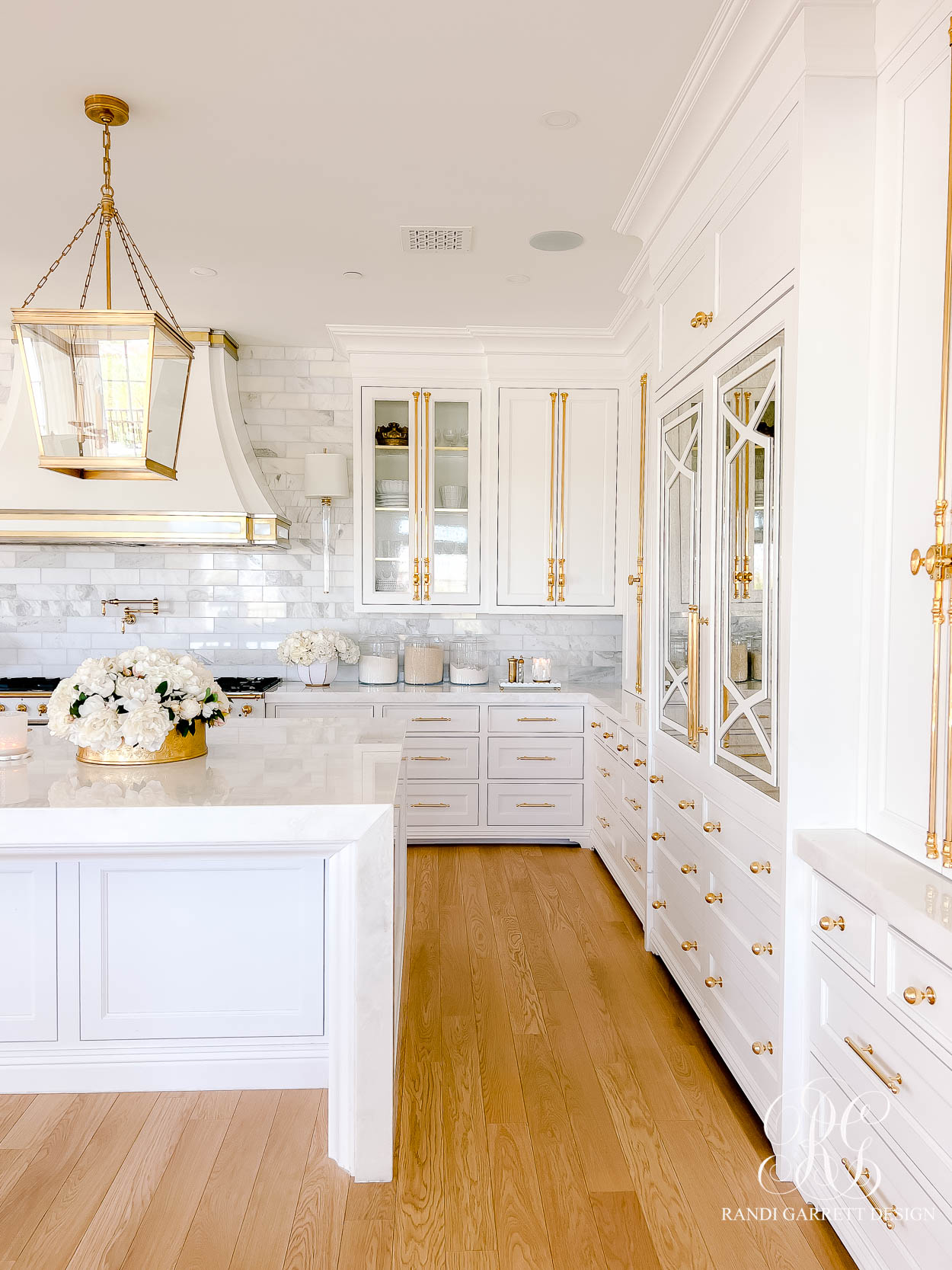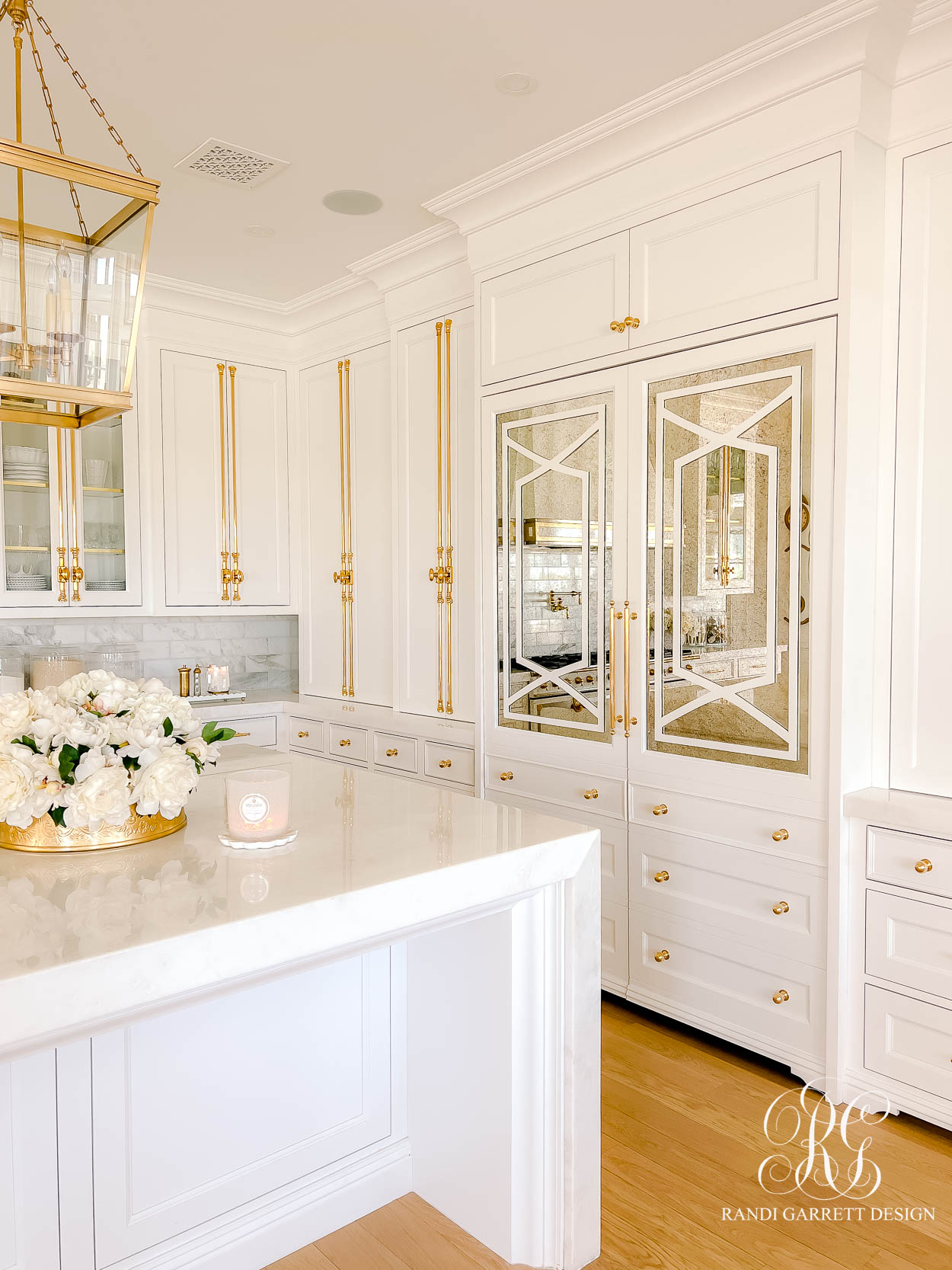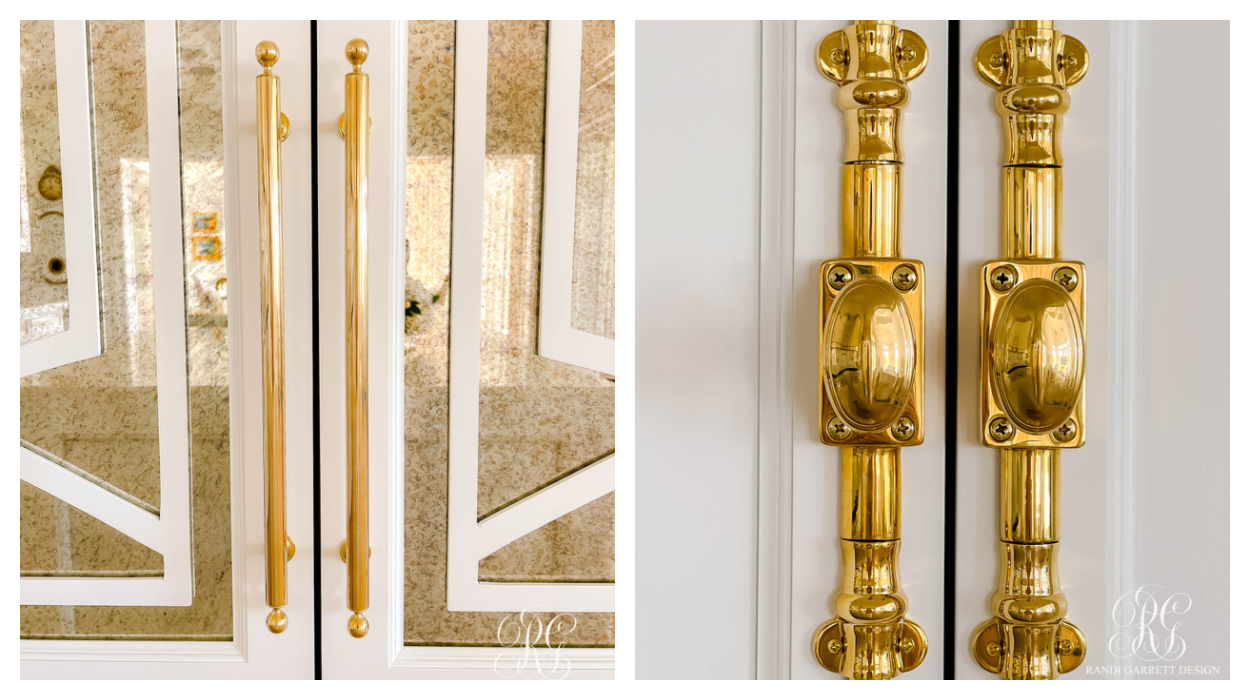 Our cabinet hardware is from Armac Martin. Each handle and knob is solid brass in a stunning polished brass unlacquered finish from the gorgeous Latchford collect. To say they are luxurious is an understatement! Each piece is like a dazzling jewel on the cabinet! They are so many beautiful collections to choose from in 23 breathtaking finishes. The incredible attention to detail each piece offers makes me giddy! You will also see Armac Martin pieces throughout our entire home.
The solid brass Cremone Bolts featured are from Baldwin Hardware. These are one of my favorite details in the kitchen making her feel so unique! Cremone bolts are very popular in French design, which is just one of the reasons I adore them. They can be fully functional or decorative. We chose to have our's installed to be decorative. Meaning the top and bottom do not lock into place. They come in 7′ and 8′ lengths. Just trim to fit your door or window. Choose from one of their 14 finishes. Our's are the Non-Lacquered Brass finish. Baldwin did an amazing job designing these stunning pieces to be durable, functional and beautiful!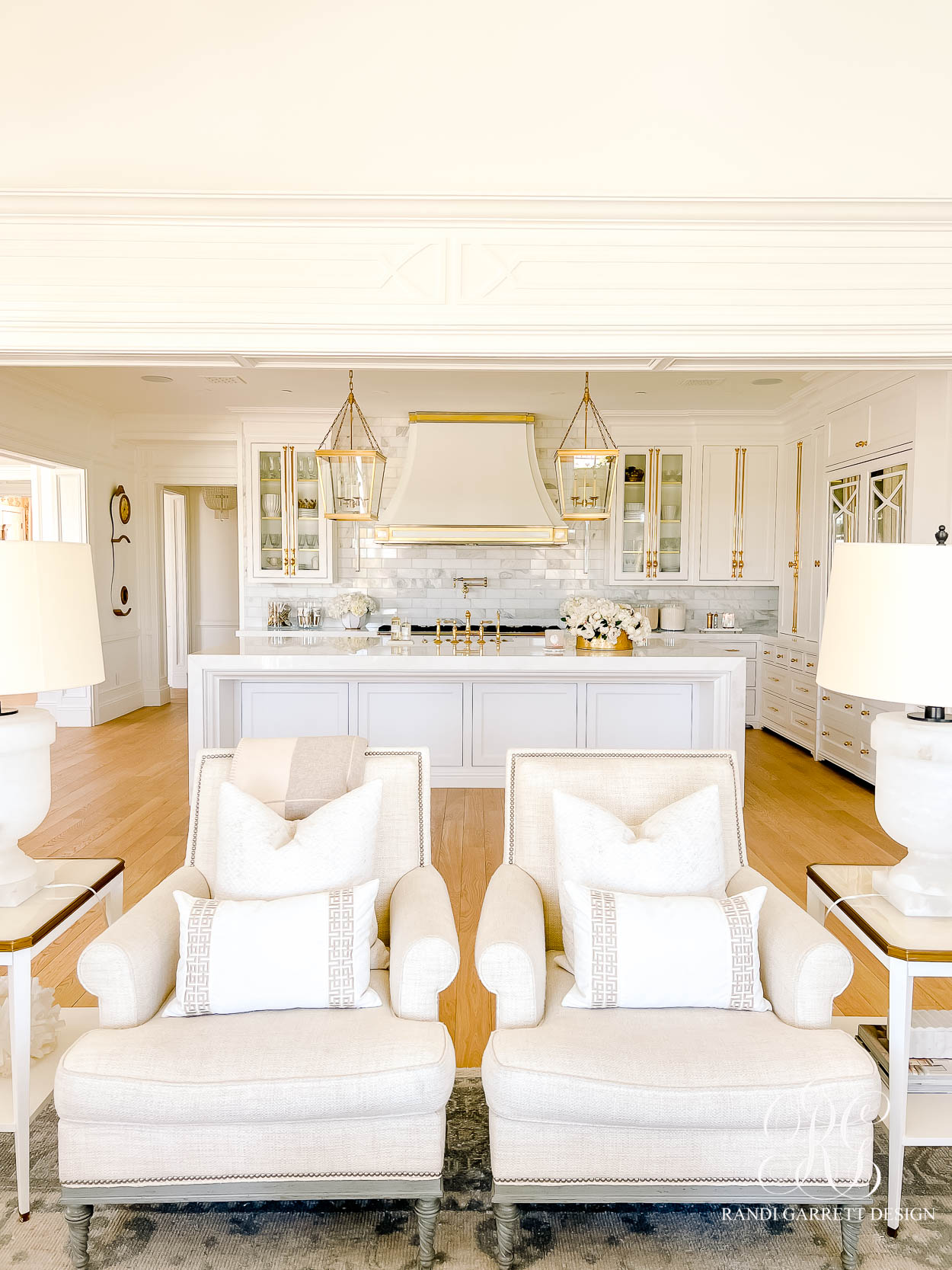 I hope you guys enjoyed The Wren's Kitchen Reveal! I will be back next week with a tour of the family room! What is your favorite detail? Below is a detailed source list for you.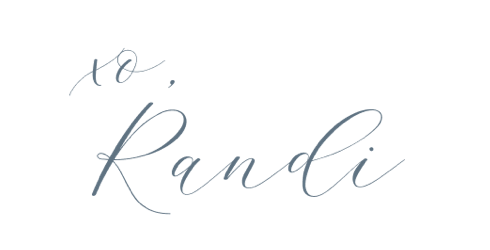 Sources
(click on word for source)
Paint: Walls, Trim and Base – BM Chantilly Lace (Semi Gloss), Cabinets – BM Chantilly Lace
Custom Cabinets: Kindred Custom Cabinetry
Countertops: Bianco Rhino Extra – Polished
Backsplash: 4×12 Africa Tempesta – Polished
Grout Color: Arctic White
Floors: Havwood Amalgama it's part of their Italian collection
30″ Hillside Apron Sink: c/o DXV
Stove: 2 La Cornue Cornuefe 90 Albertine Range in Pure White side by side
Custom Vent Hood: Classic Custom Metal Work and Designs
Cabinet Cremone Bolts in Non-Lacquered Brass finish: c/o Baldwin Hardware
Cabinet Hardware (Latchford Knobs 35mm and Latchford Cabinet Handle in Polished Brass Unlacquered Finish): c/o Armac Martin
Latchford Appliance Pulls in Polished Brass Unqacquered Finish: c/o Armac Martin
Countertop Canisters: Size Extra Large
White and Gold Bamboo Bowls (holding the flowers flanking the stove)
White Hydrangeas Faux (used in island arrangement and stove arrangements)
Faux Peony Bud (in island and stove arrangements)
White Peony Bunches Faux (in island arrangment)
White Cabbage Roses Faux (in arrangements by stove)
Gold Cake Pedestal (used to hold the flowers on the island)
White Scalloped Tray with Gold Feet