Living in the land of sunshine, aka Arizona, we spend a good amount of the year outside! Matt and I wanted to create a backyard that was fun for the kids and a beautiful extension of the inside of our home. We love to entertain family and friends, so creating comfortable gathering places was also key. Countless hours have been poured into the design, creation and completion of The Wren's backyard. We are still waiting for a few pieces to arrive but she is almost finished. Today, I am so pleased to welcome you into our backyard! I hope you enjoy The Wren's backyard reveal and get some inspiration for your home.
There is a detailed source list at the end of the post for you.
This post contains affiliate links for your convenience. Read my disclosure policy here.
Backyard Dining Area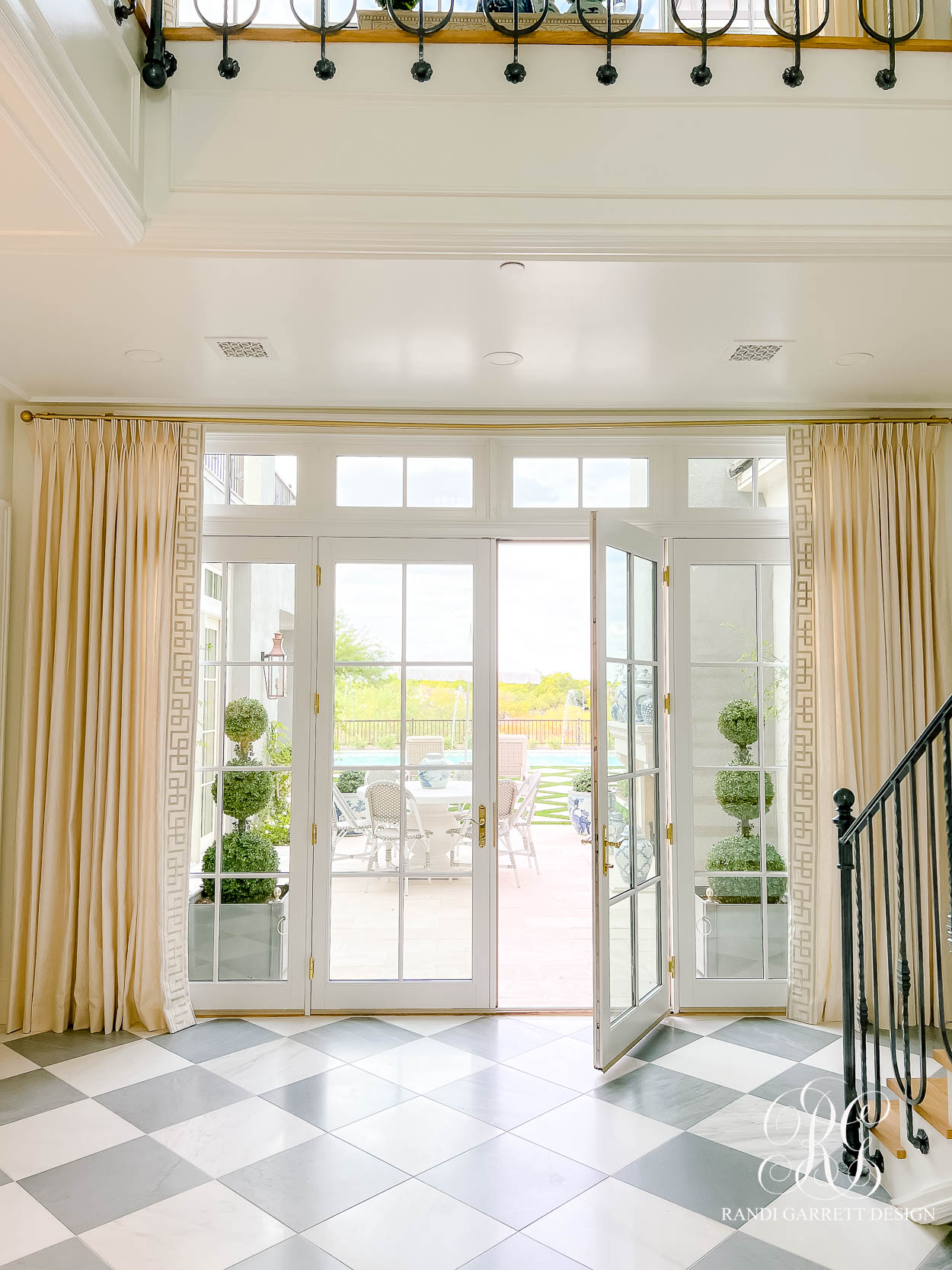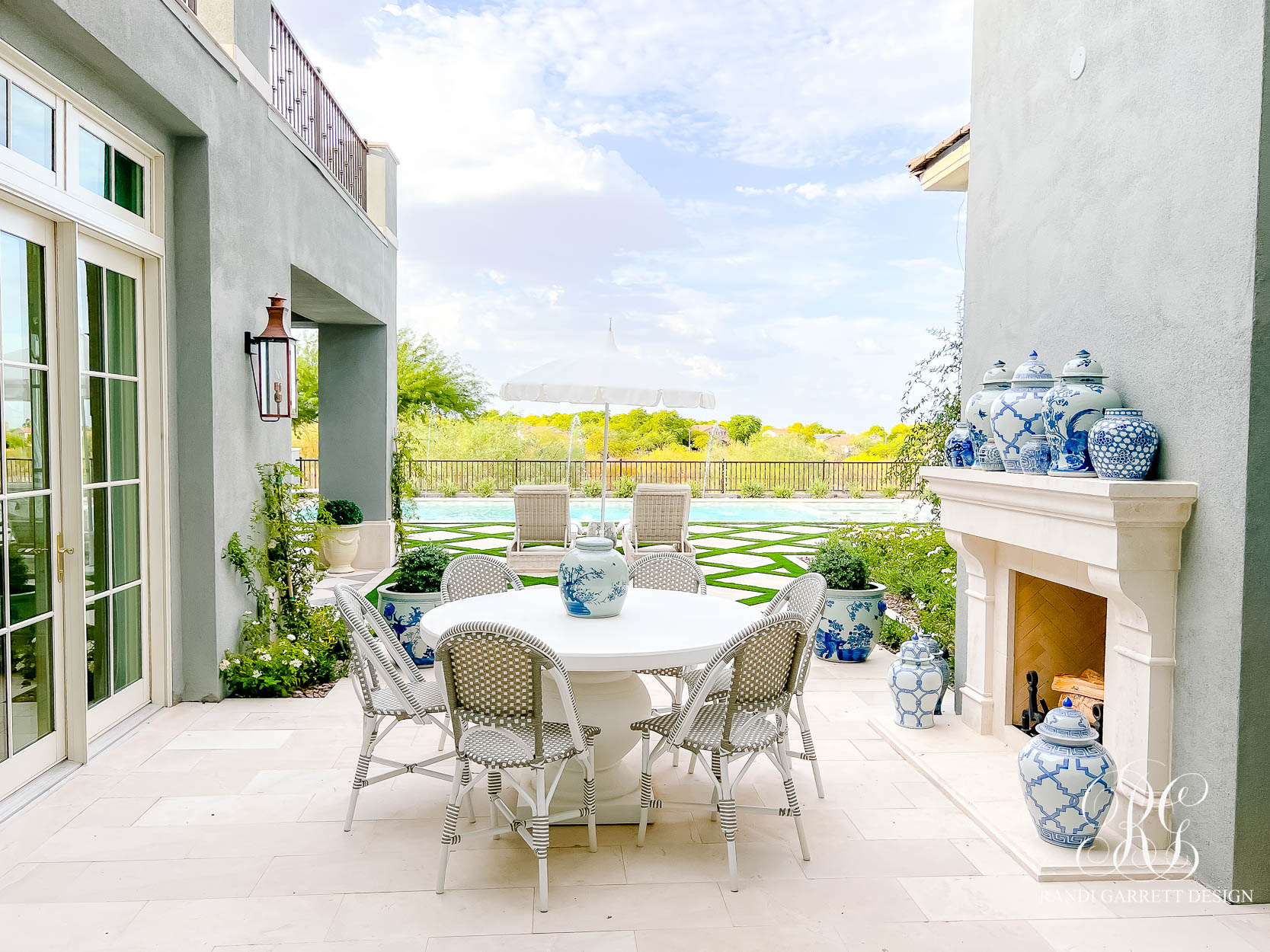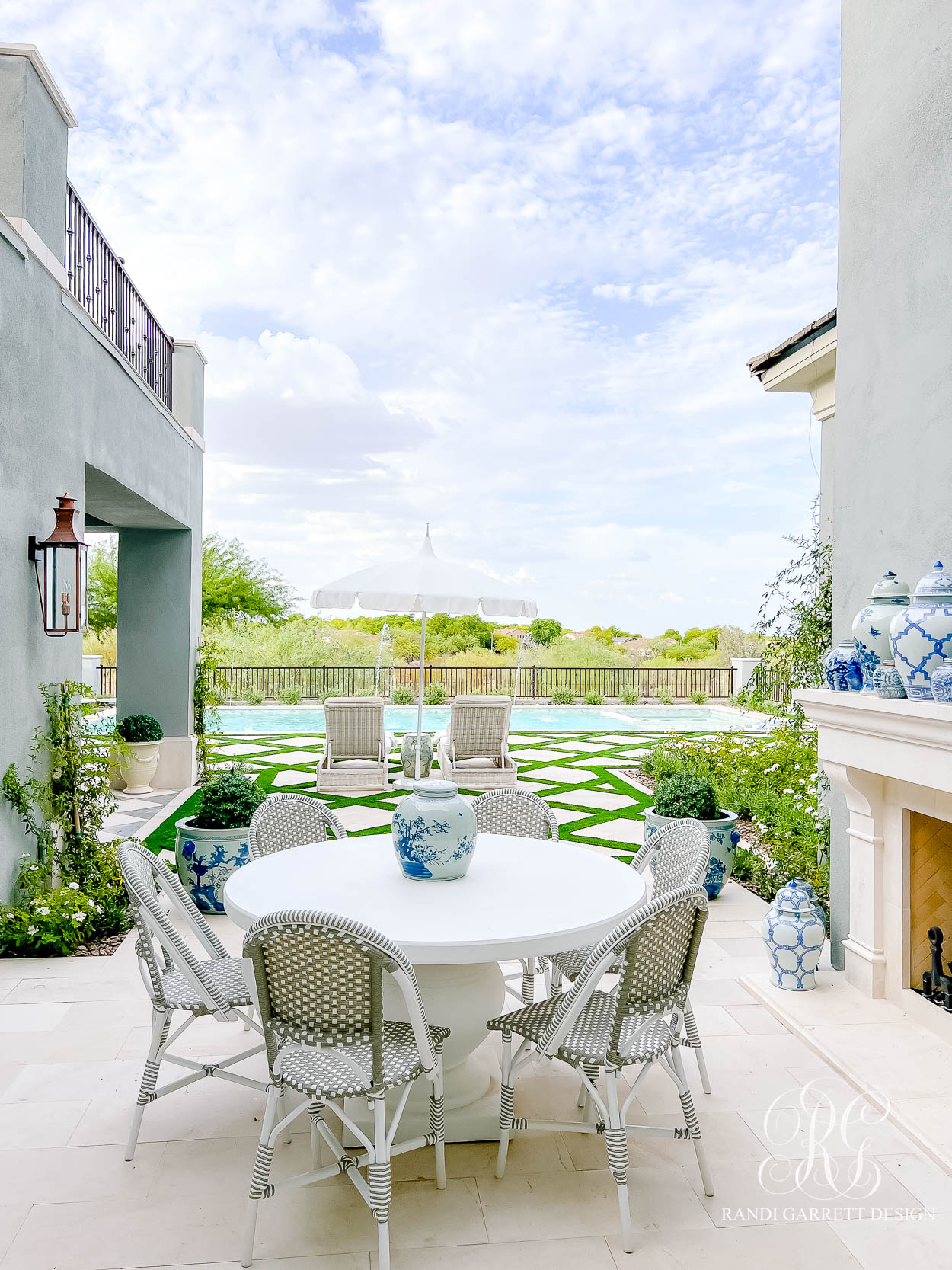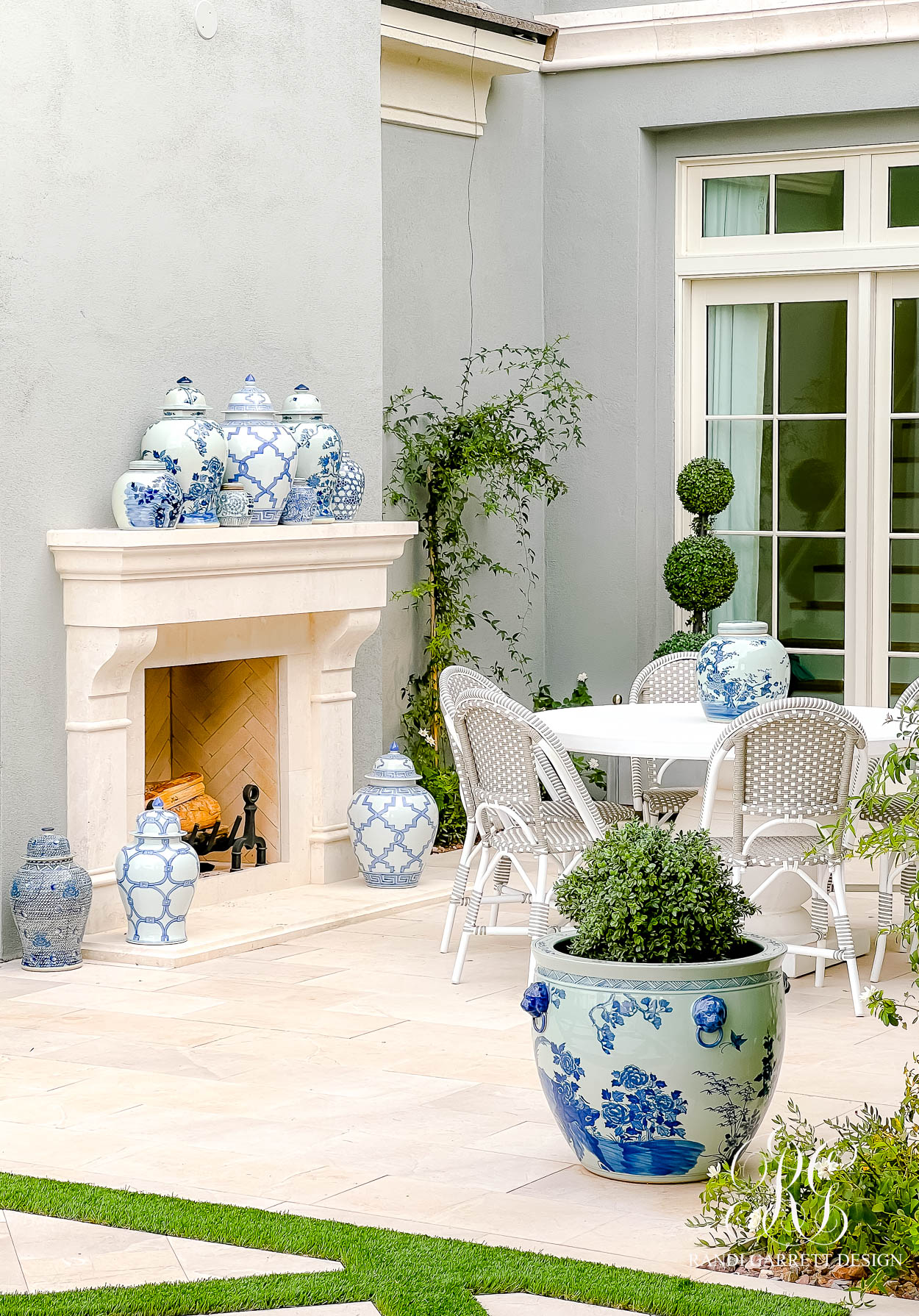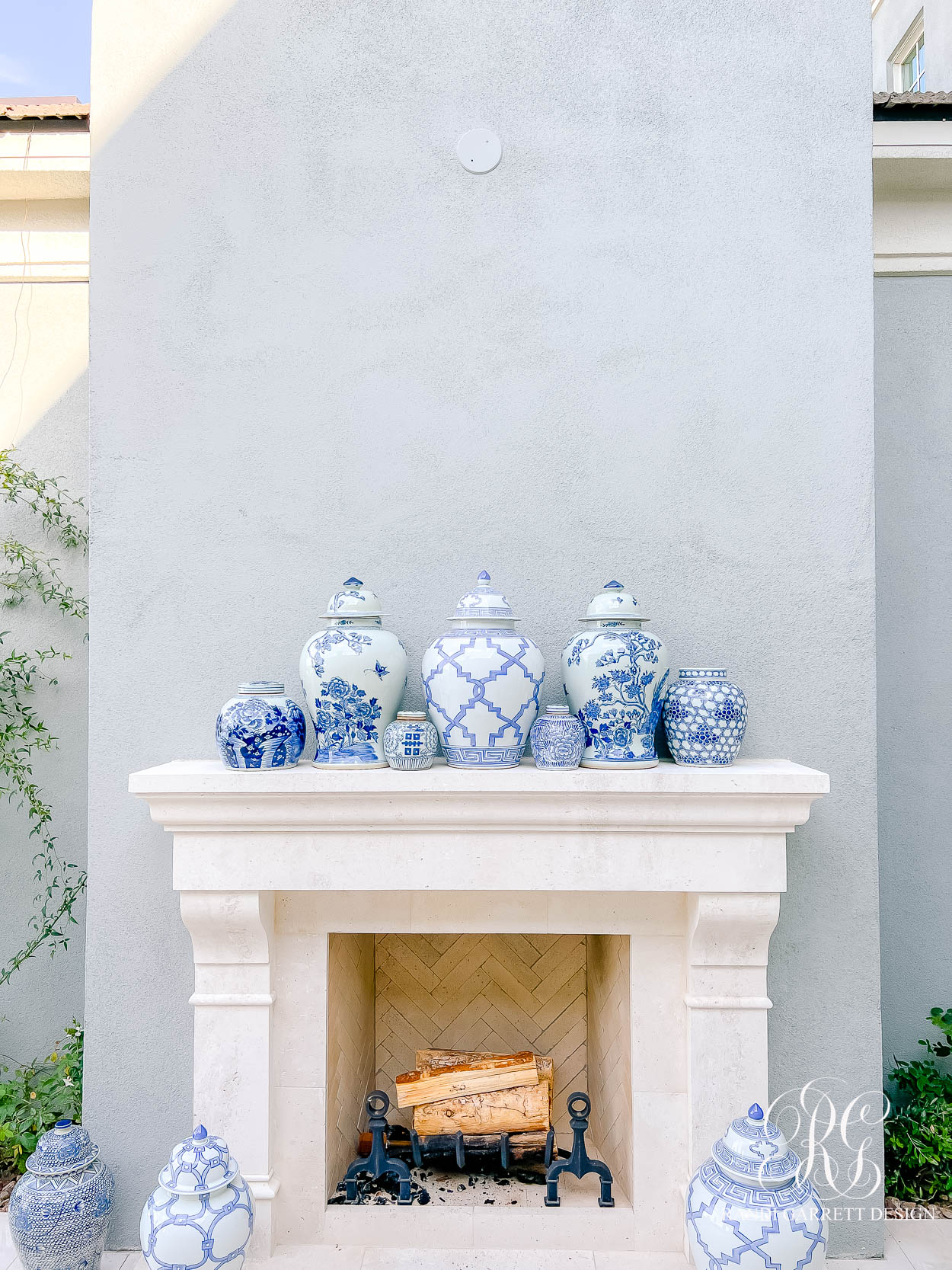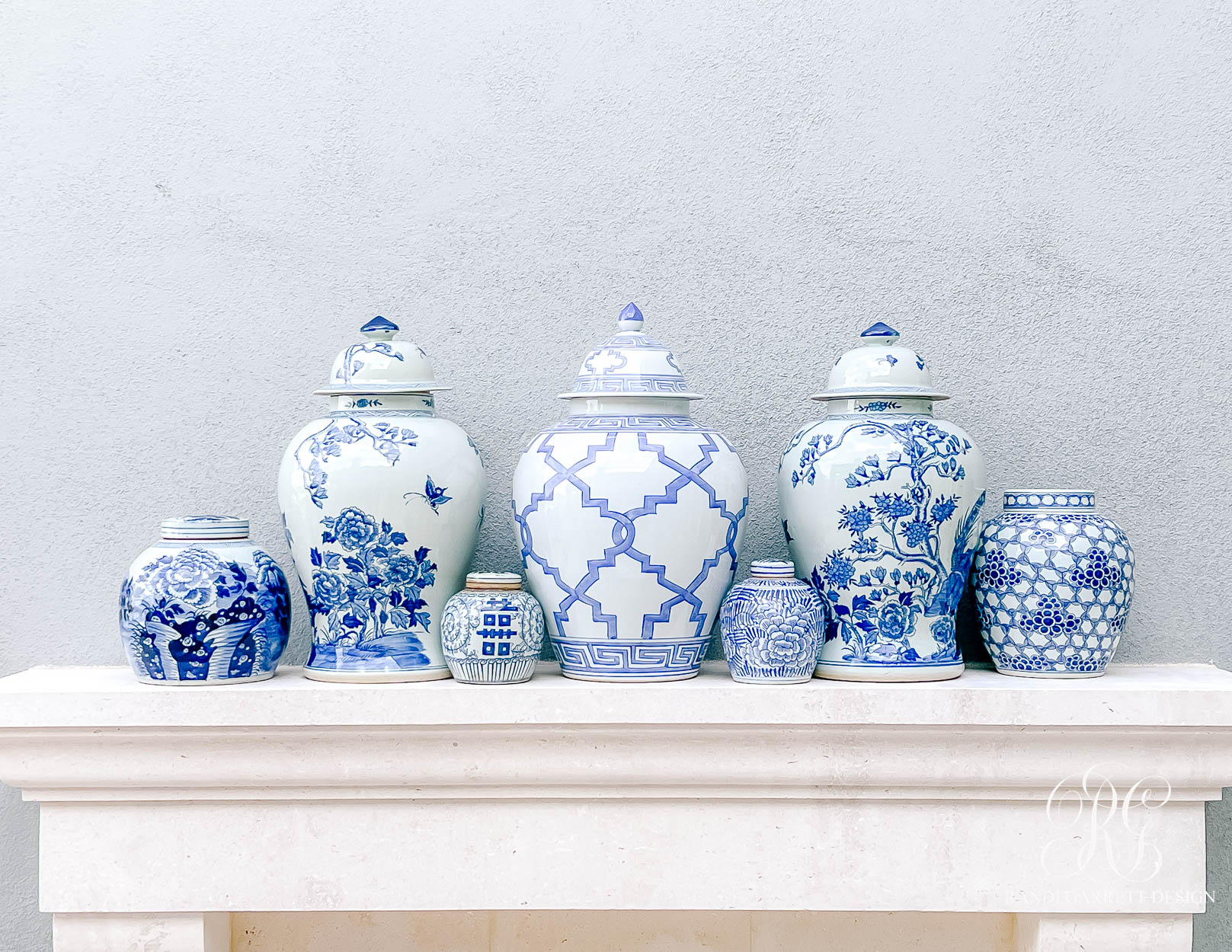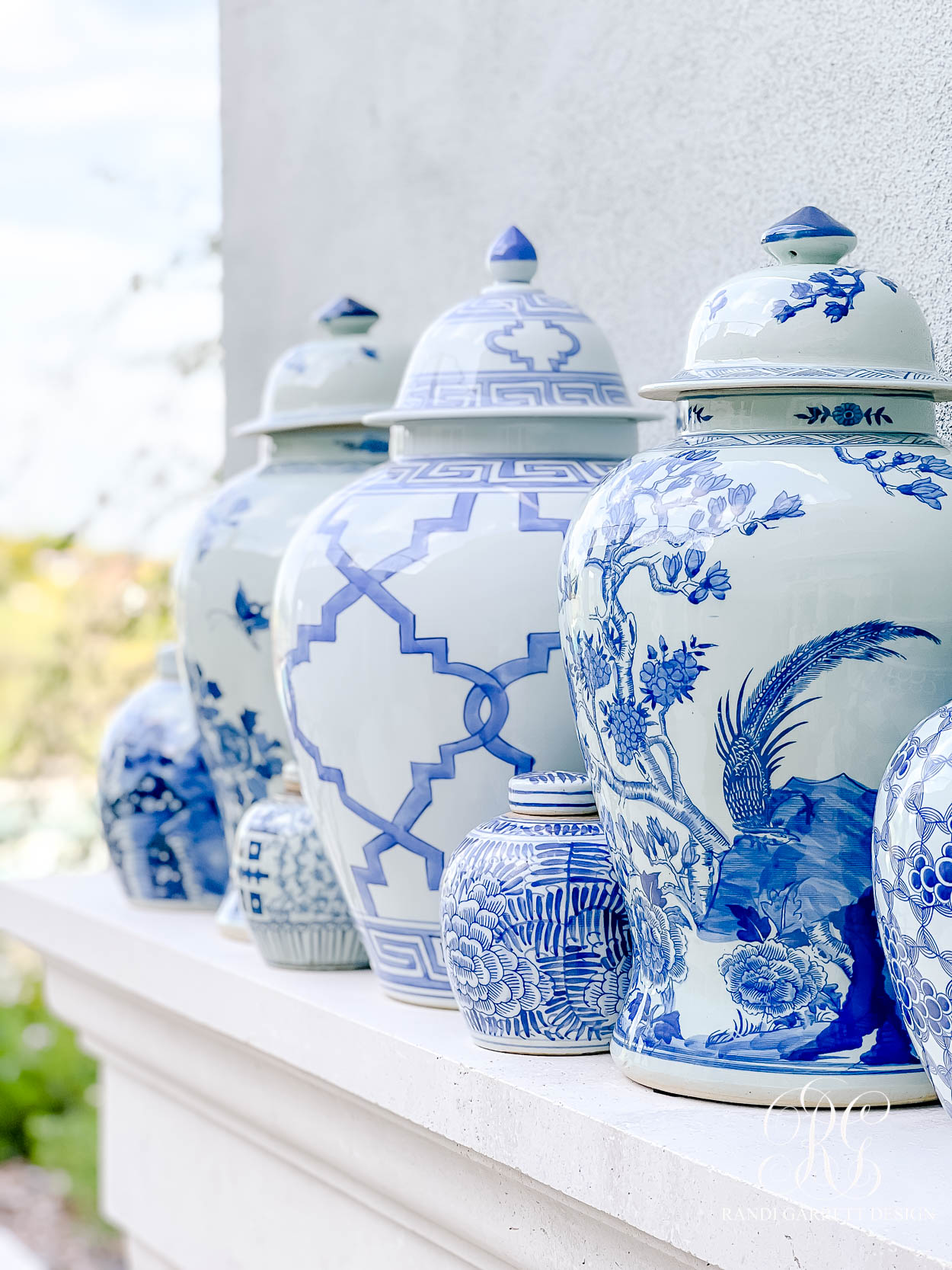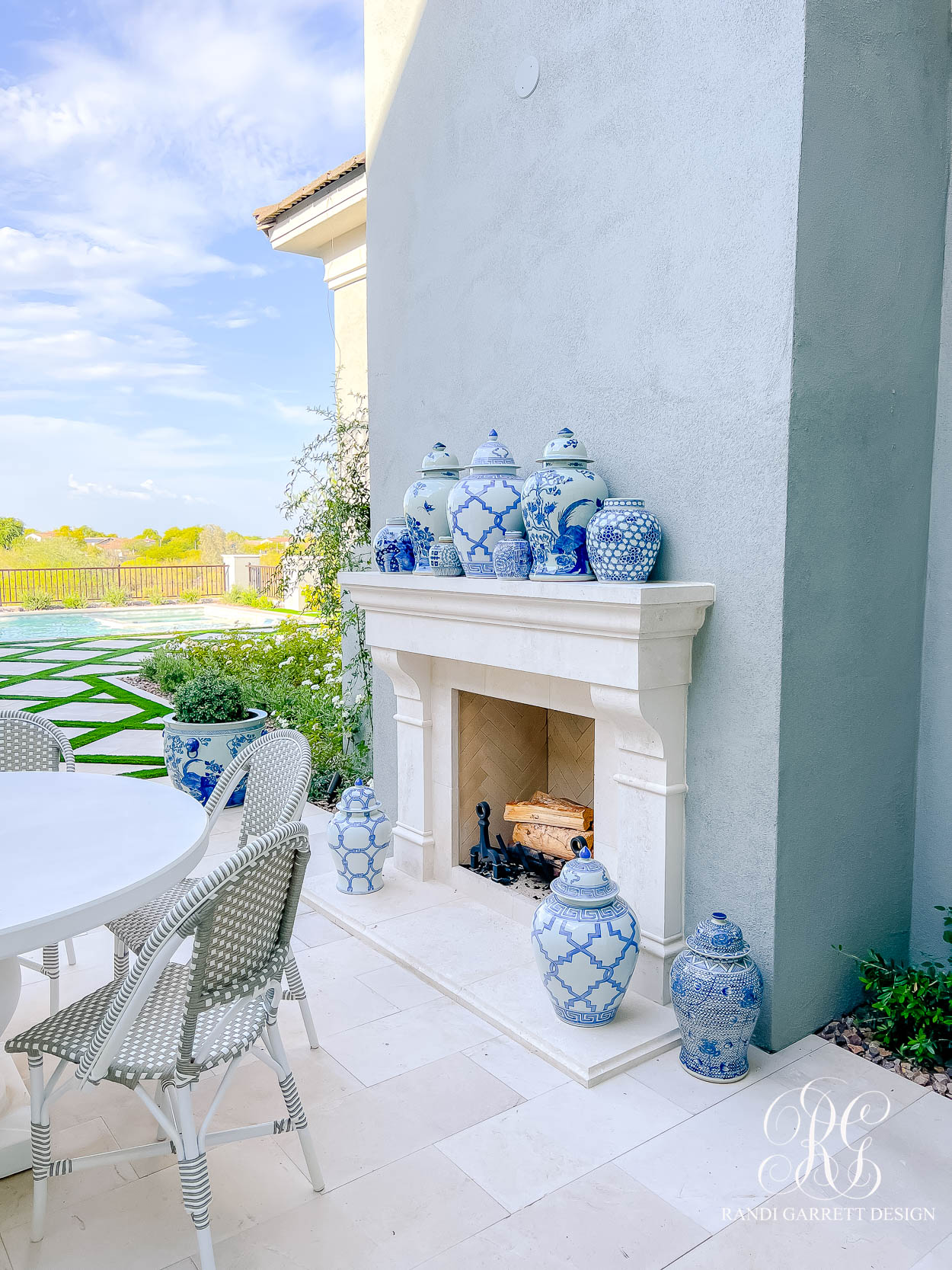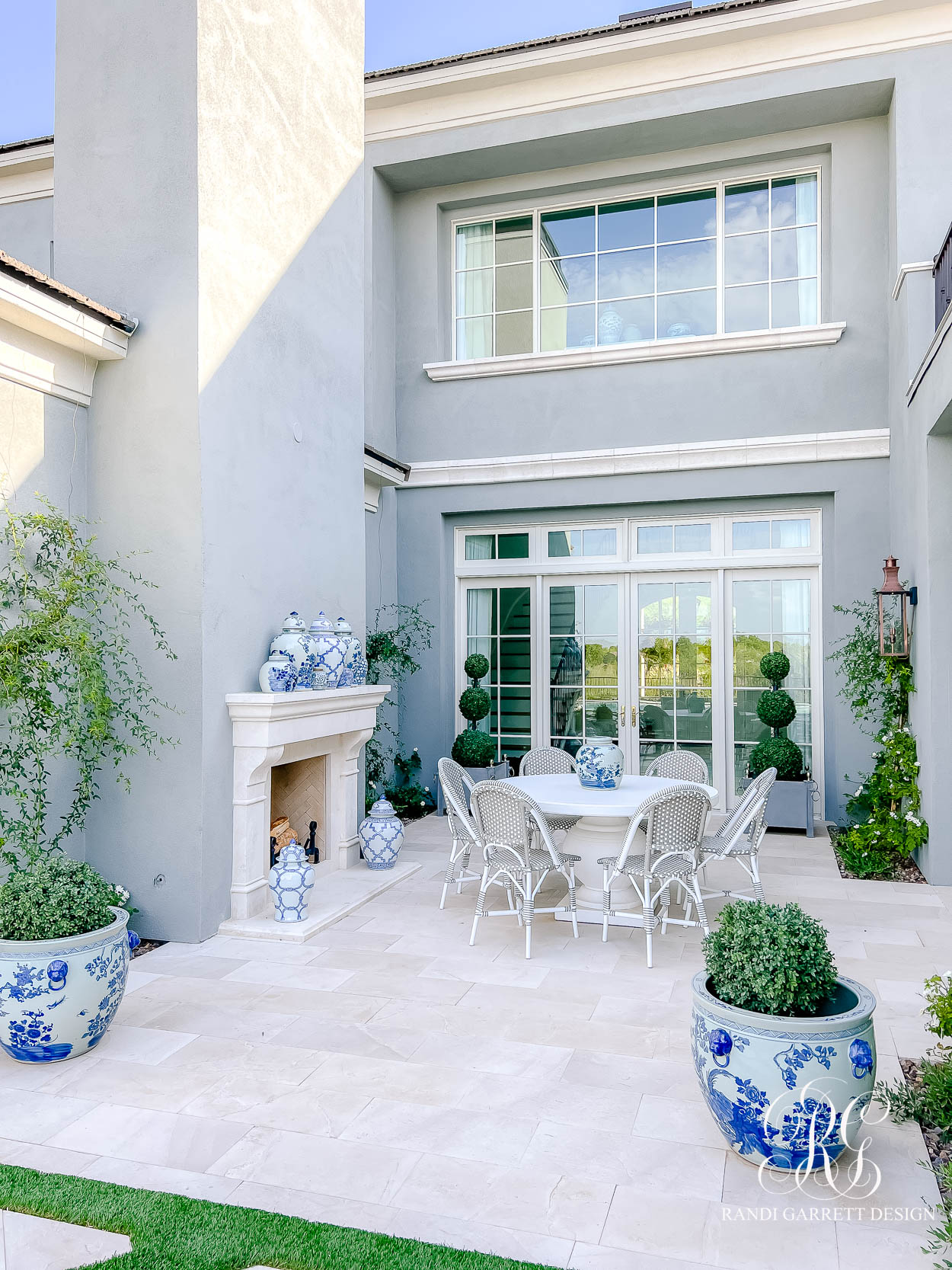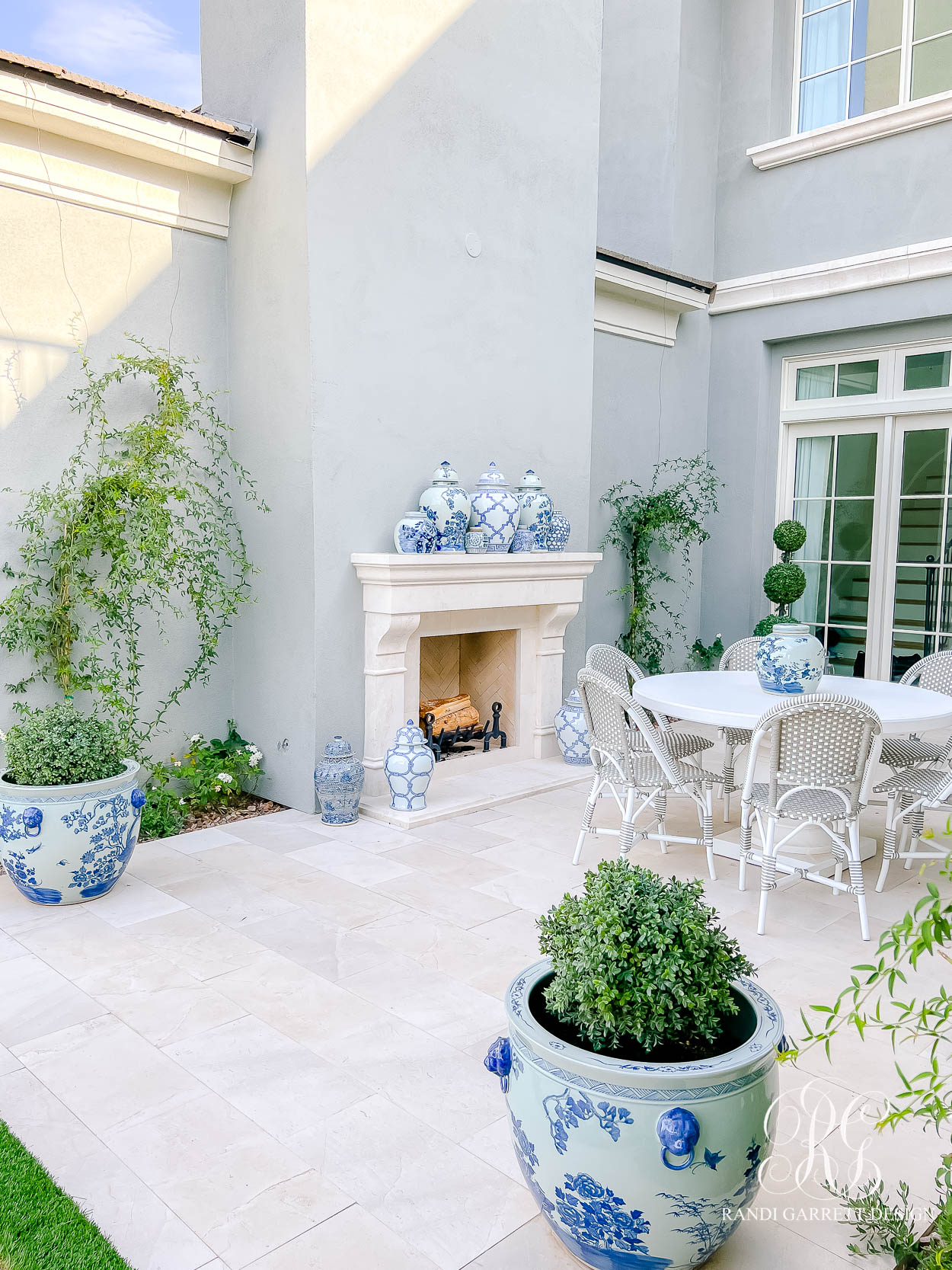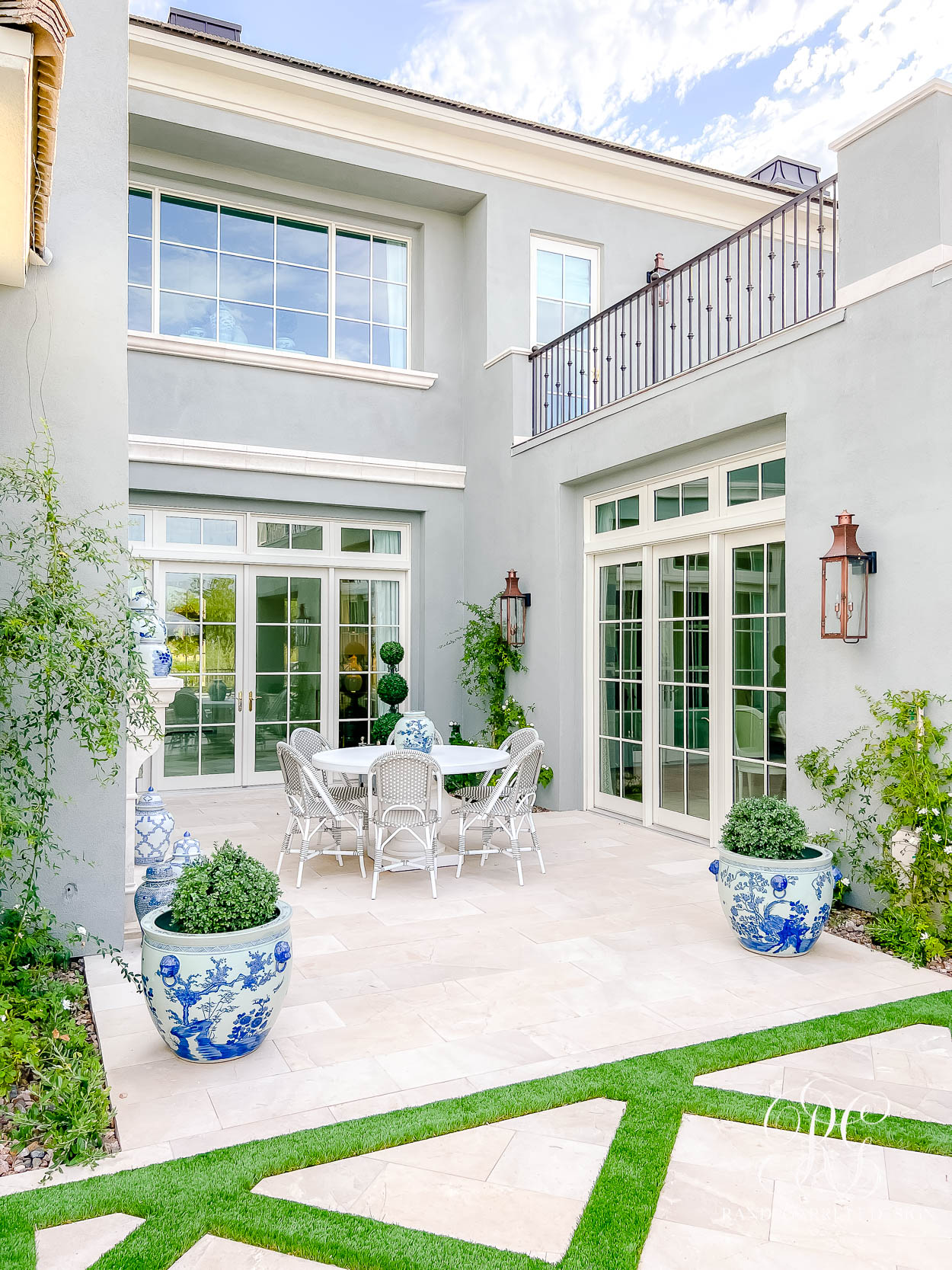 We selected a round dining table withgray bistro chairs for our outdoor dining area. I love the coziness a round table brings to a space. I picture many dinners, games and gatherings around this beautiful table. It is nestled right up against our outdoor fireplace allowing guests to linger longer around the warmth of the fire. The fireplace is limestone. Gorgeous ginger jars from Cailini Coastal dress it up and bring a bit of our inside decor outside. They tie in beautifully with our Chinoiserie planters. We used faux boxwood topiaries to help save on water and to keep them looking gorgeous year round.
We are waiting for our last outdoor lantern to arrive to hang above our fireplace.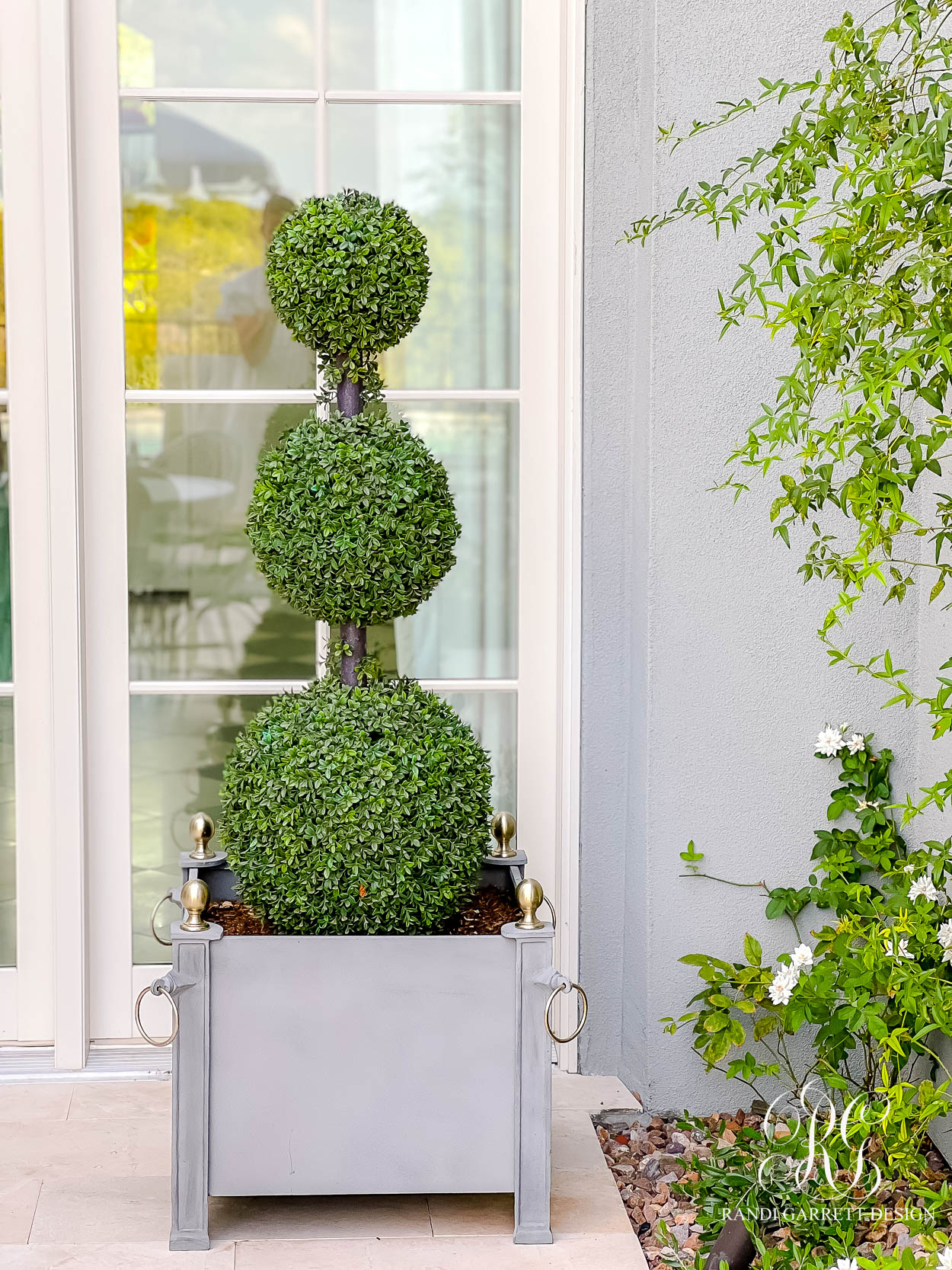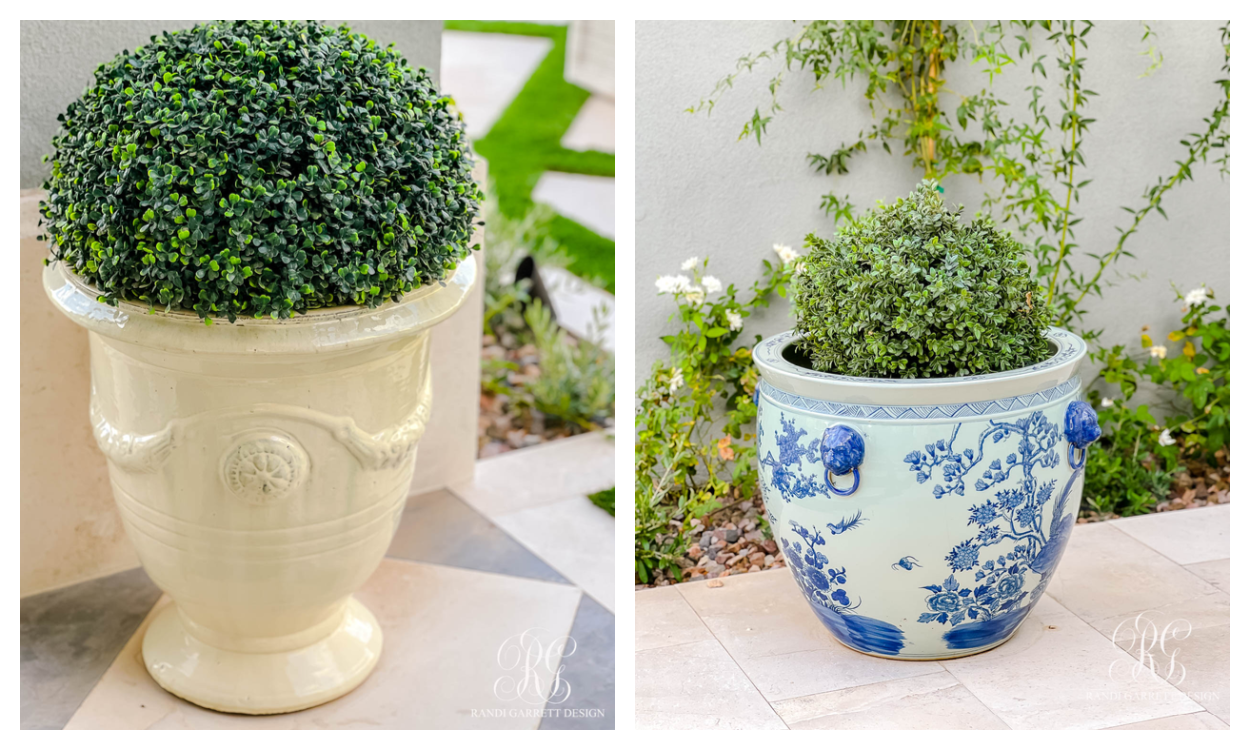 Gray Planter Similar |Triple Ball Topiary | Cream French Planter | Single Ball Topiary | Chinoiserie Planter | Faux Boxwood Topiary
Lounge Area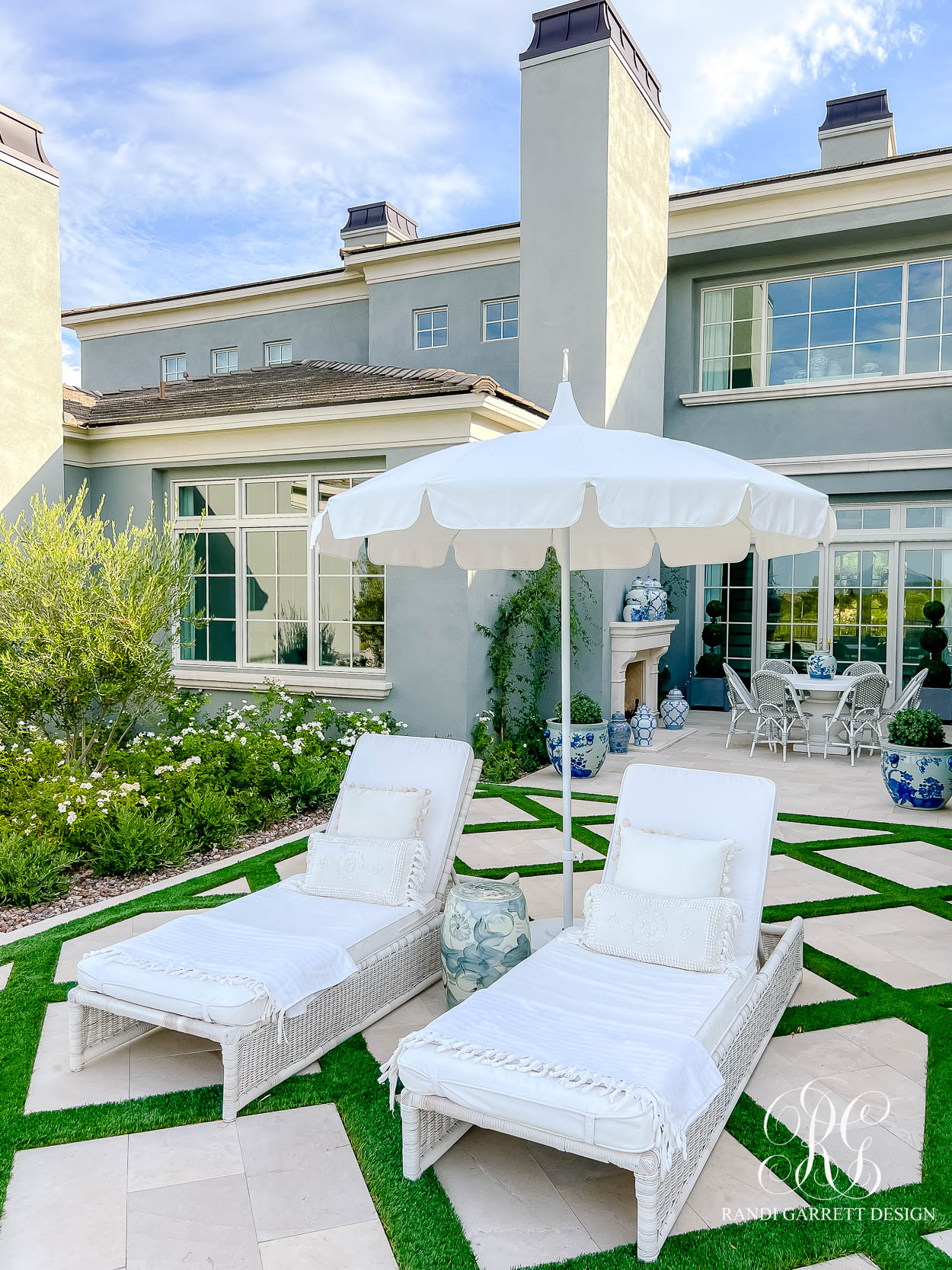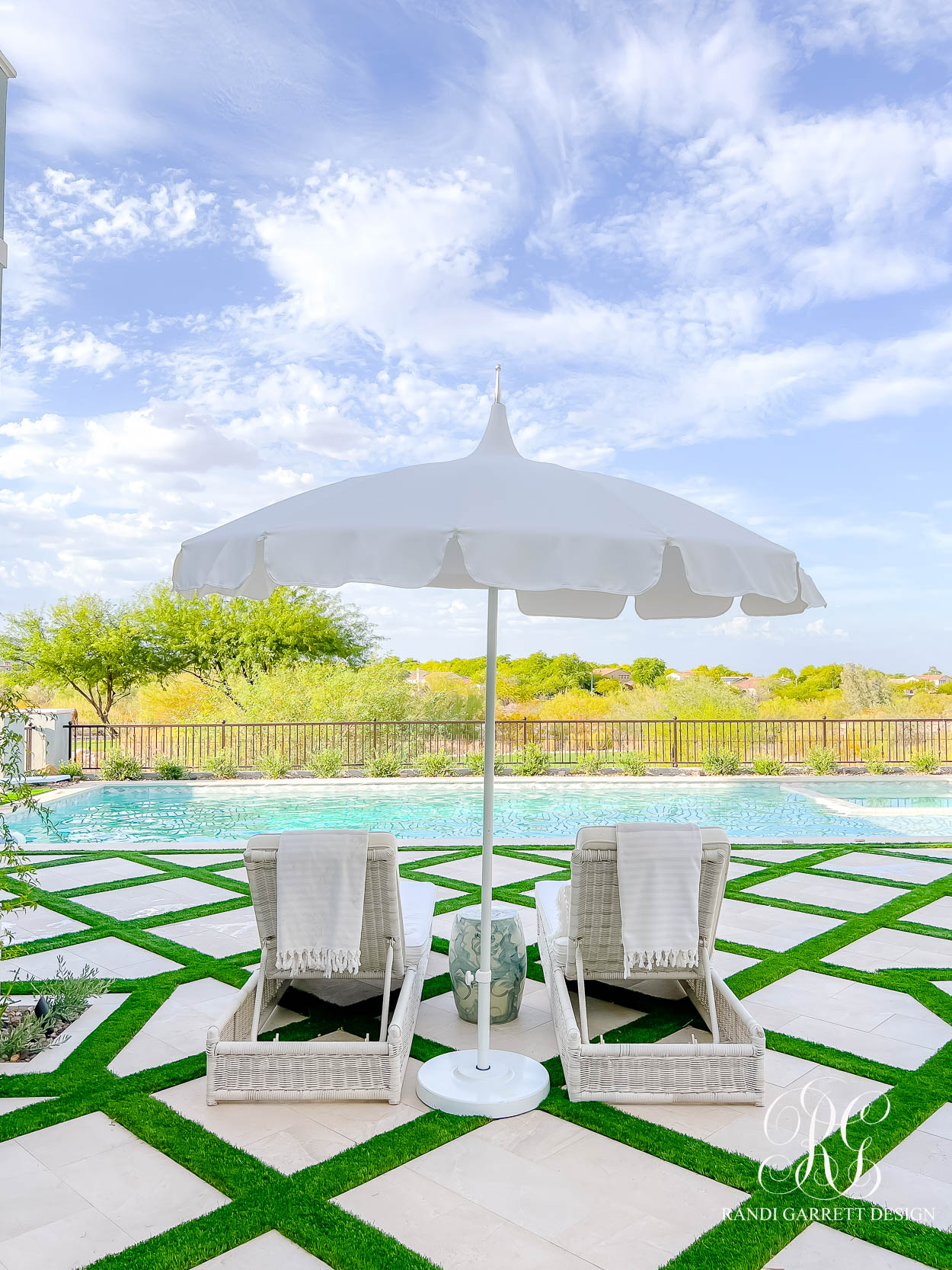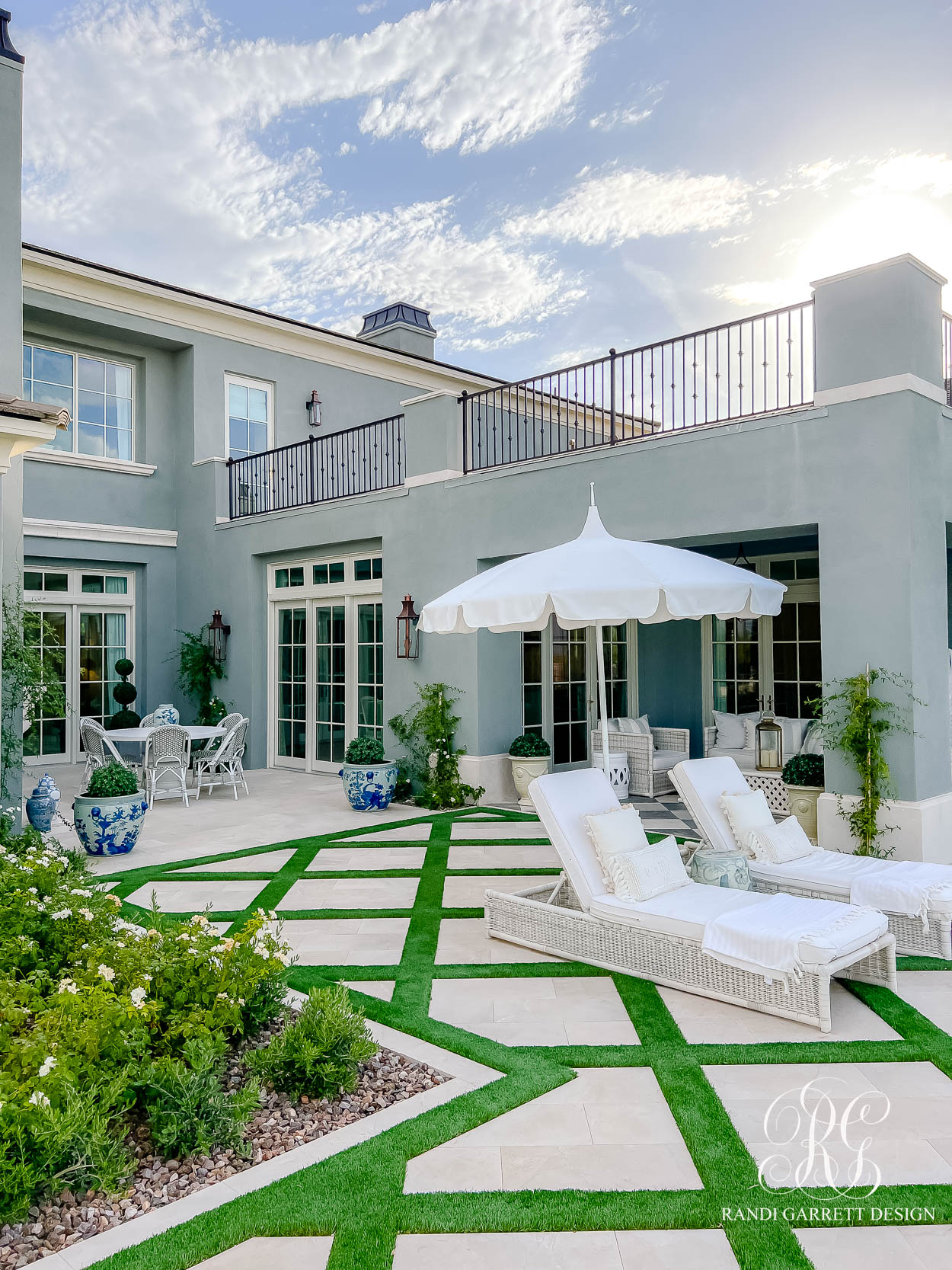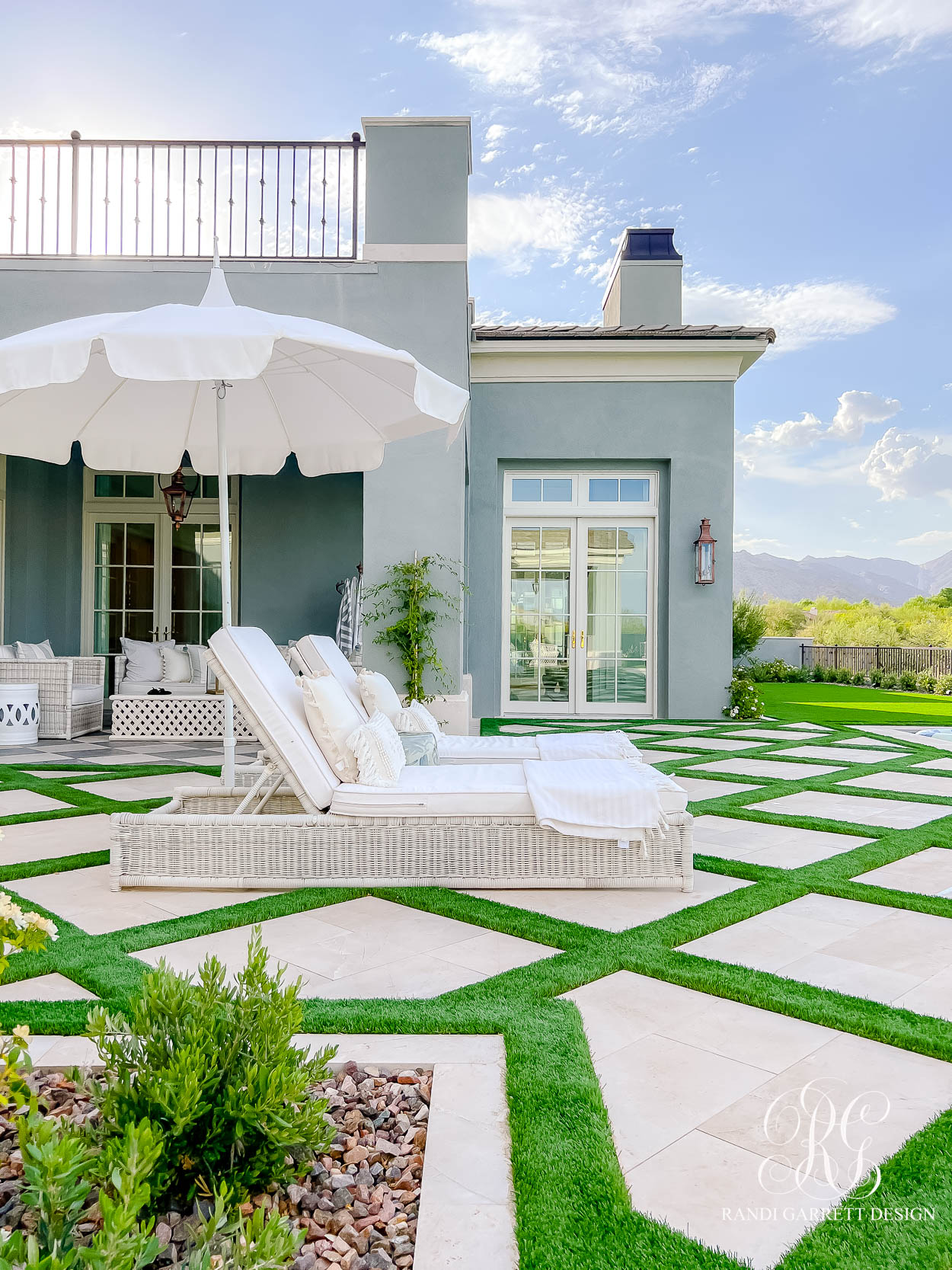 Our pool lounge chairs sit on top of a checkered limestone and turf pattern. We decided to use turf instead of real grass to save on water and keep the yard looking beautiful year round. We are so happy with the result. The turf gets hot in the summer, but the pool water cools it right down. The limestone we used is 12″ x 24″ cut and laid into 36″ squares which are cemented in place. We purchased these stunning wicker lounge chairs 5 years ago. I have never covered them and keep them out rain or shine 24 / 7 everyday of the year. You can slip off the covers and wash them in the washing machine. They are worth every penny.
Outdoor Sitting Area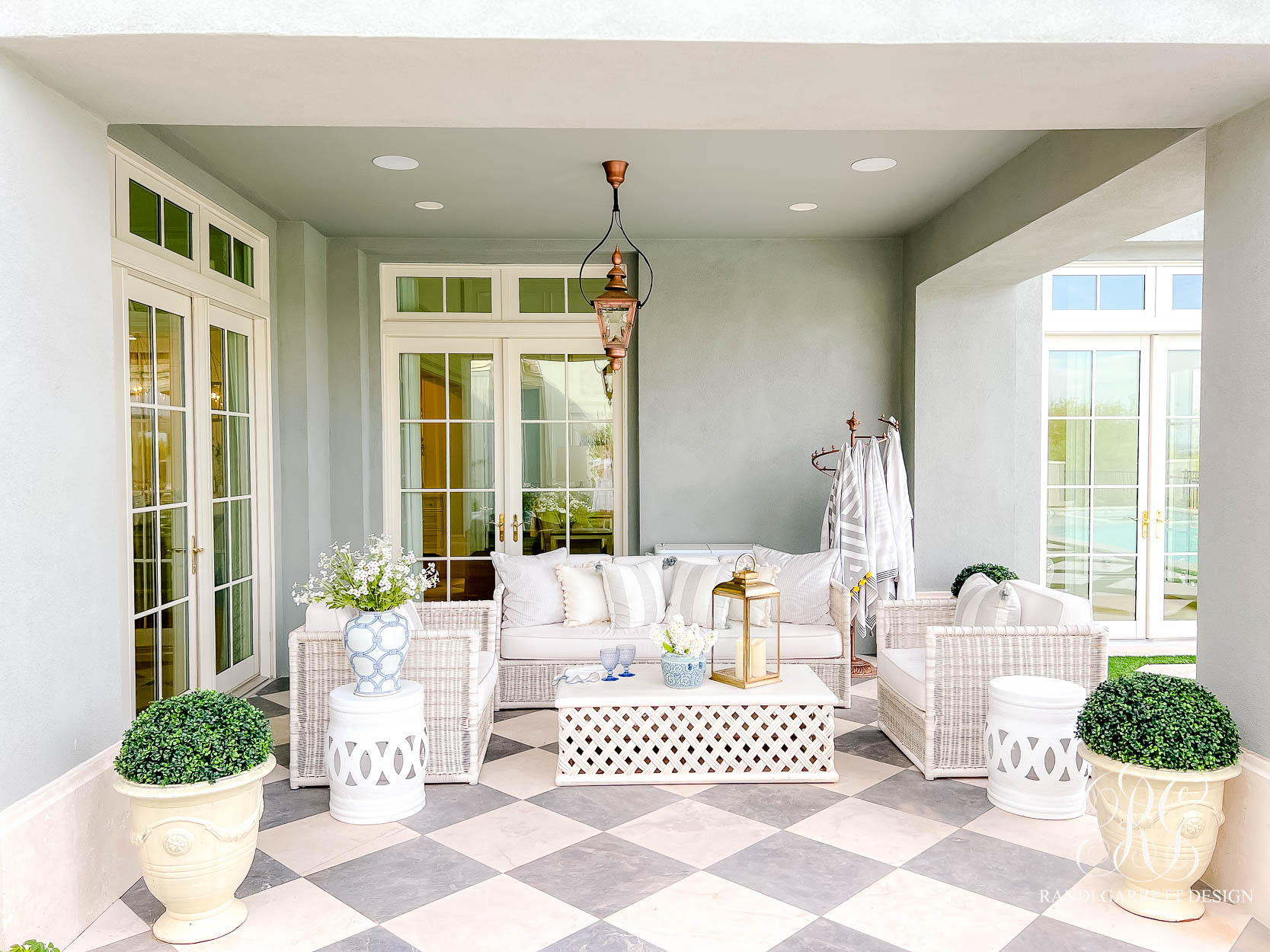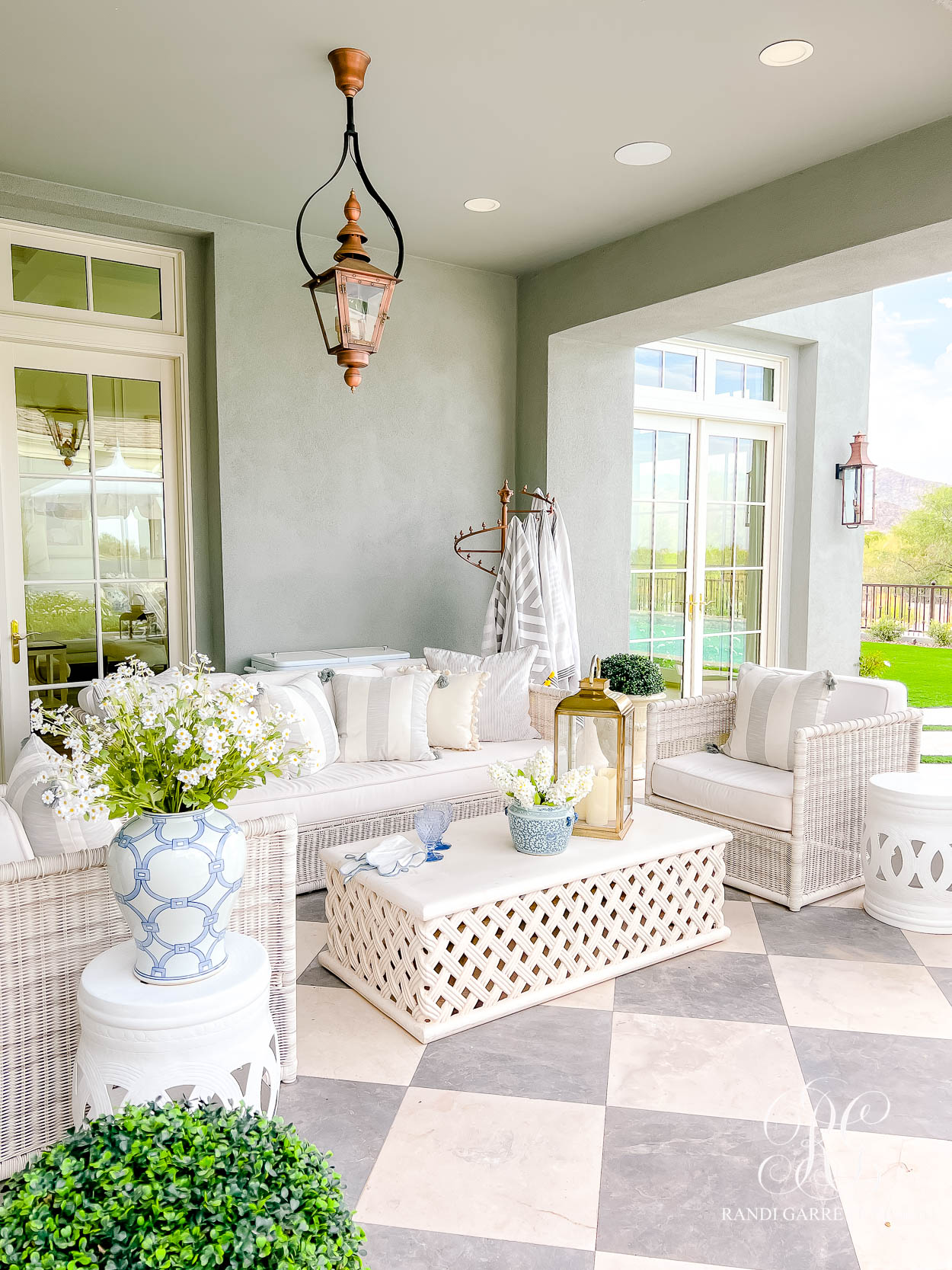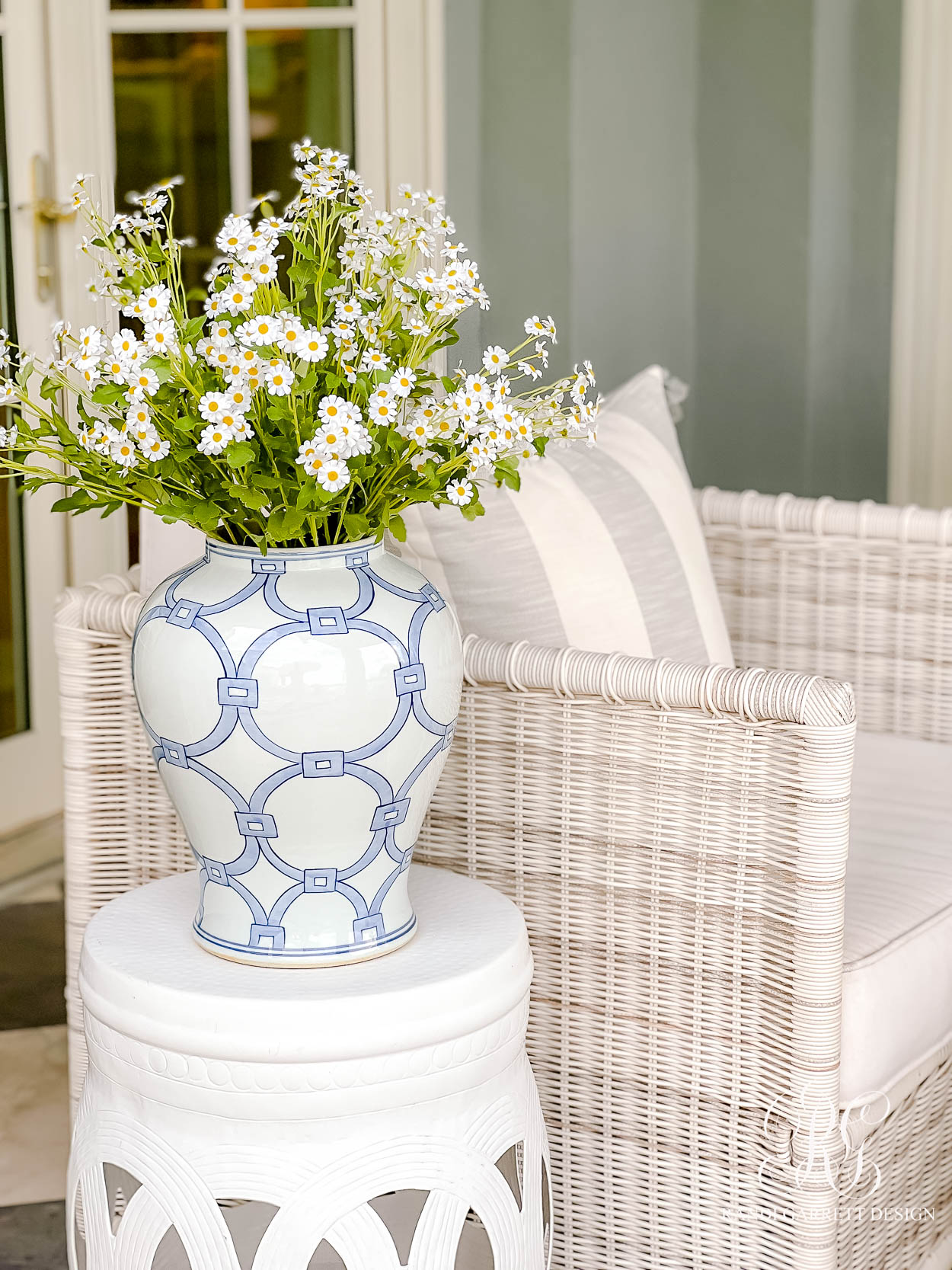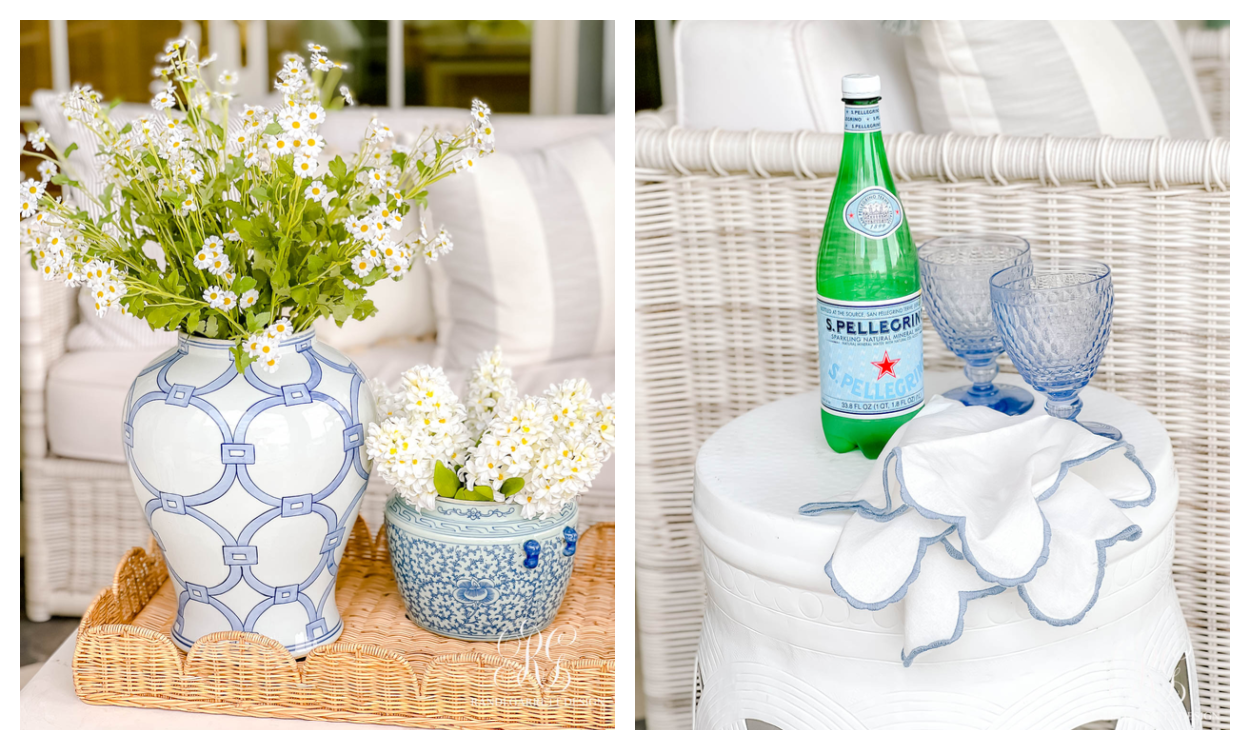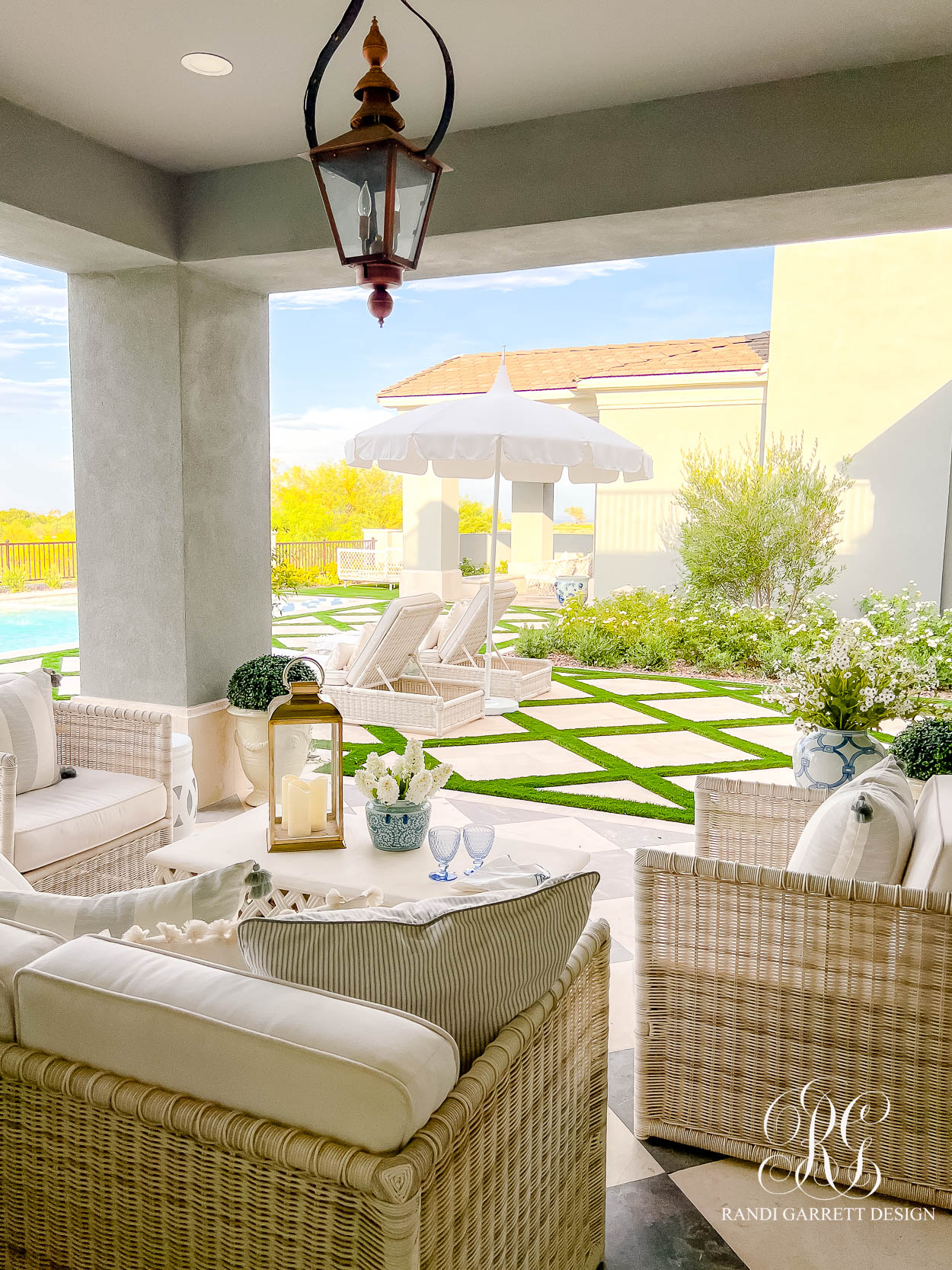 Under our covered patio, we mimicked the look of our marble checked floors from inside our home. We used gray marble and natural limestone to create a checkered patio connecting the inside with the backyard. Our sofa and club chairs coordinate with the lounge chairs. They are so comfortable and easy to clean. I use my small vacuum for a quick clean and hose them off for a deep clean. We have had them for 5 years as well and they still look brand new! Our coffee table and side tables are so easy to clean and look stunning with the other pieces.
Grass Area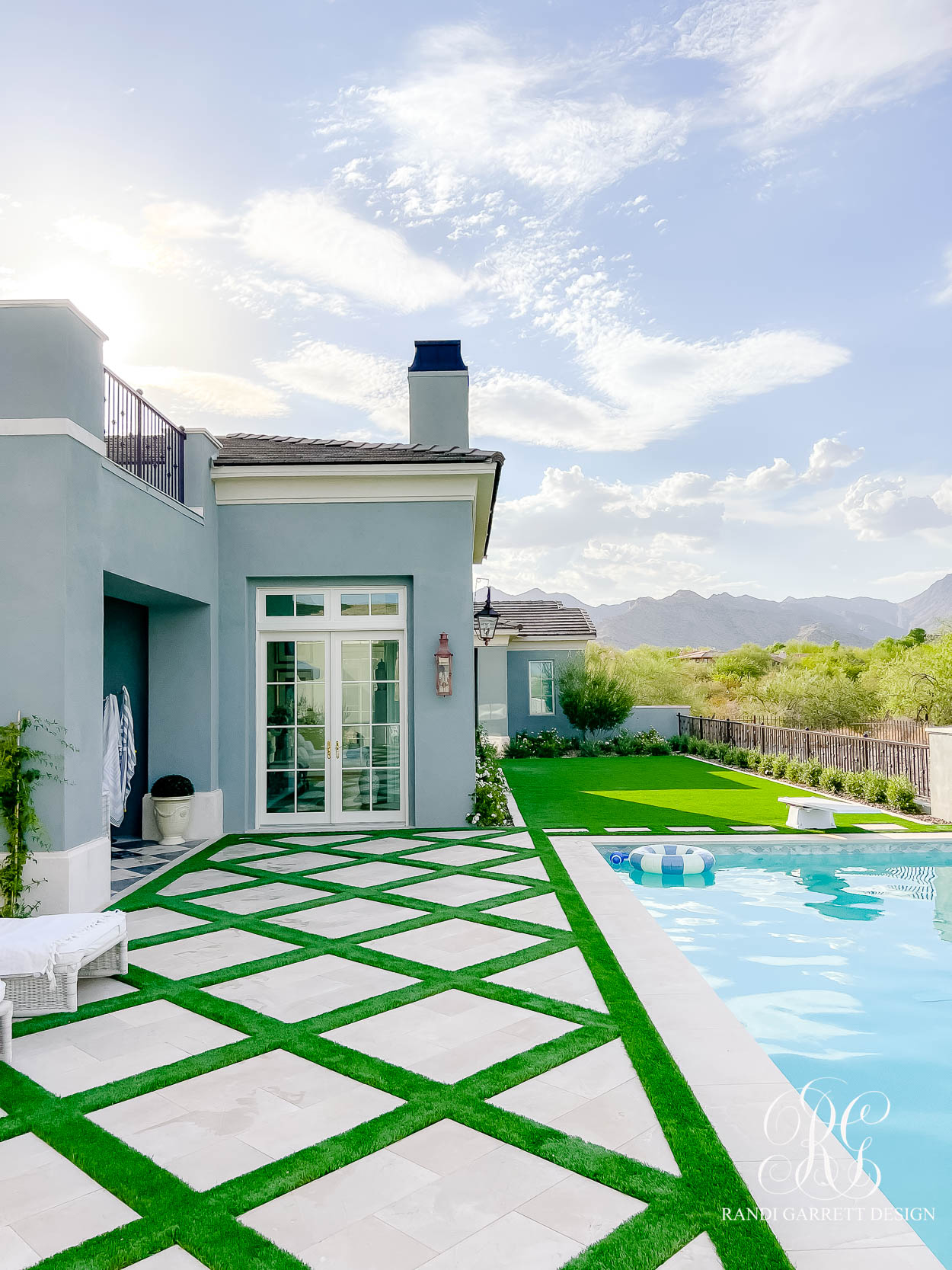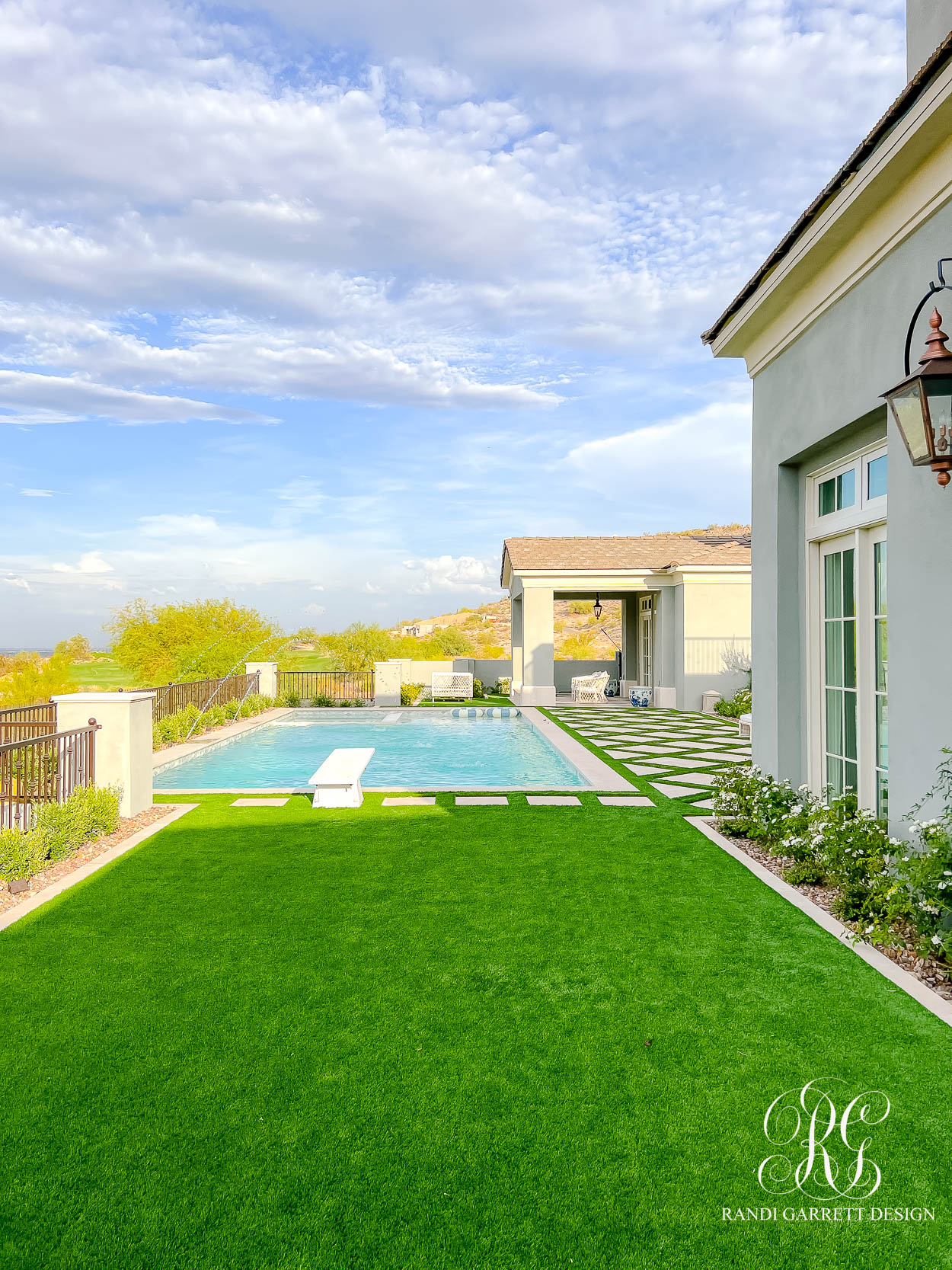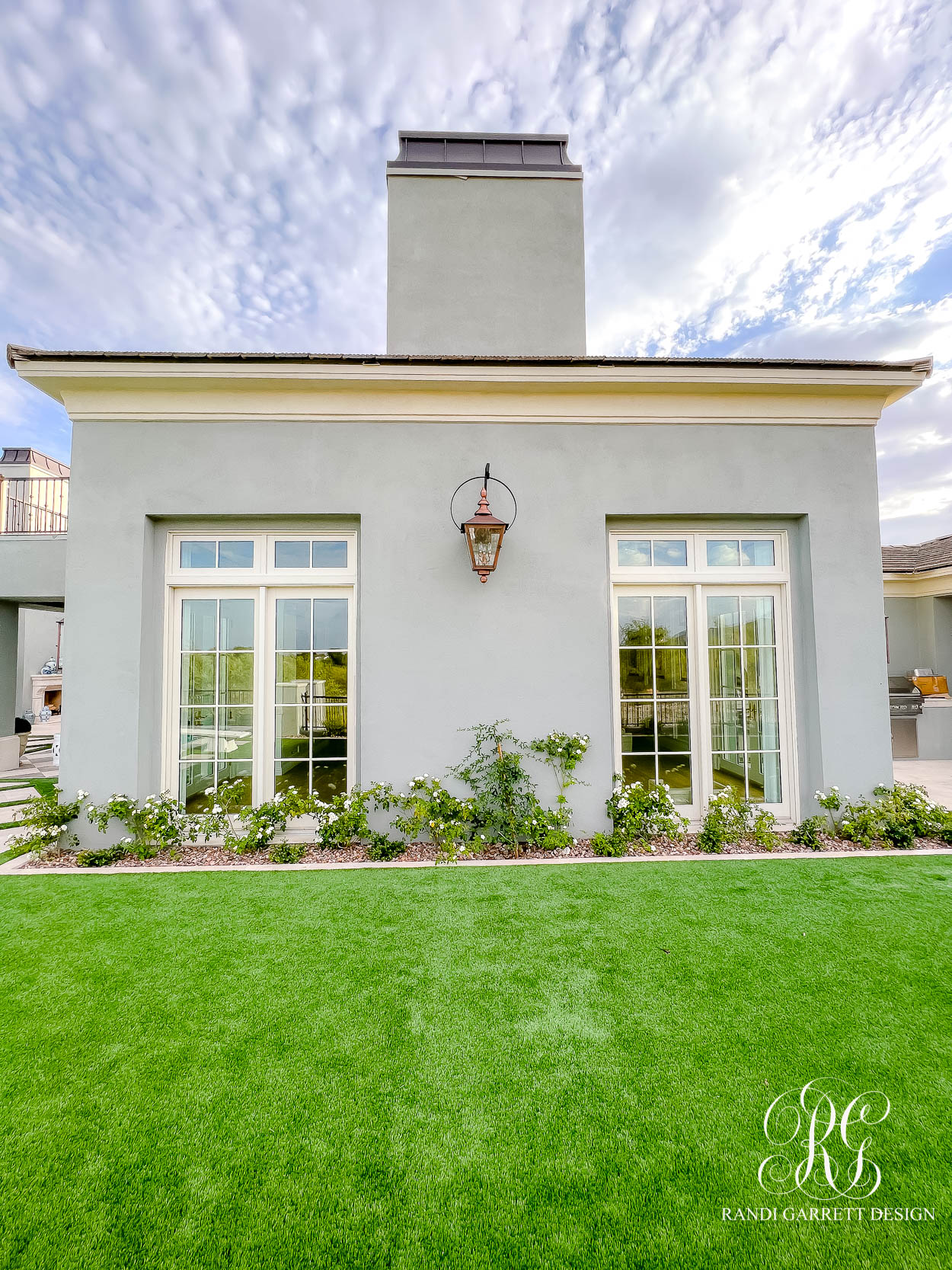 All of our grass in the backyard is turf. We love it!
The Pool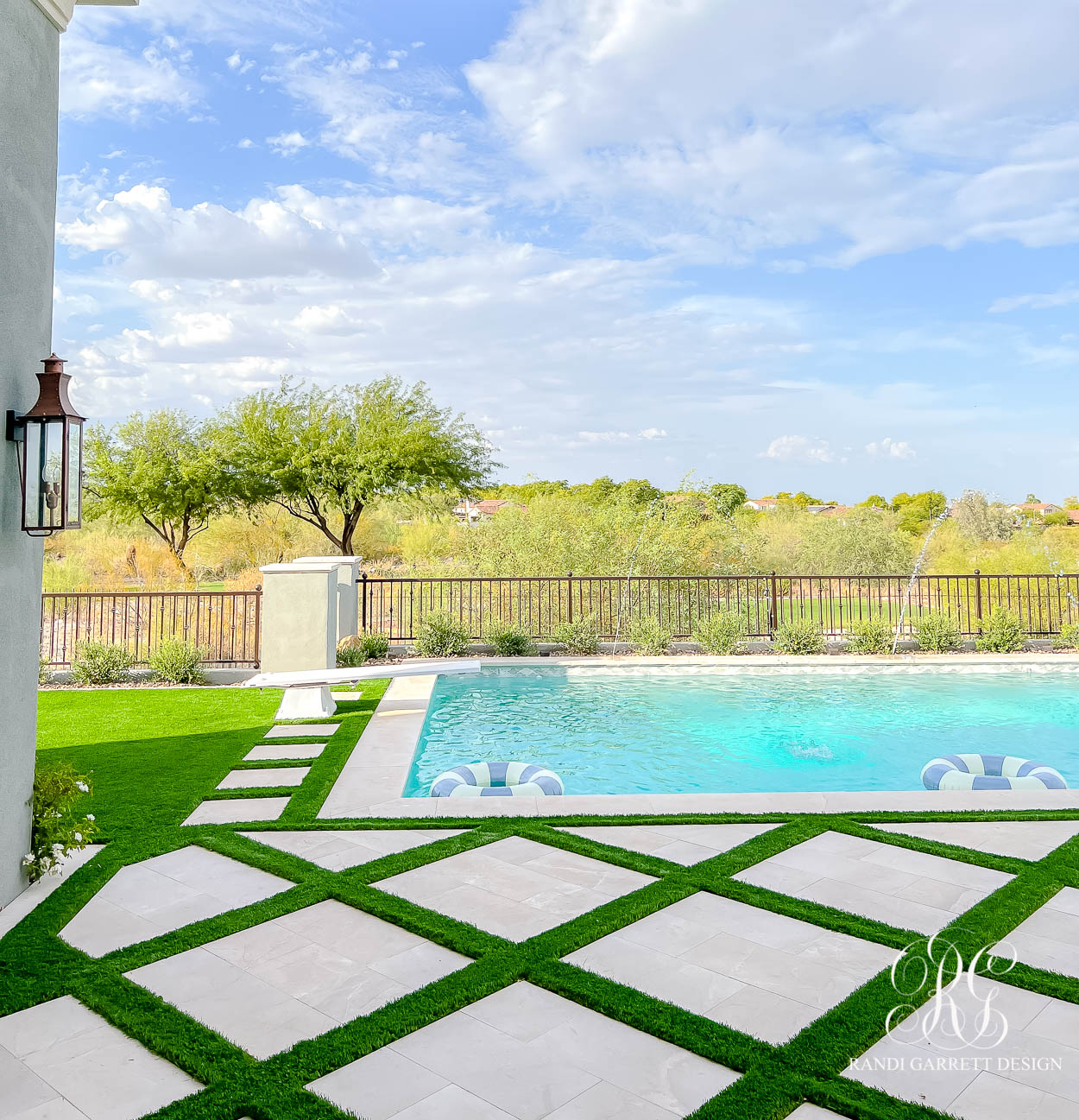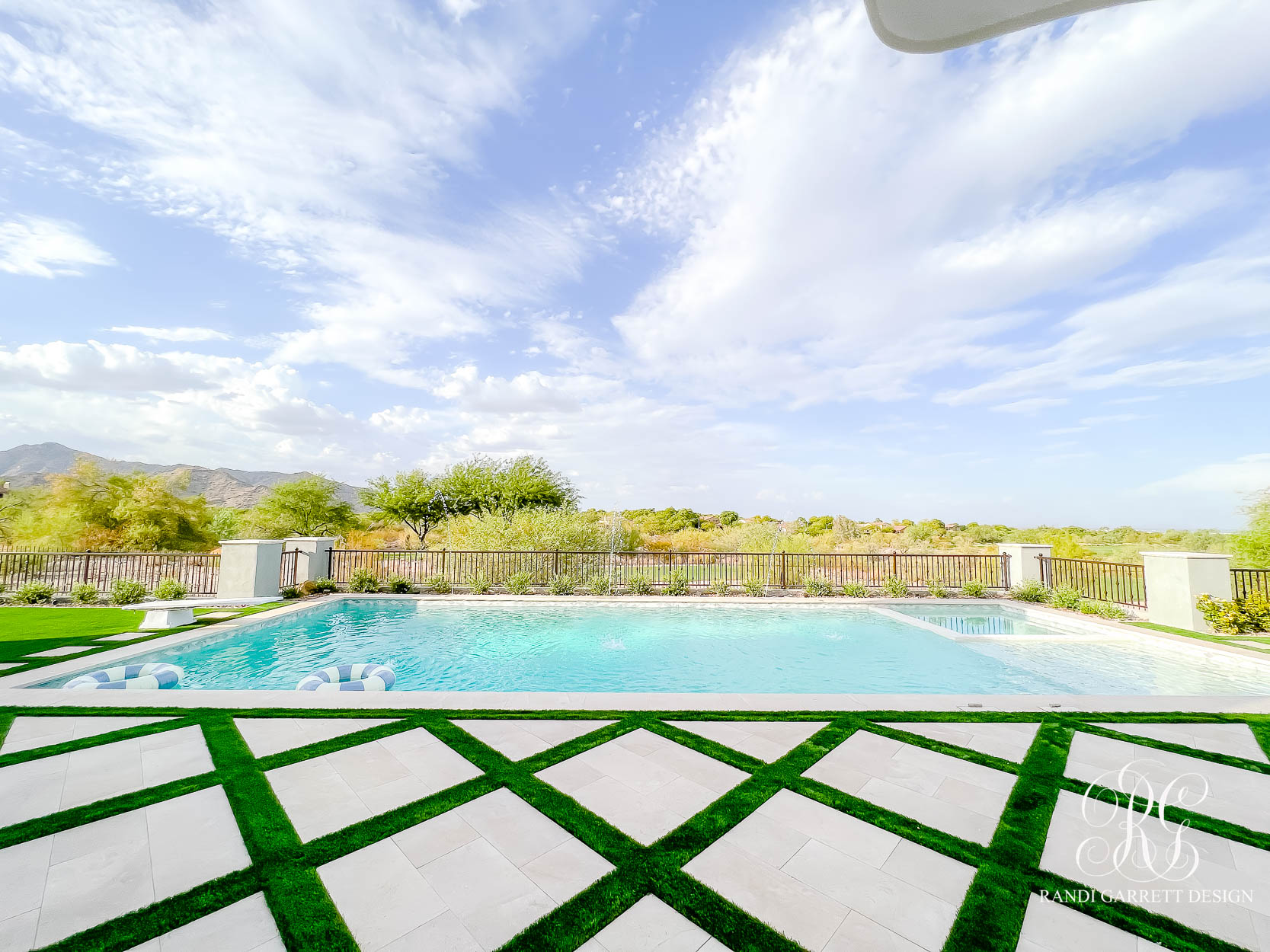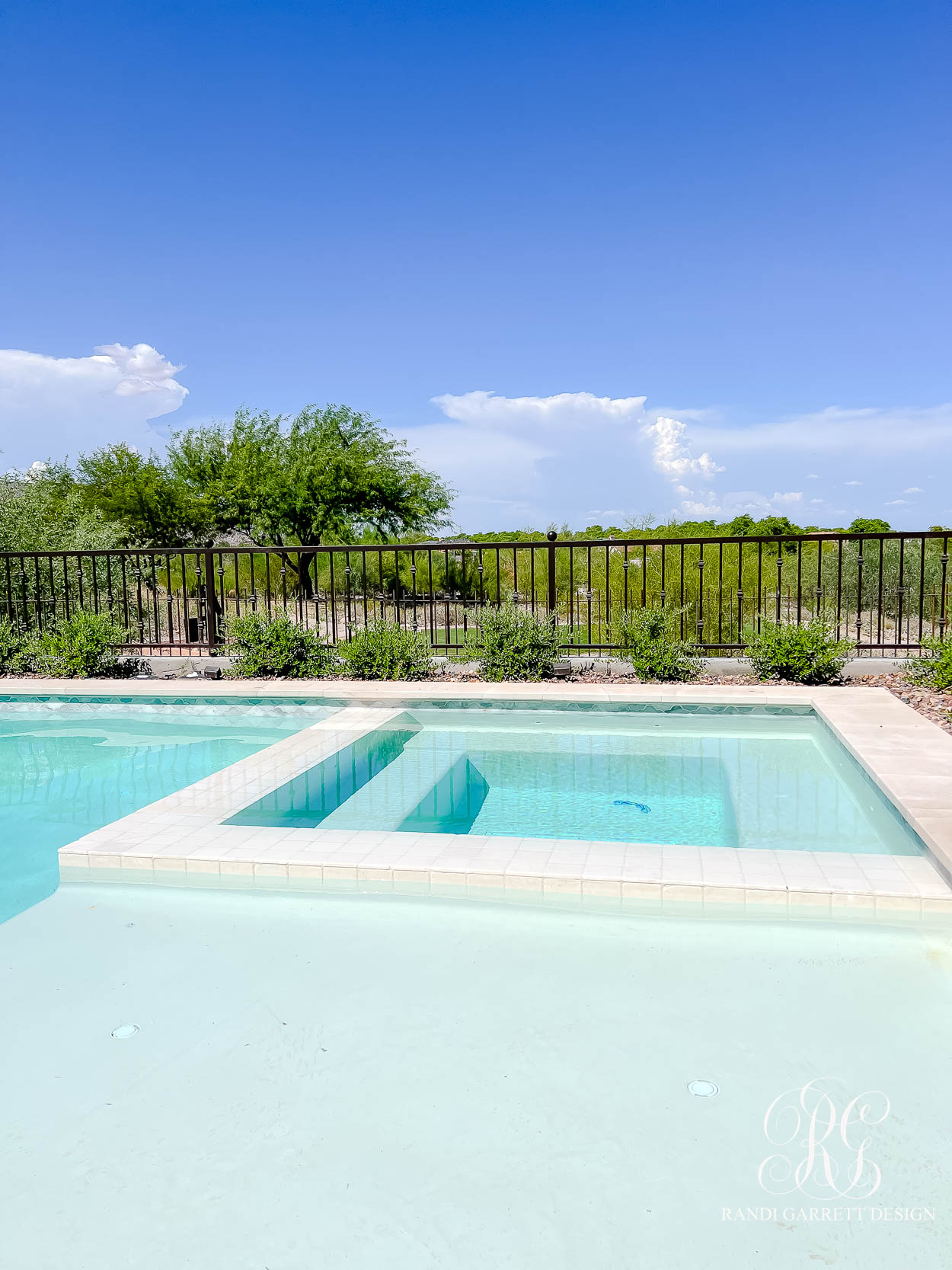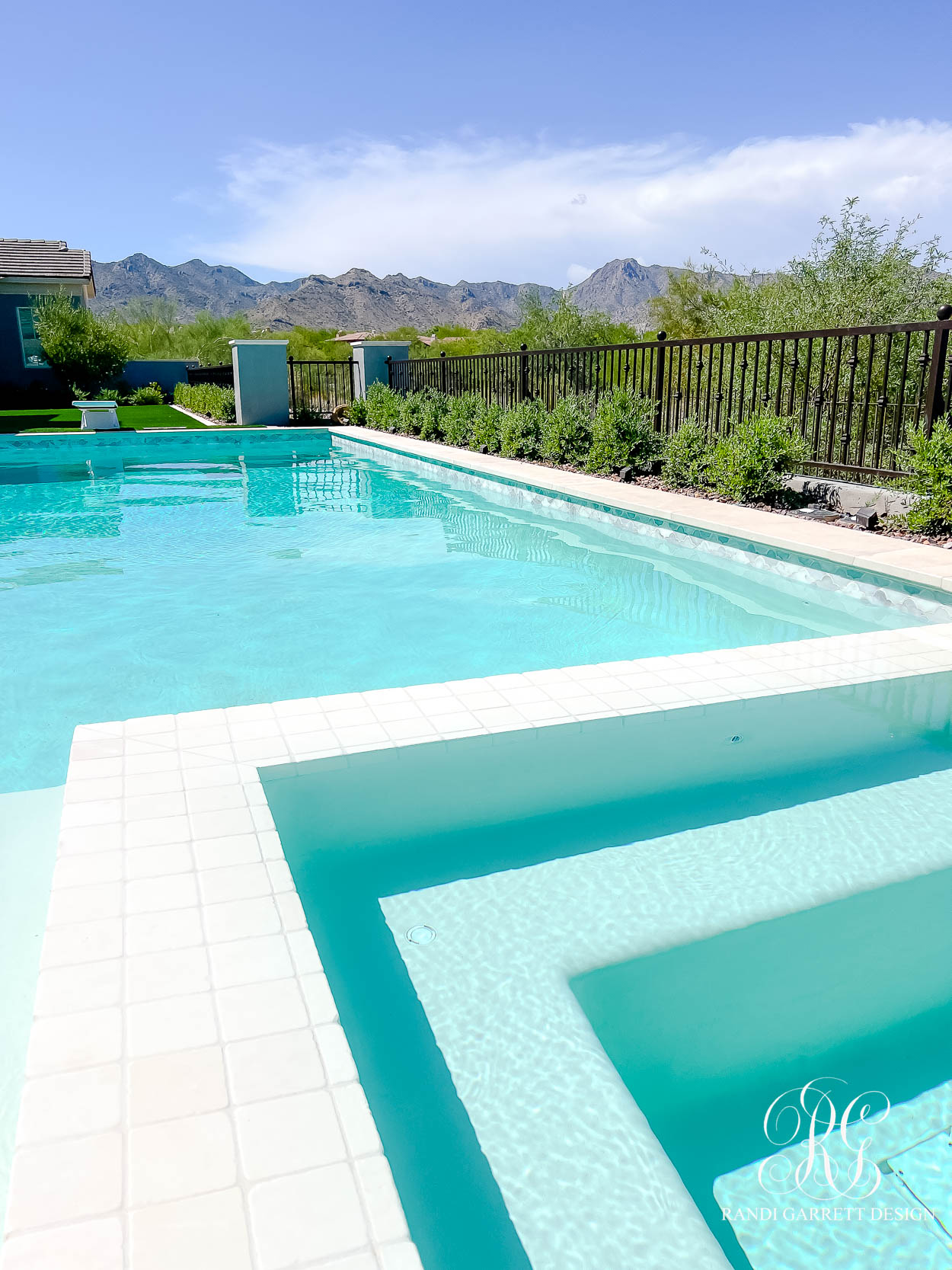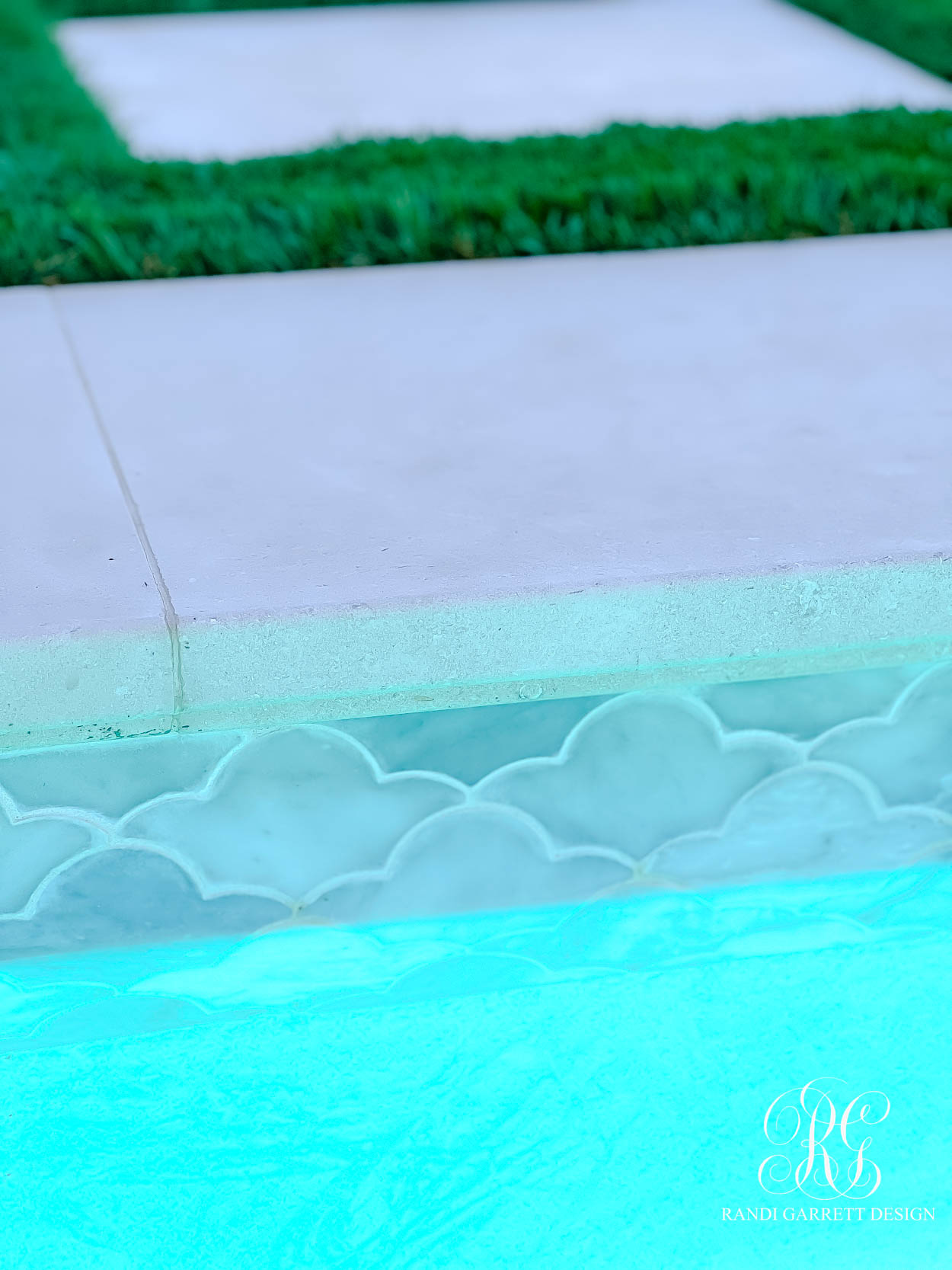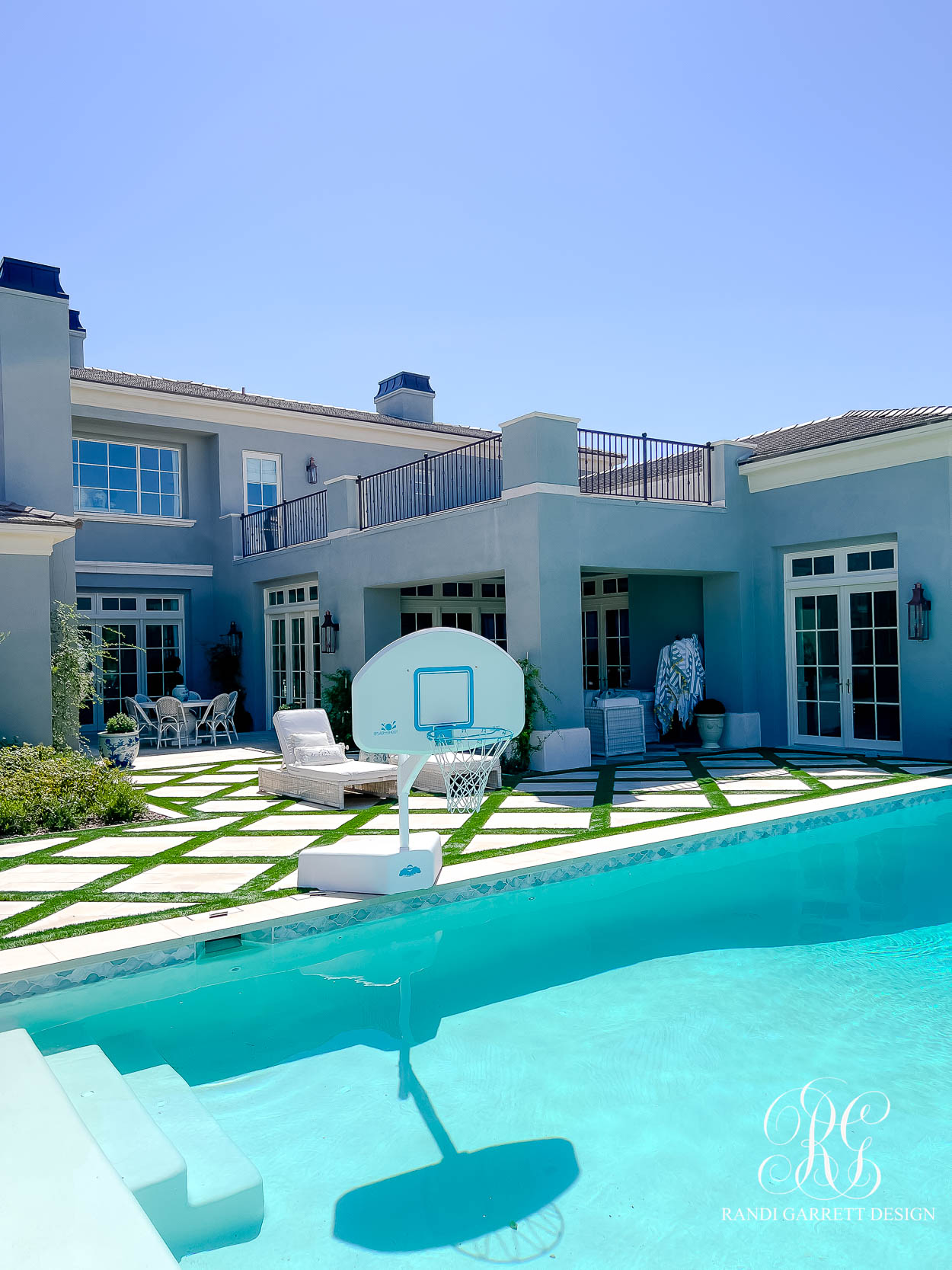 Our pool is plaster with a marble (cloud like) waterline. I just adore how the cloud pattern ties in my cloud paintings from inside. We used 4′ x 4″ limestone tiles on the spa. Our pool copping is the same natural limestone used throughout the backyard. It's 9 and 1/2 feet deep. We chose to use plaster instead of Pebbleteck for several reasons. We love the color of the water with plaster and love the smooth feeling of plaster. Our last pool had a vacuum. We chose to use the in floor cleaning system this time. I really like looking at a pool with no vacuum! It used to get unplugged by the kids all the time and would get clogged by goggles or toys. The in floor pop ups do a pretty good job keeping the pool looking crystal clean.
Fire Pit
This is one of the most used elements in our backyard! Our limestone, gas fireplace is used to roast s'mores, keep us warm and serves as a cozy gathering place for hours of conversation under the stars. I highly recommend adding one to your yard if you have ever thought about it. We are still waiting on a few pieces for this area. The daybed is missing its cushions and we have more of the 3 ball topiaries coming to fill our Chinoiserie pots.
Outdoor Kitchen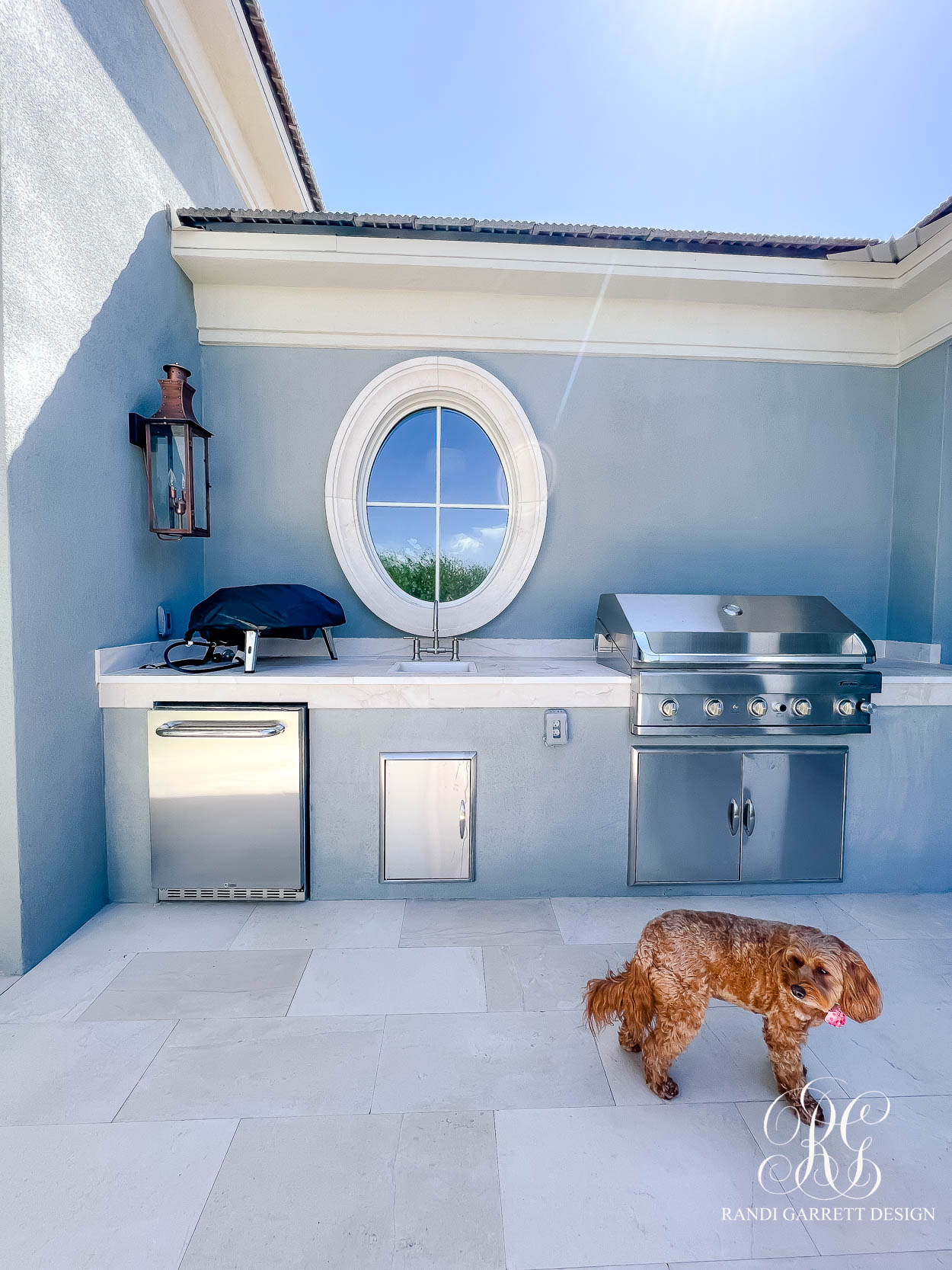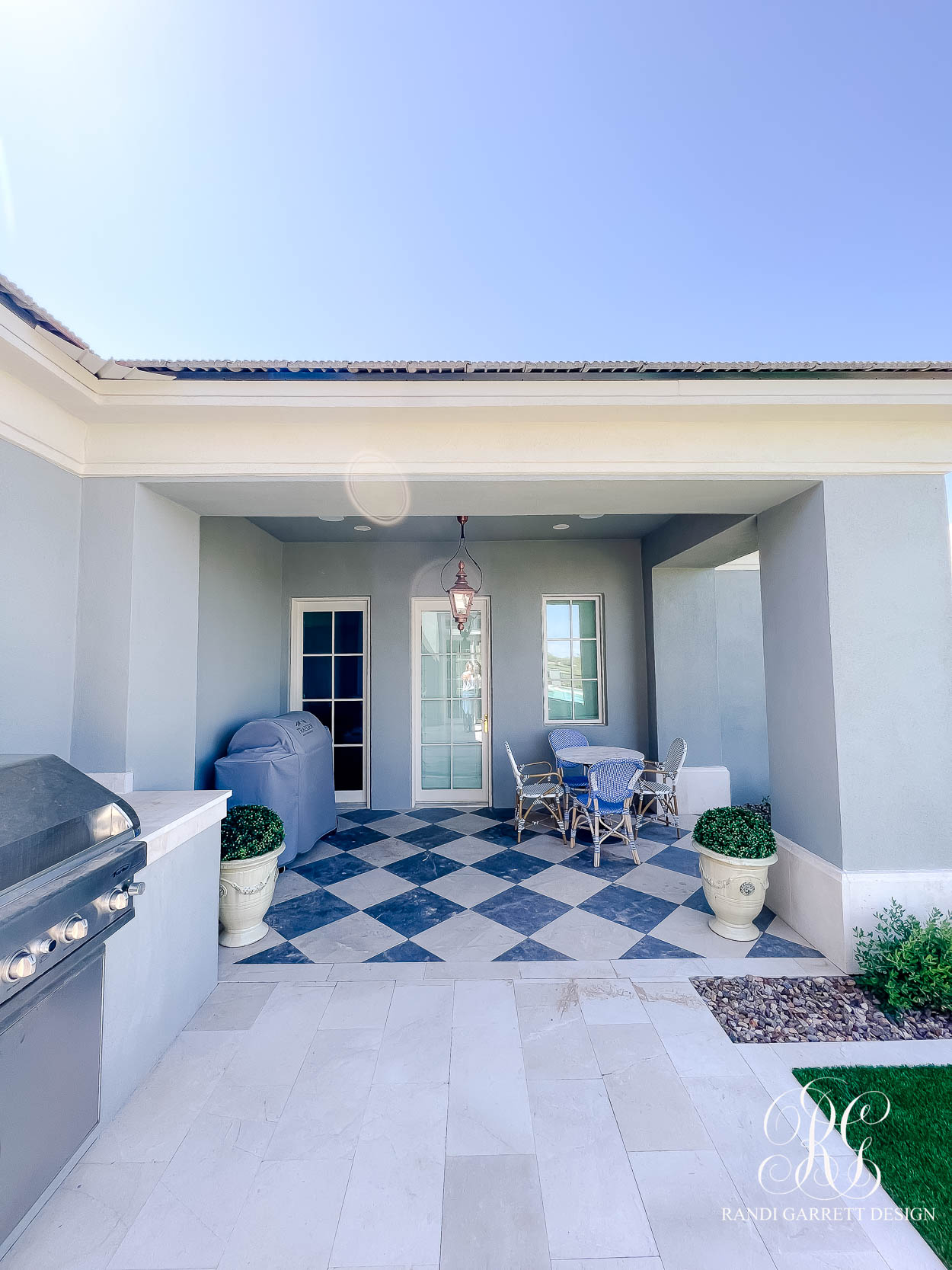 This is our outdoor kitchen area. I am still working on a few things, but here is a look at what we have. That is a pizza oven under the black cover on the countertop. It is really fun! The larger stainless steel door is a beverage fridge and the smaller one is storage. Matt loves to smoke meat and grill out here.
It been on of the funnest things at this home to have more outdoor space to spread out and have fun together as a family. Below you will find a detailed list of the sources from our backyard. I hope this helps you create a backyard space that fosters priceless memories!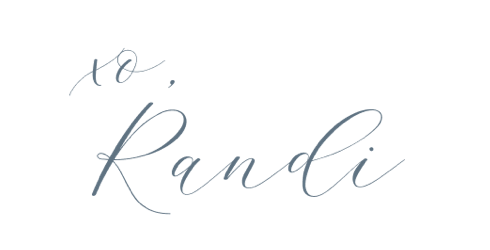 Sources – tap on the word or photo for source
Hardscape
Paint – Sherwin Williams Stamped Concrete
12 x 24 Limestone Tile – Vision Makers Inc
18″ Dark Gray Marble in Checkered Floor – Vision Makers Inc
18″ Limestone in Checkered Floor – Vision Makers Inc
Limestone Pool Copping – Vision Makers Inc
Marble Pool Tile – QDI Surfaces Phoenix
Limestone 4 x 4 Spa Tile – QDI Surfaces Phoenix
Pool is plaster
Furniture
Blue White Drink Table between Lounge Chairs – Cailini Coastal
Scalloped Umbrella | Umbrella Base
Metal Side Tables / Stools
Club Chairs by Fire Pit
Daybed by Fire Pit
Accessories
Ginger Jars – Calini Coastal
These are the exact ones I have – Forever Rose Temple Jar | Link Temple Jar | Blooming Ancestor Jar | Extra Large Magnolia Pheasant Temple Jar | Mini Peony Jar | Seasons Melon Jar (on round table) | Honeycomb Floral Ancestor Jar | Extra Large Green Love Locks Jar | Mini Floral Vine Jar |
Gray Gold Planters – sold out, similar here
Cream French Planters | Faux Boxwood Topiary
Faux Boxwood Topiaries Triple Ball
White Throw Pillows – Lumbar | Square
Towel Rack – Mine is a vintage dress rack. Here is a similar one click here.
Lighting
All of our exterior lighting is from Primo. Most is backordered. Here are some similar options for you..