Comforter or duvet? What is the difference? Which one is right for your bed? Which will give you the most comfortable night's sleep? Have you ever asked yourself these questions before? Well, no fear, today I am taking the guess work out of comforter shopping by sharing some simple tips to help you chose the perfect comforter for the beds in your life!
Having a comfortable, luxurious bed is one of the greatest gifts you can give yourself and those under your roof! I've partnered with, one of my favorite companies for quality bedding essentials, The Company Store, to help you find that perfect comforter. Their pieces are so impressive! They wash up beautifully and last for years and years. Their quality is just one of the reasons their company has been around for over 100 years.
This post contains affiliate links (full disclosure here).
Tips for Choosing the Perfect Comforter
"What is the difference between a comforter and a duvet?" They are essentially the same thing with one minor detail – one has a cover, the other does not. Both are extremely cozy and luxurious, IF you get nice quality ones.
A duvet slides into a duvet cover and is secured closed with buttons or ties. Duvets allow you to switch the "skin" of your comforter anytime you would like. A comforter has the decorative fabric as the outer layer with the same down filling as a duvet, only there is no removable cover. Both can be filled with down feathers, down alternative or some other type of man made filling.
The Company Store has a fabulous selection of duvet inserts, duvet covers and comforters. Read about my other favorite bedding essentials here.
I just recently switched out my daughter Ellie's bedding. When I was making my choices, I asked myself a few questions.
These questions helped me decide whether to invest in a comforter or duvet for her bed. Ellie is a typical messy teenager who needs her bedding washed frequently. Washing duvet covers weekly, is not the most fun, so I chose a comforter for her room. Her Pink Damask Print also comes in a duvet cover.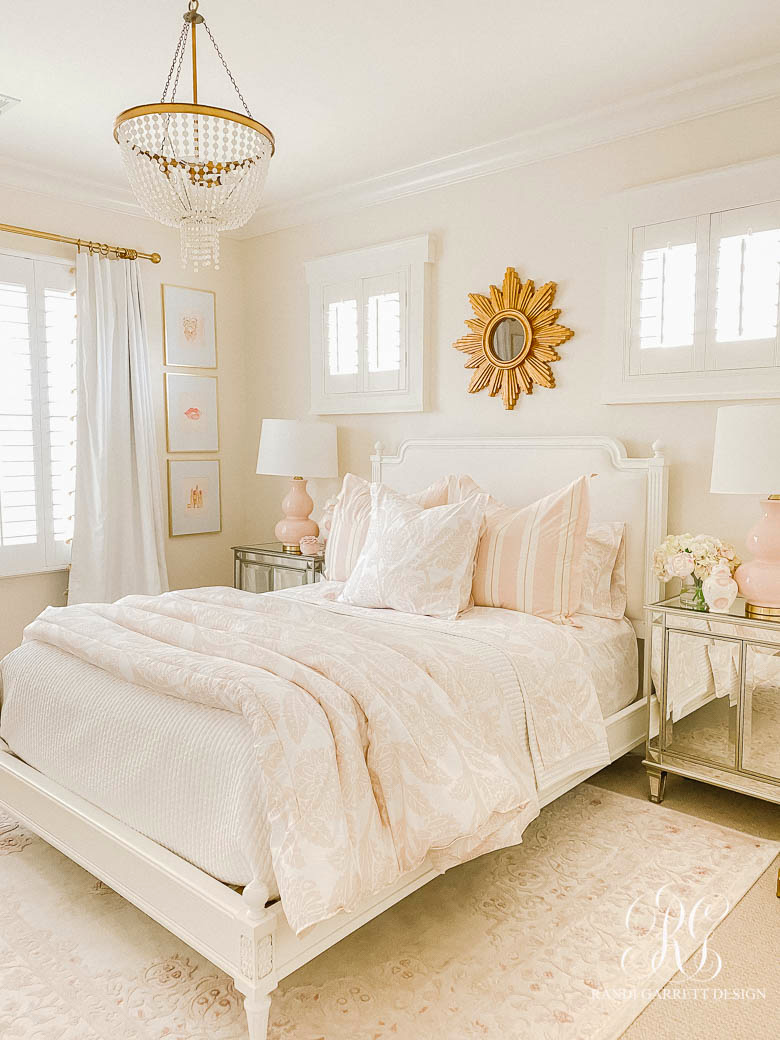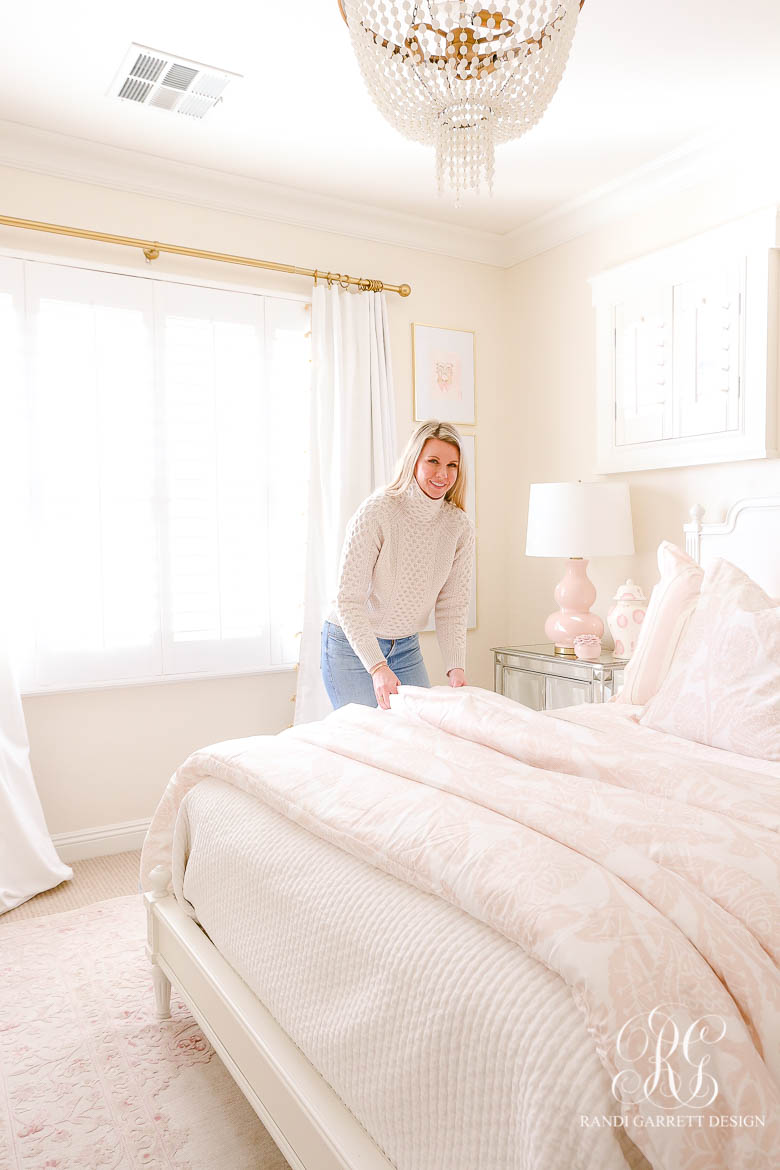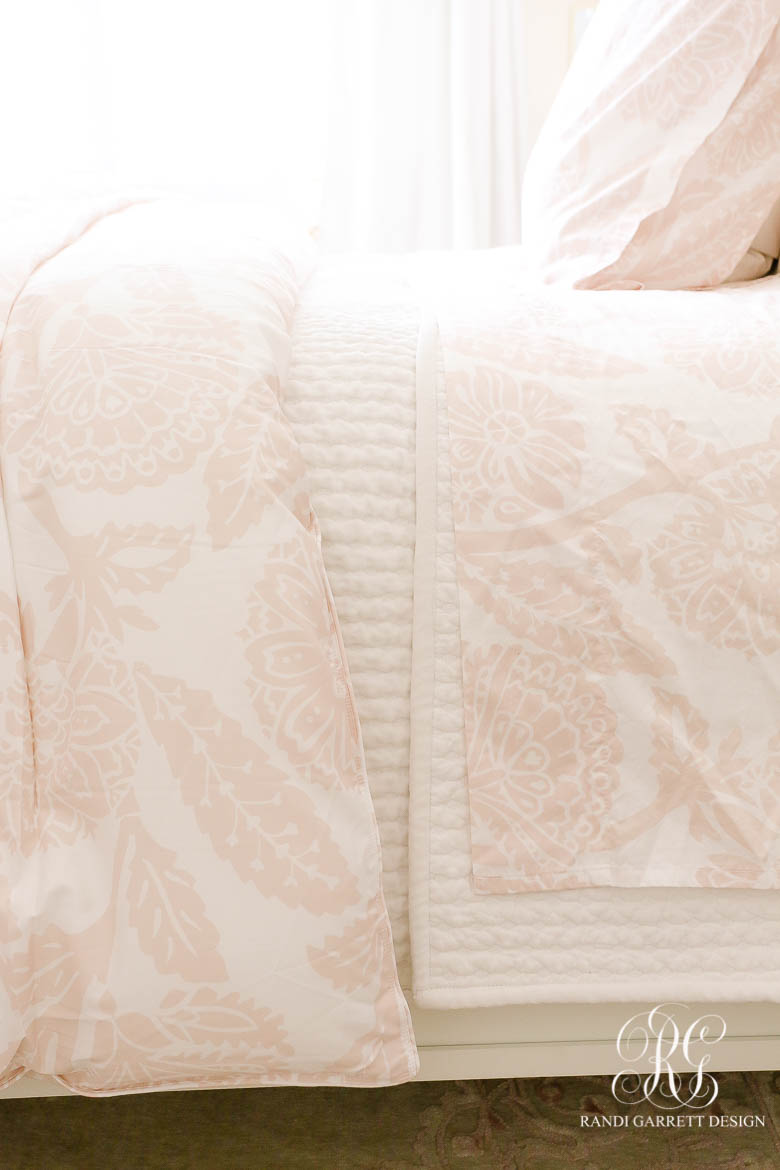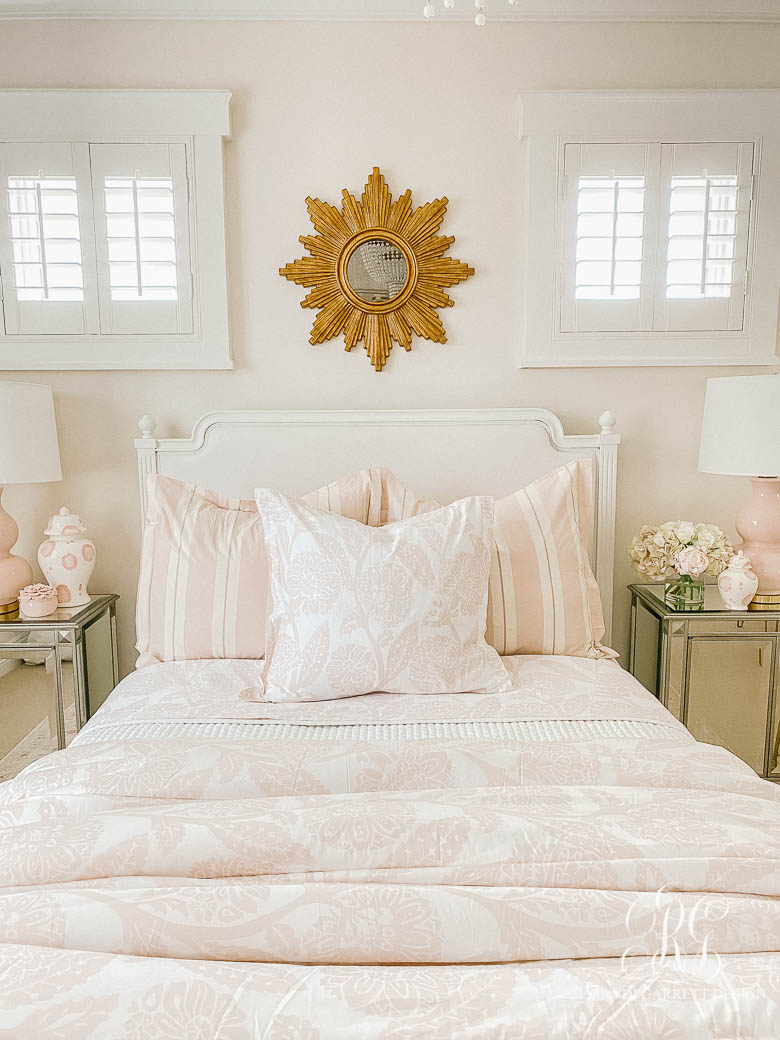 How to select the right comforter
The questions below are the questions I asked myself and that you can ask yourself, to find the perfect comforter for your bed…
Who is using the comforter?
Duvets are a little more work to get on and off of a bed. If a child or messy teenager is the one who will be using them, consider the amount of times you will be slipping off the cover for washing. A comforter may be the better choice. Just toss the comforter in the wash when it's dirty.
Some down inserts require dry cleaning – also something to consider. They only need to be washed every few years though! When washing them, make sure to dry them completely before storing them to prevent any mold or mildew from forming.
If the bed owner likes to switch their bedding frequently, a duvet insert is a great option! You can slip the cover off for a new look over and over.
Also consider if the user has allergies. Down alternative is a wonderful option for those sensitive to down. Below are the top rated duvet inserts for your consideration.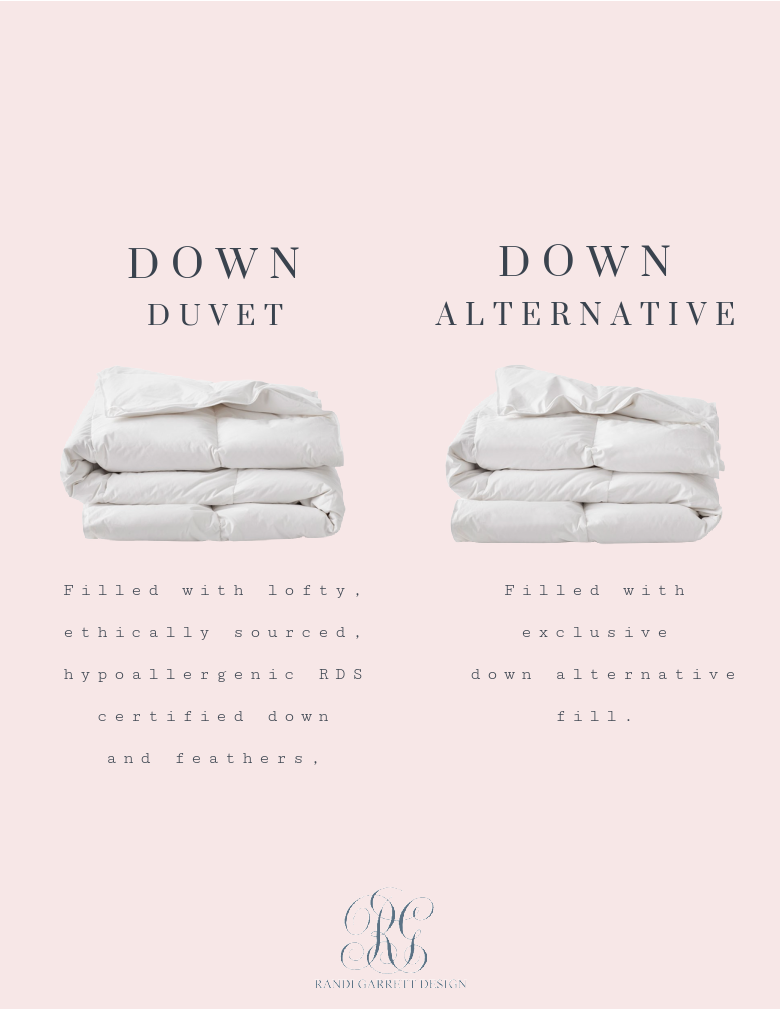 Down Insert | Down Alternative Insert
Where will you store it?
If your storage space is limited at your house, I suggest buying a duvet insert vs a comforter. This will allow you to switch out your covers with changing seasons without taking up a ton of your storage space.
When will you be using your comforter?
Purchase a comforter that will give you the warmth you need based on the climate where you live.
The Company Store offers 3 different warmth levels for your perfect temperature – light comfort, medium warmth and extra warmth.
These simple questions will help you narrow down your choices and help you select the perfect comforter for your beds!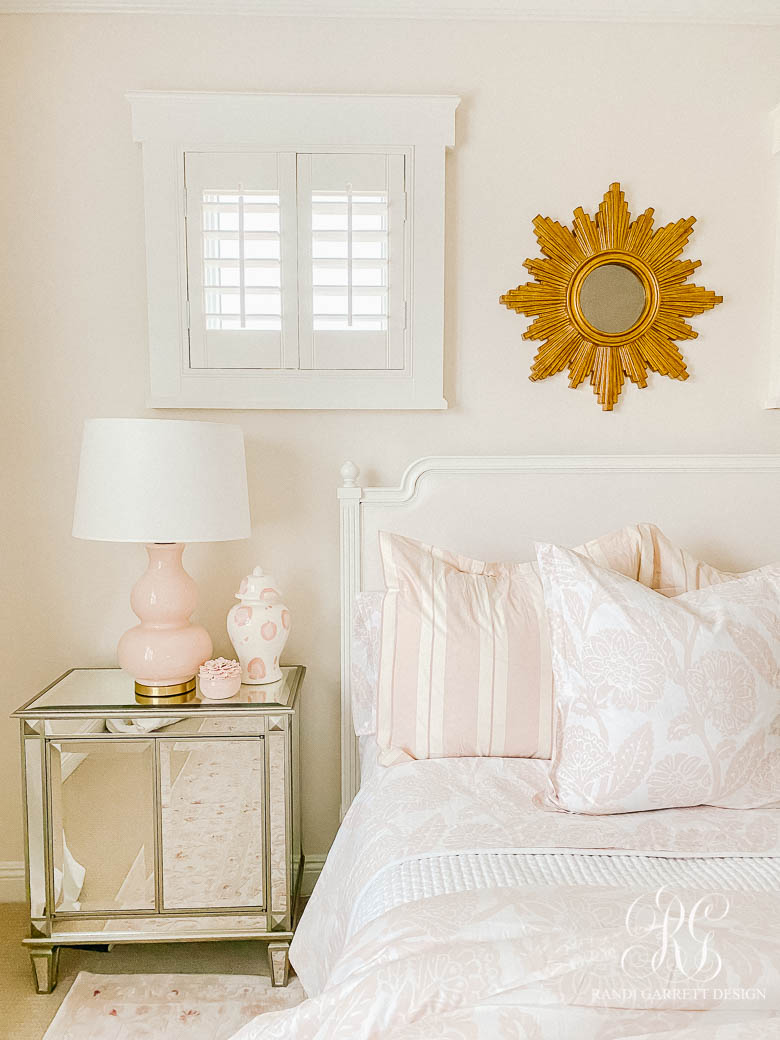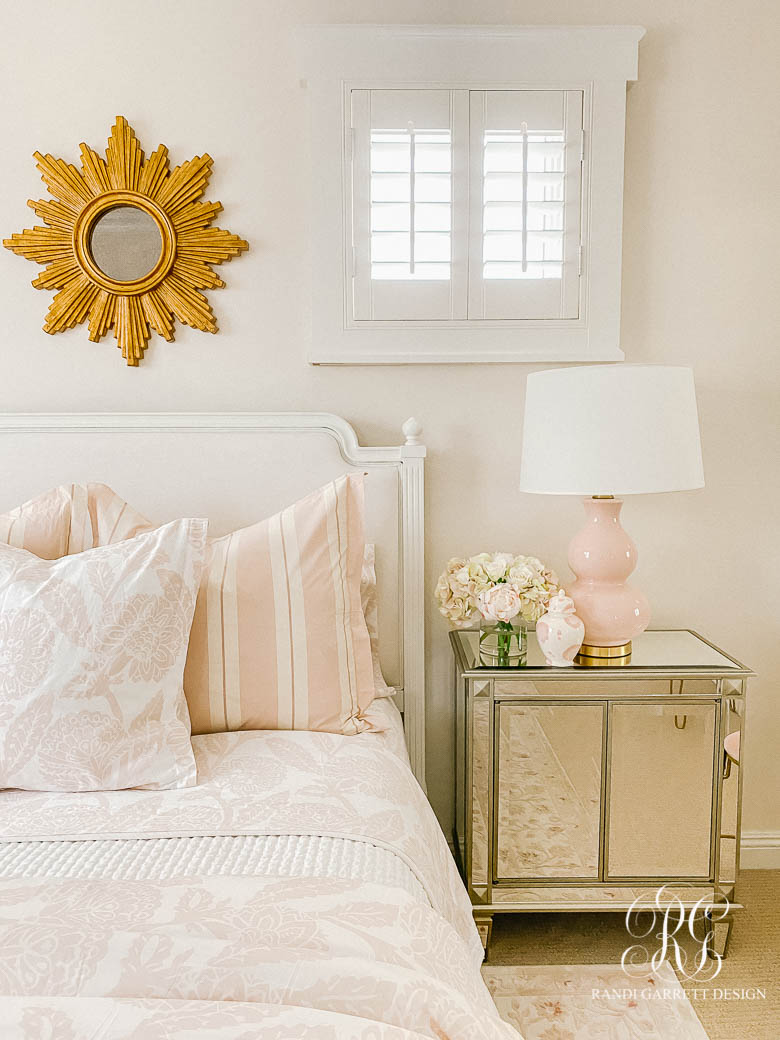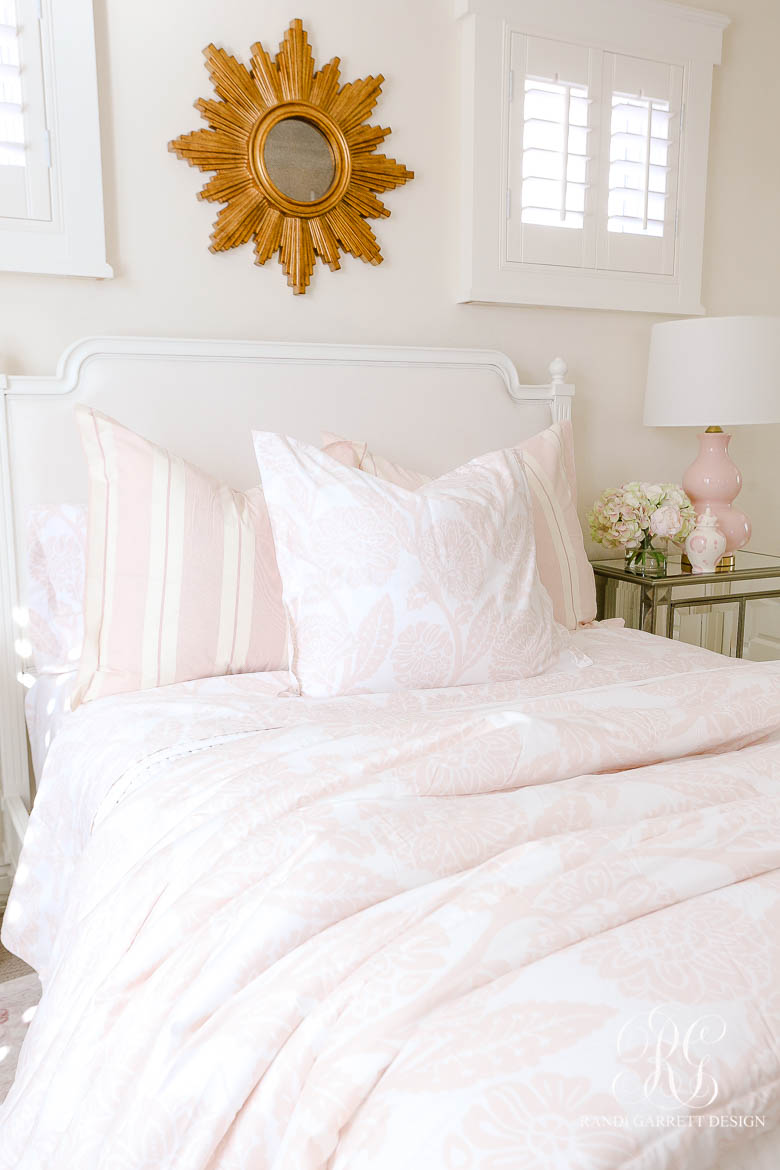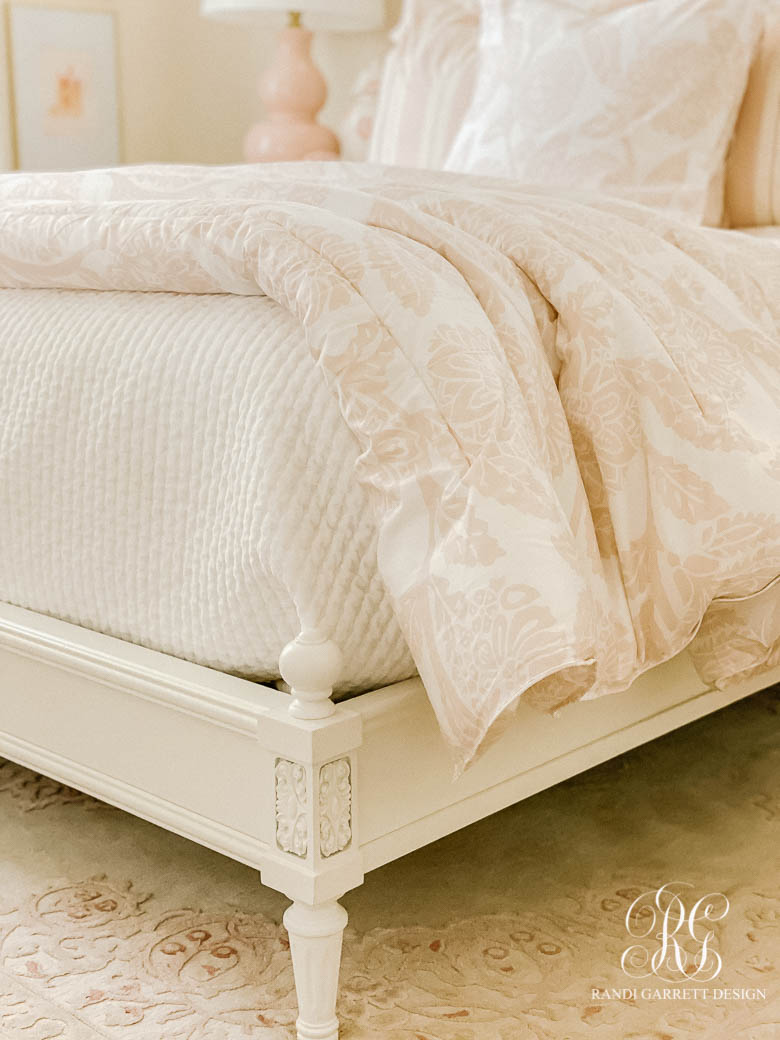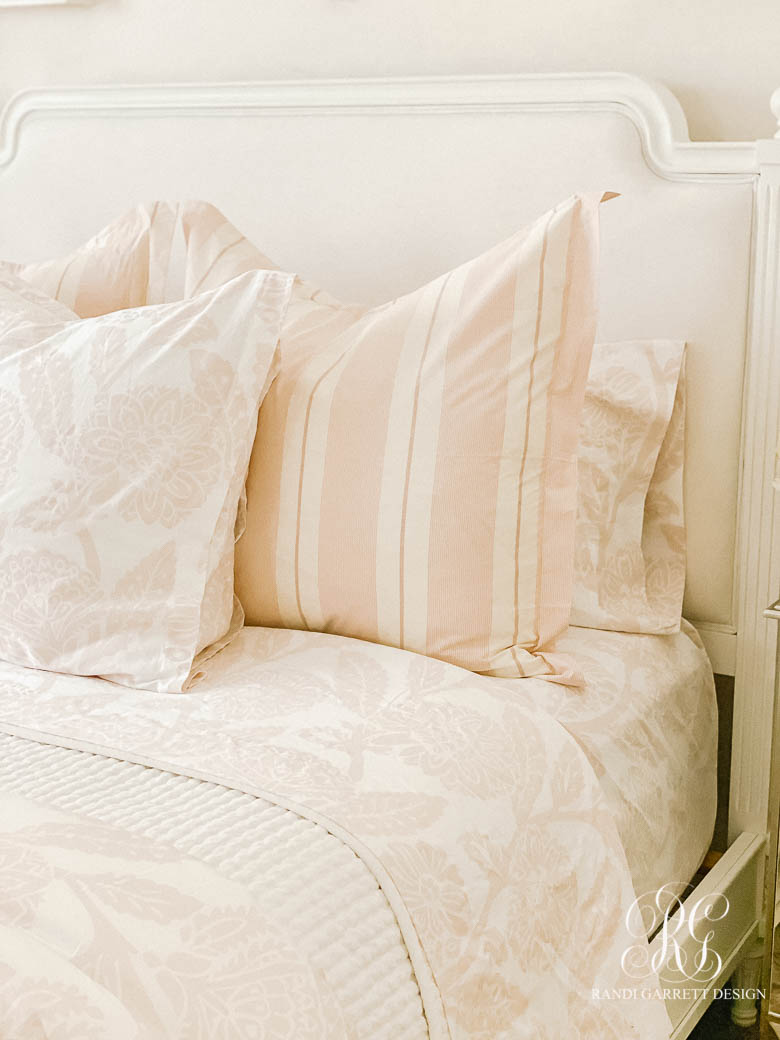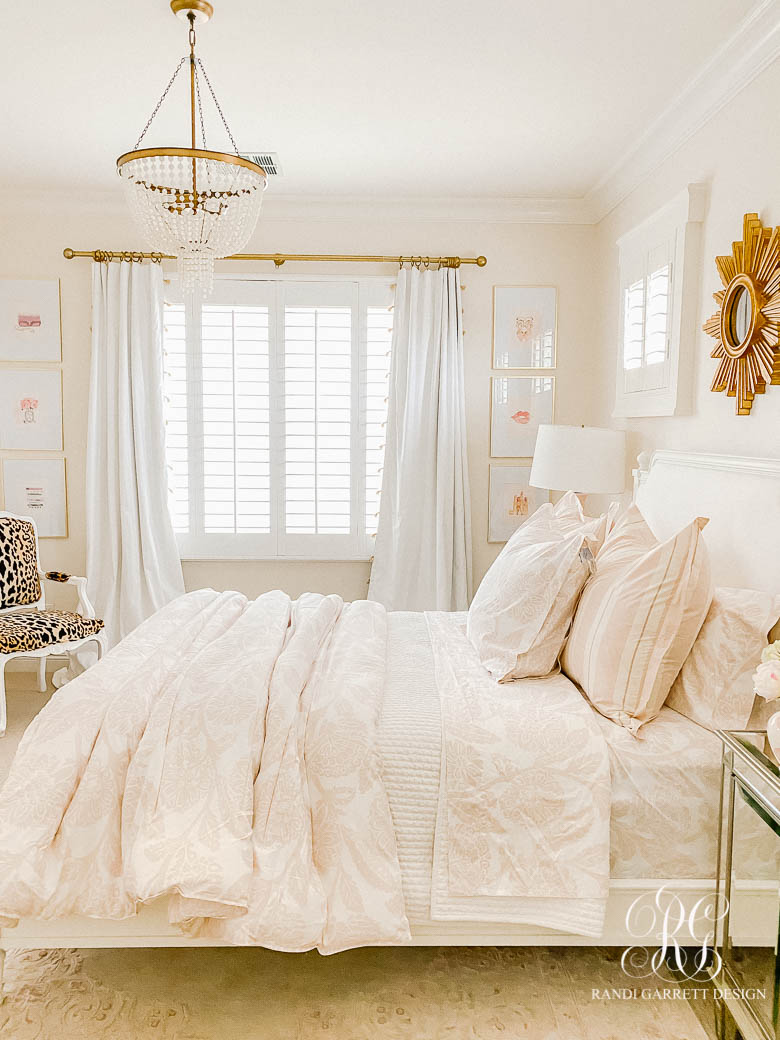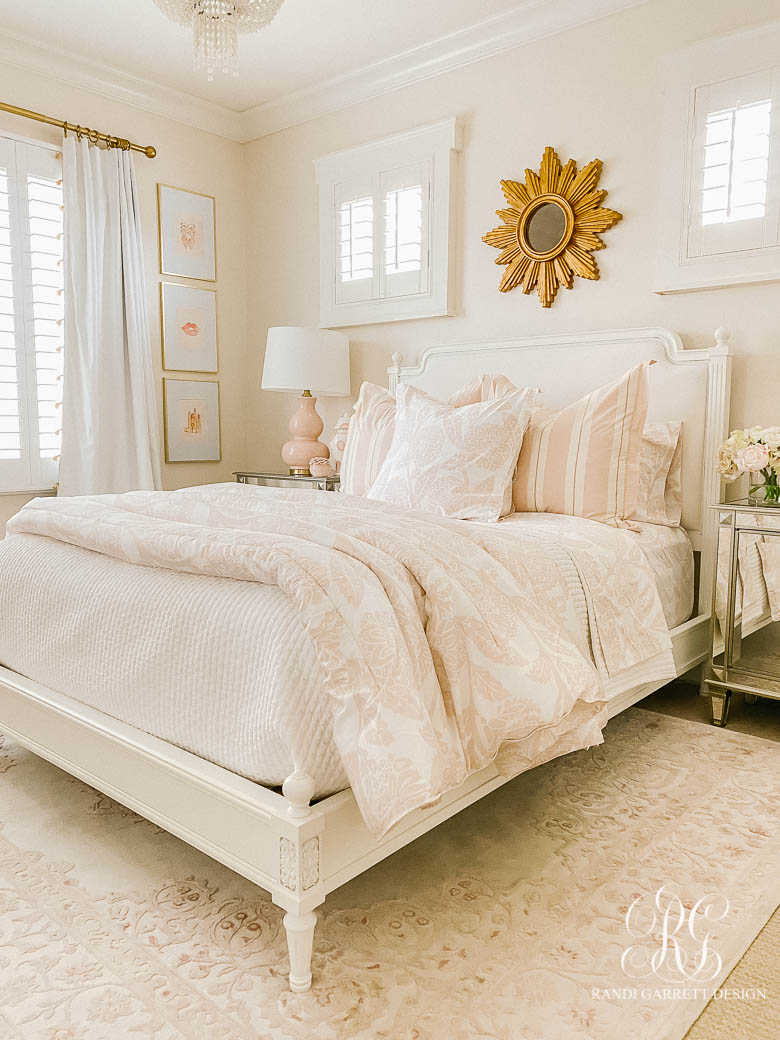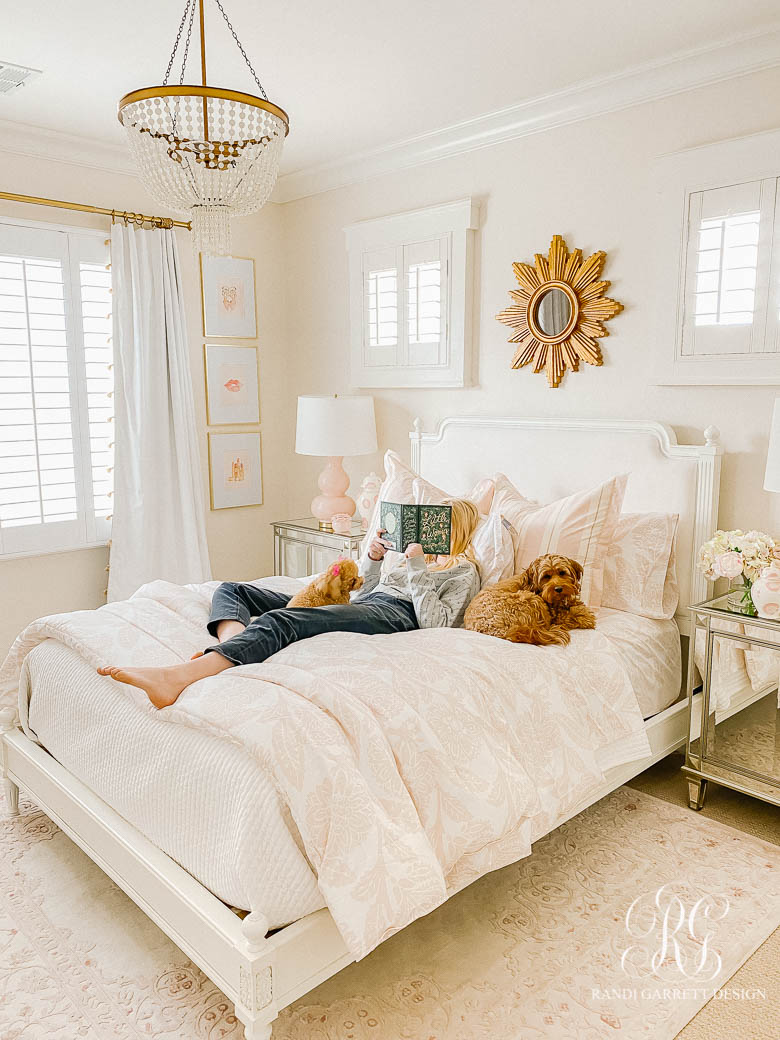 Ellie'e other linens coordinate with her beautiful comforter. We used a white velvet quilt as a gorgeous backdrop. This quilt is my favorite ever! It is so soft and luxurious. I love how versatile it is. Matching pink and damask sateen sheets (my favorite sheet fabric- they are so soft and wash up beautifully) and striped shams complete the look! Her bedding also comes in a buttery yellow and sky blue.
I know you will love the quality of these beautiful pieces for your home!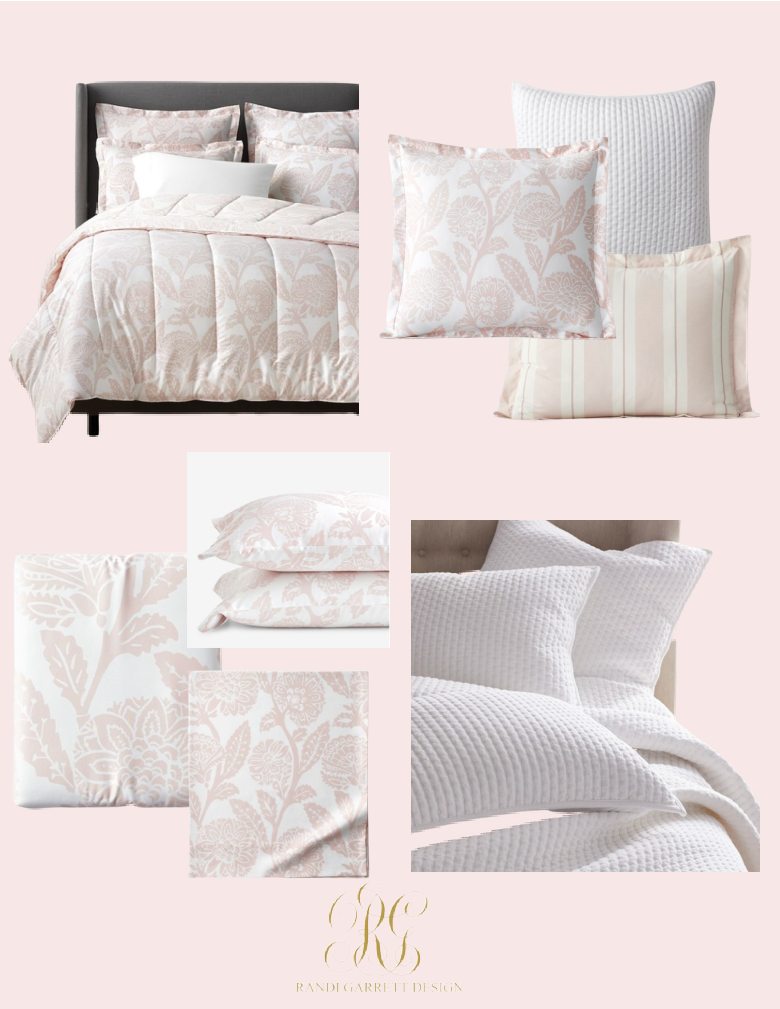 Damask Sateen Comforter | Damask Euro Sham | Pink Striped Euro Sham | White Velvet Euro Sham | Damask Pillowcases | Damask Fitted Sheet | Damask Flat Sheet | White Velvet Quilt