Oh Holy Night, the stars are brightly shining. It is the night of our dear Savior's birth. These are my favorite lines from my favorite Christmas carol, Oh Holy Night. I used those sweet words as a theme for my Christmas decorating this year. The special symbols of Christmas are all around us. So much so, that they often go unnoticed, instead of cherished and remembered.
As I decorated our home this year, I wanted to emphasis those symbols throughout our home and help our family remember why we have trees in our home with a star on the top, gifts, twinkling lights, candy canes and nativities. There is a sacred celebration that we are remembering, it's the reason reflected in the careful trimming of our homes. I want my children to know the why behind the magic of this season. They were given the most glorious gift by the most loving Father.
Look for these glorious symbols throughout our home this Christmas. Use them in your homes to decorate your house for Christmas and remember how much our Savior loves you. He came that holy night and the world never shined brighter.
Today, I am sharing the heart of our home, our Christmas family room. This is where we spend most of our time together as a family. I'll be sharing the other spaces in our home decorated for Christmas throughout the next week. I hope these posts bring you inspiration, enjoy the Christmas Home Tour!
Oh Holy Night Christmas Home Tour
I picture that Holy Night and think of the golden hay that lay in the manger, the white shining stars that lit up the night sky and the silver coat on the donkey that led Mary into Bethlehem. Symbols of the first Christmas night. So, to remember that holy night, I used gold, white and silver to decorate our house this year.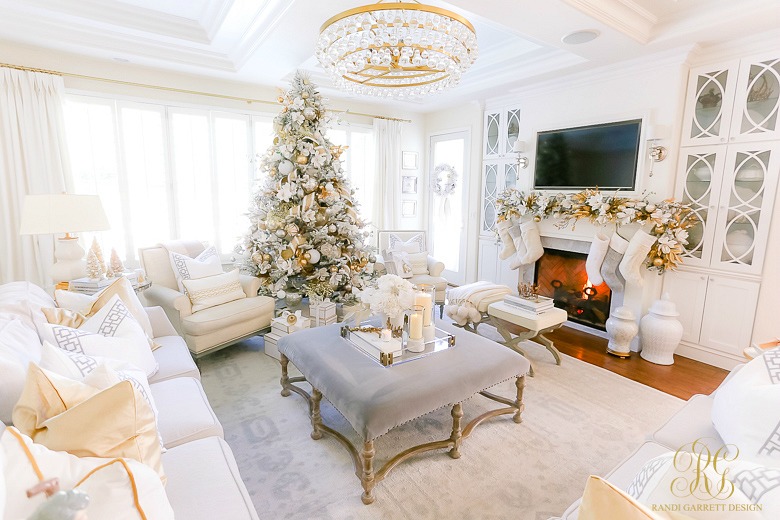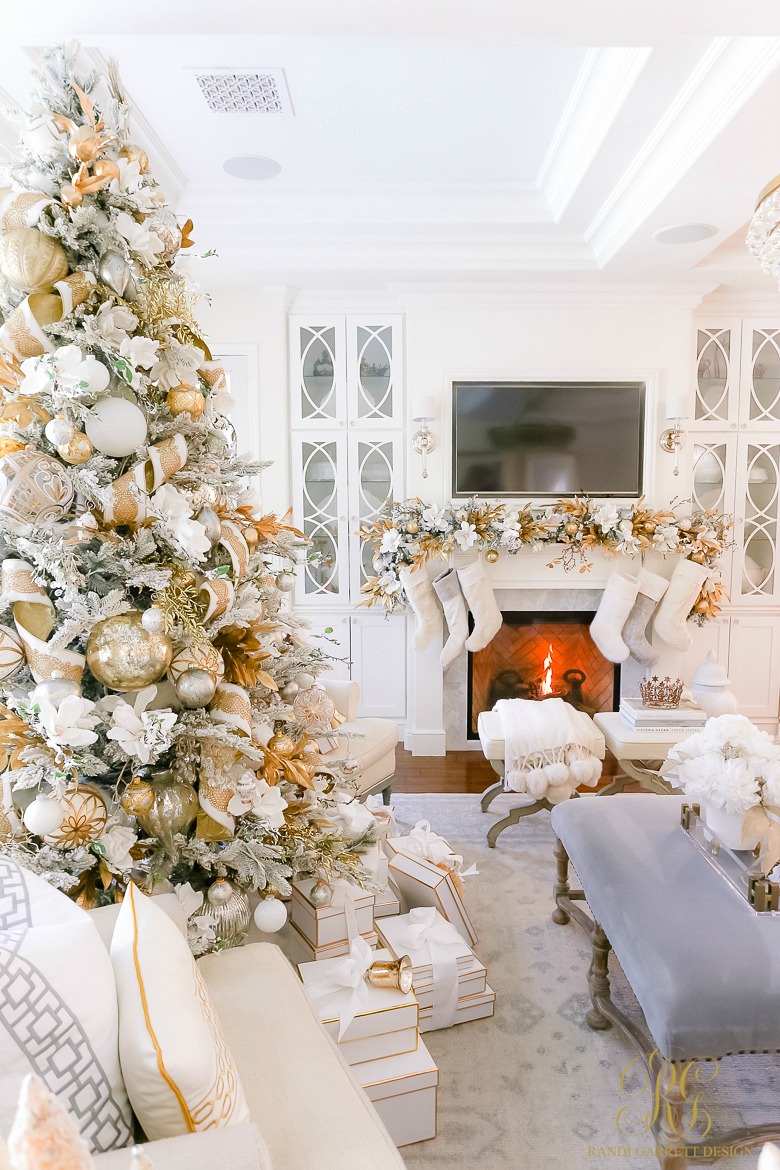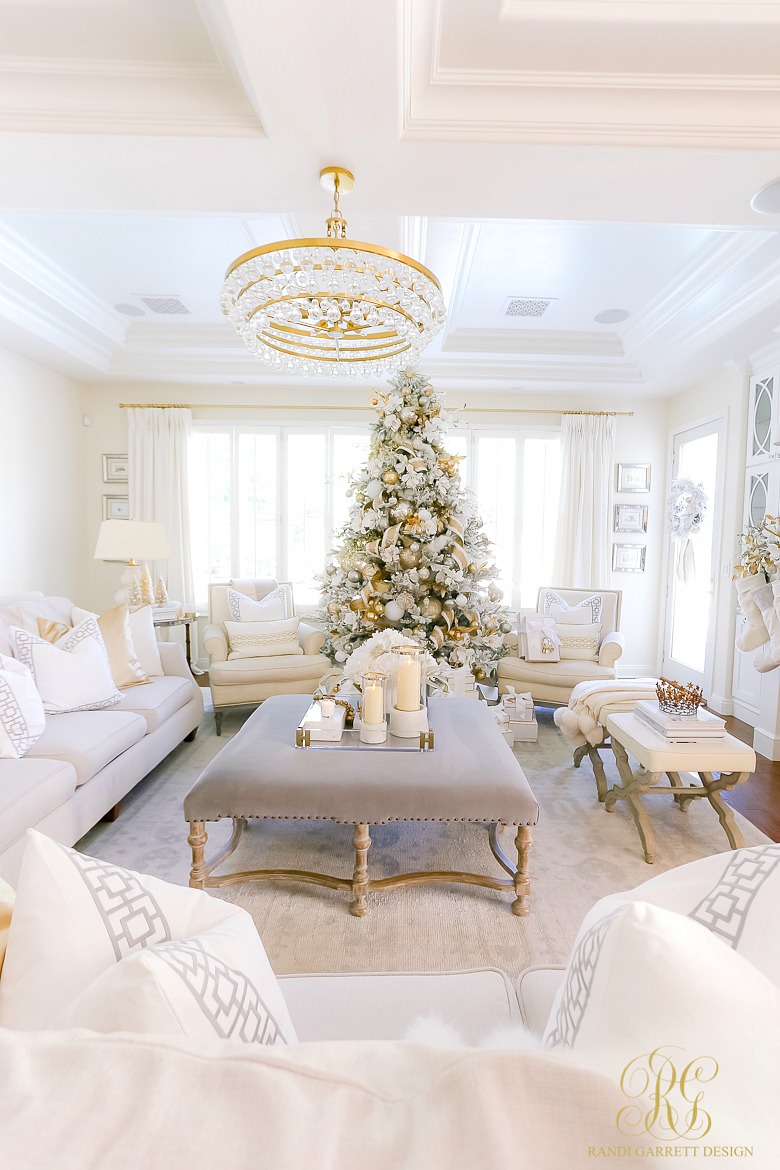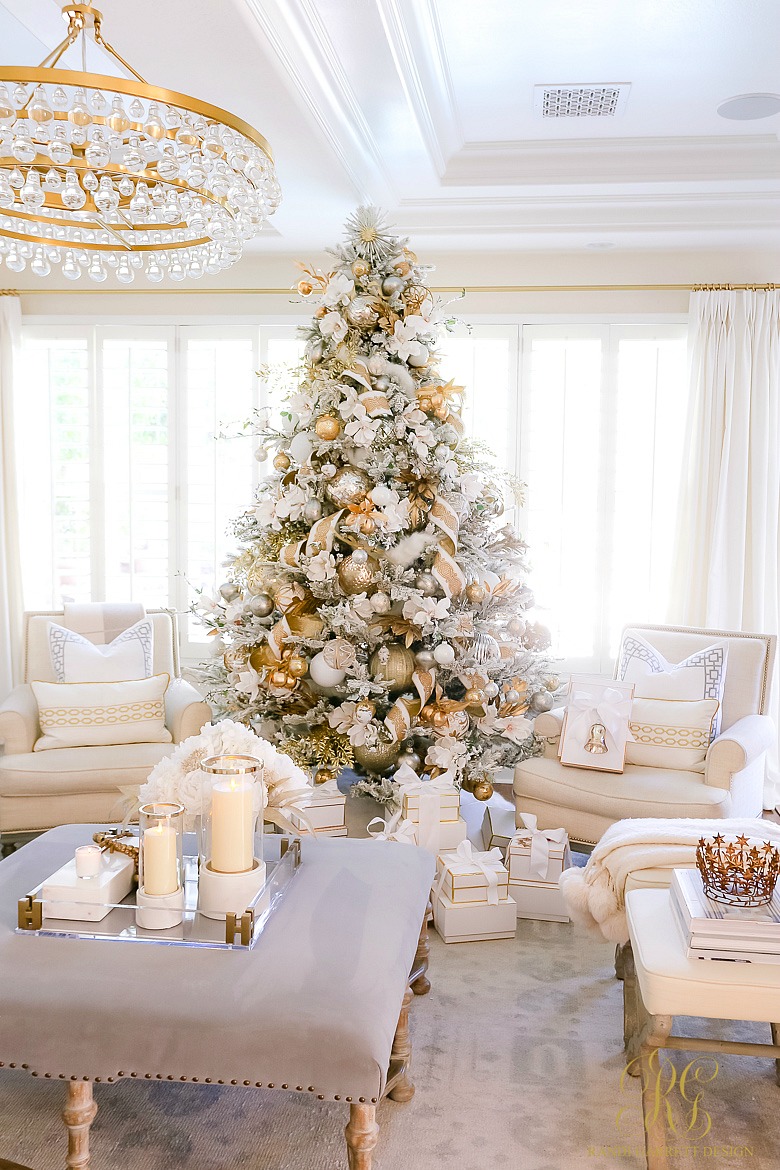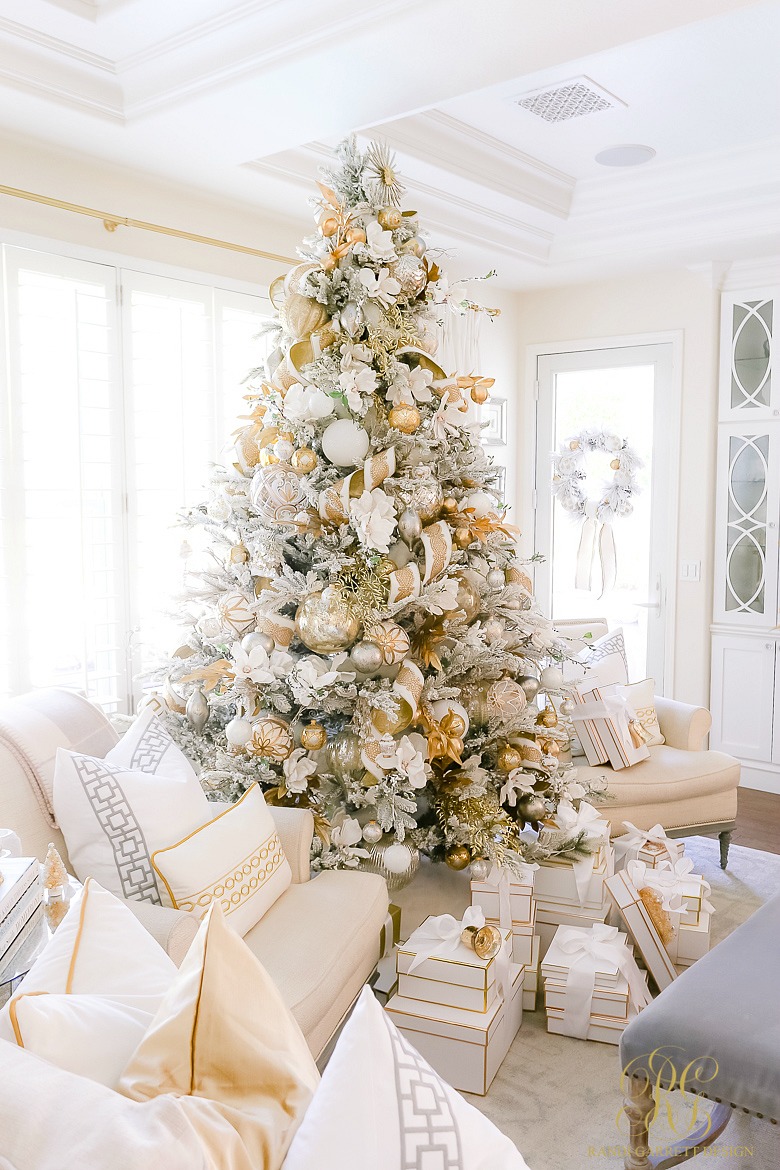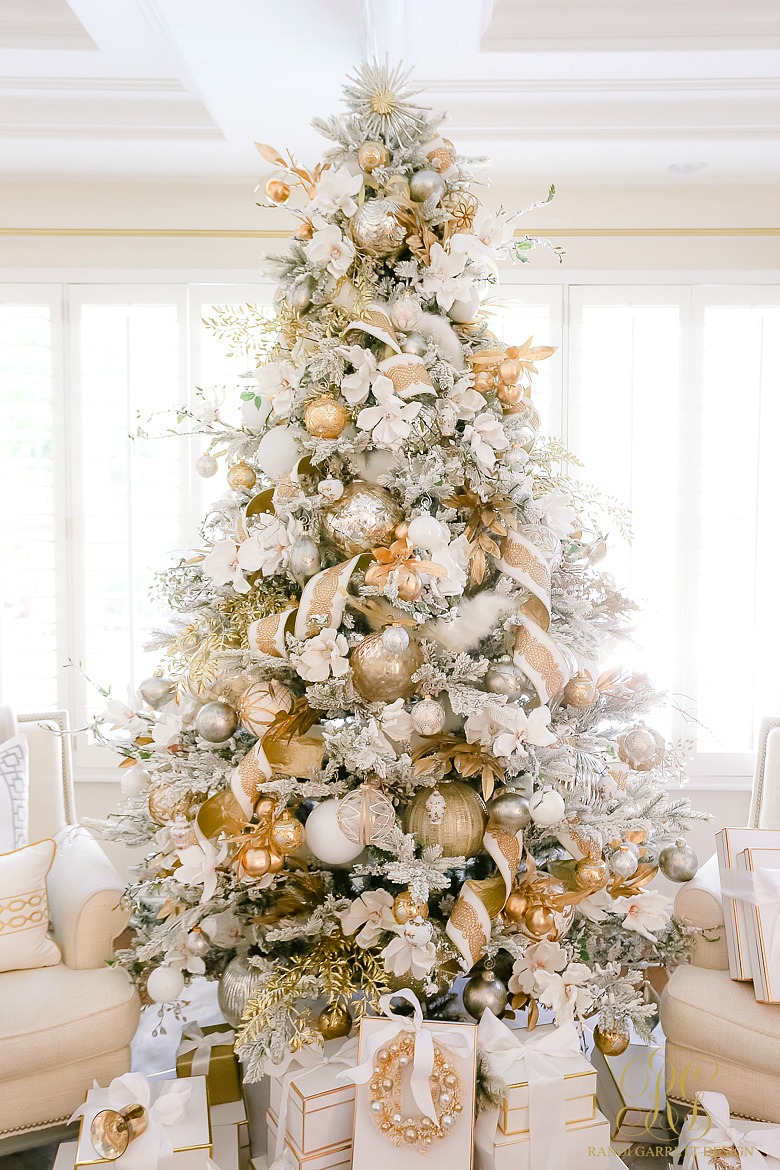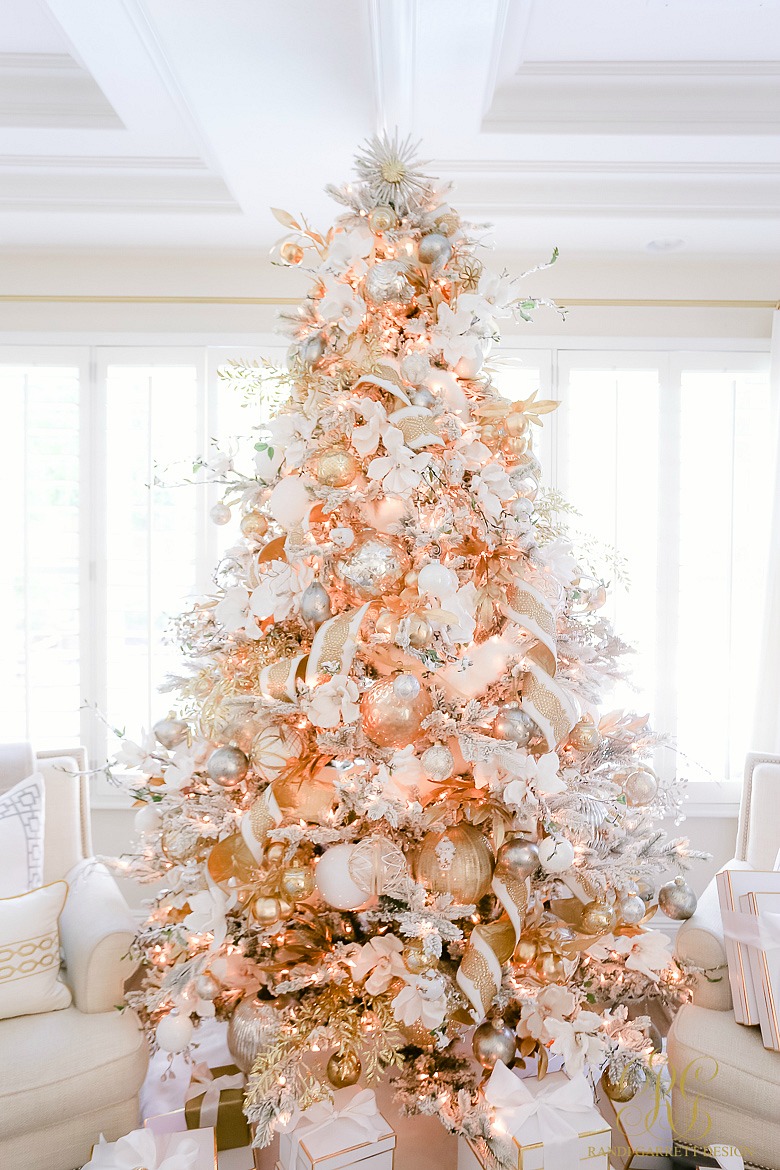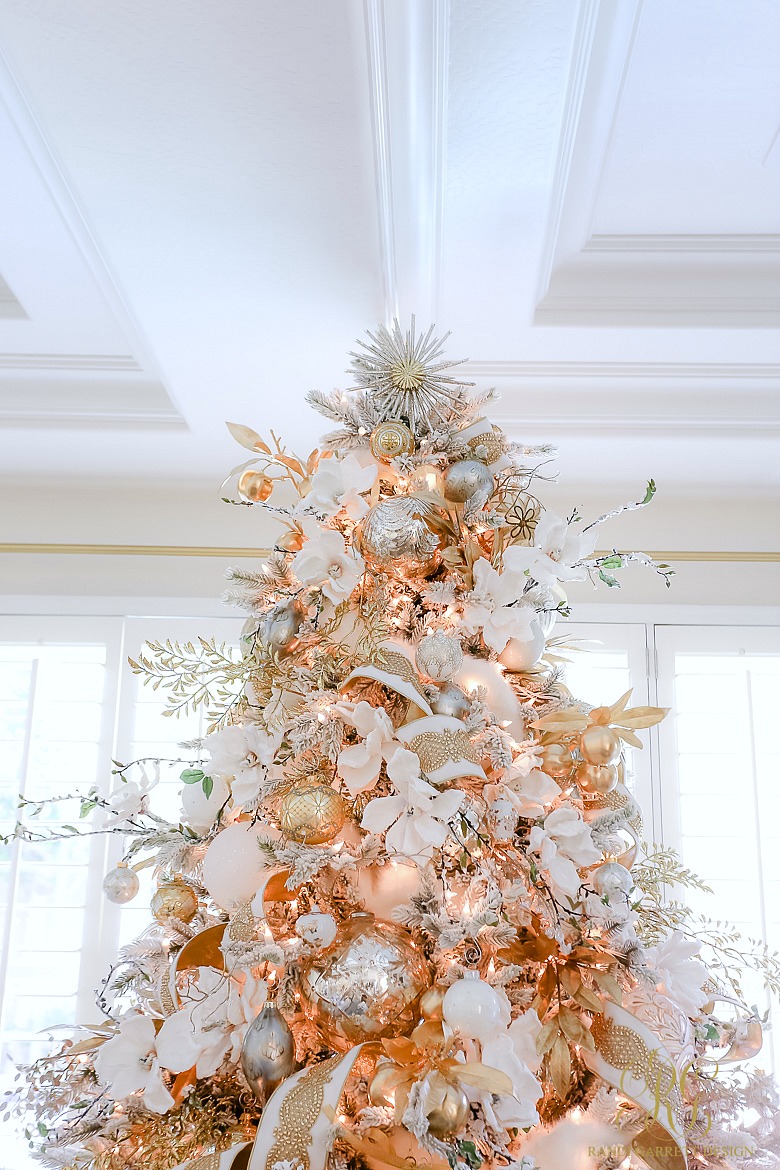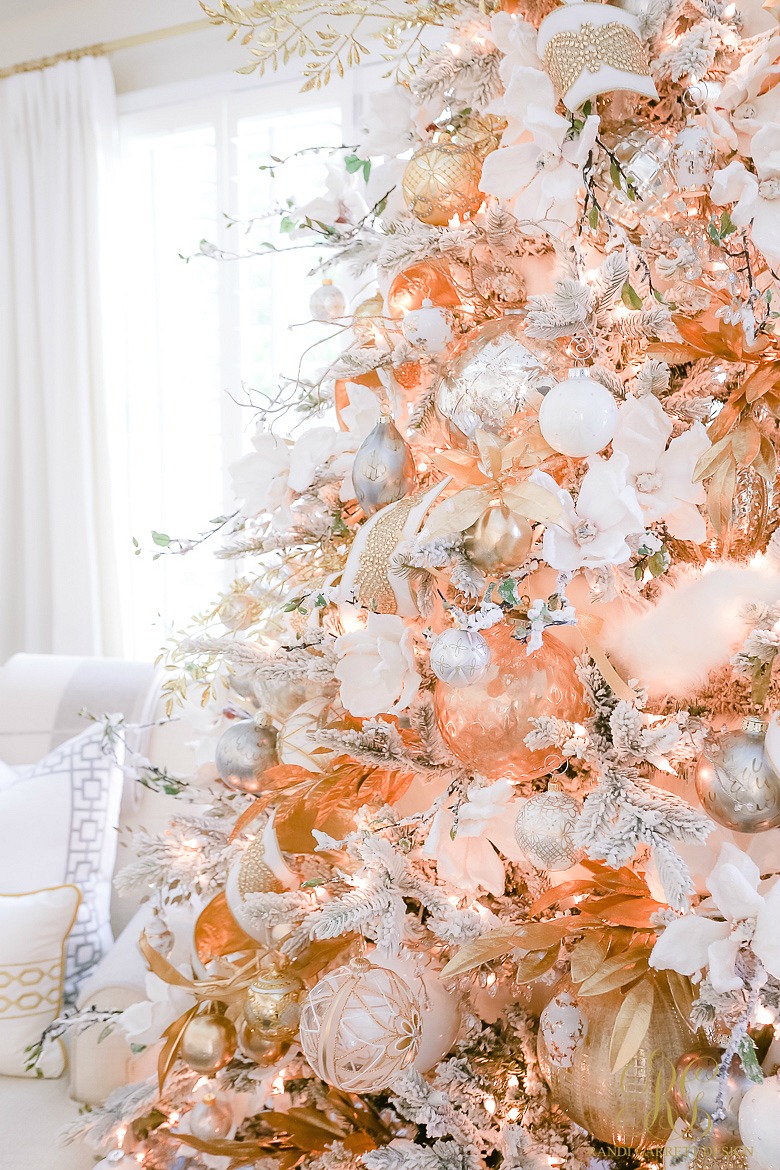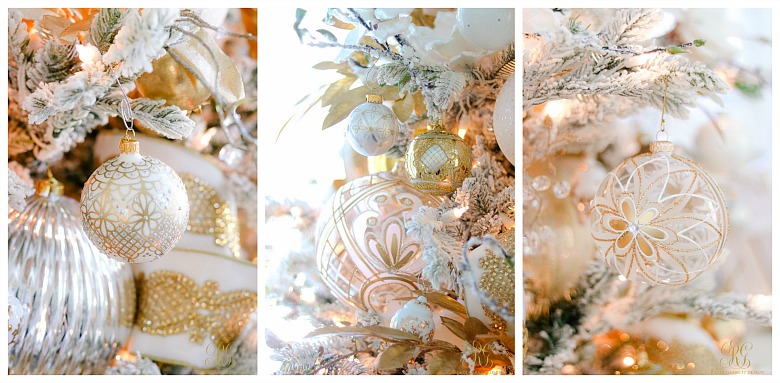 To decorate our tree, I used the same technique I shared in my Christmas Tree video tutorial.  It's an 8 minute tutorial showing you exactly how I decorate my tree. Use my Christmas tree capsule formula to know exactly how many ornaments, picks, flowers and ribbon you need for your tree. Here is a list of what I used to style our gold, white and silver tree…
9 ft. Christmas Tree (These are the best trees EVER!!!!! I have had several and this one is by far the best!)

Fur Ribbon (I used 6)
Picks

Flowers

Large Ornaments

Medium Ornaments

Small Ornaments

Ribbon (mine is from a wholesale shop – I sourced similar options for you)

Star Topper (my exact tree topper)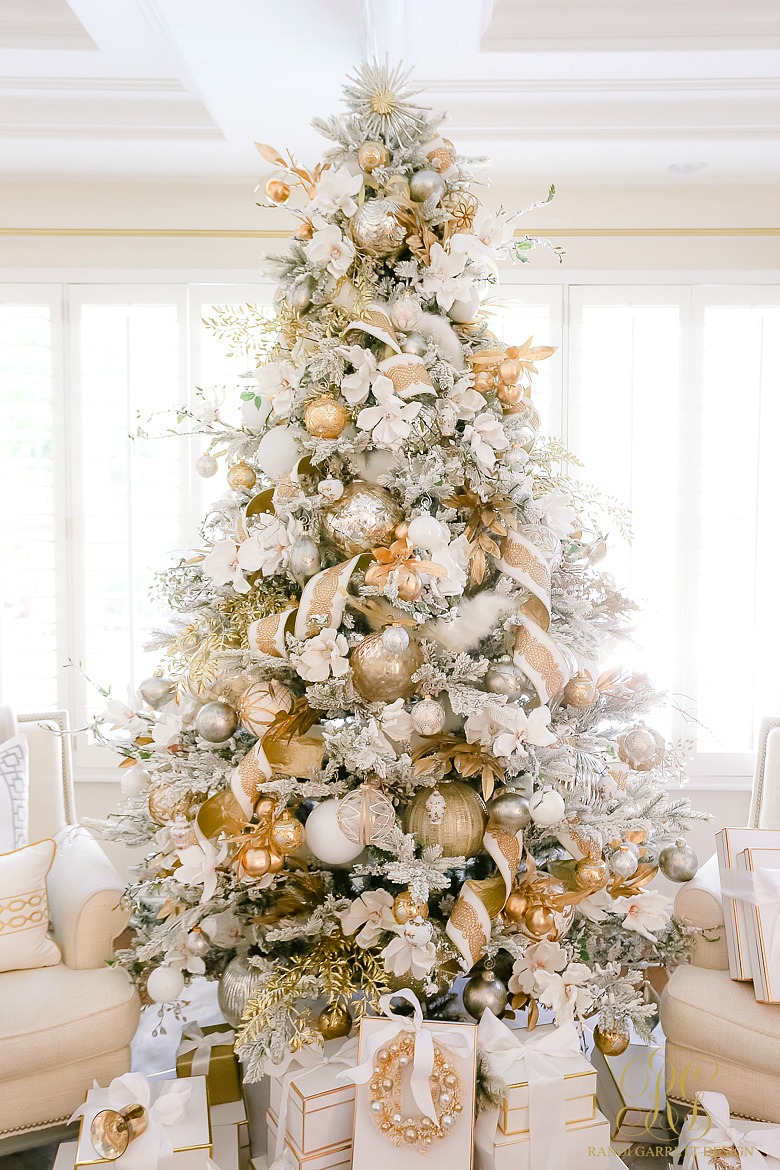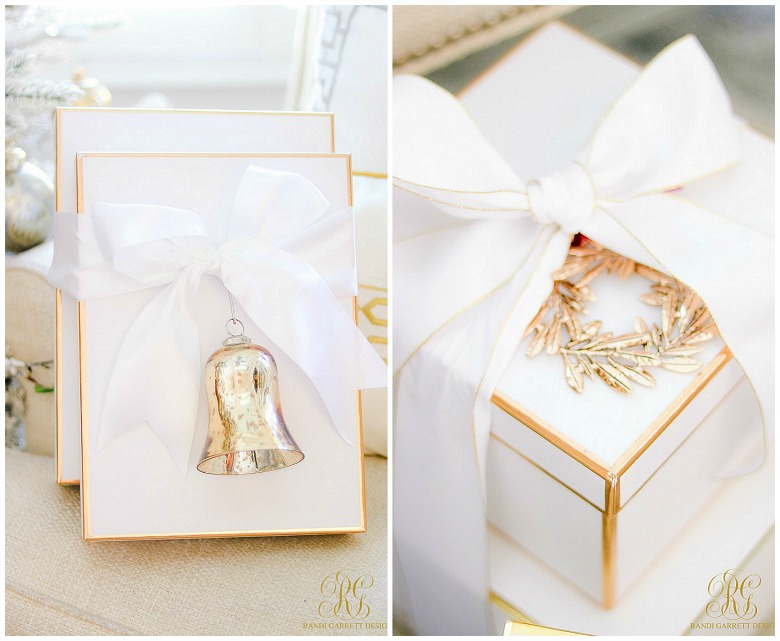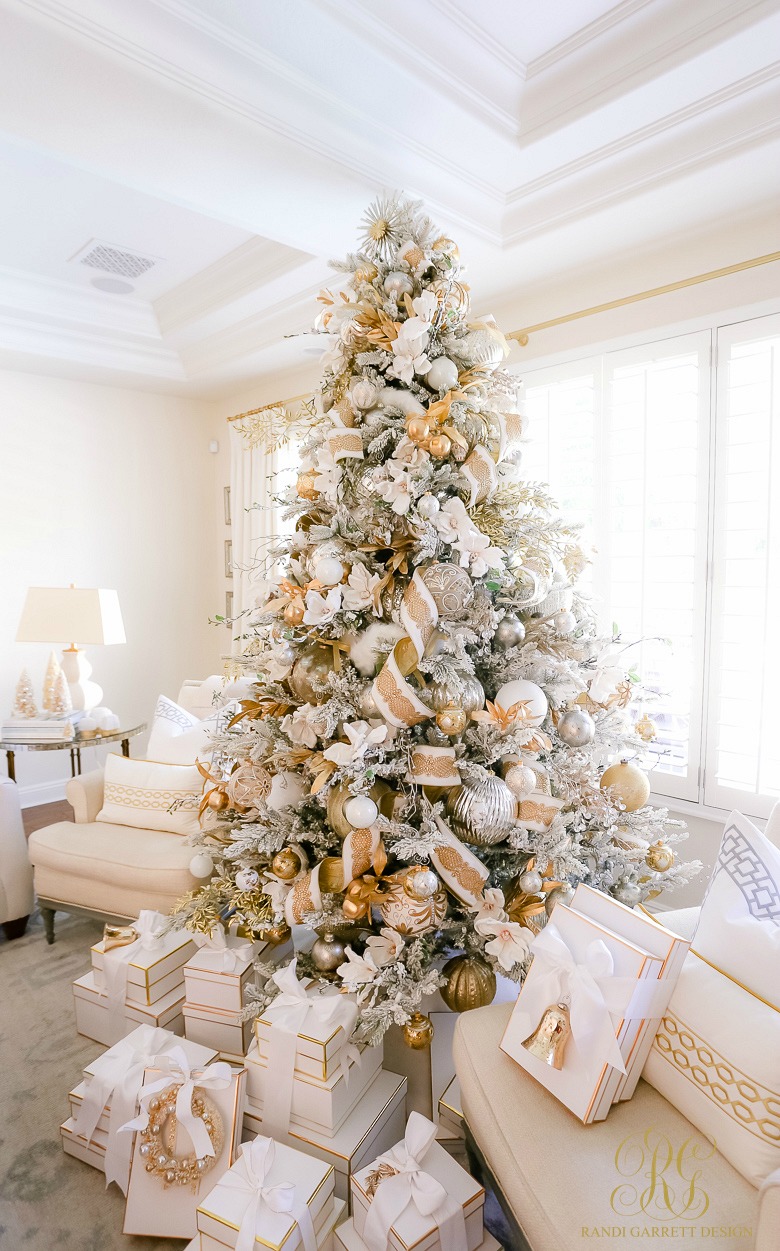 Use white gift boxes tied with pretty ribbons and baubles instead of wrapping paper. Store them and use then year after year.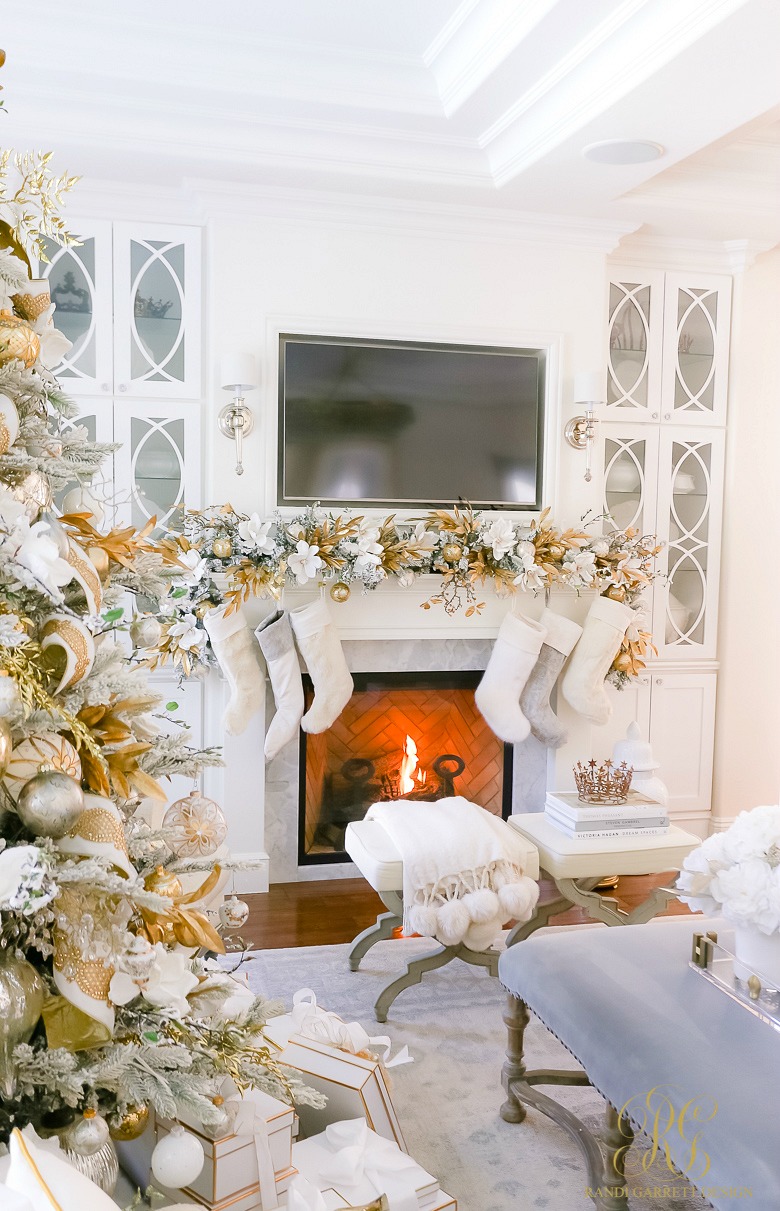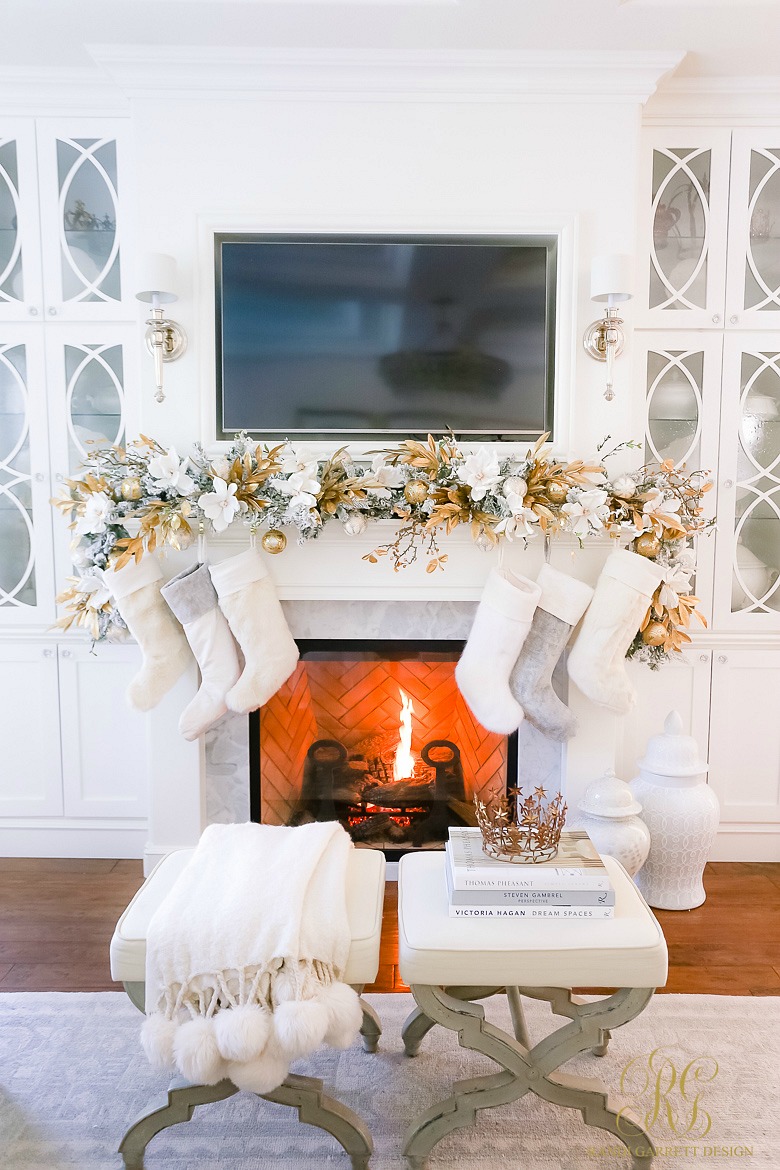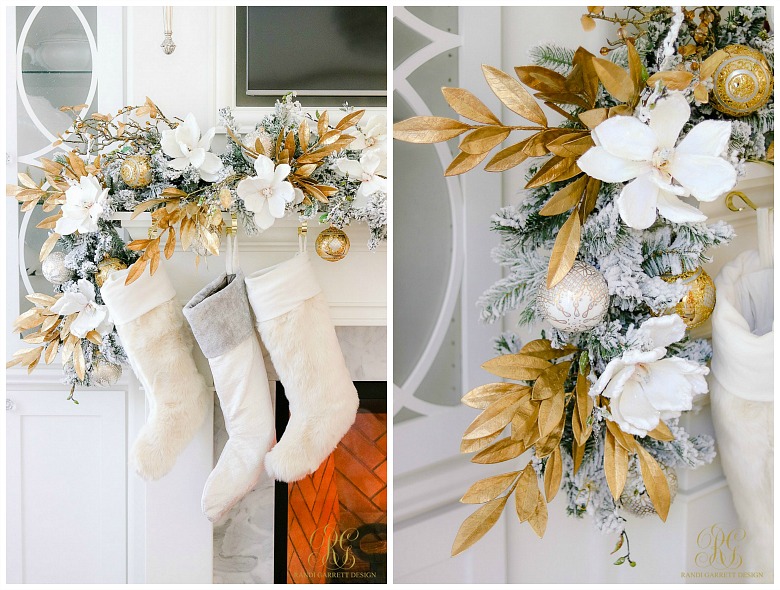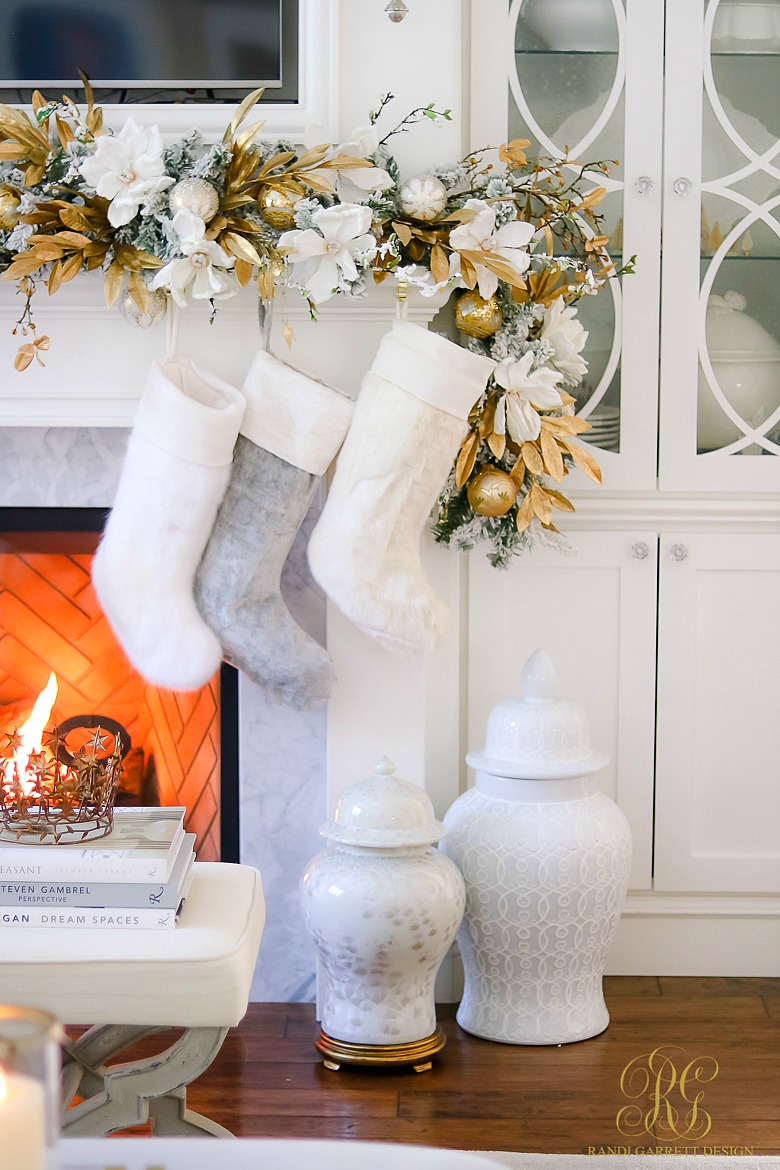 Our mantel features a simple flocked garland fancied up with the same magnolias, gold leaves, and ornaments that coordinate with our tree. To recreate the look you need the following…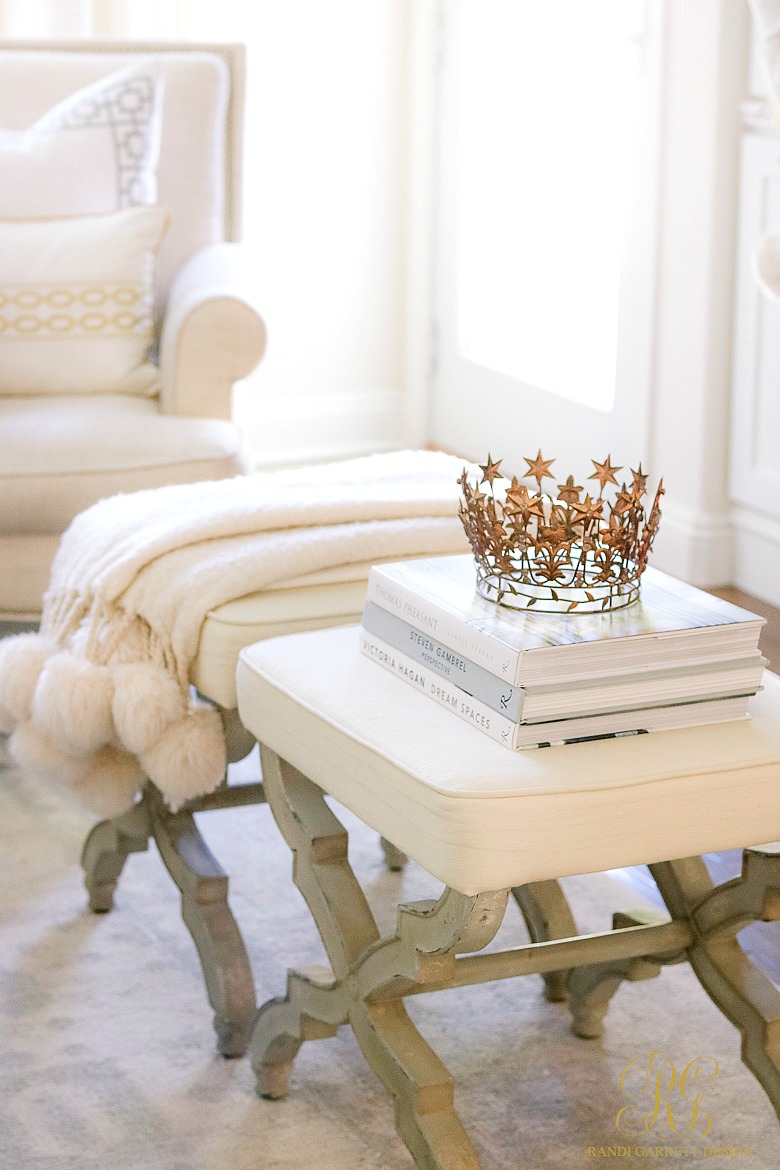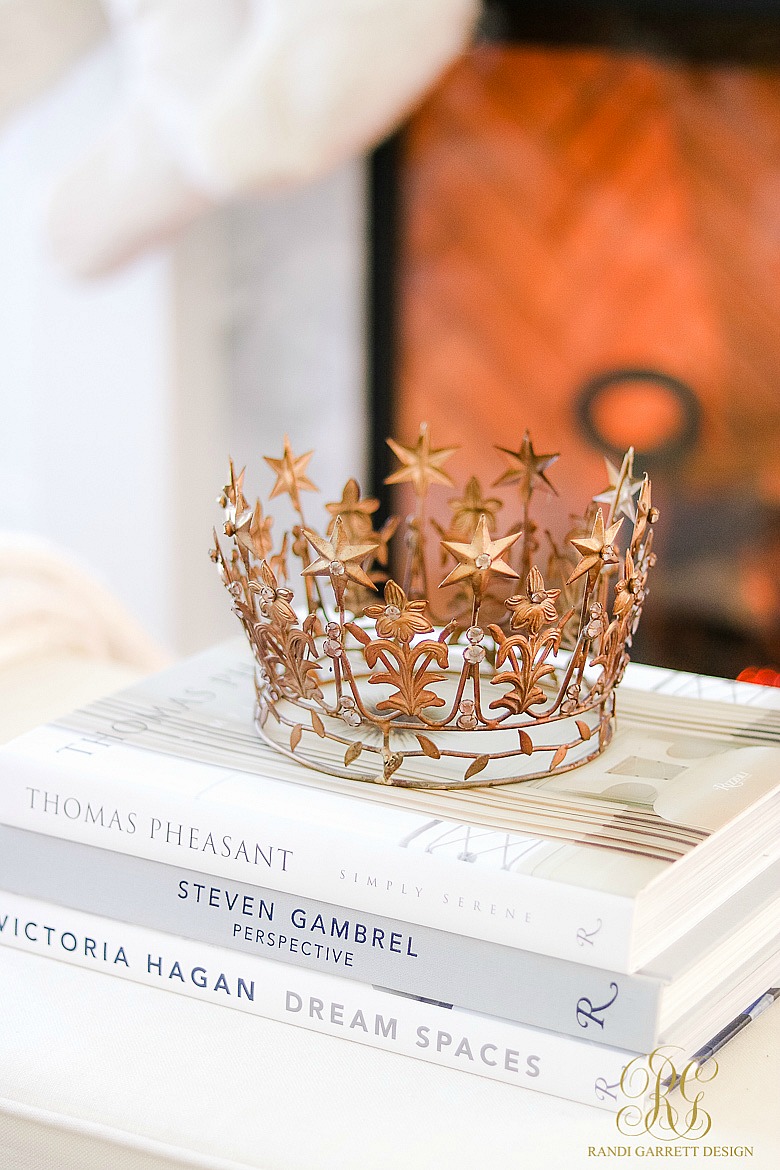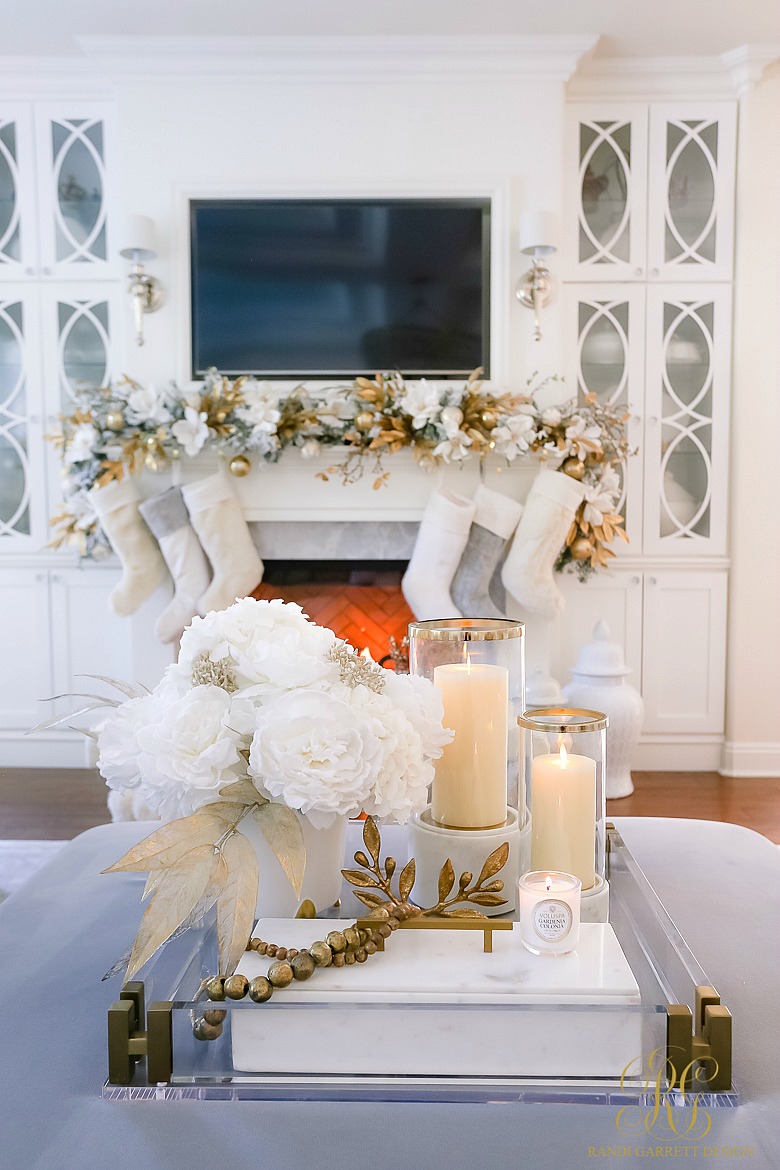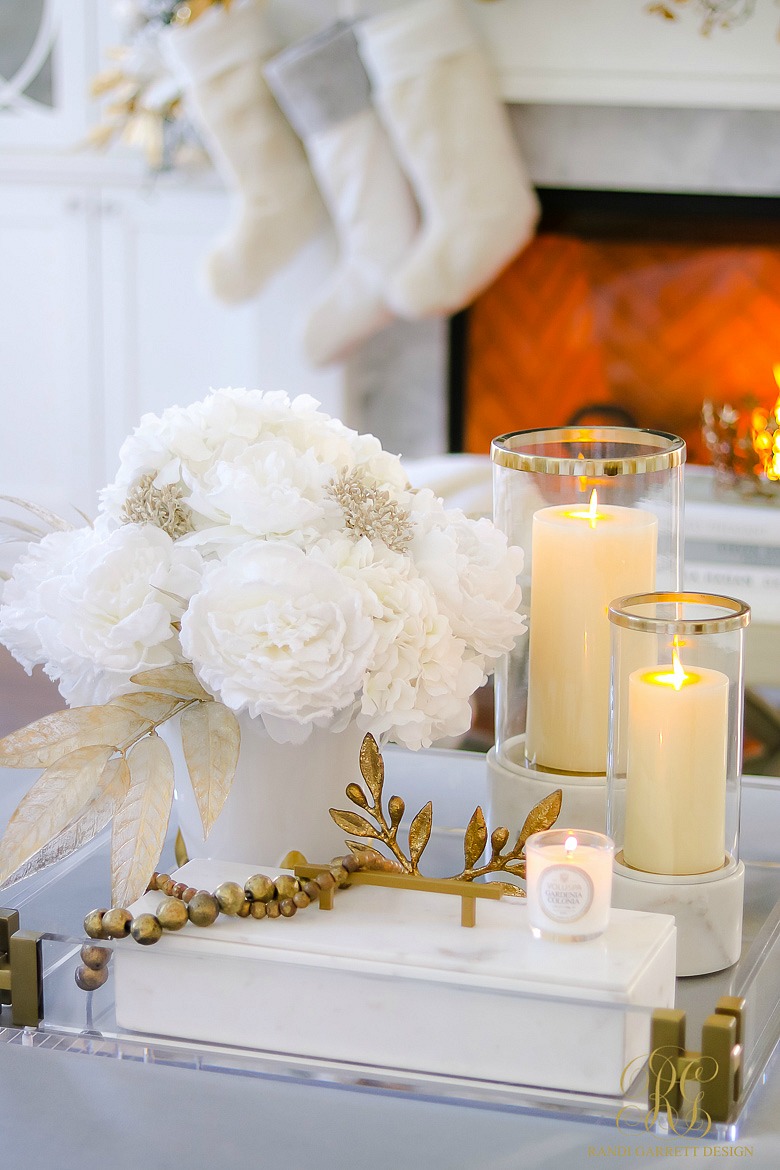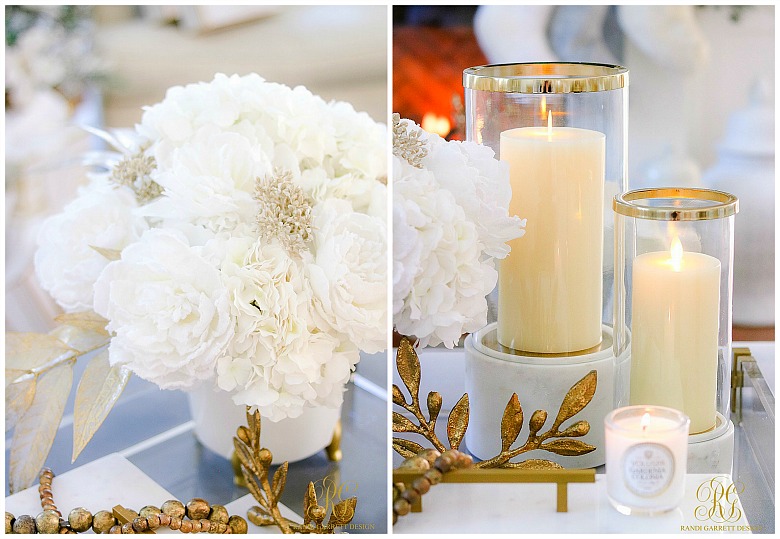 Marble Hurricanes
|
Battery Operated Candles
|
White Gold Footed Vase
|
Snowy Peonies
|
Faux White Hydrangeas
|
Gold Leaves
|
Faux  Sedum
|
 Marble Box
| Ga
Votive
|
Lucite Tray
(
similar
)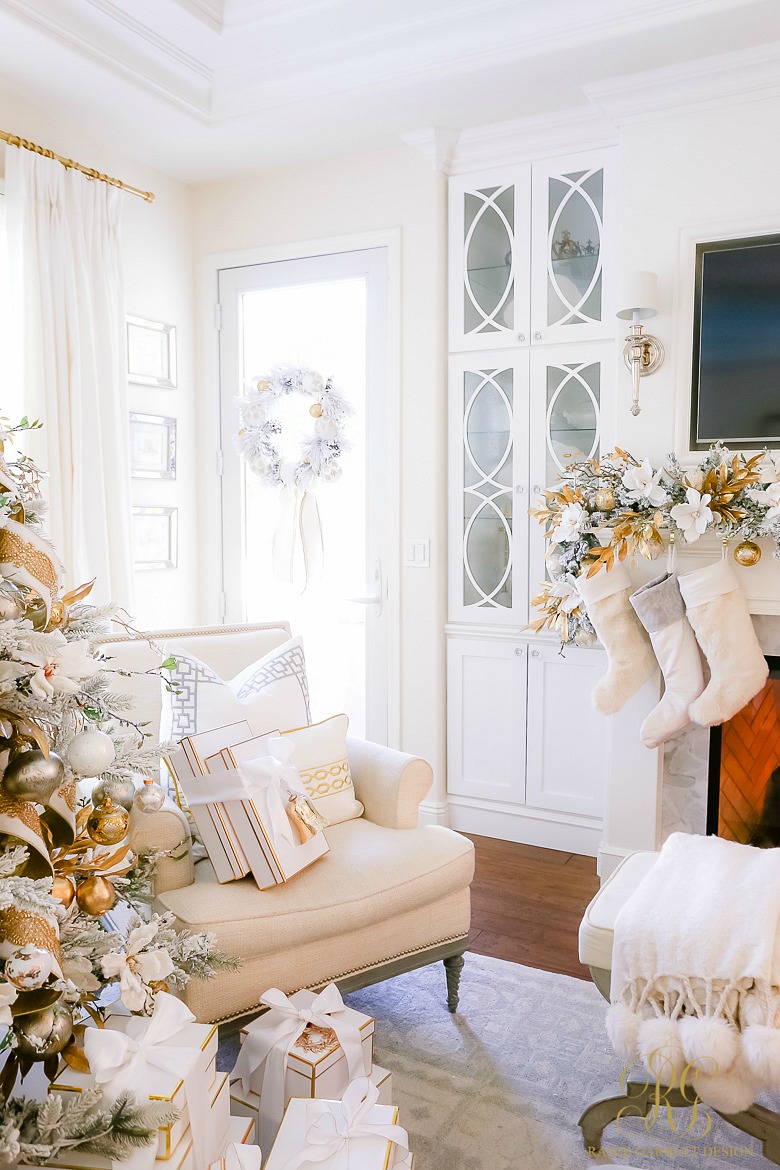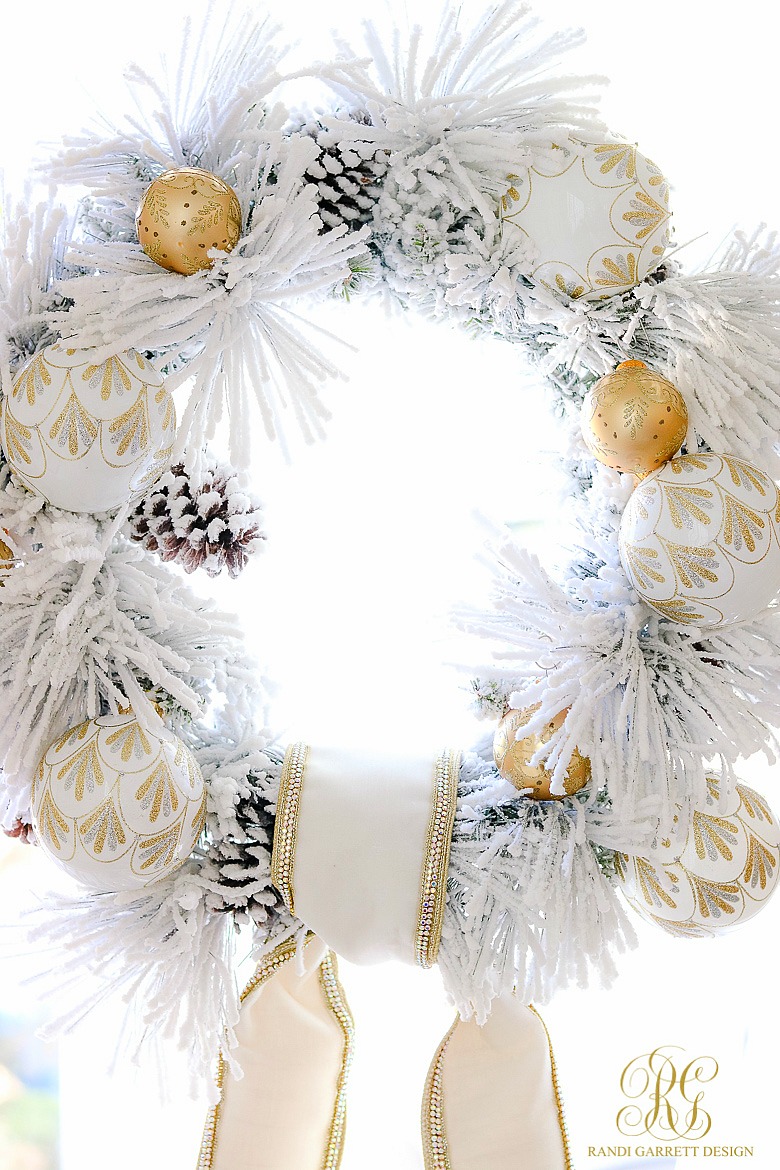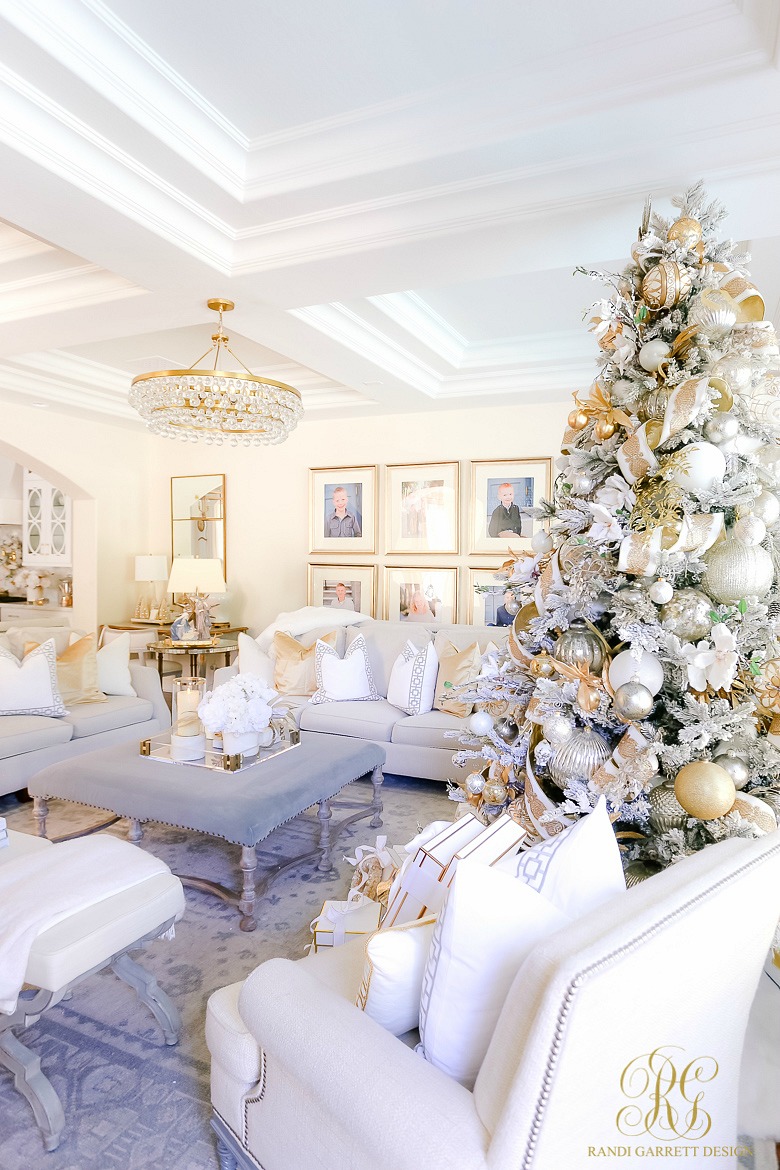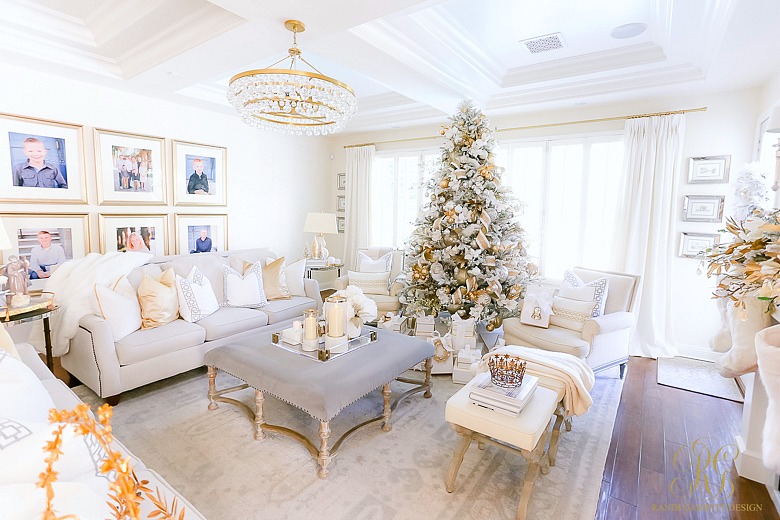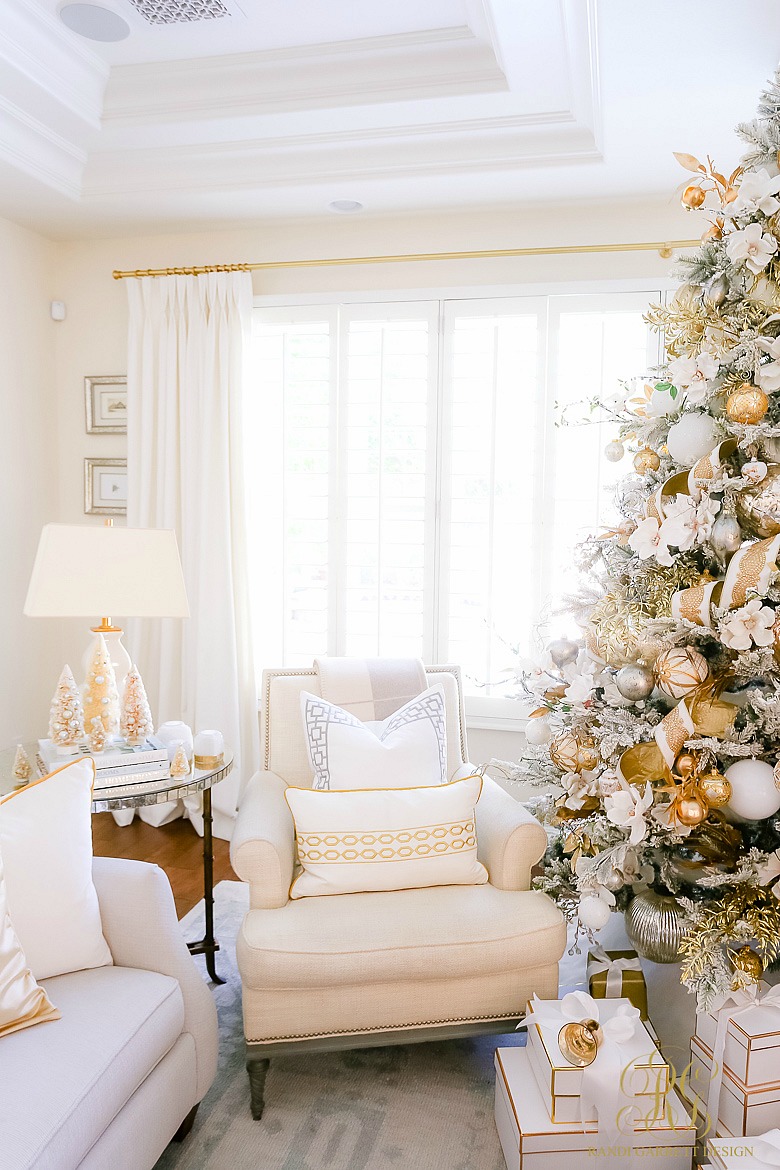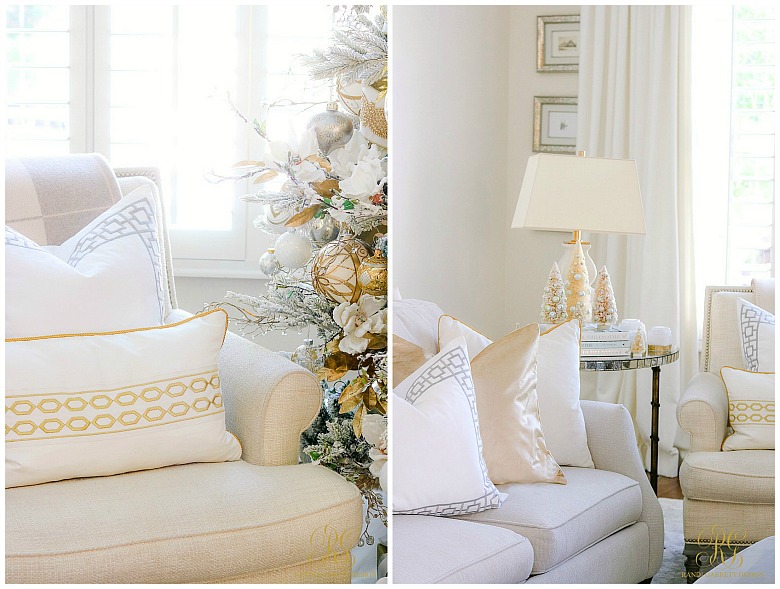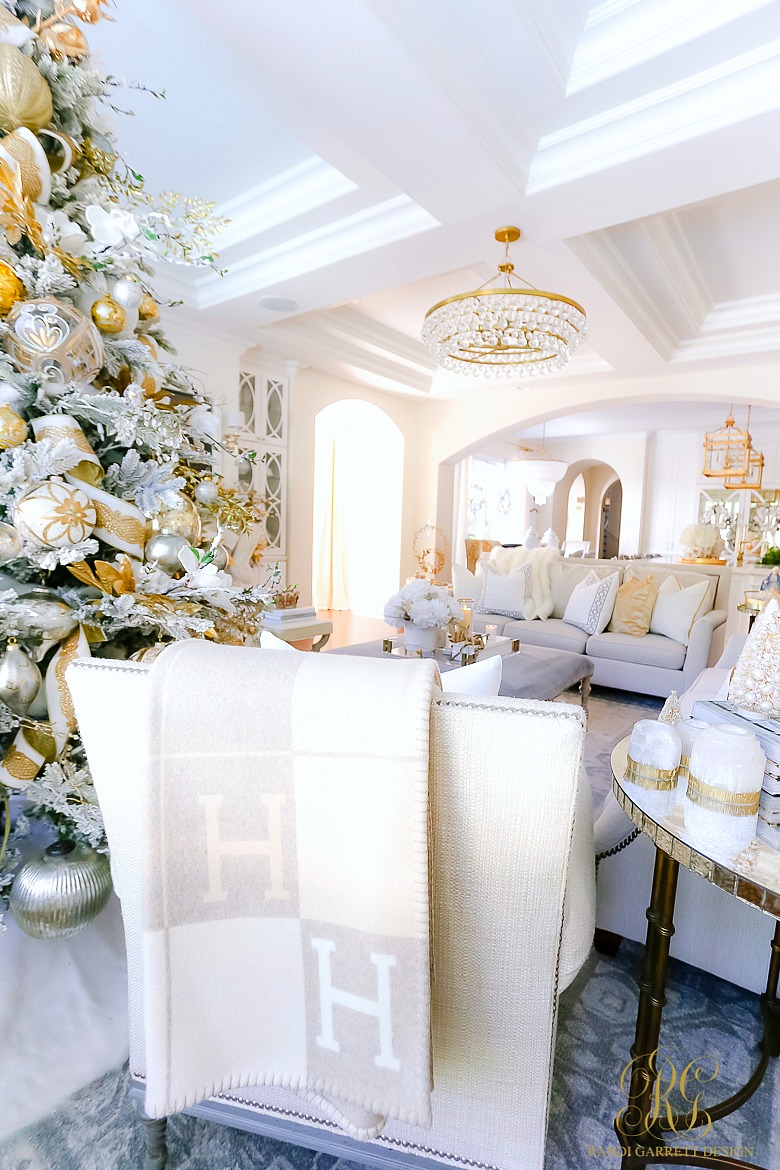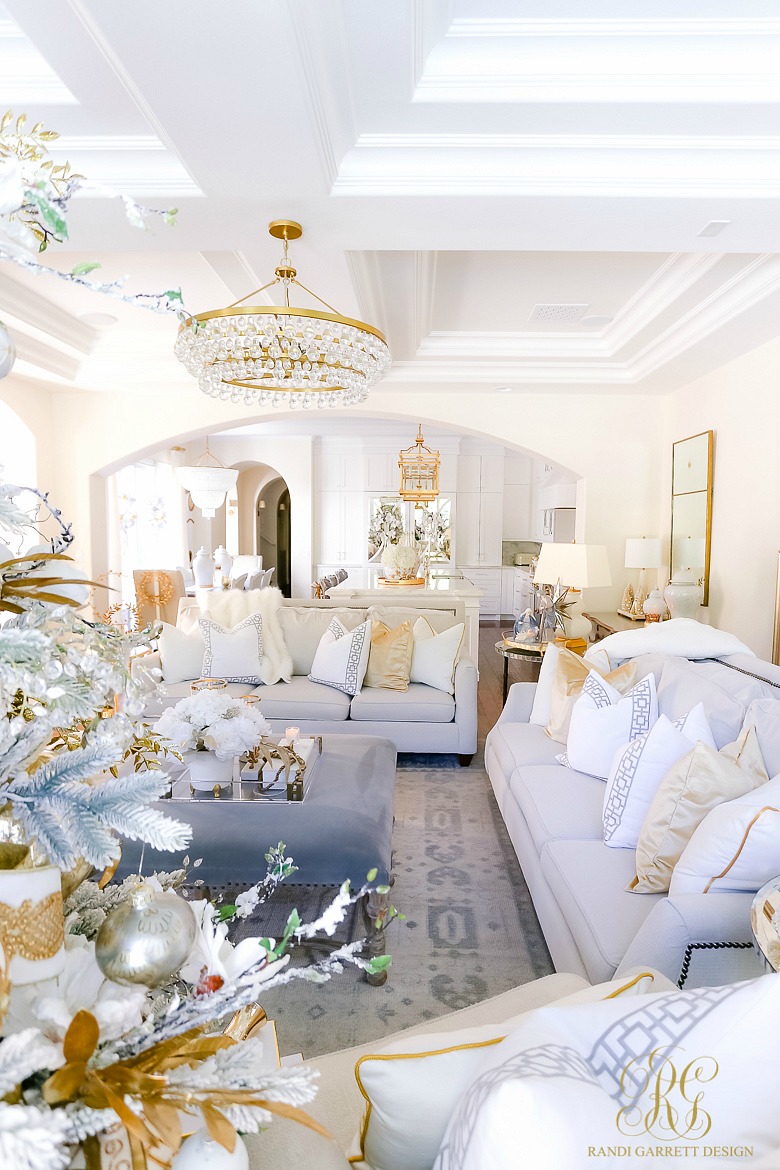 Gold Piped White Velvet Pillows
(22″) |
 Gold Velvet Pillows
(22″) |
Gray Lattice Pillows
(22″) |
 Gold and Cream Satin Pillows
(Lumbar) |
H Throw
(similar) |
Mirrored End Table
|
Timeless Style Book
|
Glamorous Rooms Book
|
Homefront Book
|
Bottle Brush Trees
 and
here
|
Selenite Votives
|
White and Gold Lamp
|
Cream Club Chairs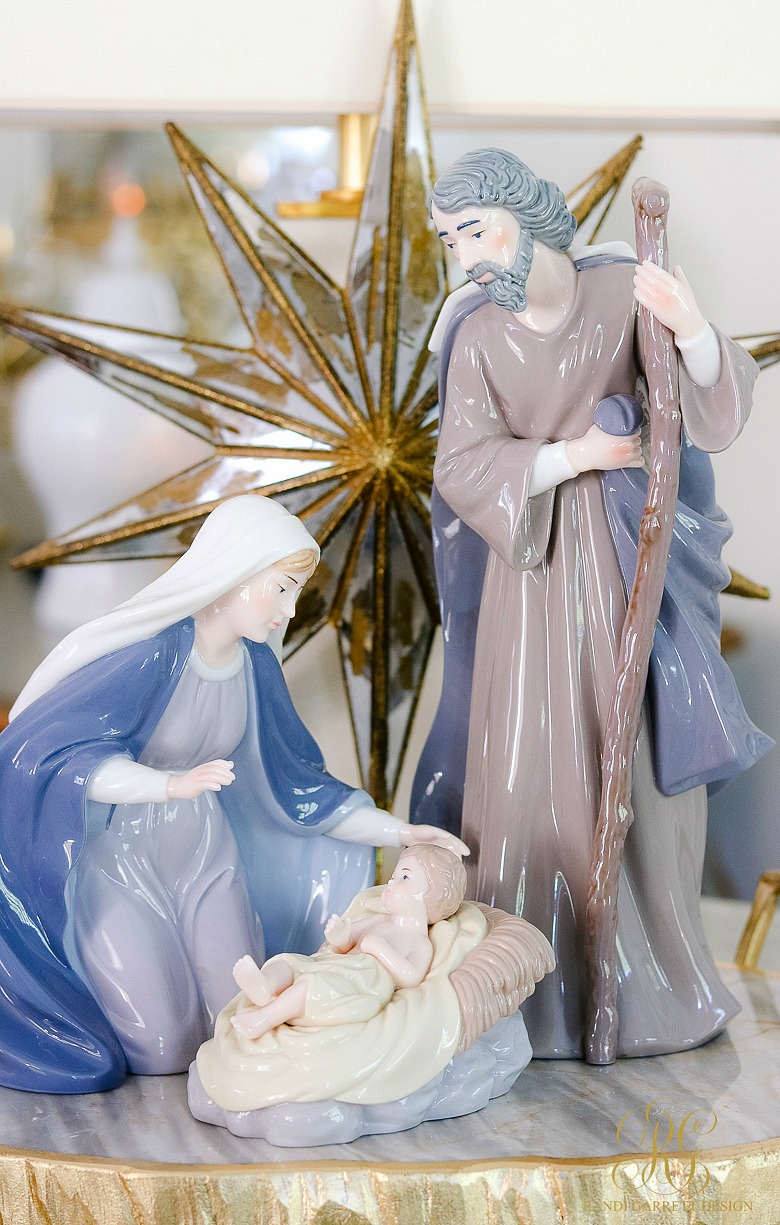 My nativity is one of my favorite Christmas decorations. I found it on a special trip with my parents. Here are a few beautiful ones I found that you may like to add to your Christmas decorating. Mine is displayed on my favorite
marble tray
with a
Christmas tree topper
behind it.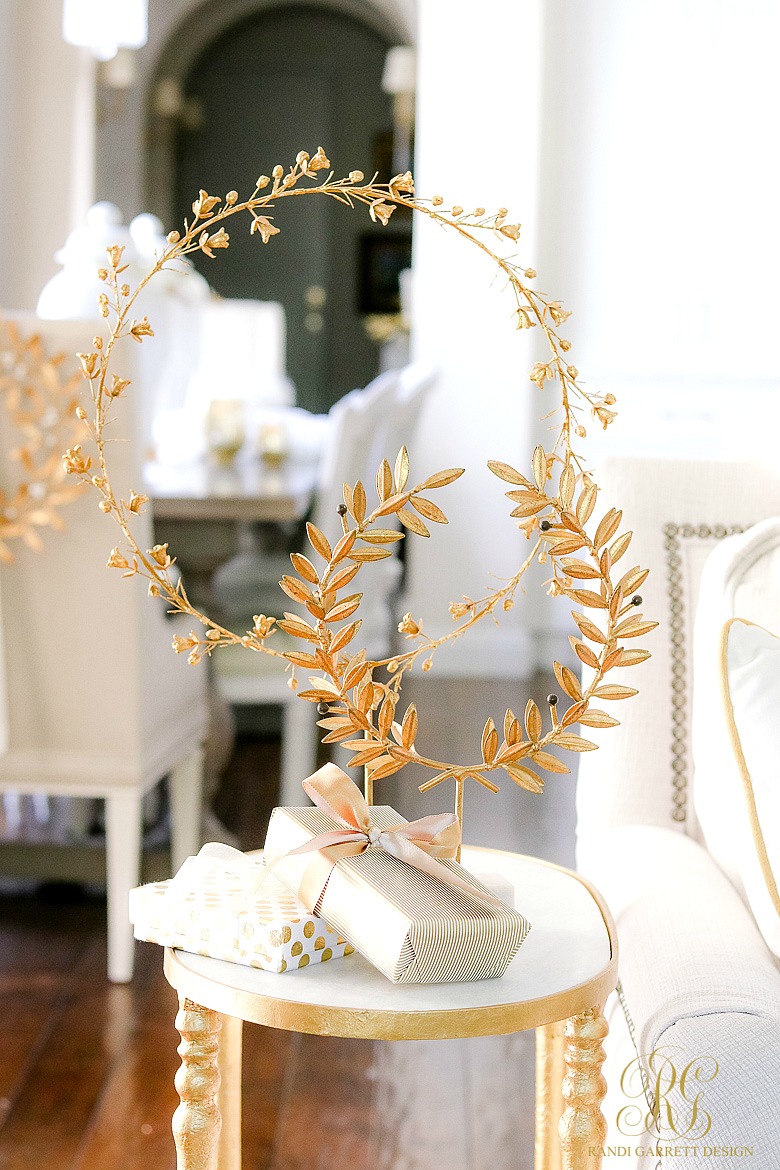 Wreath Stand
|
Laurel Wreath Stand
|
Marble Side Table
(similar table
here
)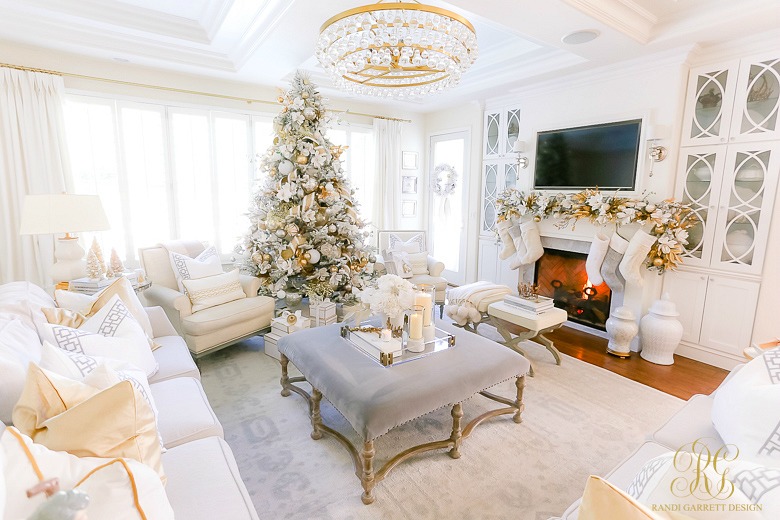 I hope you enjoyed this Oh Holy Night Christmas Home Tour and feel more inspired as you decorate your house for Christmas this year! Stay tuned for more Christmas decorating ideas as I share the other rooms in our house styled for Christmas. Here is a sneak peek of what is coming! Happy decorating to you!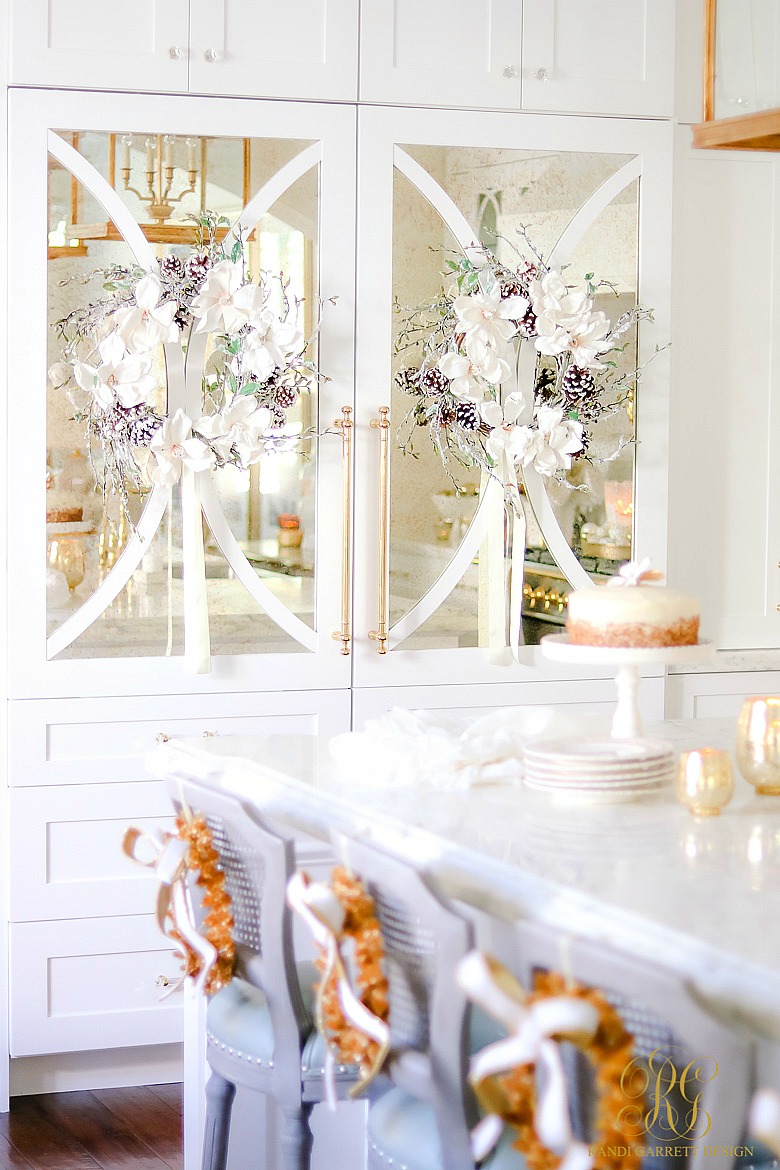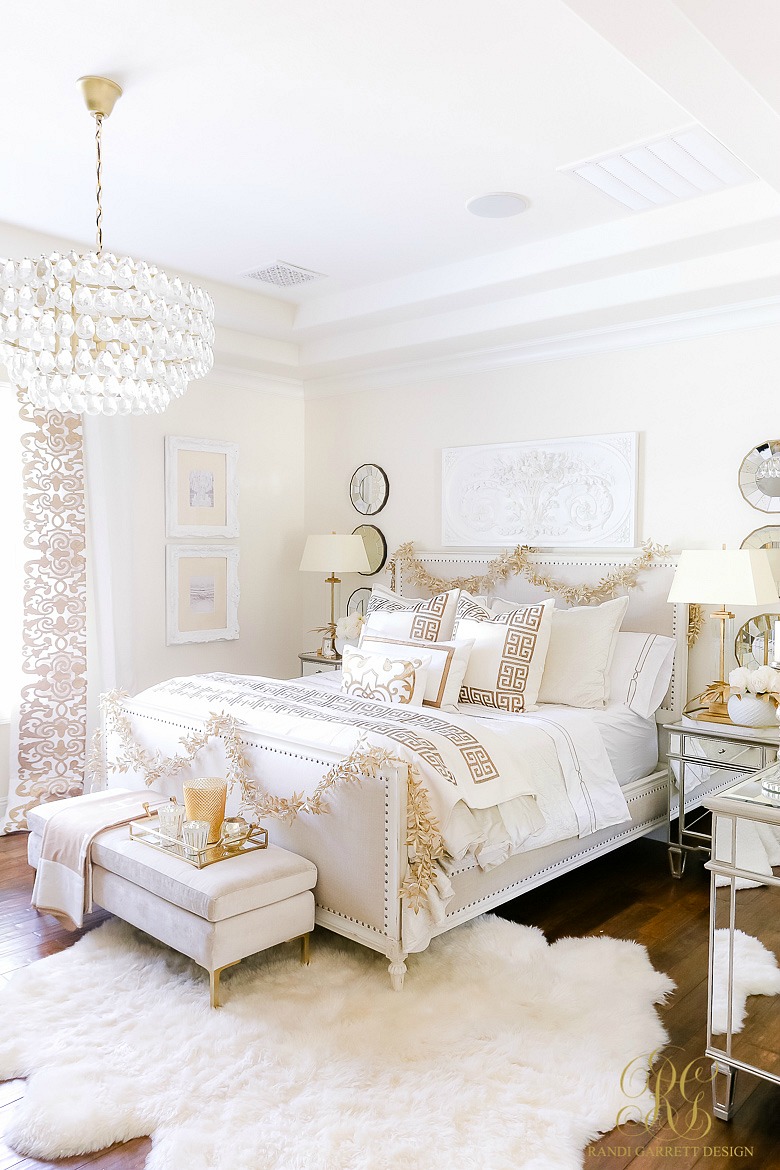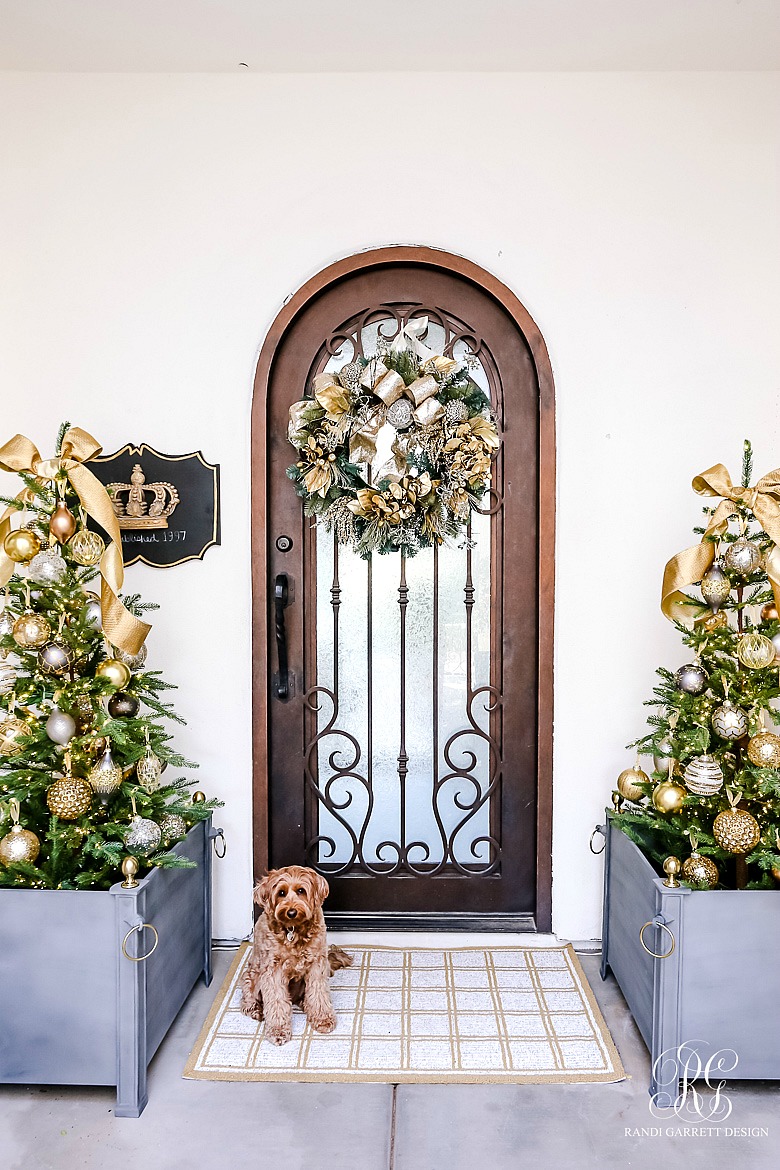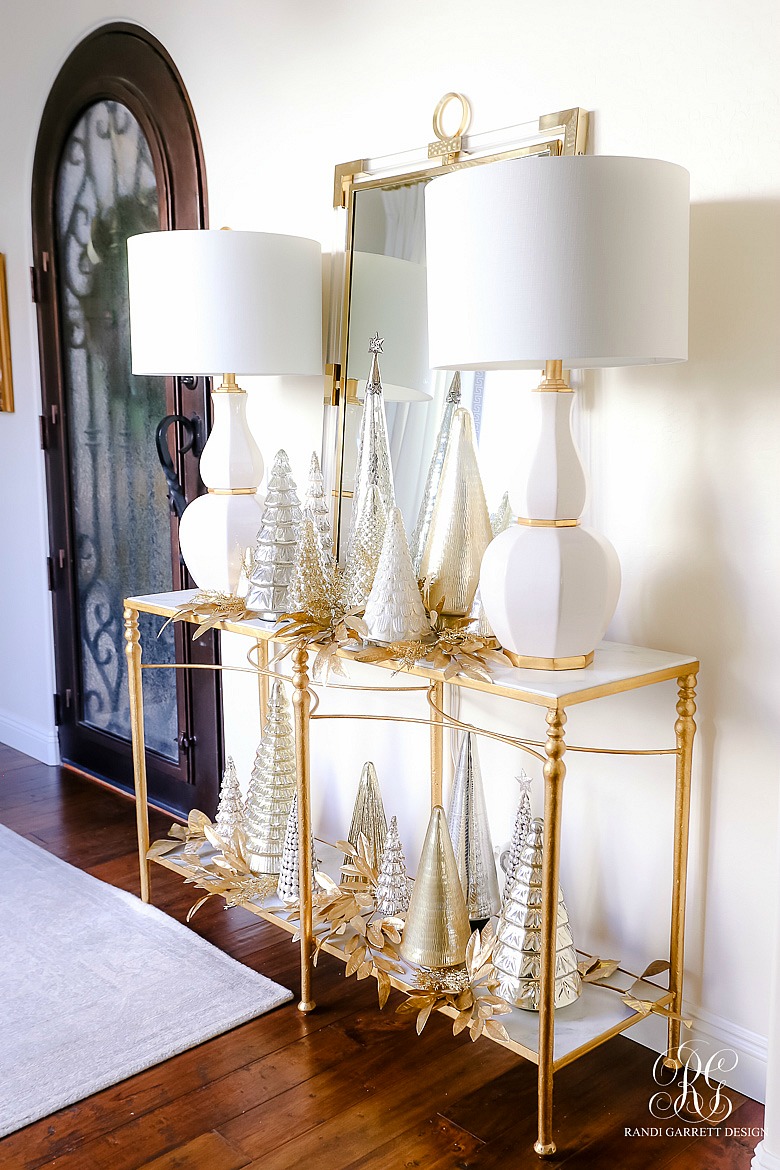 Coming soon…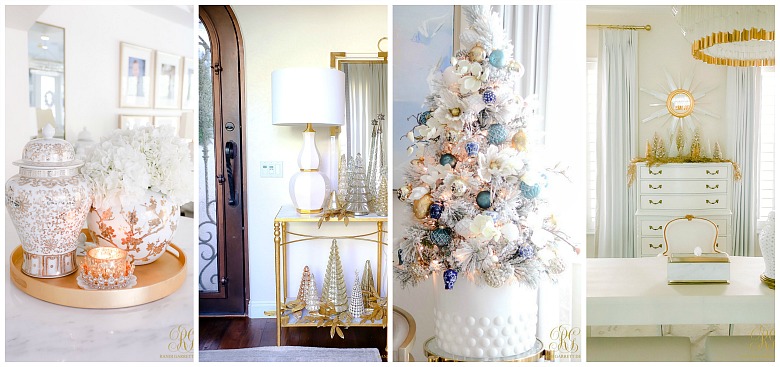 Here are the other sources from our family room…







Get all of the sources for my Christmas decor here on my
Christmas Shop Page.