Last week, when my parents were in town, my dad and I made a decadent chocolate cake! Baking has been a favorite tradition between by dad and I since I was a teenager. Growing up, my dad and I would bake chocolate chip cookies together every Sunday. I now carry the tradition on with my daughter, Ellie. This weekly tradition, was something I looked forward to and really connected us. My dad has a sweet tooth and a heart of gold.
He taught me many valuable lessons through our weekly baking sessions. "Clean up as you go so you don't have a huge mess at the end", he would say. "Follow the recipe with exactness to get the best result. The same is true in life. Follow the commandments with exactness to get the best result." He taught me that time together was special. Traditions matter. It's the small things that matter.
Since Father's Day is coming up, I thought I would share this decadent chocolate cake recipe with you! I figured you could make it for a special dad in your life!
Decadent Chocolate Cake Recipe
The first time I made this recipe, I made it with my sweet friend. We made two 6″ cakes so we could give one to each of our family's. Baking is so much more fun when you do it with someone you love! So, this recipe will make one 8″ two layer cake or two 6″ two layer cakes. You could also make cupcakes if you wanted, just decrease the baking time.
The frosting is wickedly delicious! I'm just giving you fair warning! It is addicting!!! I think the frosting would also make a delicious fruit dip.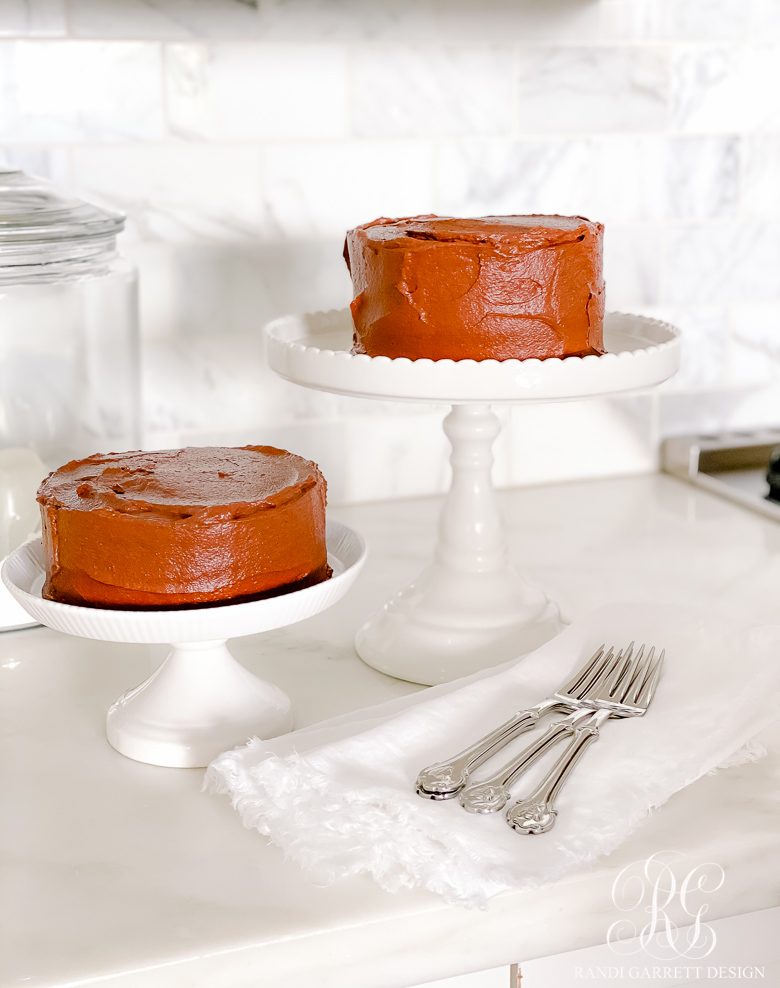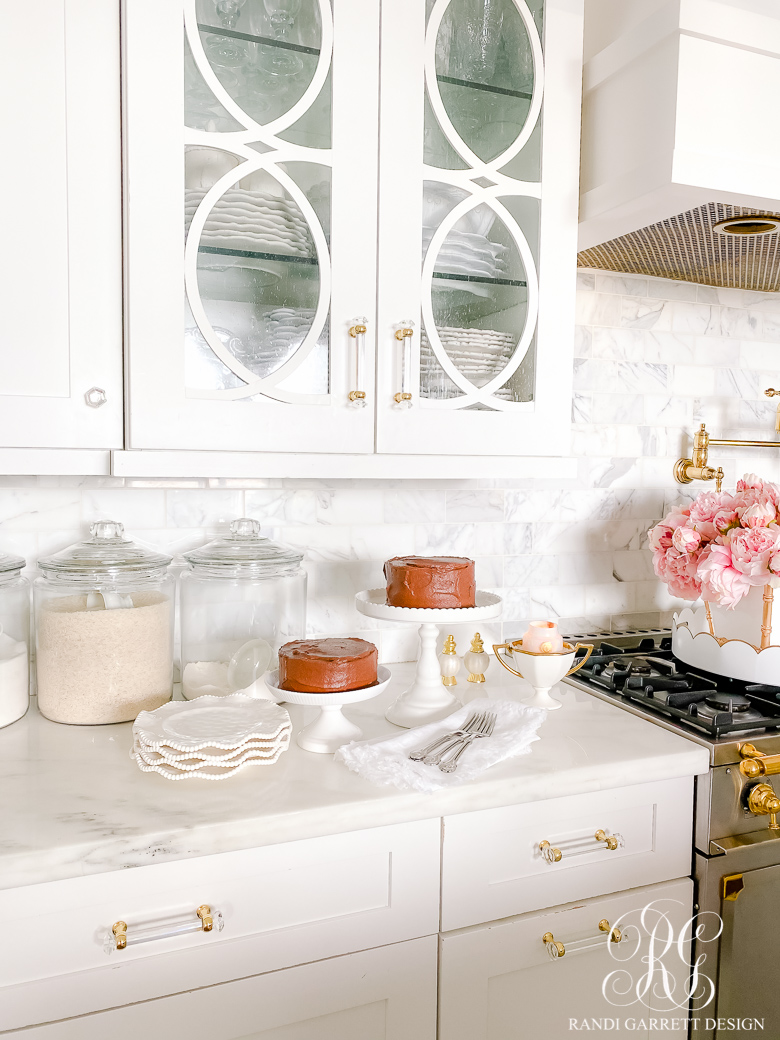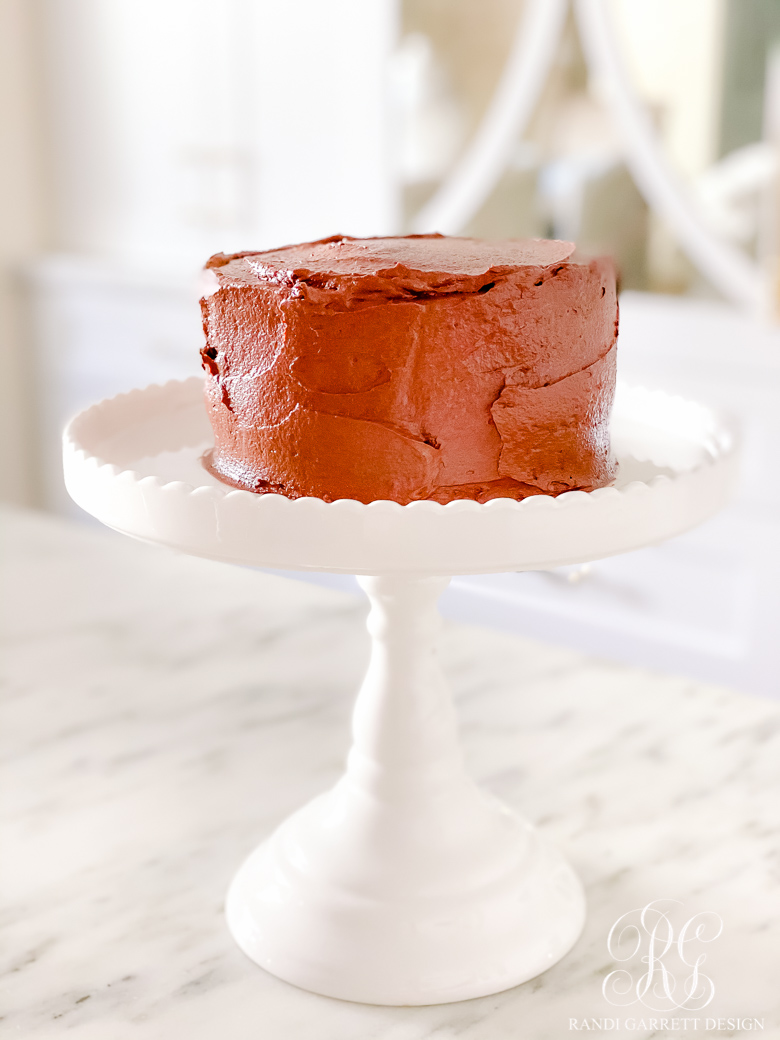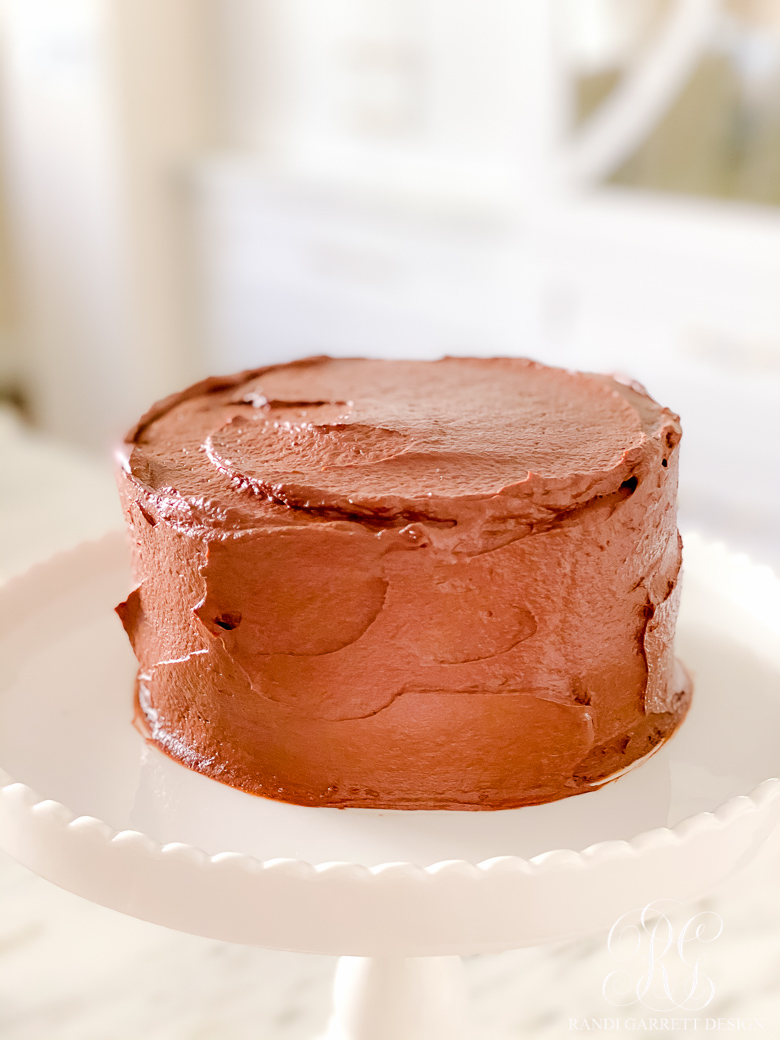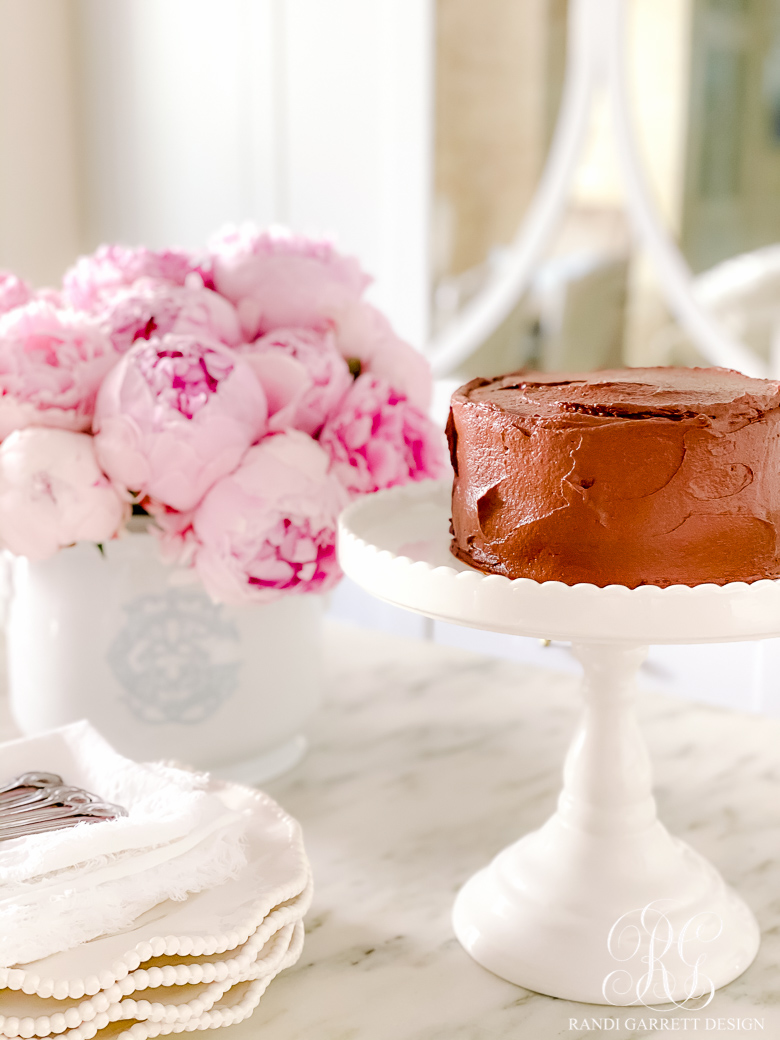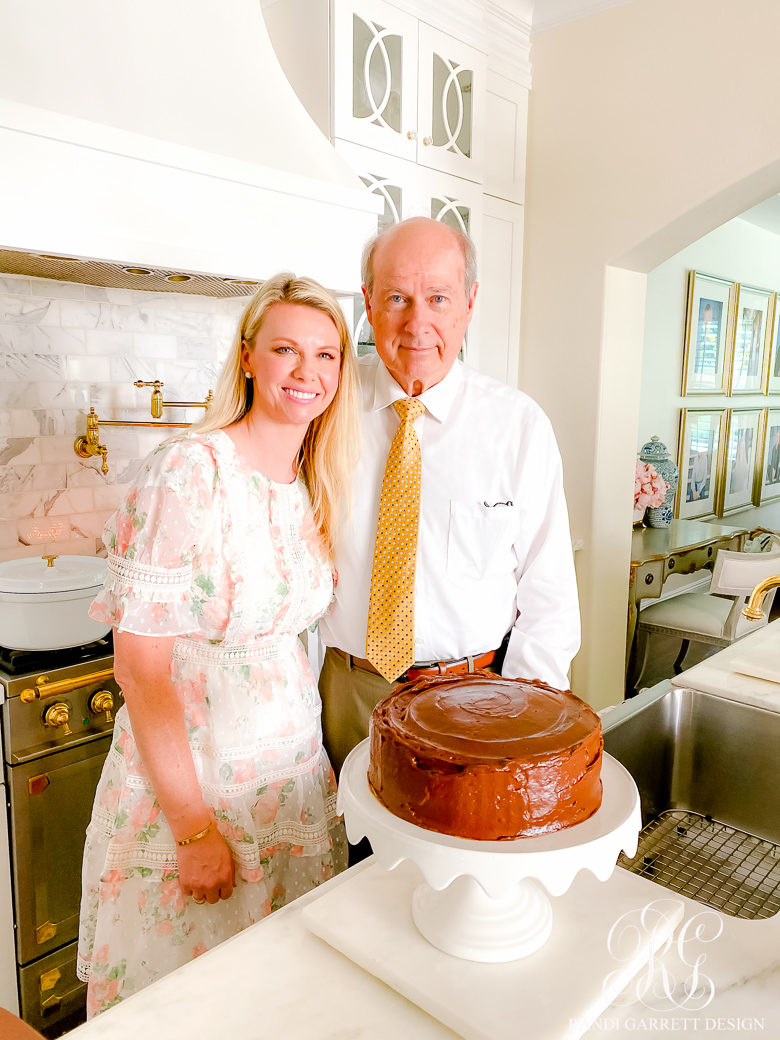 Floral Dress | Pearl Sandals | Large Ruffle Cake Stand | White Dutch Oven | Gold Knob for Dutch Oven | Gold Pot Filler | White Ruffle Plates | Bee Flatware | White Linen Napkins | Monogramed Champagne Bucket | Medium White Cake Stand | Small White Cake Stand





Decadent Chocolate Cake Recipe

Total Time
1 hour, 5 minutes
Ingredients
CAKE
3/4 cup unsweetened cocoa powder
1 1/2 cups all - purpose flour
1 1/2 cups sugar
1 1/2 tsp baking soda
3/4 tsp baking powder
3/4 tsp salt
2 large eggs
3/4 cup buttermilk
3/4 cup warm water
3 T vegetable oil
1 tsp vanilla extract
FROSTING
2 1/4 cup powdered sugar
1/4 cup unsweetened cocoa powder
dash of salt
6 oz cream cheese (room temperature)
1 1/2 sticks butter (softened)
9 oz bittersweet chocolate (melted and cooled slightly)
3/4 cup sour cream
Instructions
FOR THE CAKE:
Spray 8" cake pan with pan or non- stick cooking spray or with butter and coat with cocoa powder. I like to use coconut oil spray.
Preheat oven to 350 degrees.
Sift cocoa, flour, sugar, baking soda, baking powder and salt into a bowl. Mix on low just to combined.
Add eggs, buttermilk, warm water, oil and vanilla.
Mix on medium until smooth, about 3 min.
Divide batter between the 2 pans.
Bake until set and a toothpick inserted into the center of the cake comes out clean - about 35 min (mine cooks way faster, so I would check the cake at 25 min just to be safe).
Let cool for 15 min.
Turn onto wire rack to cool completely.
FOR THE FROSTING:
Sift together cocoa, sugar, and salt.
Beat cream cheese and butter with a mixer on medium speed until smooth.
Add sugar / cocoa mixture and beat until combined.
Pour chocolate into mixture slowly while mixing.
Add sour cream and beat until combined.
ASSEMBLE CAKE:
Place 1 cake layer on your favorite cake stand.
Spread 2 cups of chocolate frosting onto top of 1 cooled cake layer.
Top with remaining layer.
Frost top and sides with the rest of the frosting.
NOTE:
You can make the frosting 5 days ahead and store in the fridge.
Bring to room temperature and beat before using.
You can make the cake ahead.
Wrap in plastic wrap and store in the fridge.