This post is done in partnership with DXV and contains affiliate links (full disclosure here). All opinions are 100% my own.
Next to our new dream kitchen, our new dream master bathroom is the most asked about and anticipated space in our dream home! You guys want to know what we are planning! It's no coincidence bathrooms and kitchens sell homes. There's a reason homeowners spend their money and energy remodeling them! These spaces are where we spend most of our time. We want them to be dreamy!
Well, I had so much fun designing our dream master bathroom with some gorgeous pieces from DXV (read more about DXV and why I love them here). I am so tickled to be sharing the mood board and sneak peek today! If you missed the peek at what we are planning for our kitchen, check it out here! See what I have planned for the kid's bathrooms here.
The pieces from DXV are starting to arrive. Each is packaged so luxuriously in a beautiful box with each piece nestled into soft foam packaging. I have been stunned at the quality of each piece and am dying to see them installed in our dream home!
Dream Master Bathroom Mood Board + Sneak Peek
When designing a space, I used these simple steps to help me envision and ultimately design the space.
Gather inspiration. Pinterest boards are my favorite way to collect idea. See me master bathroom Pinterest board here.
Create mood boards for the space with items I'm considering using. I like to use picmonaey.com to create my mood boards.
Collect samples of finishings to "see" how they all work together.
Use these simple steps to help you design your dream spaces in your home! Here's a look at our dream master bathroom mood board + sneak peek!
These first photos are my inspiration photos for our master bathroom. I wanted our bathroom to feel timeless, yet fresh with lots of custom trim work of course! DXV's gorgeous St. George Freestanding Tub will be the room's focal point!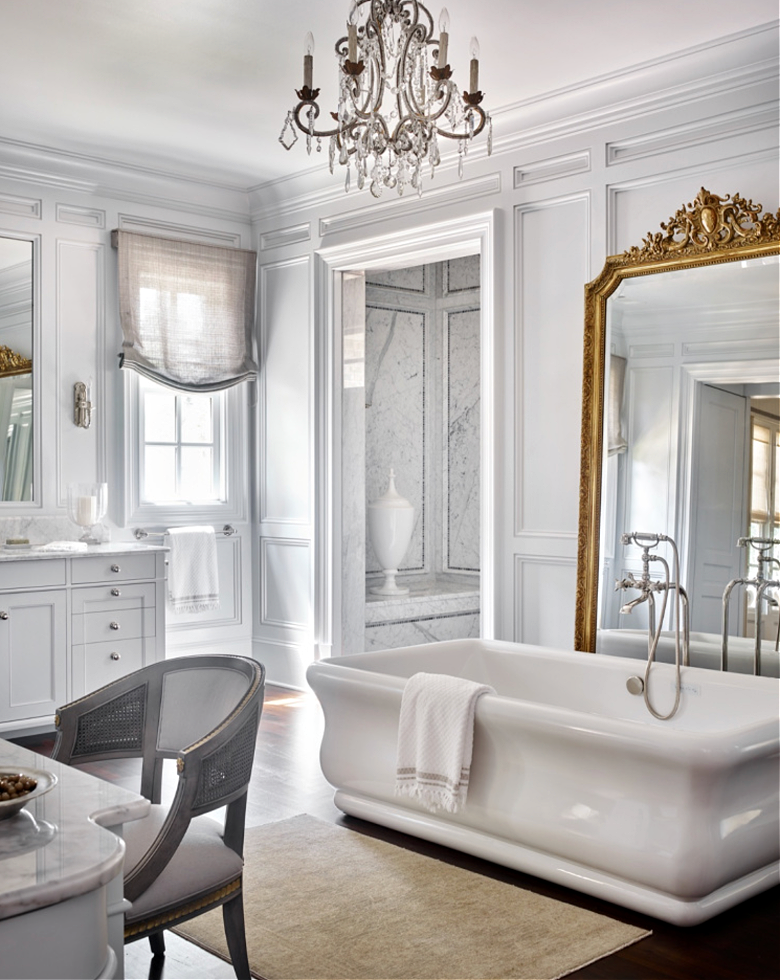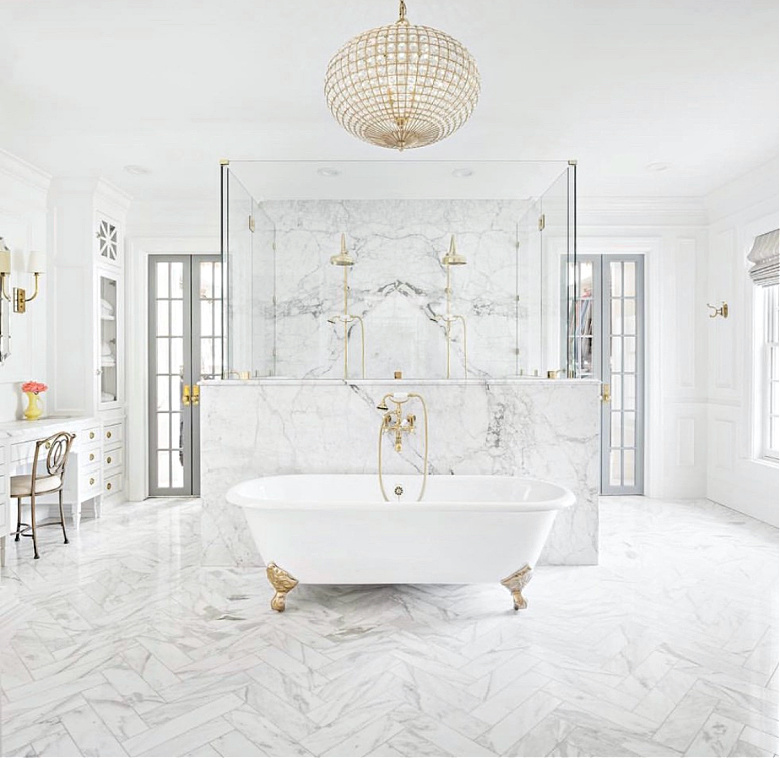 Our master bathroom will have a pony wall (covered in trim) behind our tub, much like the photo above from my talented friend Cara over at The Fox Group. We will also have two double doors leading into the master closet with these stunning oval doorknobs from Emtek.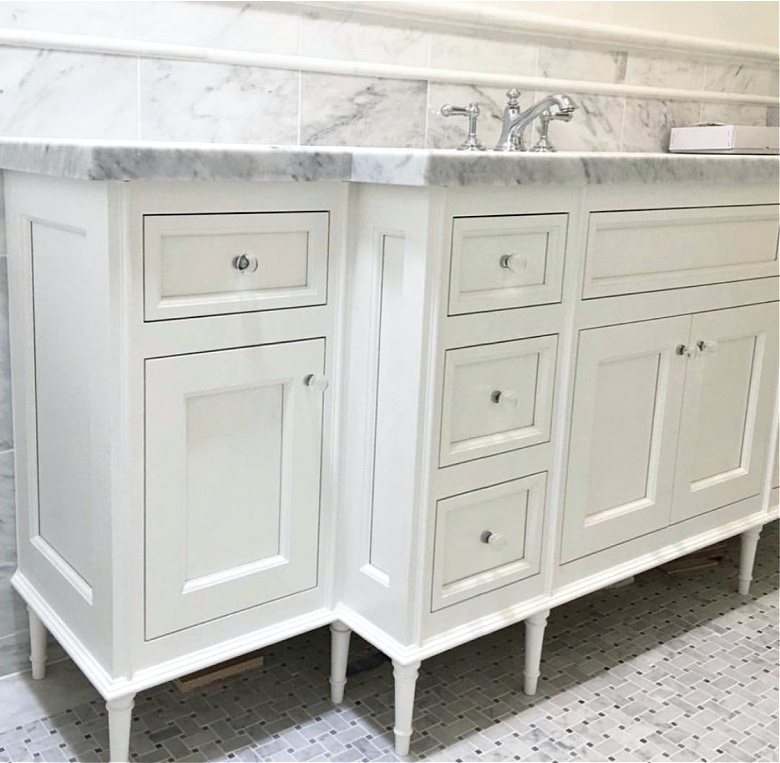 Above are some vanity details I love! Our's will have more simple legs with brass tips on the feet.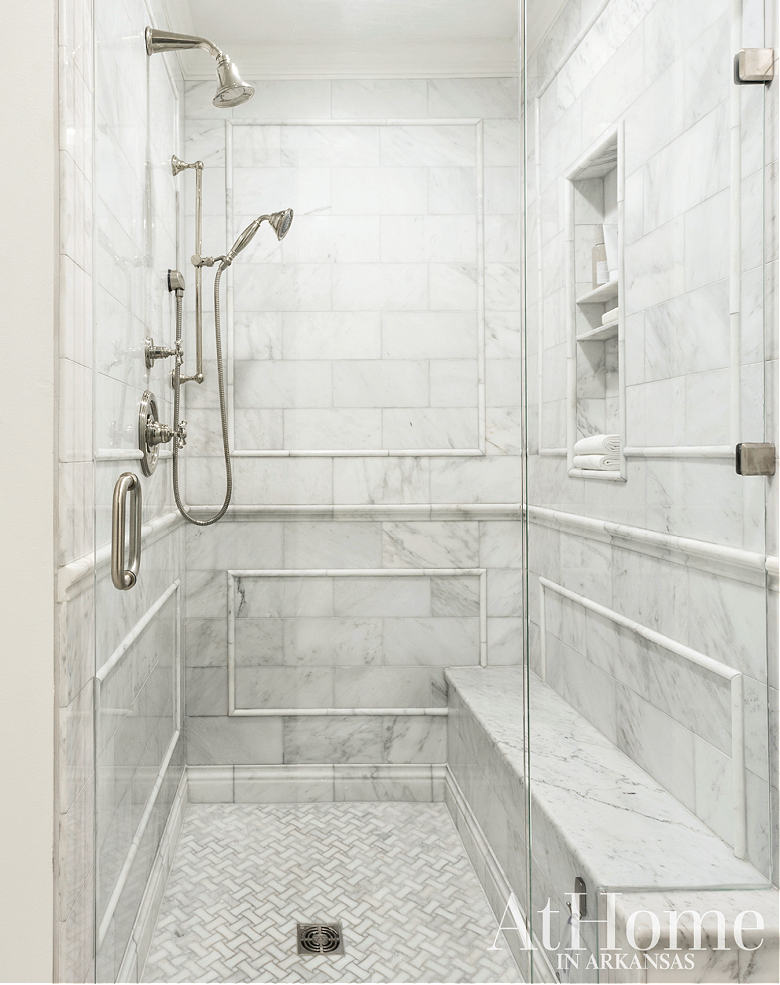 All heart eyes for this marble wainscoting in the shower! We will be doing this in our's, I'll share the exact tile we are using for this space later. I can't wait to see it installed!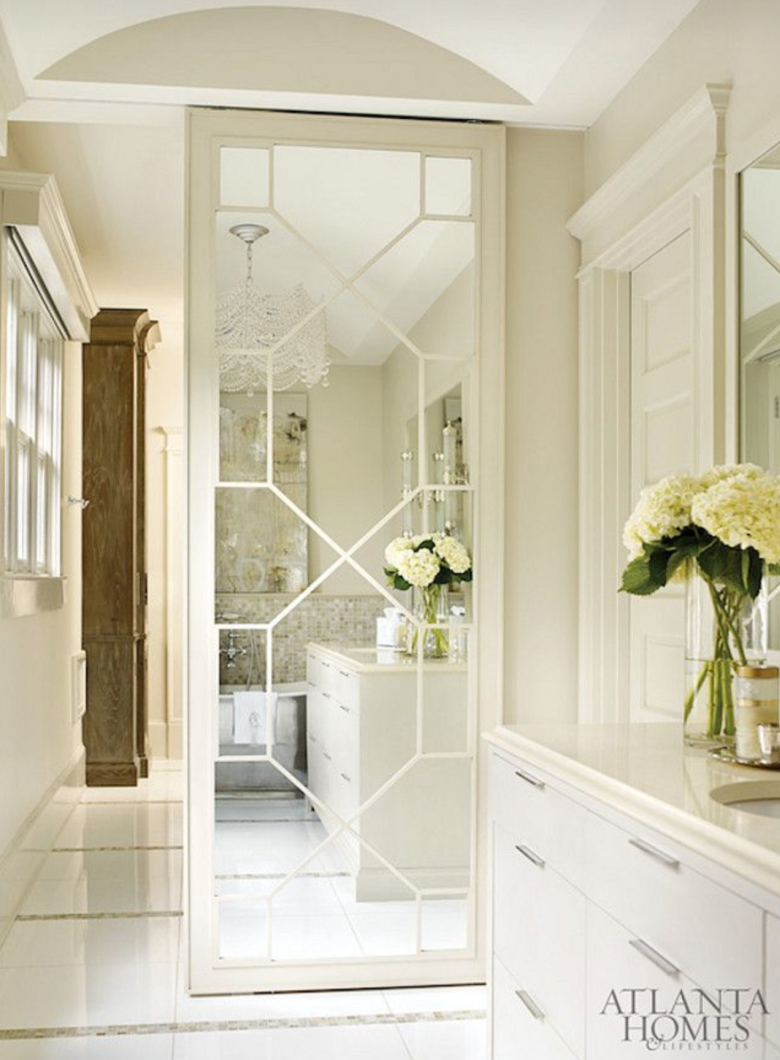 This fabulous, custom pocket door had me breathless! We are going to replicate it as the door into the toilet room.
Below are a few mood boards of the gorgeous pieces we have picked out to create the look from our inspiration photos. Like I mentioned, the St. George Freestanding Tub will be the room's focal point. The tub's beautiful skirted detailed gives it just the right amount of detail. It's simple yet elegant.
DXV's stunning Randall Floor Mount Tub Faucet with Cross Handles is a perfect match for this breathtaking tub! I love the faucet's Satin Brass finish and nod to traditional and transitional styles. We are using the Randall wall mount faucet in polished chrome, in the laundry room for the doggie tub (see it here).
I selected this playful glass bubble chandelier for the jewelry of the space! The glass balls look like floating bubbles from a luxurious bubble bath.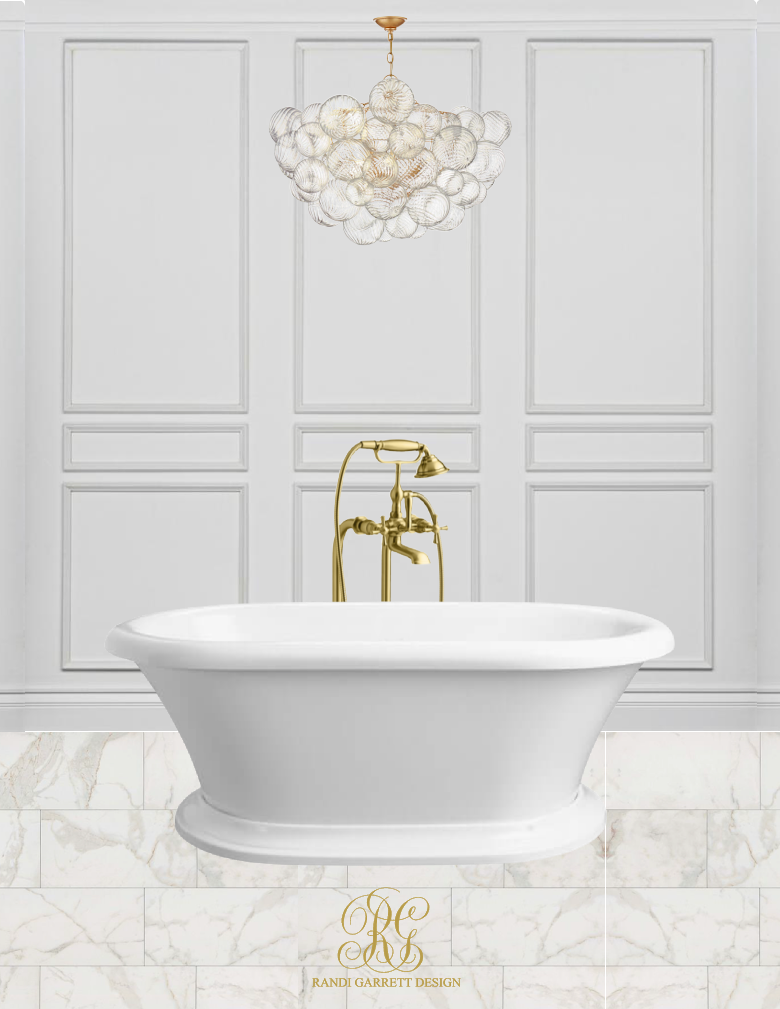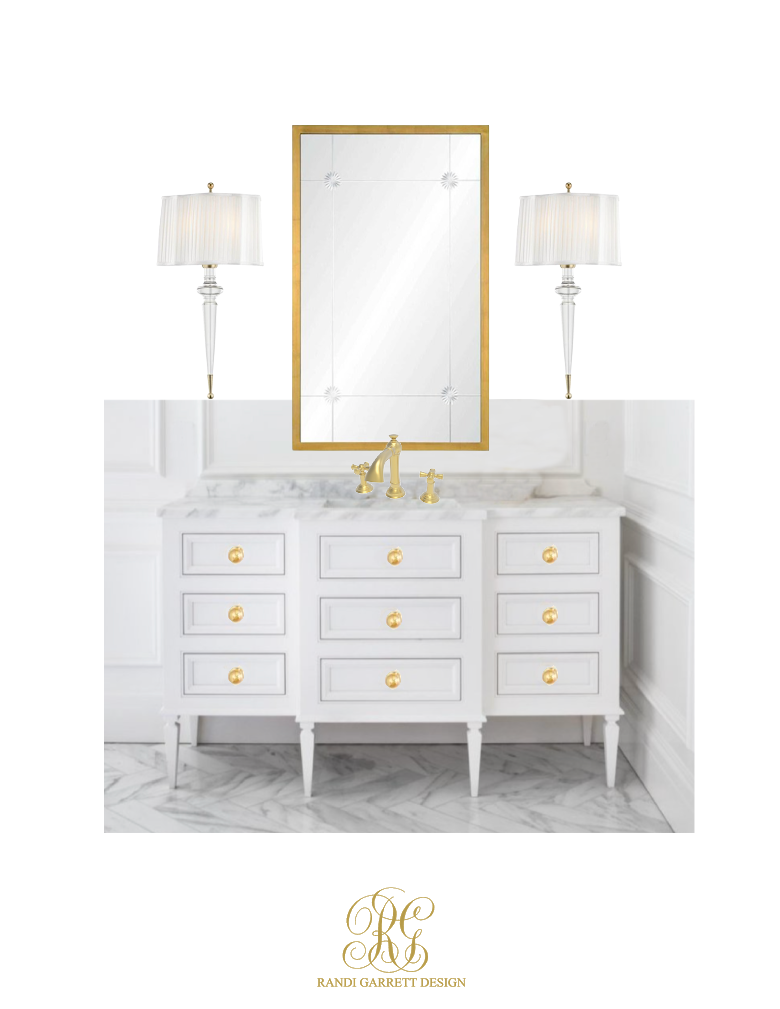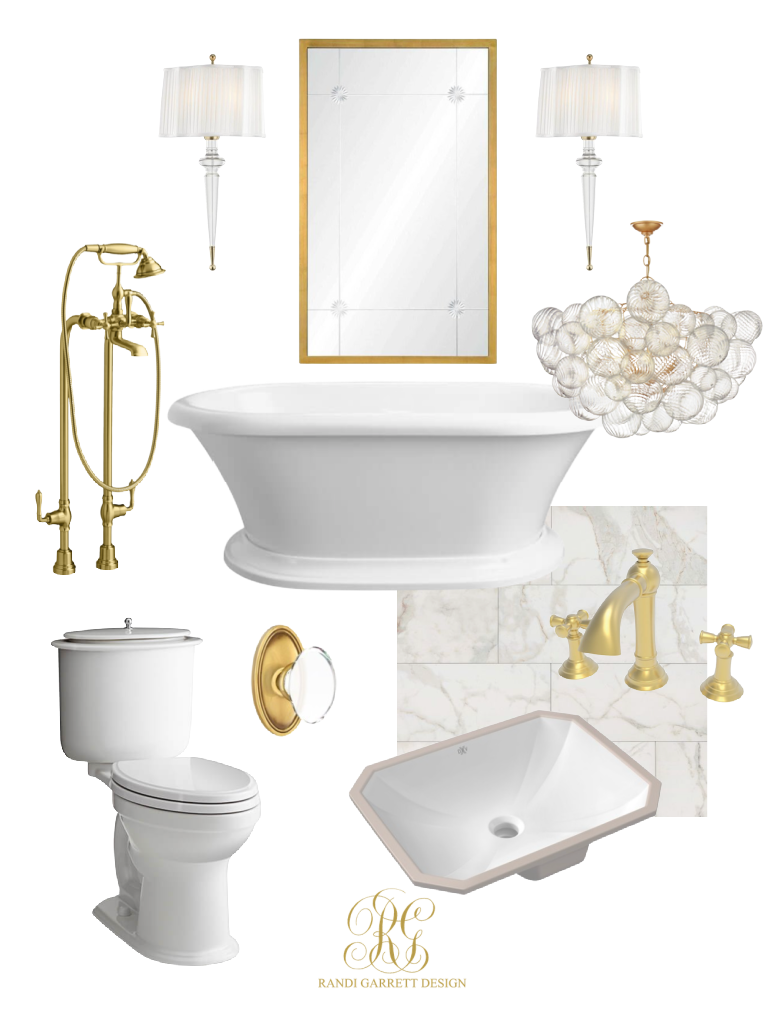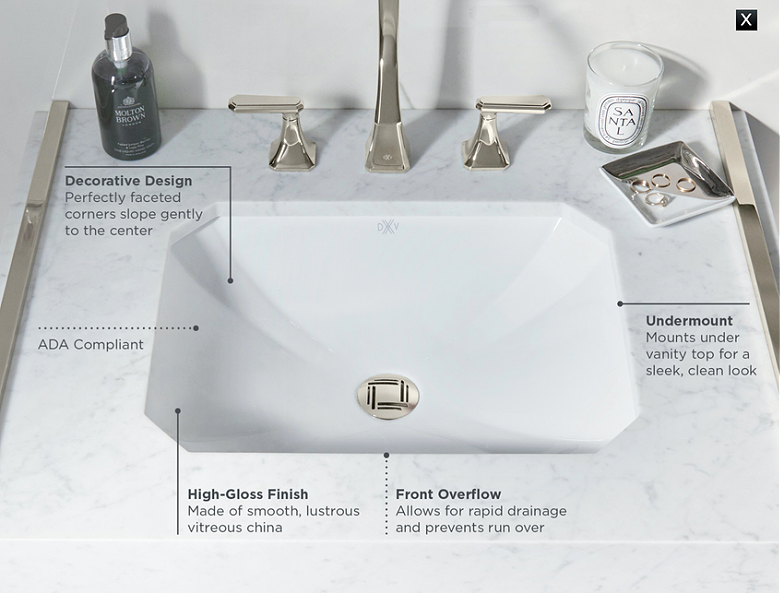 I'm also very excited about the Belshire sinks we will be using on our vanities. I loved the cut corner details and the decorative design of the bowl! I've never seen a prettier sink!
DXV's Oakhill Two Piece Elongated Toilet also looks like a piece of art! Their pieces are incredible detailed!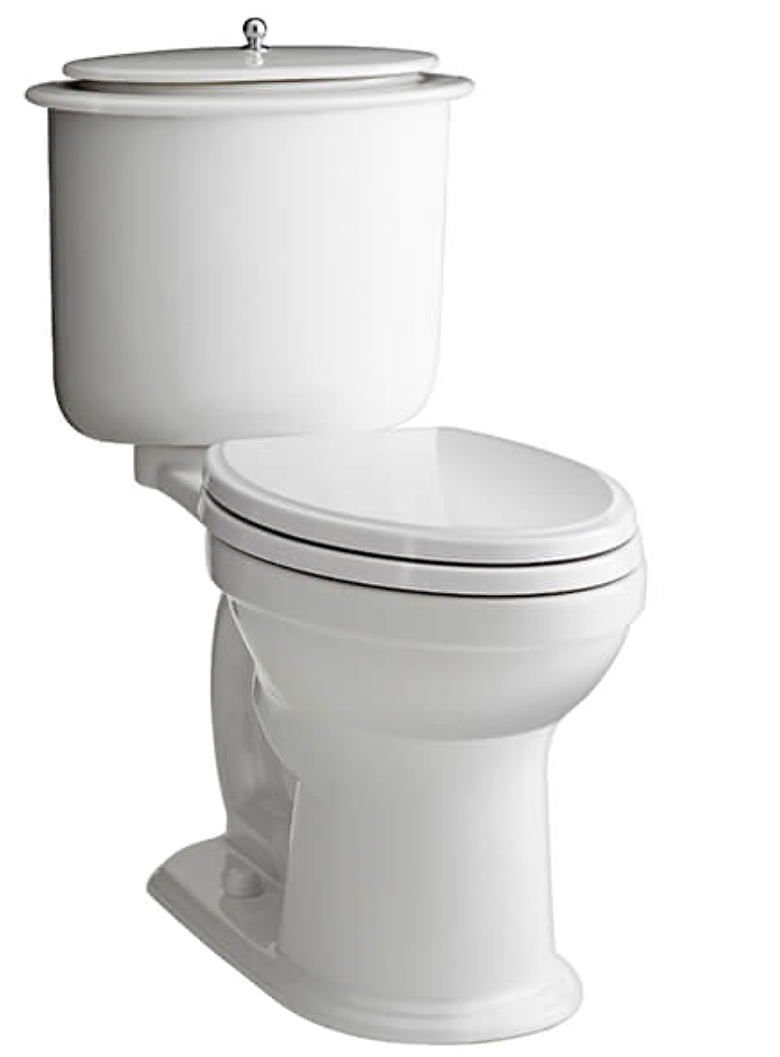 I'll share updates and sneak peeks as things arrive and are installed, so make sure to follow along over on Instagram. I hope you enjoyed this sneak peek!