We are 10 days away from the first official day of Fall! Fall seems to mark the beginning of the holiday season but doesn't include the busyness of the Christmas season. Fall decorating is my favorite, but didn't used to be. If you know me well, you know I never used to decorate for Fall. The warm, rich traditional Fall colors made me anxious. Typically, I would decorate the house for Halloween (which the kids love), and jump right to Christmas. One year, I had an ah ha moment, who says I HAVE to decorate for Fall with traditional Fall colors? Living in Arizona our Fall is anything but typical! So, I started to embrace nontraditional Fall color schemes and Fall decorating has skyrocketed to one of my favorite times of the year to decorate!
Decorating The Wren for Fall was SO much fun! I had to think on a larger scale with our taller ceilings and more spacious rooms. The Wren has lots of french doors that flood the house with gorgeous natural light and plenty of views outside. To bring some of the beauty of the outside of The Wren inside, I chose shades of blue and green for my Fall decorating. Anything you see at The Wren for Fall decor can be replicated on a smaller scale to fit the size and scale of your home.
I split our Fall Home Tour into 3 segments. Today, I am sharing our Fall Entryway at The Wren! It's over the top Fall thanks to my fabulous friends at Hot Skwash! Every year, I look forward to creating something fresh and new with Hot Skwash. Their glamorous velvet pumpkins add an instant luxurious Fall feeling to any room! You can style them alone for a stunning focal point or together for an even more powerful punch! We chose to go for the knock out this year in the entryway!!!
This post is done in partnership with Hot Skwash and contains affiliate links. Read my disclosure policy here.
Staircase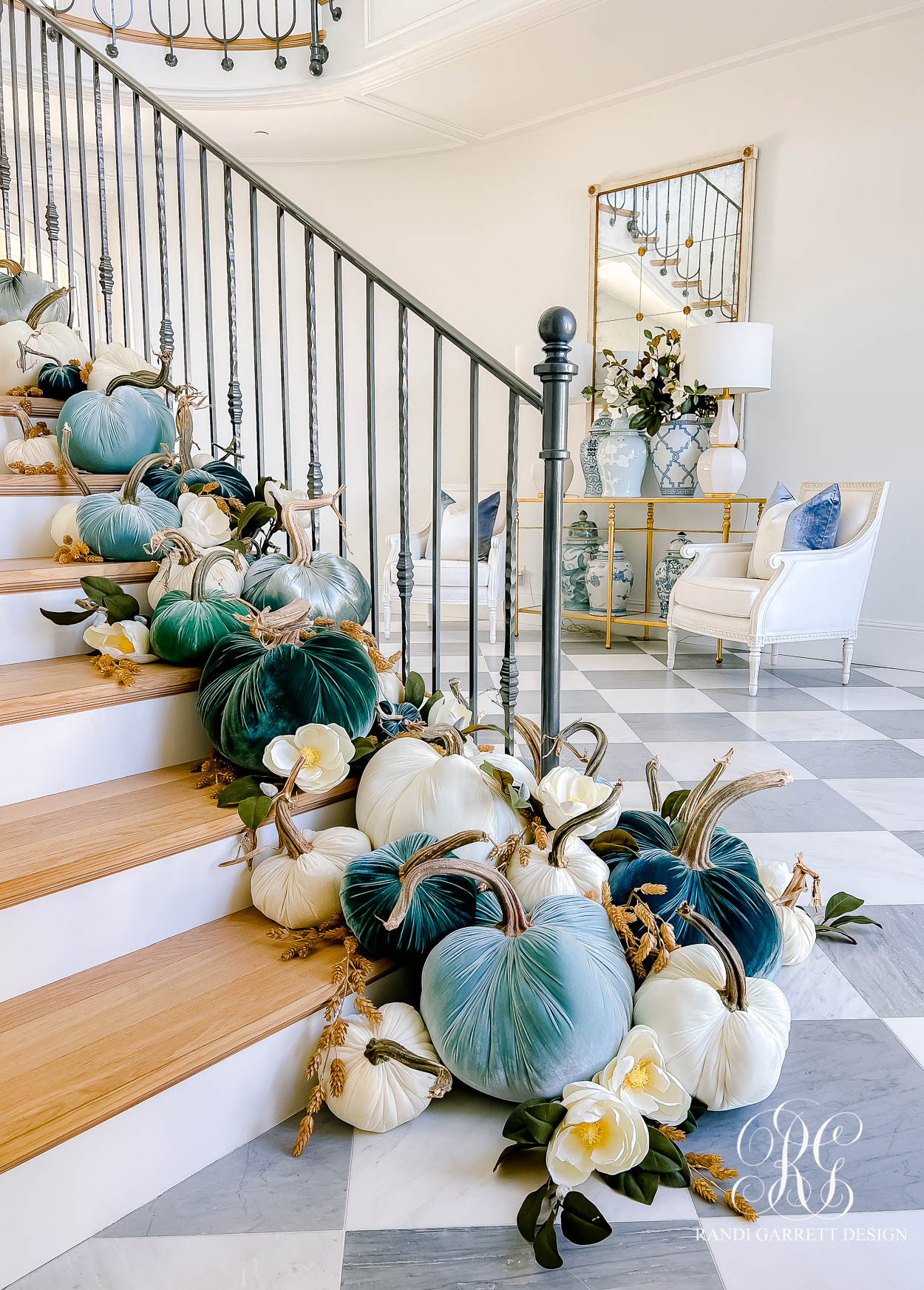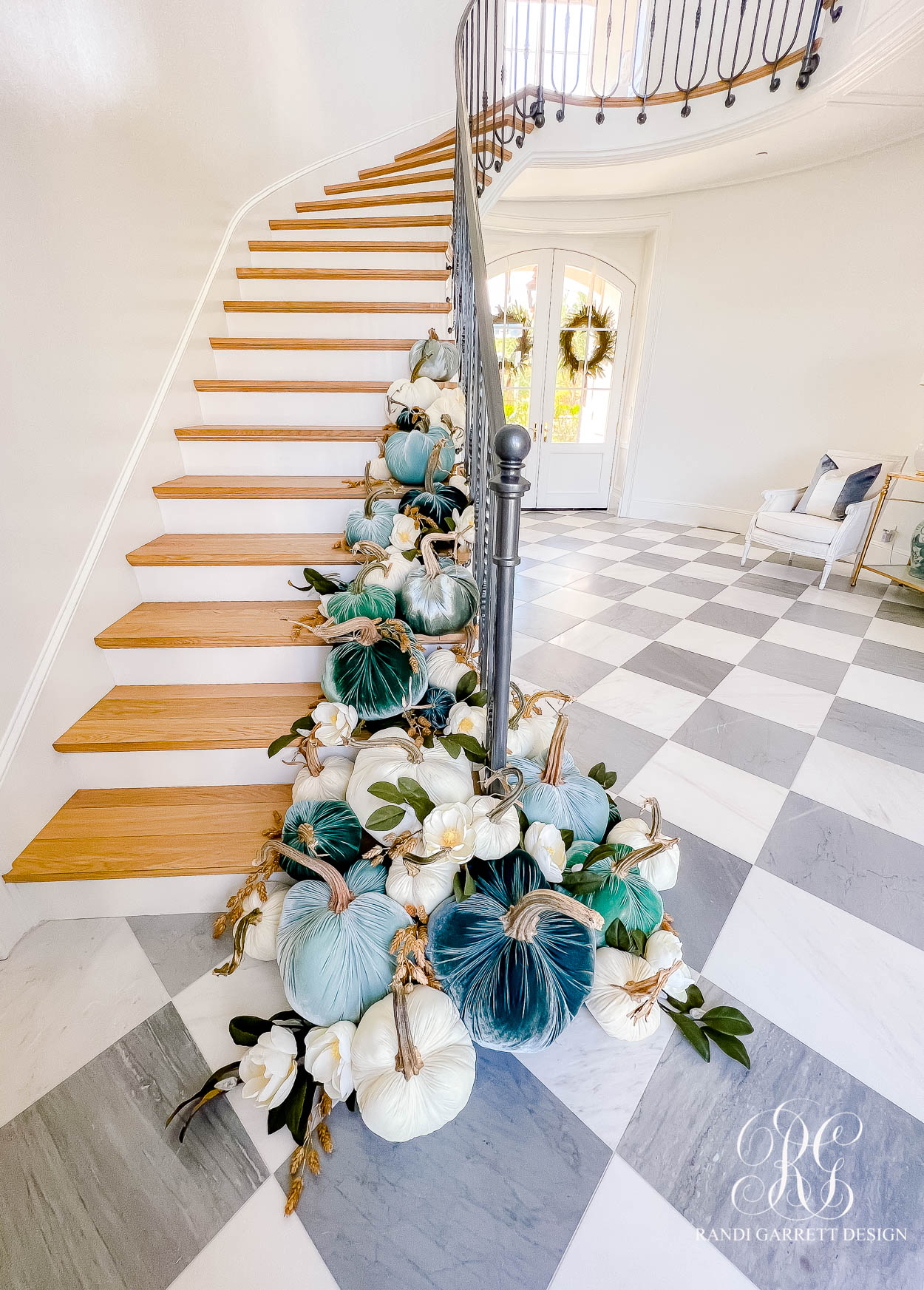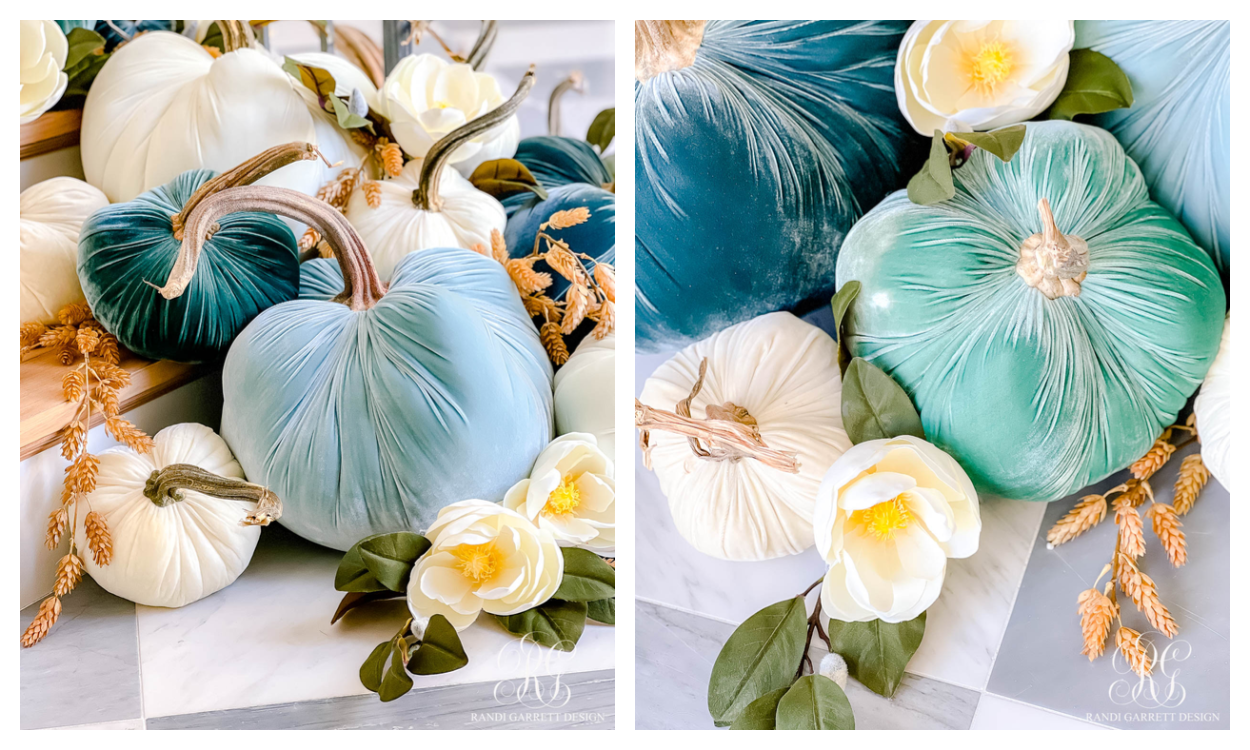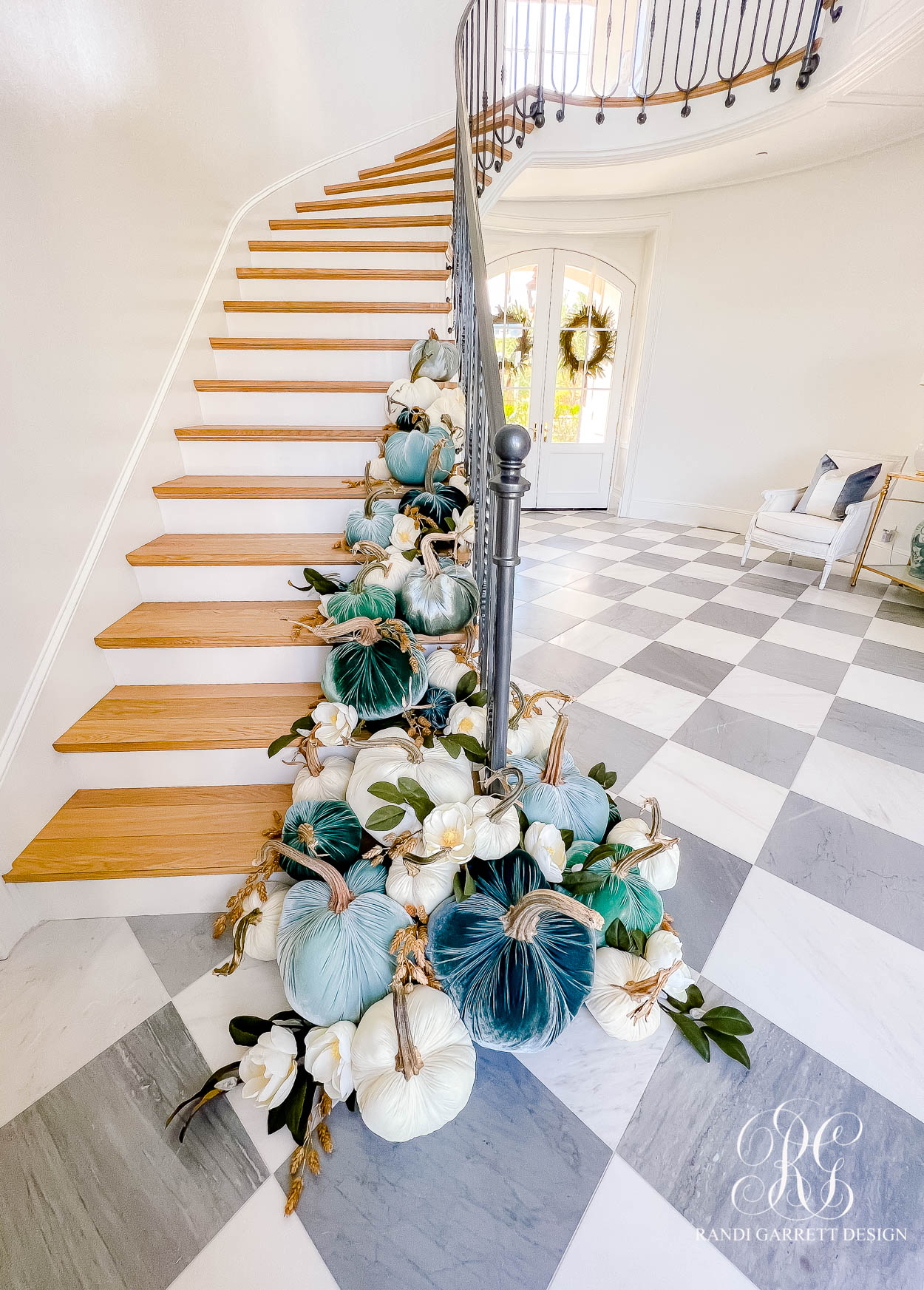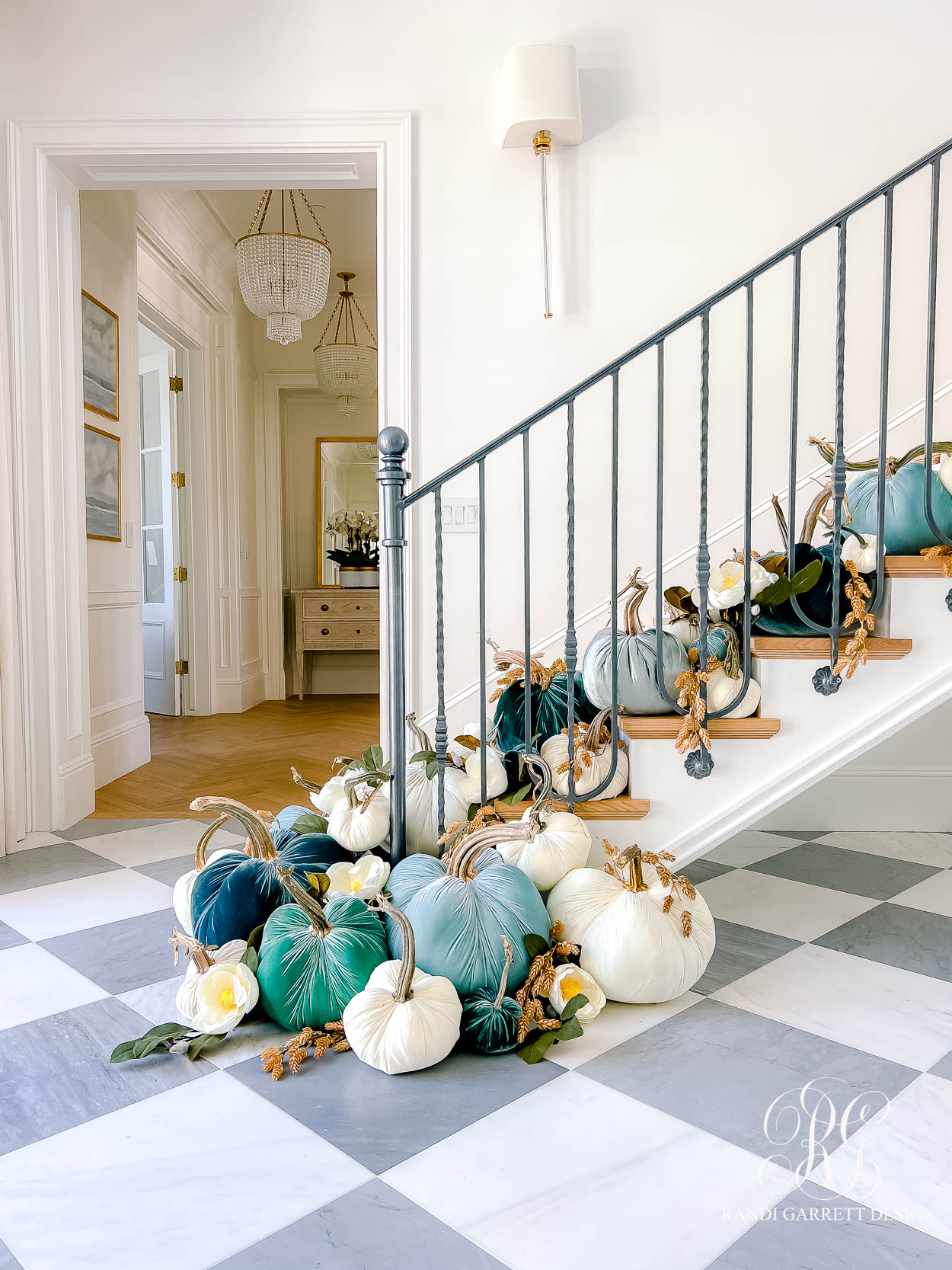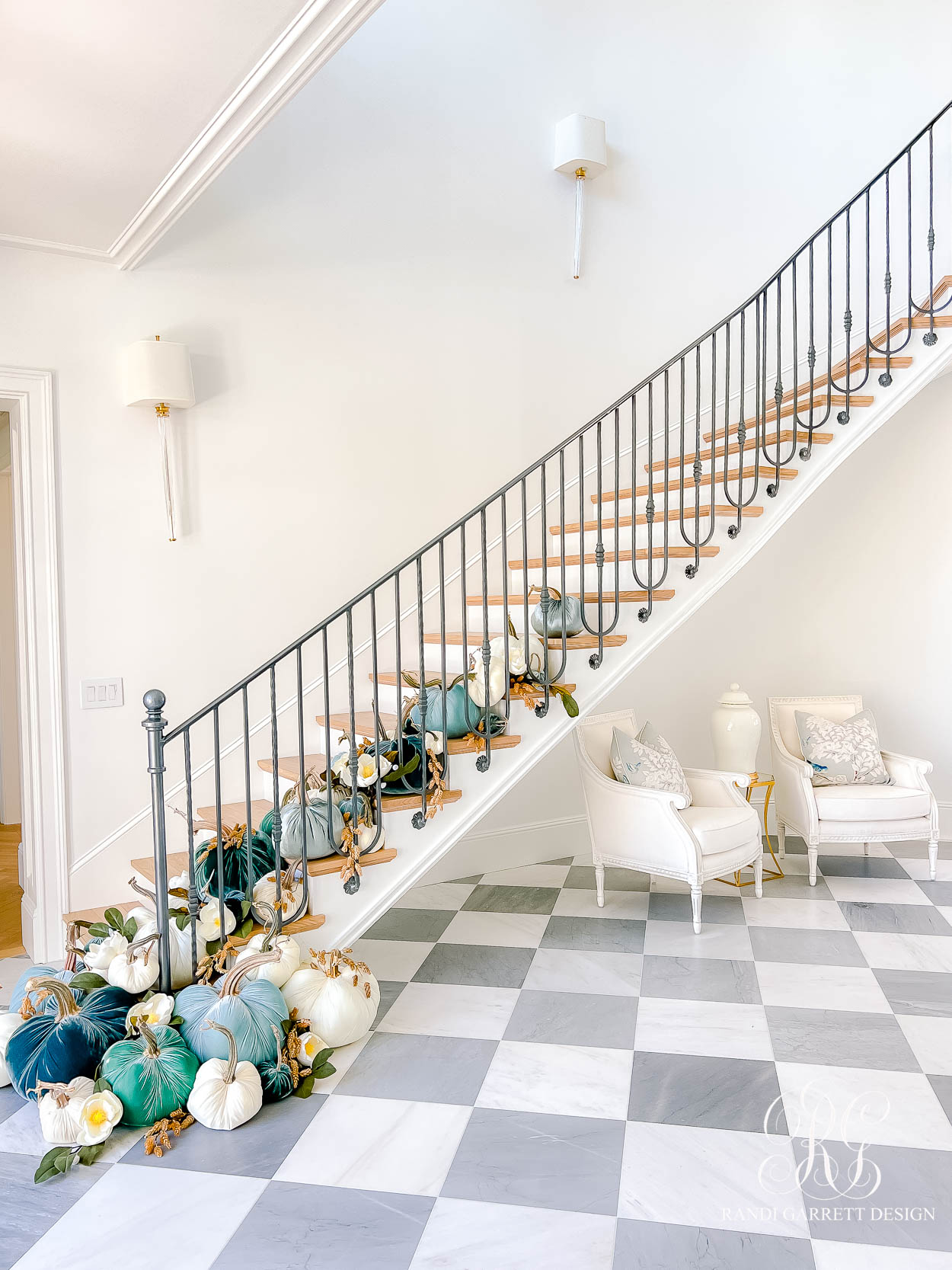 Our entryway is grand. The ceiling are 22″ tall, so we used Hot Skwash's largest pumpkins (Luca, LE, Jumbo, Jumbo Jr., 10″ and 8″), to create this cascading pumpkin parade down the stairs! My stairs feature Sea foam, Wedgewood, Lagoon, Ocean, Blue Ice and Ivory pumpkins mixed with faux magnolia and wheat. Each pumpkin stem is signed in gold by artist, Daria Knowles. If you wanted to use only ivory pumpkins, that would look stunning as well! I could sit and stare at this pumpkin cascade all day! Putting this together was the most fun I have had decorating in a long time!


Pumpkin Recipe
Entry Table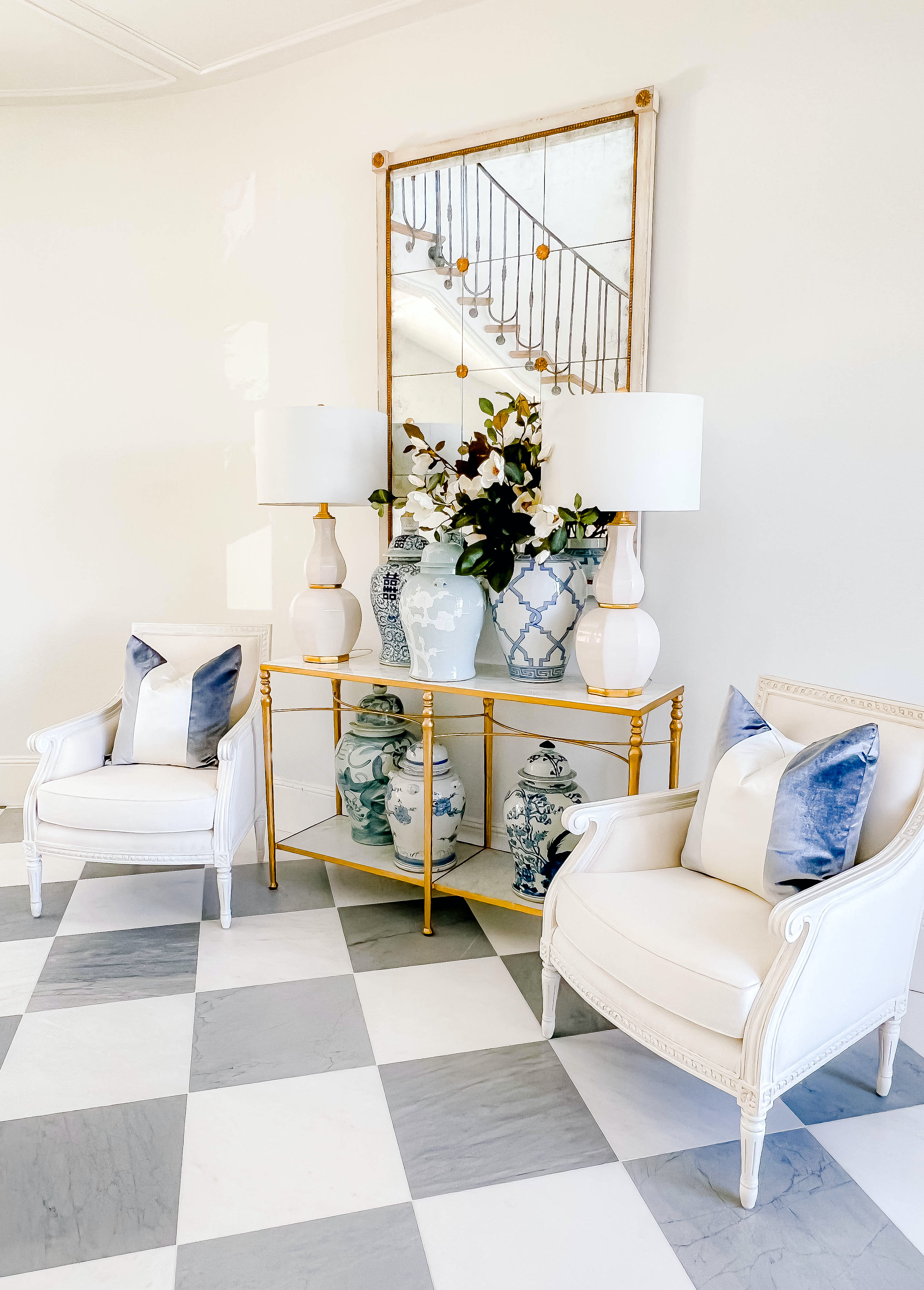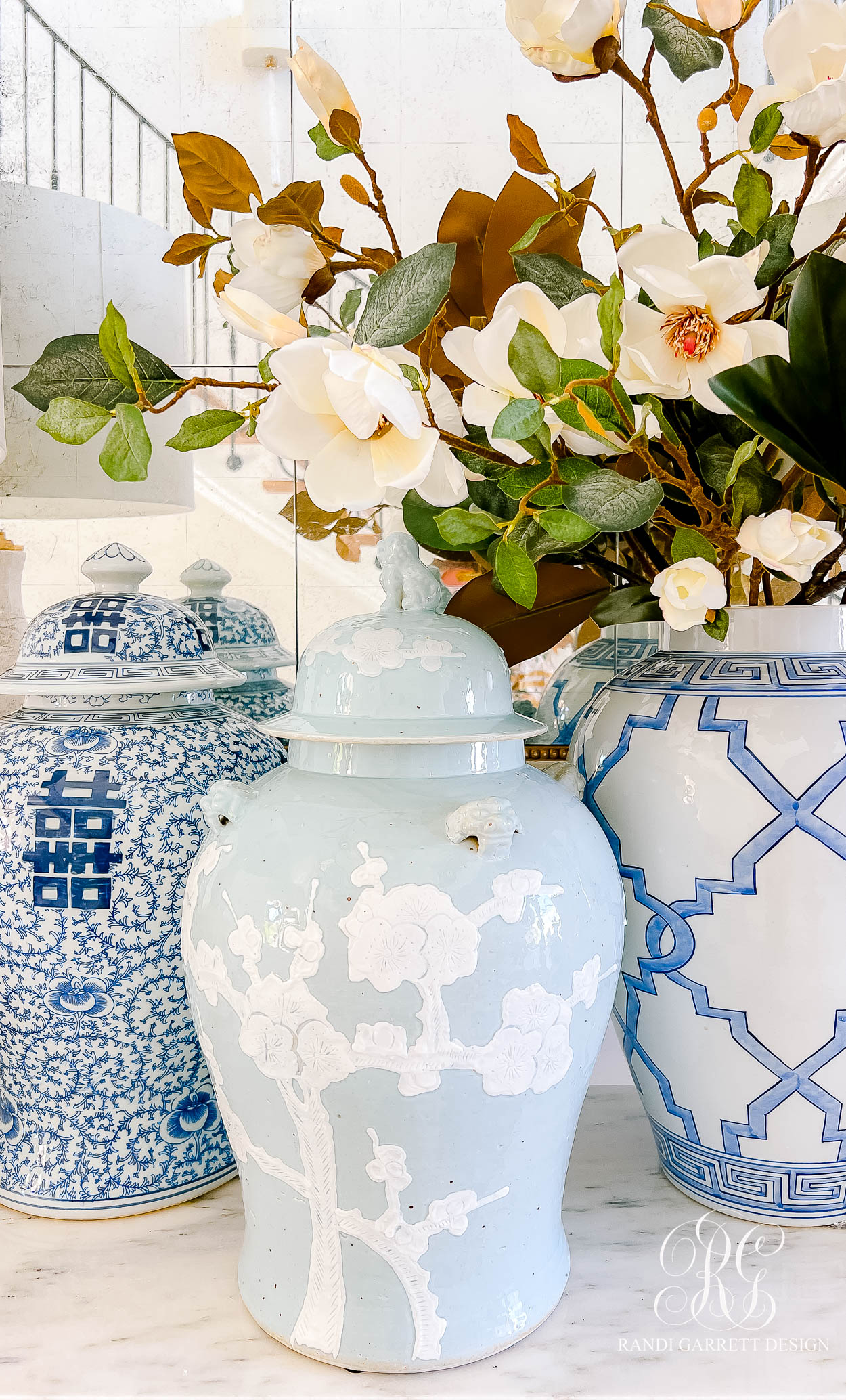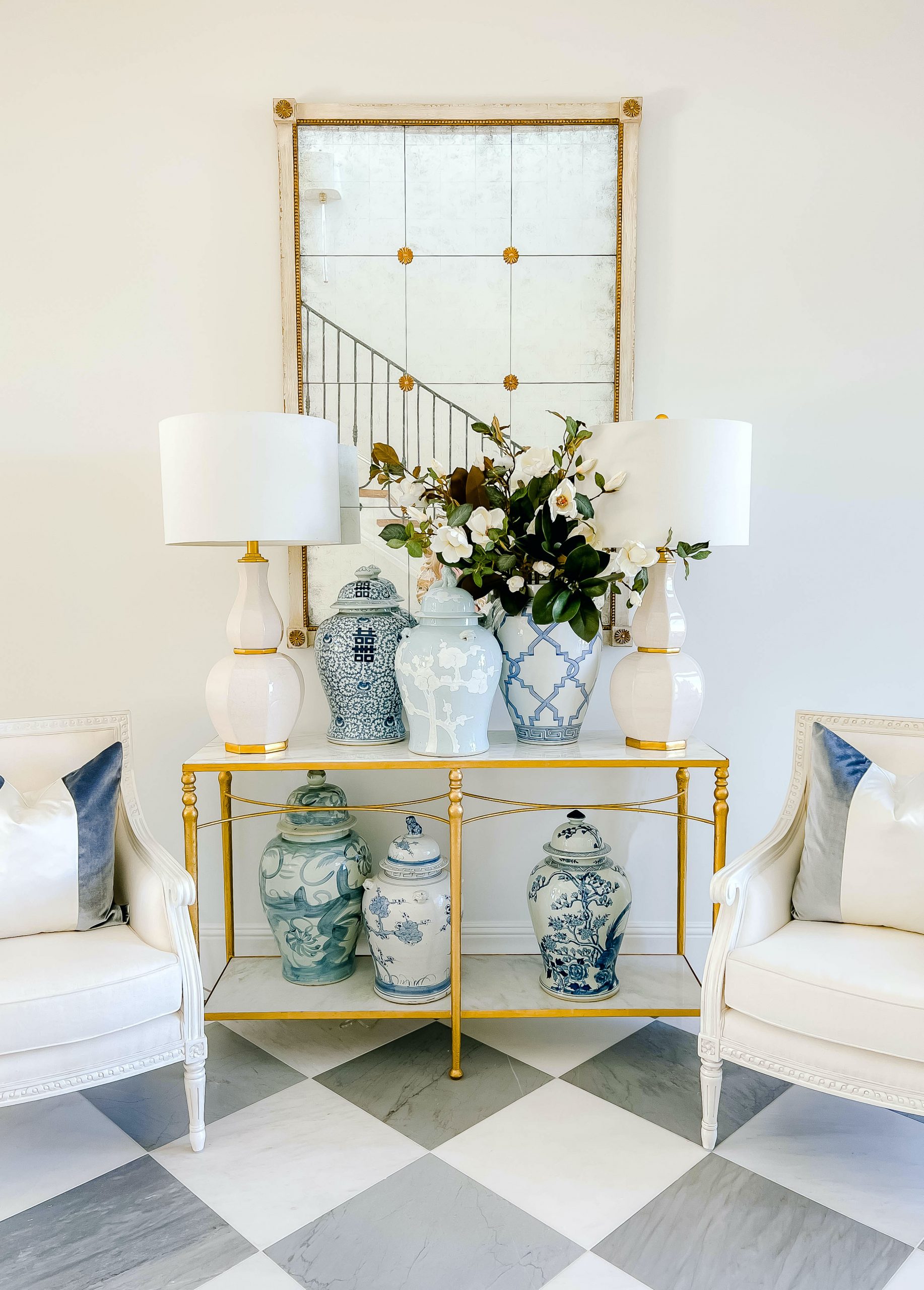 Entryway Table (similar mine is no longer in production) | Mirror | Armchairs (similar option here) | Blue Striped Pillows (Mine are 22″ with 24″ insert) | White and Gold Lamps (similar option here)
Ginger jars look amazing styled in your home for any season! They are the most versatile accessory. Grab a few from your collection and add them to your entry table. Fill one with some faux magnolia florals and magnolia leaves for a dramatic Fall arrangement. I know magnolias typically bloom Spring – Summer, but remember there are no rules when it comes to Fall decorating! The blues from the ginger jars and the green from the floral stems, tie in the blues and greens from the stairs.
These luxurious blue and white, velvet and silk striped throw pillows (mine are 22″ with a 24″ insert) give a nod to the velvet pumpkins. I'm in love with them and their fabulous quality. I ordered my chairs through my friends at The Fox Group.





Look for Less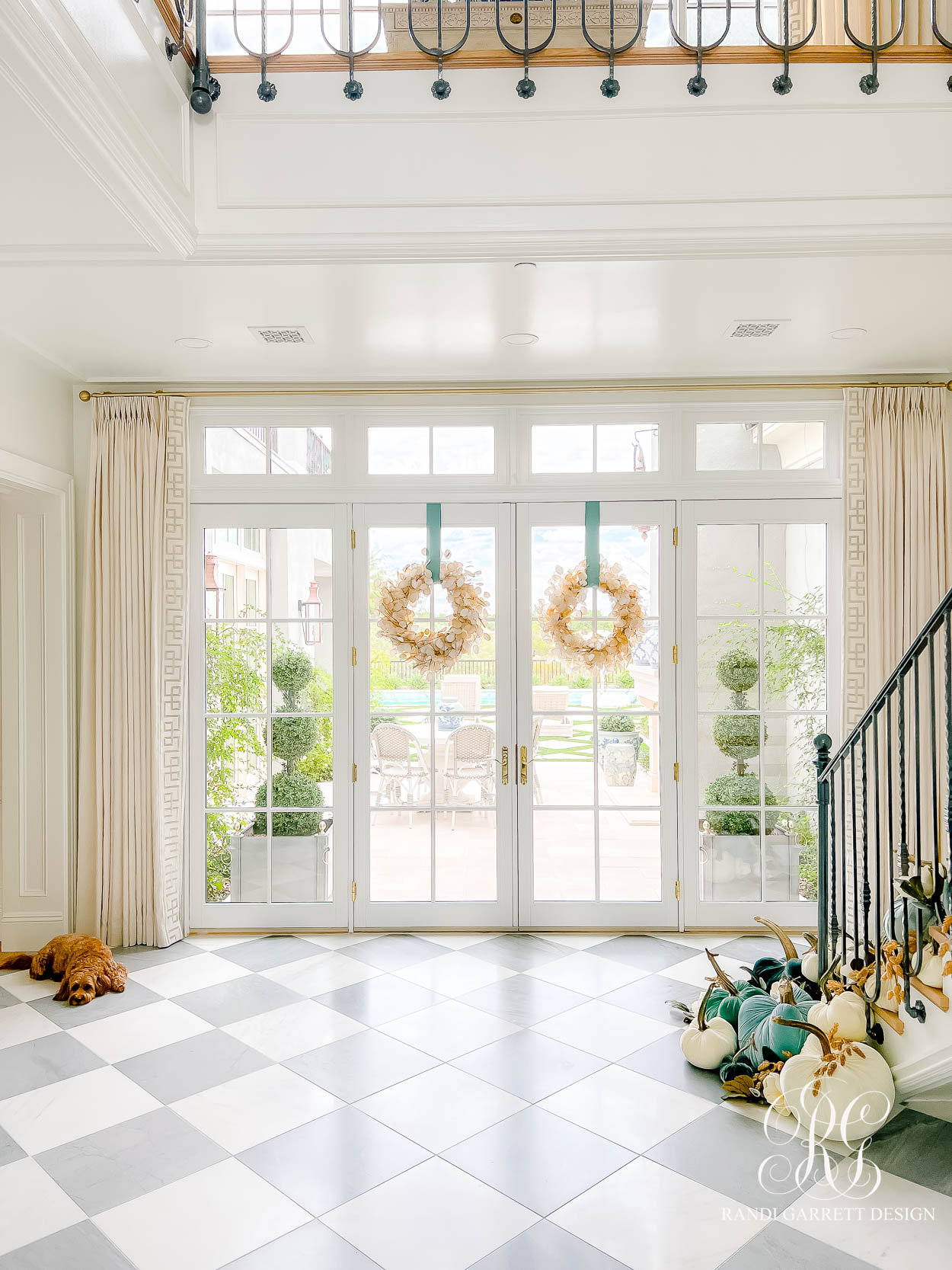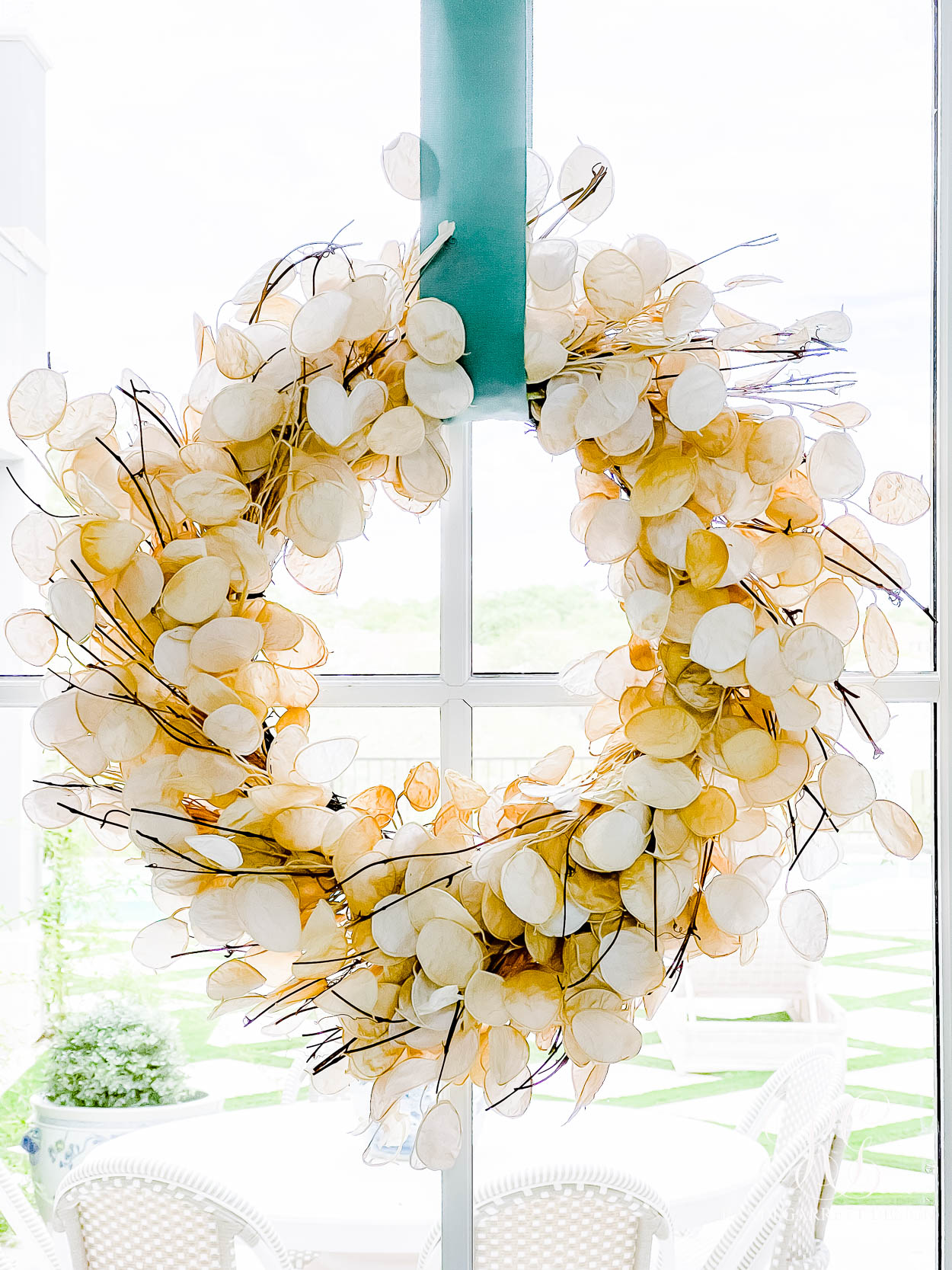 These lunaria wreaths (love these wreaths too) add the softest touch to the entry. Hang them with your favorite ribbon. I used a thumb tack and hammer to hang these at the top of our doors.
Come back Wednesday for another peek at Fall at The Wren!