Happy first day of October! Today, I've got another pieces of my Fall Home Tour – Entry and Office to share with you and I'm sharing a little color with you! I typically don't style our home with traditional Fall colors. The Arizona valley, where we live, doesn't experience changing leaves like most of the rest of the world. Instead, our Fall boasts vibrant desert flowers with blue skies and hot temps! The leaves on our trees don't change until December! So, instead I usually style our home with colors that remind me of the kind of Fall we experience here in Arizona. This year, I styled our family room, kitchen and kitchen table with blue and white. I thought it would be fun to add a little color pop in a few areas of our home to truly bring traditional Fall colors into our home.
Blue and orange are complimentary colors. So, naturally they belong together! Since I featured so much blue in our Fall Home Tour this year, I thought it would be fun to add some pops of ORANGE to house! Did you ever think you would see that in my home?!!! Me either! Haha! Come take the tour with me and see how simple it is to transform a space with a little color!
I hope you love it!
Fall Home Tour – Entry and Office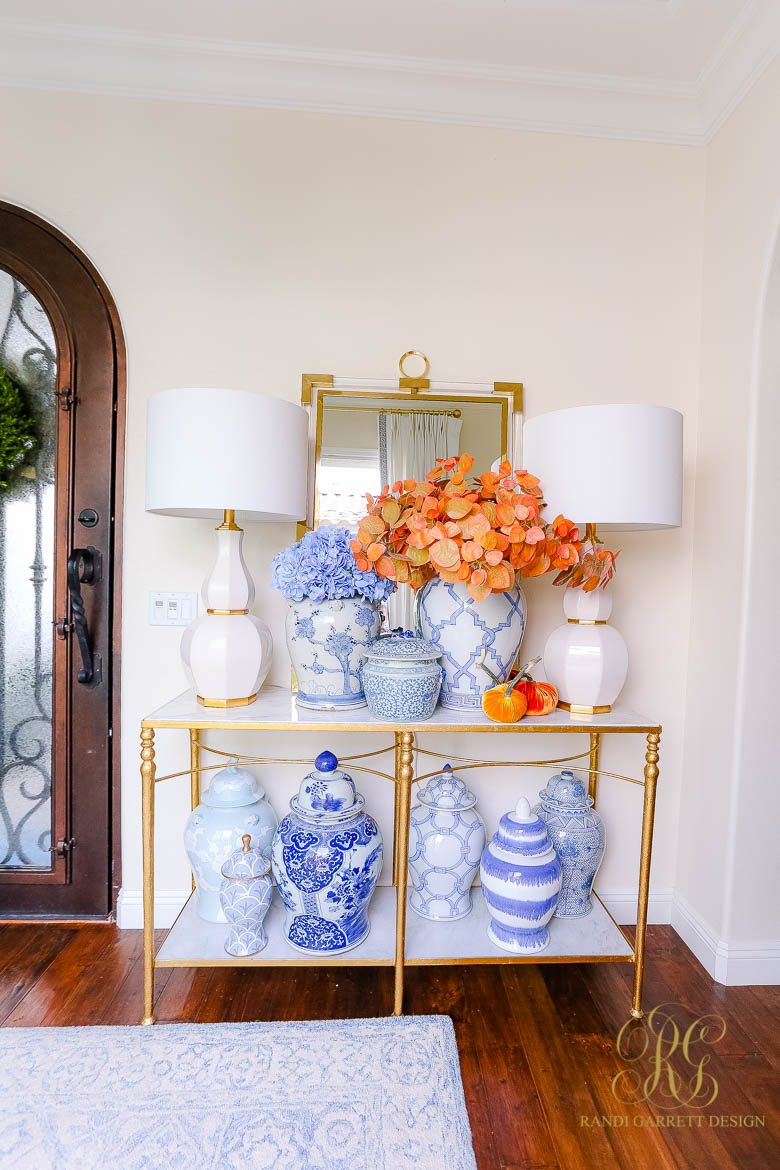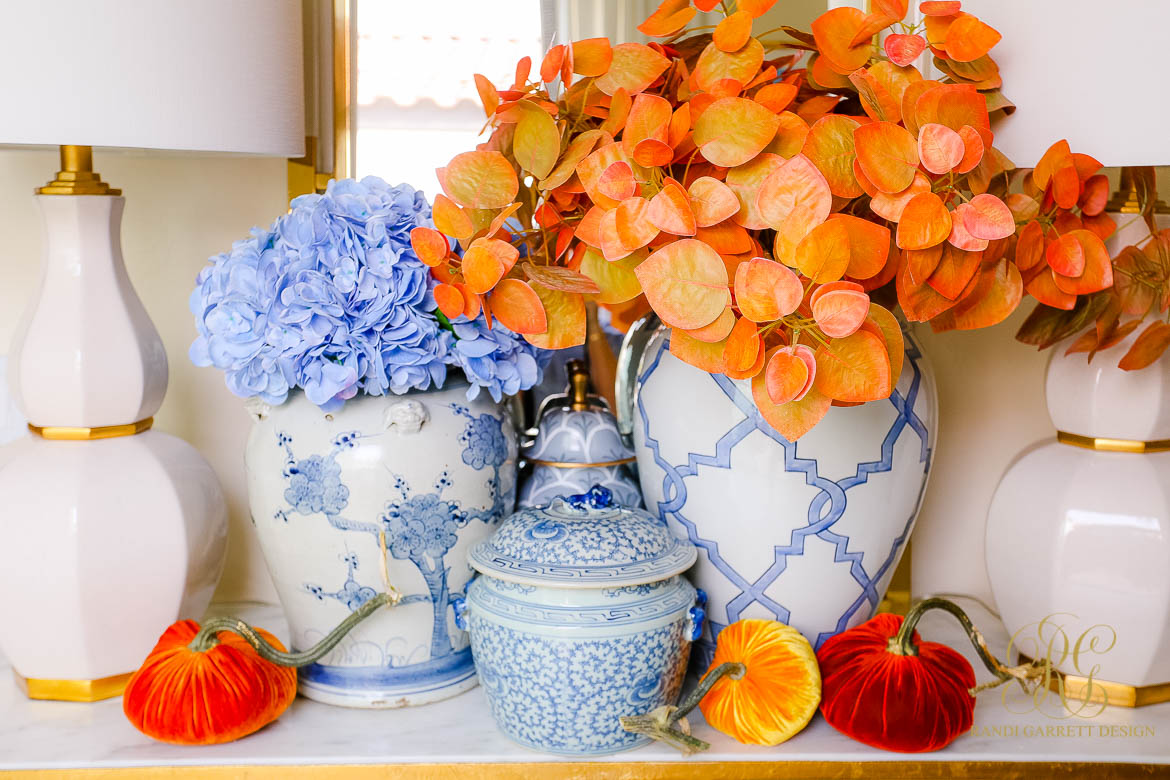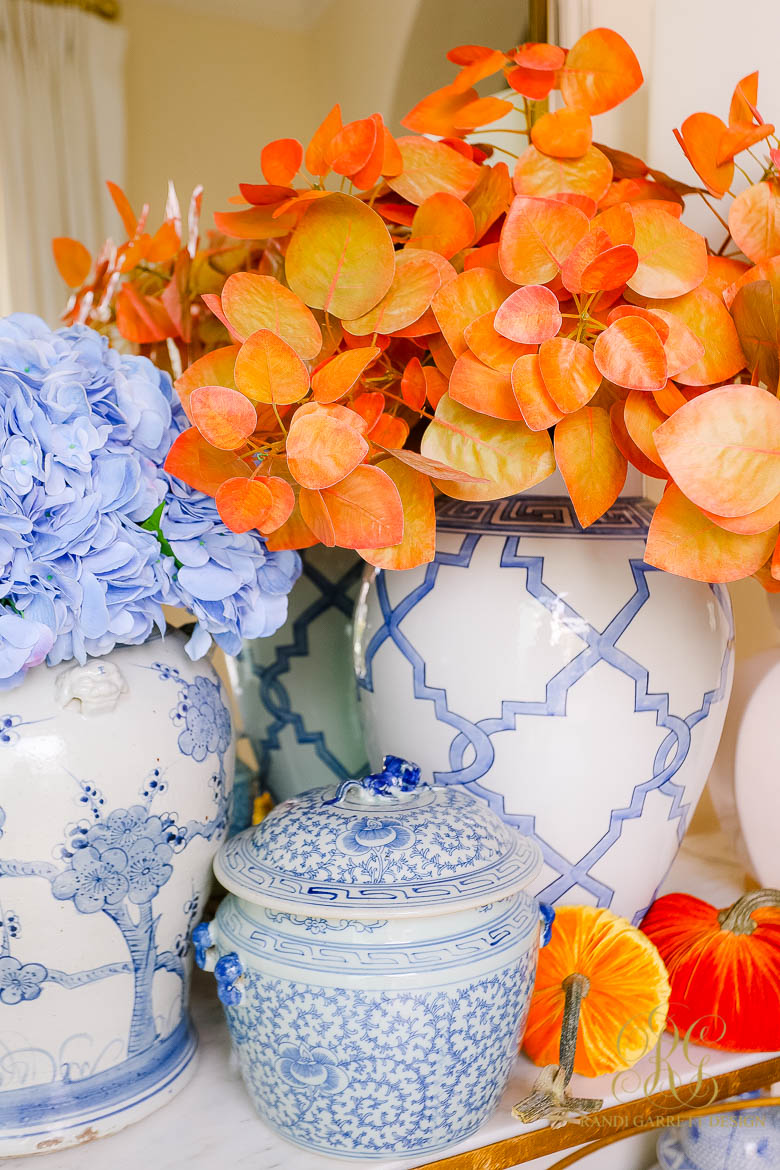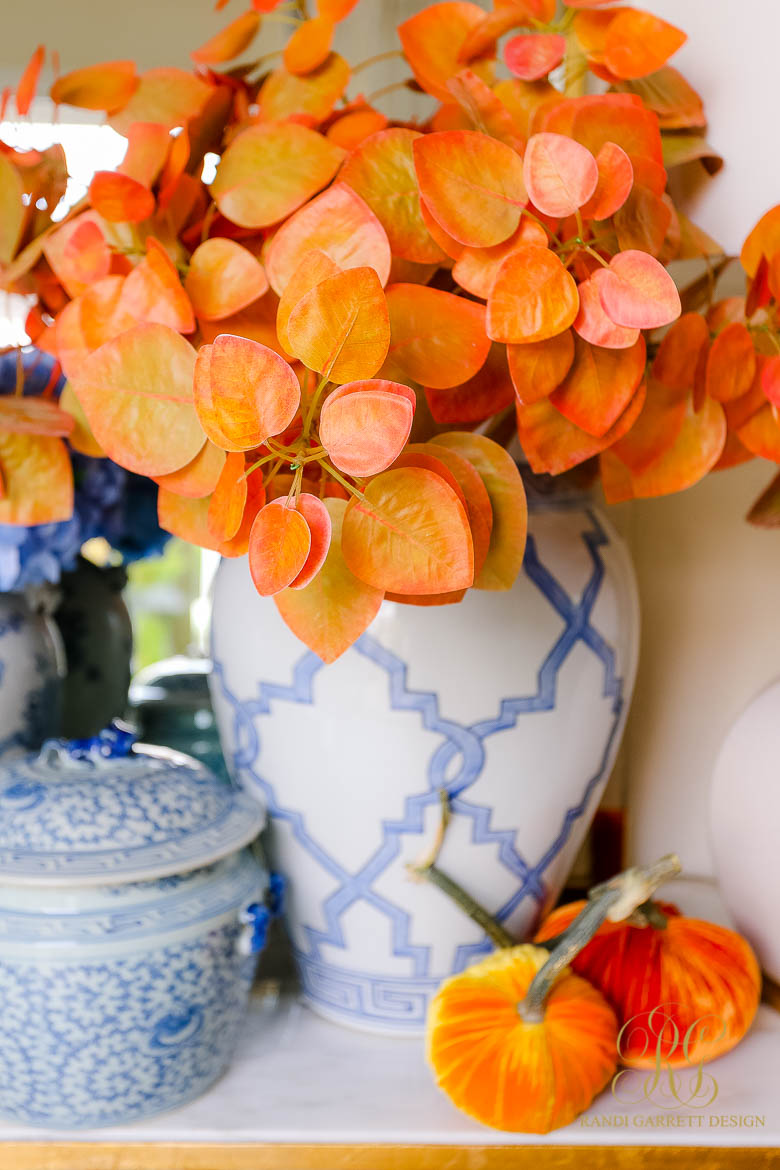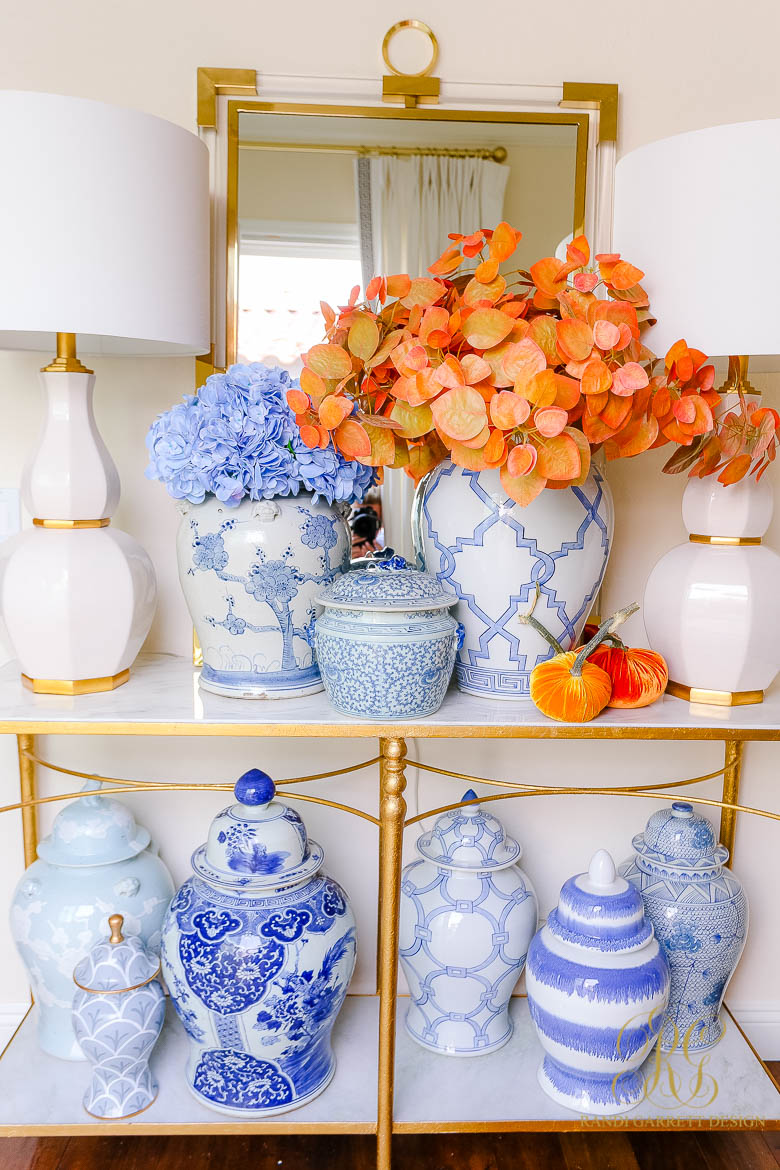 Entry tables are a great place to display your collection of ginger jars. Whether you have a few or a bunch, grouping them together makes a real statement! Here are some of my favorite ginger jars to help you start your collection.
Add a few faux Fall leaves and some gorgeous velvet Hot Skwash pumpkins for a Fall touch! These velvet pumpkins really add luxury and charm to any space in your home! The blue ginger jars really pop with the orange leaves and pumpkins.




Hallway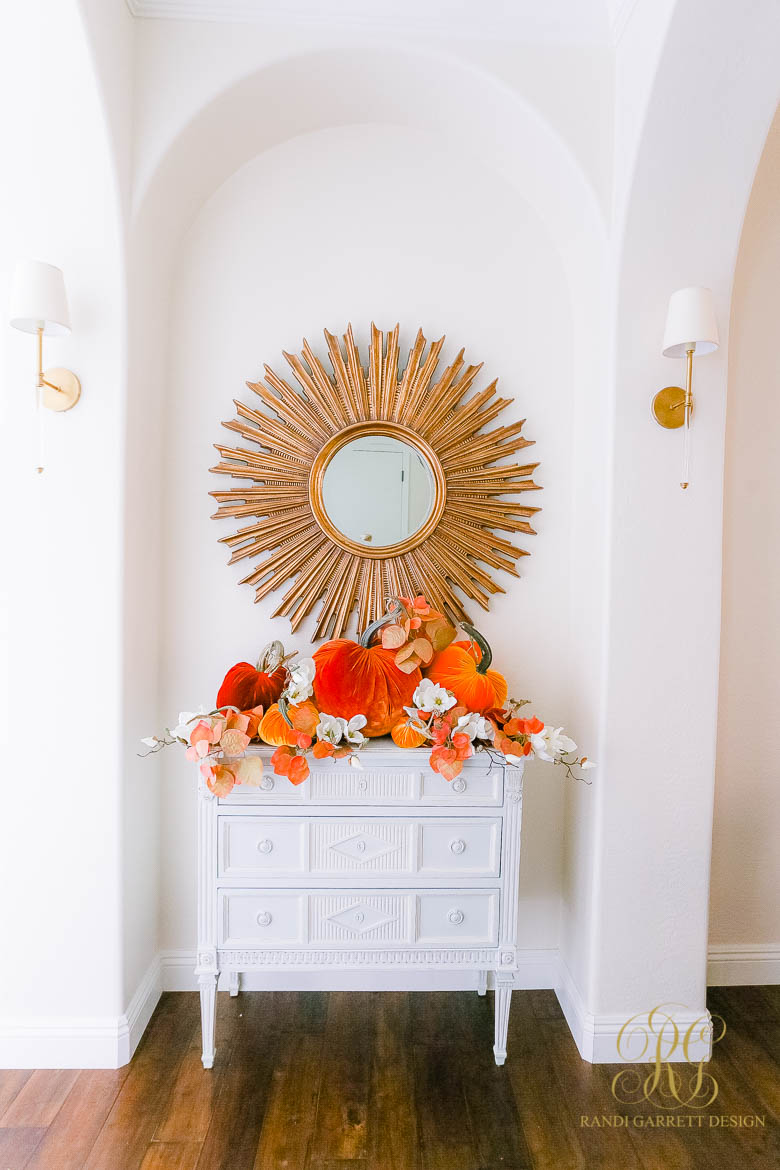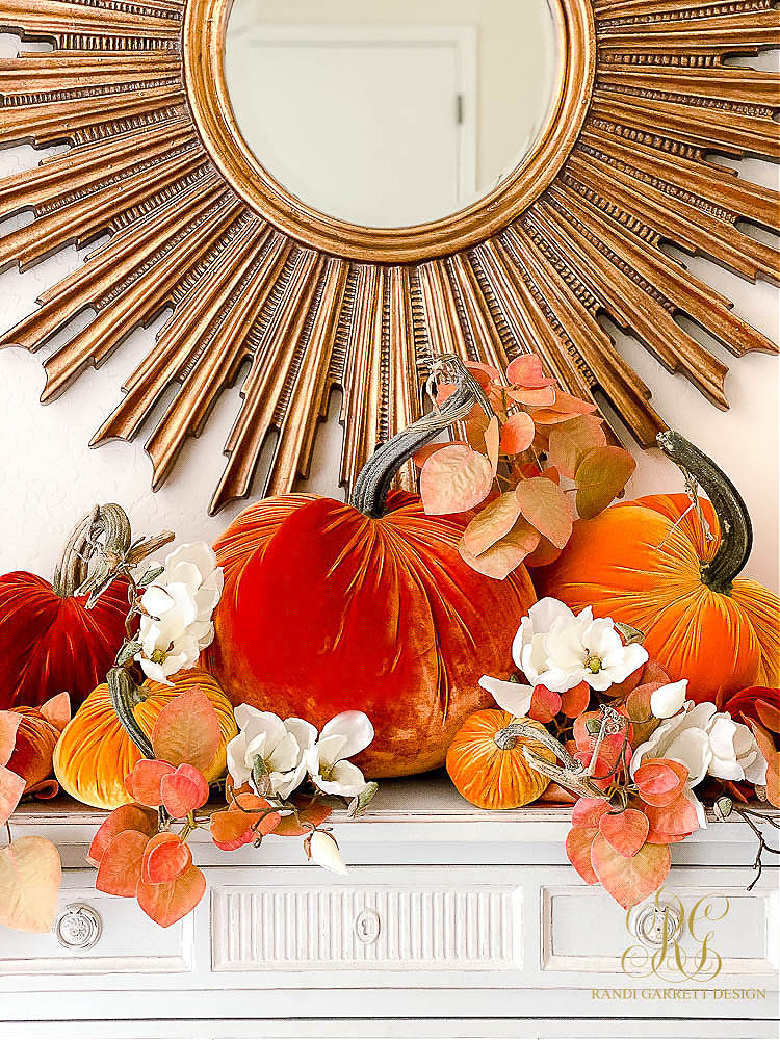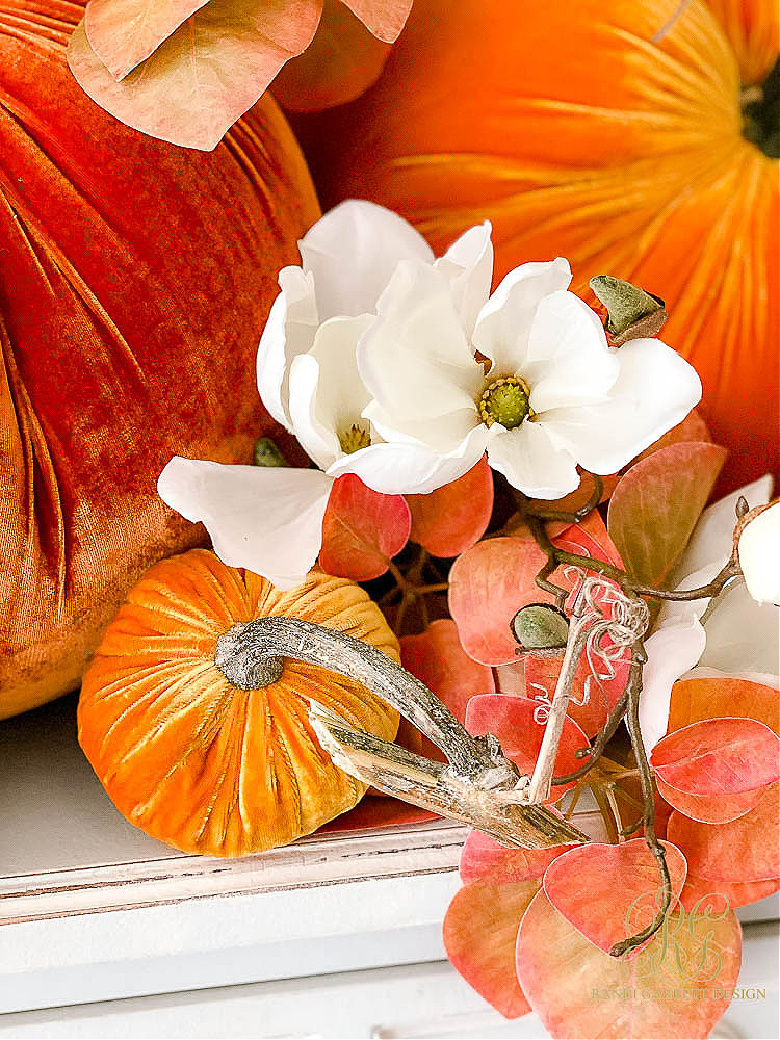 A few orange velvet pumpkins in various shades, faux Fall leaves and some faux magnolia are all you need to create a beautiful Fall display in your entryway or on any table in your home. I love the different shades of orange against the Fall leaves.



My Office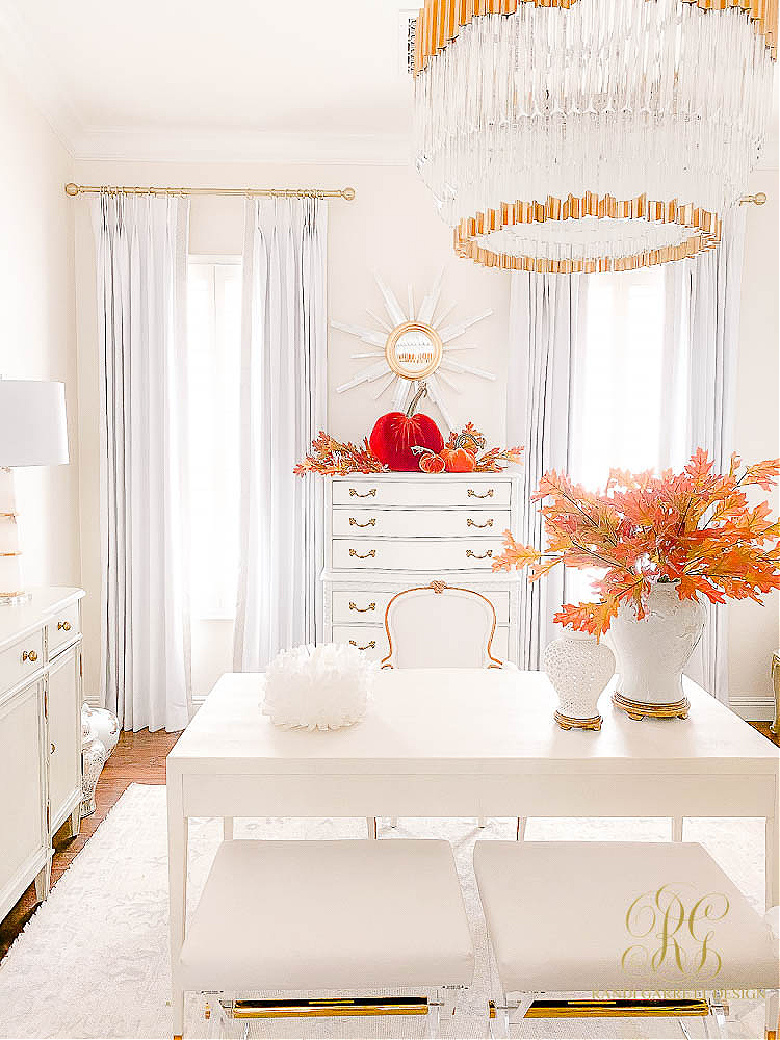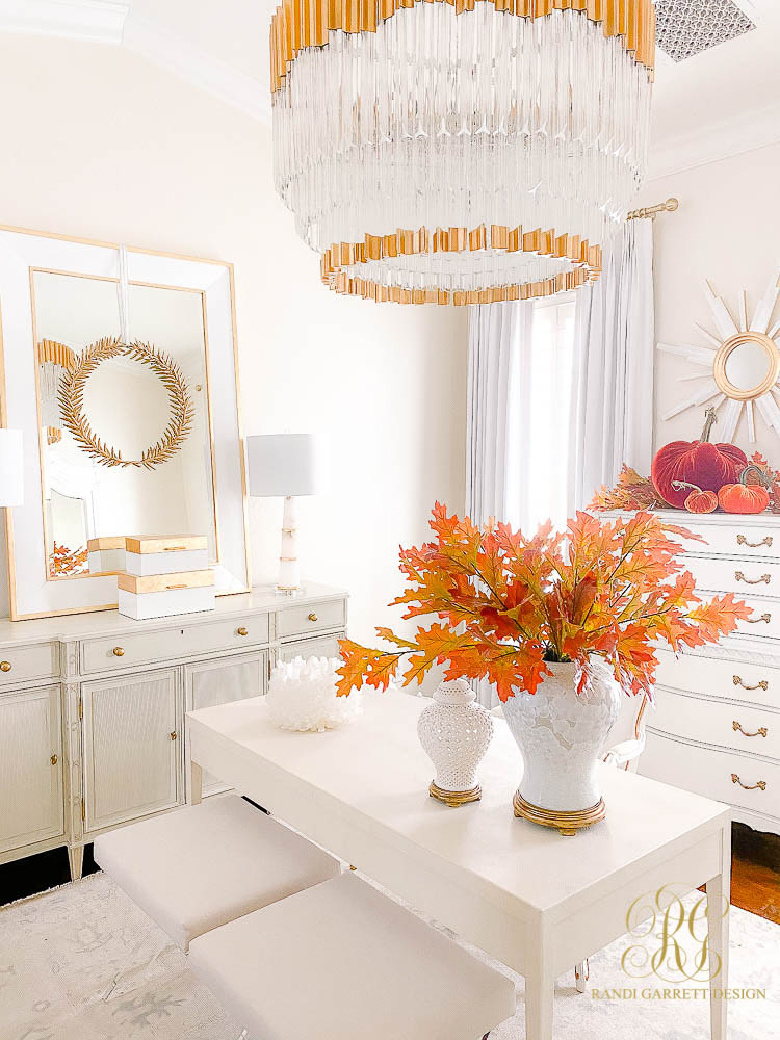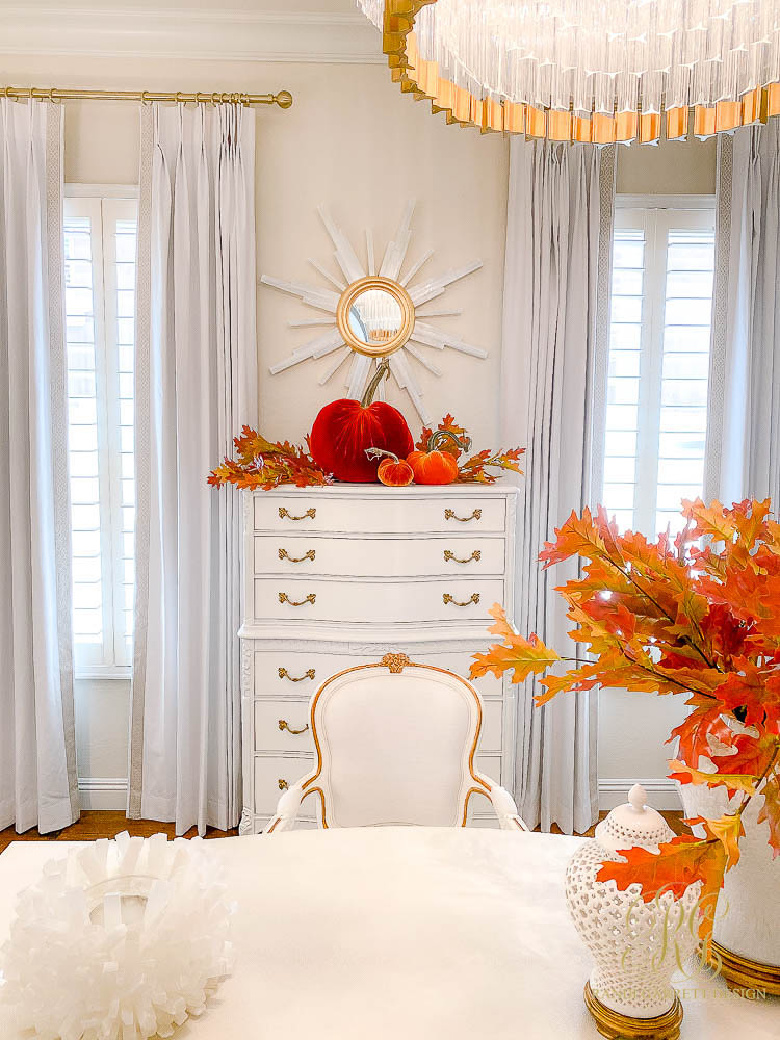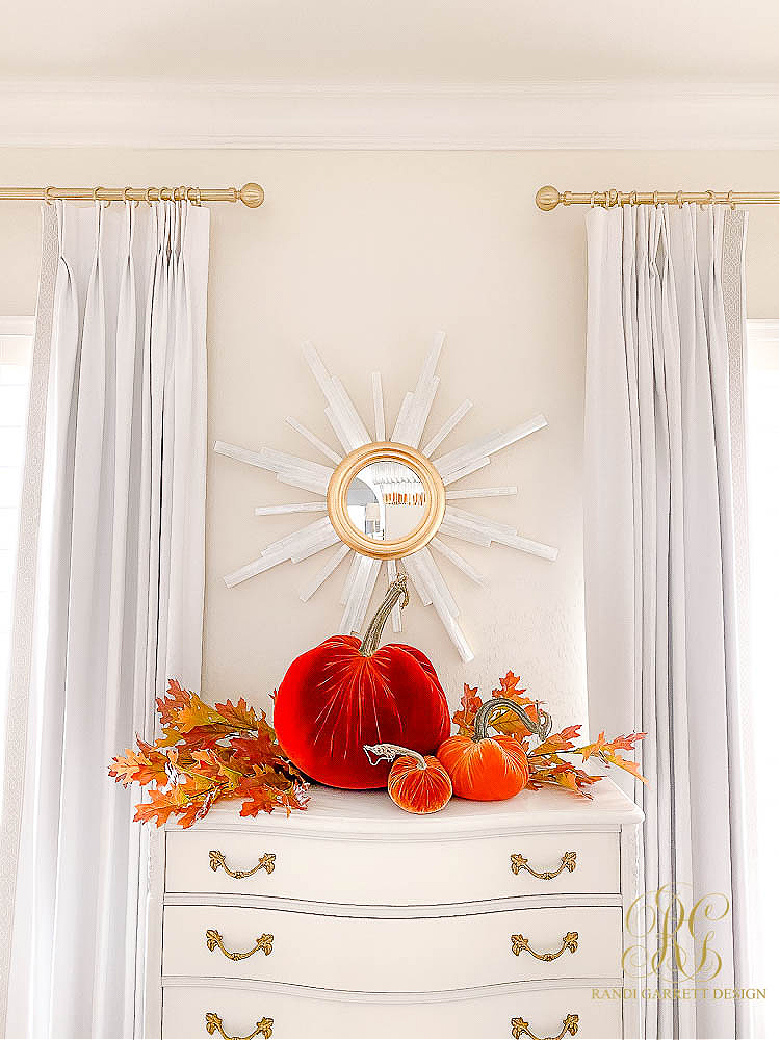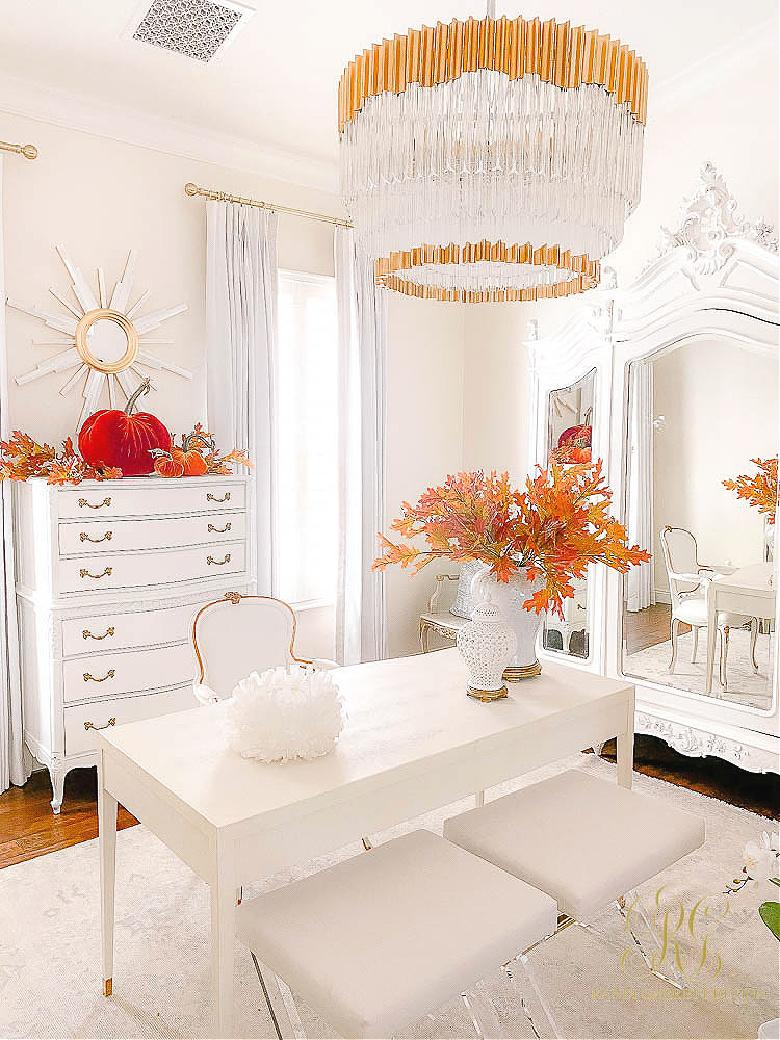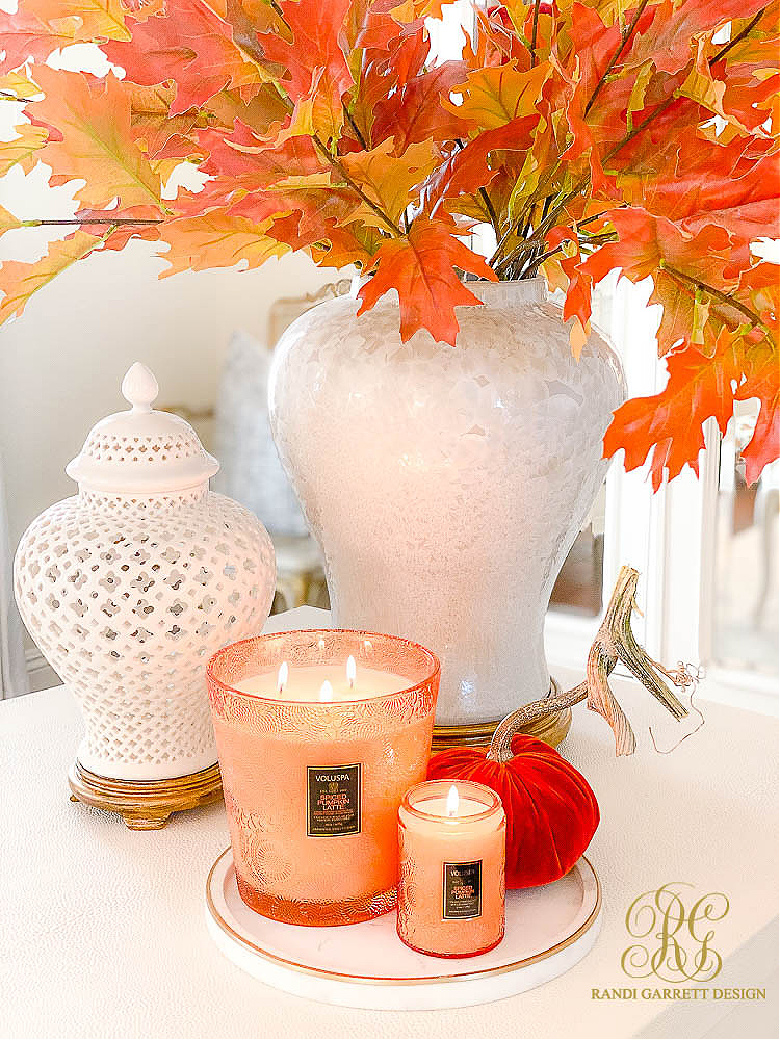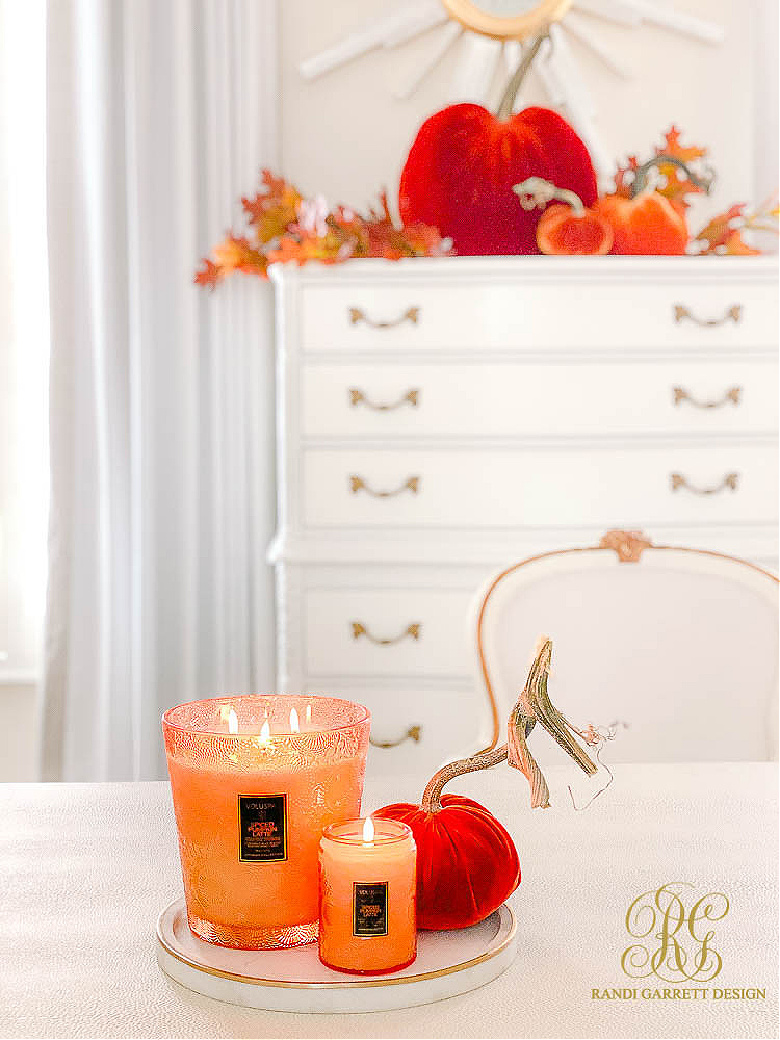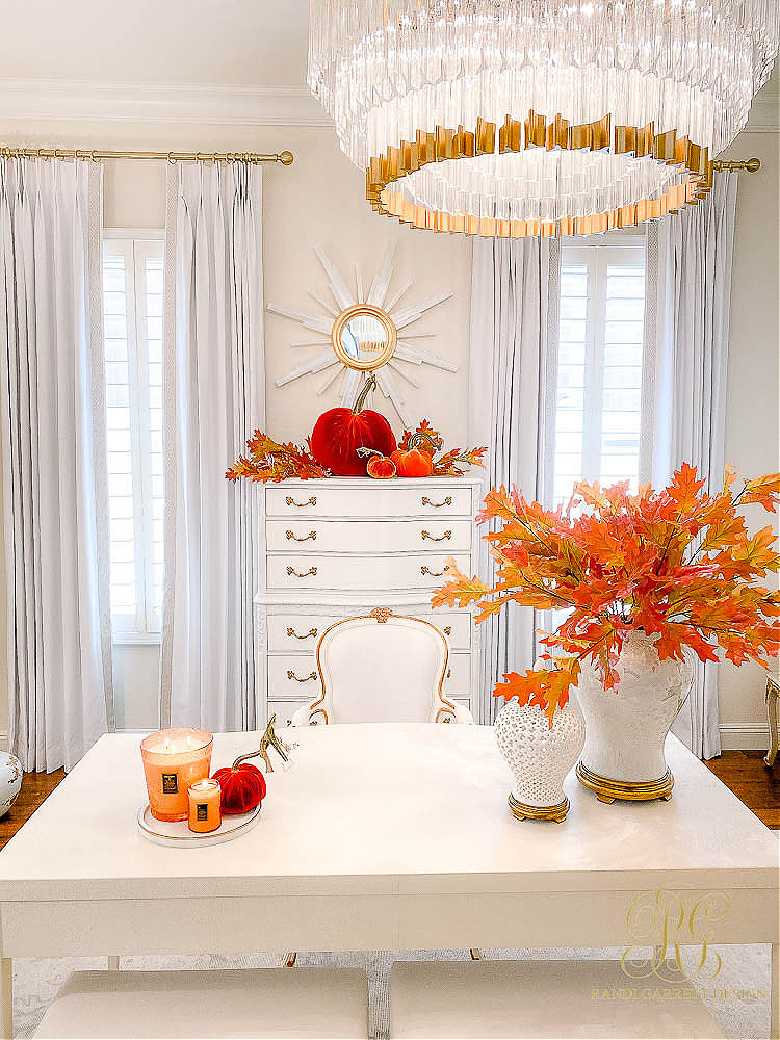 More Fall leaves in my favorite white ginger jar warm up my office (I used 6 stems)! Look at how gorgeous the orange looks against all the white and gold in here! Add a couple Fall candles to a pretty marble tray to add more warmth to your space. This new spiced pumpkin latte scent is heaven!!! I have the 3 wick candle and the mini tall candle styled on my marble tray with a 4″ apricot velvet pumpkin.
I love how the little touches of orange really make our home come alive! It really doesn't take much to make a big impact with color!