This year has been a little overwhelming to say the least! Instead of overwhelming you even more with a full Fall Home Tour, I am breaking my Fall decorating into smaller bite sized posts for you to enjoy a little at a time. Just like you, I'm dealing with an overflowing plate and am trying to juggle all that life is throwing at me right now. Decorating for the seasons has always brought me so much joy. This year will be no different! It just may take a little longer than normal! If I have learned anything from the trials of this year, it is to slow down and savor the moments. Remember the who behind the why. Take care of yourself, so you can take care of those you love.
Today, I am so excited to share my Blue and White Family Room Fall Home Tour. Blue and white has been my color scheme for most of this year. Keeping the same color scheme from one season to the next makes it easier on you and your pocketbook! I kept the same color scheme throughout most of the house (I added a fun splash in a few spaces that I can't wait to show you), and incorporated all of my beloved ginger jars.
Also featured throughout our home, you will see lots of my favorite velvet pumpkins from my dear friend Daria at Hot Skwash. I have had the privilege of working with Daria for over 5 years. Every year I am blown away by the creations she designs to help me welcome Fall into our home. This year is no different! I know you will love what we have come up with for this year's blue and white theme!
My favorite thing about these velvet pumpkins is how versatile they are! You can use them all together for a wow factor, style them in a smaller grouping on a side table or style them individually all over your home! Mine are sprinkled throughout our home. Wherever you style them, these velvet pumpkins add a layer of luxury that will last for years to come!
Enjoy my room tour! Everything will be sourced for you at the end of the post. Check back next week, I will be sharing more of our spaces styled for Fall! You will love what is coming!
This post contains affiliate links (full disclosure here) and is done in partnership with Hot Skwash.
Blue and White Family Room Fall Home Tour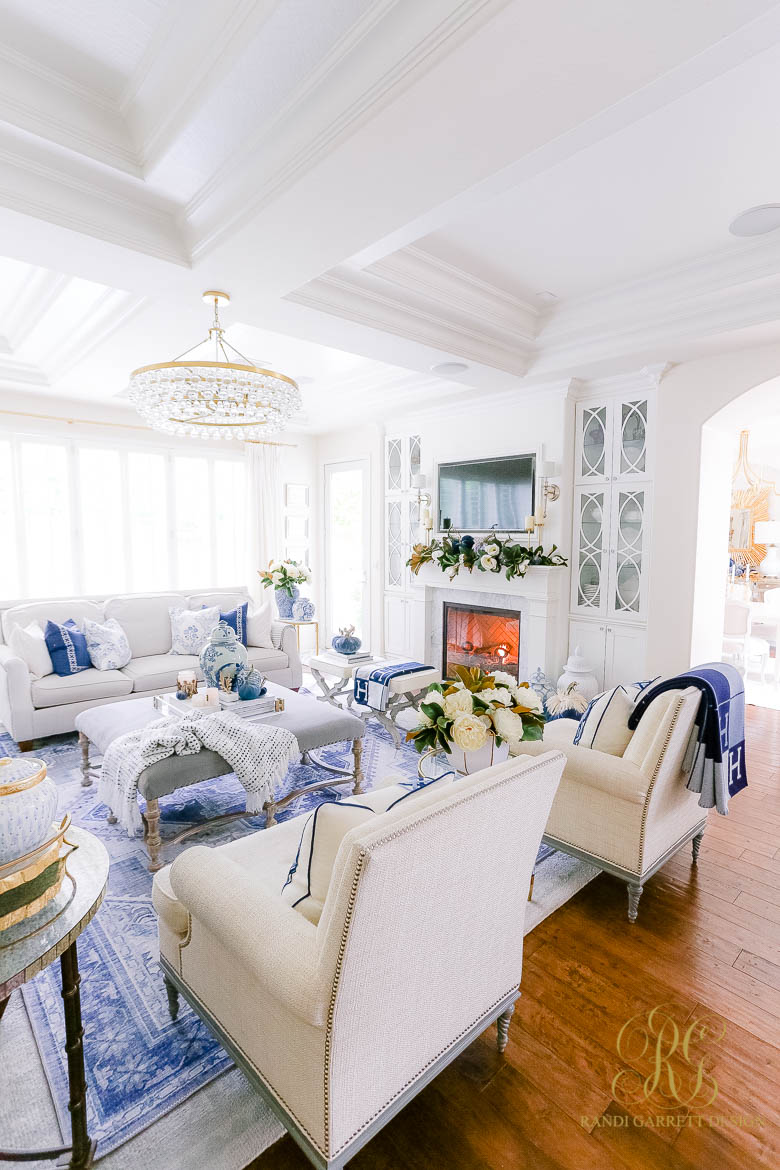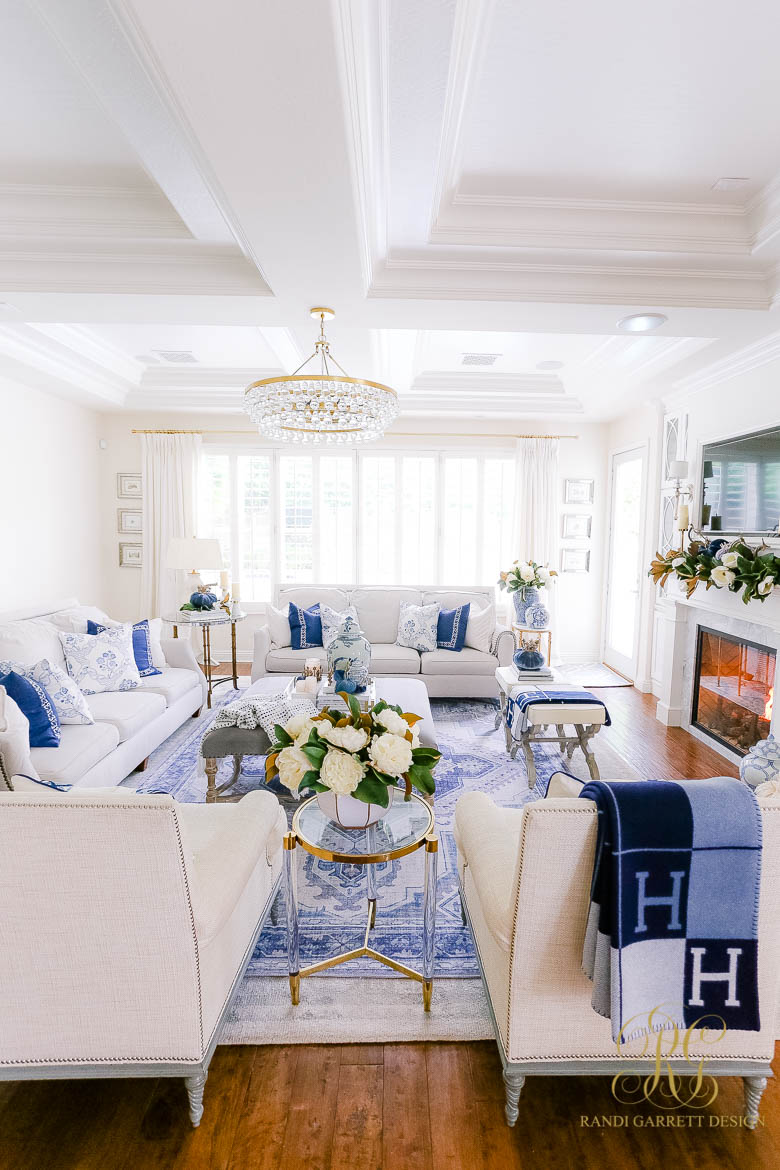 You'll notice I used darker shades of blue for the pillows and throws for Fall, in contrast to the lighter blues I used for Spring and Summer. Simply darkening the shade of the color you are featuring can give your space a richer, warmer feel to welcome a new season. Faux magnolia blooms and magnolia leaves (magnolias aren't just for Spring – use them year round), accented with gorgeous blue velvet pumpkins. For an unexpected pop, Daria created some striking silk Liberty of London Chinoiserie pumpkins! They look breathtakingly beautiful when paired with the blue velvet pumpkins. I can't wait to show you them on the tablescape I styled next week!
I topped a few of the velvet pumpkins with crowns for a whimsical touch. You know I love crowns, it was also a fun nod to London – for the Liberty of London pumpkin.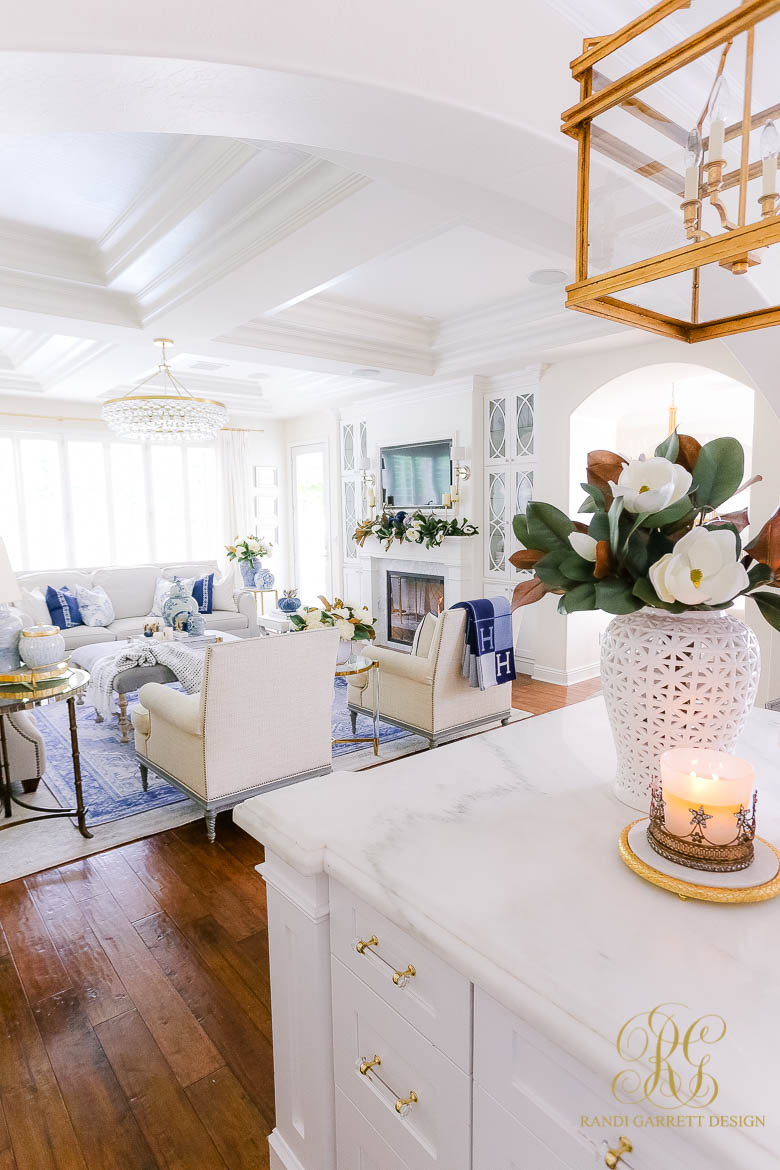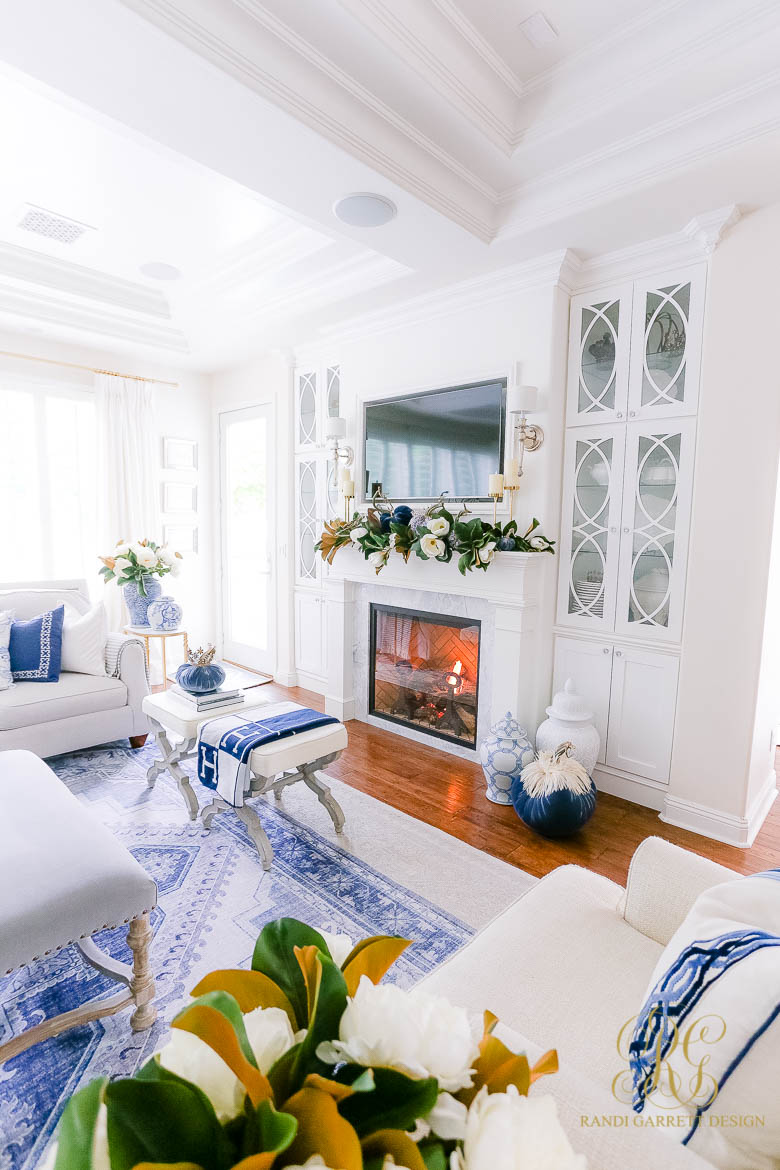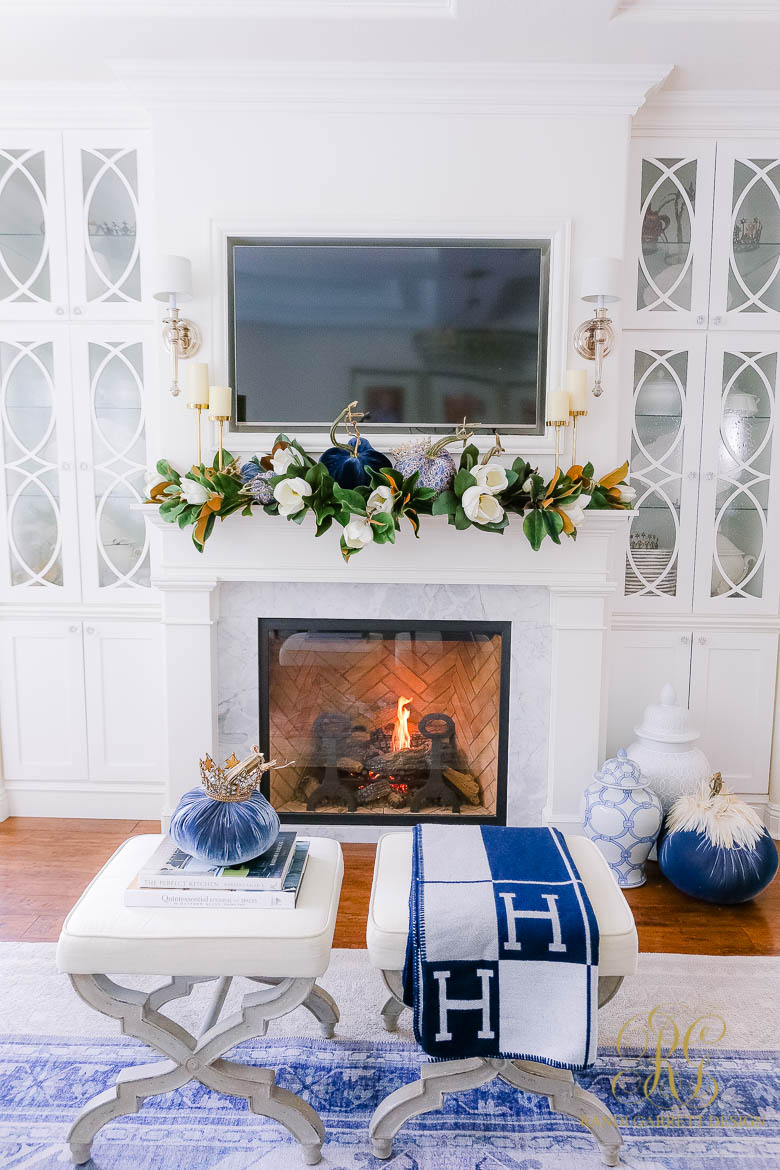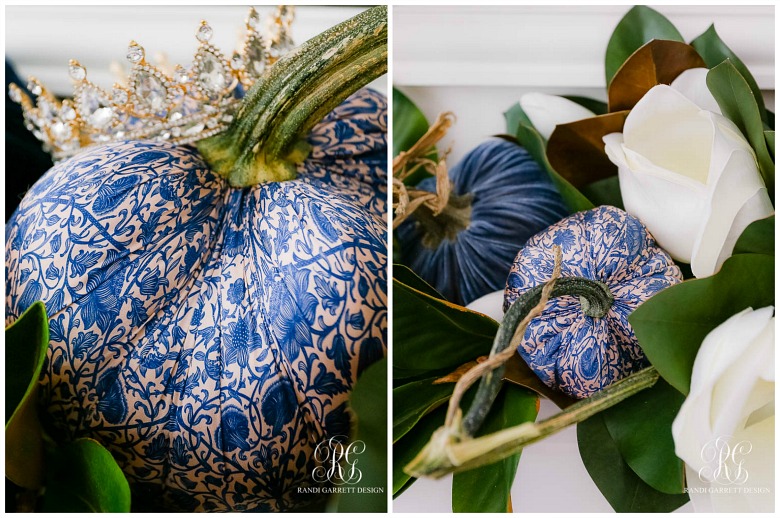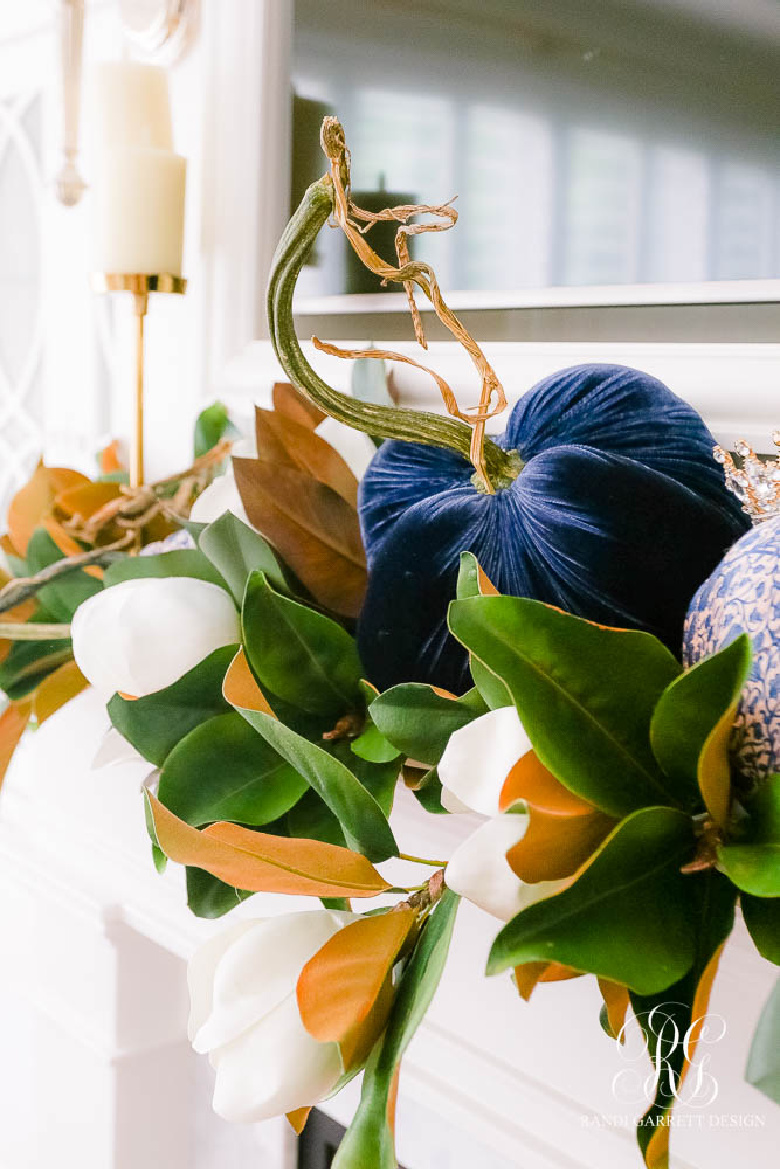 How to Recreate my Magnolia Velvet Pumpkin Mantel
Supplies

Steps
Simply place the two largest pumpkins in the center of your mantel.
Add faux magnolia branches under and around the pumpkins.
Nestle smaller pumpkins into the leaves.
Tuck magnolia leaves to fill in gaps and to trail at the ends of the mantel.
Top Liberty of London pumpkin with crown!
Send Randi a photo! I love to see what you come up with!

Jean Dress | Gucci Belt | Black Mules

Velvet Pumpkins – Hot Skwash (Liberty of London print coming next week)
Faux Magnolia Blossoms | Leaves
Throw Pillows – White Velvet | Blue Linen with Trim | Blue and White Print | White with Blue Trim
Throws – H Throw on Stool | Hermes Throw on Chair | Blue and White Boucle Throw

Rug | Similar options