I am a stay at home mom of 5 busy children. But I have always had a "job" that allowed me to be creative and still be home with my kids. Before my kids were born, I taught second grade. I loved it! Being with children makes me so happy! When I had one of my own, I wanted to stay home. Being a stay at home mother was not as easy of a transition for me as I thought it would be.
I missed having a set schedule and a way to use my talents and be creative. So, I convinced my sister to do a holiday boutique with me. We made hundreds of Christmas ornaments and decorations to sell. Having a creative outlet made me a better mother and happier person.
A few years later, I started making custom baby blankets, burp cloths and bibs. I had an online shop and sold my pieces to local boutiques. This "job" felt more like a hobby. It kept me creating and using my imagination. My "office" was the room we use as our home gym now. It was my retreat! As my children got older, they needed my attention a little more. Slowly I stopped sewing and focused on them. I moved my "office" downstairs. It became more as a craft room, where friends and I would make cards for our card group.
When my youngest son Jack was 3, I could feel it was time for me to start thinking about a way to be creative again. Soon he would be starting school and I would have more free time on my hands. On a whim, I started an Instagram account thinking I'd use it as a place to store projects I was working on. Kind of like a portfolio, just for fun.
Well that account grew and grew and lead me to start Randi Garrett Design the blog. Over the past 4 years, Randi Garrett Design has become my full time job. It has brought so many amazing opportunities into my life and has given me a way to share my passion and creativity in a way I never dreamed!
My "office" needs changed again from craft space to a home office where I can design and write. When designing my office, I wanted to create a place where I could feel peace and inspired. I wanted it to be a reflection of me and what I love. Today, I am beyond thrilled to share with you my glam home office reveal. This space is more than just a home office. To me it is a reminder that we are constantly growing and changing. We each have the need to learn. This office reminds me that I am happiest when I am creating! I am brought to tears of gratitude at the opportunity I have to share tips for living life in style with each of you. I hope that you are inspired to make your life a little better when you leave here.
Ok! Here is a look a my office before the glam makeover! (This post was done in partnership with Corbett Lighting and contains affiliate links. Read my disclosure policy here).
Glam Home Office Reveal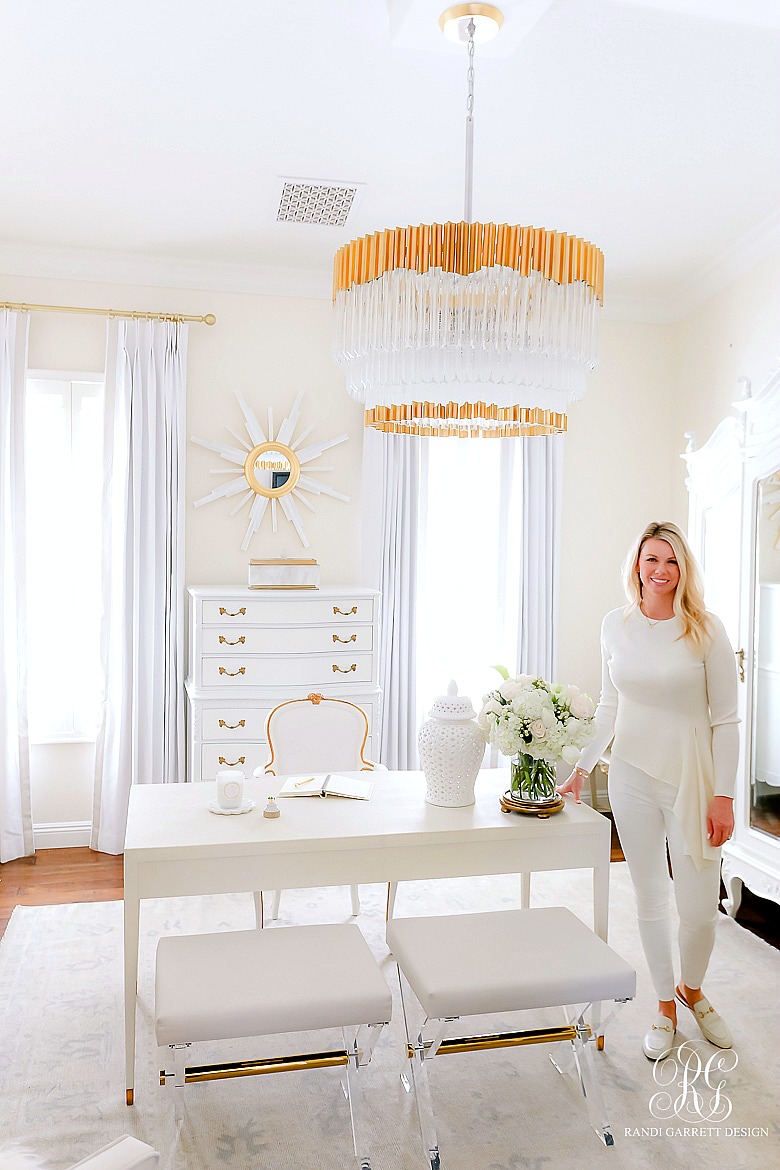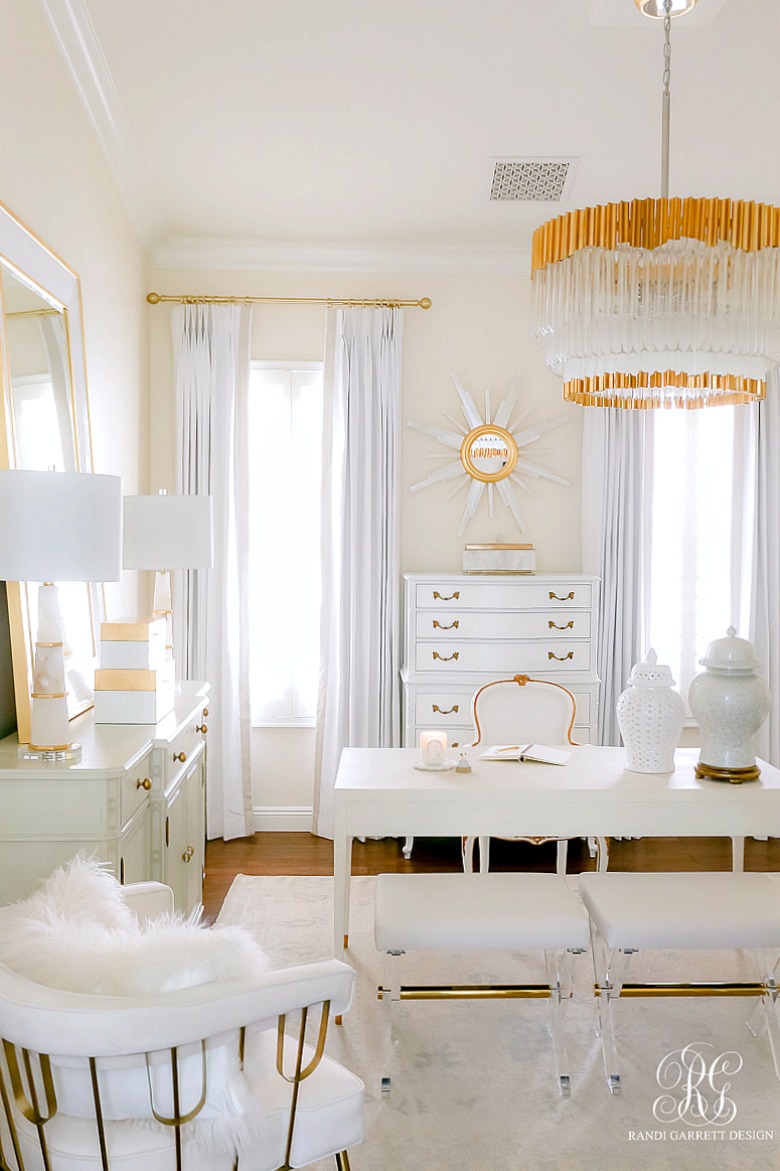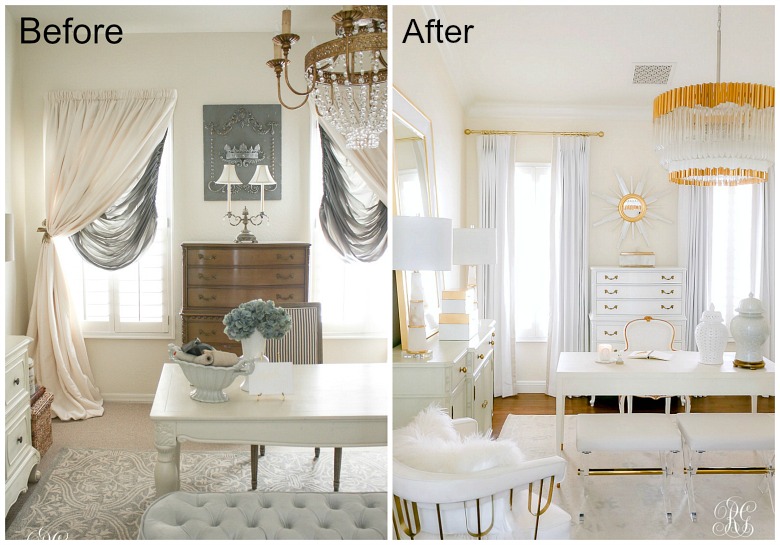 The inspiration for this glam office came from this breathtaking chandelier from Corbett Lighting. They reached out to me several months ago right when I was starting to plan my office design. I looked through all of their gorgeous lighting options and fell in love with this crystal and gold show stopping chandelier!
The light was hung when we were out of town this summer. I gasped and stood speechless when I first saw it hanging in my room. It is the most beautiful light I have ever seen! It is part of the Charisma lighting family . They have several lighting options in this family. Mine is the 36″ Charisma. The ceilings in my office are high, so it can handle this large scale beauty! I love to use lighting that has several options in the line. You can use their family pieces in other rooms to create a beautiful flow from room to room. We used the flush mount Charisma light in our den to tie theses two adjacent rooms together. The den will be revealed next week! Here is a sneak peek of it…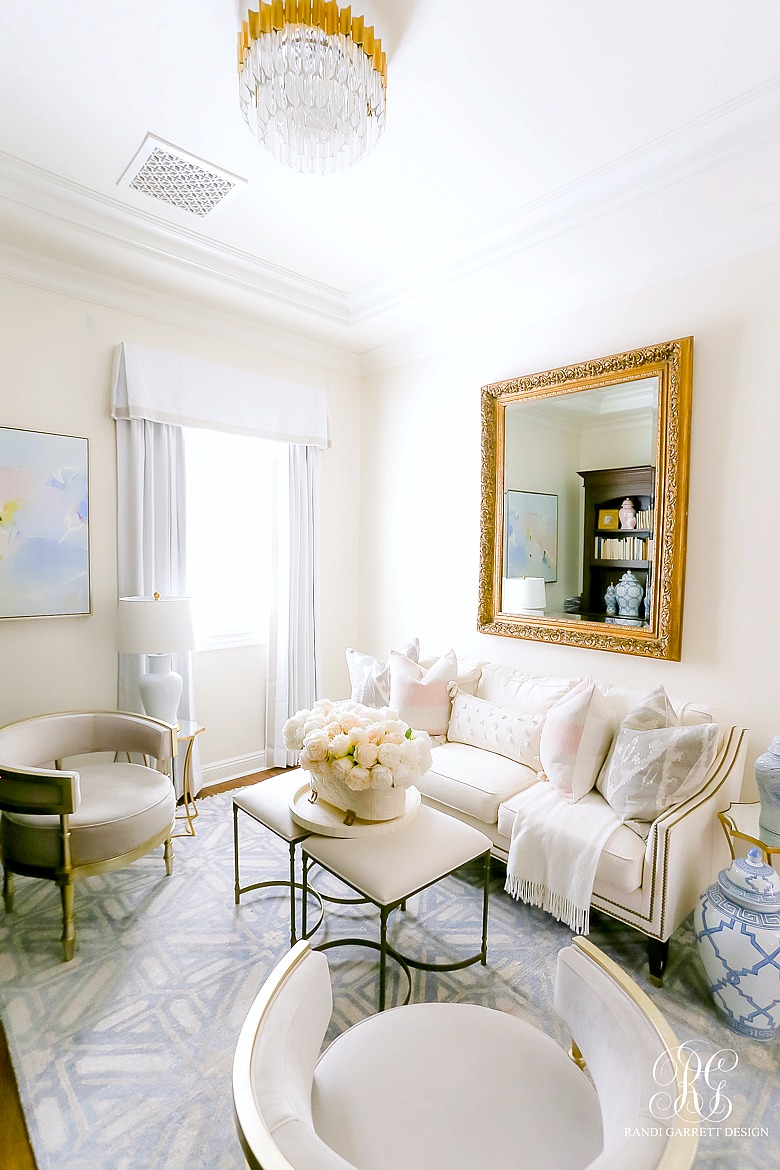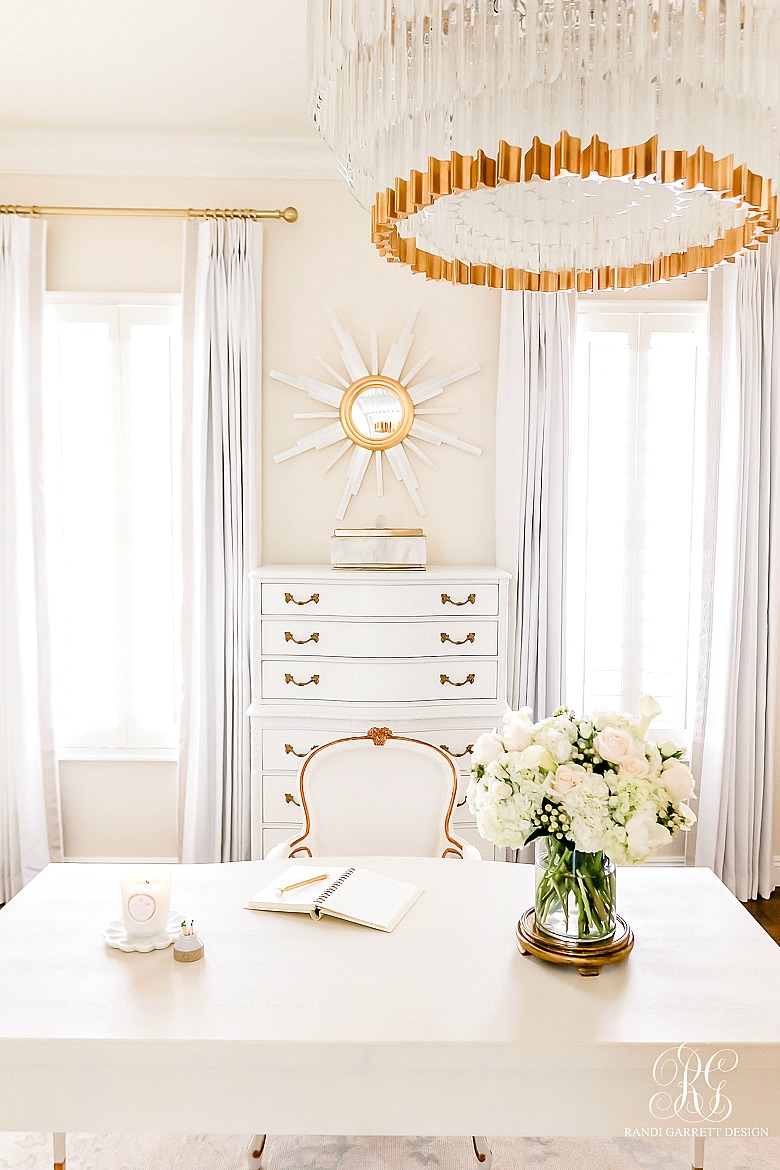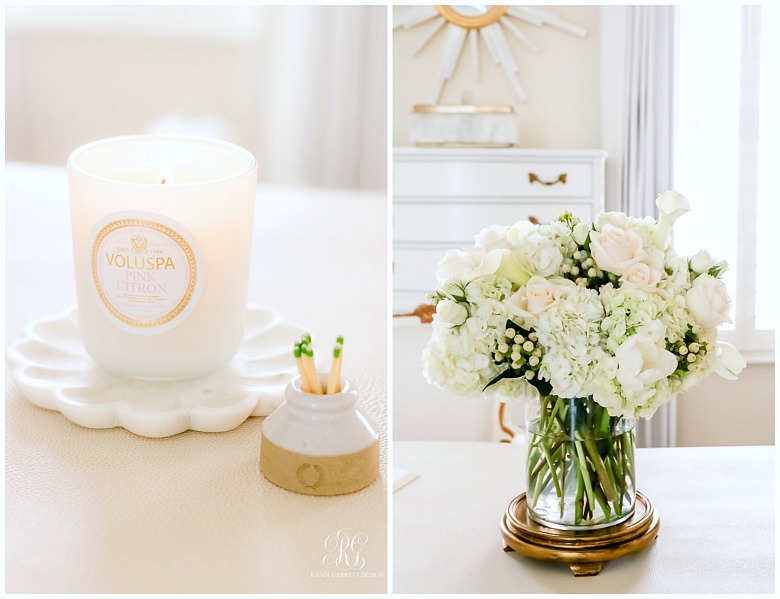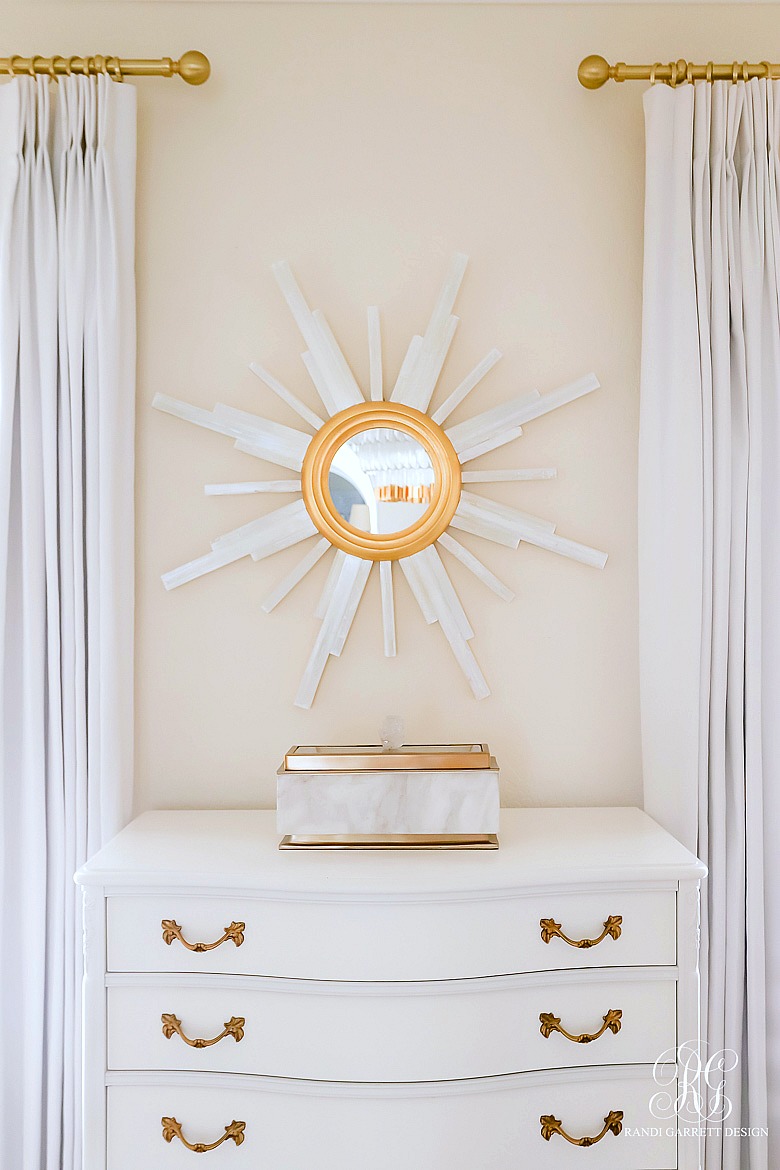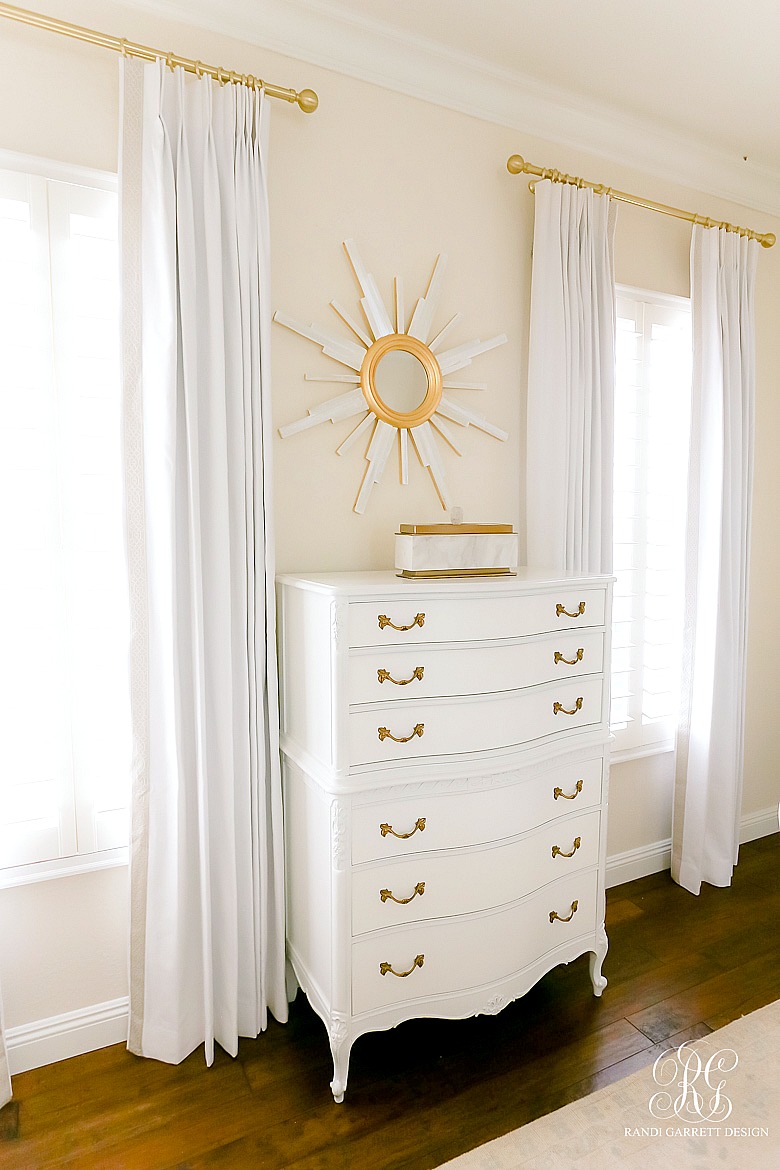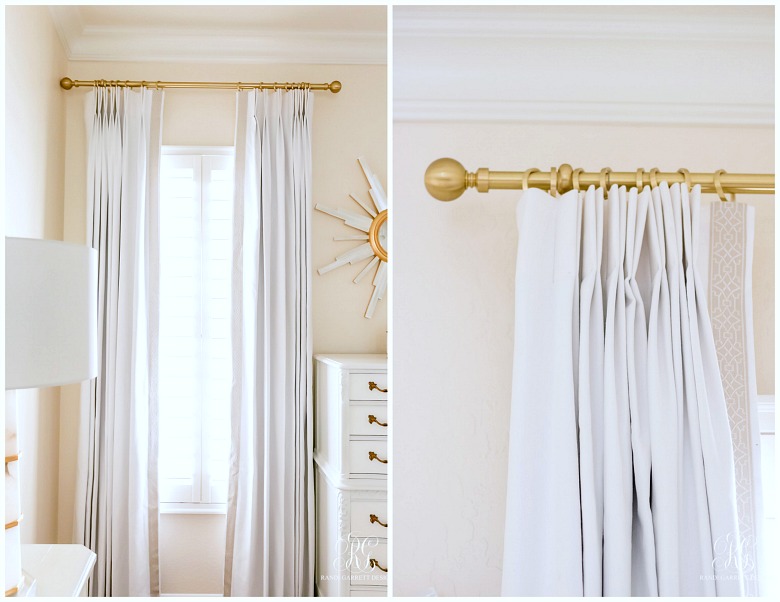 Our drapery was custom made by my go to drapery company, Willow Bloom. We used Malbec Powder linen drapes with blackout lining, a pinch pleat and gorgeous Trevino style trim. They are hung on an antique gold rod with ball finials. Can you believe how much they transform the room?! Their draperies are absolutely exquisite!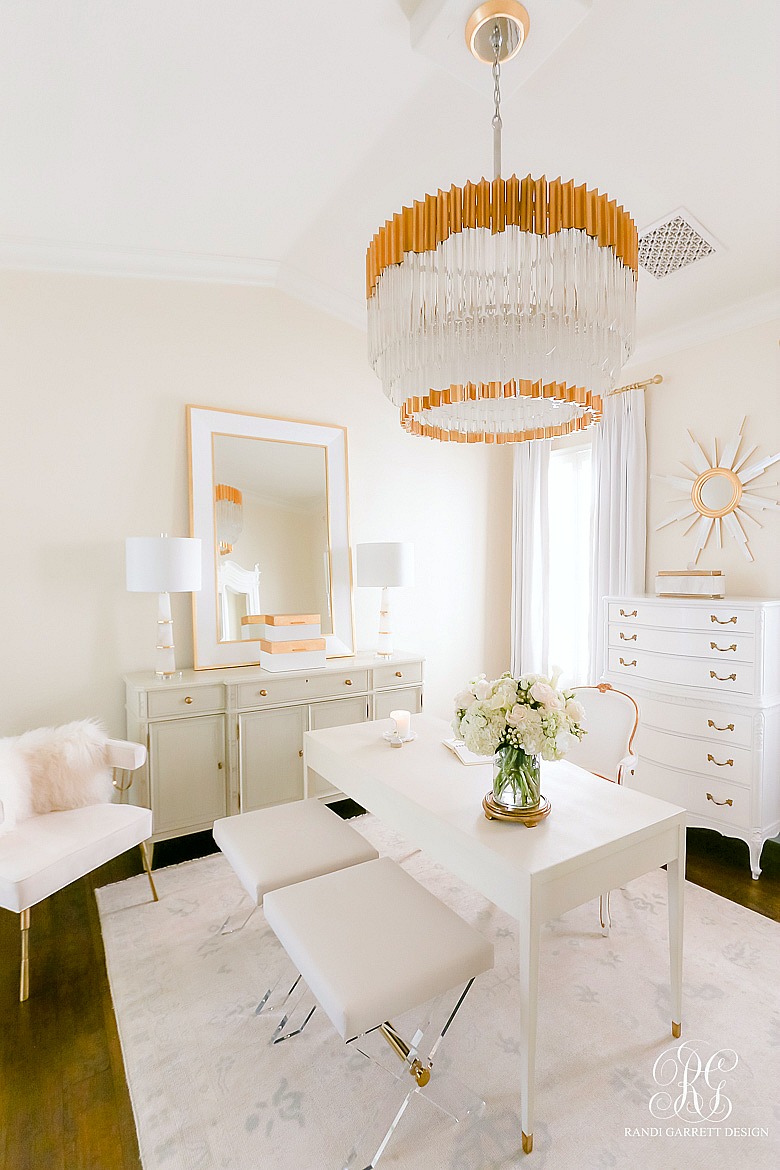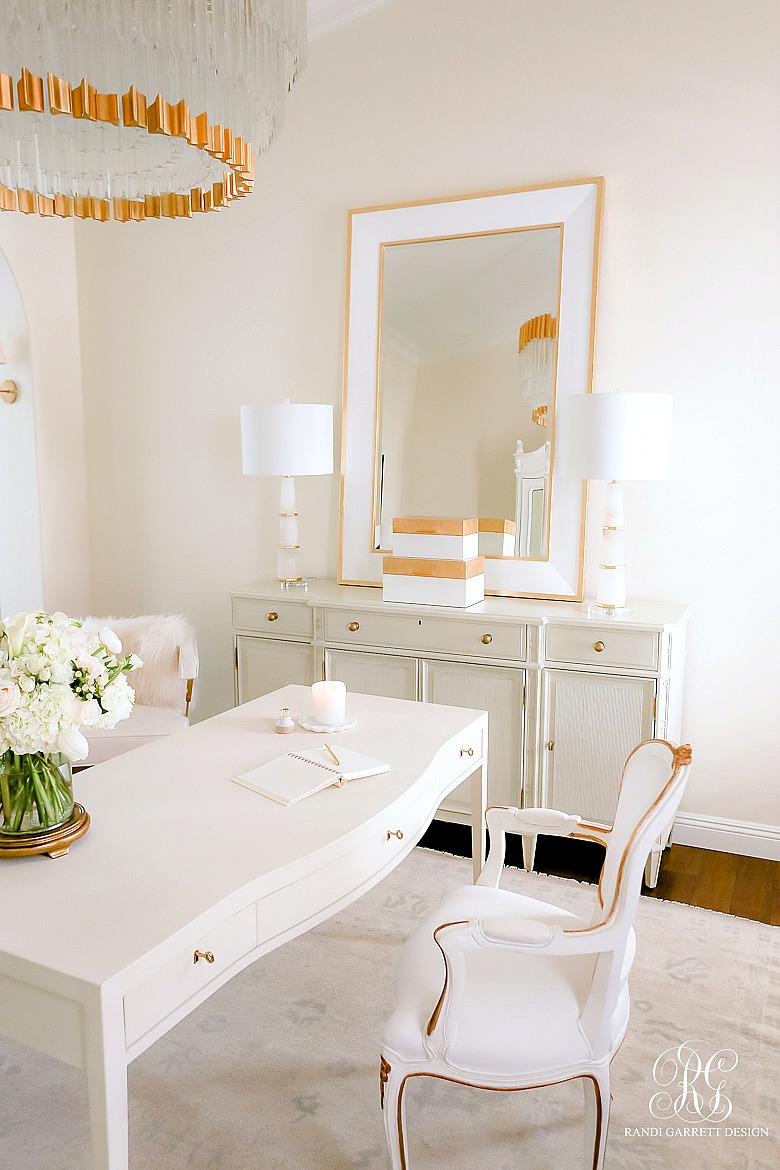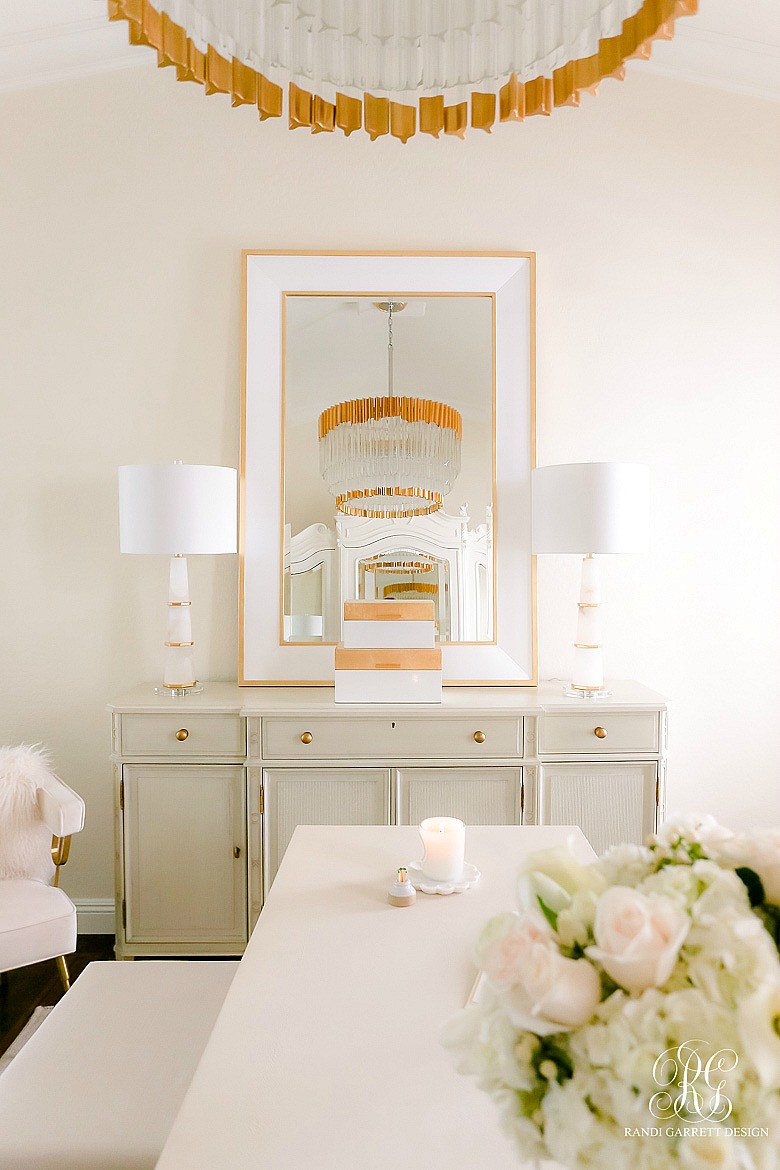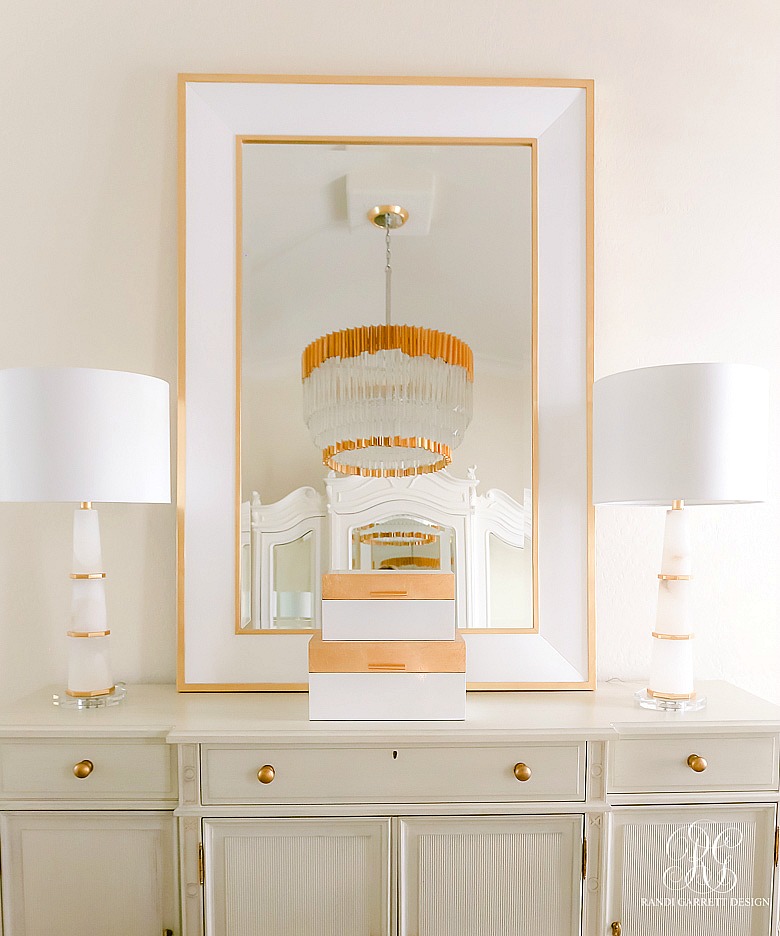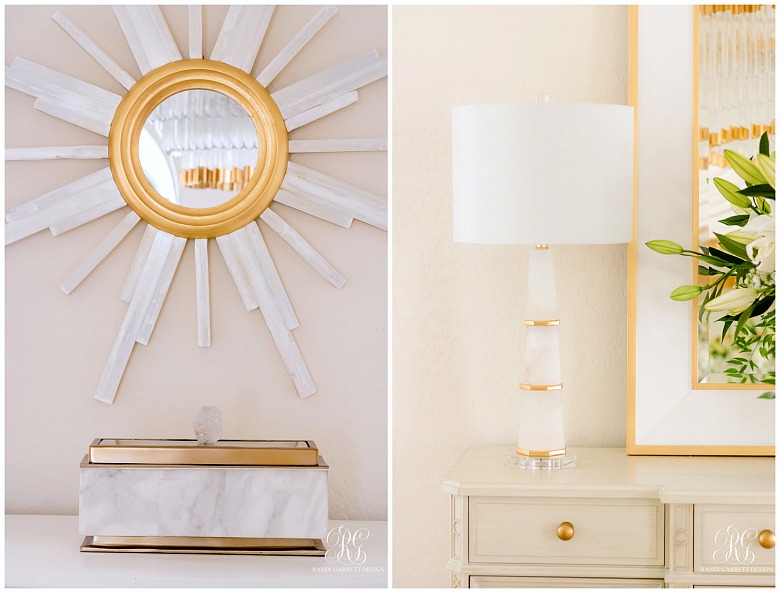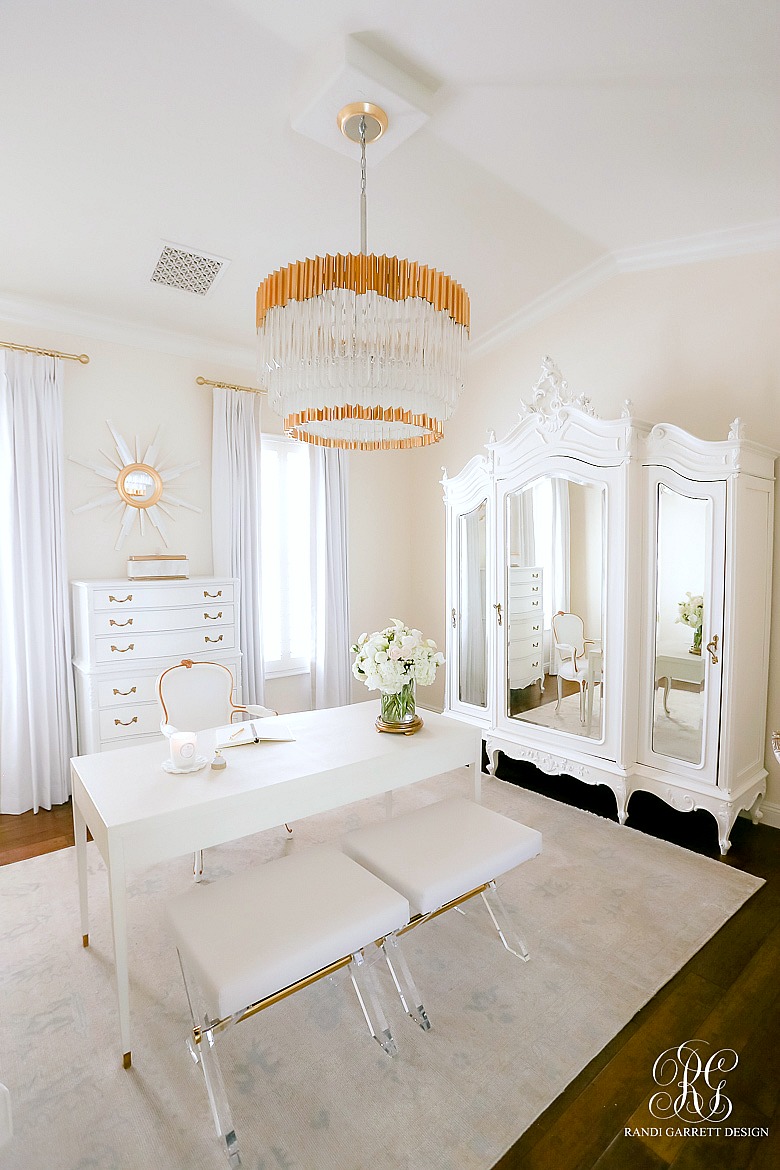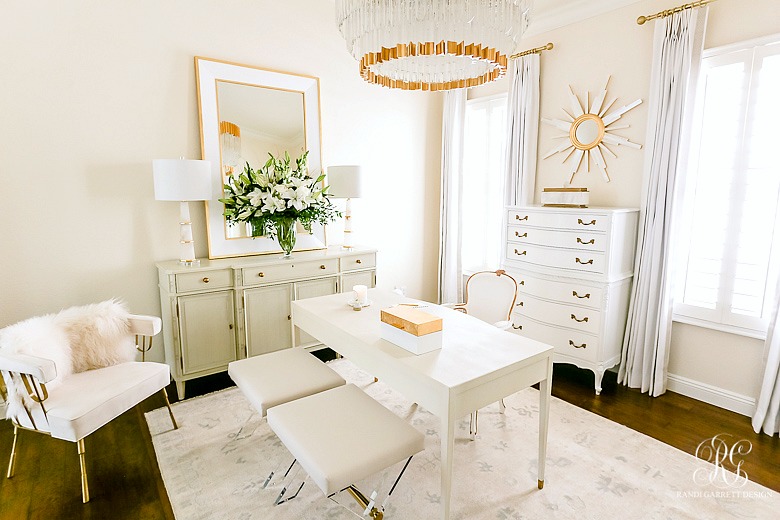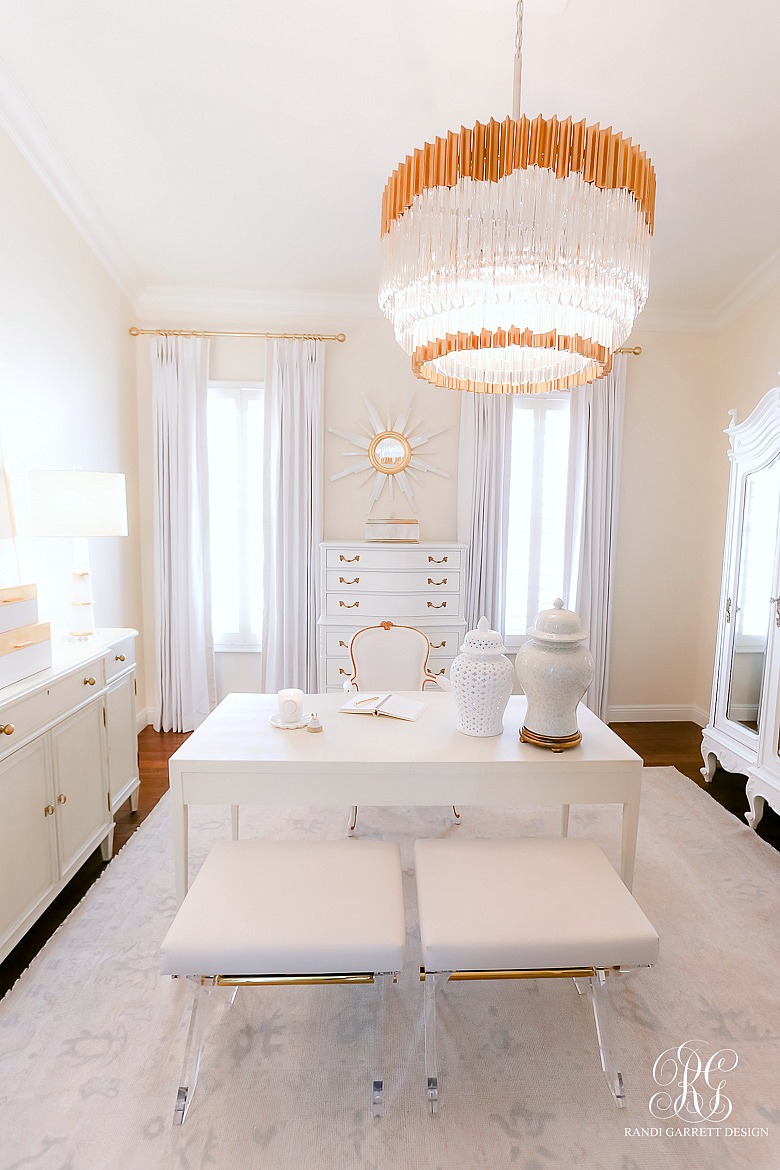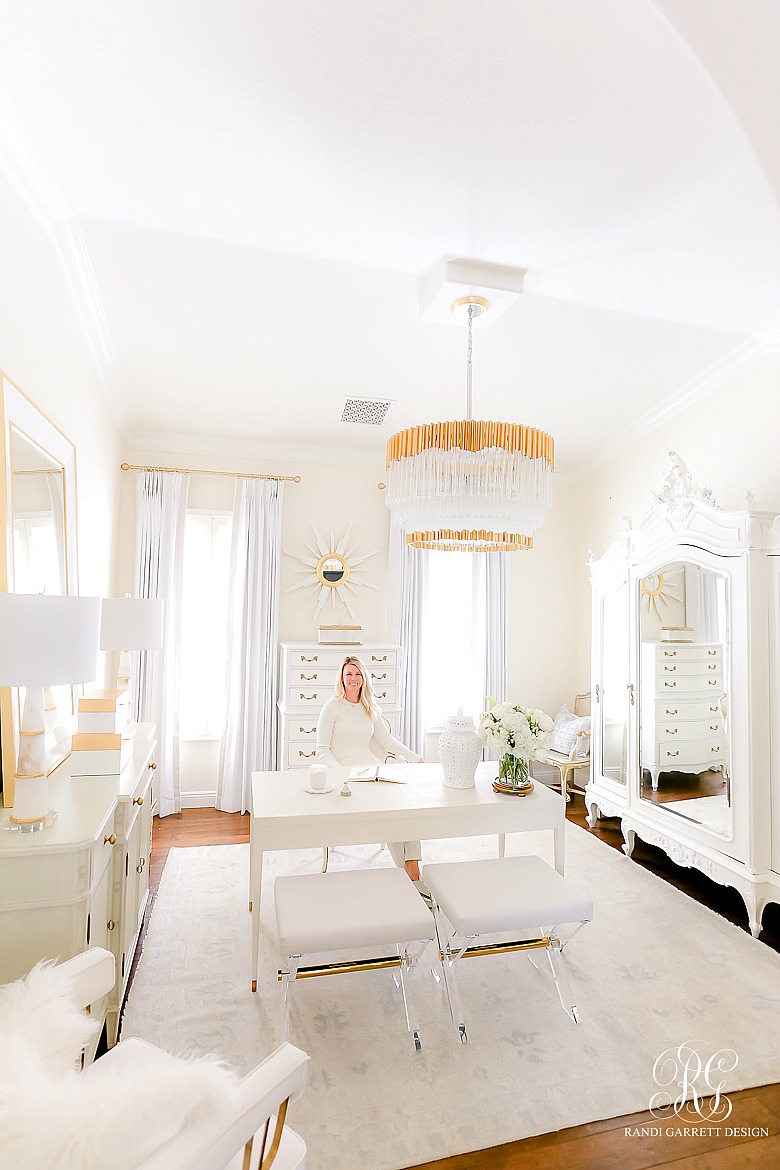 Cream Sweater | Cream Jeans | Cream Mules | Similar Mules


I kept a few pieces in the room that I absolutely loved. Our french dresser and french armoire got a fresh coat of white paint. This made the room feel so much lighter, brighter and so much bigger!
Here is a source list of everything else in the room…


Drapery, Rods and Rings – Willow Bloom
Desk | similar
Dresser – vintage | similar
Armoire – vintage | similar
Large Cabinet | similar
I hope this inspires you in some way to create a beautiful room for you to work or create in your home!