*This post contains affiliate links. Read my full disclosure here.
You can't think of Spring without day dreaming about vibrant, lush flowers! The earth awakening with such beautiful new life at every turn, makes me giddy with happiness! Capturing some of that beauty and bringing it indoors is just one of the ways I love to welcome Spring into our home. Today, I am sharing some simple and oh so gorgeous fresh and faux floral arrangements you can use to make your home come to life this Spring!
I'm also joining a few blogging friends today, who are also sharing some Spring ideas in a special tour called – Styled for the Season. If you have come over from my friend Alicia's blog, Alicia Wood Lifestyle, welcome! I love the vibrant blue and hot pink Alicia uses in her gorgeous Dallas home! Here I share tips for living life in style and I hope you stop in often! You can sign up for my newsletter here to see when I share new content.
Spring Floral Arrangements using Fresh or Faux Florals
If you are new here, you won't know the love I have for faux florals! You've  so many amazing options at your fingertips these days! I'm sharing some of my favorite faux that will make your florist do a double take! Using faux florals has many perks. They last for years, require very little to maintain and they will save you a lot of money over time!
I'm going to share some faux arrangements, fresh and faux arrangements mixed together and real floral arrangements. Take a look at some of of my favorite Spring florals!
Faux Arrangements
Faux floral arrangements can look absolutely stunning if you choose high quality florals. I have a whole page of my favorite faux florals here.
Here are some of my favorite faux florals around our home for Spring.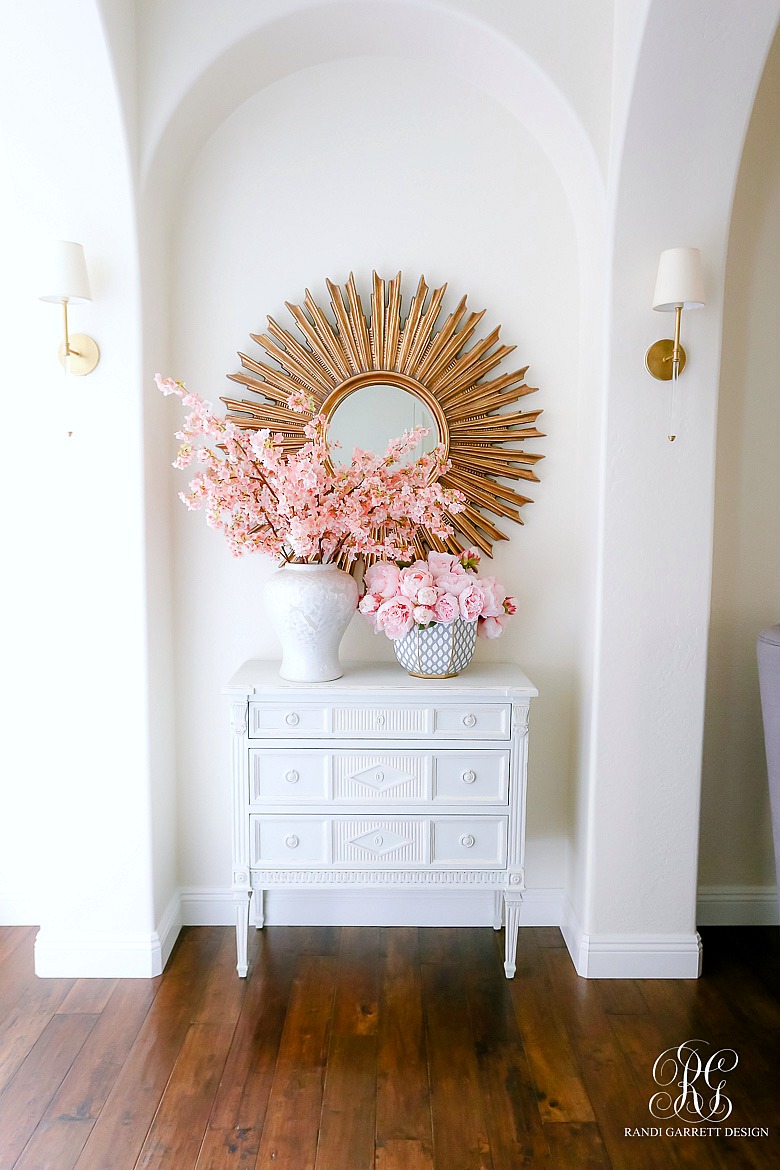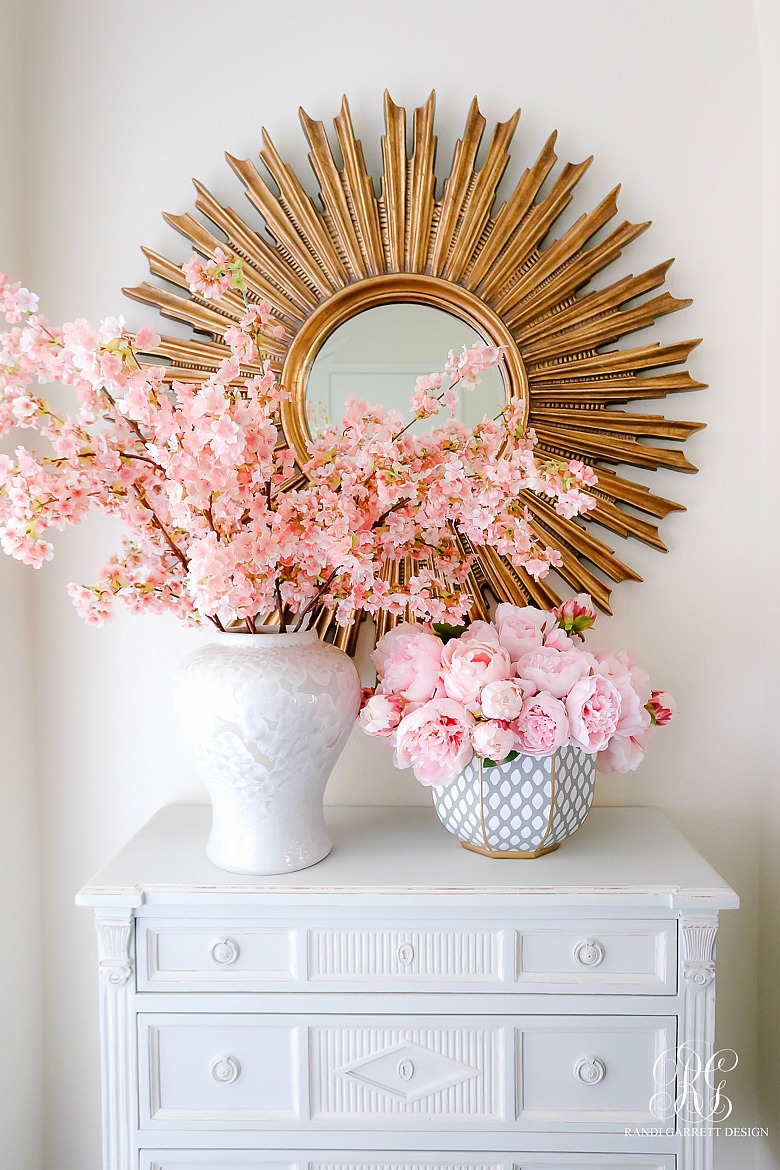 Cherry blossoms are a quintessential flower for Spring! These pink ones are my absolute favorite! I have had them for 3 years and love using them for Spring and Summer. They also come in white, which are also amazing! I have 9 stems in the arrangements above.
There are 7 bunches of peonies in this vase. I have 3 of these pink peonies and 3 of these pink peony bunches. Mixing the bunches make the flowers look even more real. Natural flowers vary in shape and color, so your faux should as well.

Pink Cherry Blossoms | Pink Peonies (I used 3 of these) | Pink Peonies (and 3 of these to create the arrangements) | White Ginger Jar | Gray White and Gold Vase | Gold Sunburst Mirror | Chest of Drawers (Similar)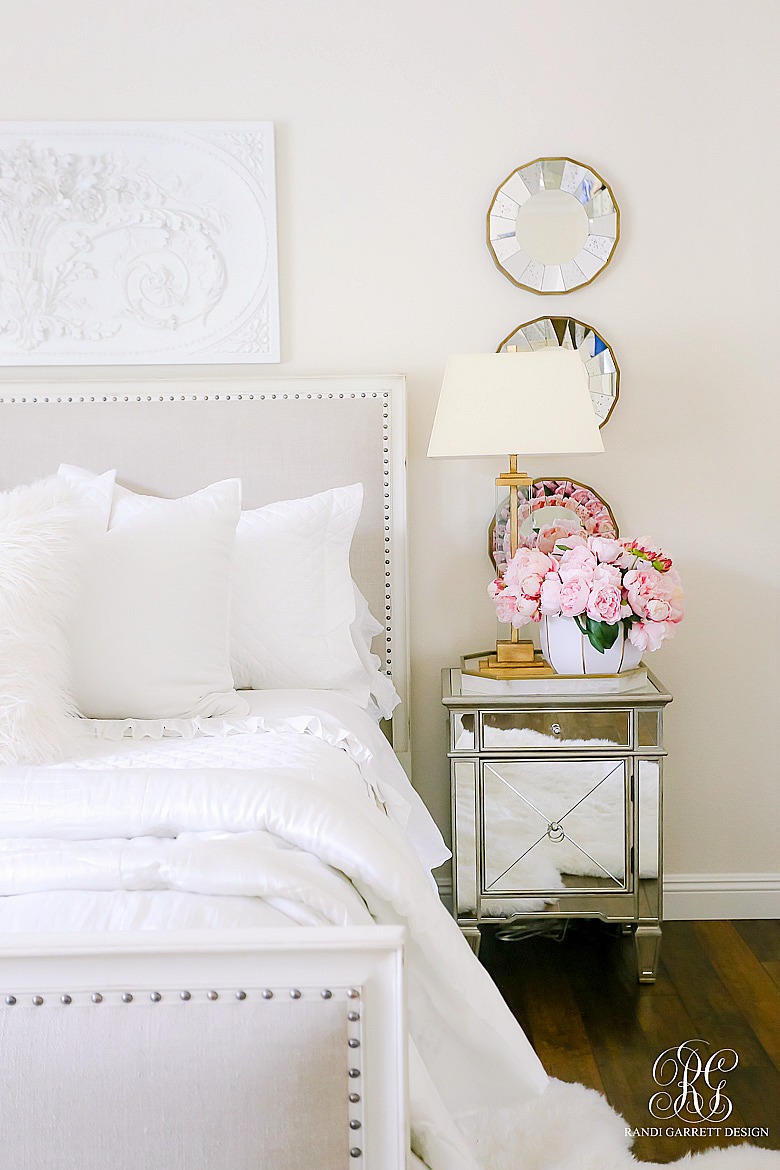 Pink Peonies | Pink Peonies | White Gold Vase | Gold Lamp | Mirrored Nightstand | Bed | Diamond Euro Sham | Diamond Linen Quilt | Ruffle Sheets | Satin Quilt | Satin Euro Sham | Mongolian Fur Euro Sham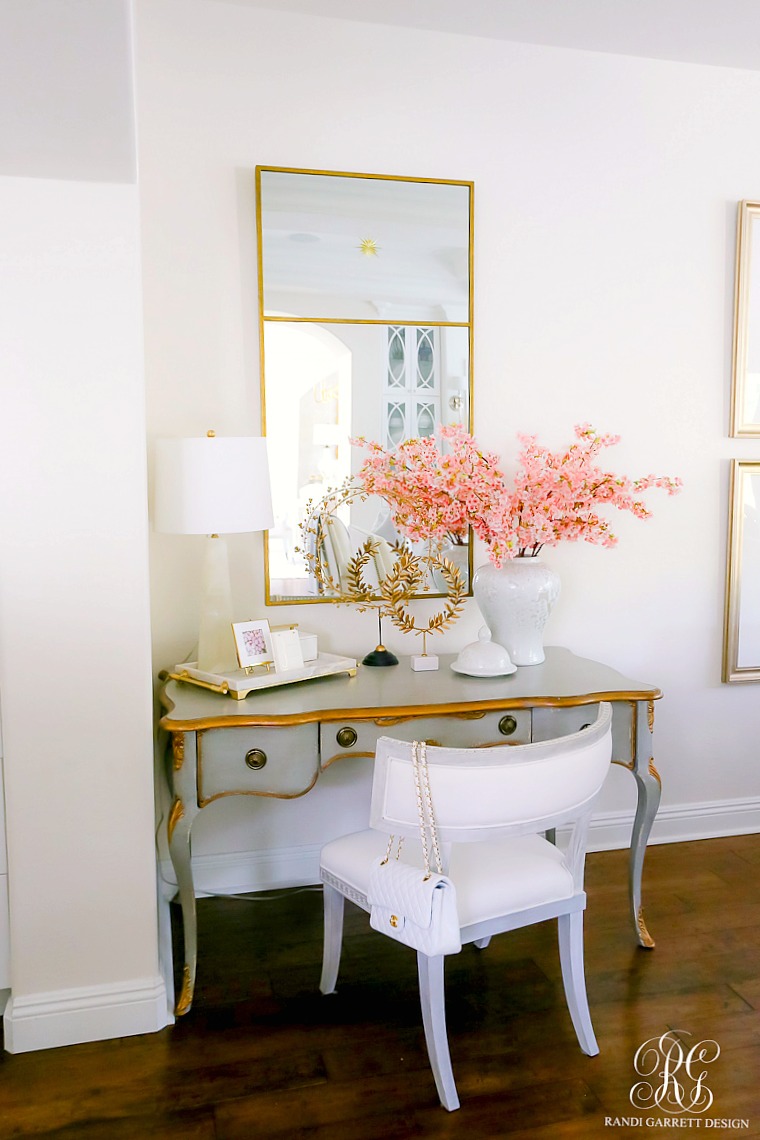 Pink Cherry Blossoms | White Ginger Jar | Laurel Wreath | Mini Laurel Wreath | Desk | Chair | Mirror | Lamp | Tray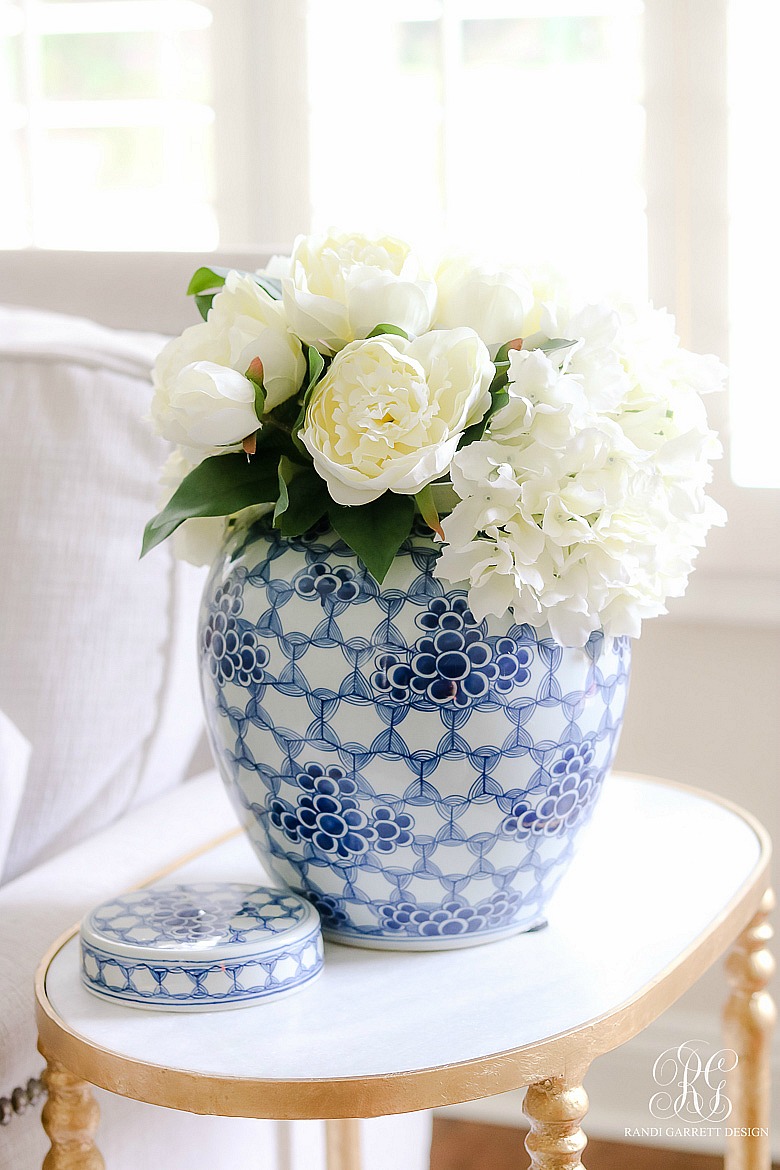 Ginger Jar | White Peonies | Hydrangea | Marble Table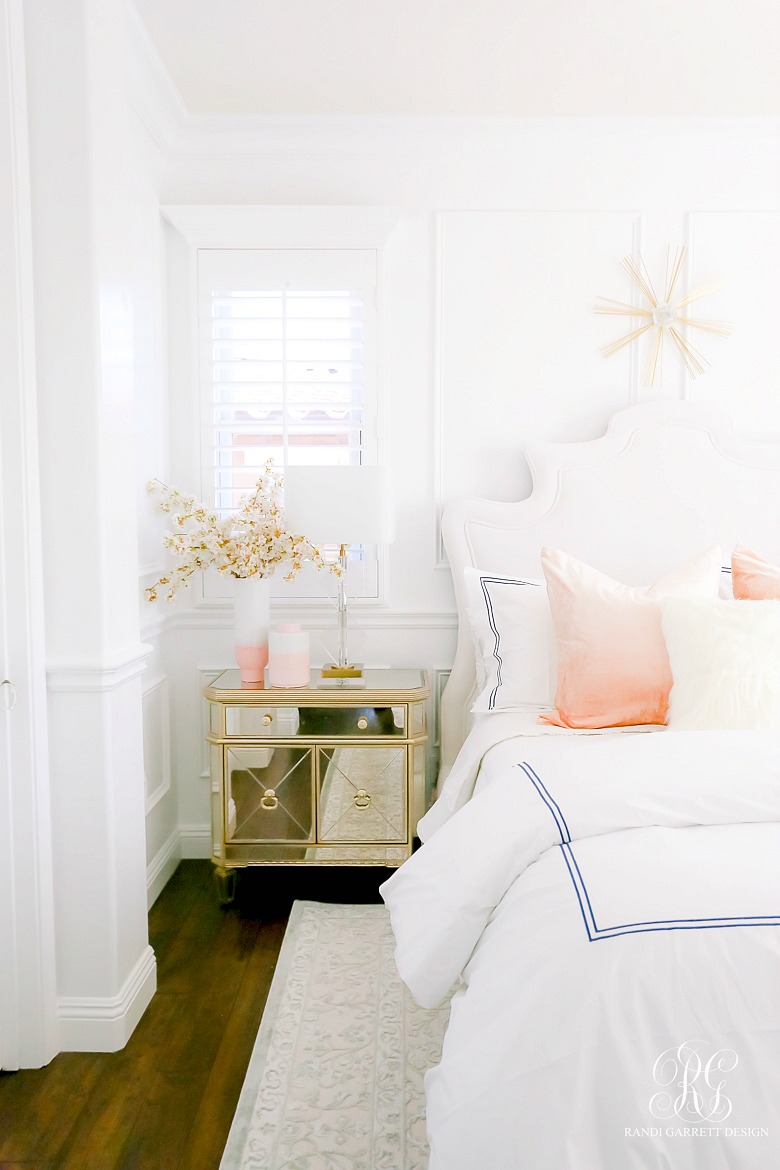 White Cherry Blossoms | Room Sources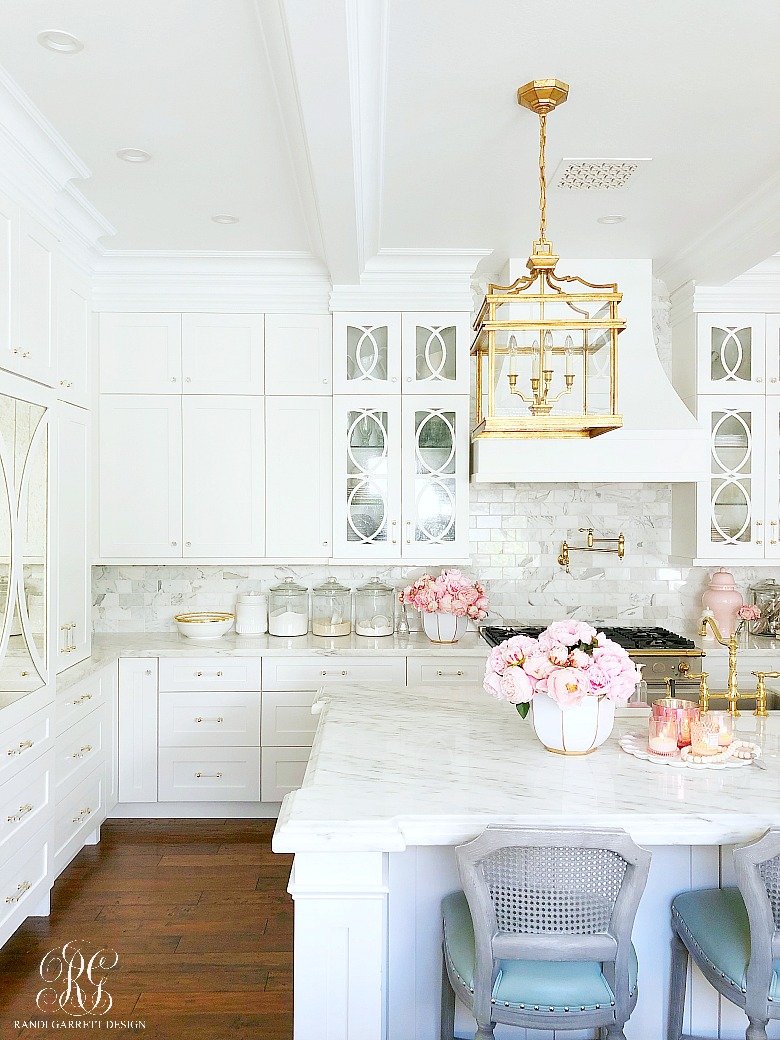 Peonies | Peonies | White Gold Vase | Marble Petal Tray | Gold Lantern | Kitchen Detail + Sources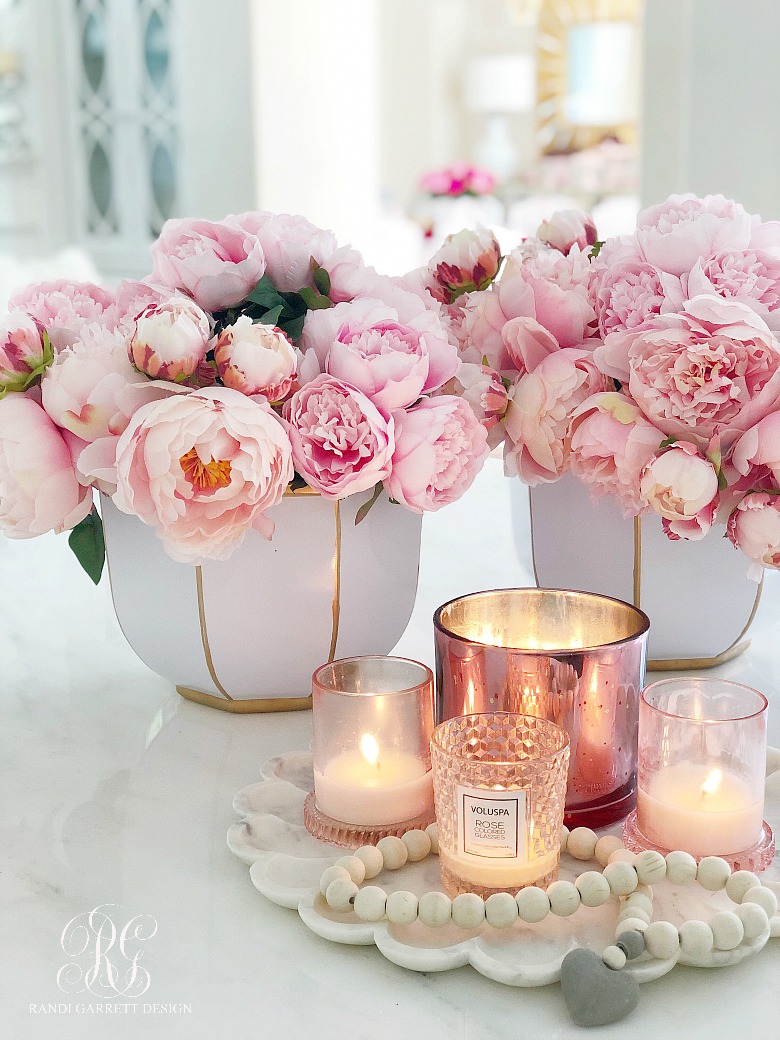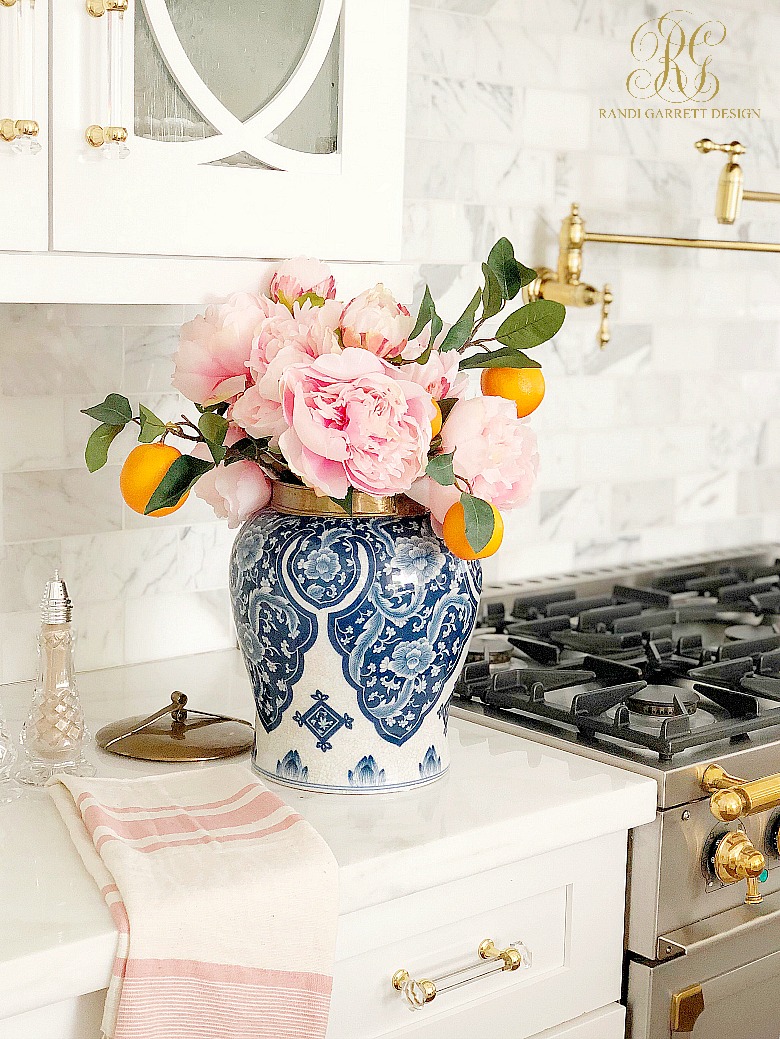 Peonies | Faux Orange Branches | Ginger Jar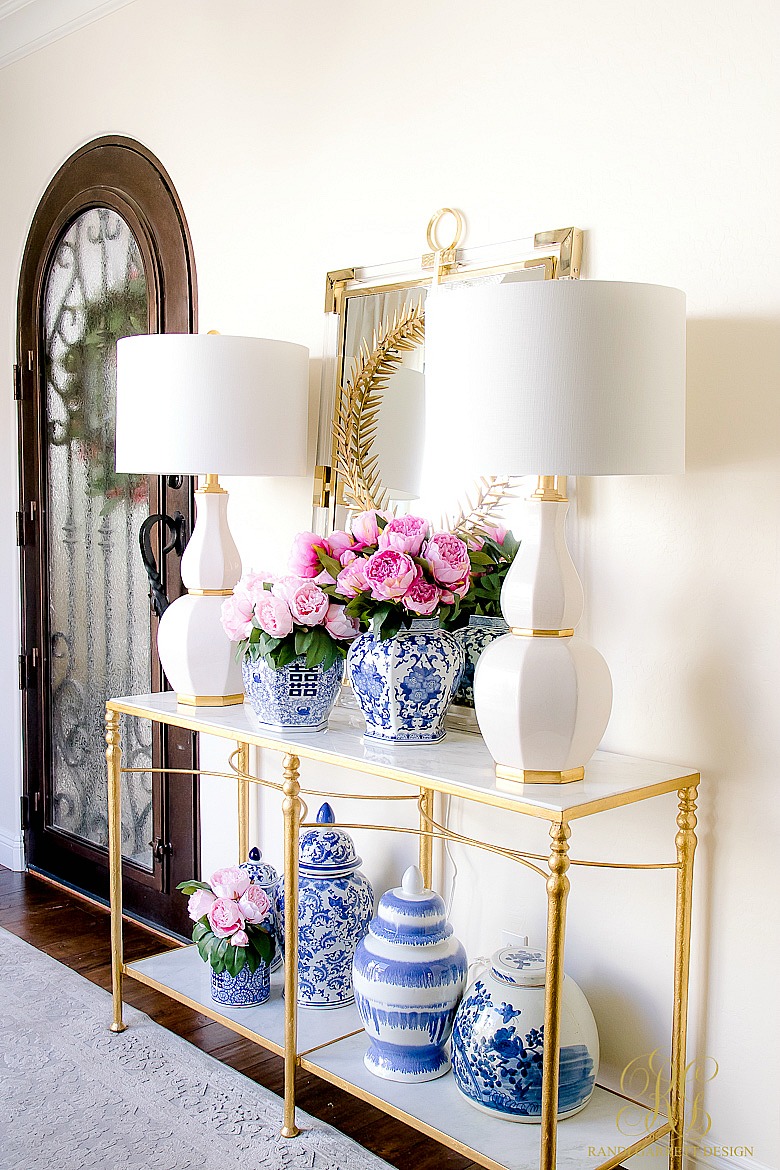 Hot Pink Peonies | Light Pink Peonies | Ginger Jars | Room Sources 


Faux mixed with Fresh Arrangements
When you mix fresh florals with faux, it tricks the eye into thinking that the flowers are all real! Try mixing fresh and faux arrangements this Spring to get more bang for your buck!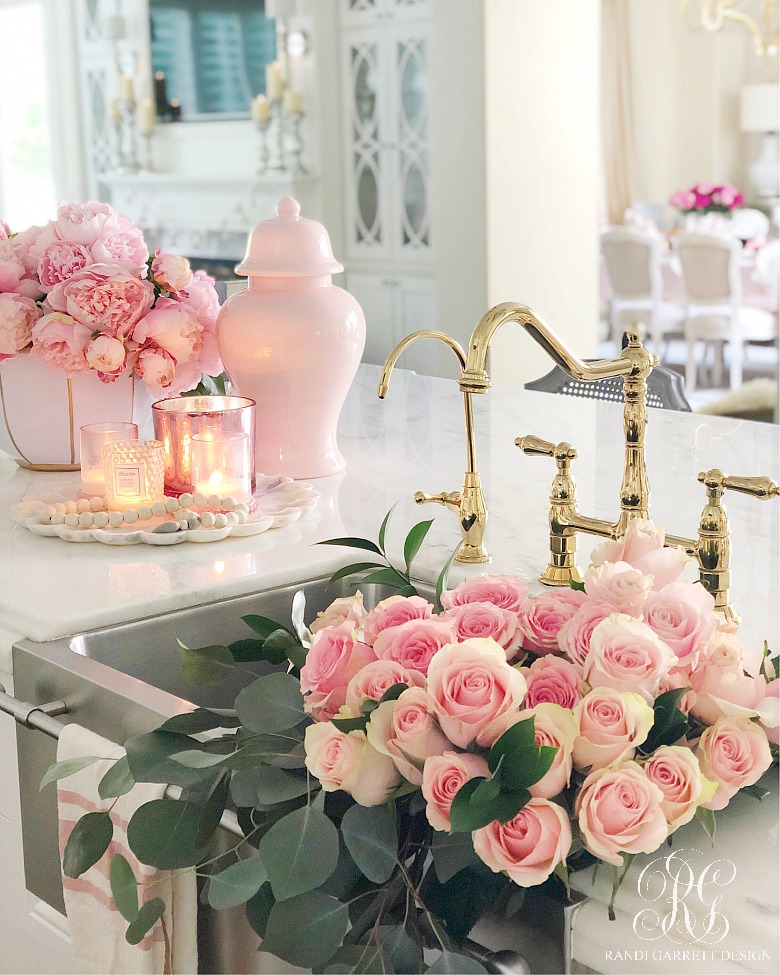 Peonies are Faux – Roses are real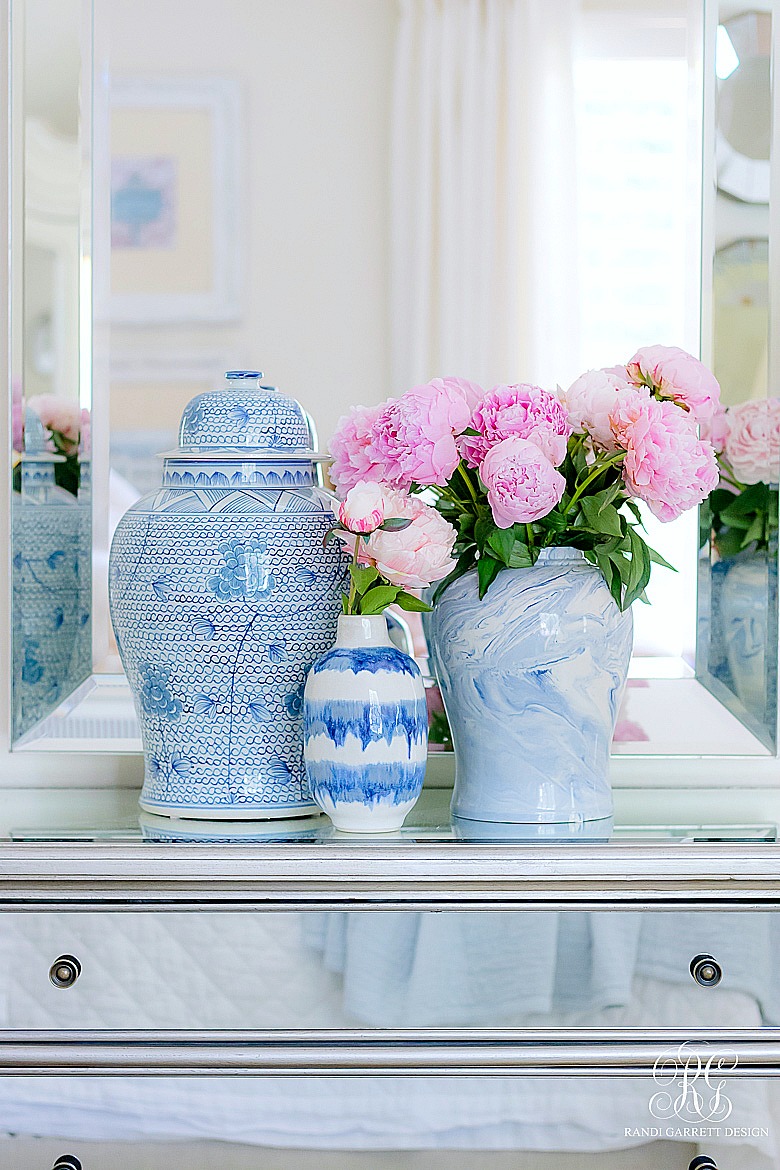 Peonies in ginger jar are real | Peonies in small vase are faux – shop ginger jars here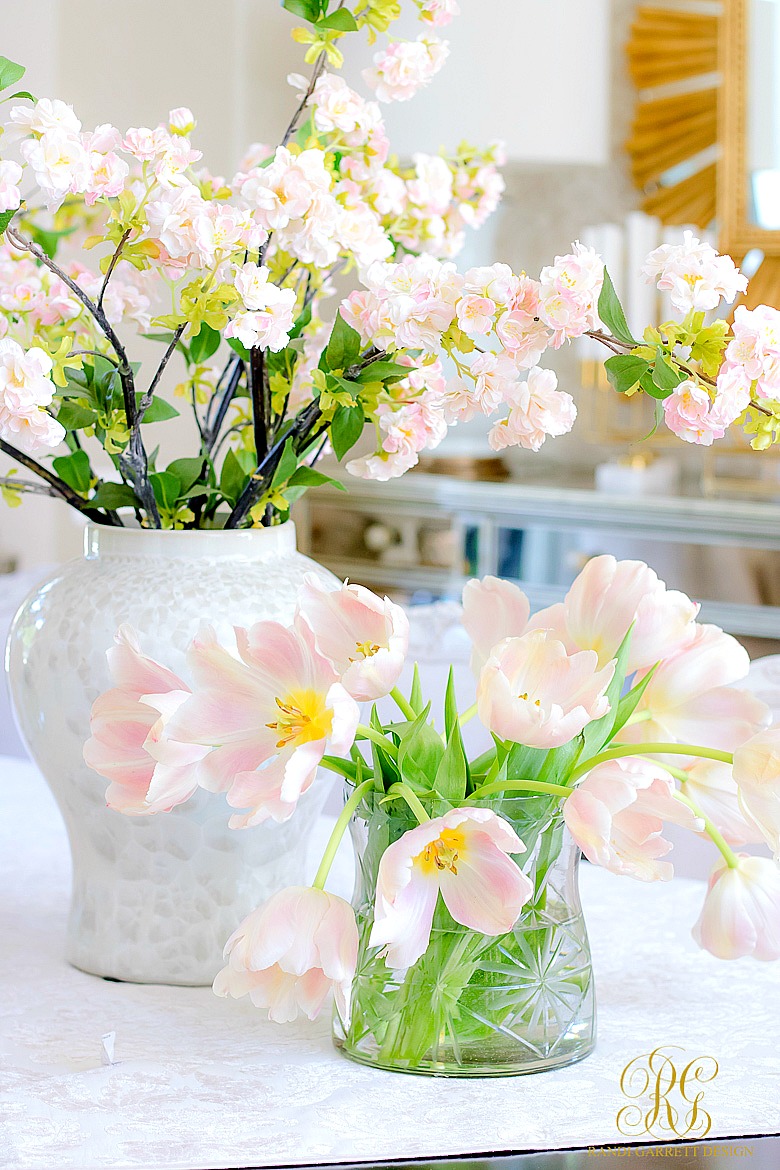 Cherry blossoms are faux | Tulips are real
Fresh Arrangements
Fresh florals are always a favorite of mine. Having something alive and so beautiful in my home really gives me a lift. You can get roses year round at your local grocery store. With each changing season, you can select a fresh bunch for $20 or less.
I love to grab a few bunches and play with different color combinations in my shopping cart!
Here are a few simple arrangements I have made for our home to help welcome Spring.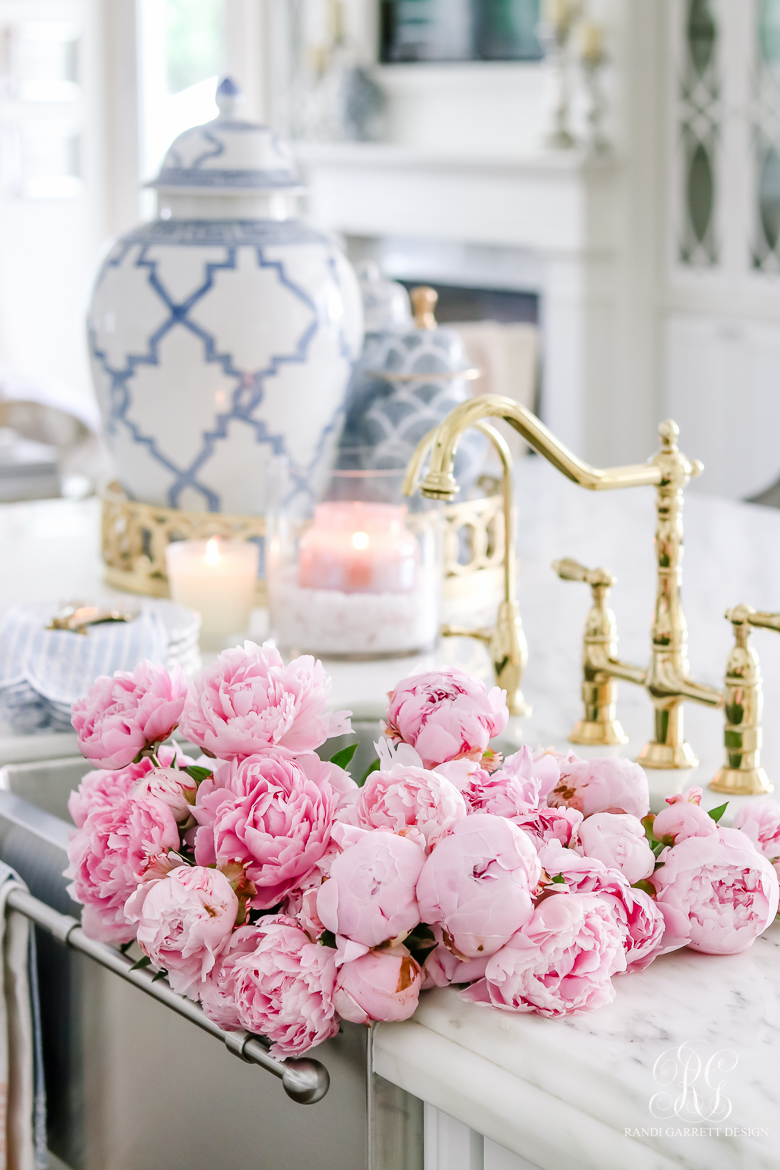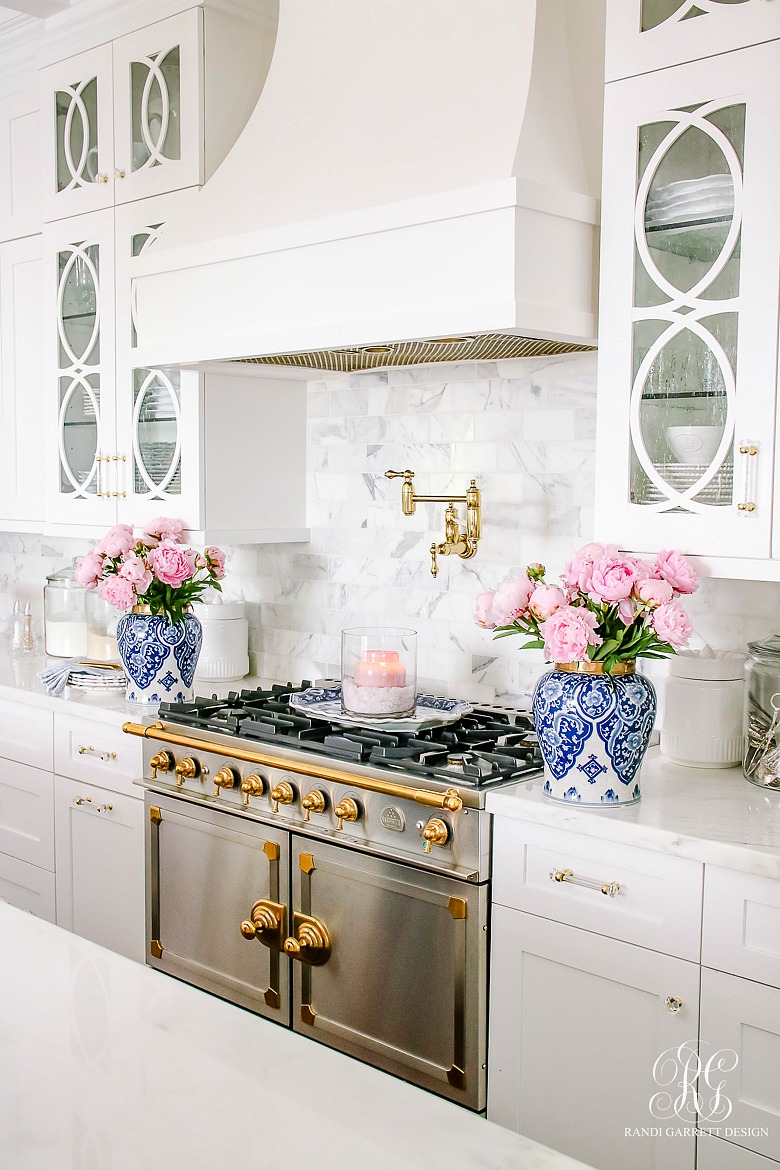 Let your flowers soak in the sink until you have time to arrange them. This is always my favorite way to admire them.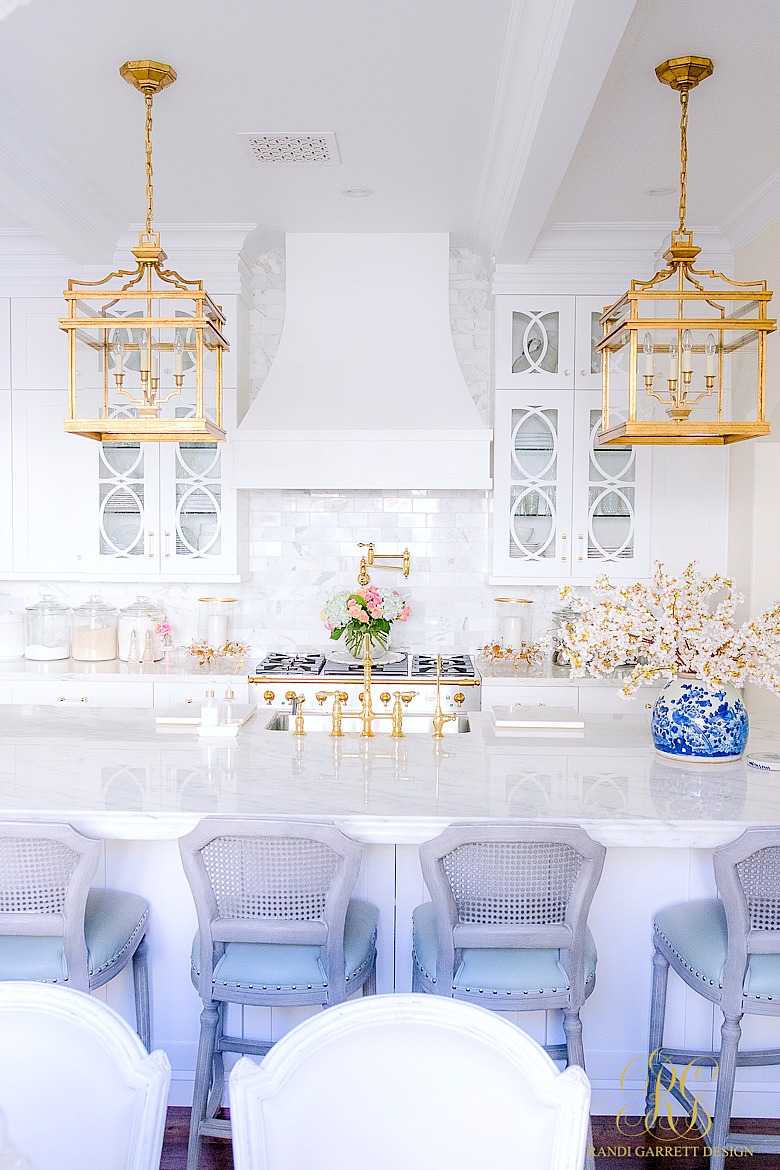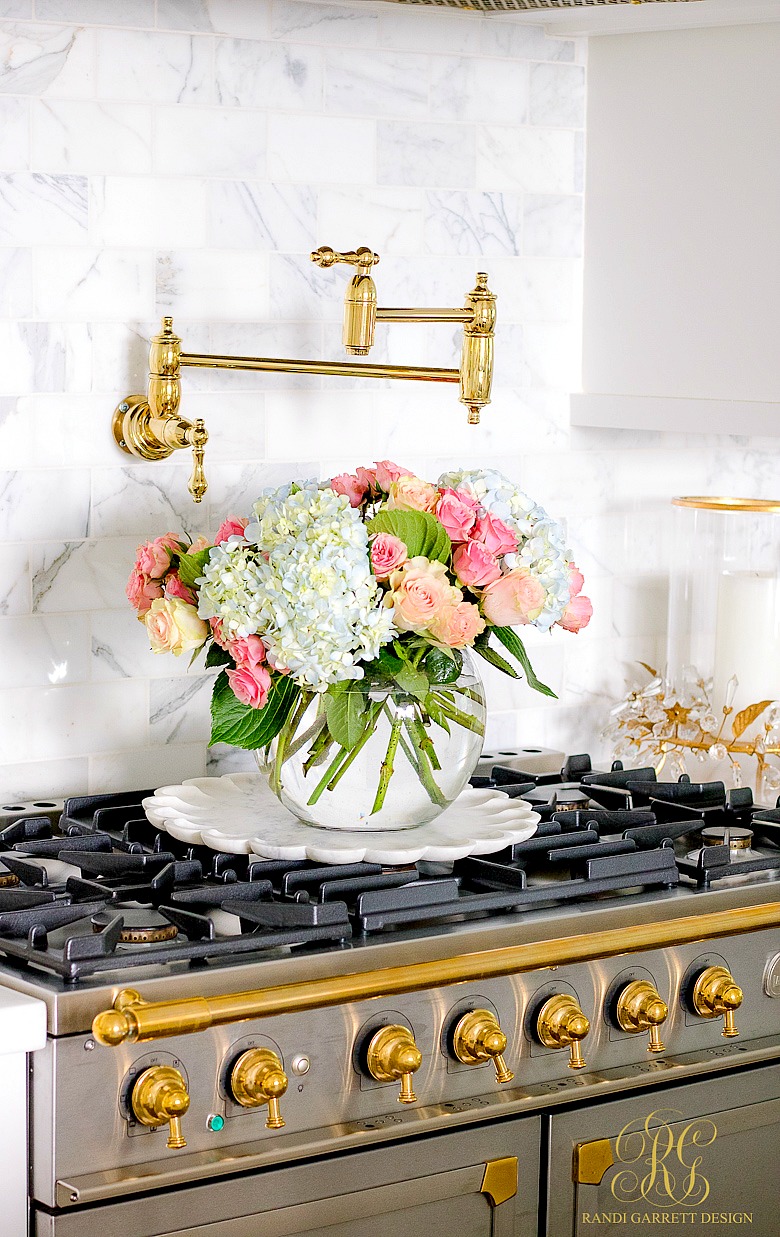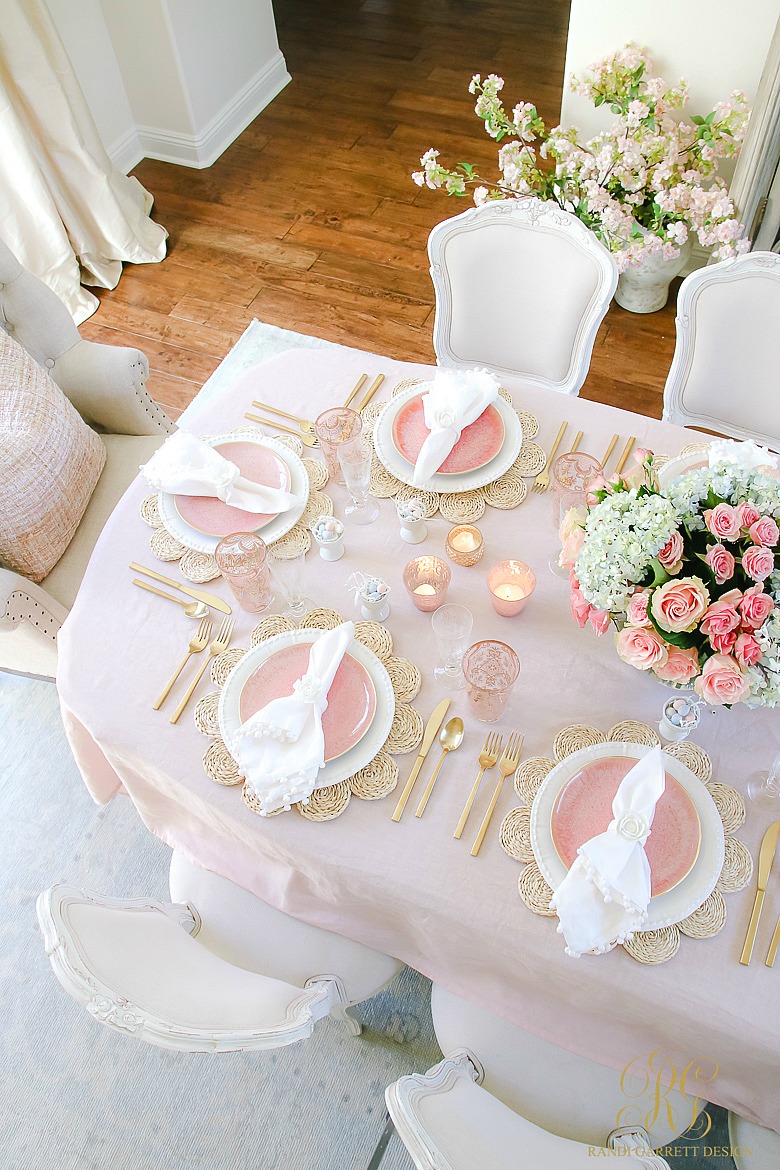 Here I mixed some blue hydrangeas with a couple of bunches of roses in varying shades. So simple, but so incredible gorgeous. I used them on our Easter table then displayed them in the kitchen afterwards.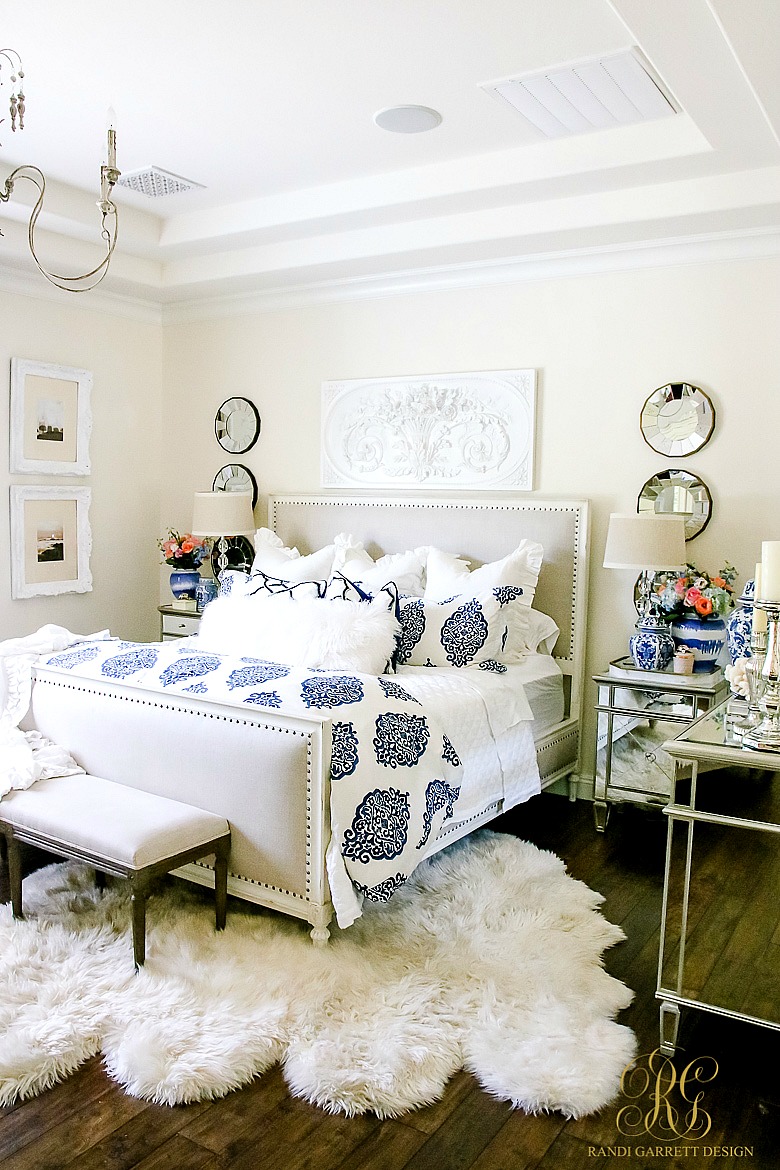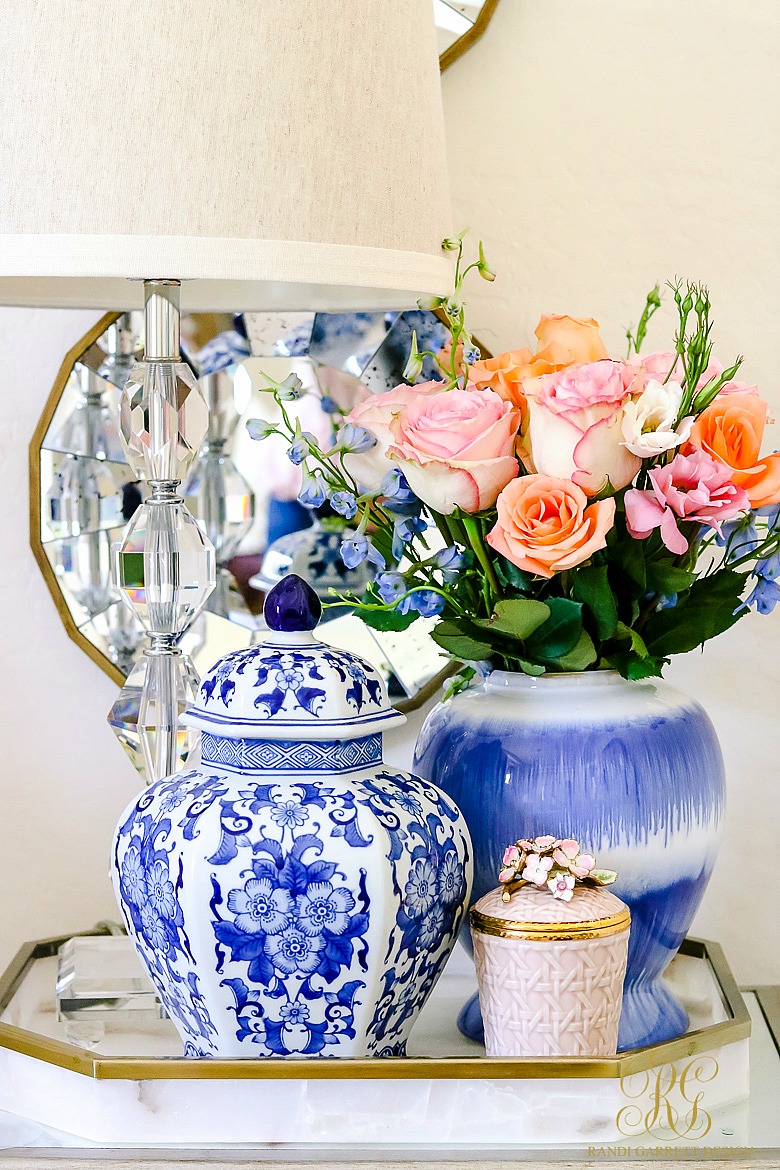 I had fun playing with color for  these cheery arrangements. Mix roses with stock and lisianthus. Ginger jars are my favorite vase to use to arrange my flowers if you haven't guessed! Get the sources for all the bedding here.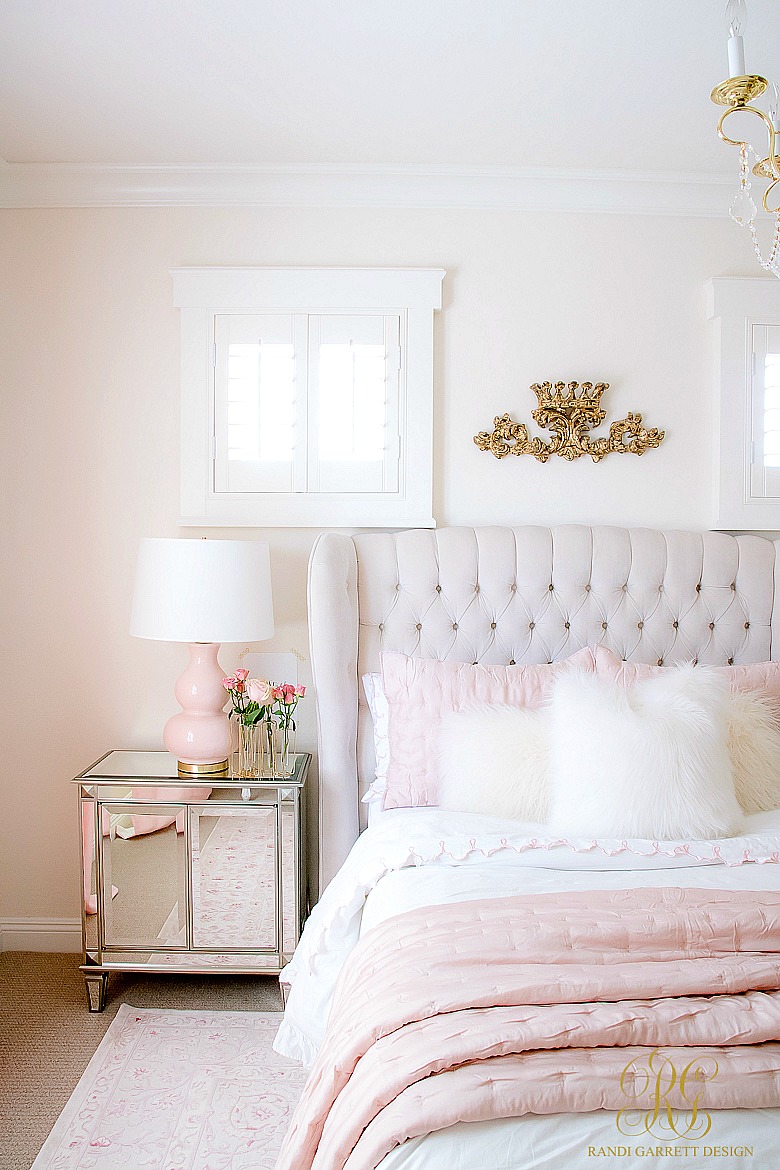 Use a bud vase to display your favorite flower. I love this bud vase!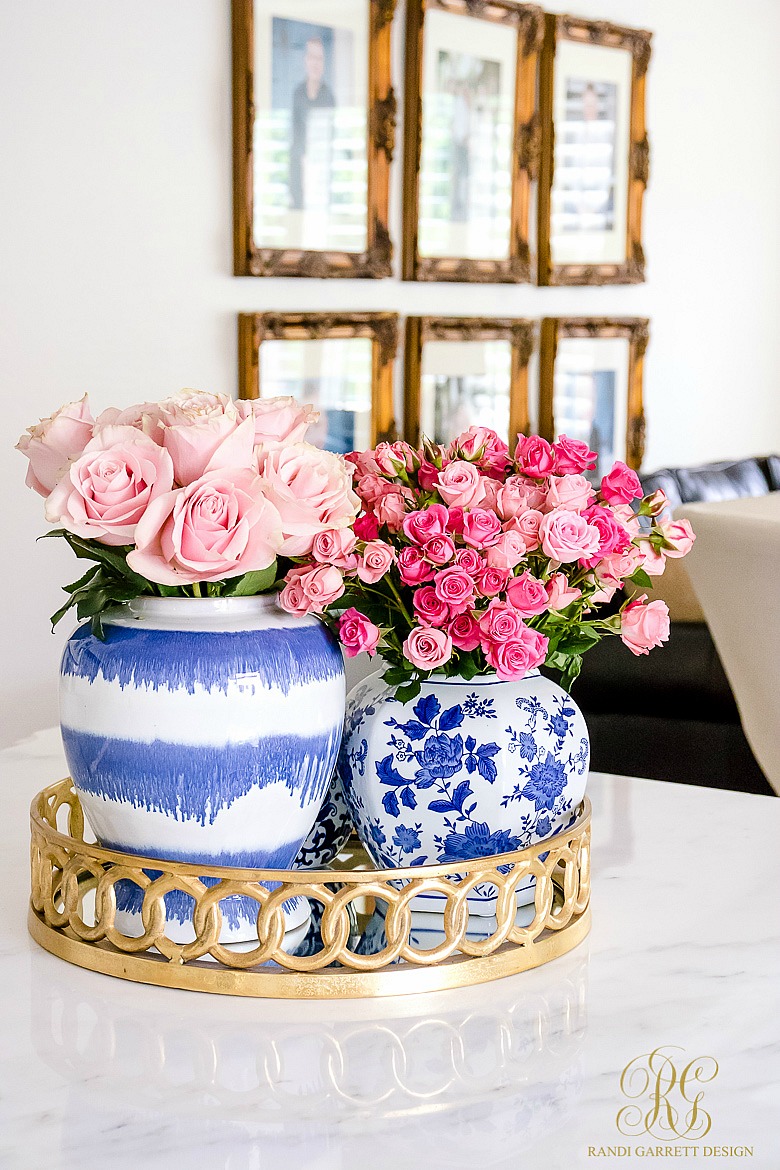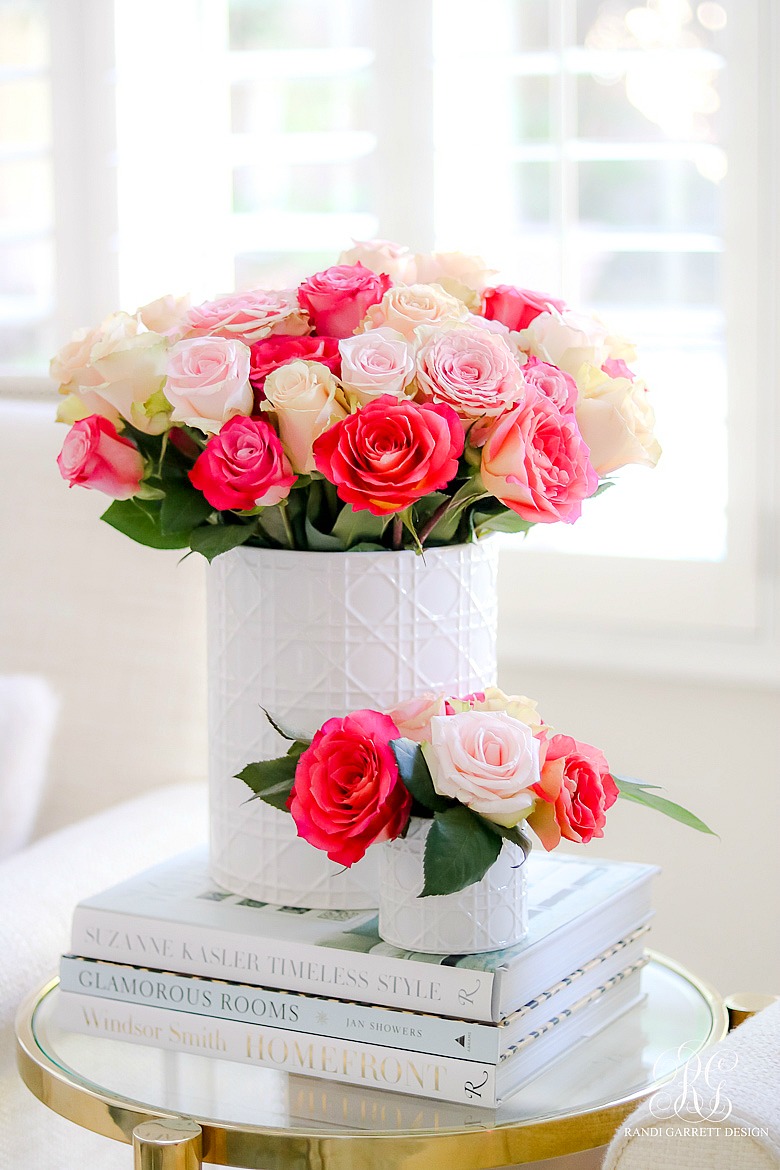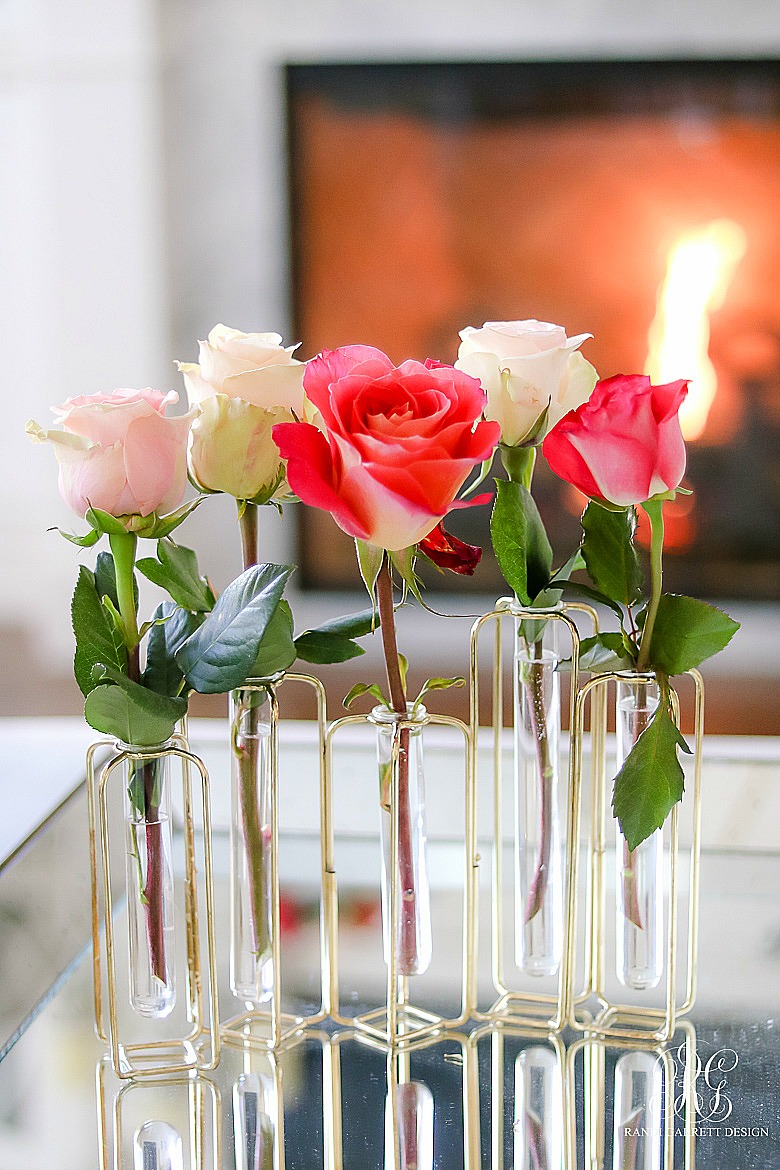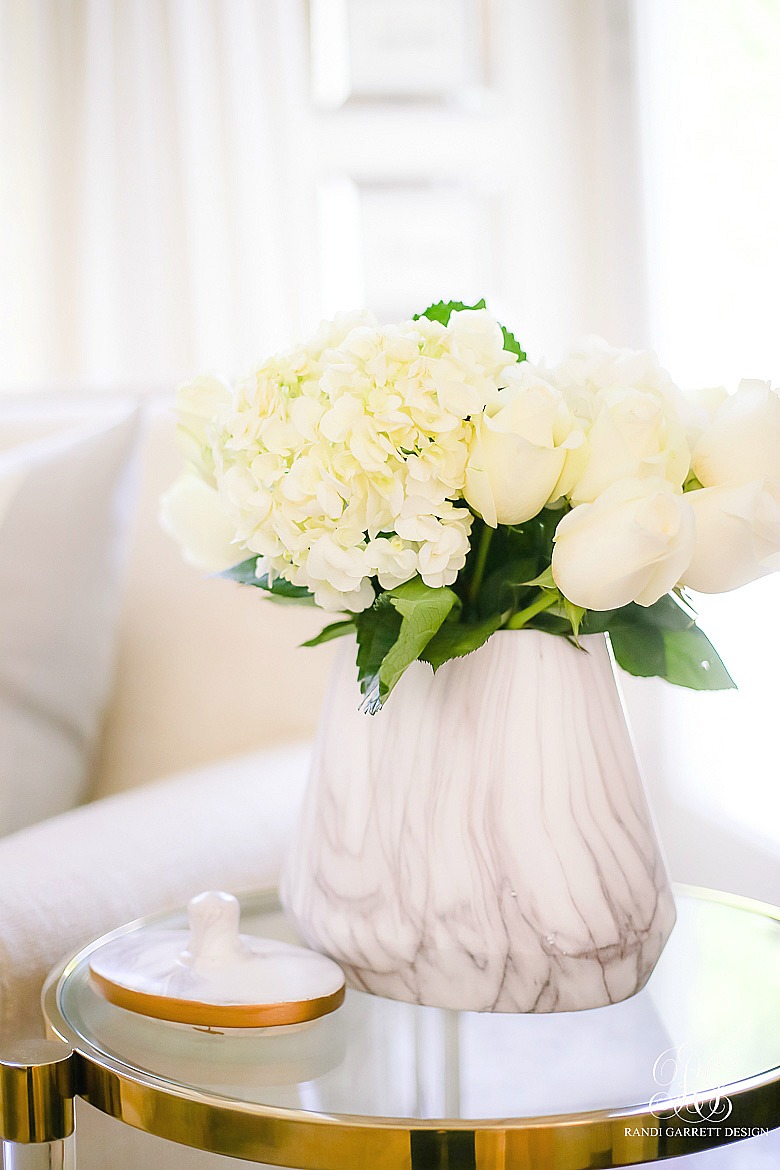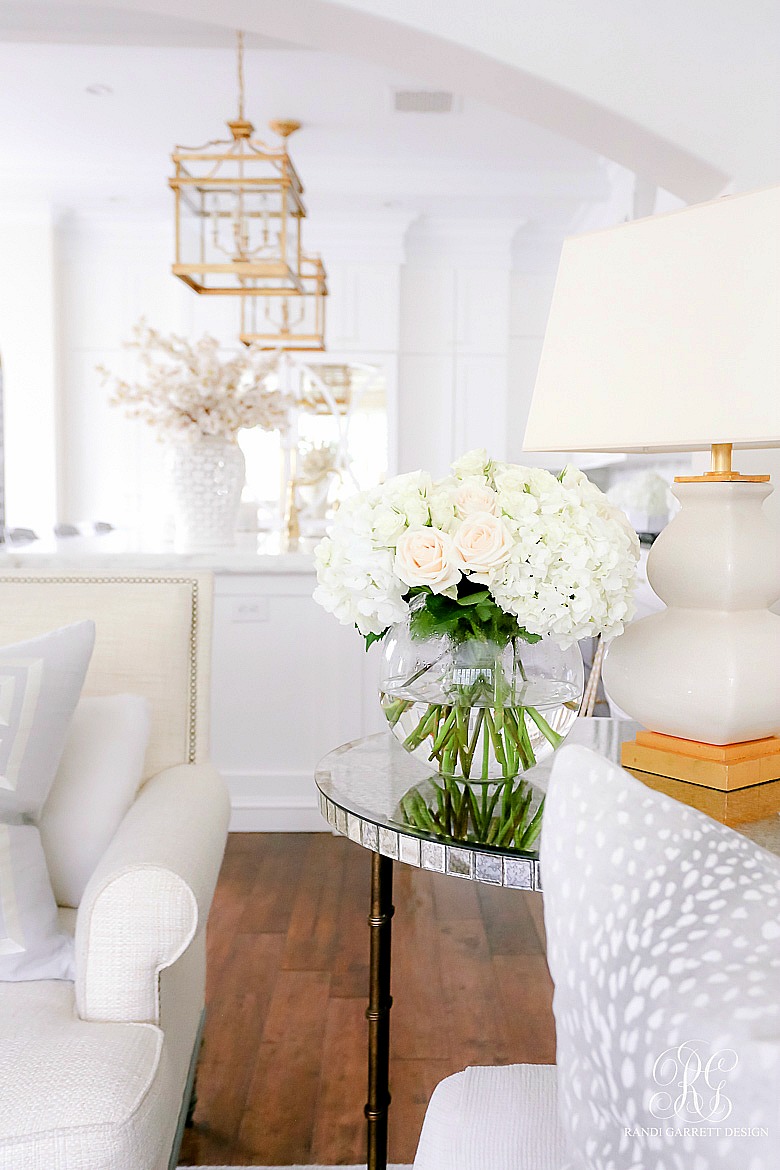 White roses paired with white hydrangea are my favorite match! Use a bubble jar to keep the arrangement simply elegant.
I hope that these florals help inspire your Spring home this year! Next visit my friend Bree from Z Design at Home for more Spring decor ideas.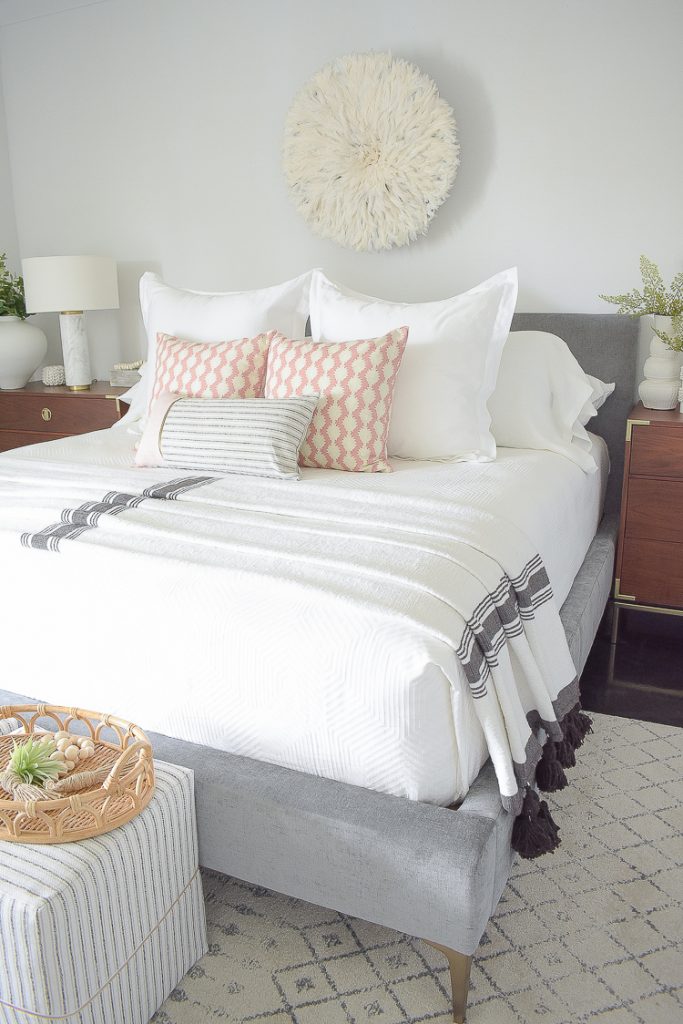 The rest of the tour is as follows