*This post contains affiliate links for your convenience. Click here to read my full disclosure policy.
Spring!!! My favorite season for mainly one reason – FLOWERS!!! I love to watch the dreary world blossom and awaken with gorgeous flowers and fresh greenery at every turn. Bringing some of that beauty inside our home puts a spring in my step and makes me love being home.
With every new season, I share a seasonal home tour here on RGD. I share simple ways I like to decorate our home, in hopes of inspiring you to make your home a happier place to be throughout the whole year. These tours are my favorite posts of the year! Welcoming a new season into our home transforms it and brings the magic of that season into our lives in a richer way. I hope you enjoy this Spring Home Tour + styling tips and that it inspires you to make your home a haven for your family.
I have all the sources and tips for each room after each room is pictured. Simply click on the photo of the item you are interested in and it will take you to the source. Hopefully this helps you recreate the look in your own home!
Spring Home Tour + Styling Tips you Will Love 





Enteryway

For a major Spring punch, welcome guests into your home with a collection of blue and white ginger jars and an explosion of faux peonies! Grouping your pieces together make a huge statement! I gained my love for ginger jars from my mom. I started collecting mine a few years ago, and have loved welcoming new pieces to my collection. There is no rule to mixing them! The more pattern the better! Shape, size and pattern make them each unique and special. See more tips on how I like to style mine here.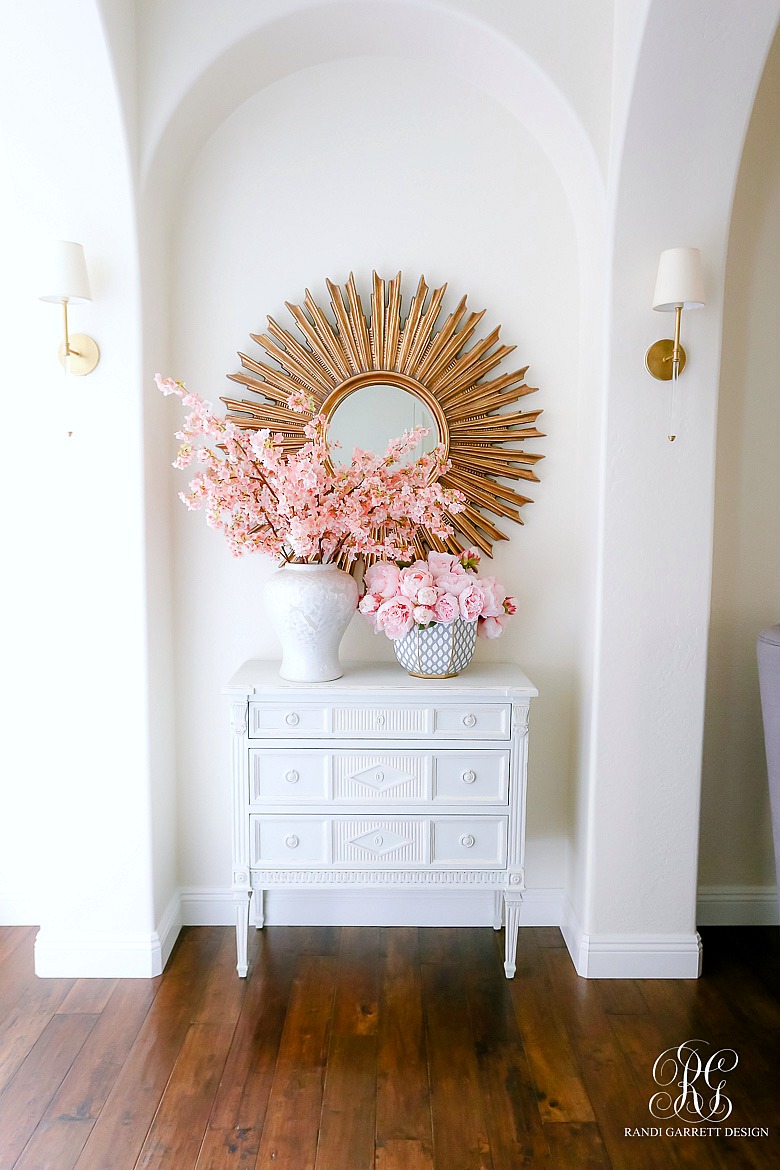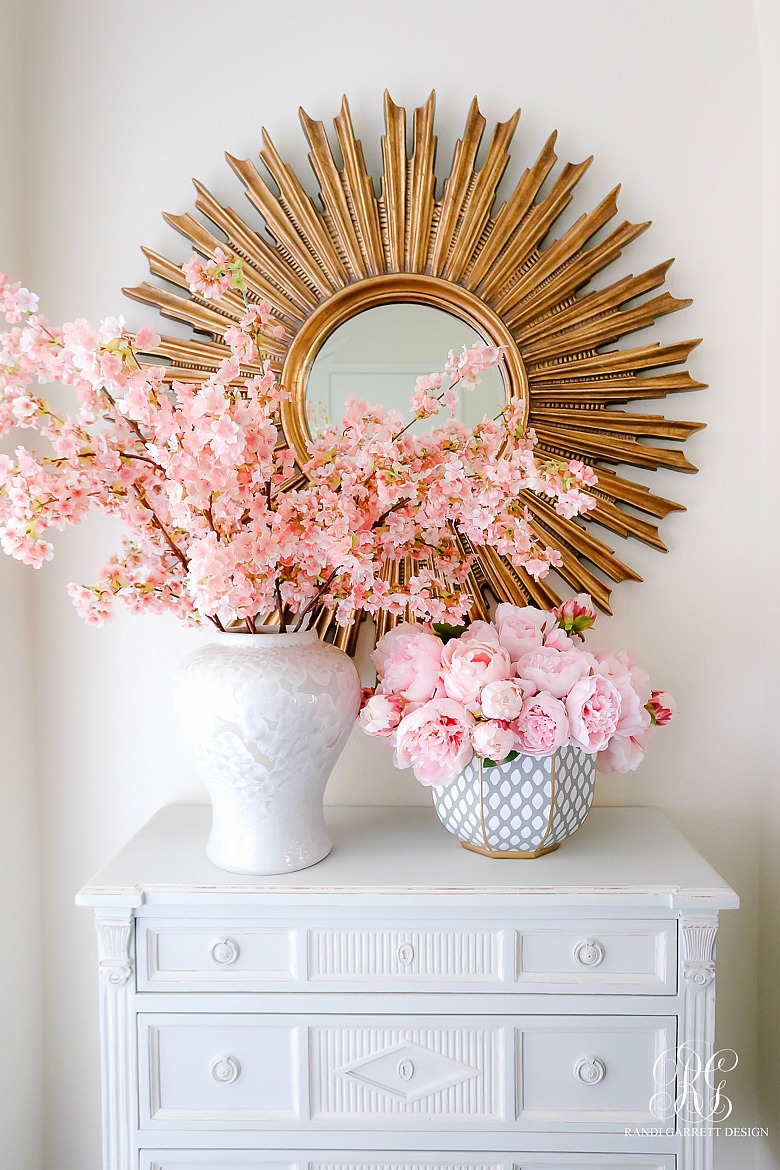 More faux florals in our entry nook bring a huge smile to my face every time I turn the corner! These faux cherry blossoms are my favorite way to add drama for Spring! They come in pink and white and I have tons of each. You won't find a better faux for the price! I like to use 9-12 stems per ginger jar for a powerful punch. 




Den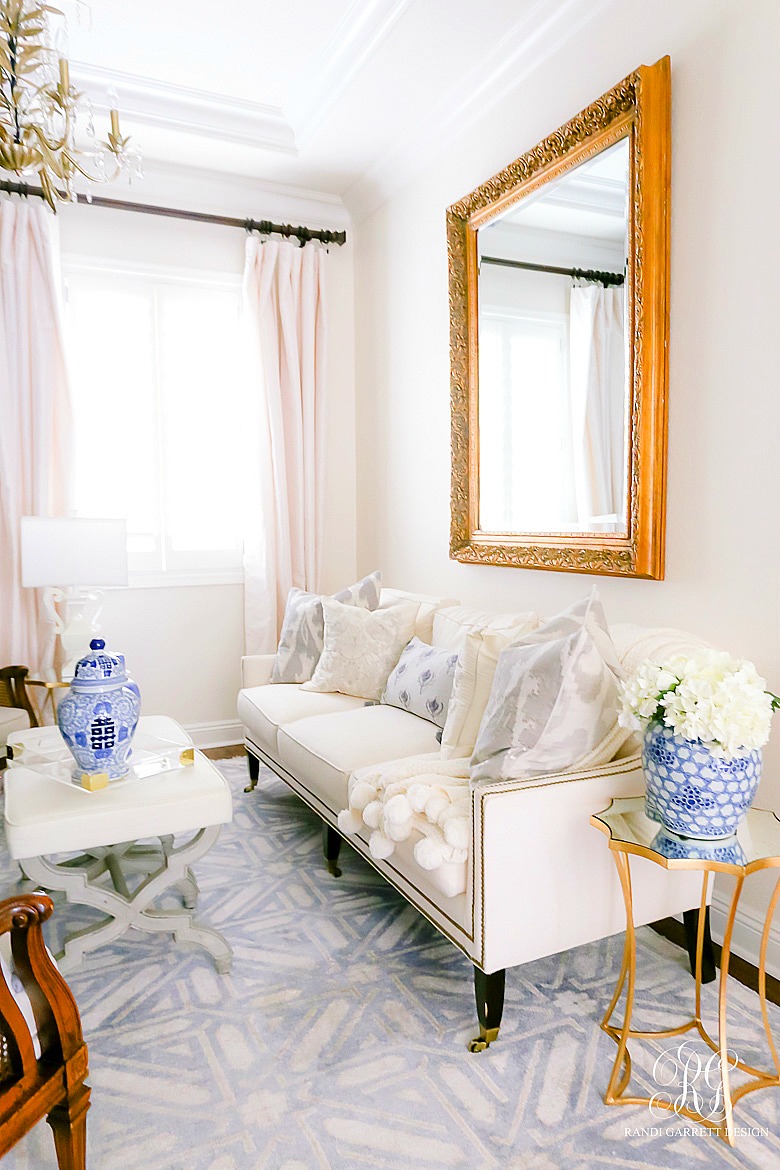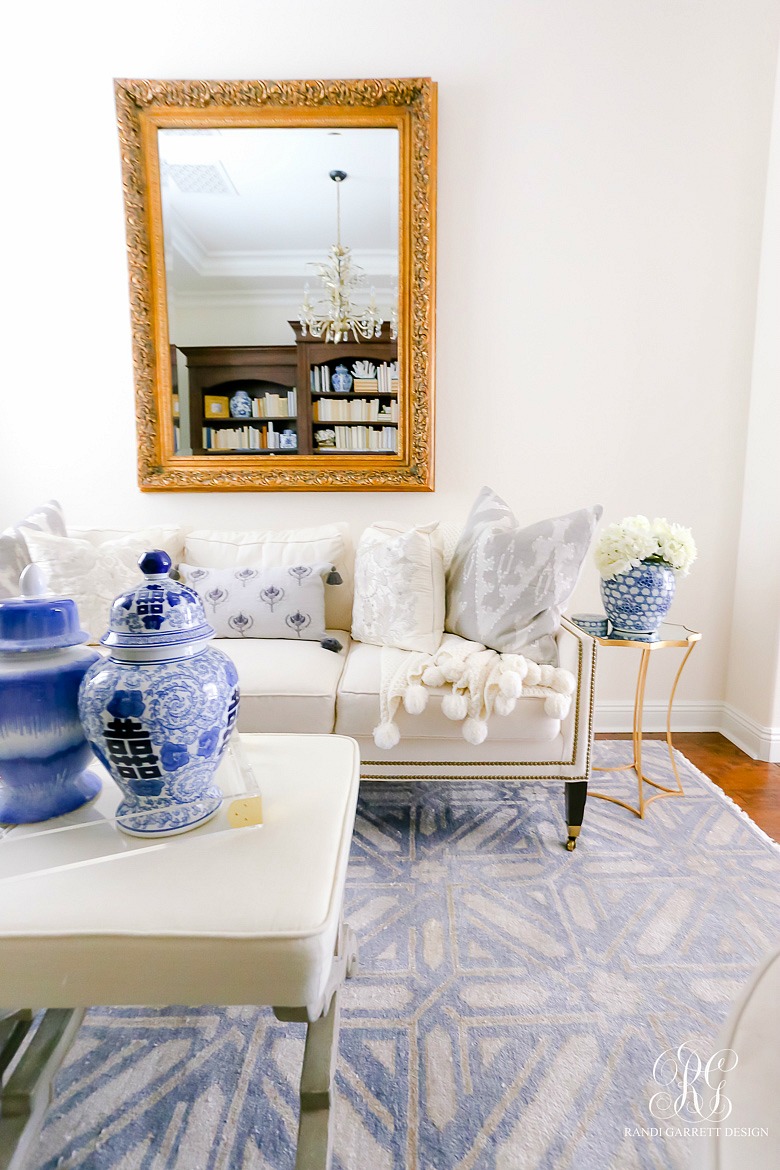 The den gets a breath of fresh air with some ginger jars , white faux peonies and hydrangea. It doesn't take much to make a room feel like Spring! 



Kitchen Nook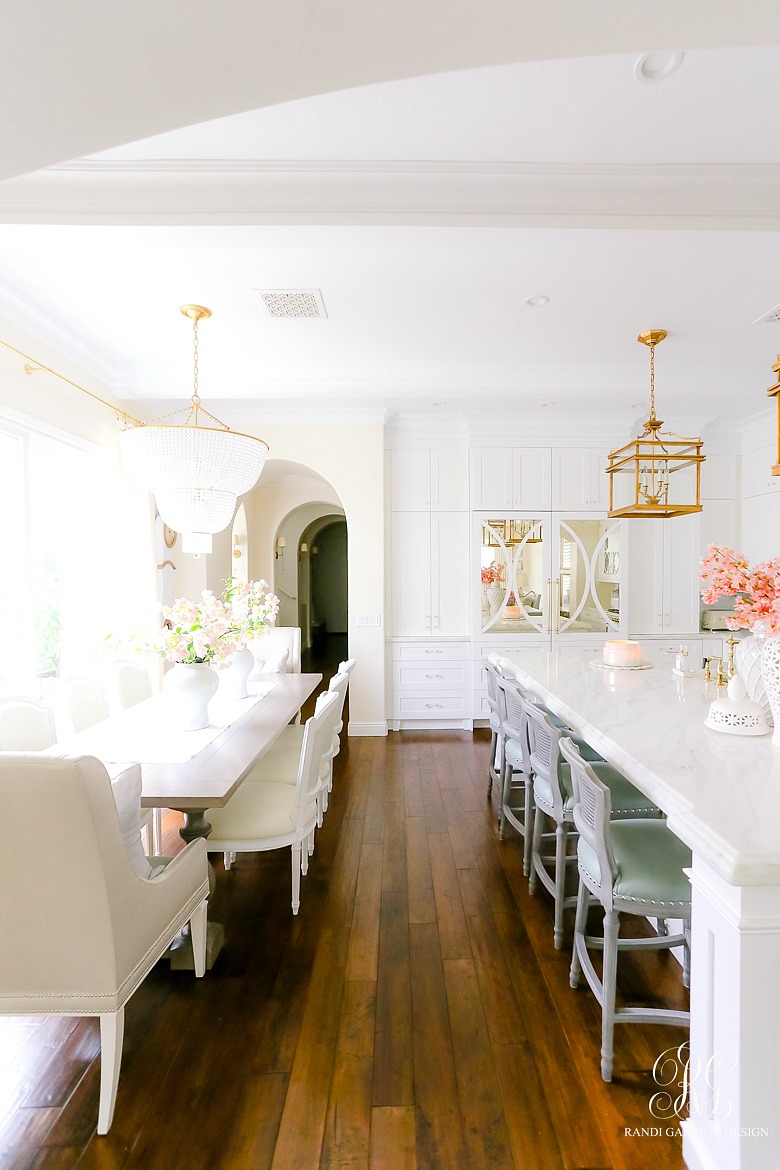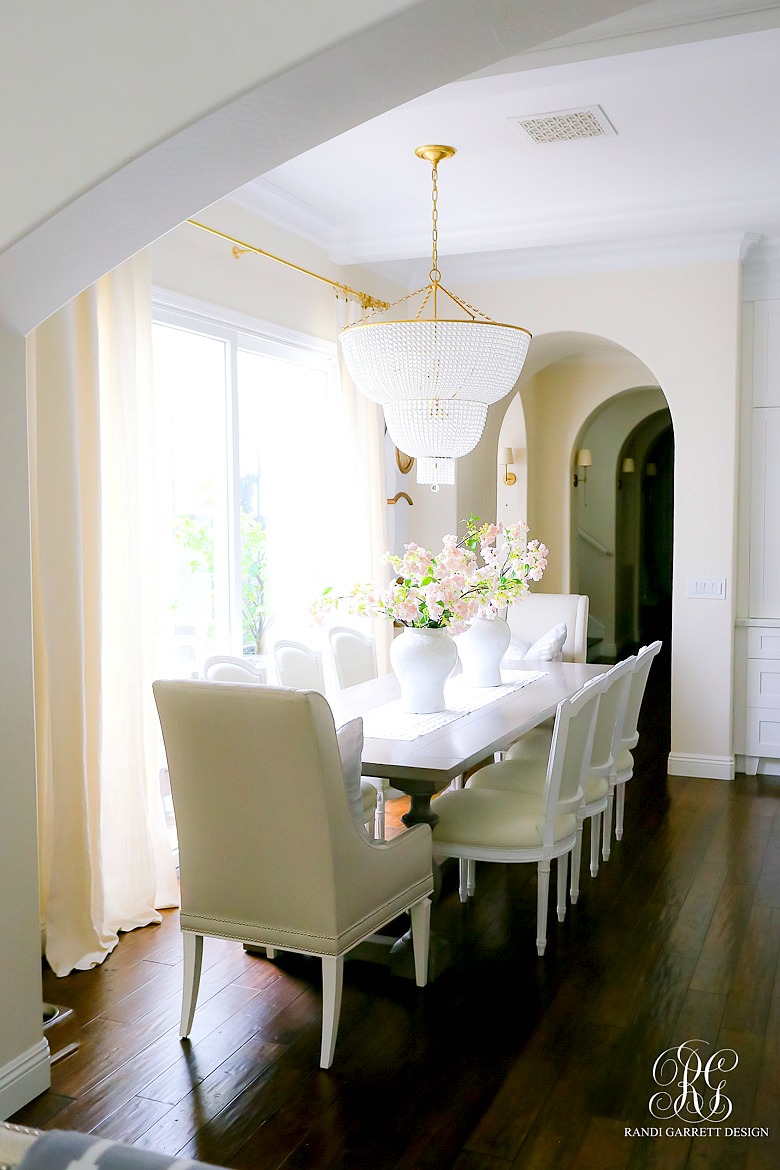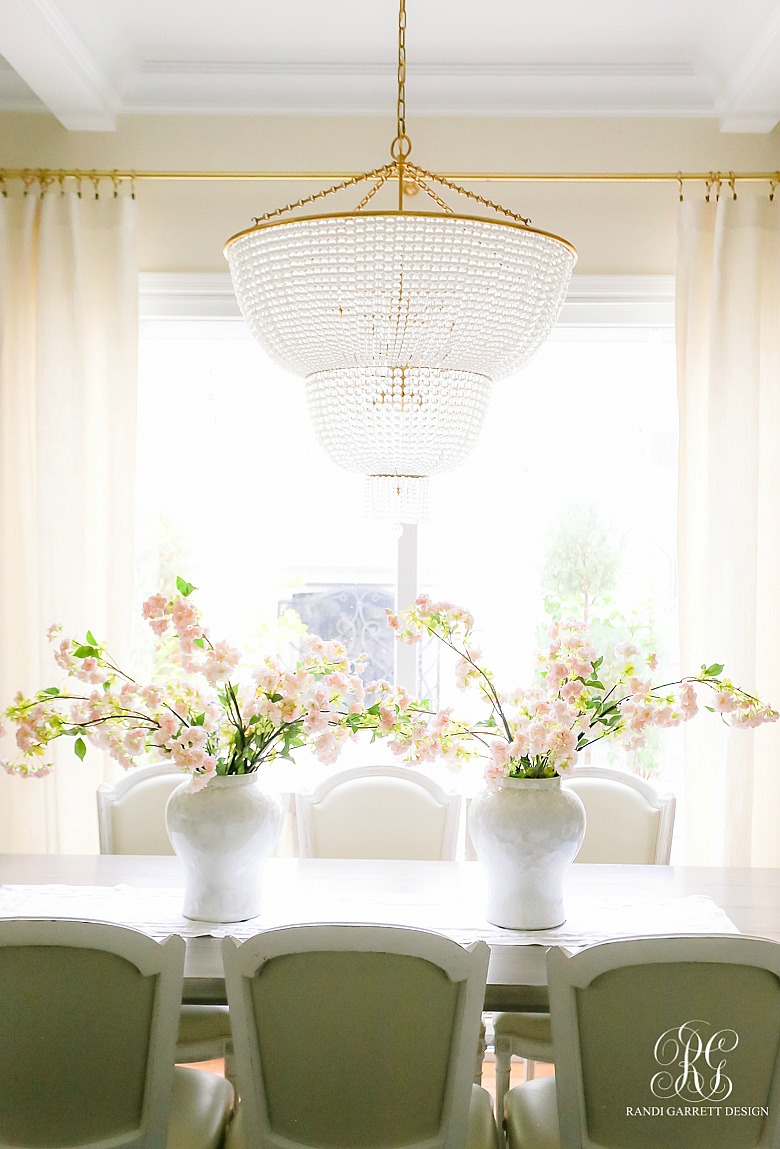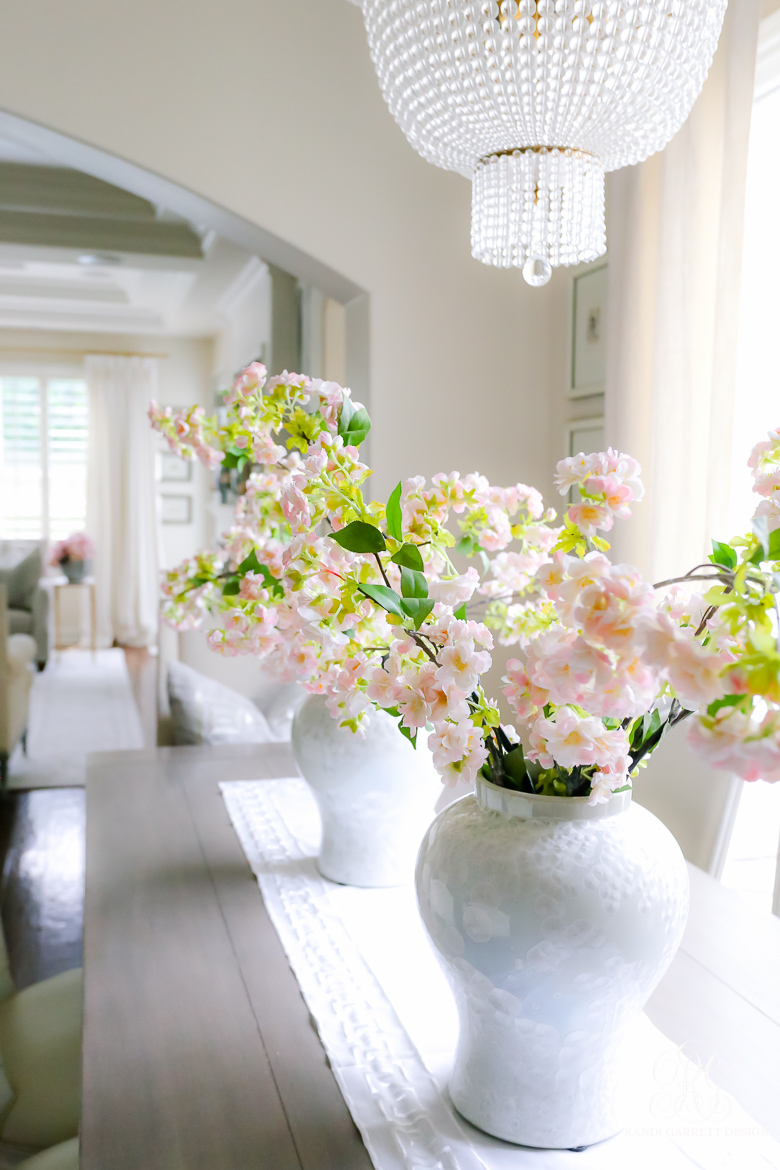 On the kitchen table a simple white greek key runner with two white urns and some pink cherry blossoms welcome Spring. I have 8 stems in each jar. The stems are sold in sets of 3 so you would need 2 sets to recreate the look. I hardly ever clip the ends of my stems, I just bend them to the size I want them to be. This helps them stand upright too!



Kitchen

Keeping with the pink floral theme, more pink faux florals pepper the kitchen counters. I love pink, white and gold together!
Florals aren't the only way to add color and brightness to the kitchen. Use fresh fruit to add life and vibrance to your countertops! For Spring, I love using pink grapefruit, mixed with apples and oranges. The color combination looks amazing with the pink florals.
For the vignette on the counter I used a white lattice ginger jar (mine is the larger size, I have them both and love them), larger cutout ginger jar (similar) filled with faux pink cherry blossoms (12 stems), and a white and gold use with faux pink peonies (6 bunches).




Get all of my kitchen details, paint colors and sources here.
Family Room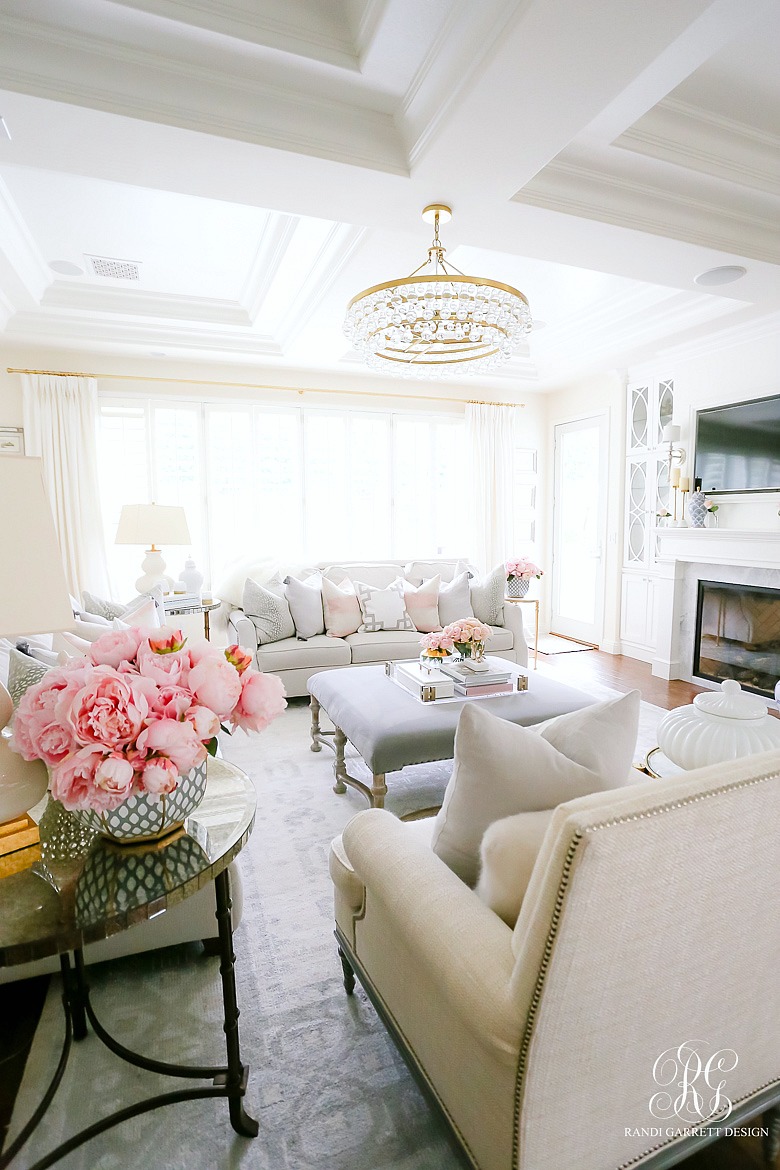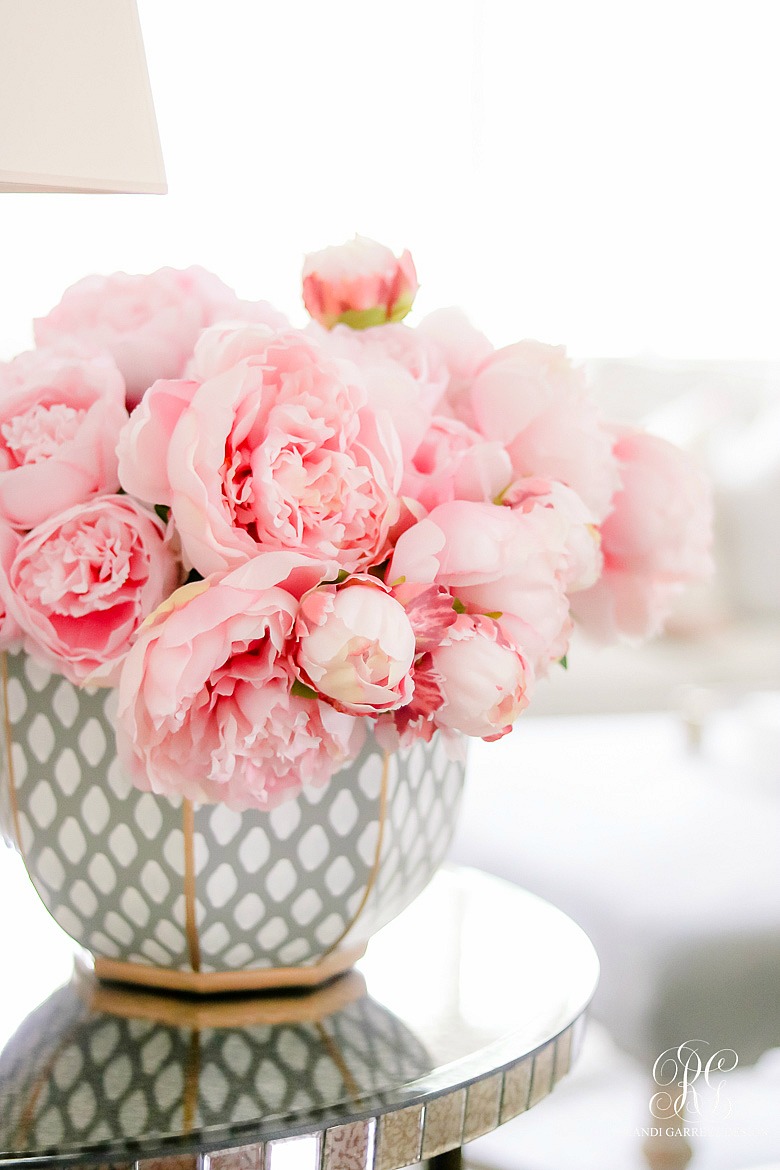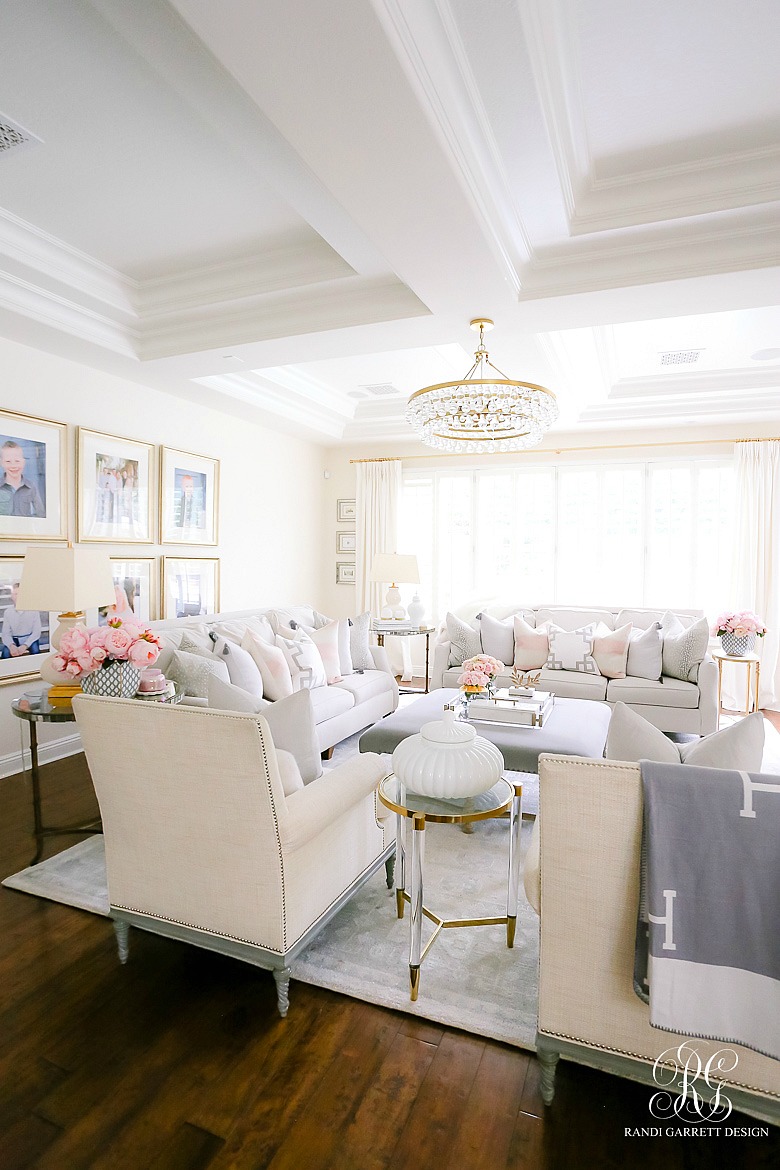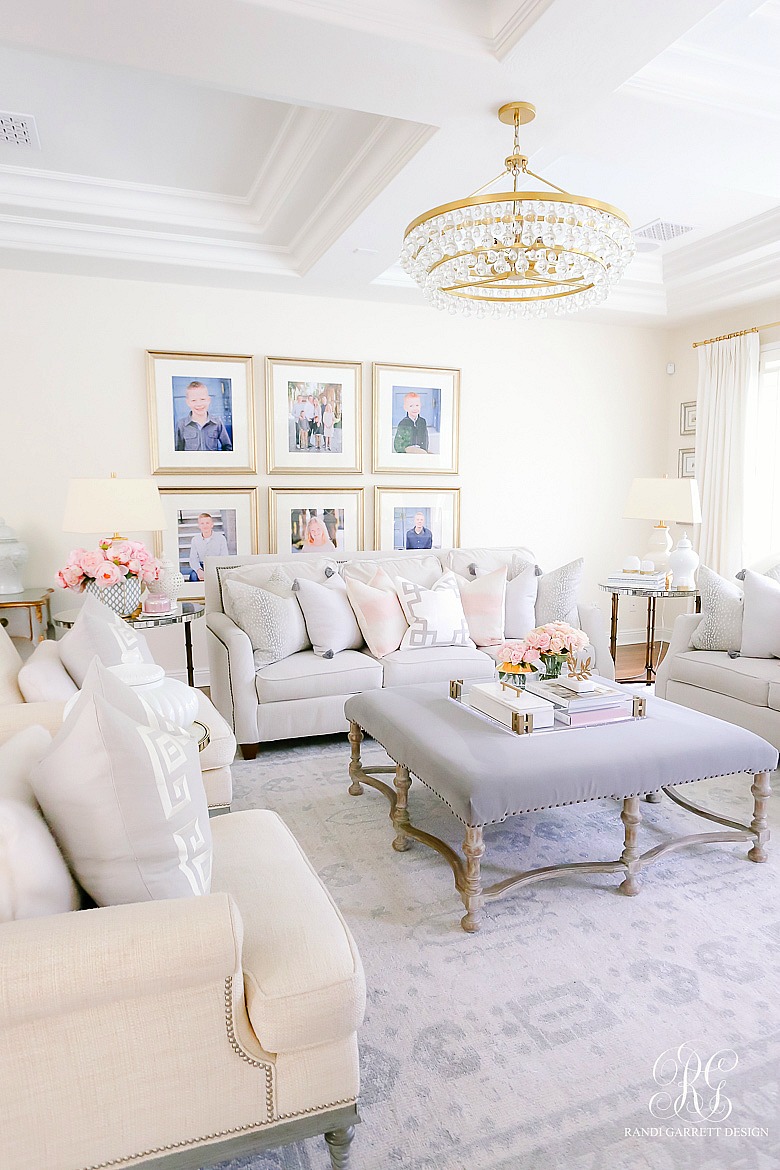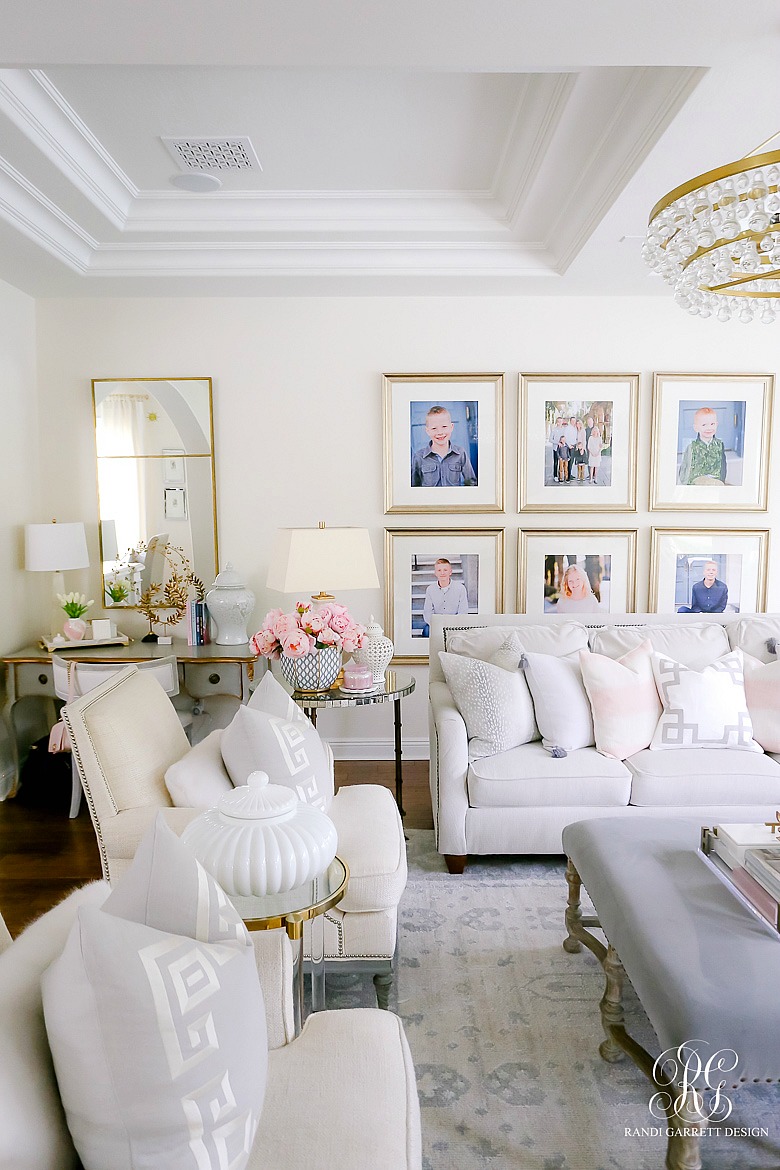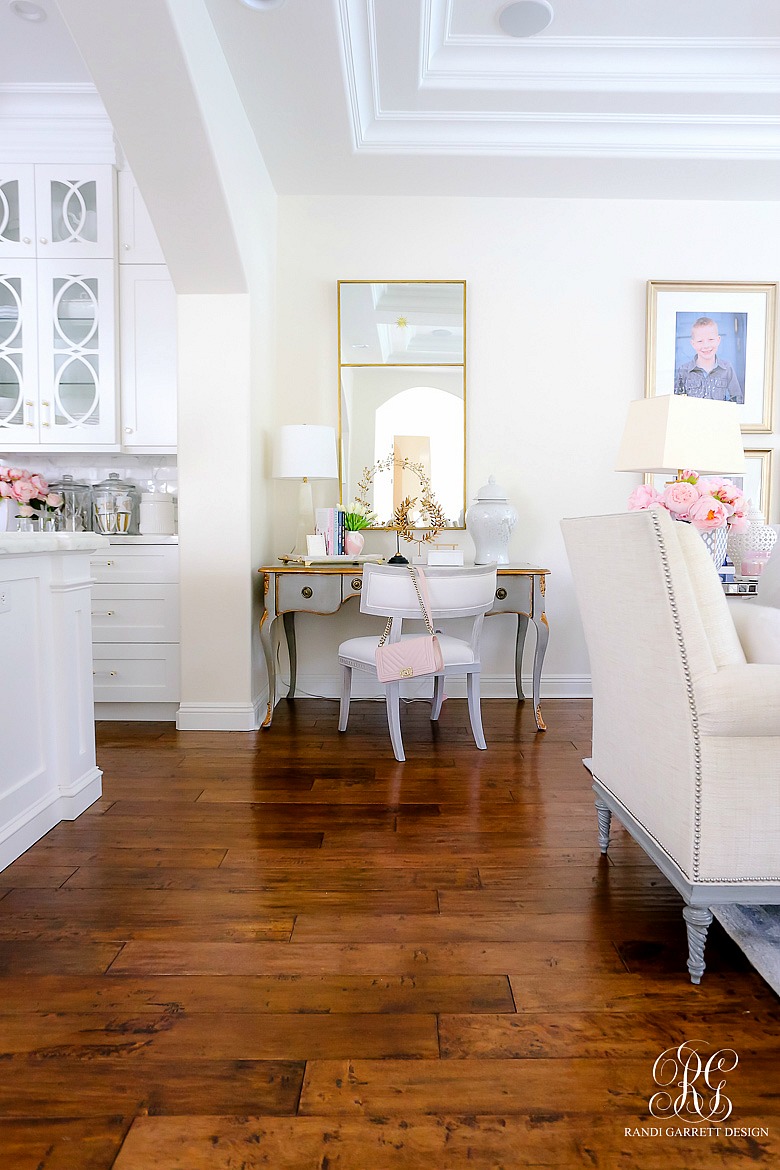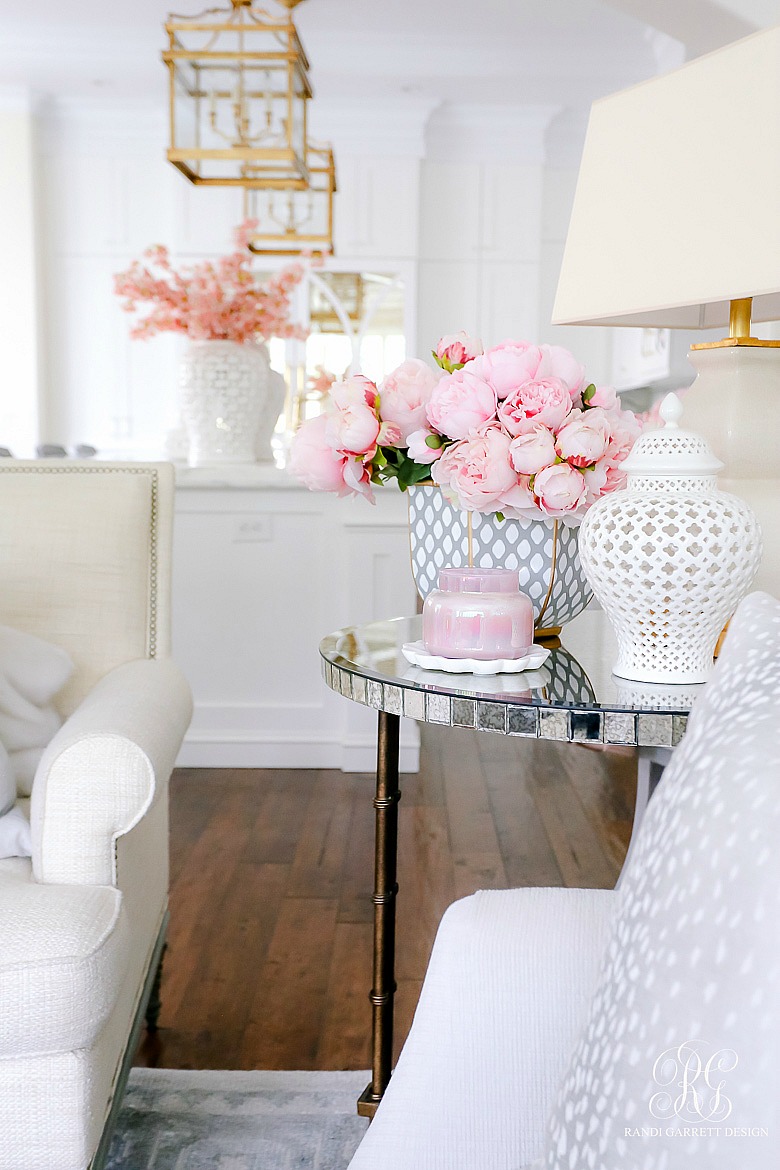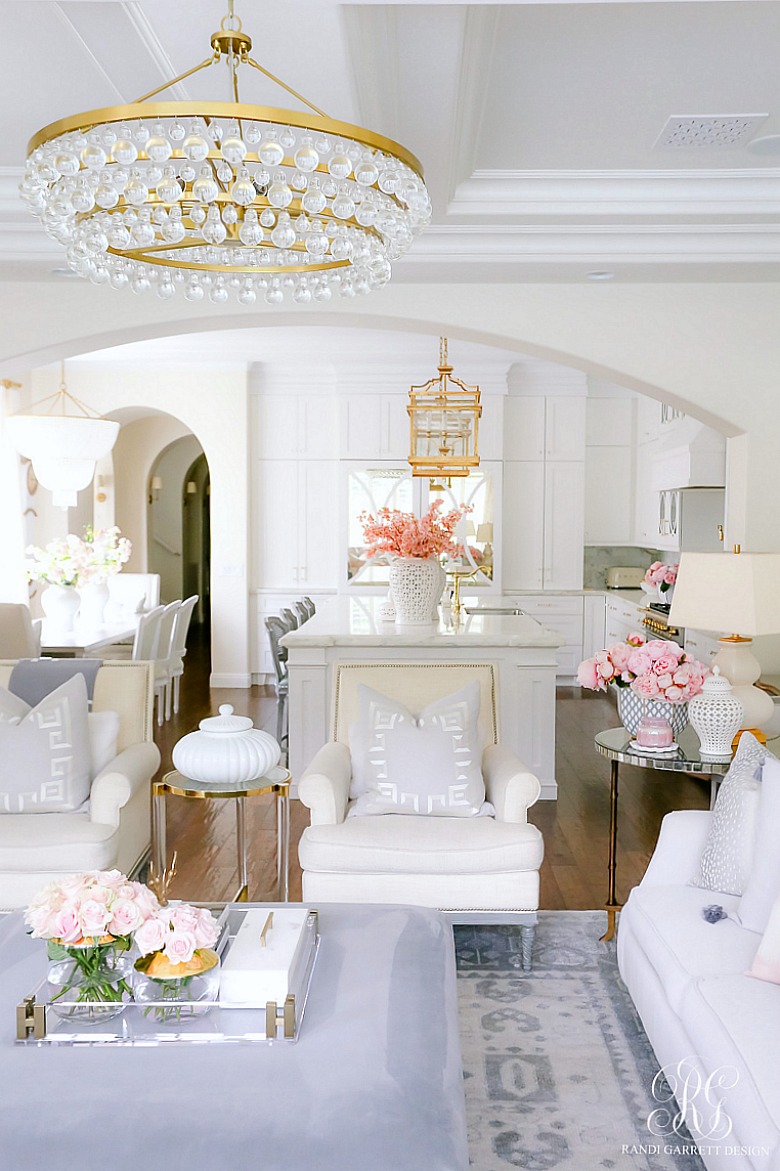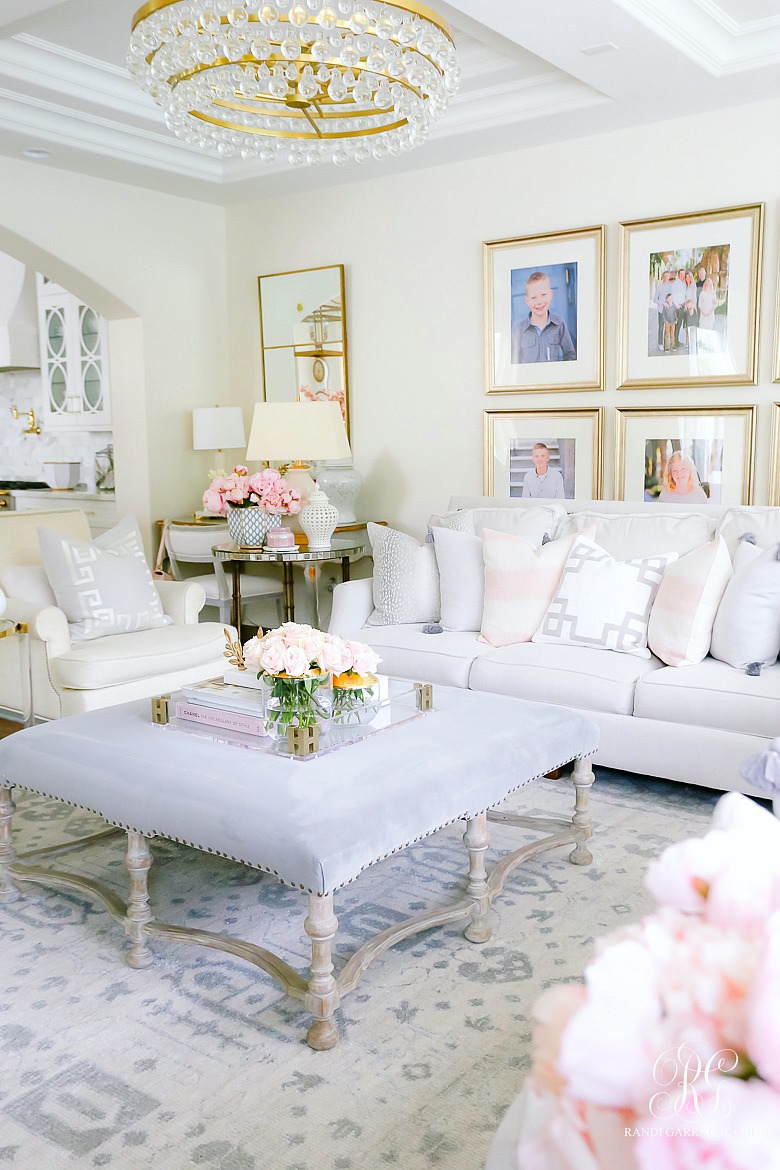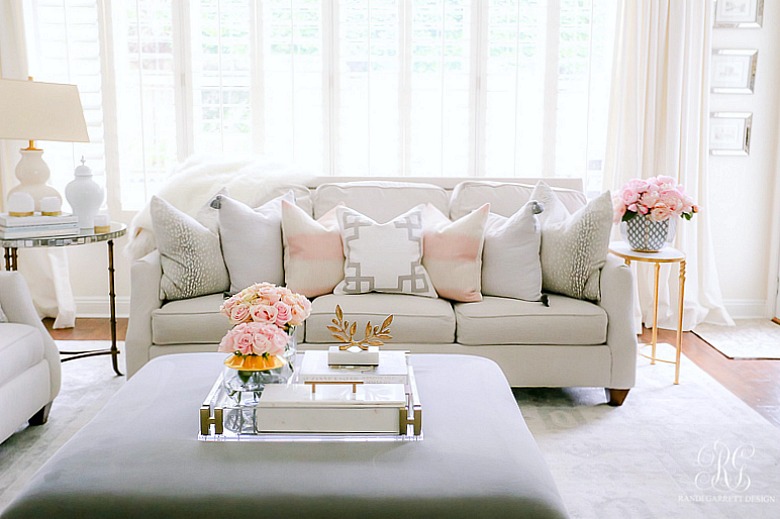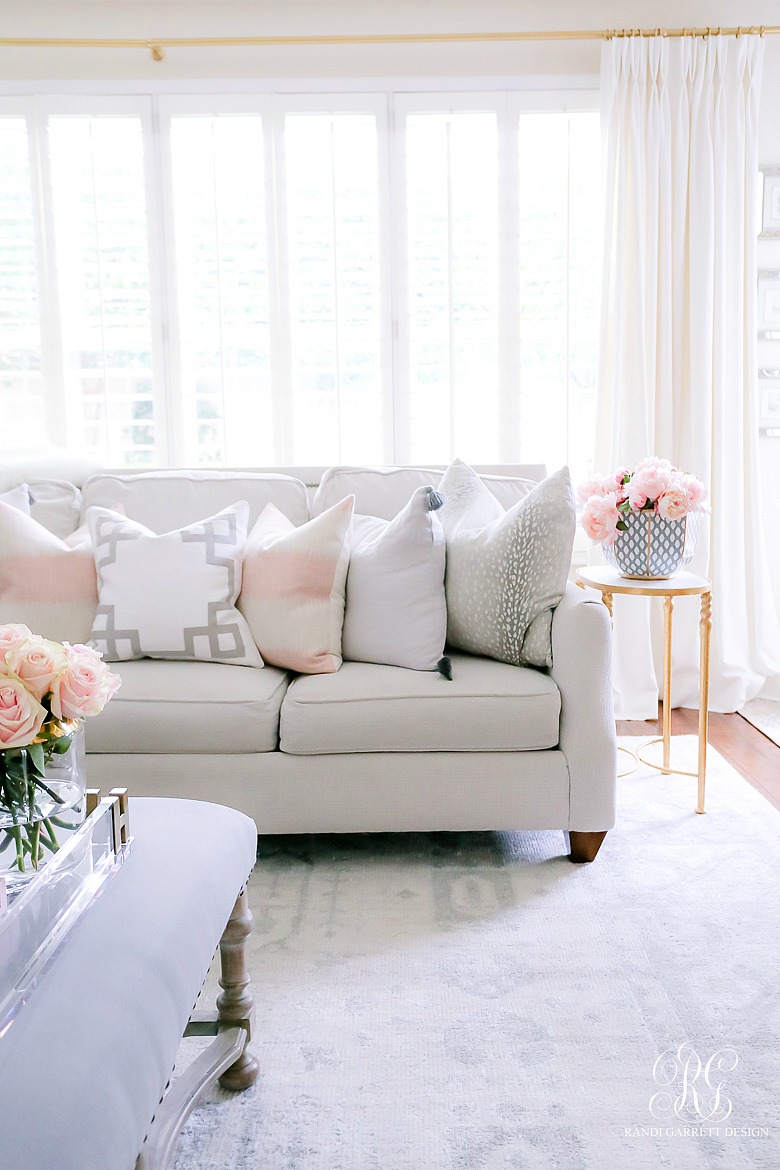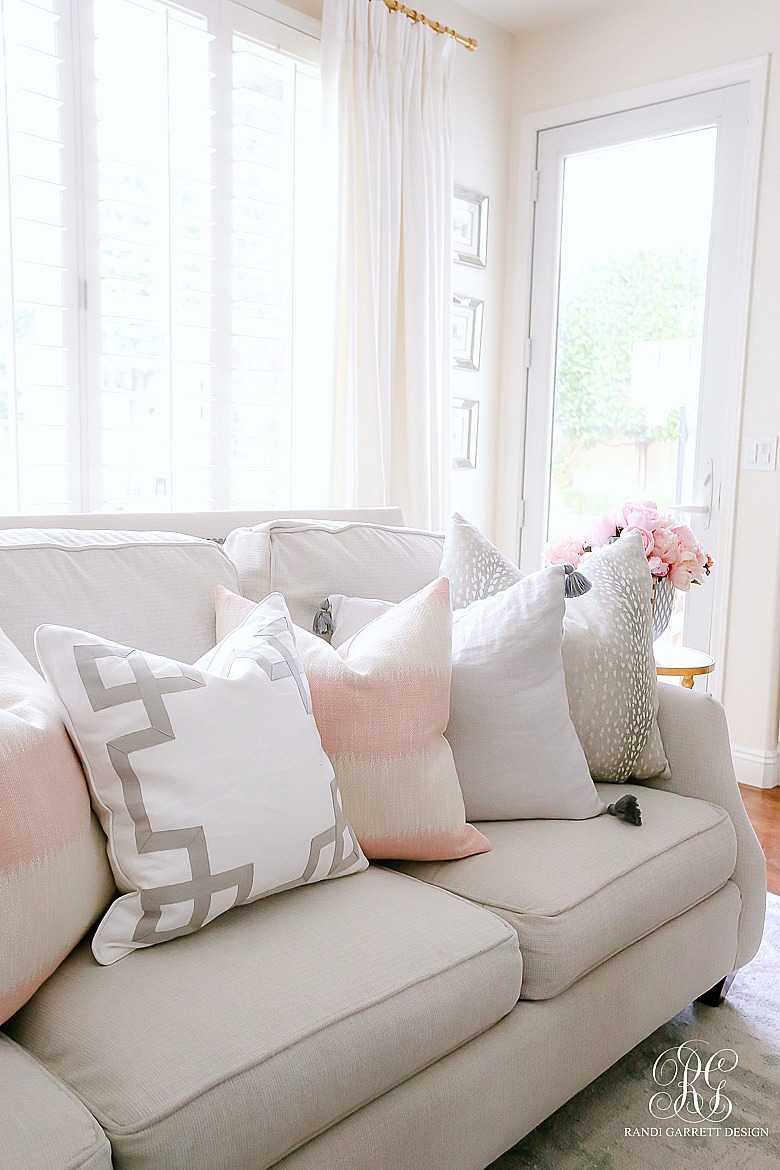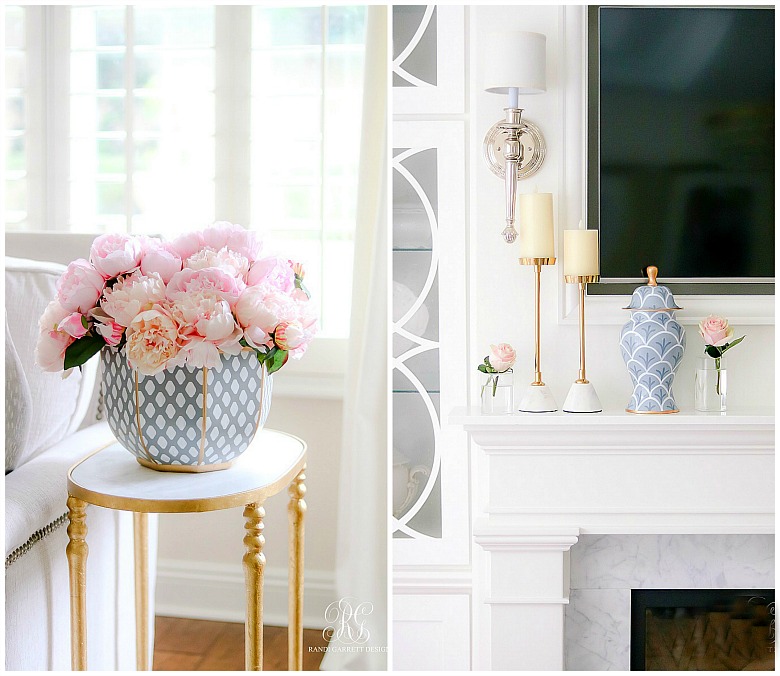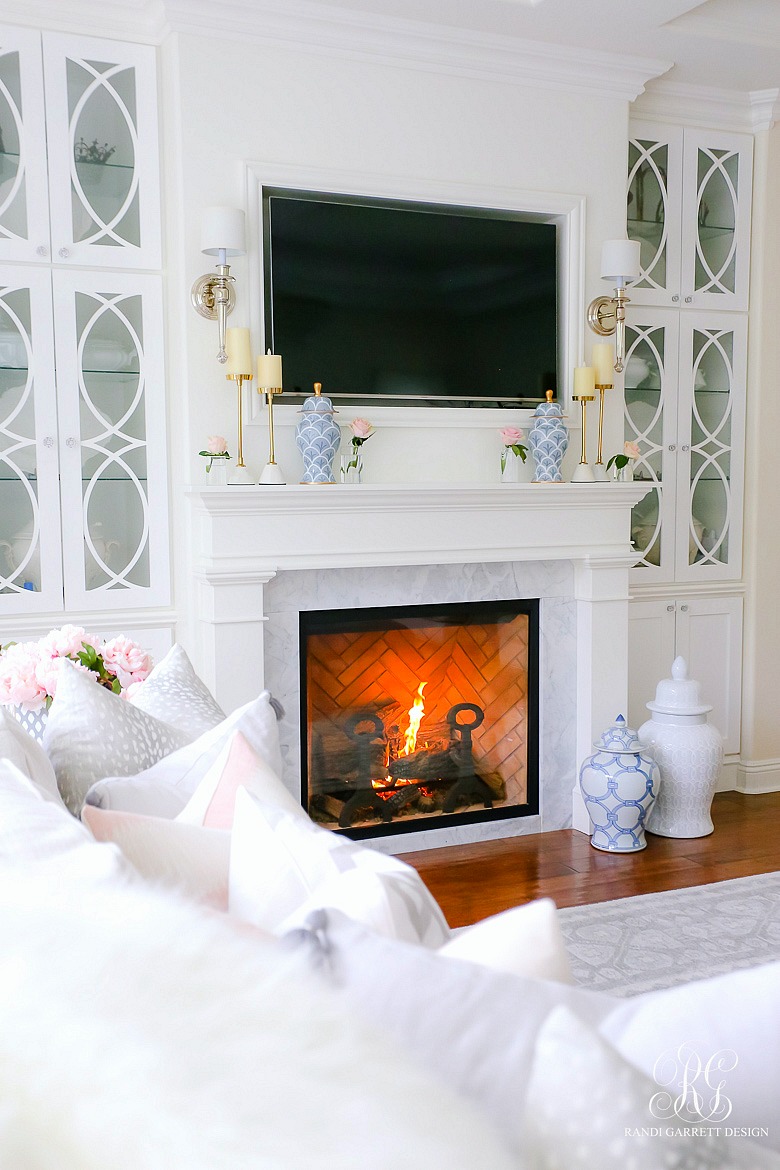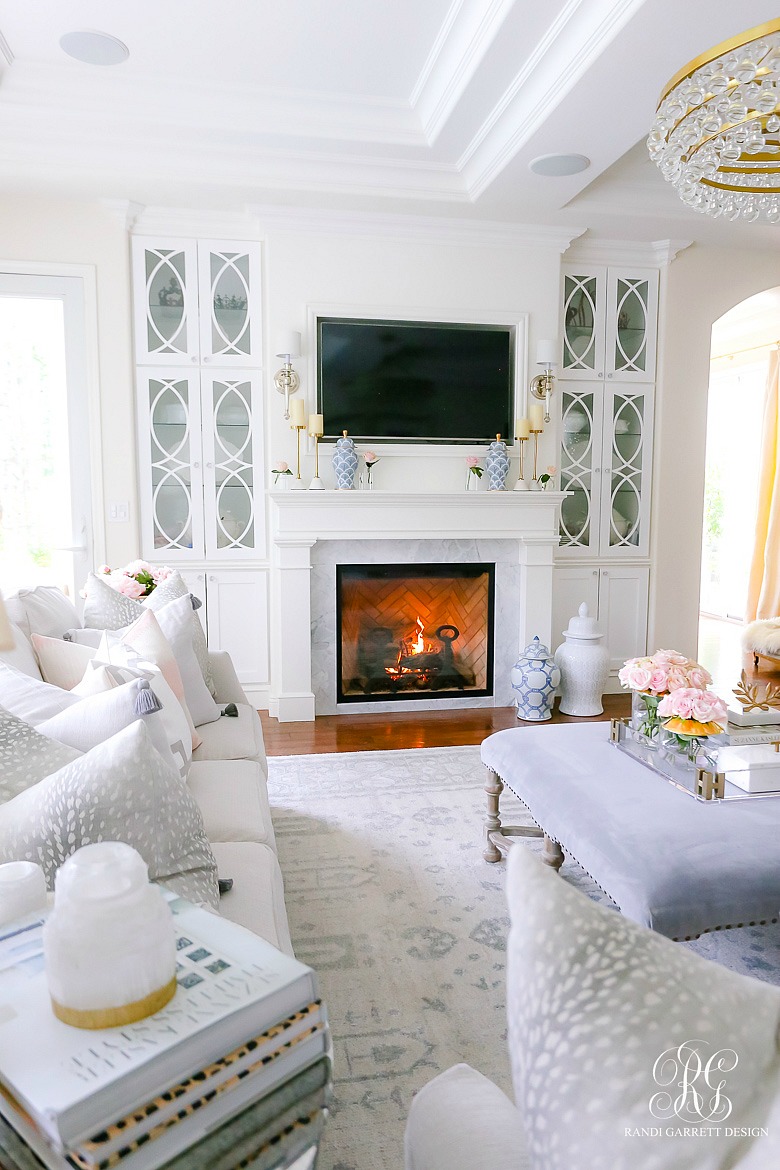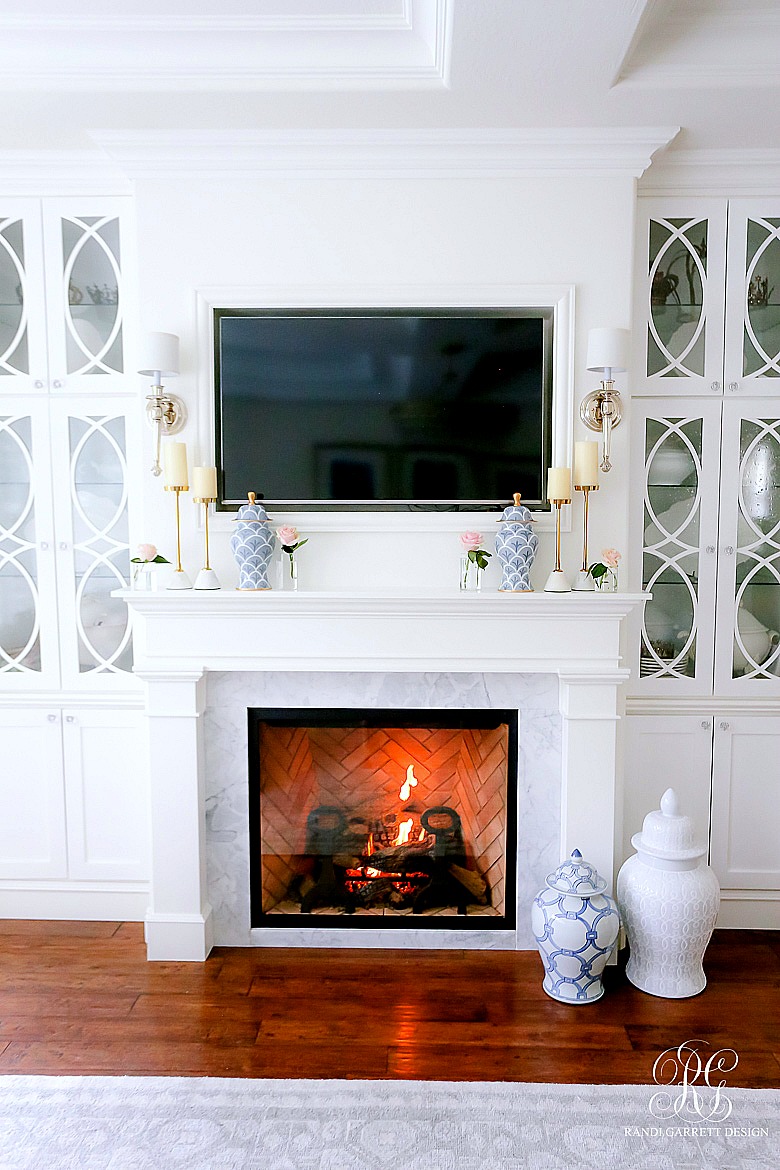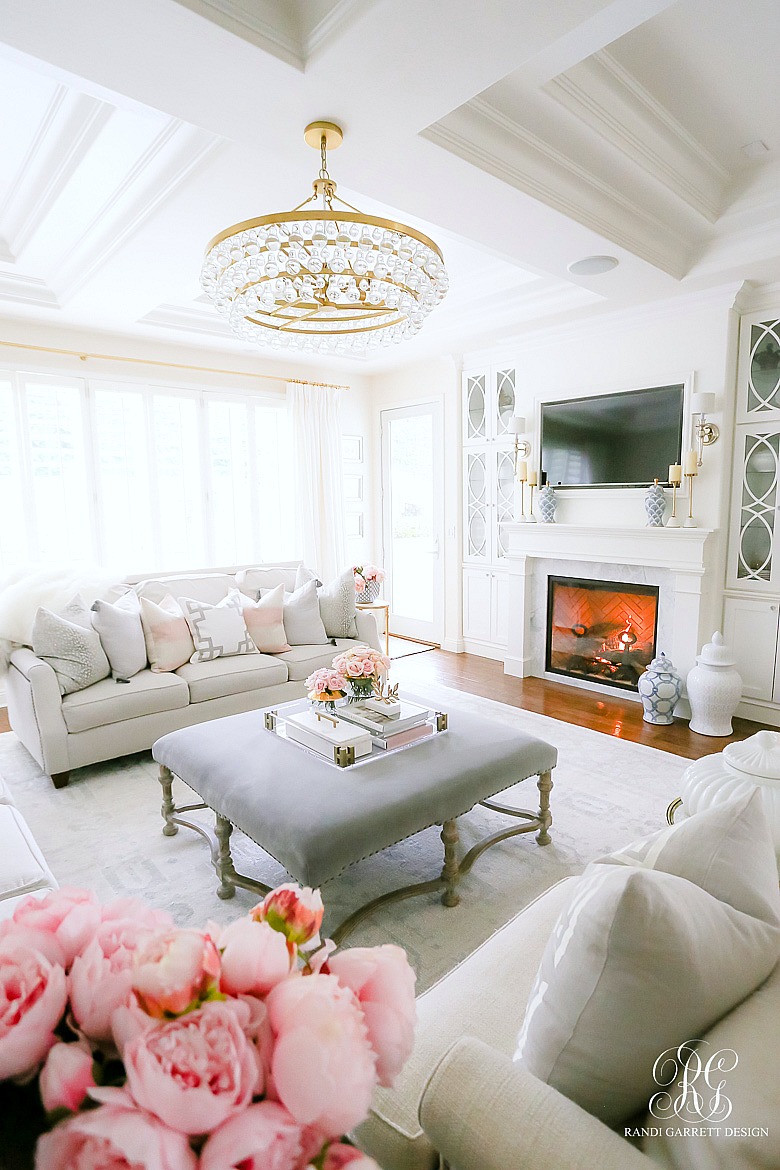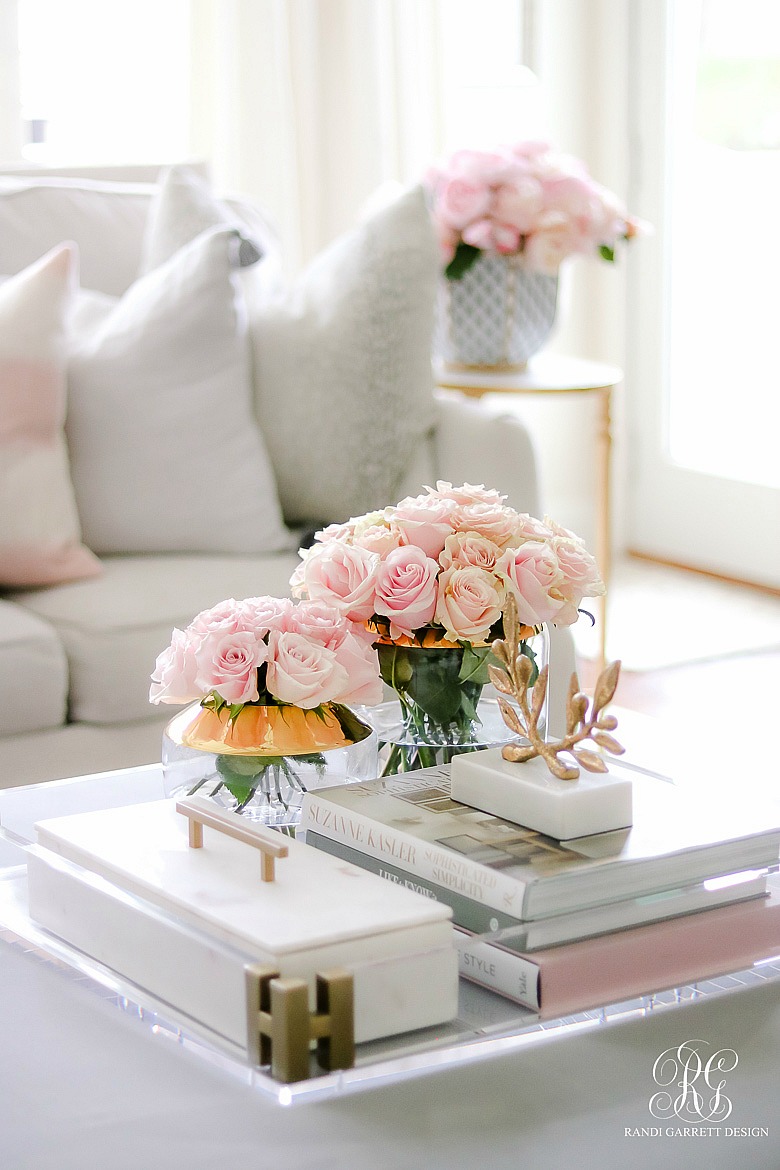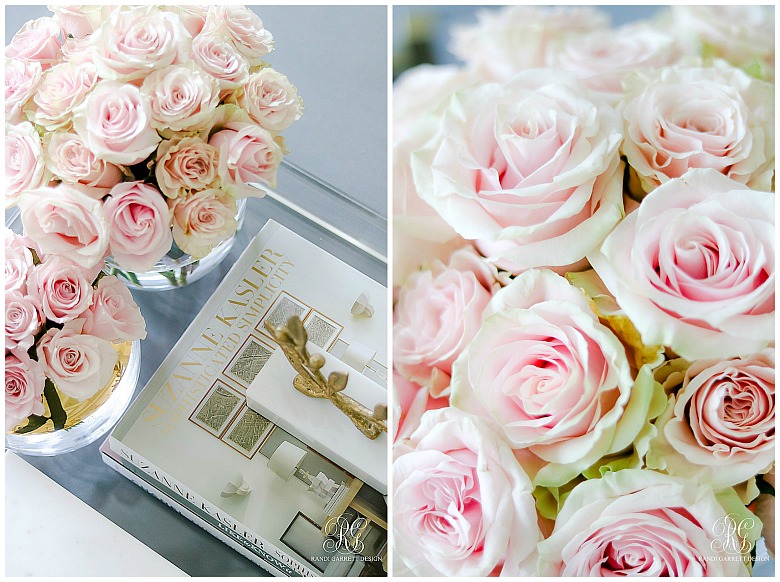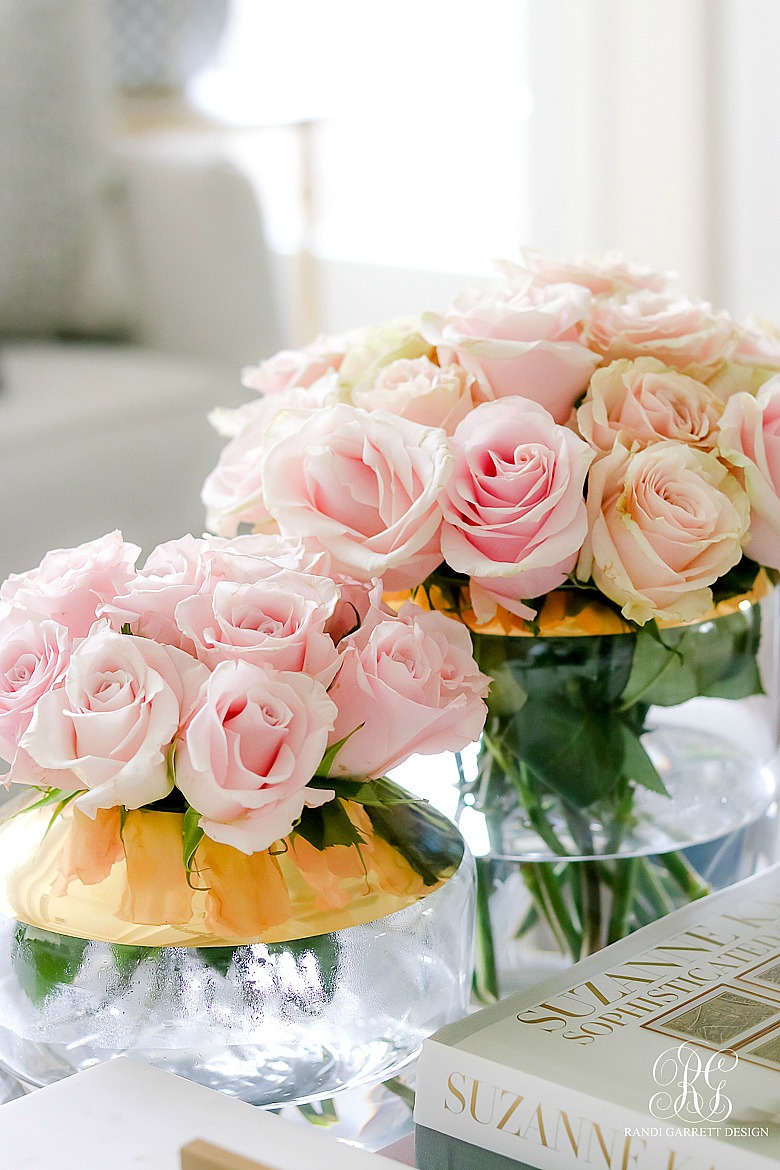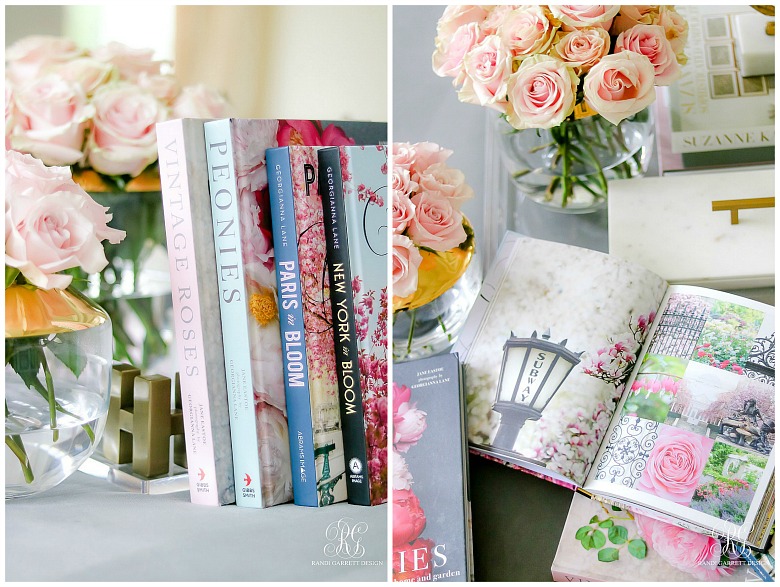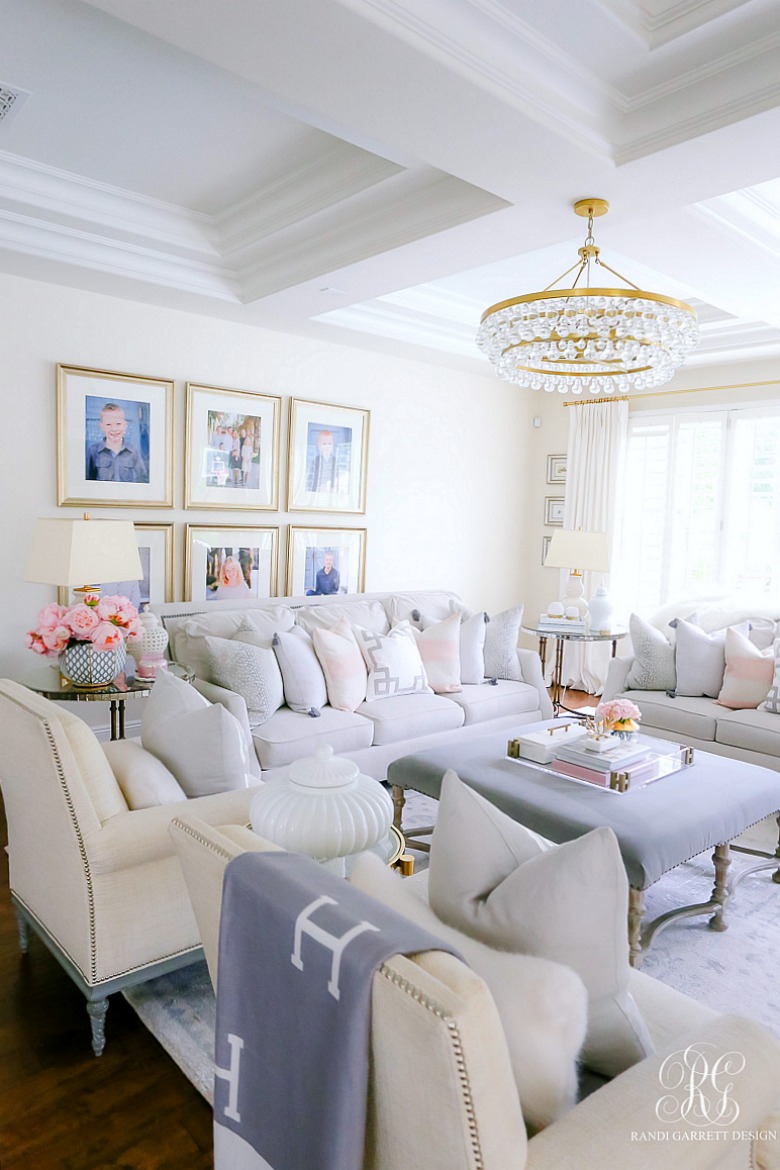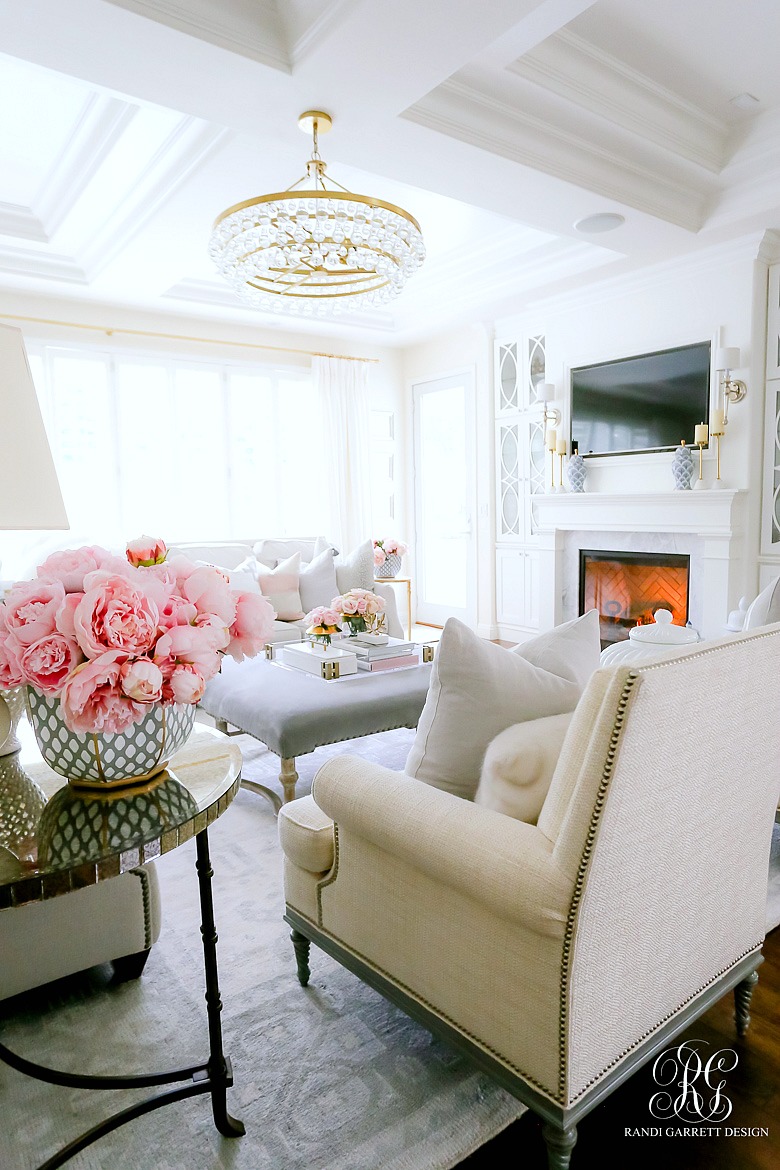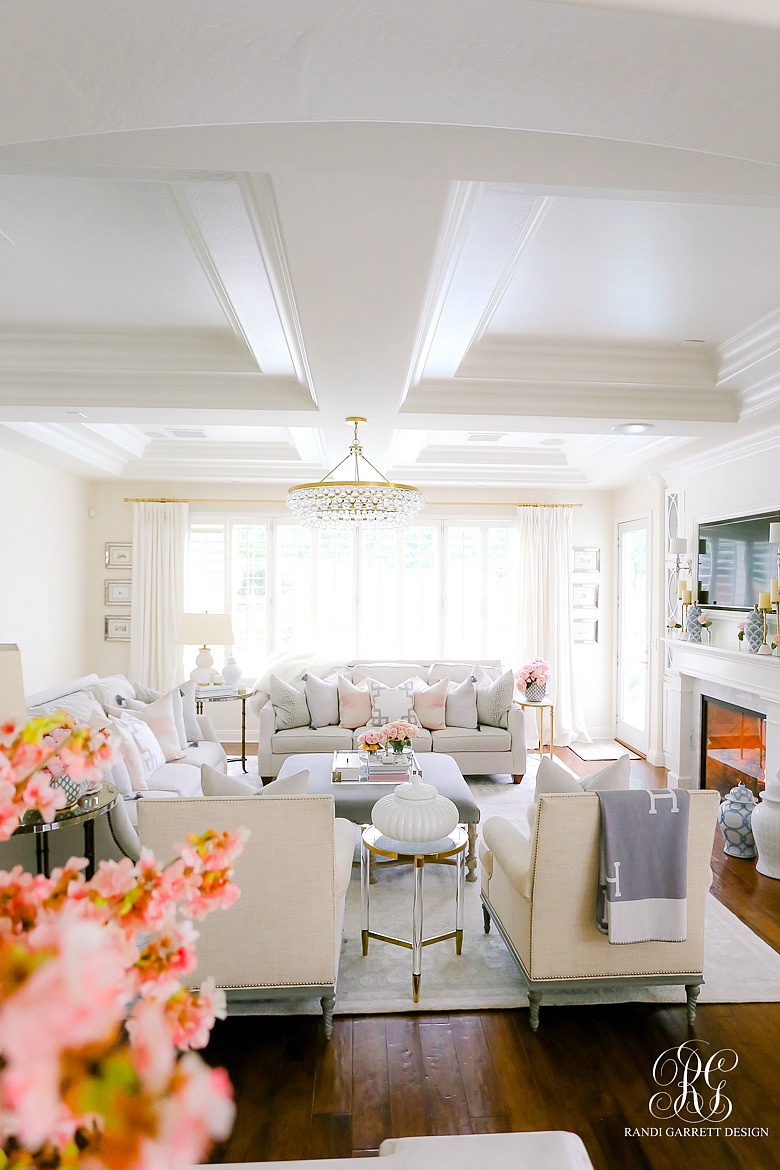 The family room refresh is my favorite!!! I can't believe what a difference a few pillow and accessories made! On the couches I added, 2 blush and cream striped (22″) pillows and 1 gray fretwork pillow (22″) to the antelope pillow (24″) and gray tassel pillows (22″)  I already had. The pillows are like pieces of art!
Adding a few new accessories to your room can really transform it! In our family room I switched out the coffee table tray to a lucite tray (similar), added some of my favorite coffee table books for spring, and a few new gold rimmed vases (here and here) with fresh roses.
On the end tables, I used these gorgeous gray, white and gold vases filled with 6 bunches of these peonies. So simple and yet so vibrant and Spring like!
The mantel got a new look with some white marble candlesticks, gray and gold ginger jars (similar), and some fresh roses. To add weight and interest, I added a large white ginger jar and medium blue and white ginger jar to the side of the mantel.
A few throws are draped around the room. I LOVE this gray "H" throw and luxurious fur throw. For all the other room sources you can click here.










Dining Room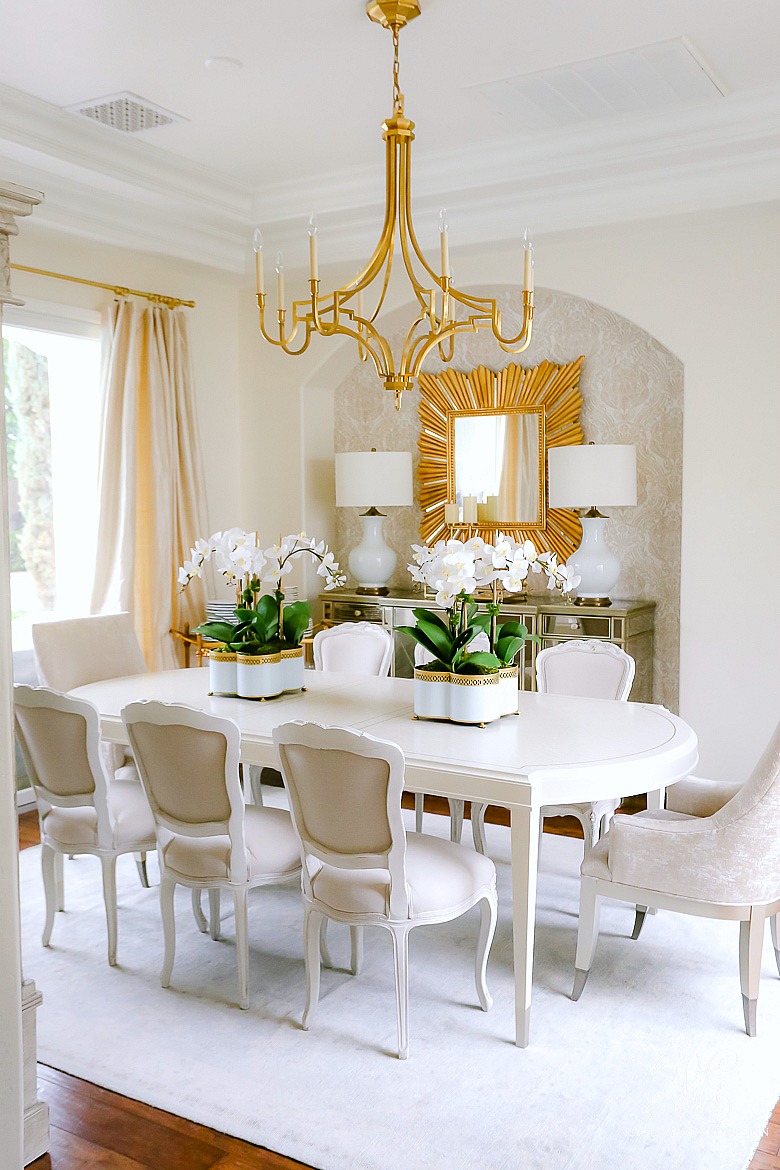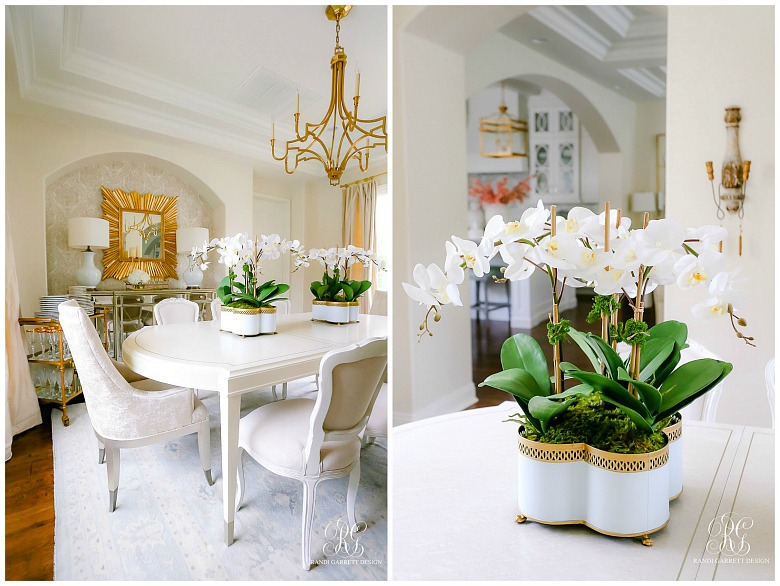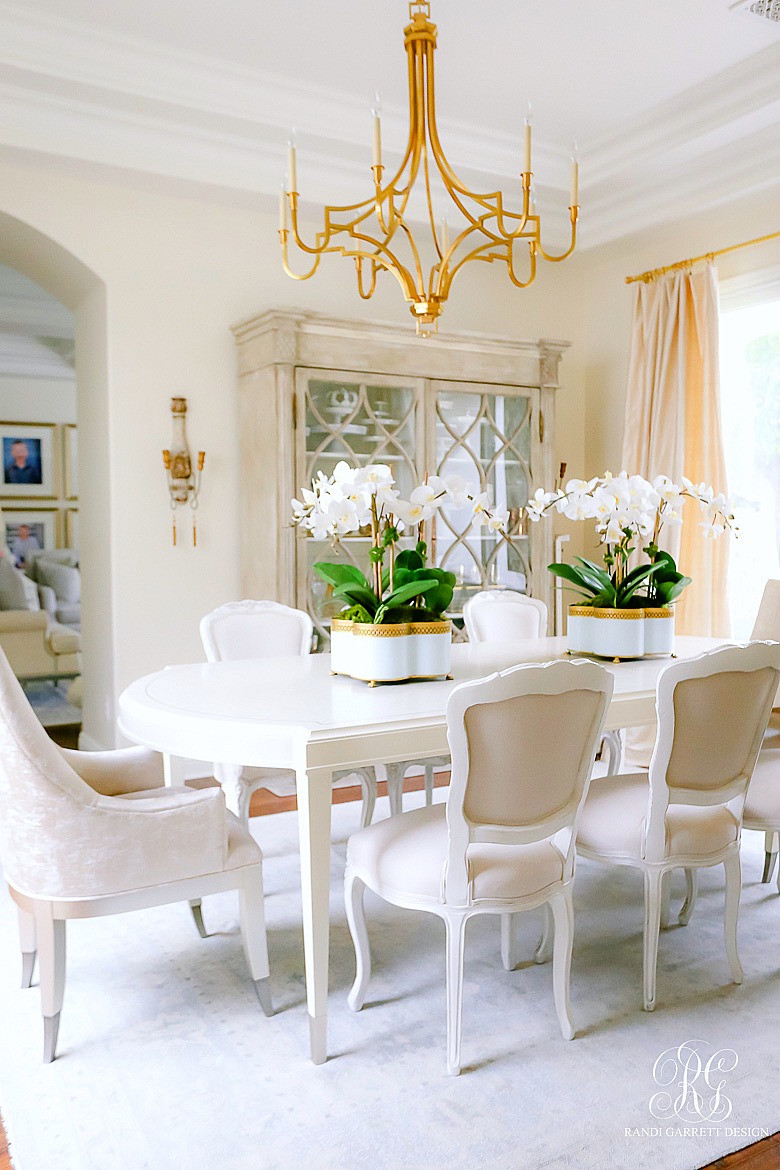 Our dining room got a resent mini makeover. If you missed it, you can see it here. I finally found the perfect table after a few years of searching! Things were kept pretty simple in here for Spring.
Two large, gorgeous faux orchid arrangements in pale blue and gold quatrefoil containers. They are so stunning and made by a sweet friend of mine who has a gorgeous home and online shop. You can preorder your's here for a discounted price, they will be ready in just a few short weeks. I can't believe how real they look! Orchids are such a timeless, way to welcome Spring into any room of your home! They make such a statement nothing else is needed to dress this room to welcome Spring!



Here's a peek at my Spring bedroom coming soon!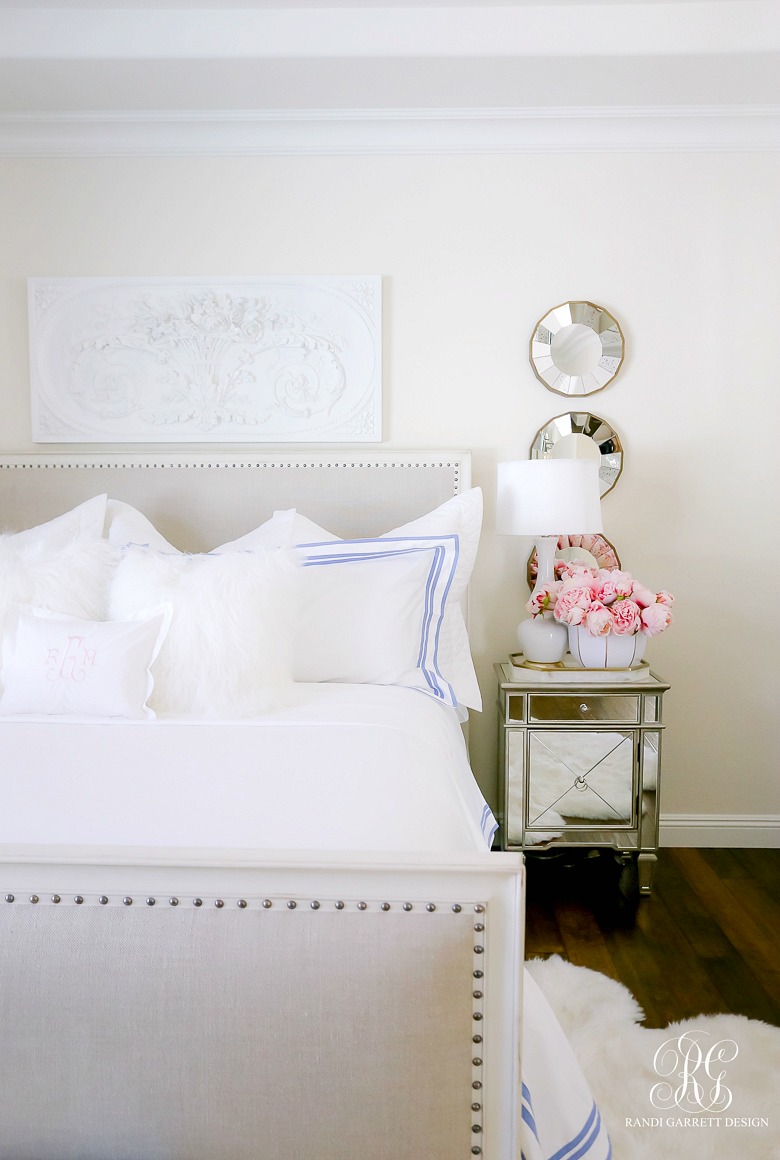 Subscribe to my weekly newsletter so you don't miss a thing!

I hope you are inspired to welcome Spring into your home with some of these ideas! Happy Spring my friends! I hope you live it in style!
My dear friend Jen from Decor Gold Design is also sharing her home tour. Check it out for more Spring inspiration!