This post is done in partnership with Wayfair and contains affiliate links (full disclosure here).
Ginger jars are the perfect accessory to style your home for every season! I started my ginger jar collection years ago and have been adding to it ever since. My jars stay out year round and help welcome each new season through simple styling changes. Today, I want to share some Summer ginger jar styling tips with you and a few tips on how to look for the perfect ginger jar to add to your own collection.
Summer Ginger Jar Styling Tips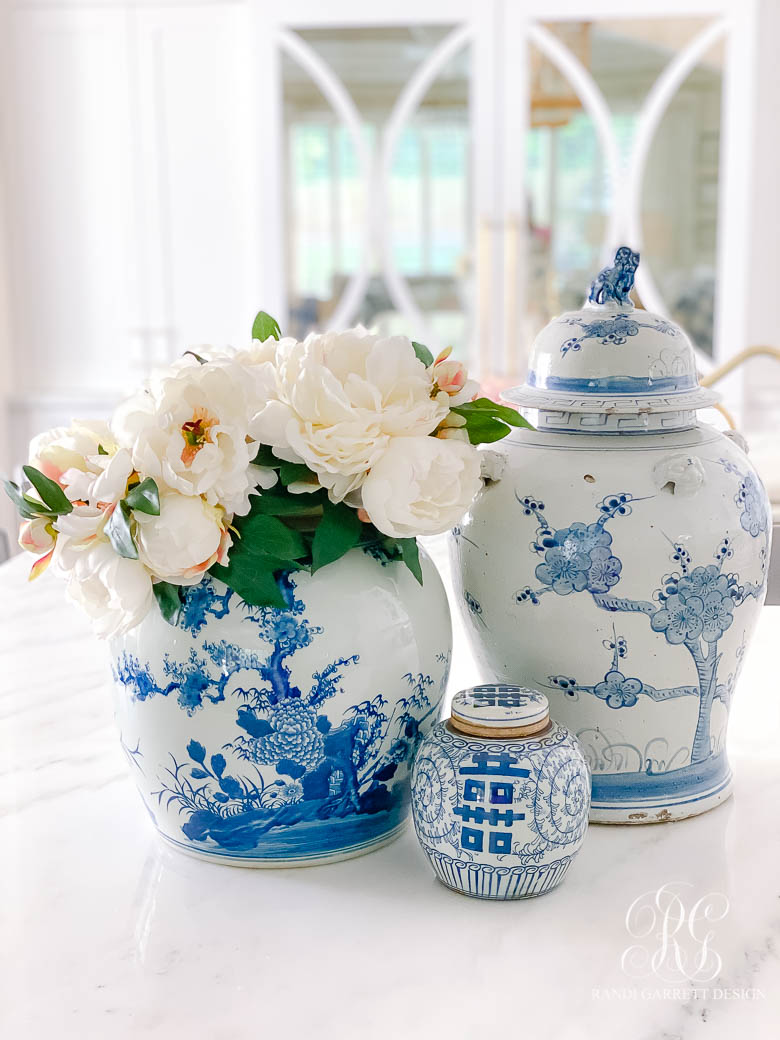 Tips to Help you Choose your Ginger Jars
Look for ginger jars that have unique shapes and patterns in various shapes and sizes. I love looking for "special" ginger jars on Wayfair. Not only do they have a plethora to choose from, they also have high quality, hard to find patterns. I can't wait to show you the stunning ones I found for you on their site!!! Wayfair also carries the most realistic faux florals and gorgeous accessories to help you style your ginger jars. Plus, they offer free shipping on orders over $35!
Invest in ginger jars you LOVE! I would rather have only a few pieces I absolutely loved over several "ok" options. Since you can use your ginger jars year round, you will get your money's worth.
Mixing pattern and colors shades make your collection uniquely your's. Don't be afraid of pattern play! Adding ginger jars with small and large patterns, geometric and floral will only accentuate the personality of each jar and create a masterful display. Remember you will be styling them over and over again. Variety is the spice to your collection!
Styling Tips
Now that you know what to look for, her are a few summer styling tips!
Create a vignette for your kitchen island, kitchen table or coffee table by grouping a small, medium and large ginger jar. Fill the medium one with some white faux peonies. These faux peonies from Wayfair are beyond gorgeous. I love how they look in this fabulous ginger jar! Nestle in some pretty plates like these scalloped melamine plates (my fav), and some blue and white napkins to complete the look.

Use the same idea as above by using a small, medium and large ginger jar to create the look below. Only this time, use these realistic faux, white hydrangea (these are my absolute favorite hydrangeas – they come in a set of 3 and in 3 colors…white, pink or blue – I have them all)! They come in a set of three and look so real you won't believe it! Layer a few marble petal trays under the small ginger jar to add some more character.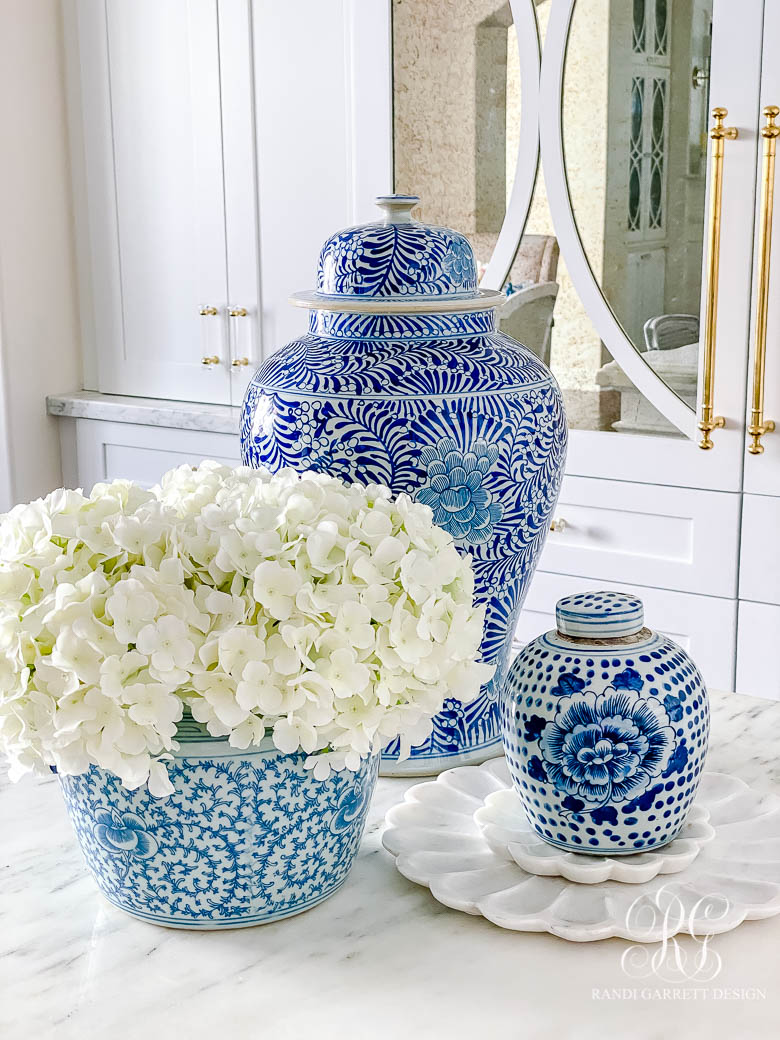 3. Ginger jars don't all have to be blue and white! Create a gorgeous Summer vignette using a this white ginger jar. My favorite white and gold cache pot looks amazing next to it, filled with these faux pink hydrangeas and peonies. I have a set of 3 hydrangeas and 2 bushes of peonies in my arrangement.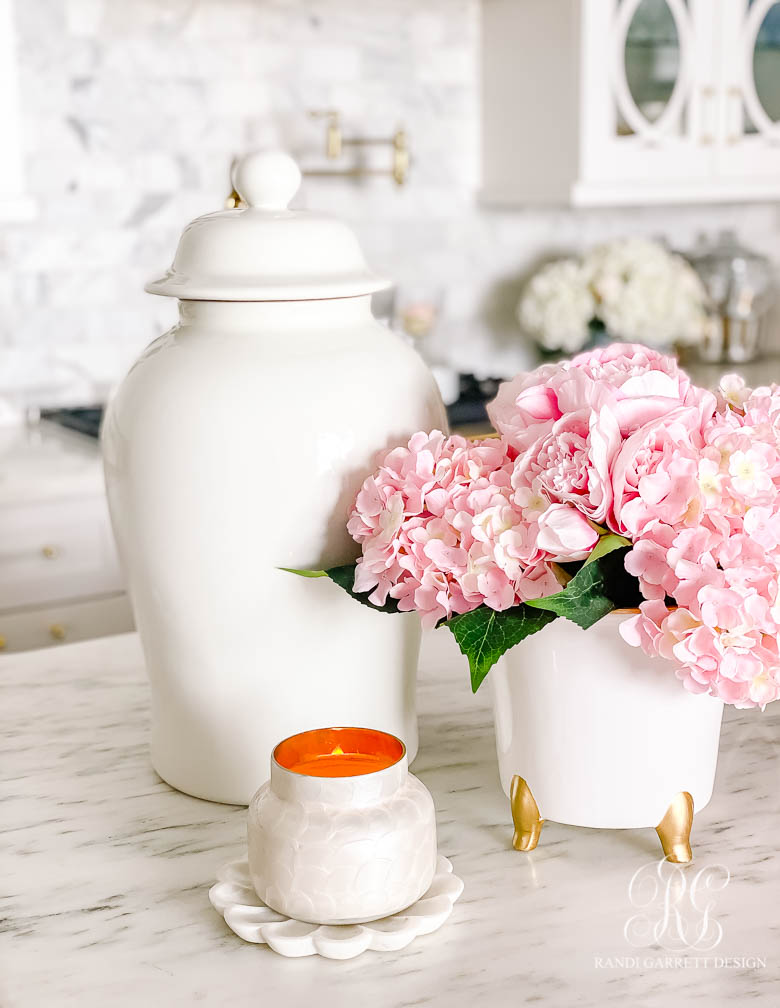 4. Use one ginger jar as the star of the show! I love to use one ginger jar filled with flowers on my nightstands. It's a simple, yet powerful punch.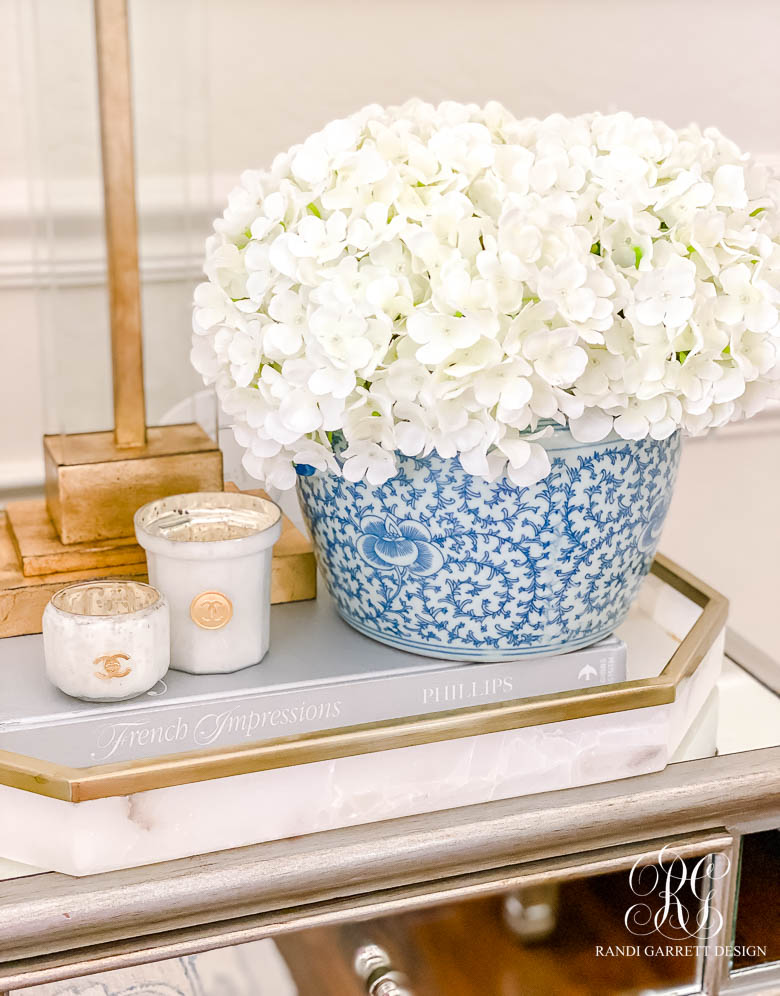 5. Try putting a few of your ginger jars on a side table in your family room. Notice how I mixed a geometric pattern with a floral pattern. Mix, mix, mix! Again I used my faux hydrangeas and petal tray to soften the look.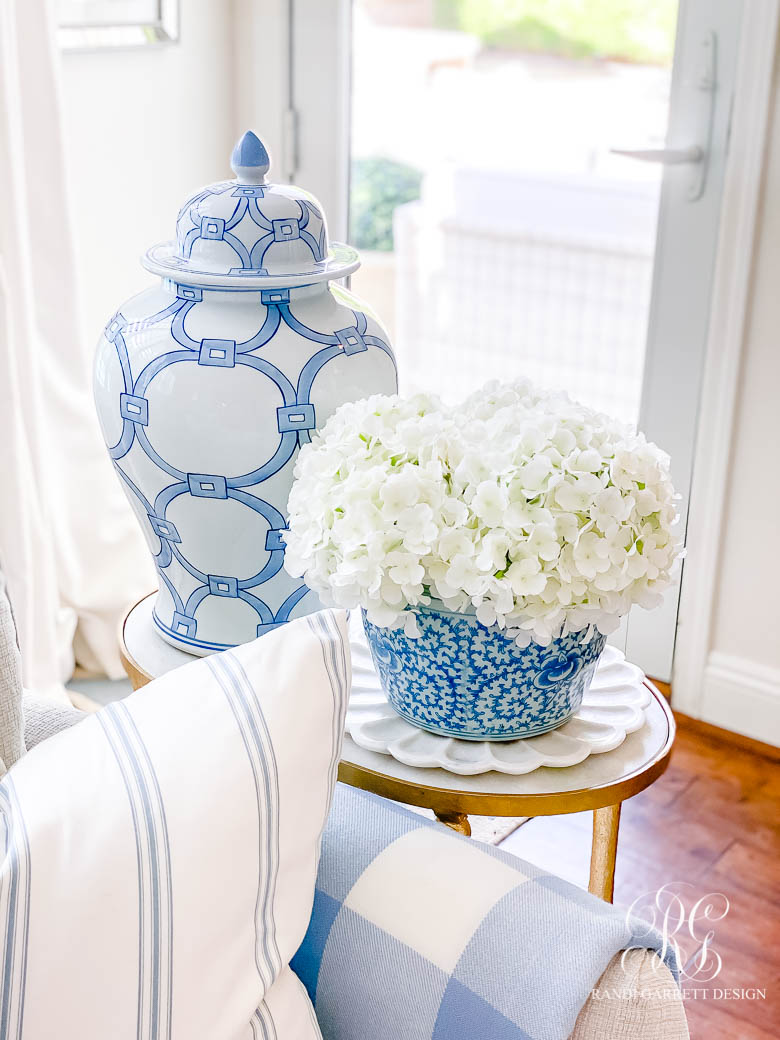 6. Make a ginger jar topiary! I shared a tutorial on how to make one here. They look gorgeous styled almost anywhere! I have mine on my bathroom countertop with a few more of my favorite ginger jars for Summer. You could also place a boxwood ball in your ginger jar instead of a topiary.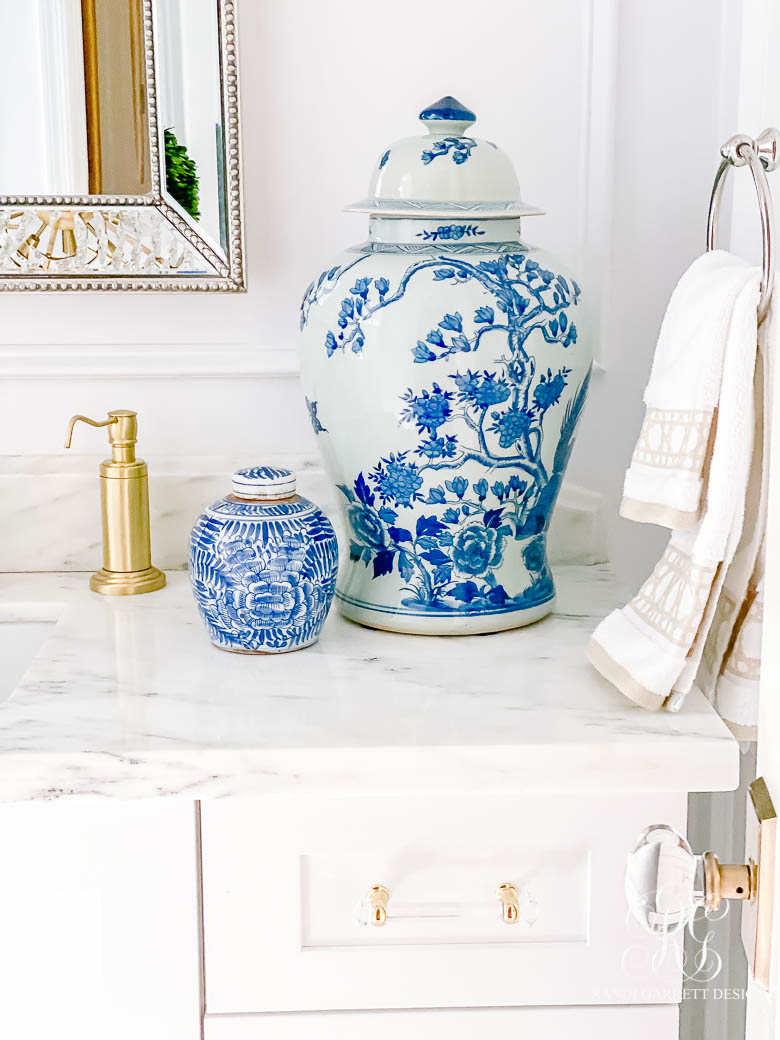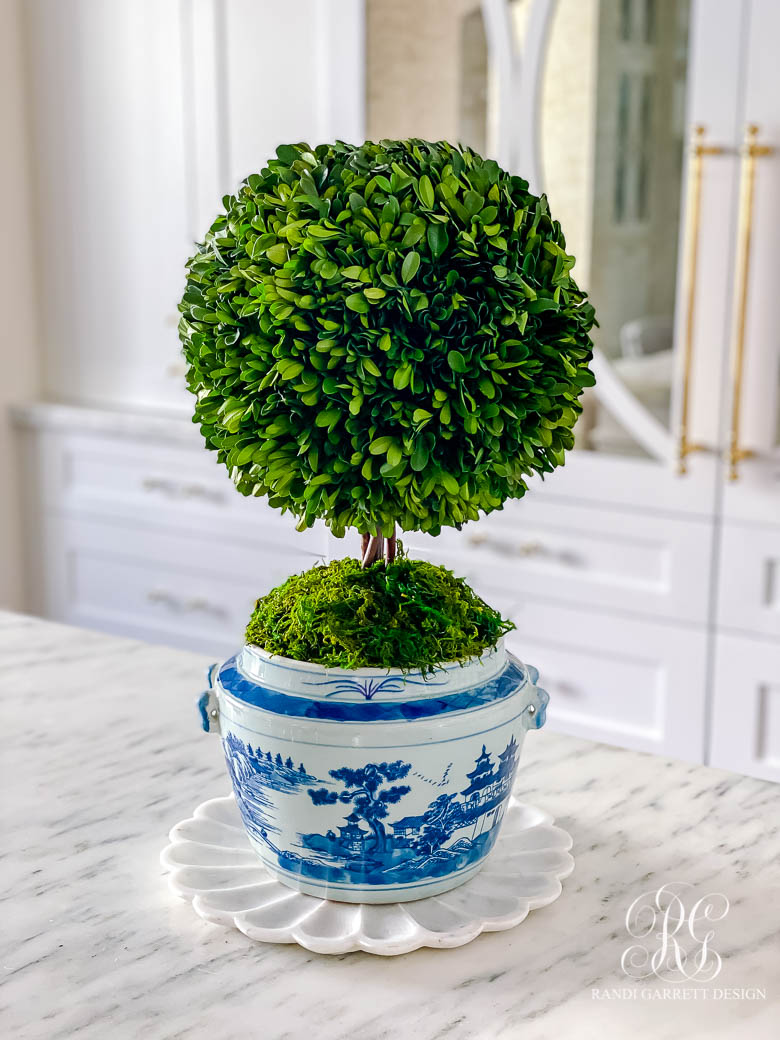 6. Put them on parade on a shelf! Ginger jars look amazing styled together! Try tucking in a few pieces of coral as a little nod to summer.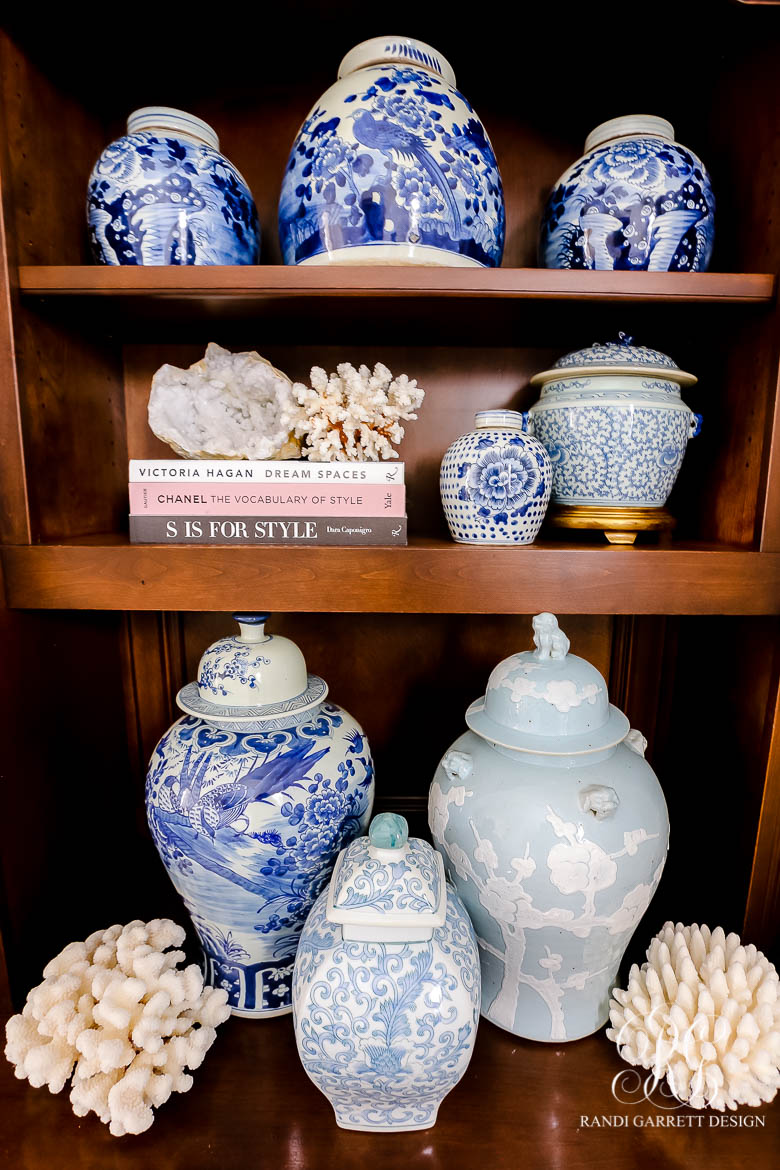 For more ginger jar styling ideas, visit this post here! I hope you start your own ginger jar collection, or add to it! Happy styling! For more of my favorite pieces from Wayfair, visit this post here!