Welcome to our White and Gold Christmas Kitchen! Last week I shared our Christmas Family Room and  little bit about why I chose the gold, white and gray color scheme for Christmas this year. You can see our Family Room styled for Christmas with our Christmas Tree here with tons of Christmas decorating ideas.
We spend a ton of time baking and eating in this room! It's connected to our family room, so the gold and white color scheme spills over into our kitchen. The words, "the stars were brightly shining," from my favorite Christmas song, O Holy Night, echoed in my ear as I trimmed this room with gold and white.
Snowy magnolia wreaths, snowy peony floral arrangements, shiny gold ornaments, glistening golden ginger jars and tiny magical bottlebrush trees are draped around the room to welcome Christmas. As you look through the room, there will be sources below some of the photos, just click on the words.  At the end of the post you will find photos of the items in the room to click on for sources. I hope you  enjoy these simple Christmas decorating ideas and get some inspiration for your Christmas kitchen!
This post contains affiliate links. Read my disclosure policy here.
White and Gold Christmas Kitchen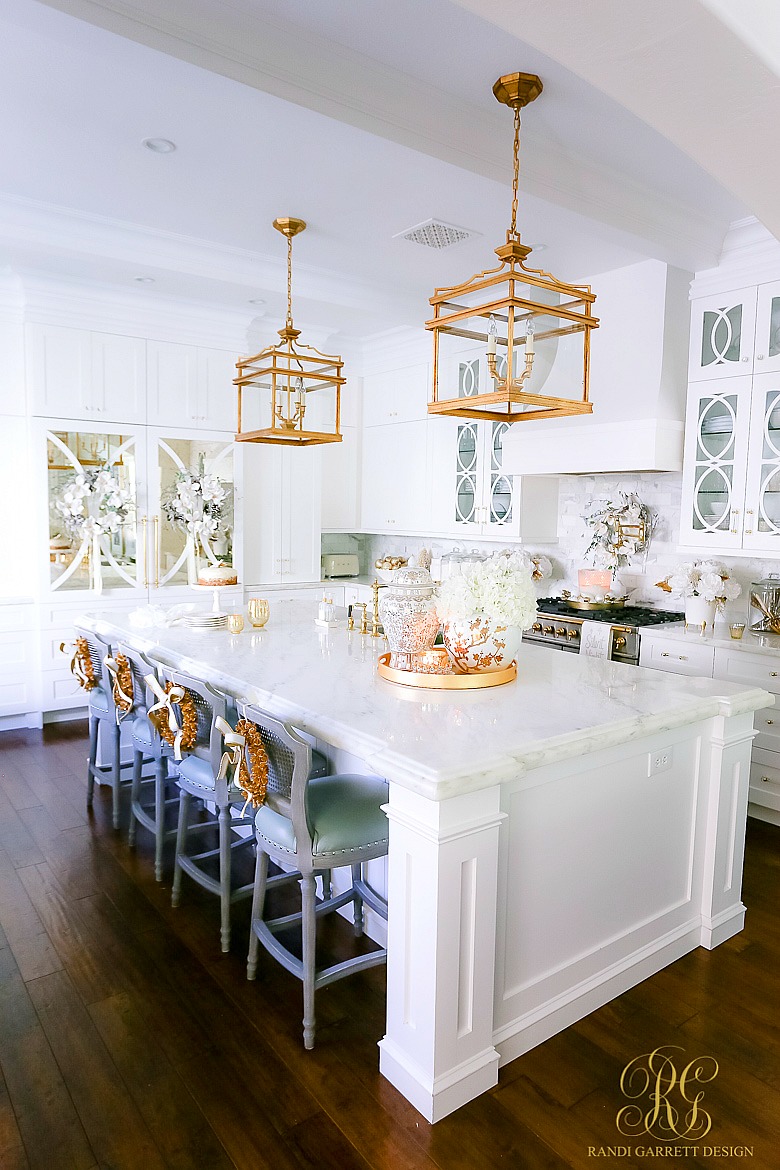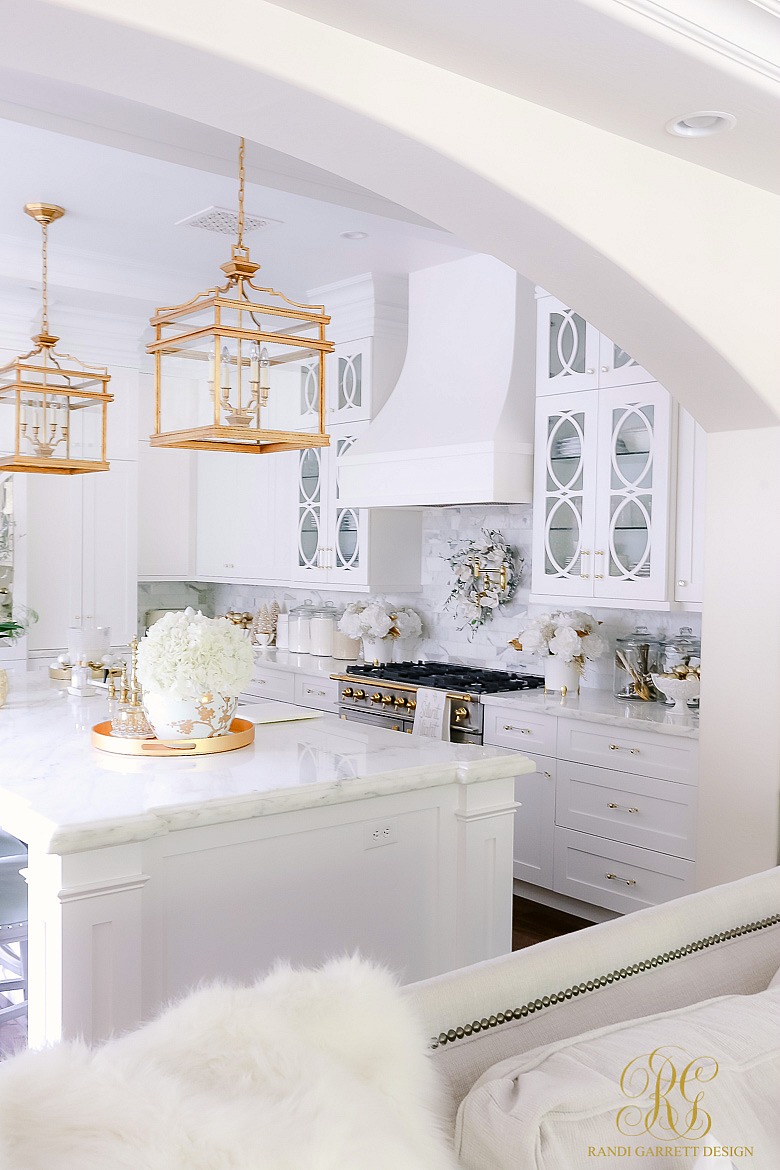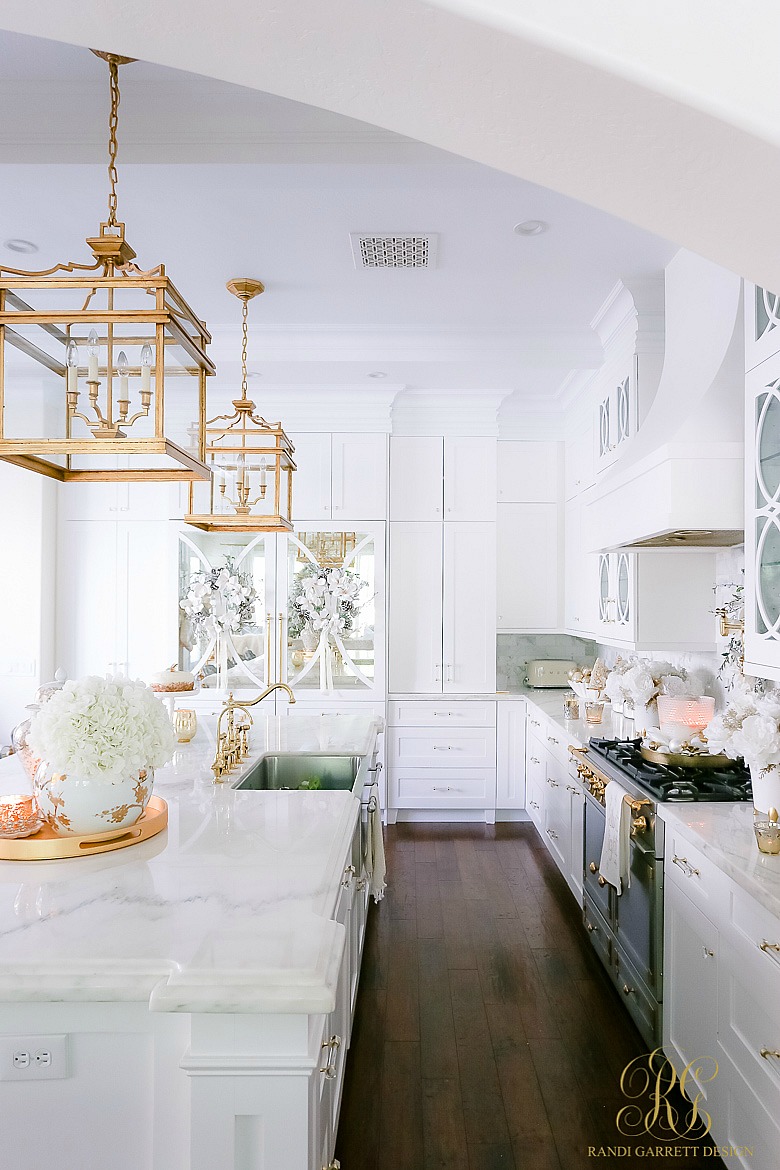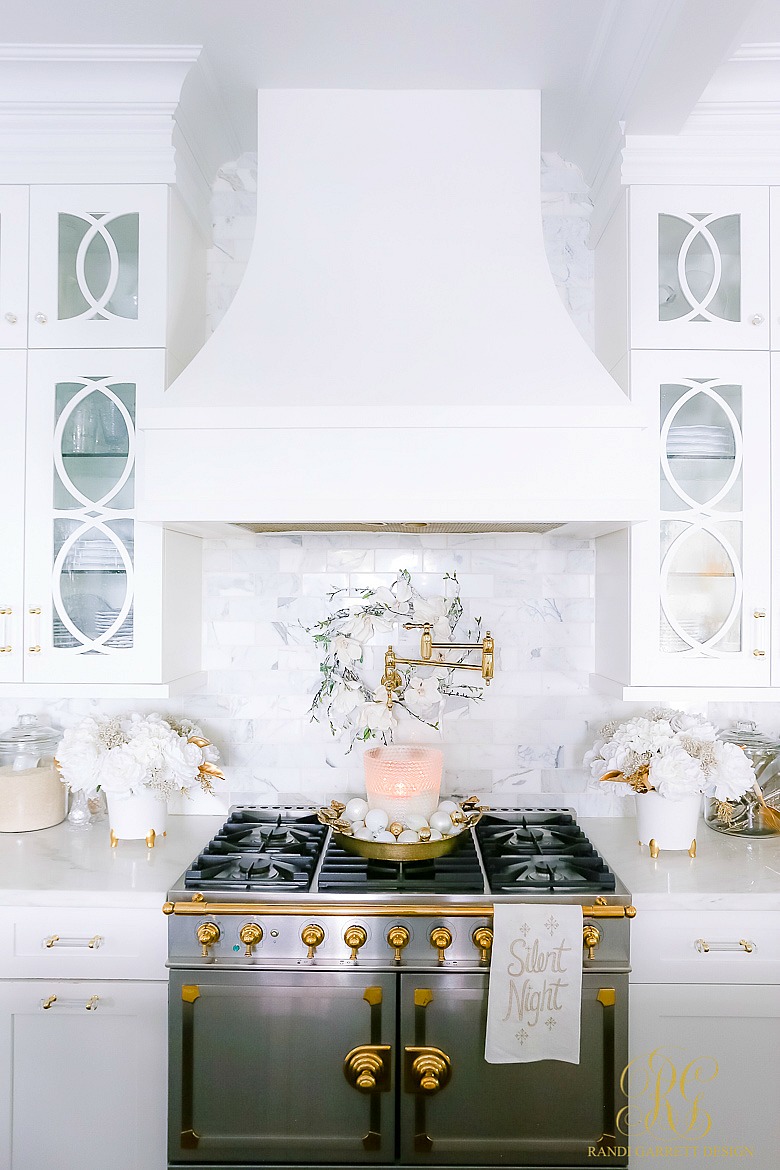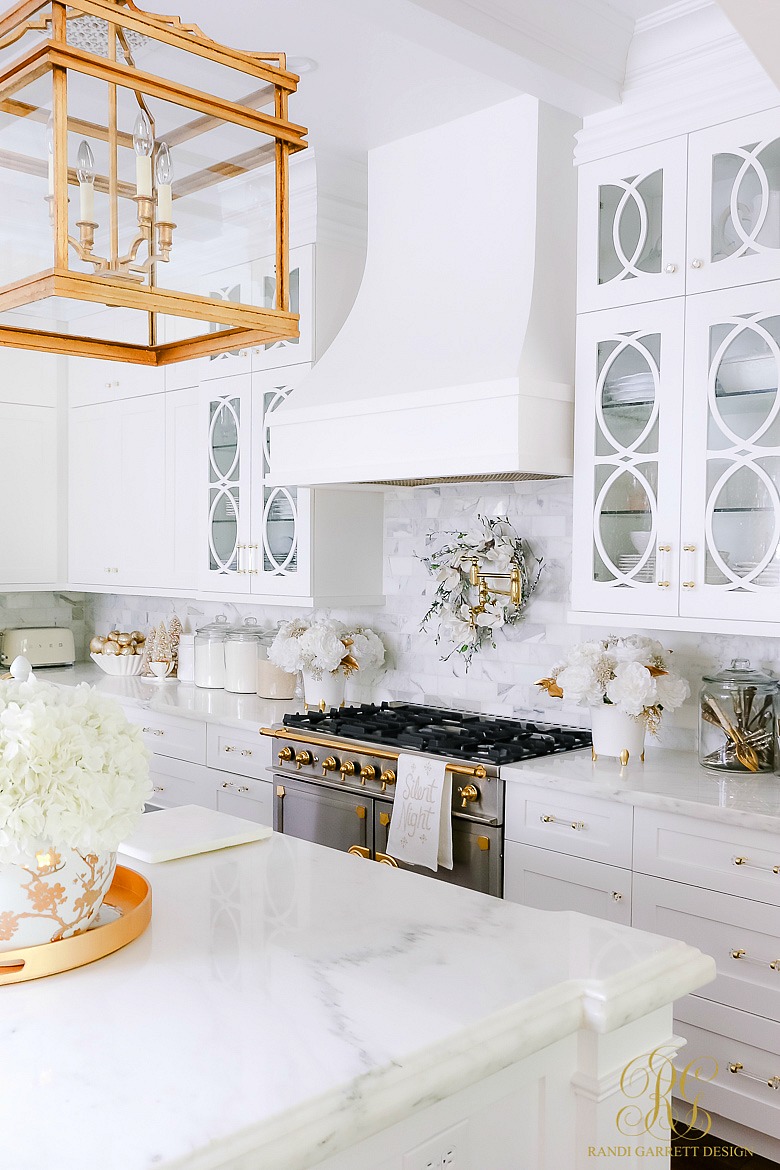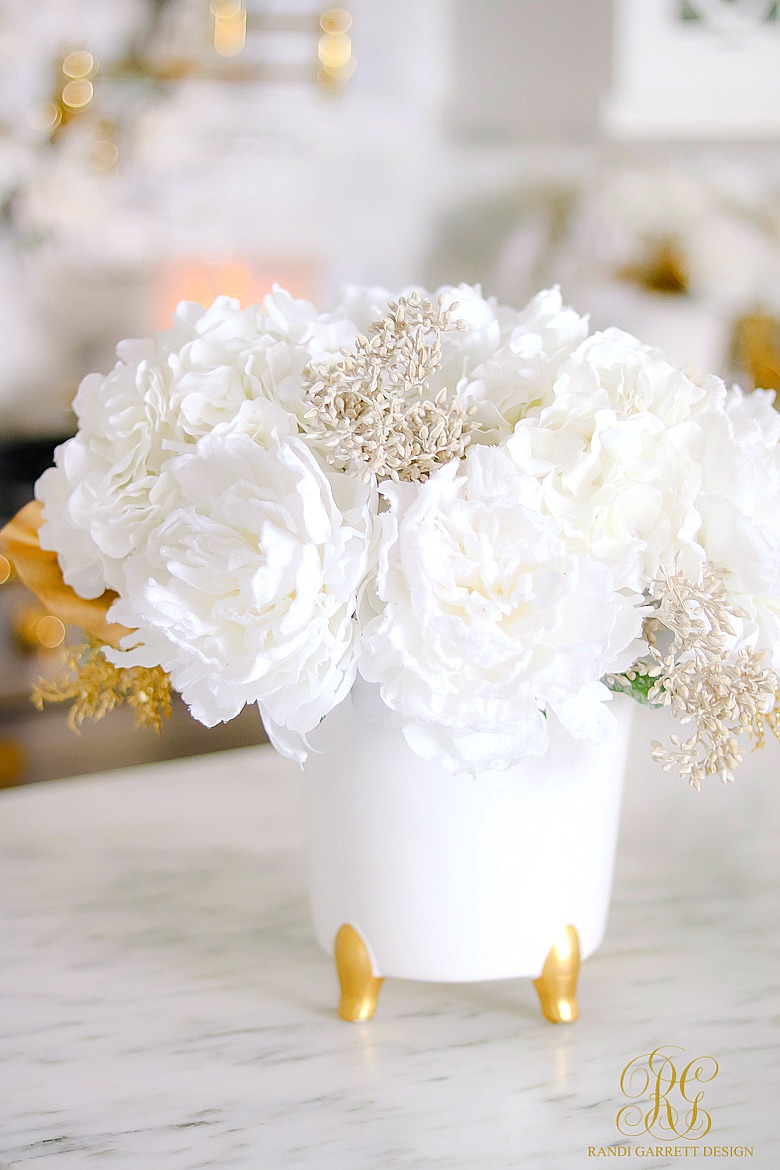 White Footed Bowl | Snowy Peony (another snowy peony) | Hydrangeas (similar white hydrangeas) | Sedum  | Gold Magnolia Leaves
Arrange these gorgeous white and gold urns with snowy peonies, white hydrangeas, sedum and a few gold magnolia leaf sprigs. I used 8 peonies, 4 hydrangea, 1 sedum and 2 gold magnolia stems in each arrangement.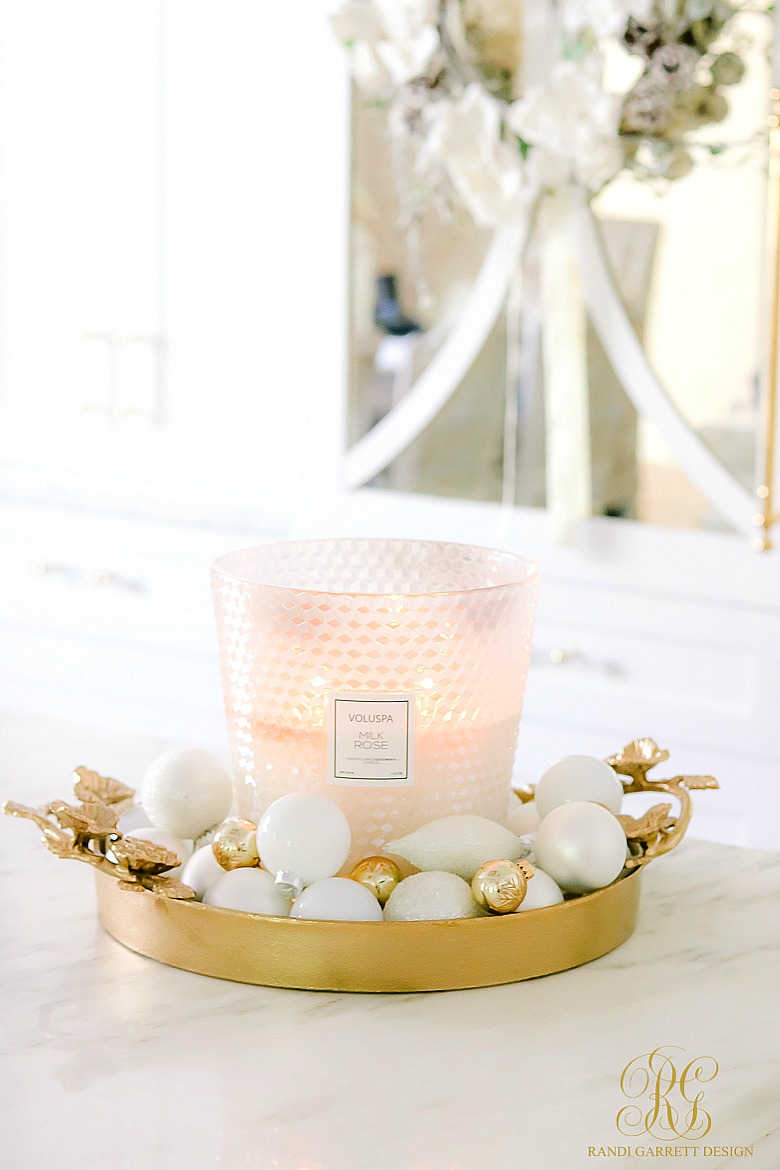 Gold Flower Tray | 5 Wick Candle 
Place a large candle (this 5 wick one is my favorite), in a round tray. Then fill it with ornaments of various sizes to match your color scheme.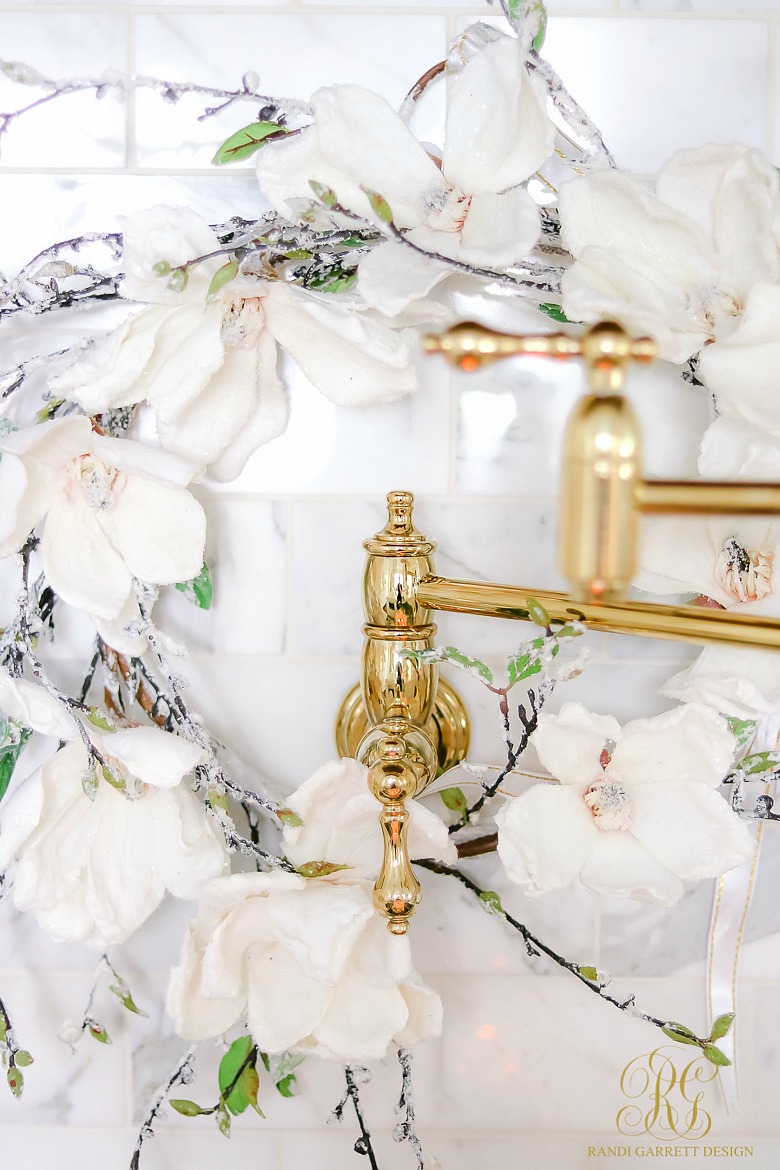 Brass Pot Filler | Snowy Magnolia Wreath
Place a wreath over your stove with a Command hook. If you use the back burners, remove the wreath before cooking.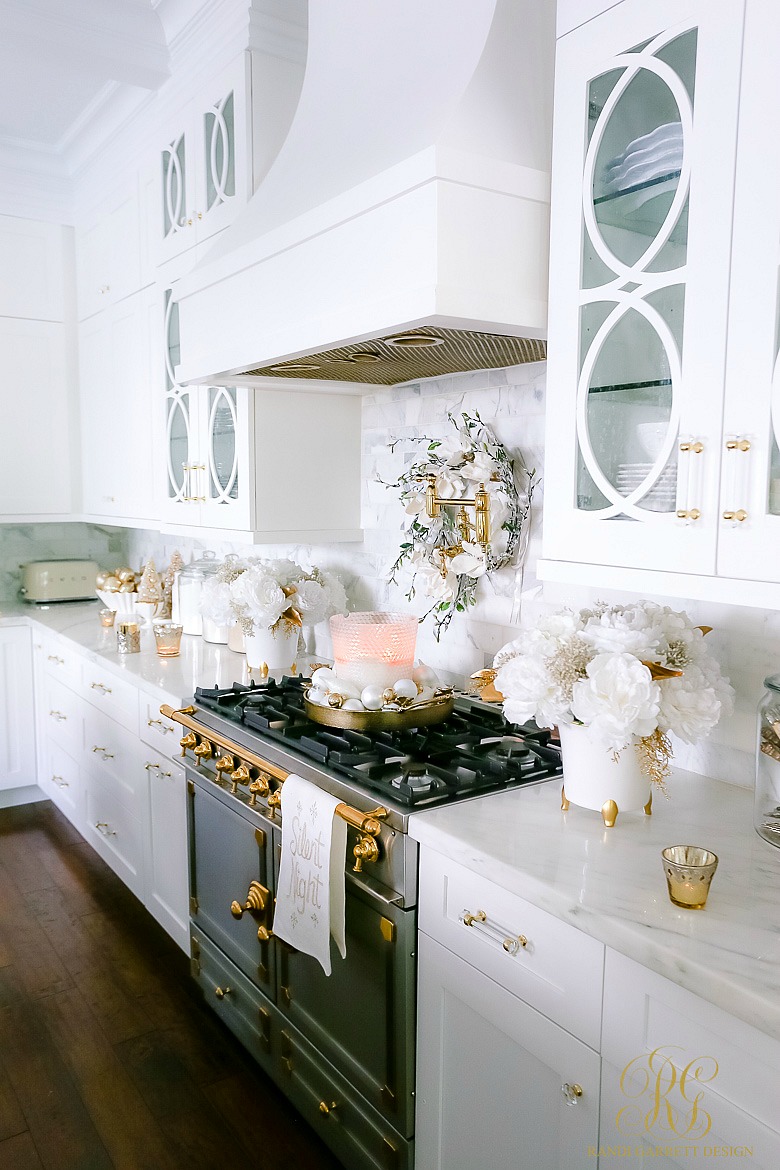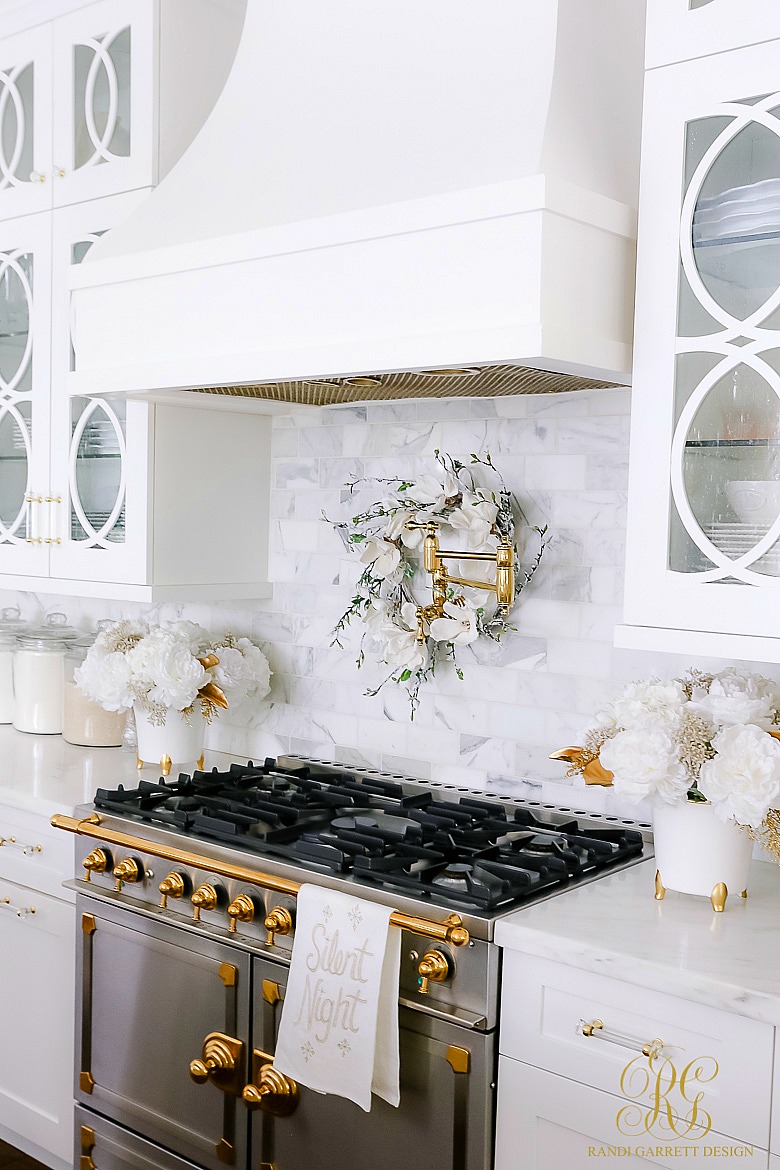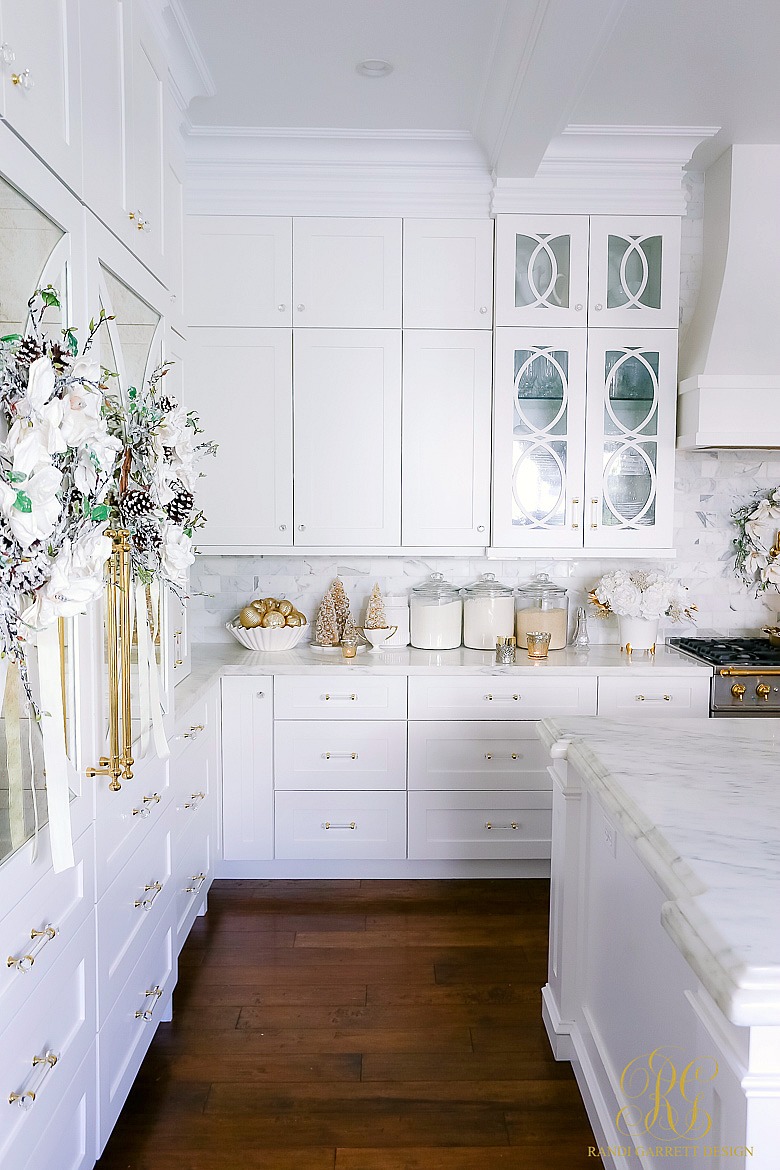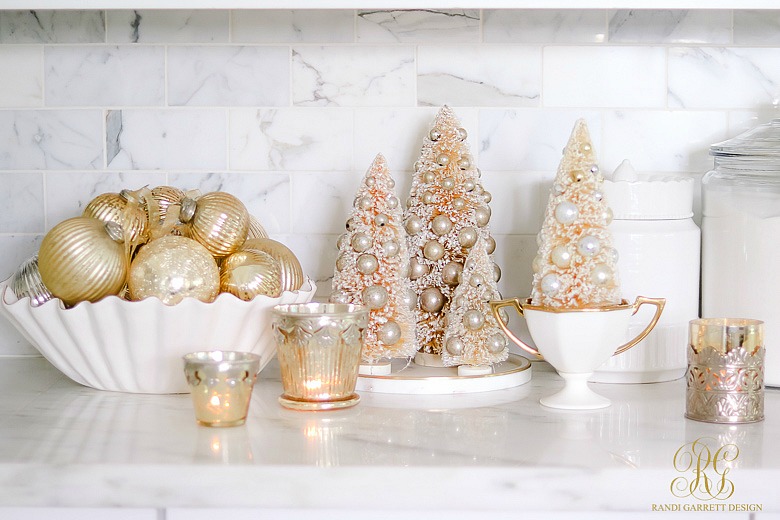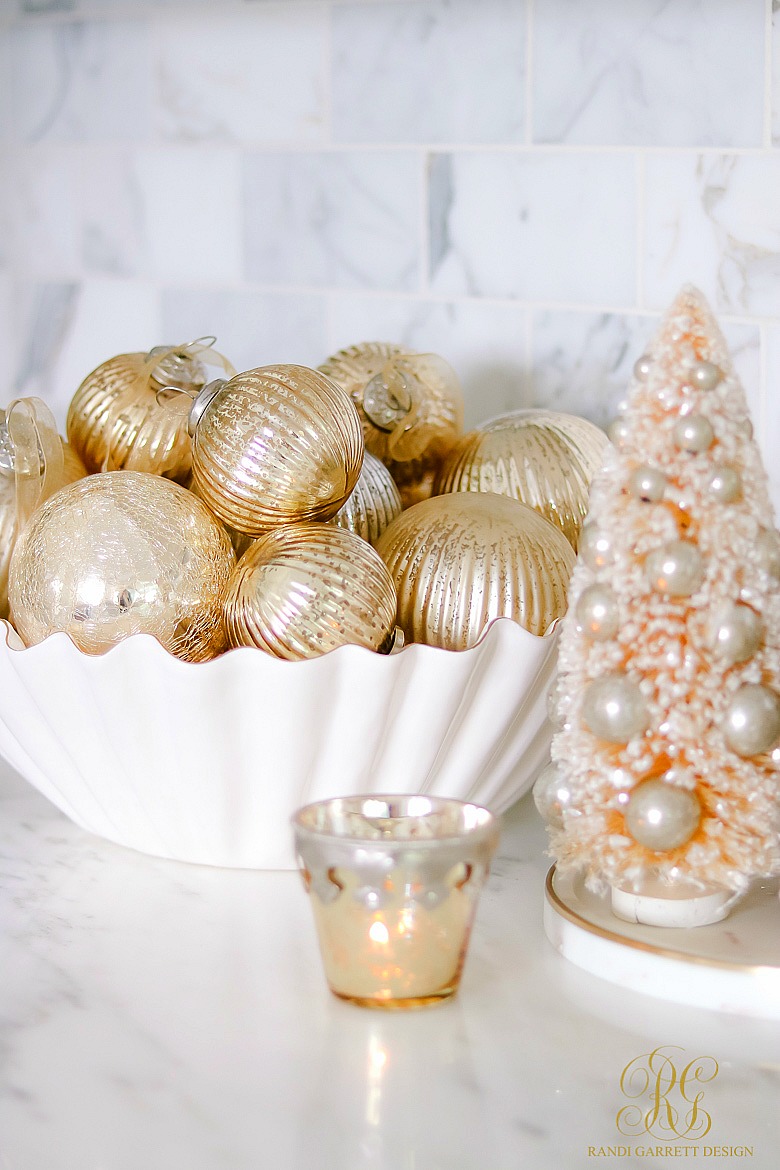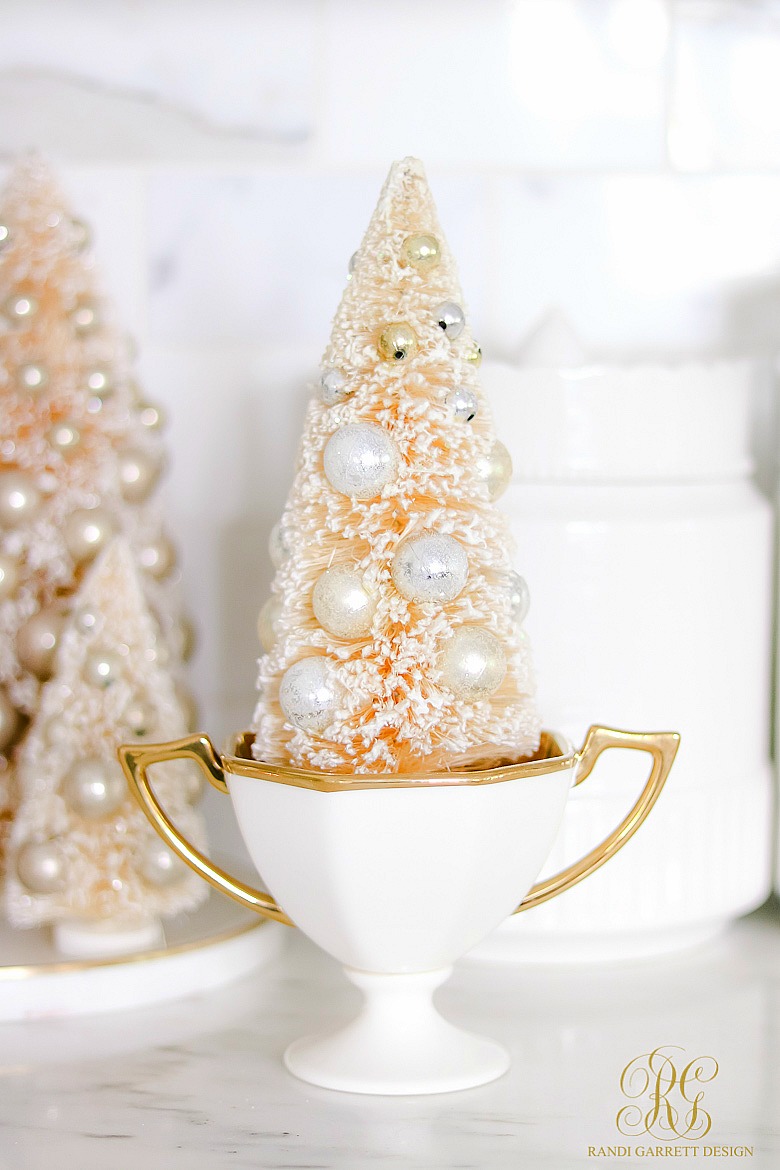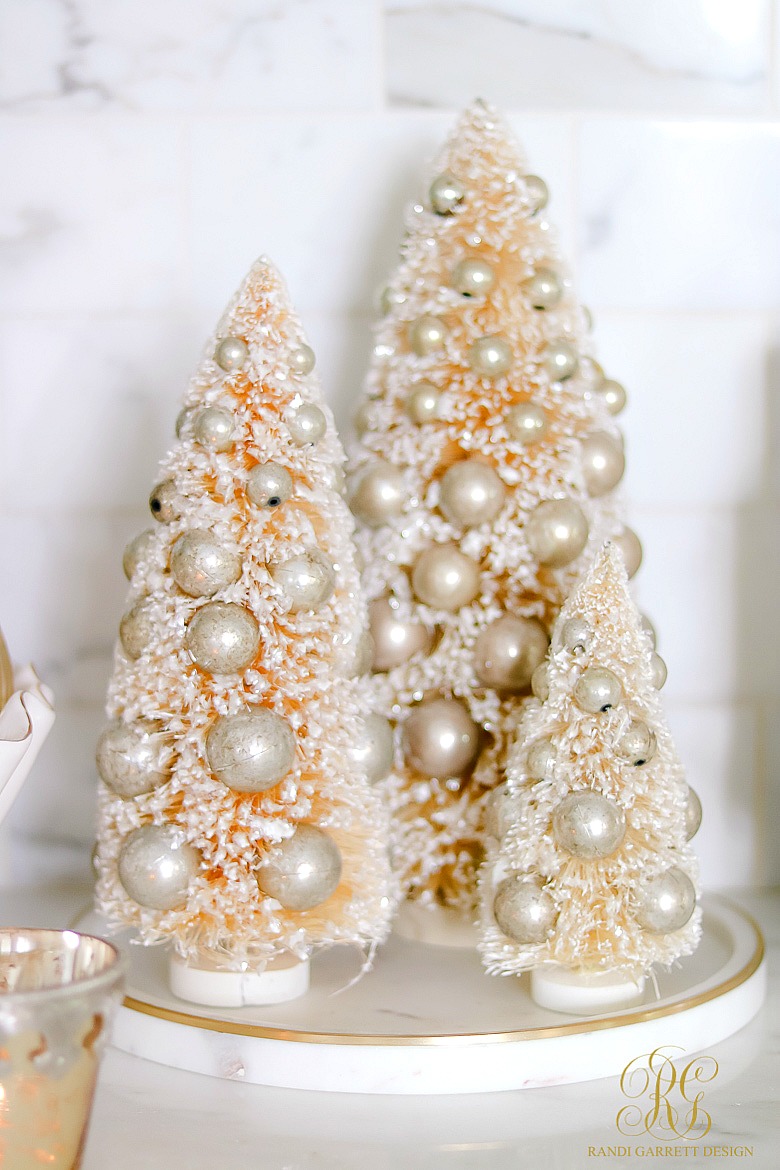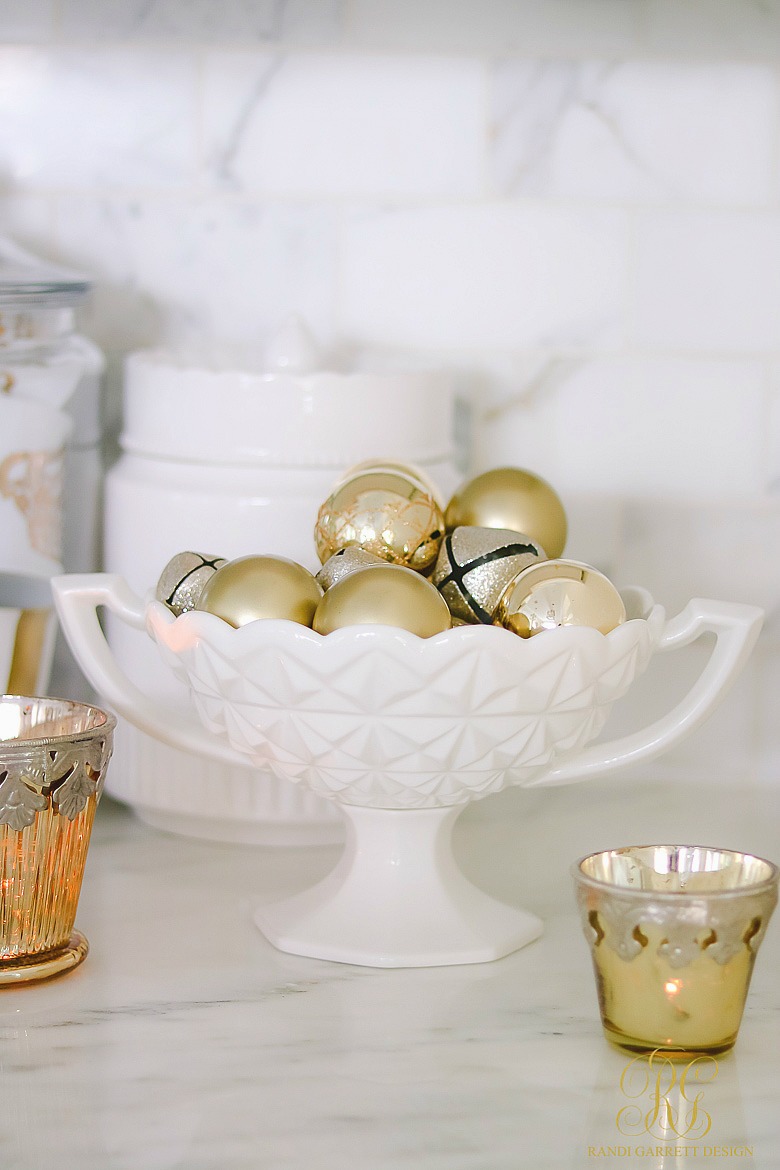 Ruffled Bowl | Gold Ornaments | Mini White and Gold Trophy Cup | Snowy Bottle Brush Trees | Marble Round Tray | Gold Silver Mercury Glass Votives | White Compote
Use trays, bowls and other pretty vessels to hold ornaments and bottlebrush trees. I used some rice to lift up the tree in the mini trophy cup. Sprinkle your countertop with votives to give the counter a magical glow.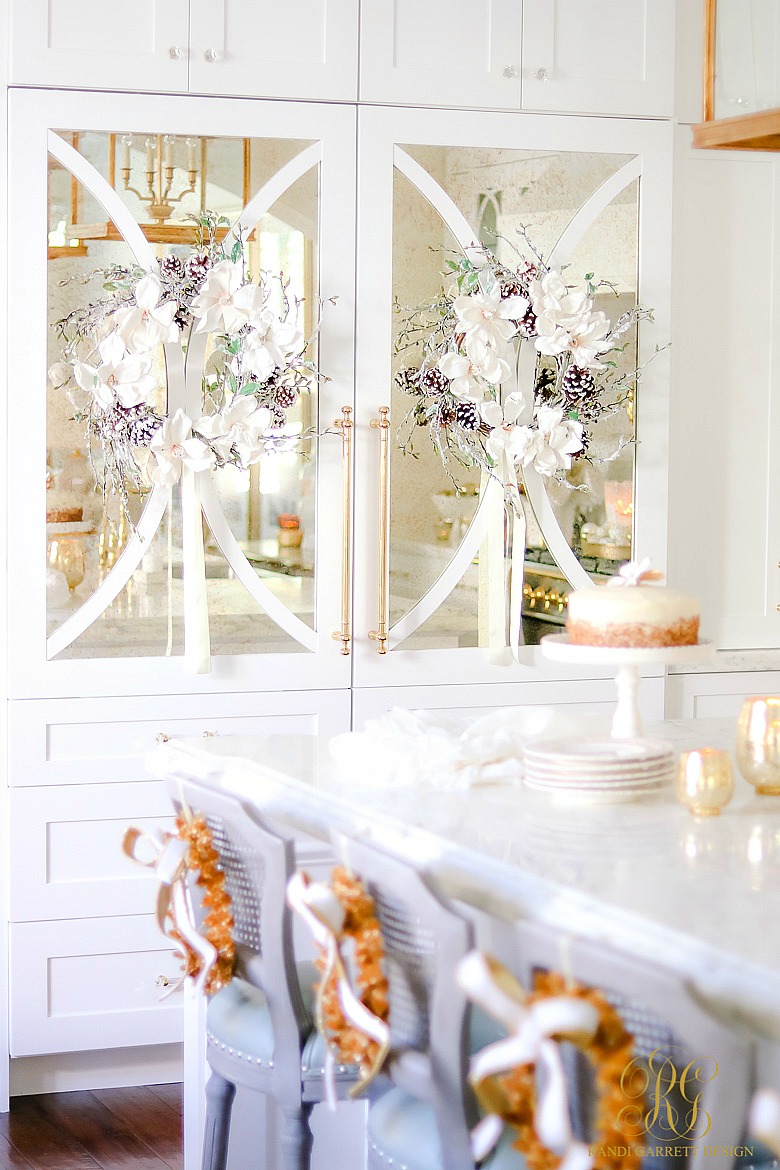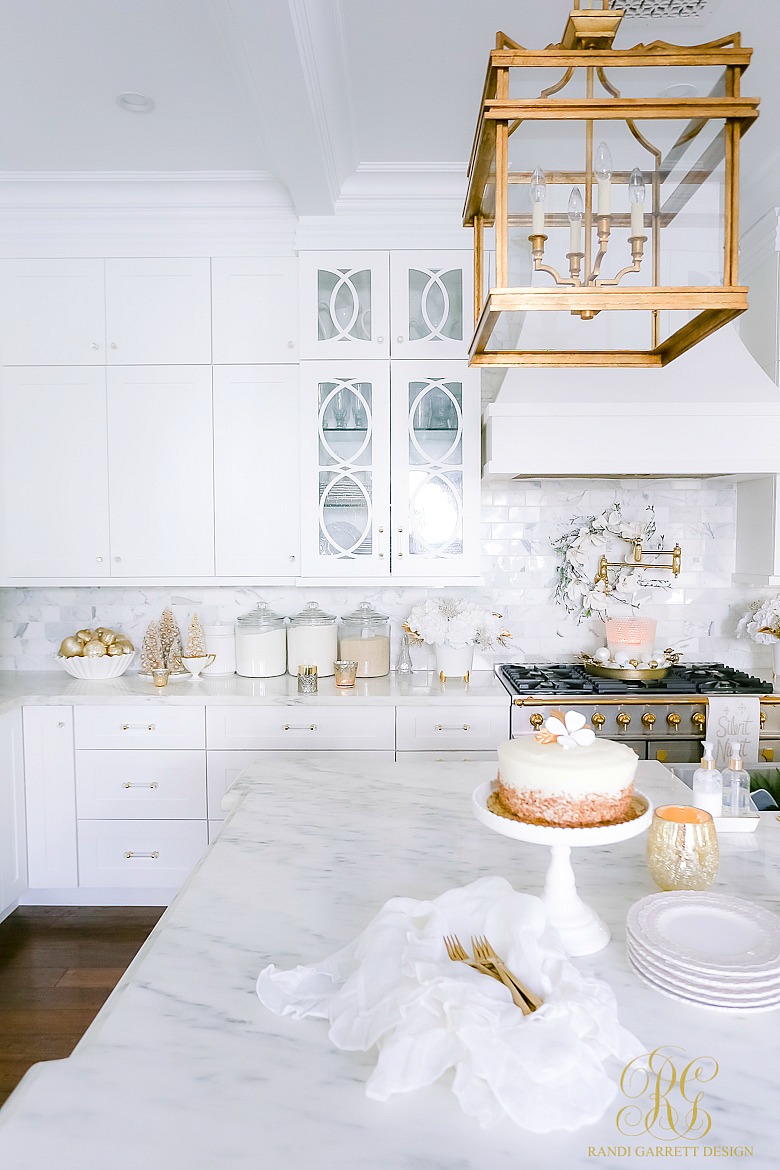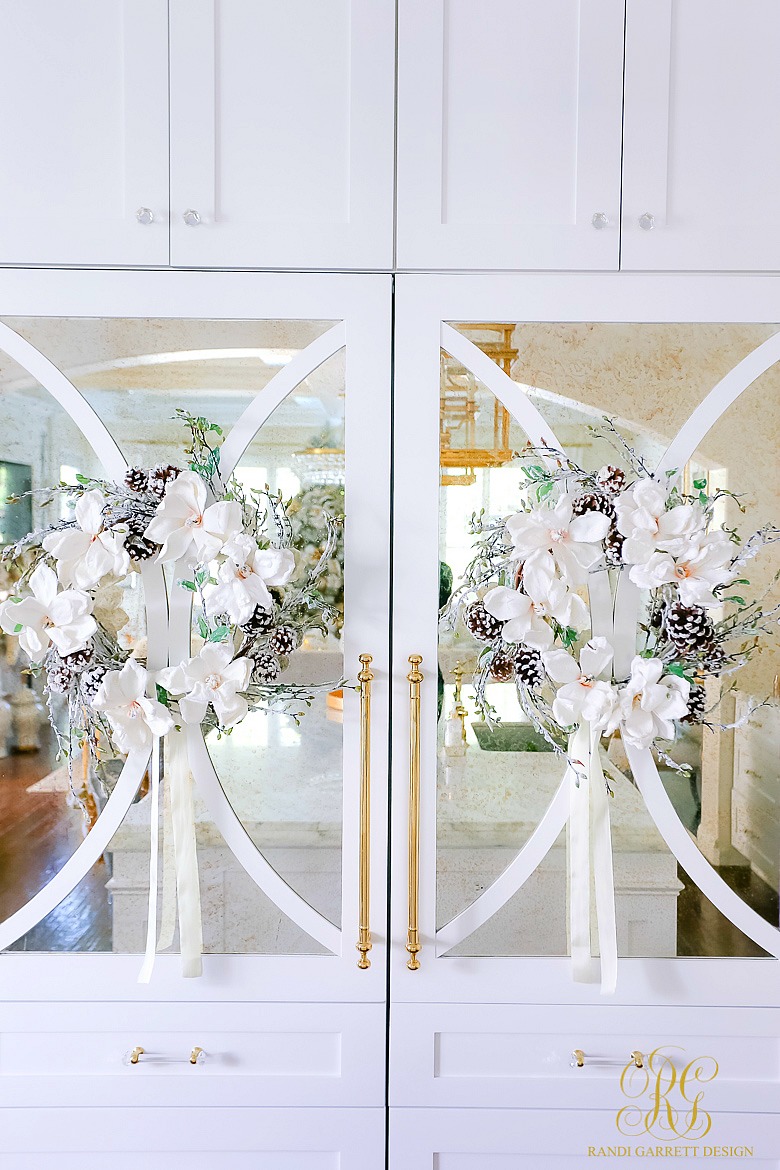 More Command Hooks hold more magnolia wreaths on my fridge. Finish the wreath with a simple silk ribbon draped over the edge.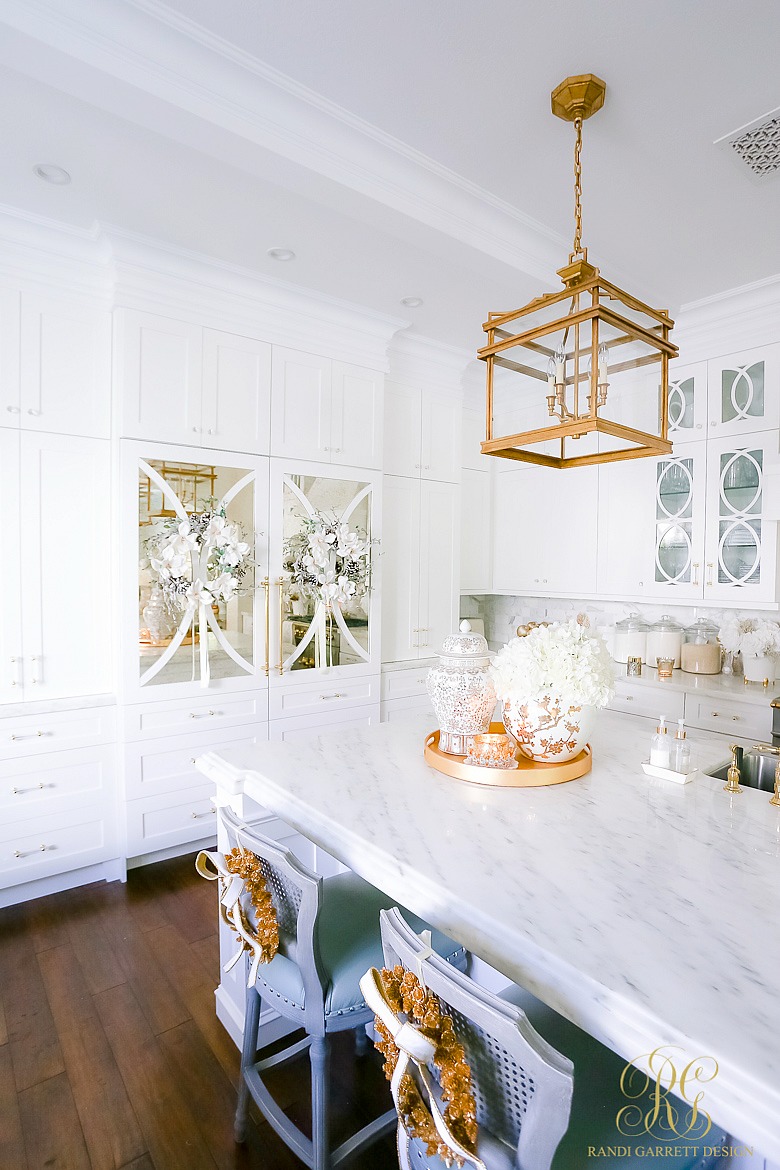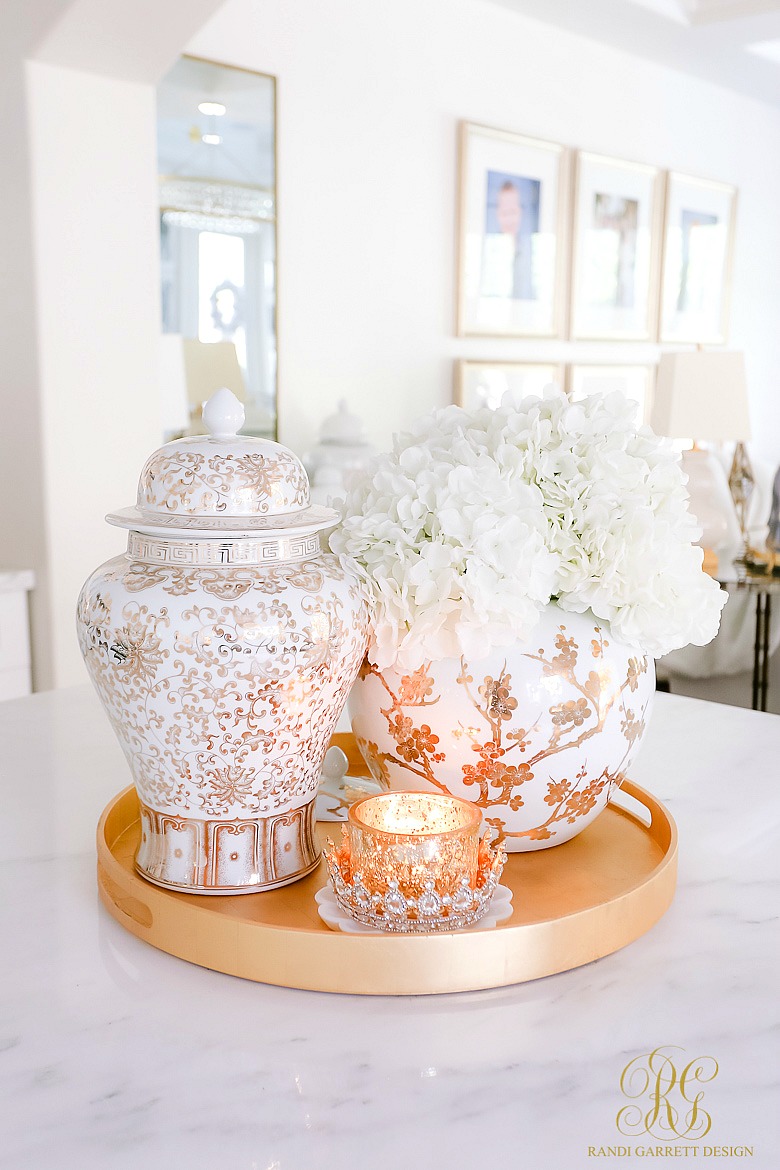 Gold and White Ginger Jar | White and Gold Cherry Blossom Ginger Jar | Gold Tray | Gold Candle | Crown | Hydrangeas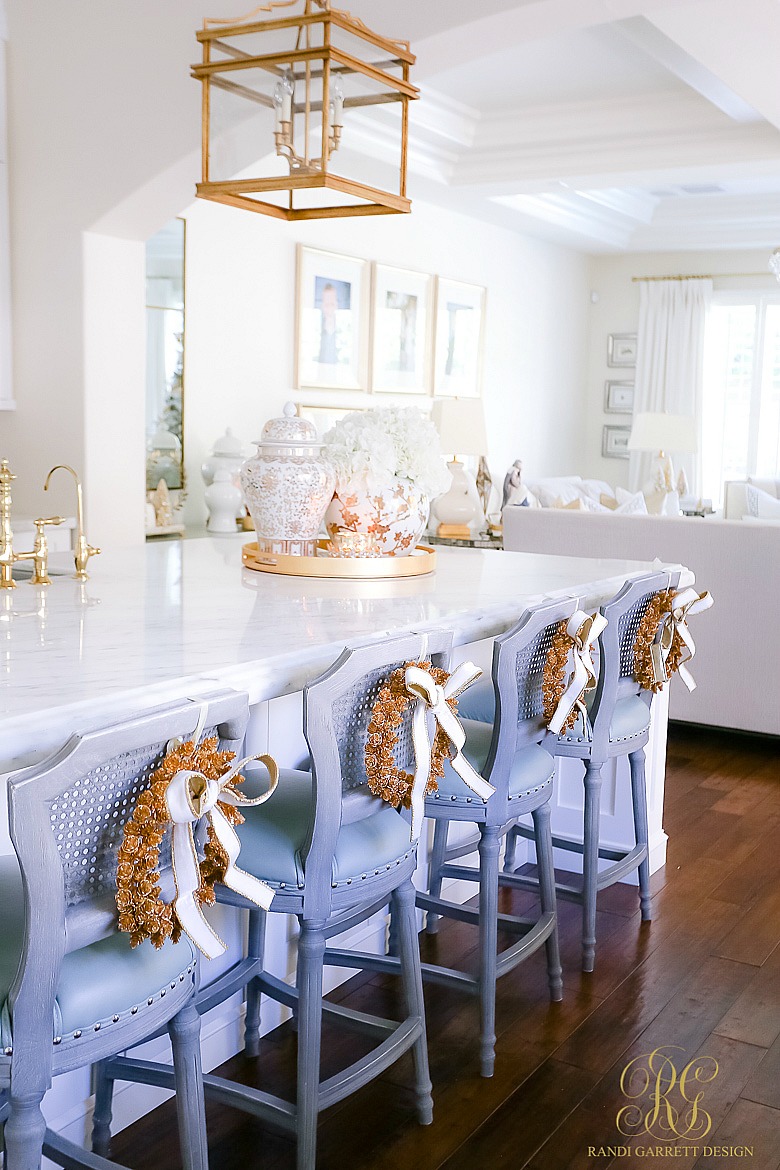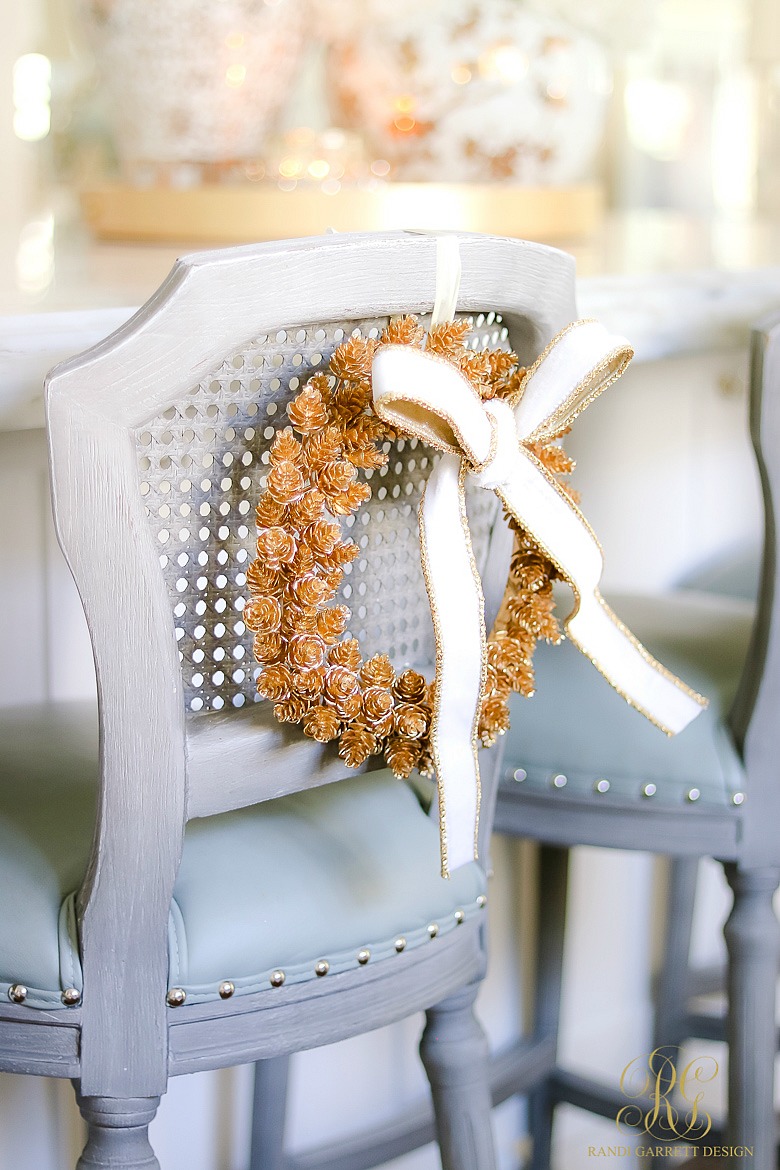 Mini Gold Pinecone Wreaths | White and Gold Velvet Ribbon | Similar Barstools 
I tied mini gold wreath to the backs of the barstools. Then wired ribbon on the wreaths.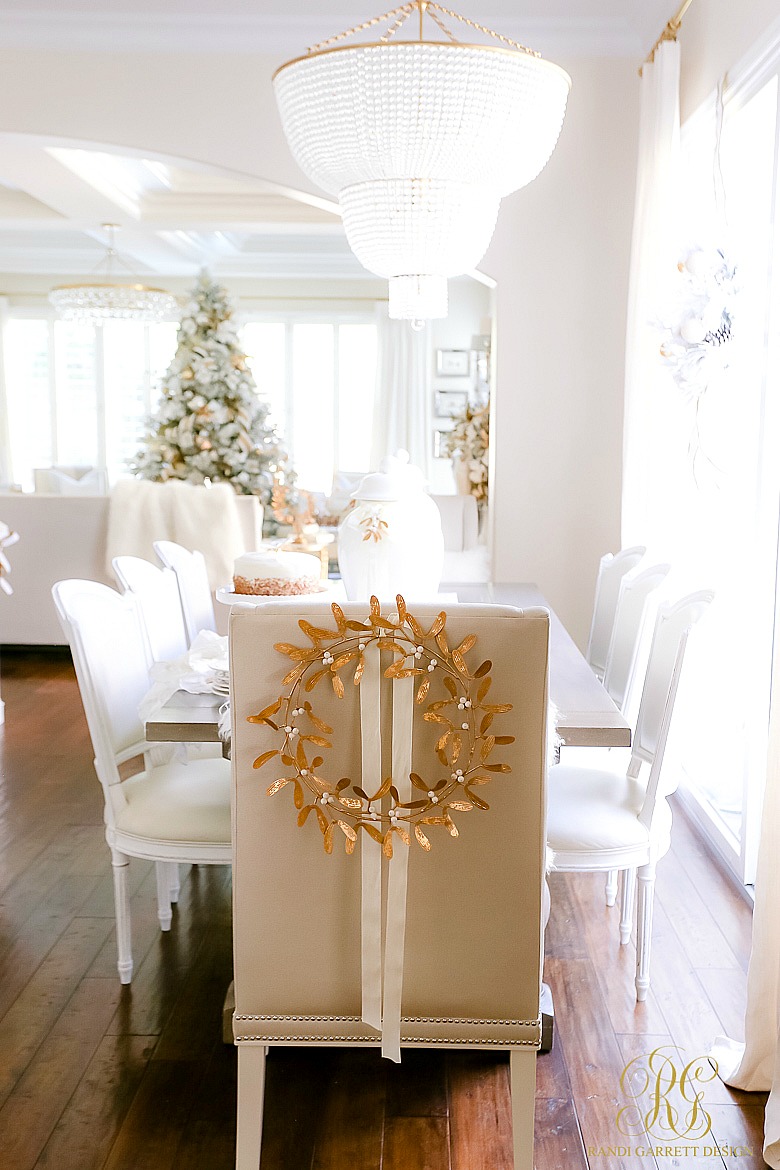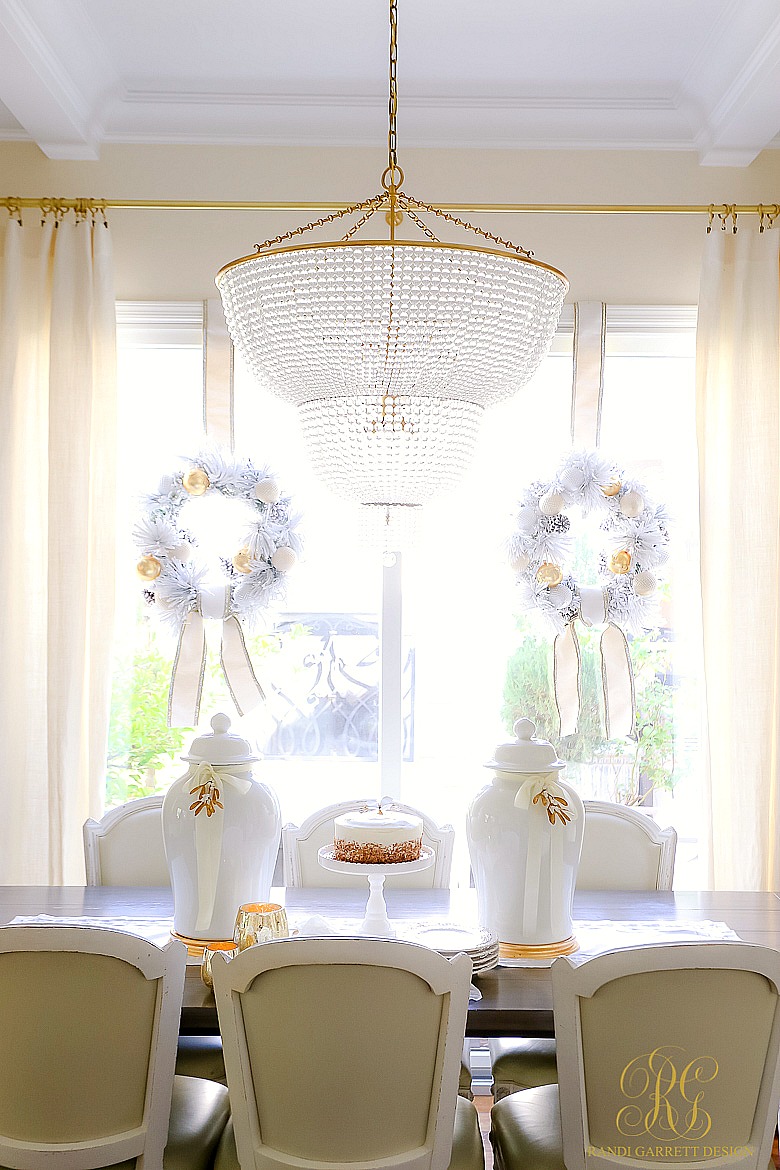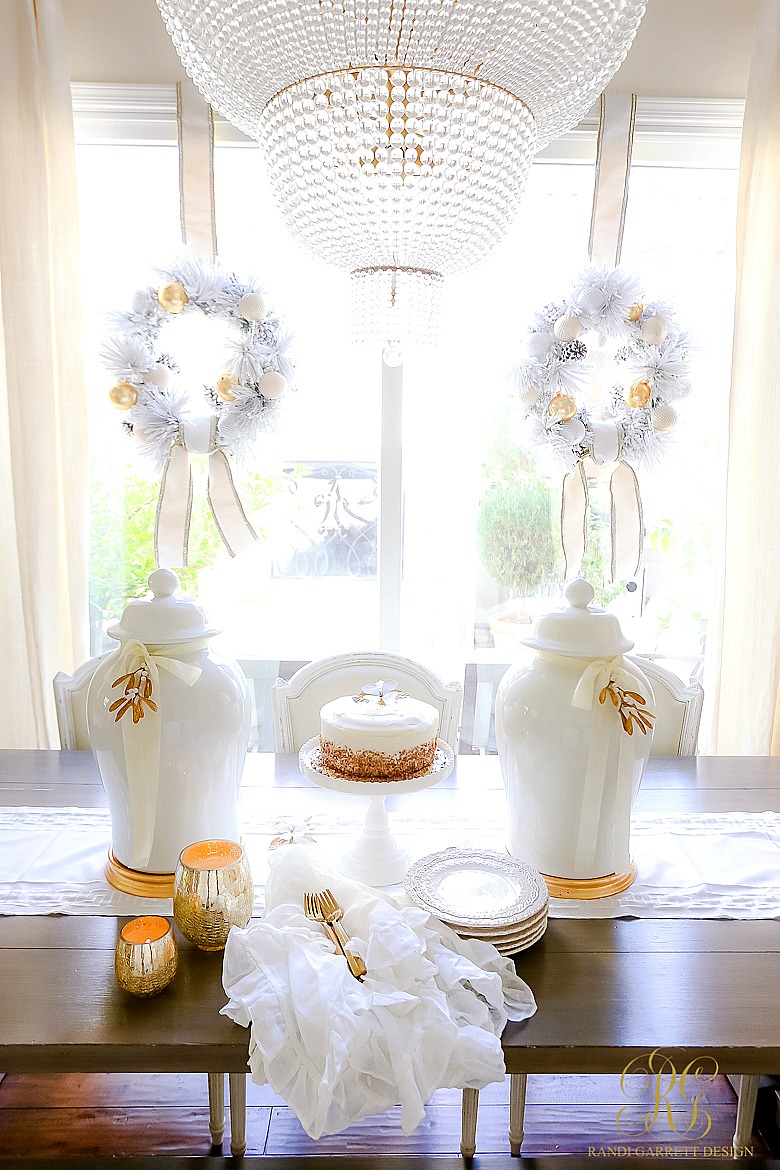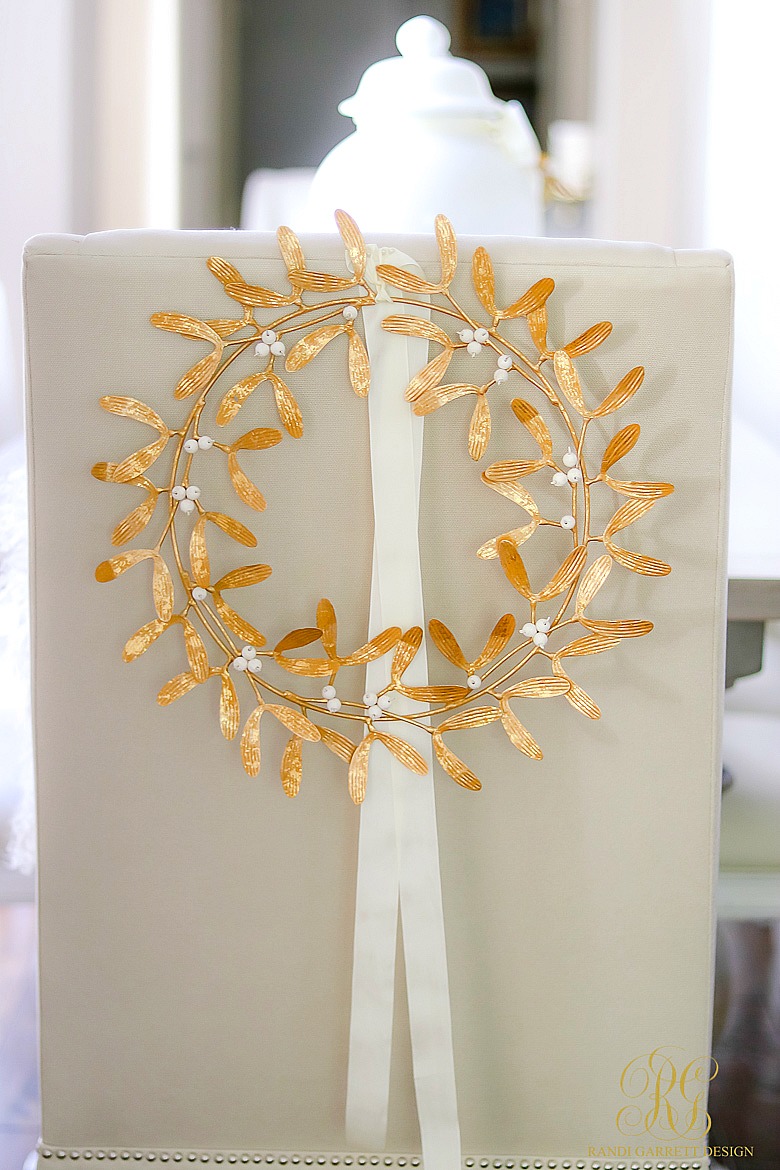 Kitchen Head Chairs | Mistletoe Wreath | Two Tiered Chandelier | Ginger Jars | Mistletoe Ornaments | Greek Key Table Runner | White Cake Stand | White Lace Plates | Gold Flatware | Ruffle Napkins | Gold Mercury Glass Pine Candles | Flocked Wreaths  | Gold Ornaments | White Ornaments | Velvet Ribbon  | White Pine Candles 
Simple flocked wreaths are hung on our french doors with command hooks. I also draped a little ribbon at the bottom and attached some at the top to look like they are hanging. Wire a few ornaments to the wreath to tie in your coordinating color.
For a simple centerpiece use 2 white ginger jars with gold bases. Tie an ornament around the neck of the jar. I used a mistletoe ornaments tied with silk ribbon on my jars. For the table runner, I use my favorite white greek key embroidered runner.
On the back of the head chairs, I pinned a metal mistletoe wreath. I believe mine is sold out. Here is a similar metal wreath.
Make a simple dessert by purchasing a store bought cake. I used an Italian Cream Cake. Place a metal flower on top or use some real flowers or a paper flowers. This cake stand is my favorite to display cakes on. My lace plates remind me of snowflakes. Ruffle napkins and gold flatware make a simple cake feel more fancy.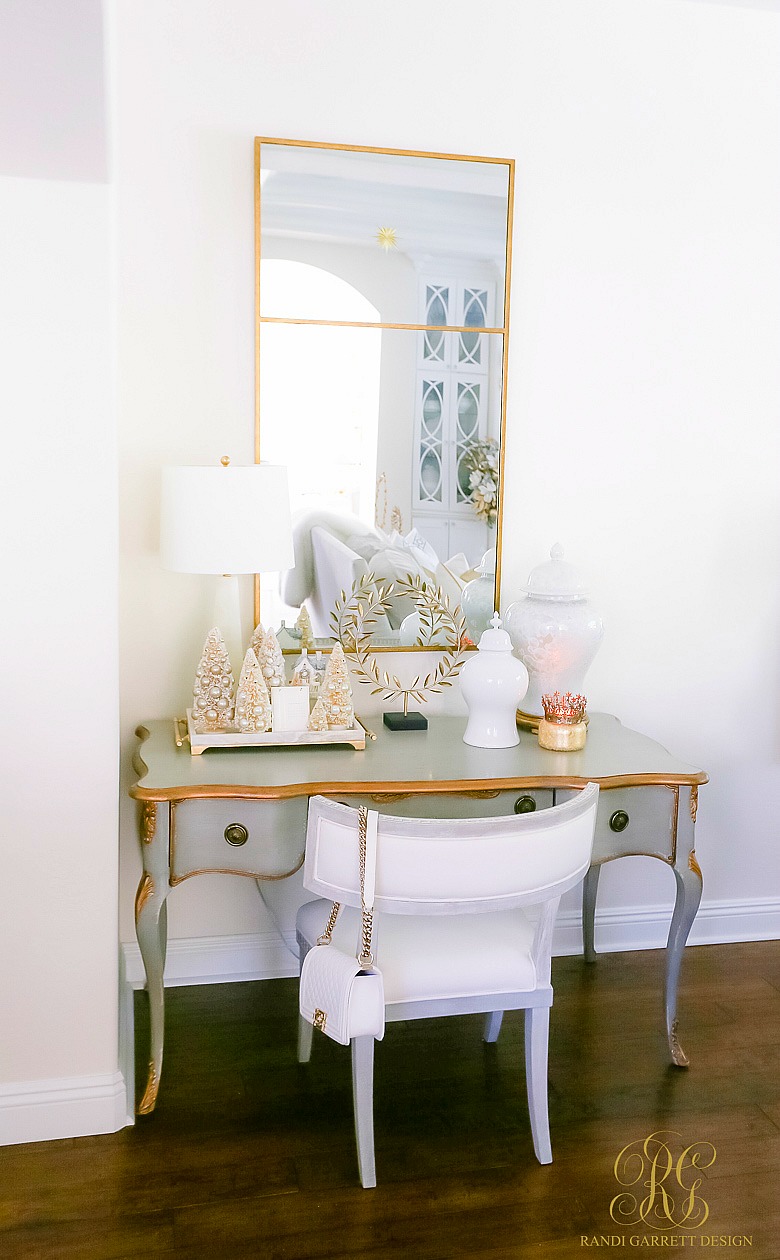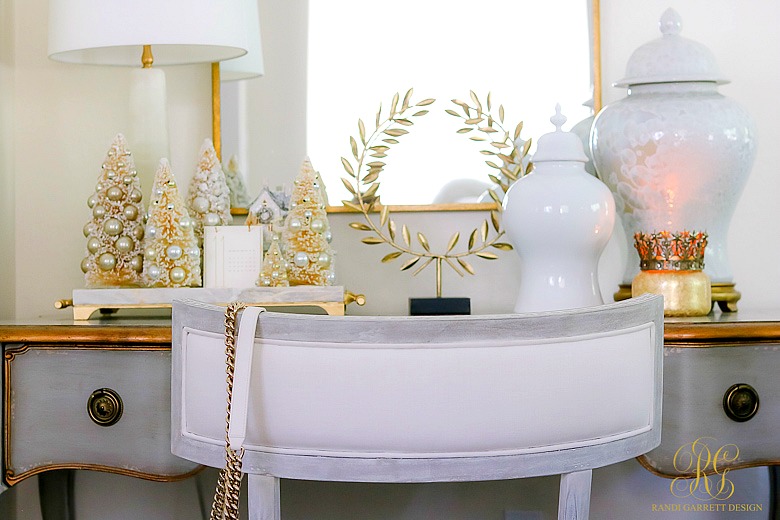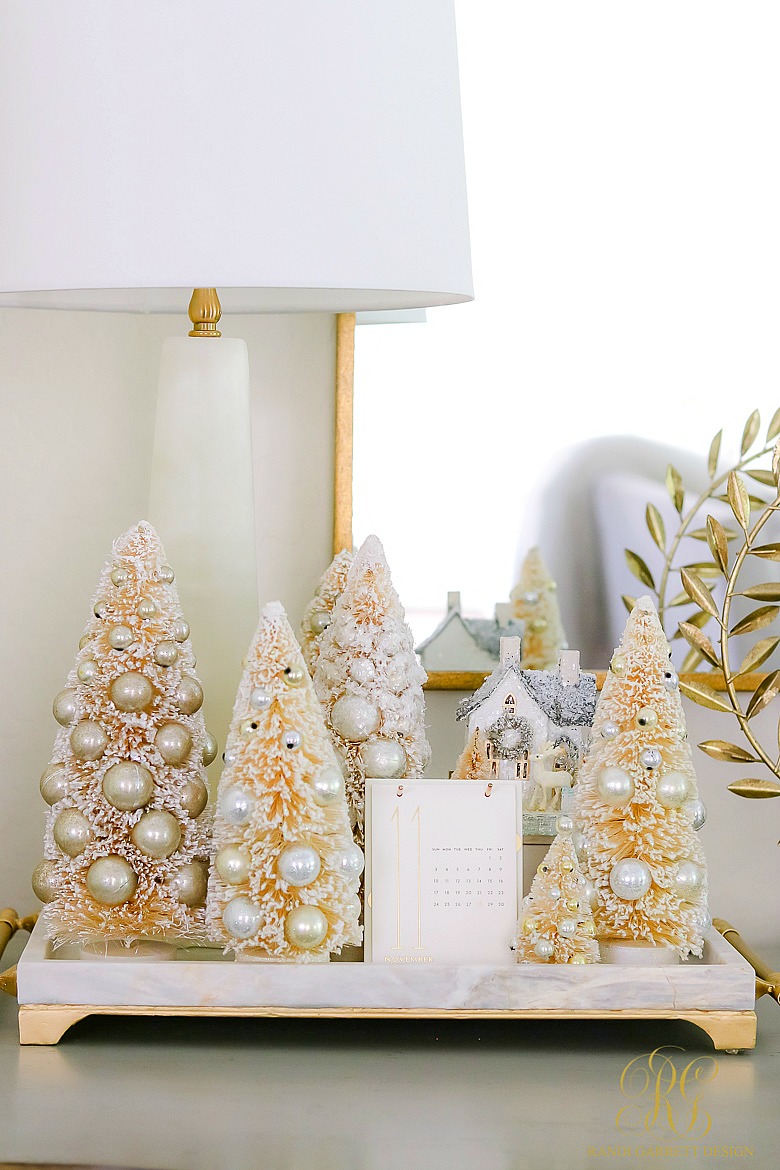 My little work desk got a little Christmas spirit with a vignette of bottlebrush trees, mini glitter house on top of a beautiful marble tray.
So there you have it! Our White and Gold Christmas Kitchen! I'll sharing our Christmas bedroom next! You do not want to miss it!!!
Here  are the sources in our kitchen…








See our Christmas family room with our tree and mantel here.