It's time for the most wonderful post of the year! Welcome to my Blue, White and Gold Christmas Home Tour! I'l be taking you through most of our Christmas filled home. More rooms will follow shortly! Every year, I like to decorate with a theme in mind. For this year's theme I chose We Three Kings. Our home is dripping with the royal color combination, blue, white and gold. The sacred symbols of Christmas can be seen sprinkled through the entire house. These symbols fill our homes and hearts with a memory of what we are celebrating and why.
Just as the Wise Men brought gifts to the Savior, we too can bring Him gifts through our words and actions. My sweet mom flew out to help my very overwhelmed self, decorate the house for Christmas this year. Her selflessness was a gift to me and reminded me of the greatest gifts we can give to our Savior, simply loving His children. As you celebrate this Christmas season, may the love of the Savior fill your home and hearts!
Enjoy my Christmas Home Tour!
This post contains affiliate links (full disclosure here).
Blue, White and Gold Entry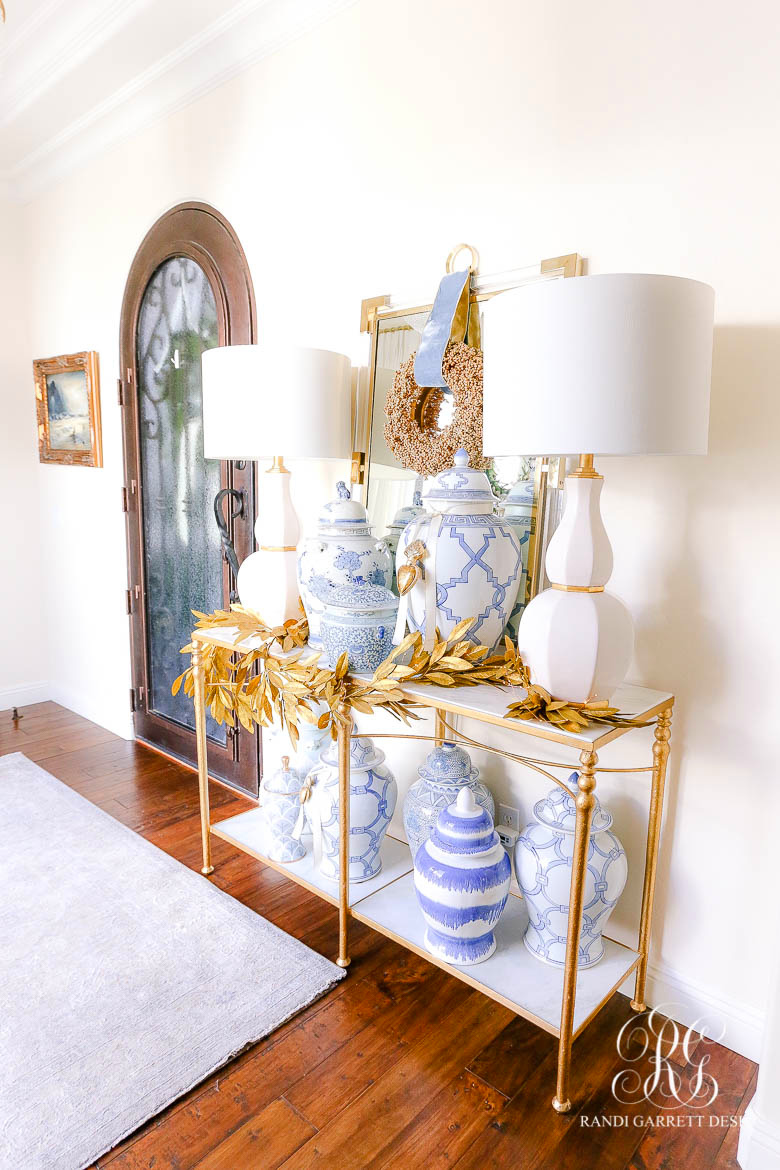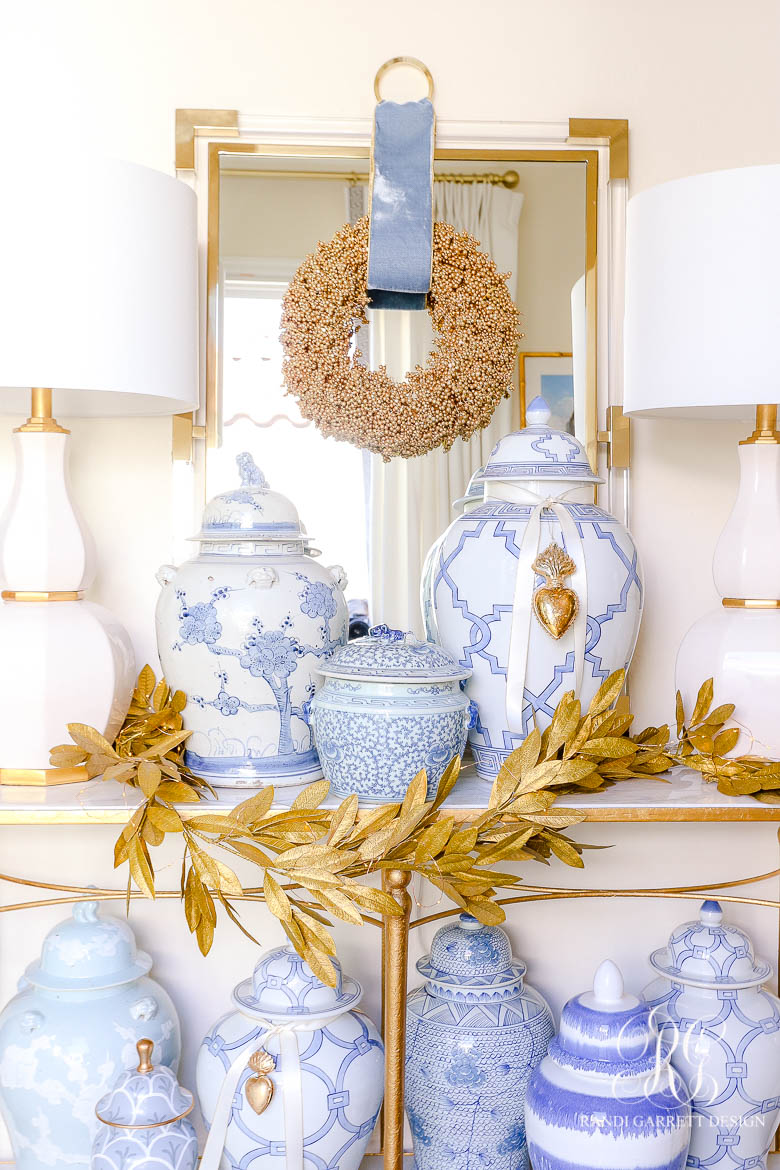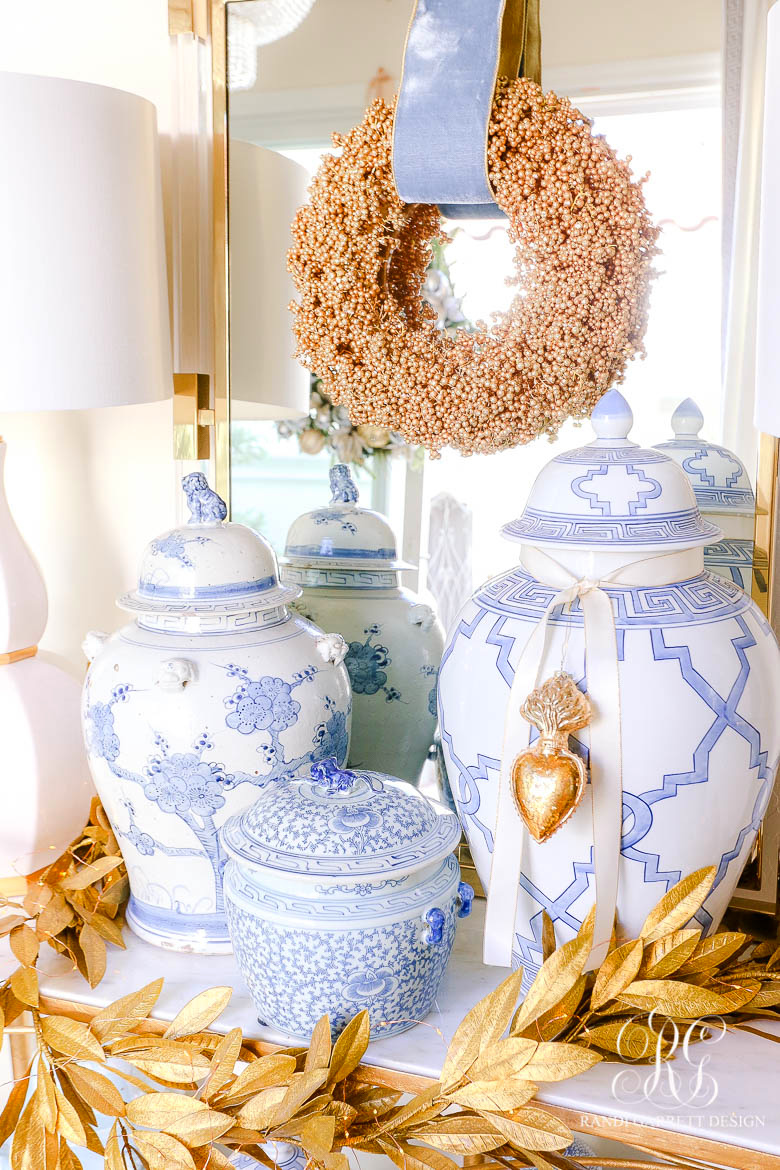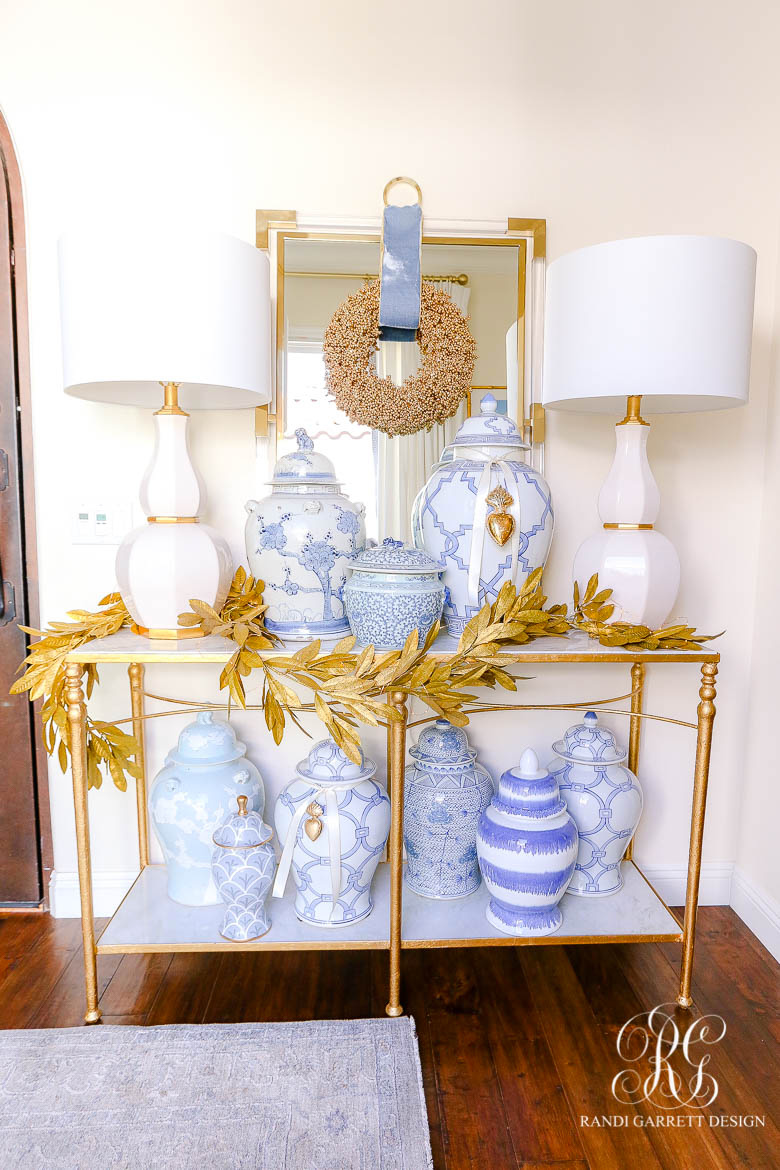 Our ginger jars are the star in the entryway setting the tone for the scheme for the rest of the house. Simply add a gold garland, some battery operated twinkle lights and a few special sacred heart ornaments to dress up your ginger jar collection for Christmas. My new gray rug is super soft and very affordable!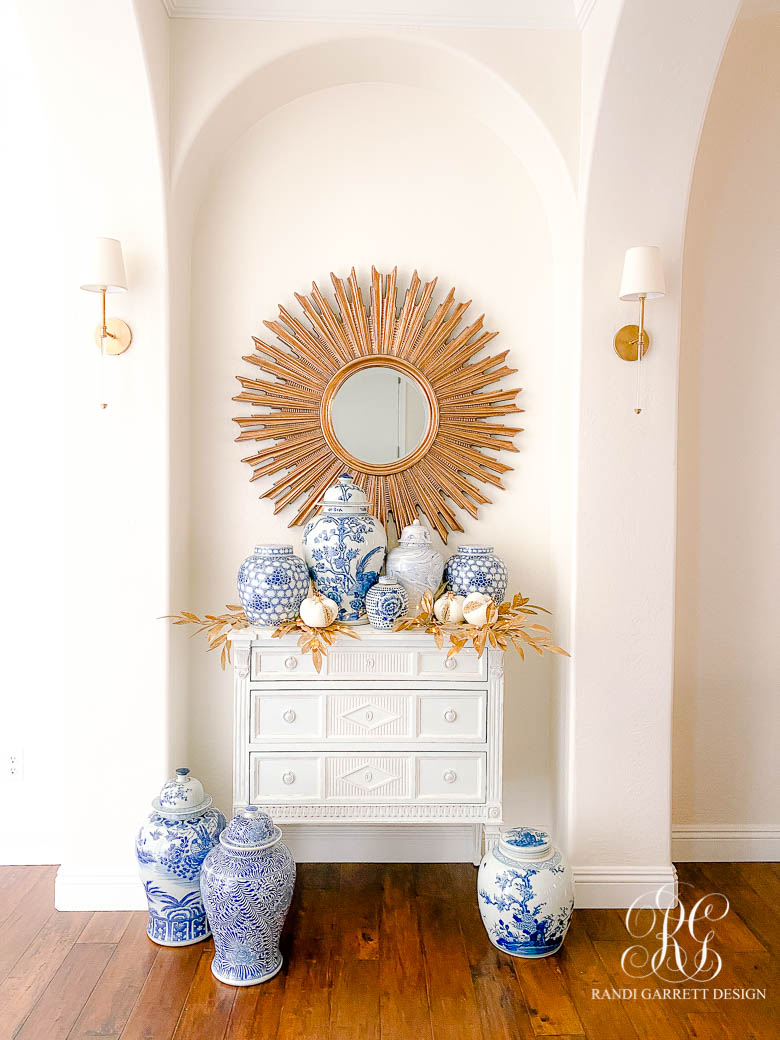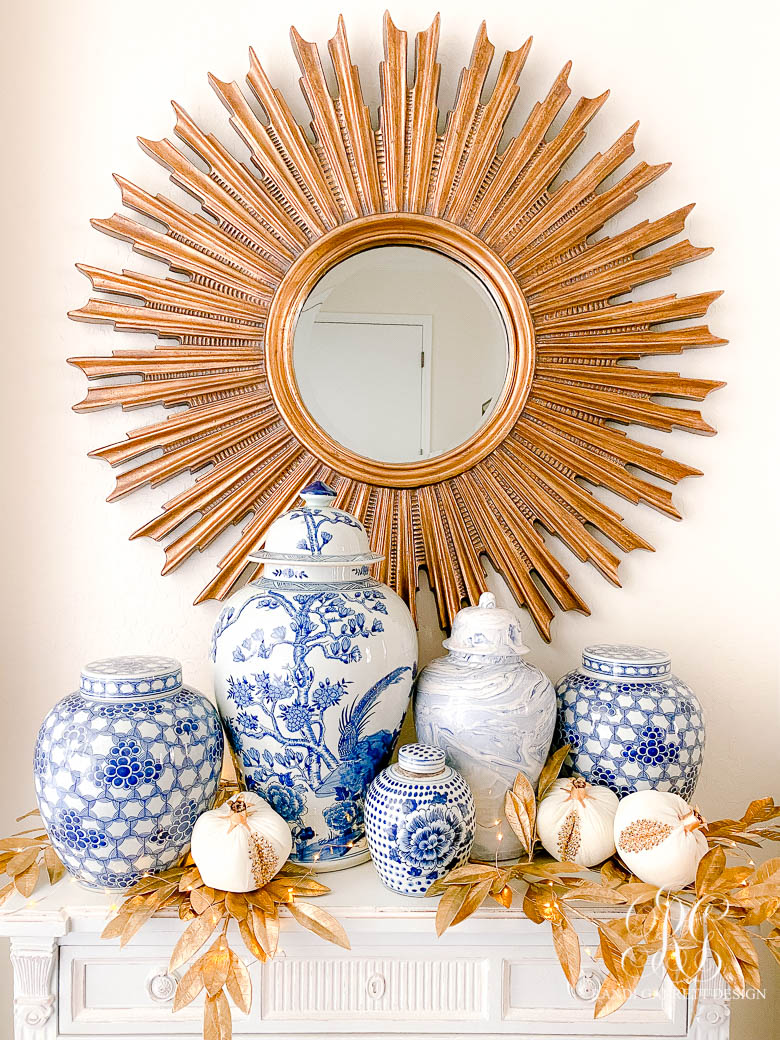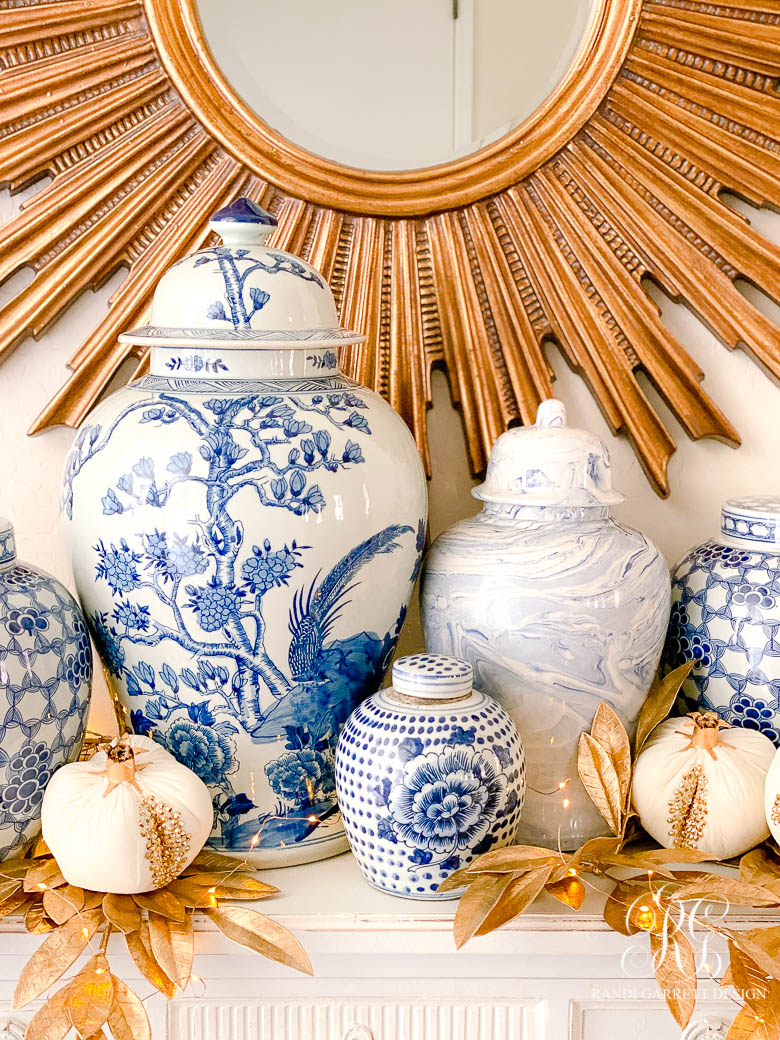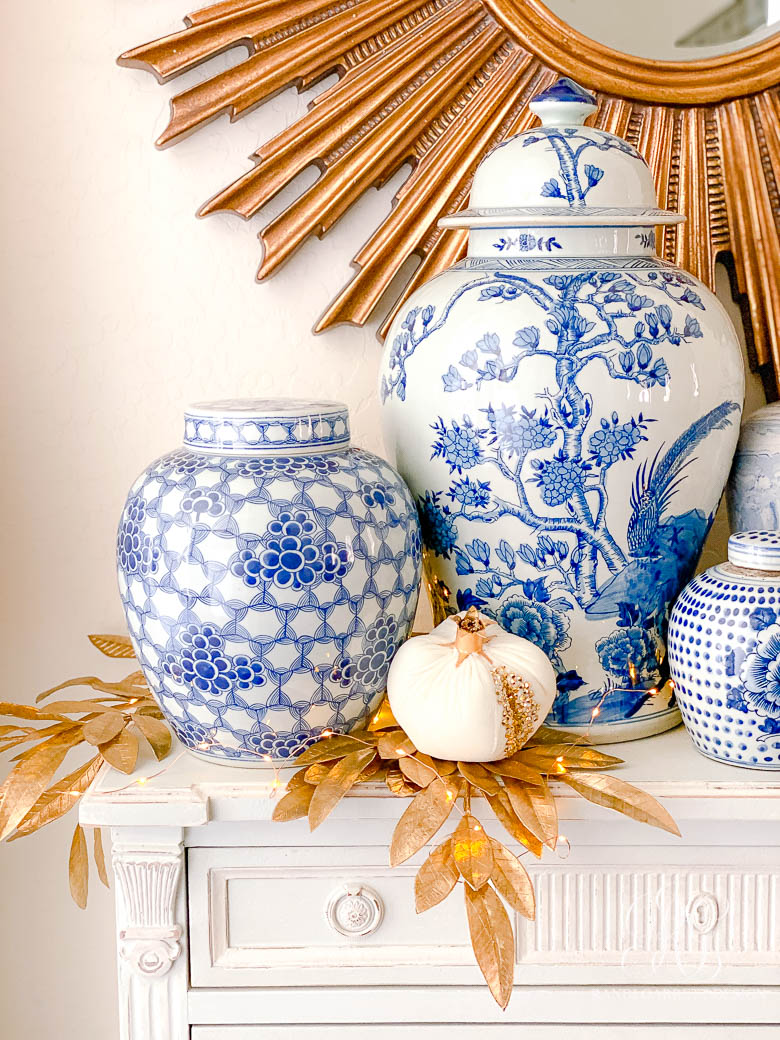 Down our hallways, I featured more of my favorite ginger jars with more gold leaves, twinkle lights and these stunning white and gold pomegranates.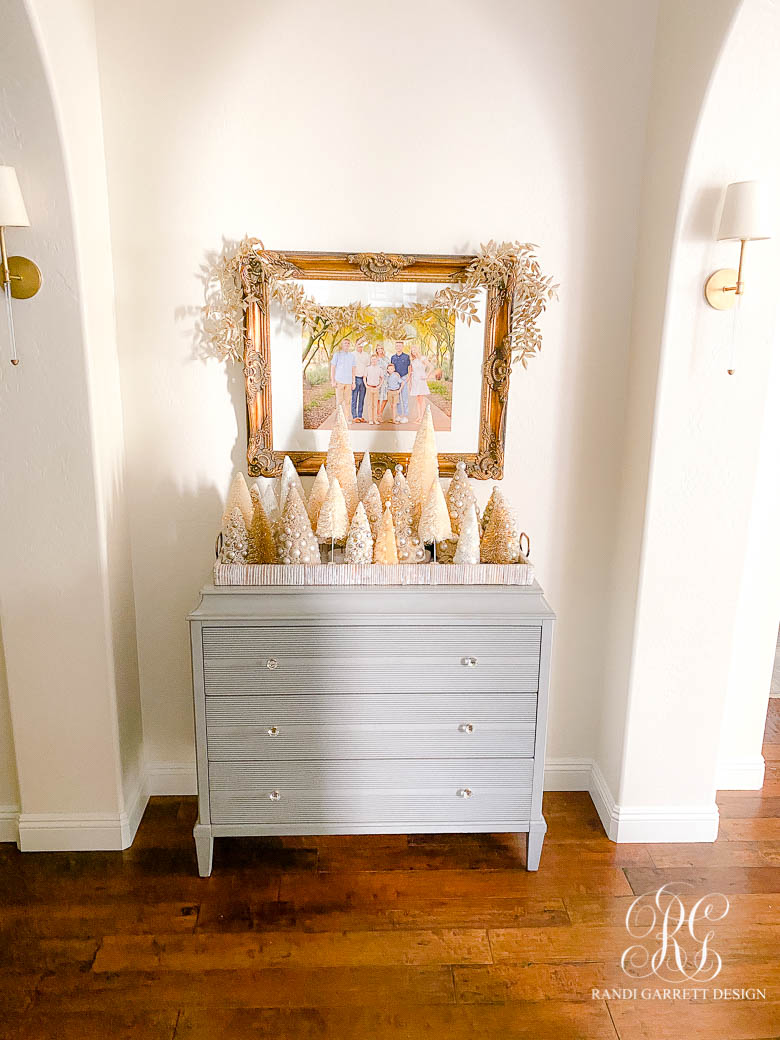 A parade of bottle brush tree with twinkly lights, brightens the hallway.


Blue, White and Gold Christmas Home Tour – Family Room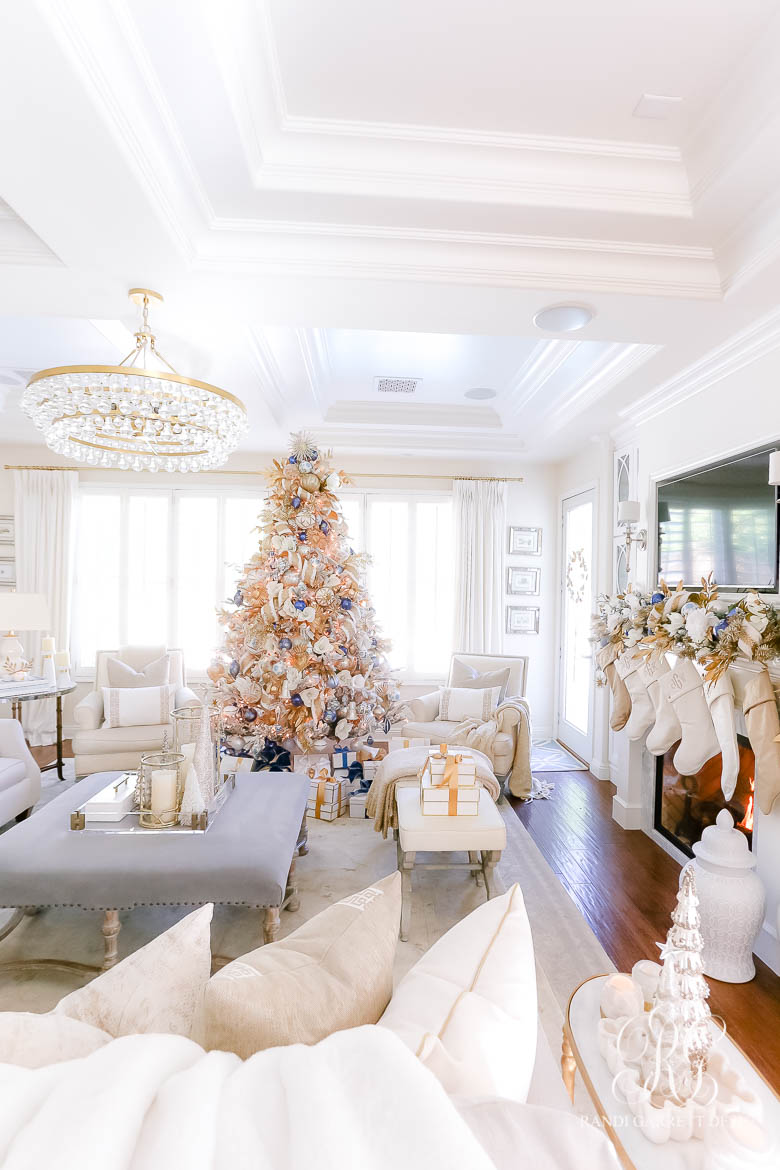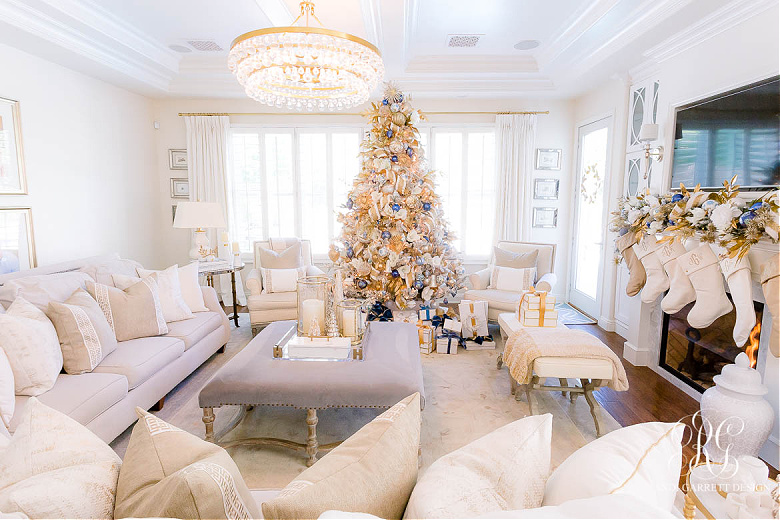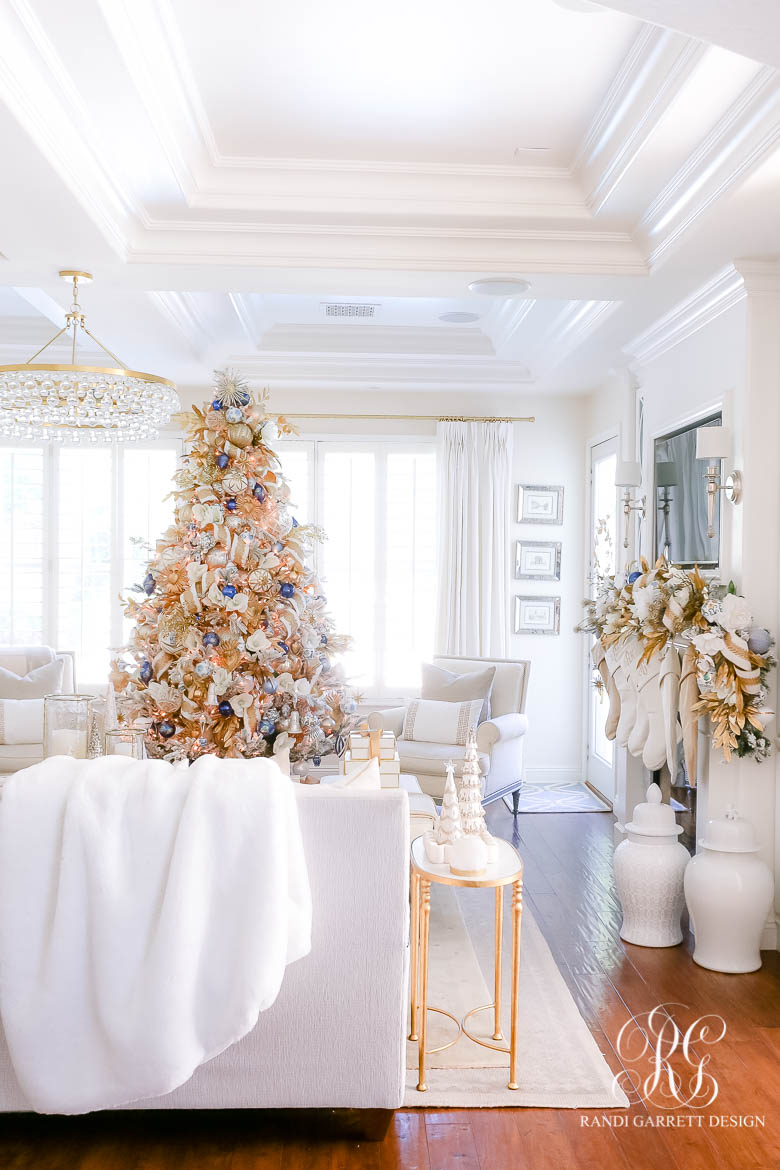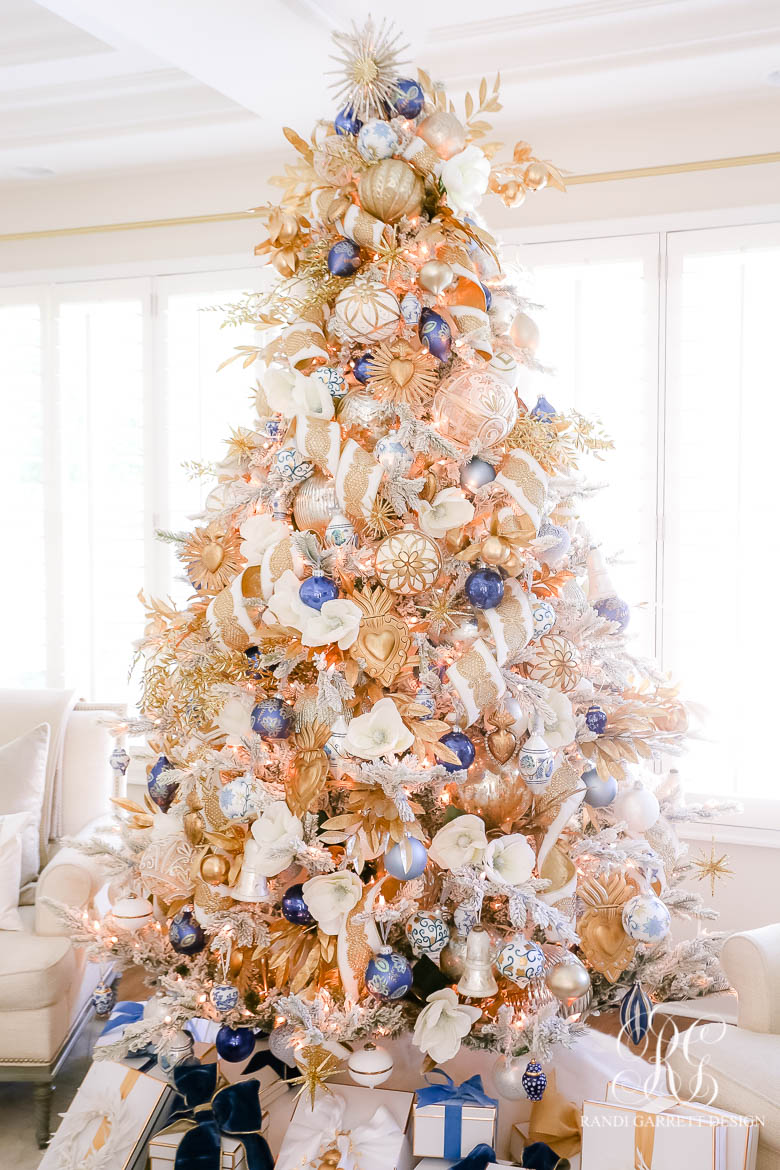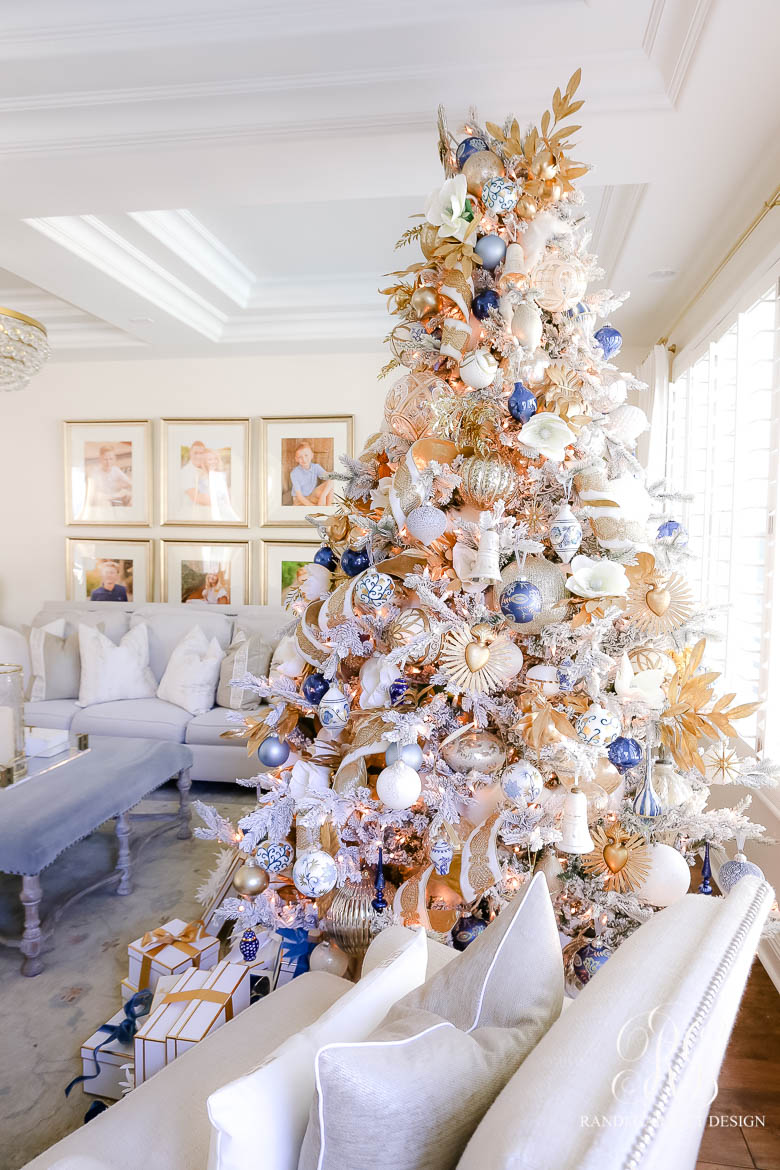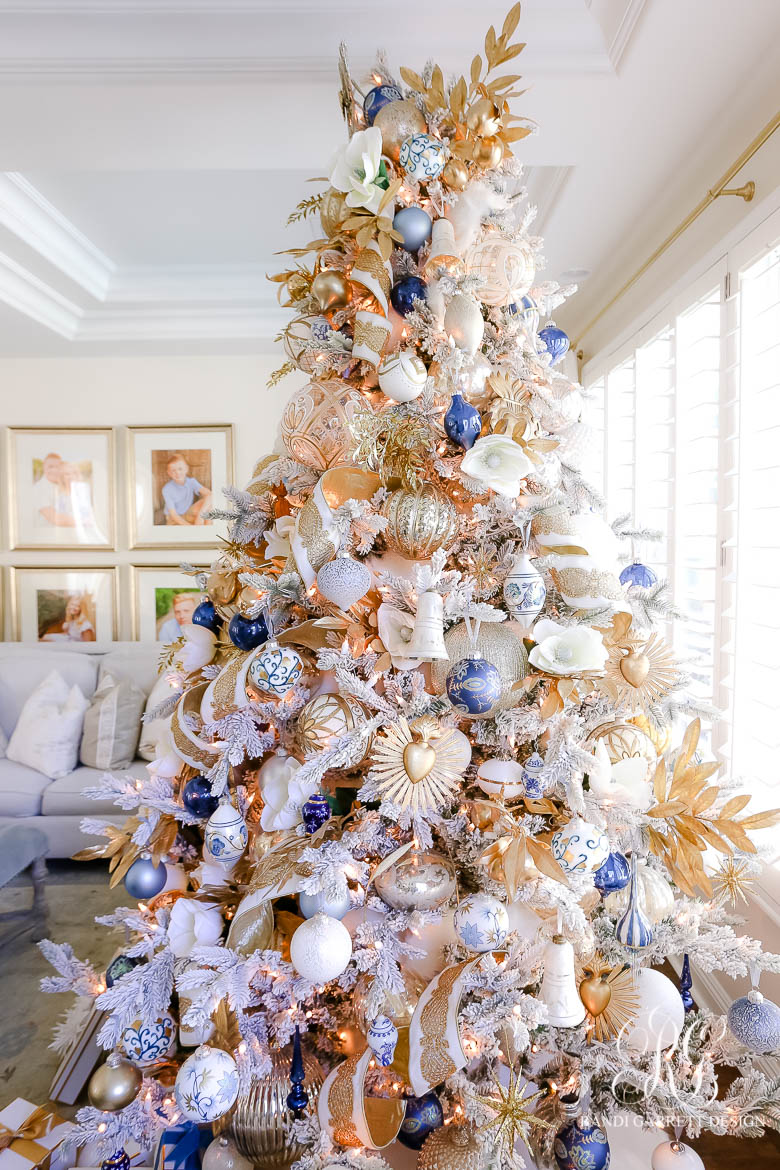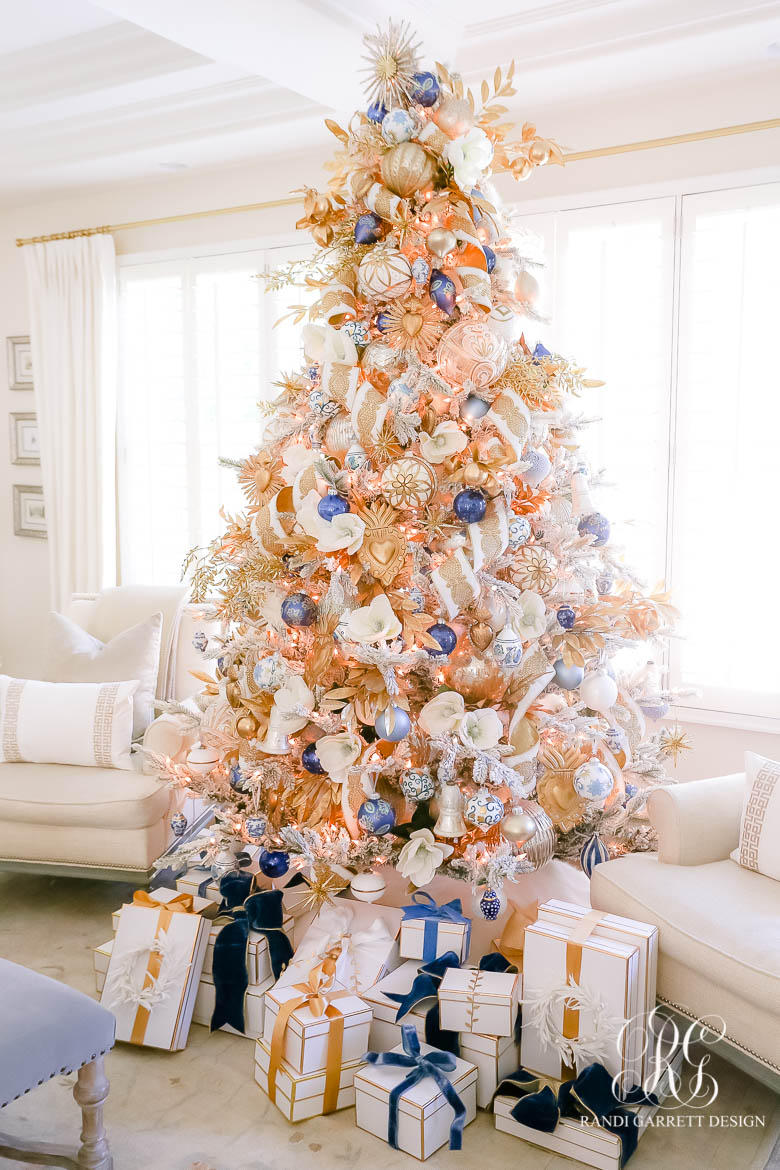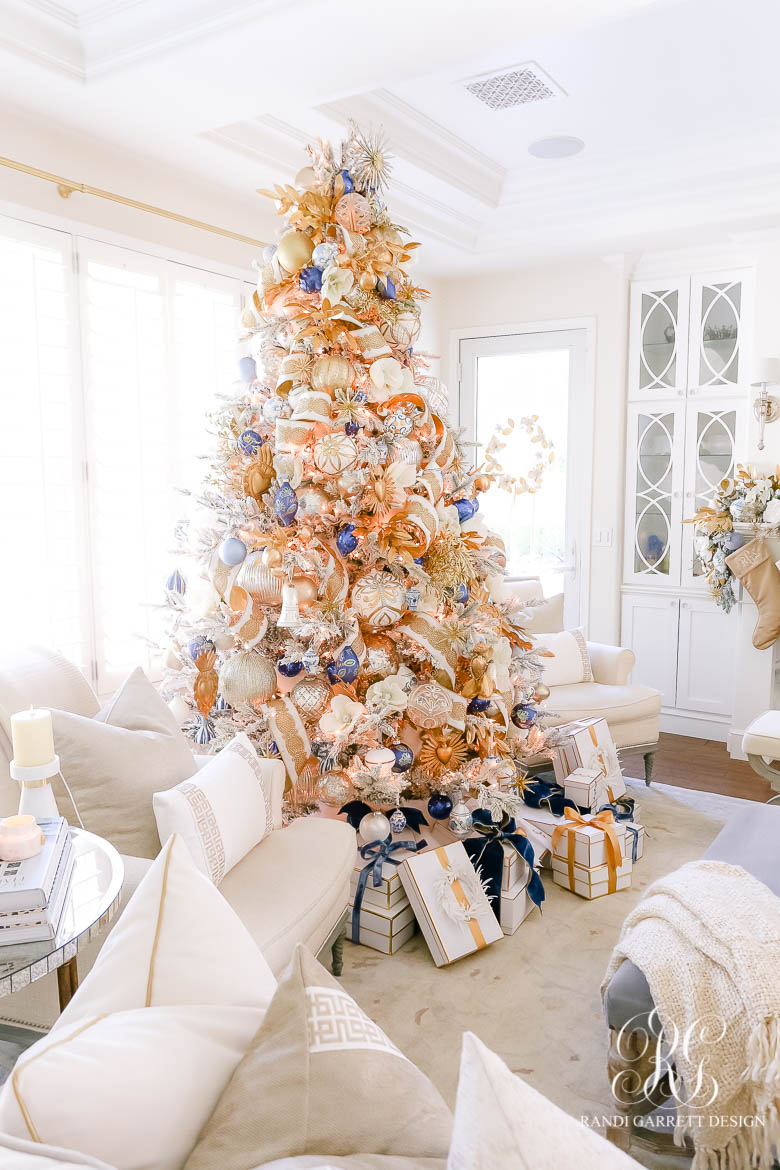 My white flocked Christmas tree is dripping with blue, white and gold. I used my base silver and gold ornaments as a backdrop. Then added some gorgeous new blue, white and gold ornaments to add a royal pop! My favorite addition are the gorgeous, symbolic sacred heart ornaments that represent the sacred hearts of the Savior and Mary. You can see more of my tree and get all the sources here, For a step by step on how I trim my tree, you can watch my Tree Trimming You Tube video here.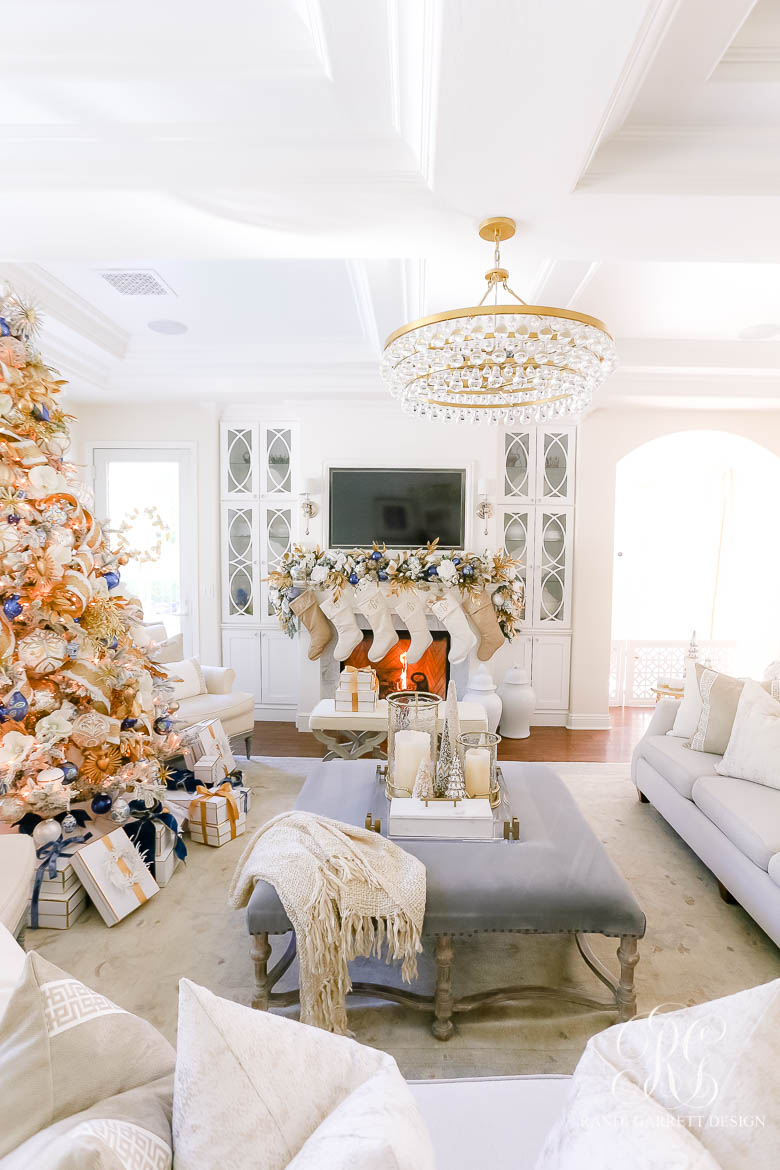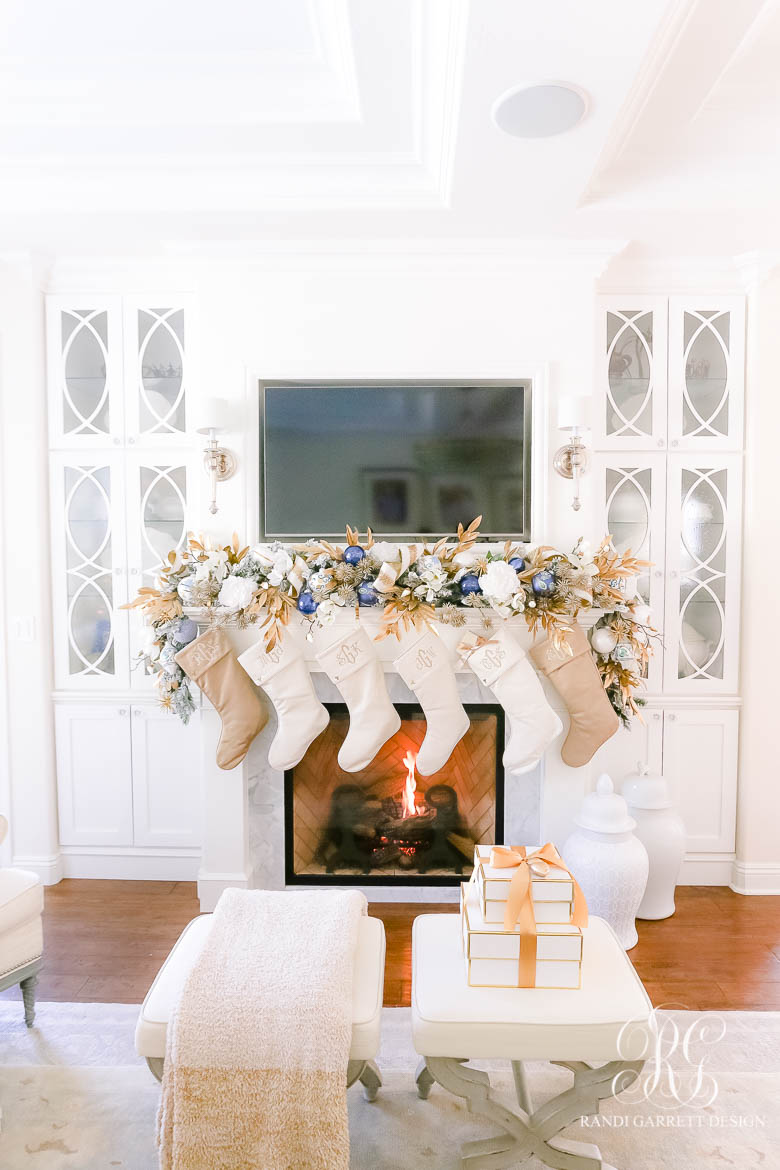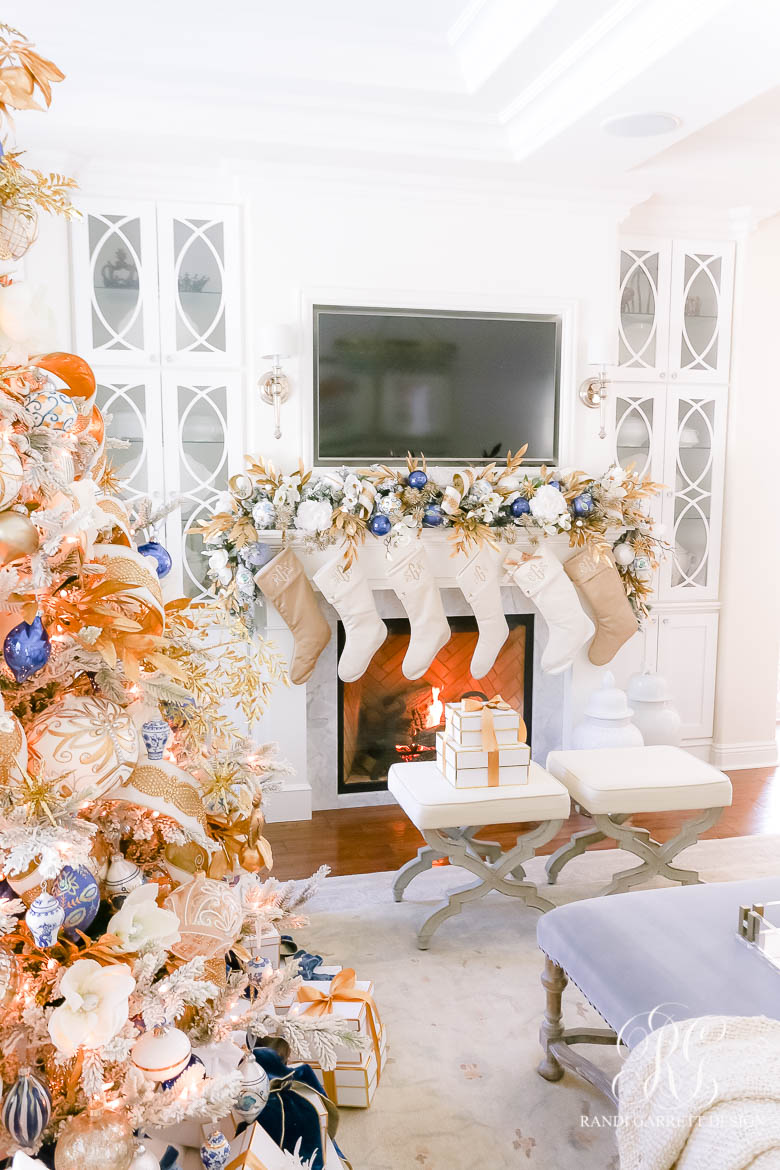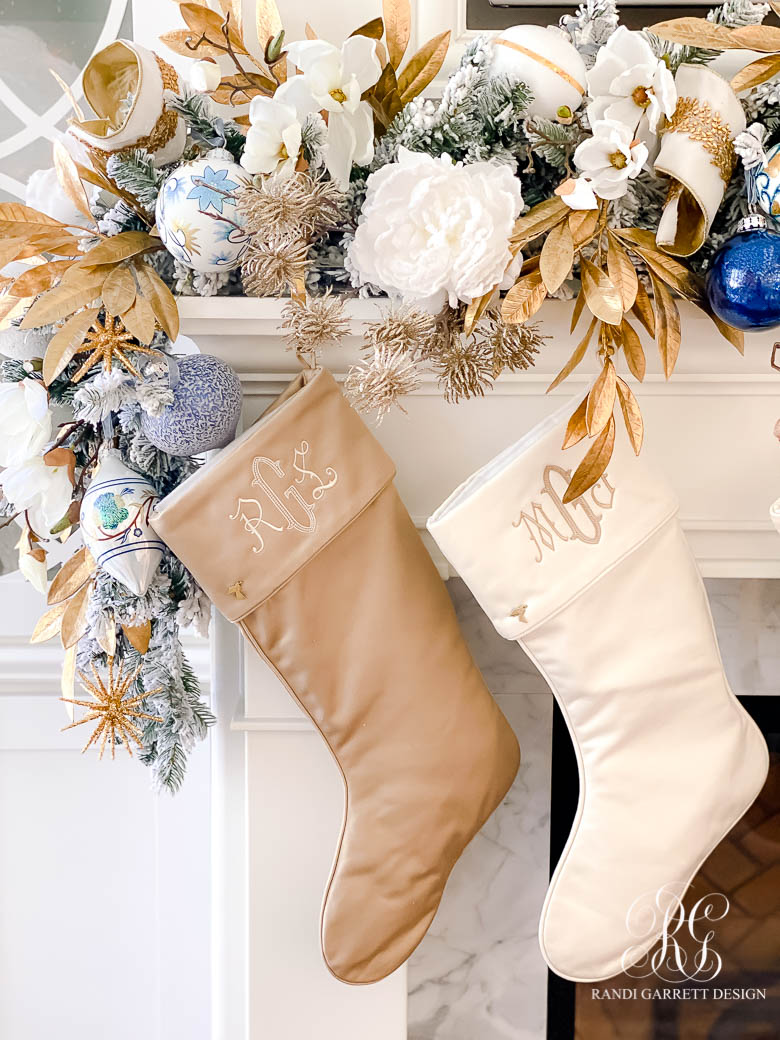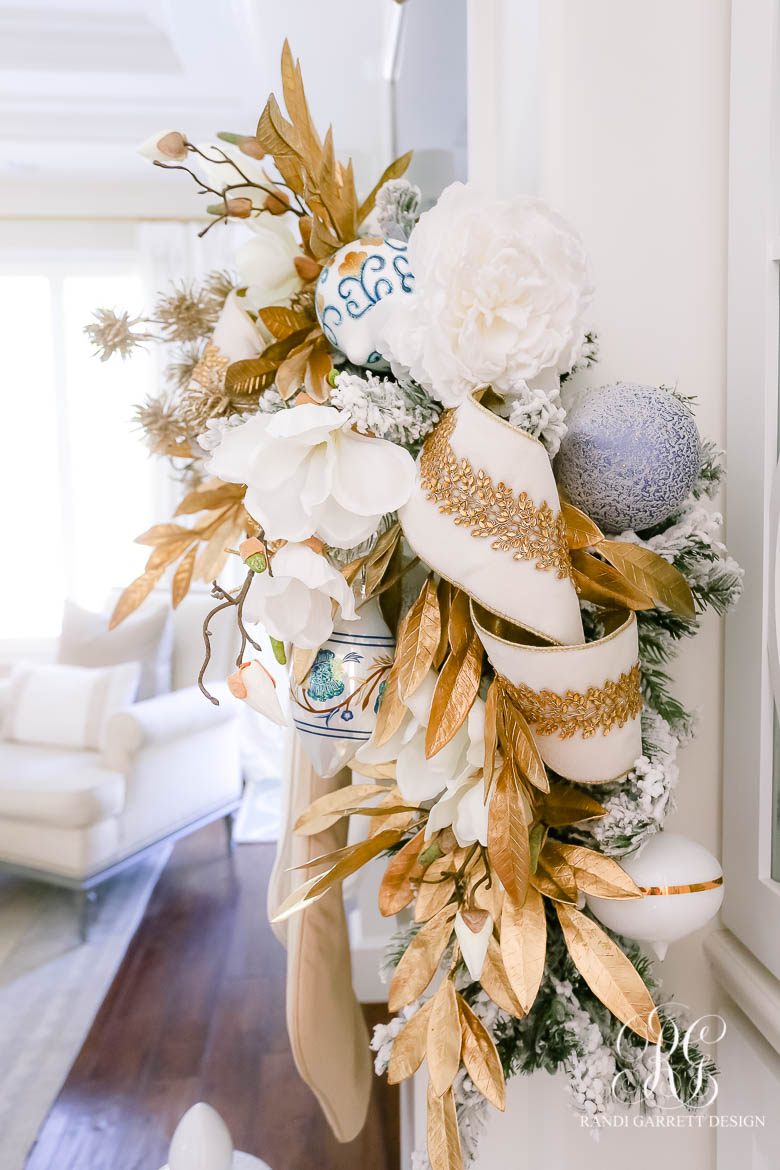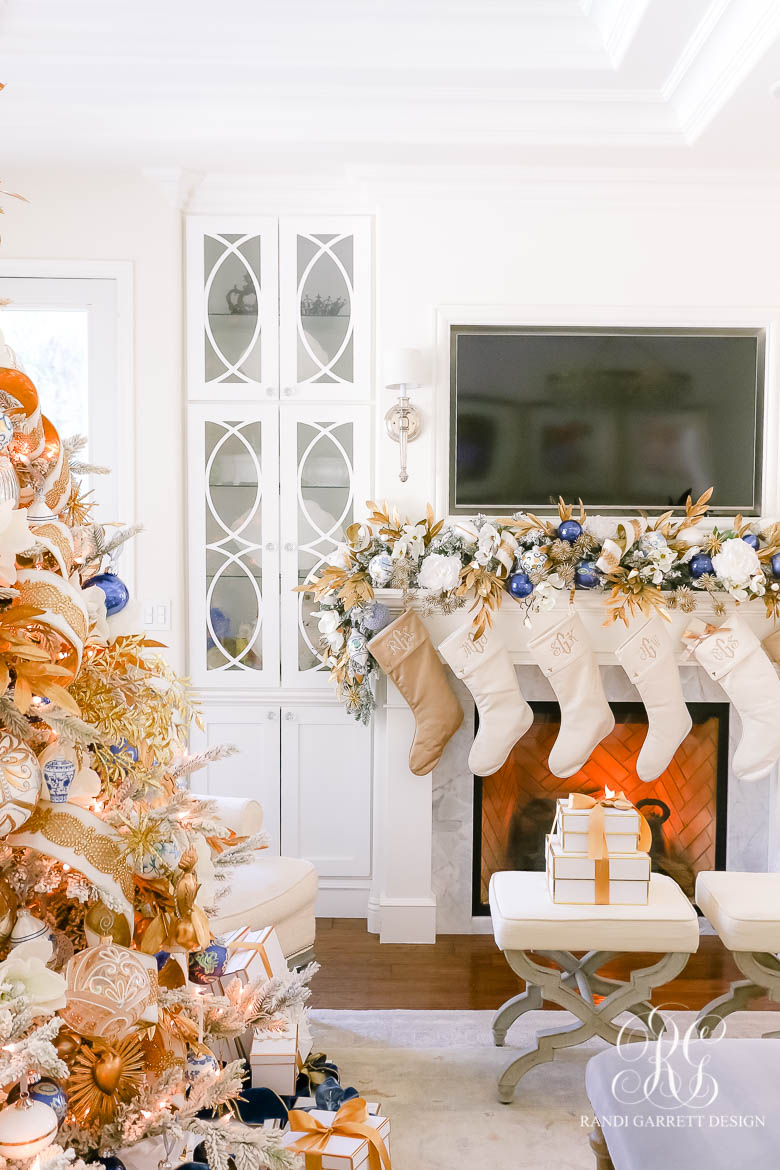 More white, gold and blue dress up our mantel. A simple flocked garland serves as a wonderful base year after year. I simply switch out the ornaments and ribbon each year to give it a whole new look. To soften the look, I used gold magnolia stems and snowy magnolias. Small curls of white and gold velvet ribbon complete the look.
Our stockings are the shining star on the mantel! They are a stunning heirloom our family will treasure for years to come. We have the ivory cotton sateen stockings and the gold cotton sateen stockings . The fabric is so luxurious! Each one is monogrammed in a gorgeous font with beautiful gold thread. They are each hung with my favorite acrylic and brass stocking holders. The blocks sit snuggly on your mantel, while the gold hook adjusts to any mantel width. They are perfect whether hidden beneath garland or out front and center with their sleek, luxe design. Stockings and holders c/o Fig and Dove.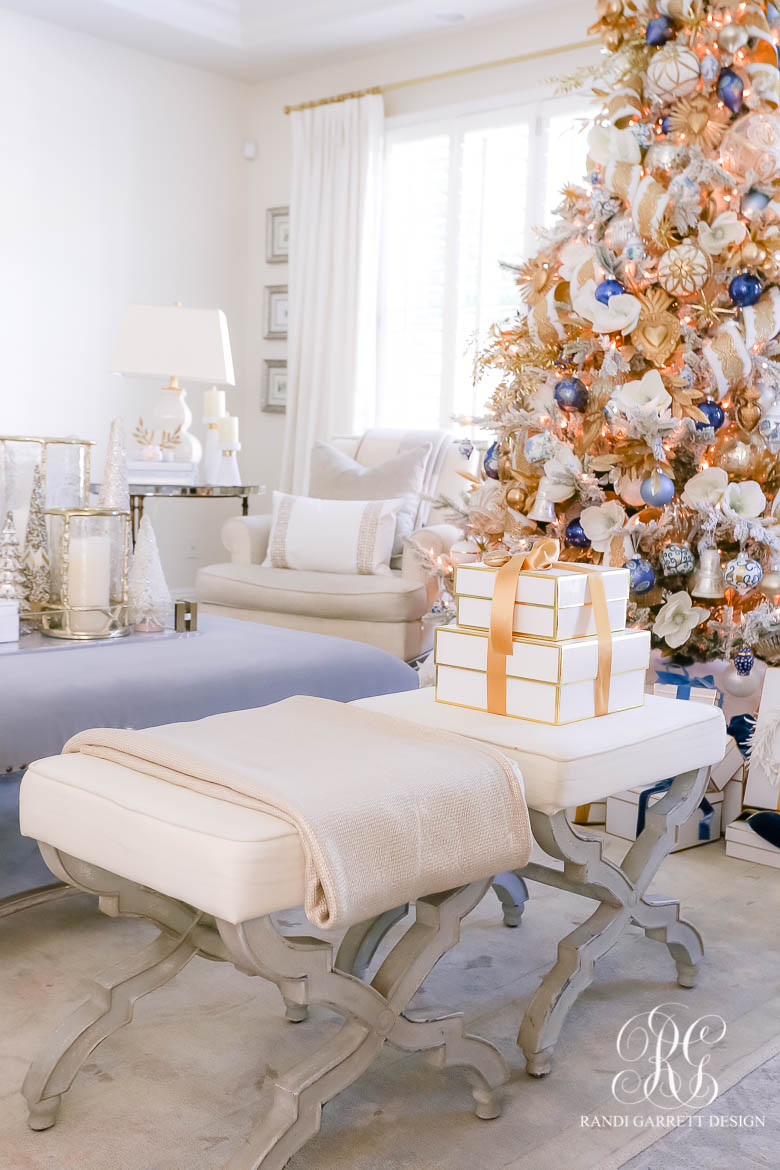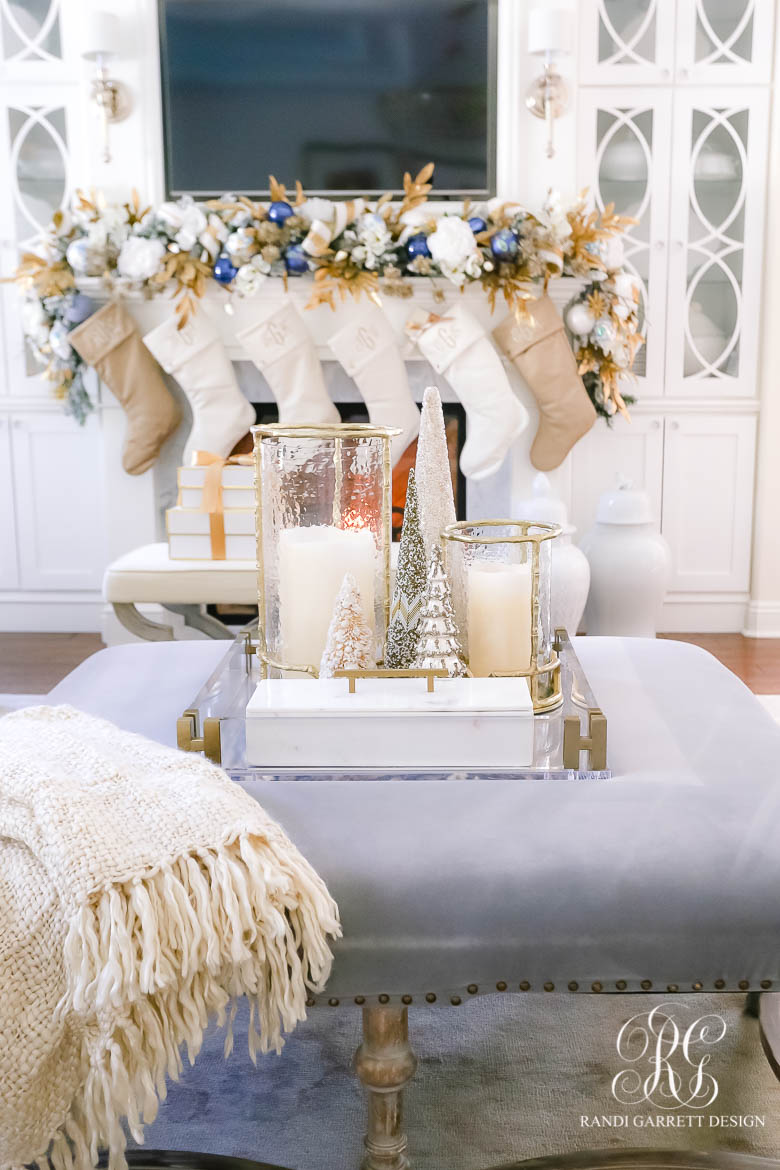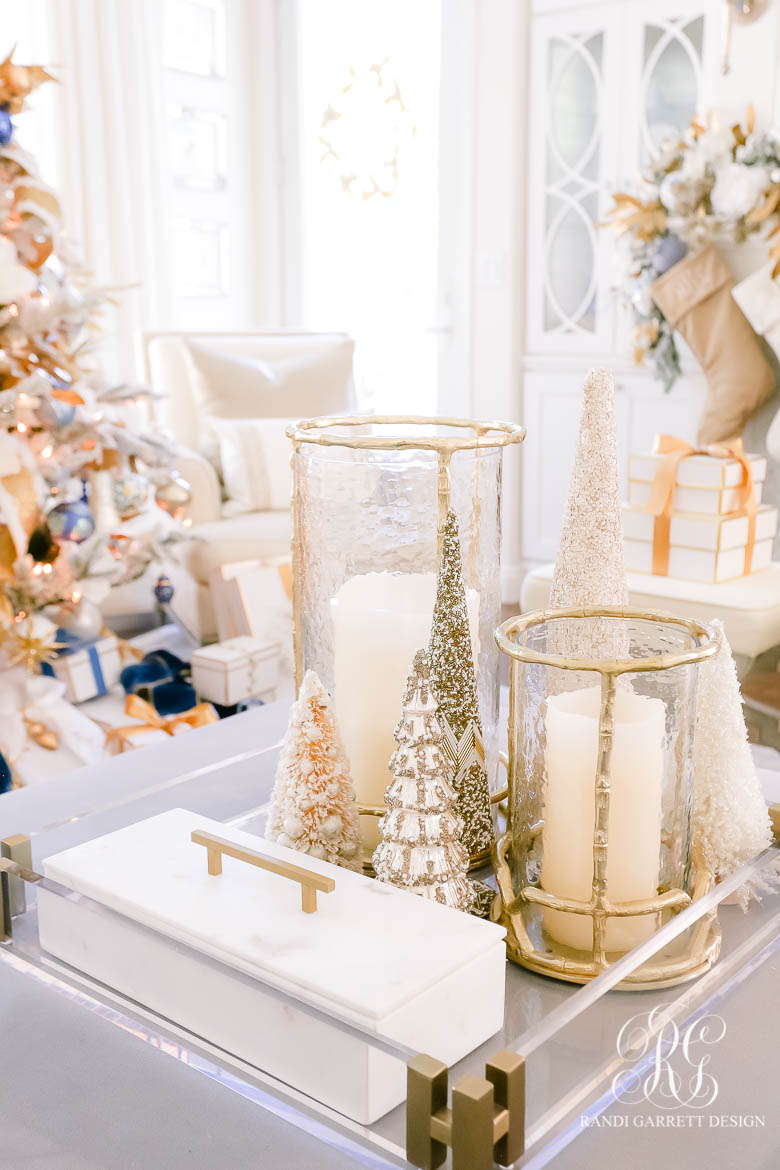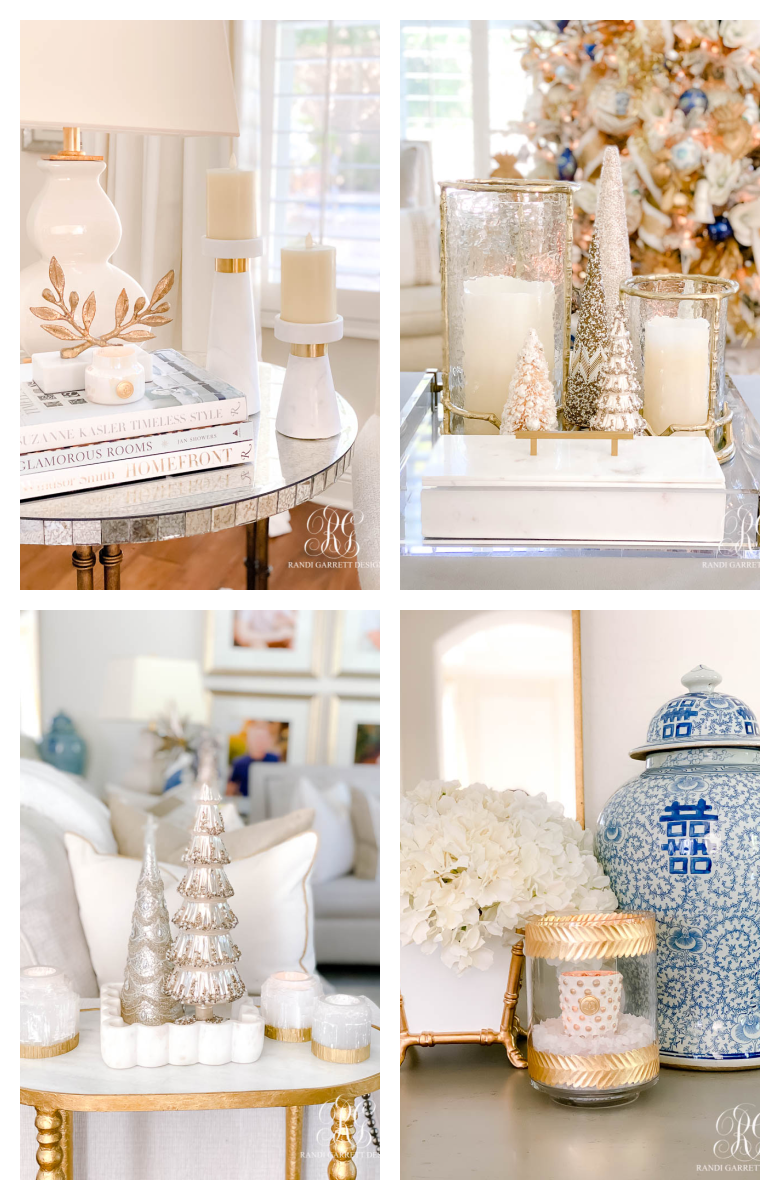 Pretty accessories are sprinkled throughout the room. My most treasured addition is my antique nativity. I found it on a special trip with my parents from a quant antique shop.








I worked with my favorite pillow shop to curate the most luxurious pillow collection fit for a king! You can mix in these pillows with any color scheme. Use one as a special touch to dress up any corner of your space. The designer fabrics are so exquisite! The attention to detail is unmatched. Opulent gold trim and pipping makes these pillows extra custom. I love the gold shimmer fabric and how it sparkles in the light. Check out her shop for tons of options. They also have amazing pillow inserts that have moved to the top of my list as far as favorite pillow inserts. Pillows c/o Arianna Belle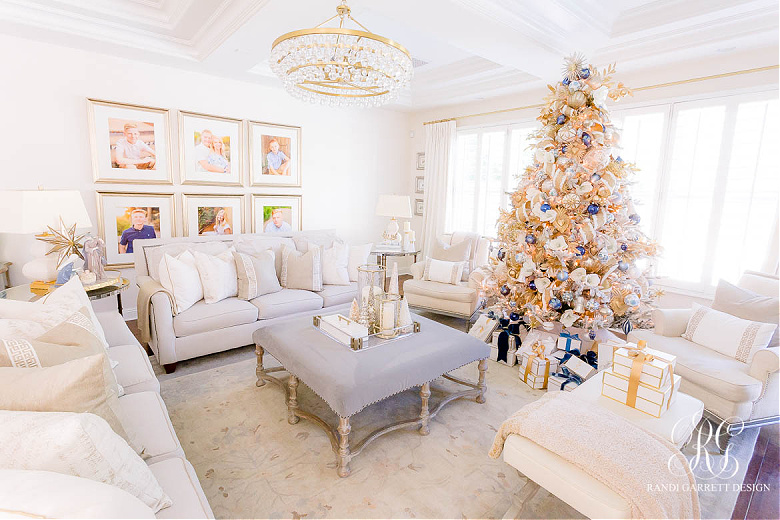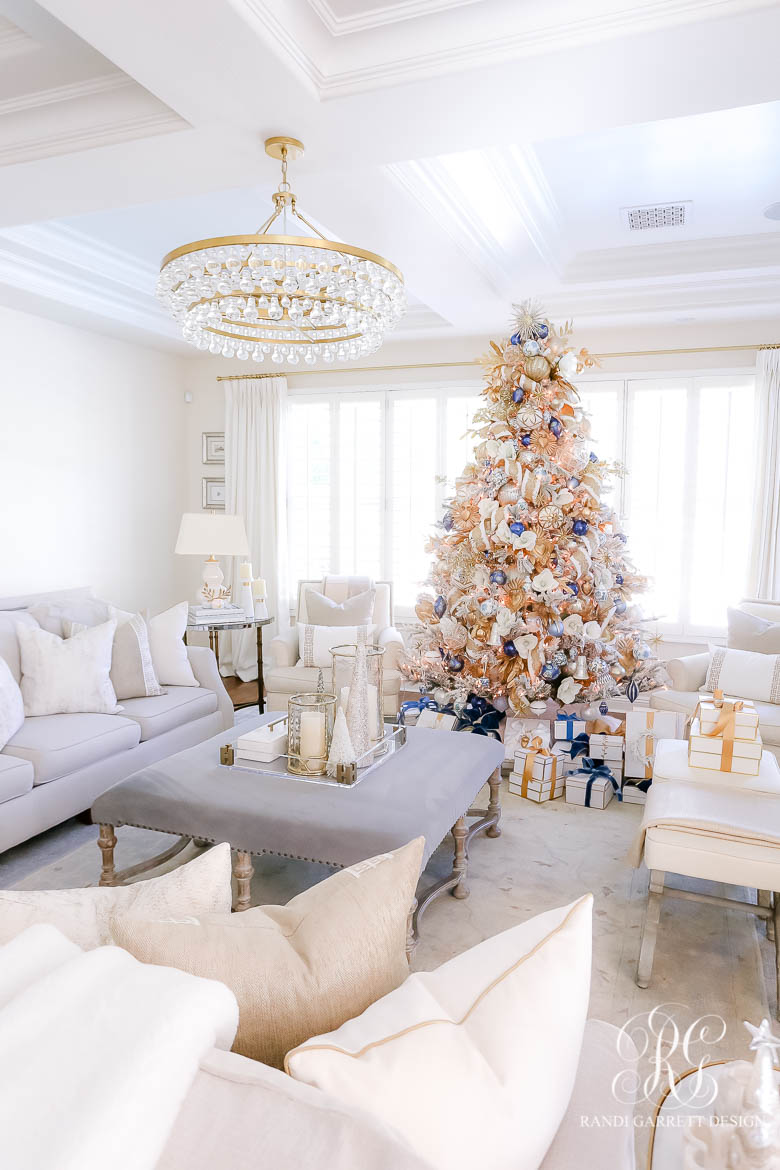 Pillows, throws and rugs give you the most bang for your buck! They can totally transform the look and feel of your room. I swapped out our blue rug for this gorgeous hand knotted neutral rug. I wanted the tree to be the star of the room so this soft neutral rug was perfect. The quality is amazing and is so soft. Rug c/o Boutique Rugs.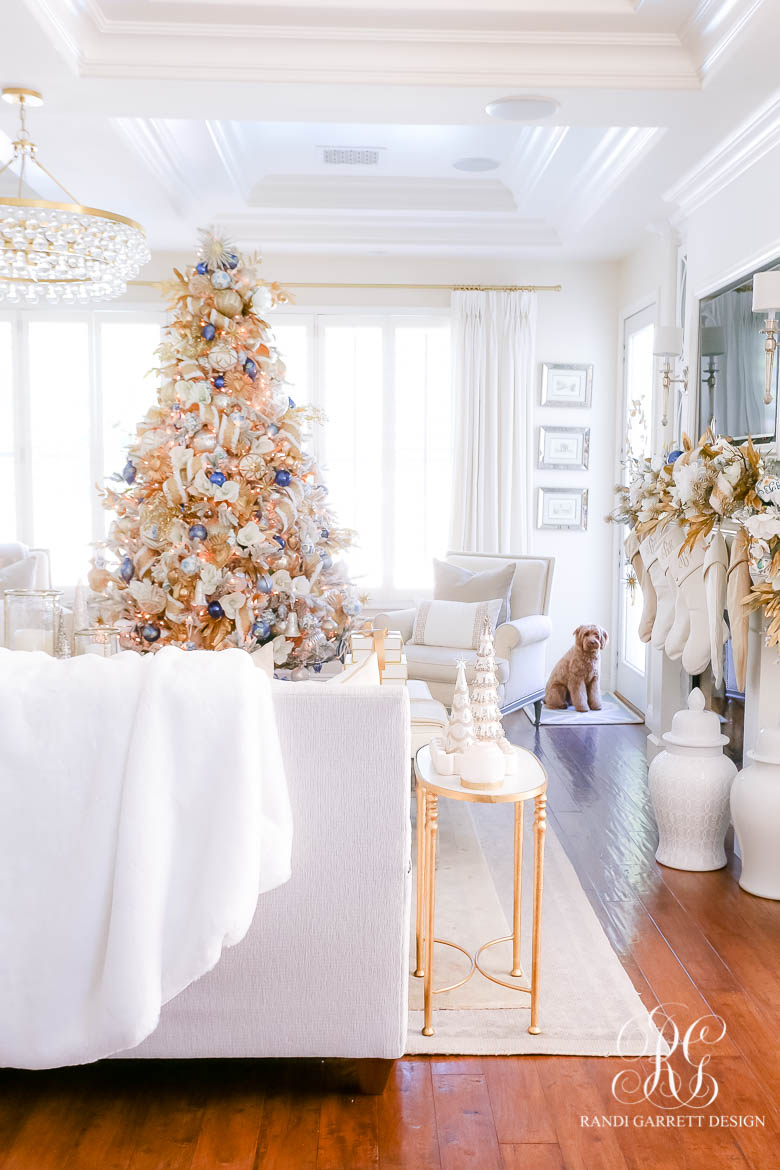 Blue White and Gold Christmas Home Tour – Kitchen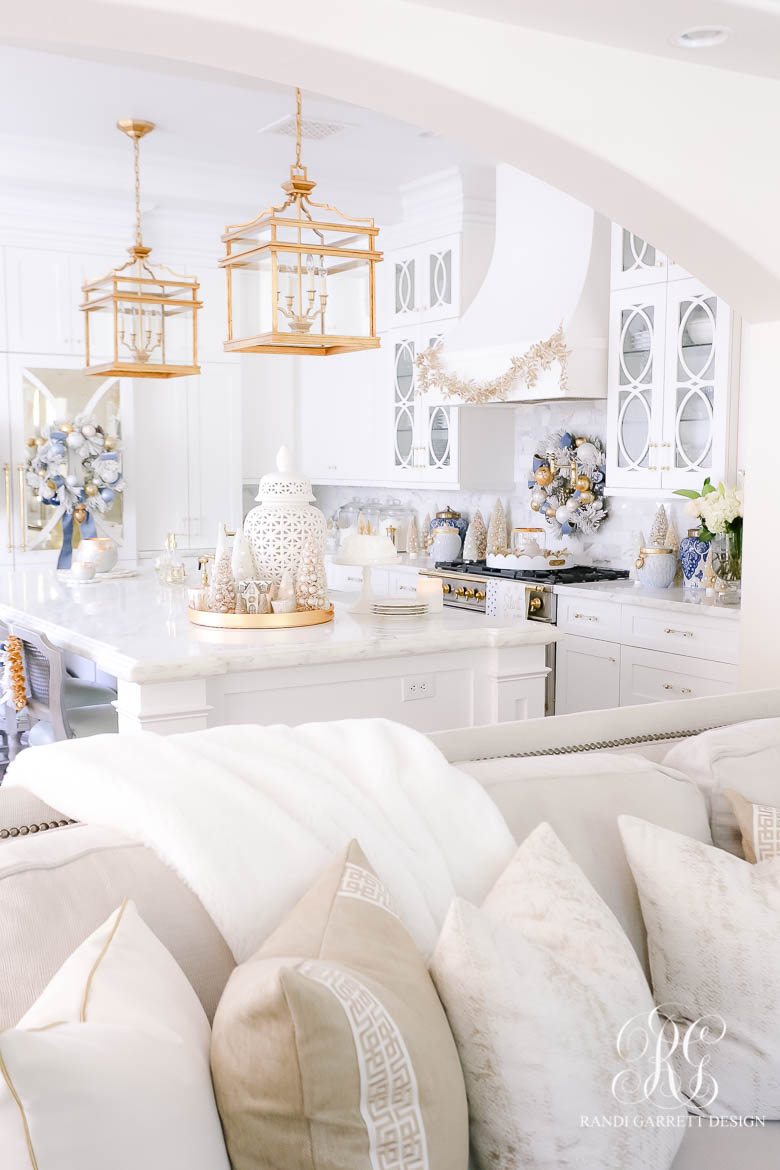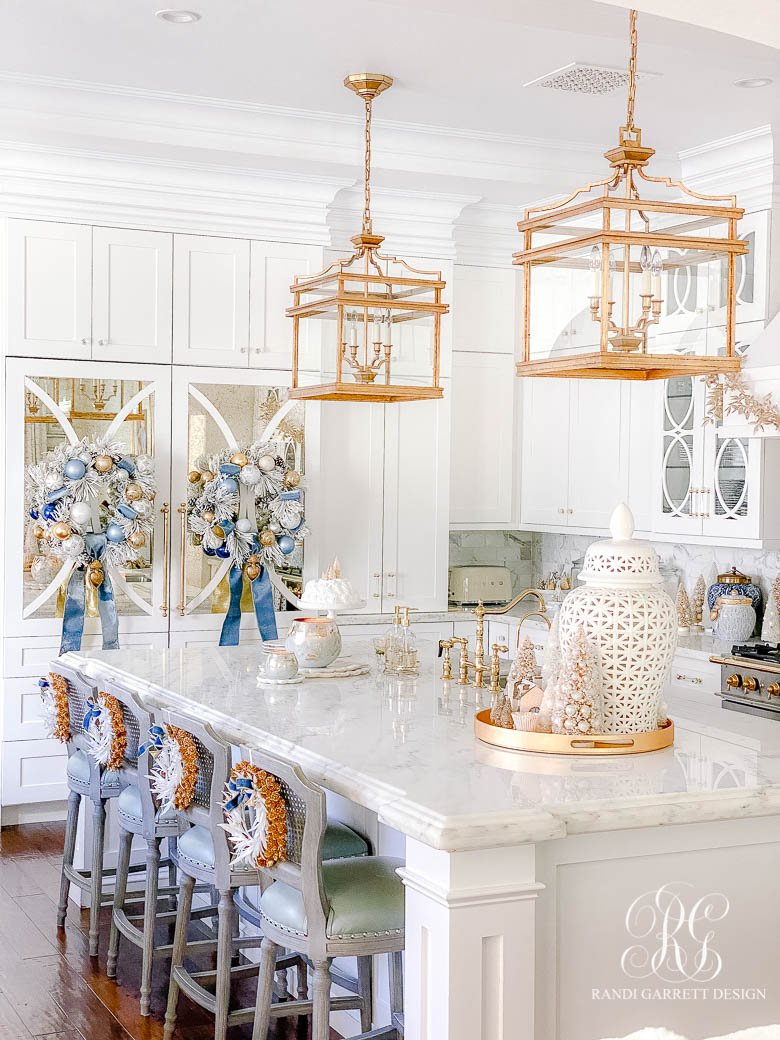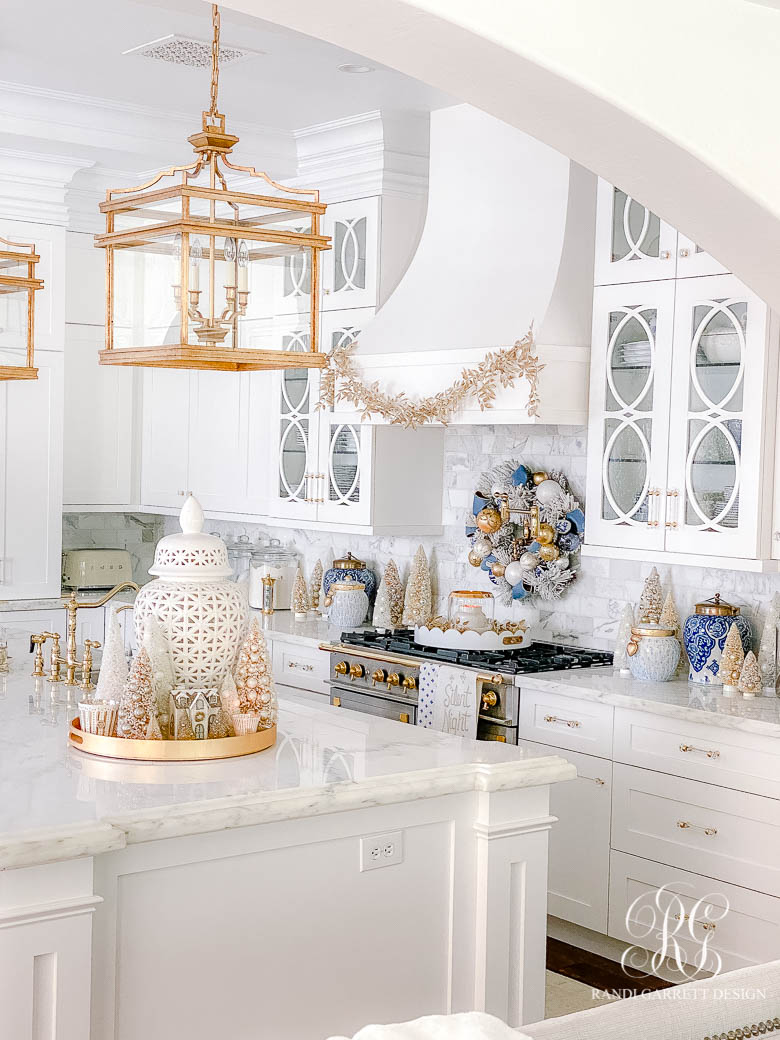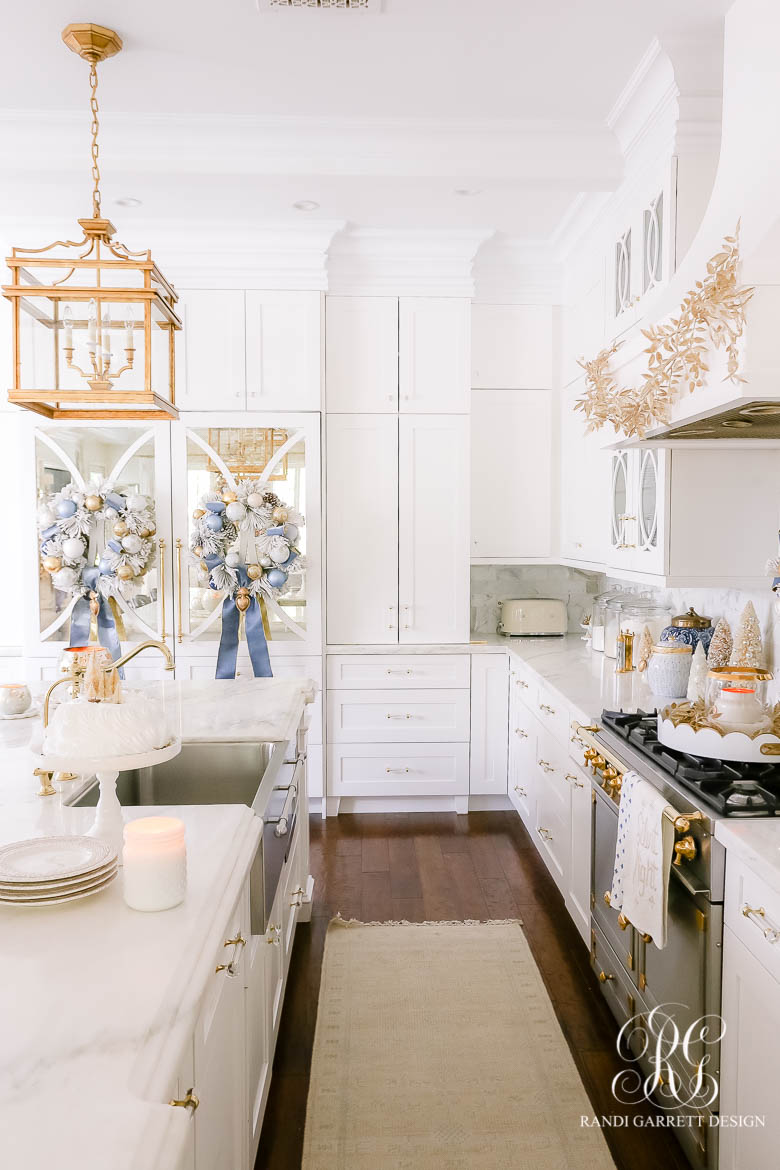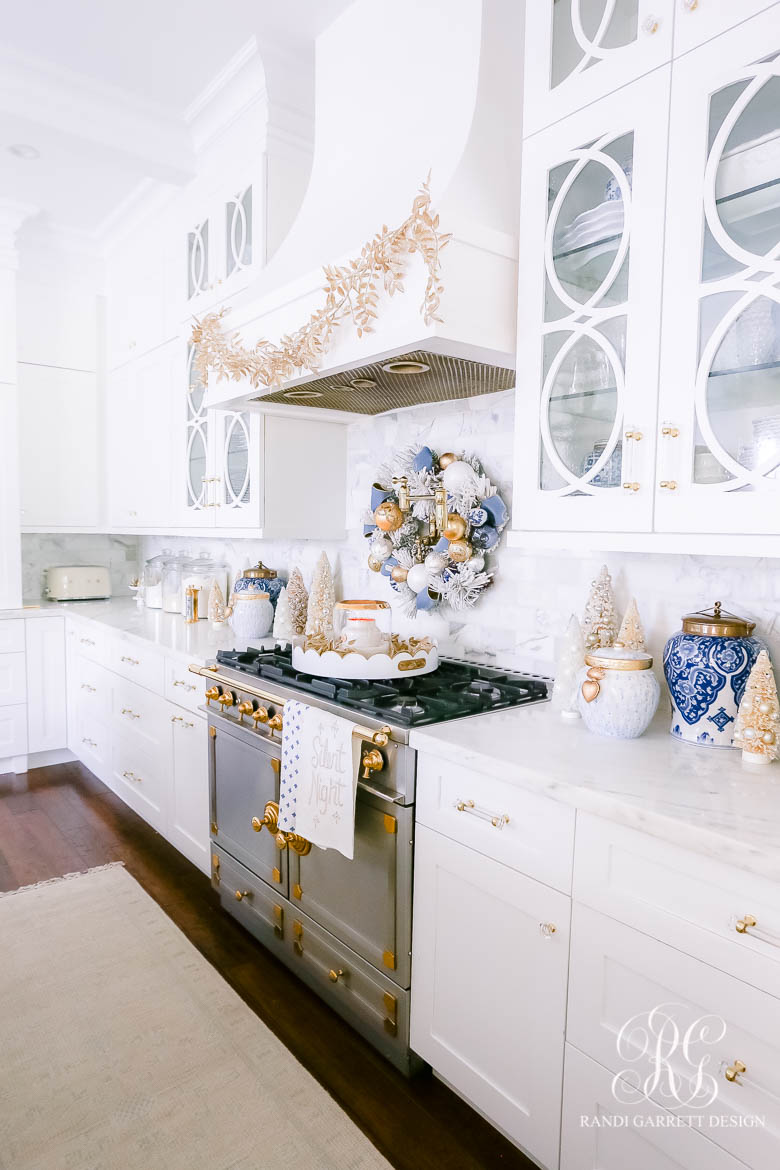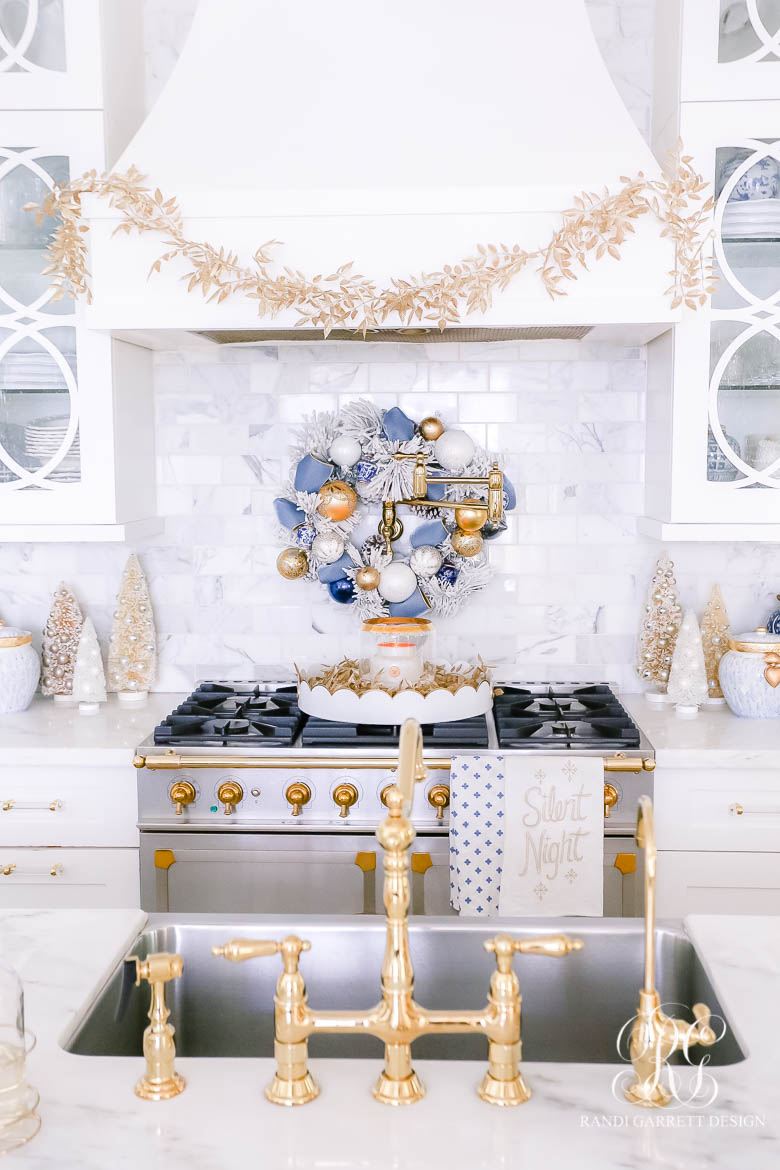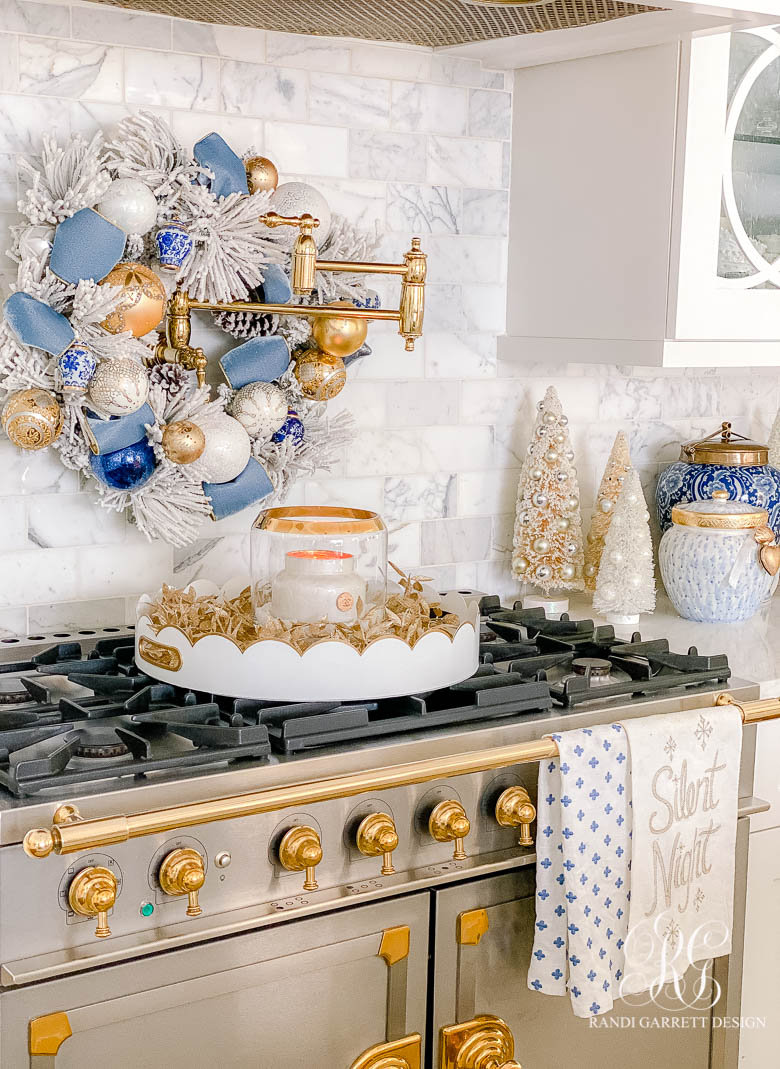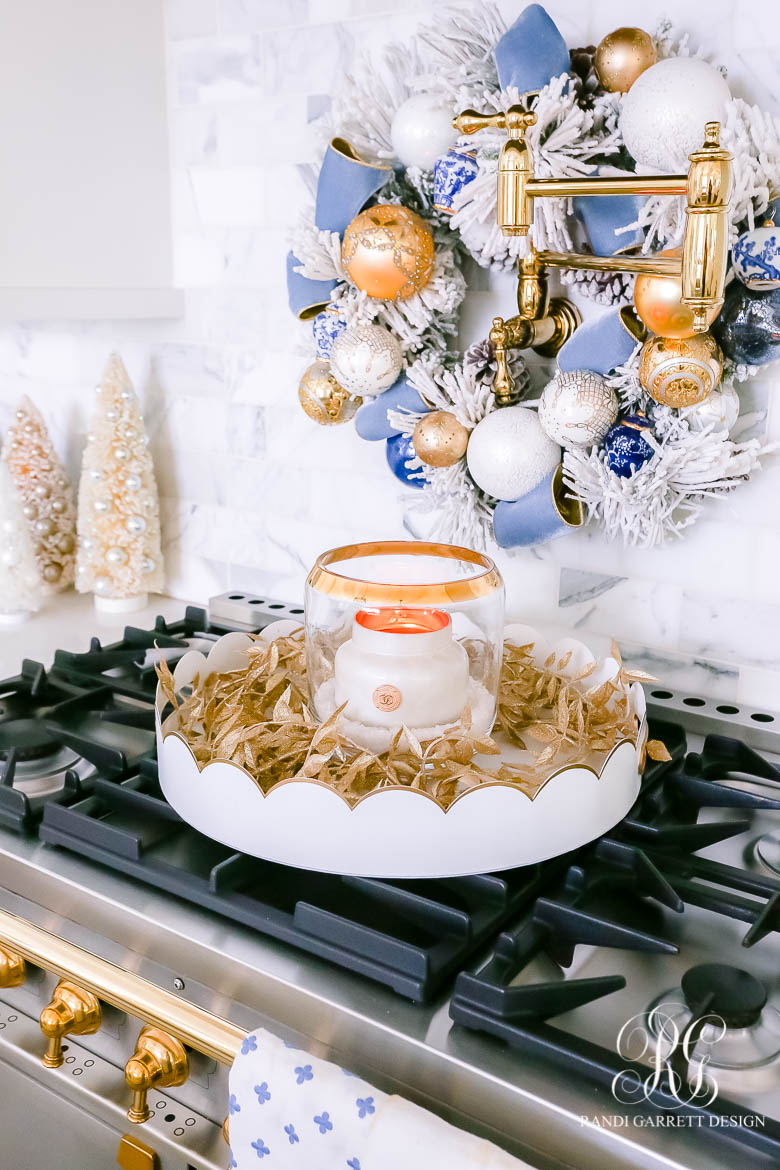 A simple flocked wreath decked out with white, gold and blue ornaments carries the family room color scheme into the kitchen. Add a few tufts of blue velvet ribbon to soften the wreath. My favorite addition are the mini blue and white ginger jar ornaments. The white and gold scalloped tray is filled with two gold leaf garlands. A simple hurricane with rock salt and a white candle give the stovetop some Christmas cheer.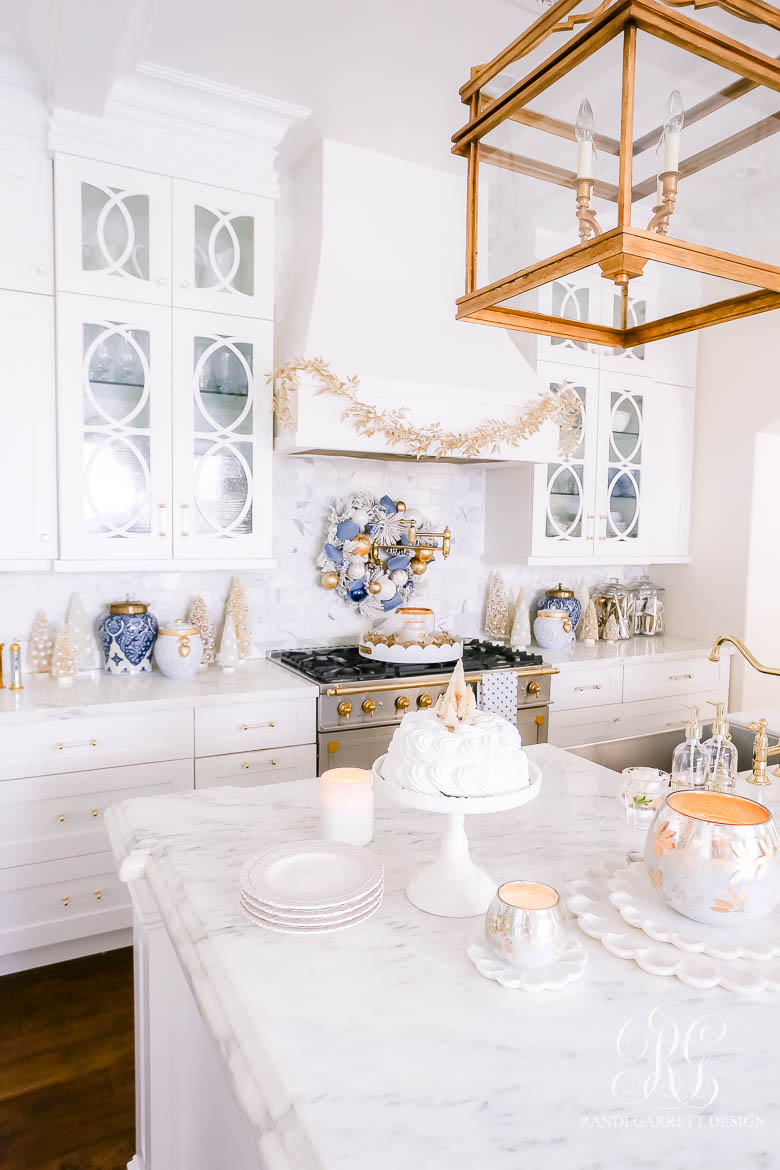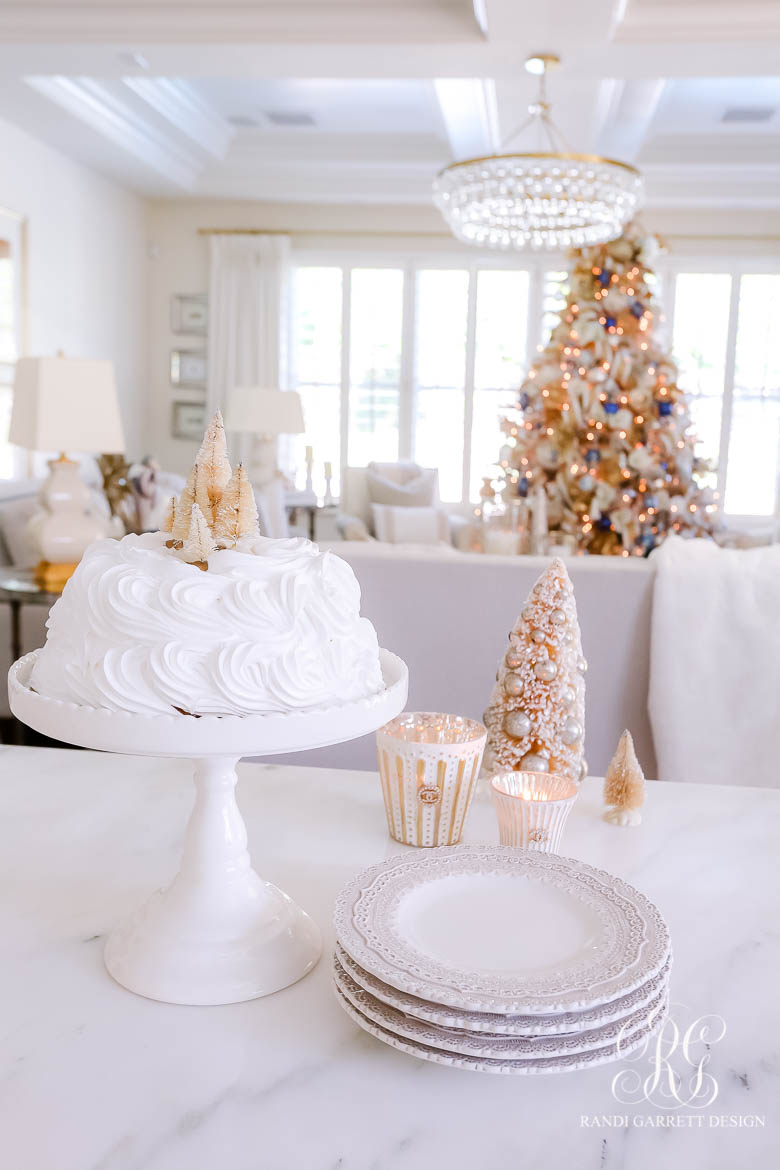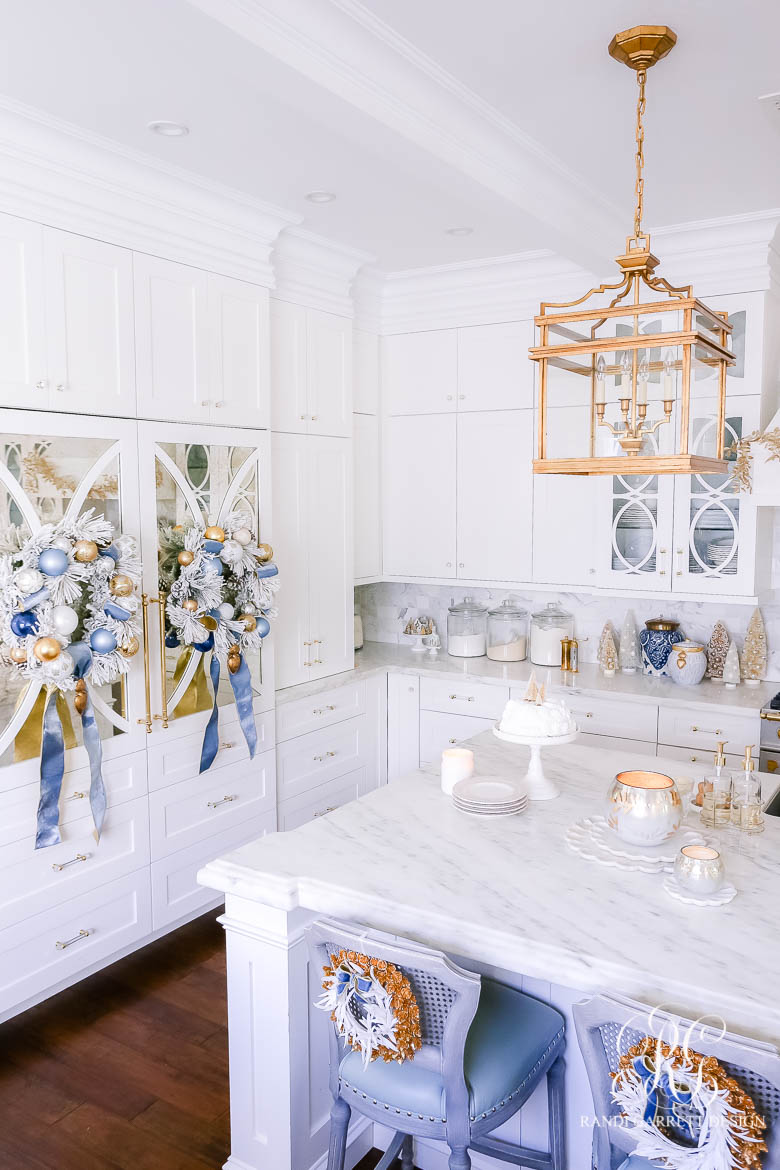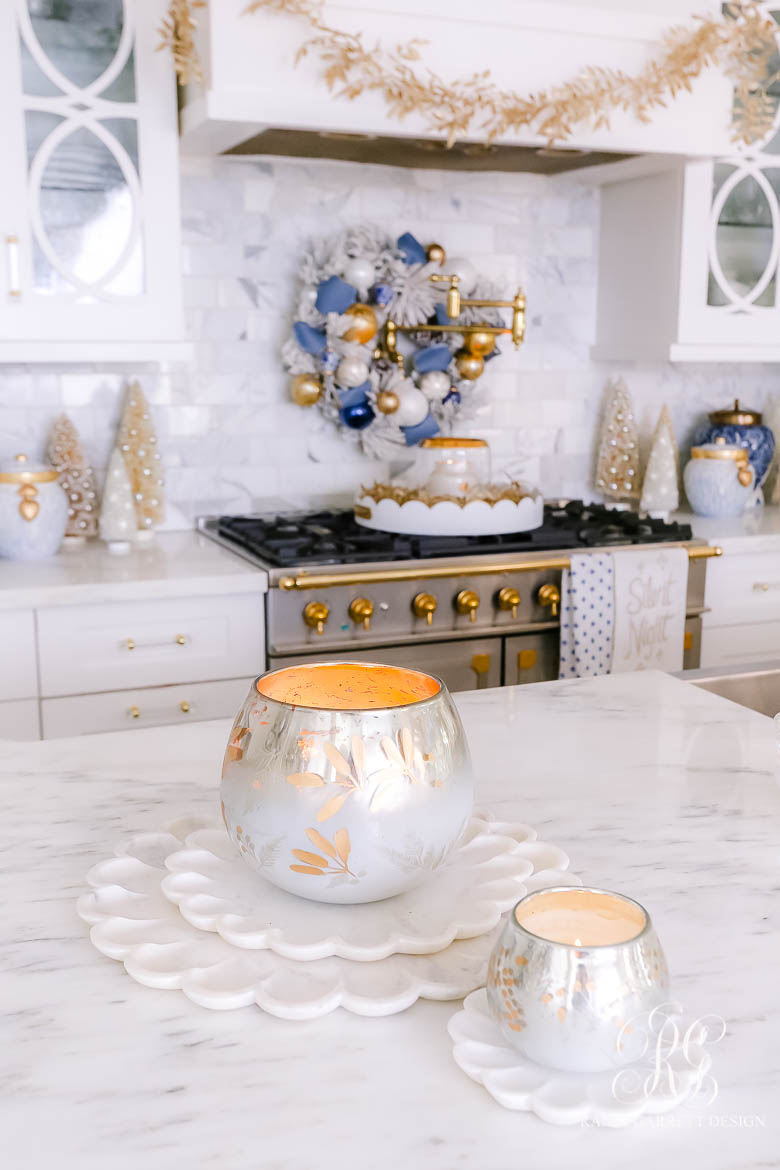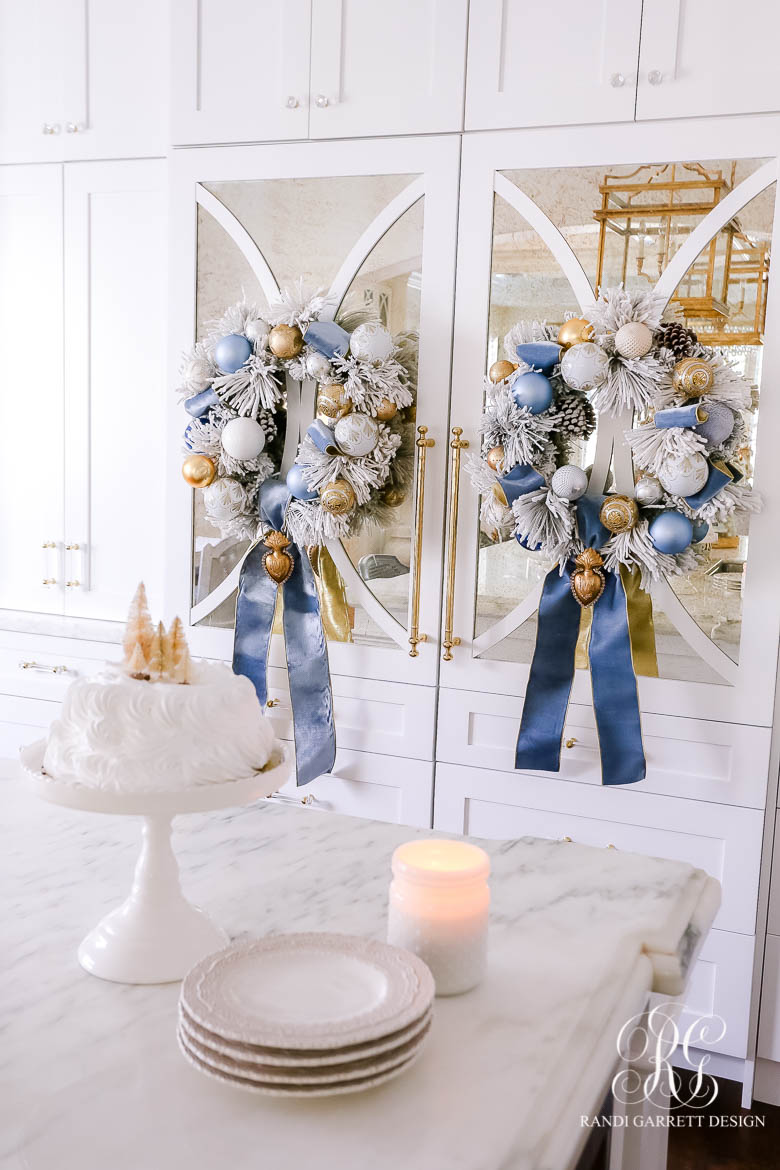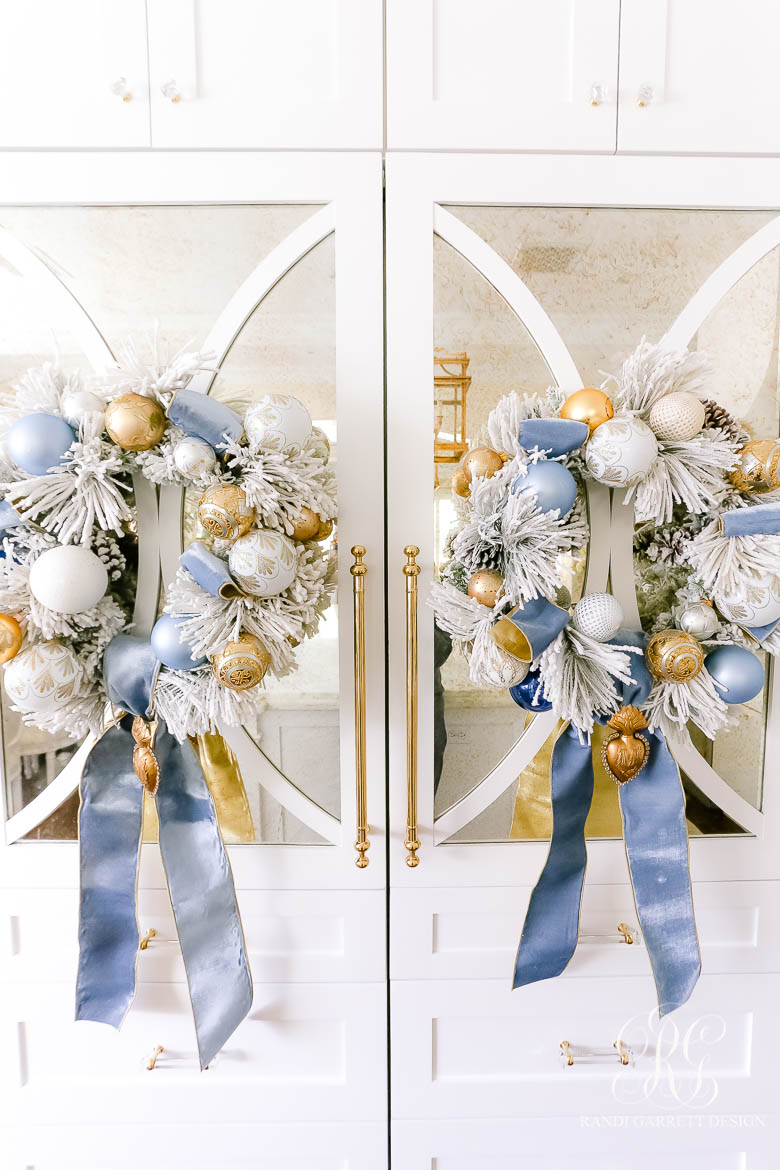 Flocked Wreath | Blue Velvet Ribbon | Sacred Heart Ornament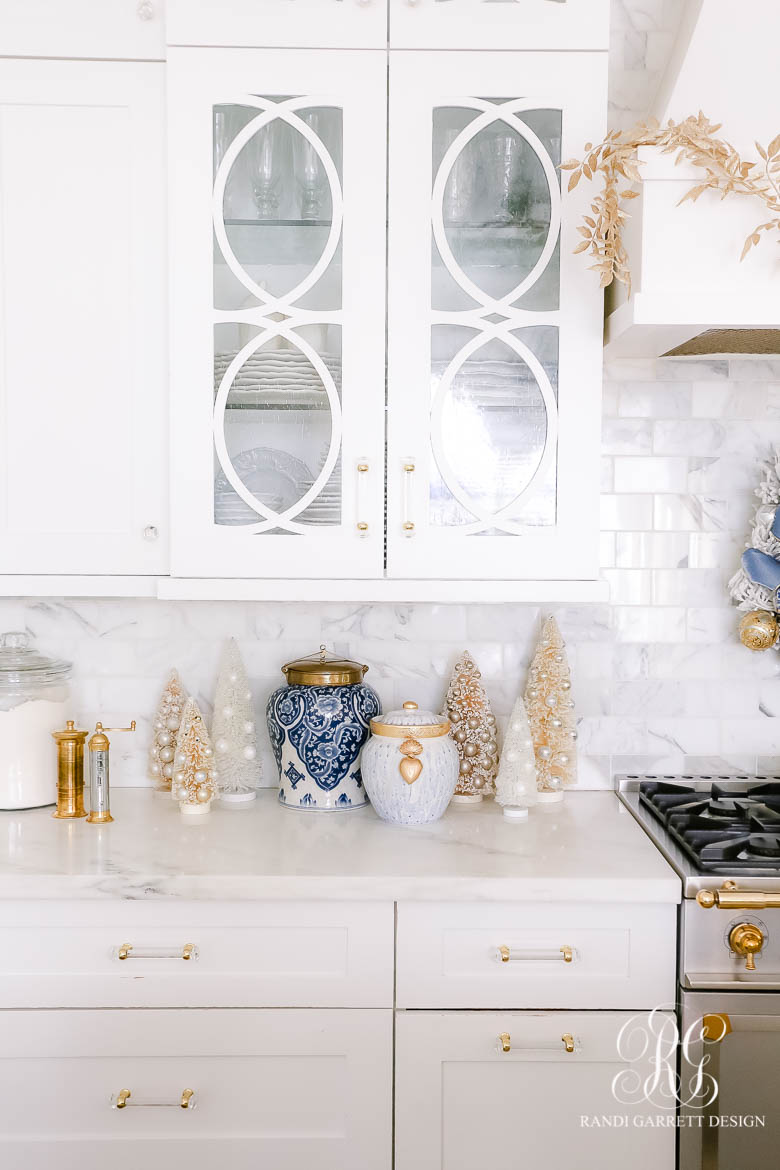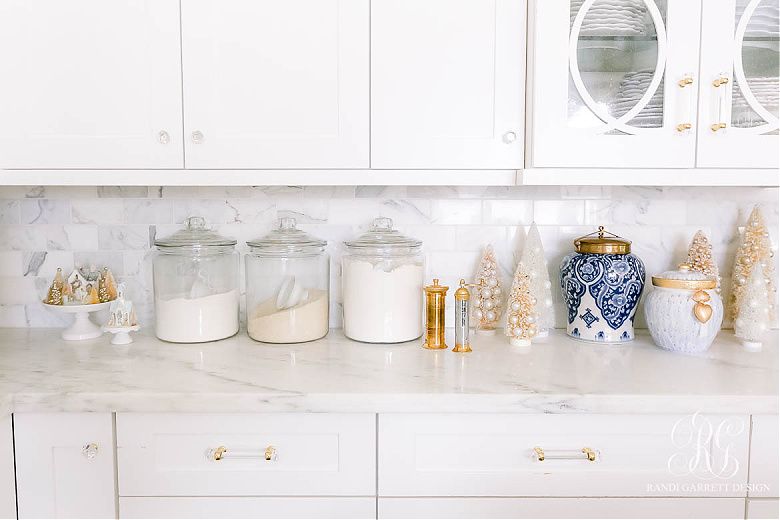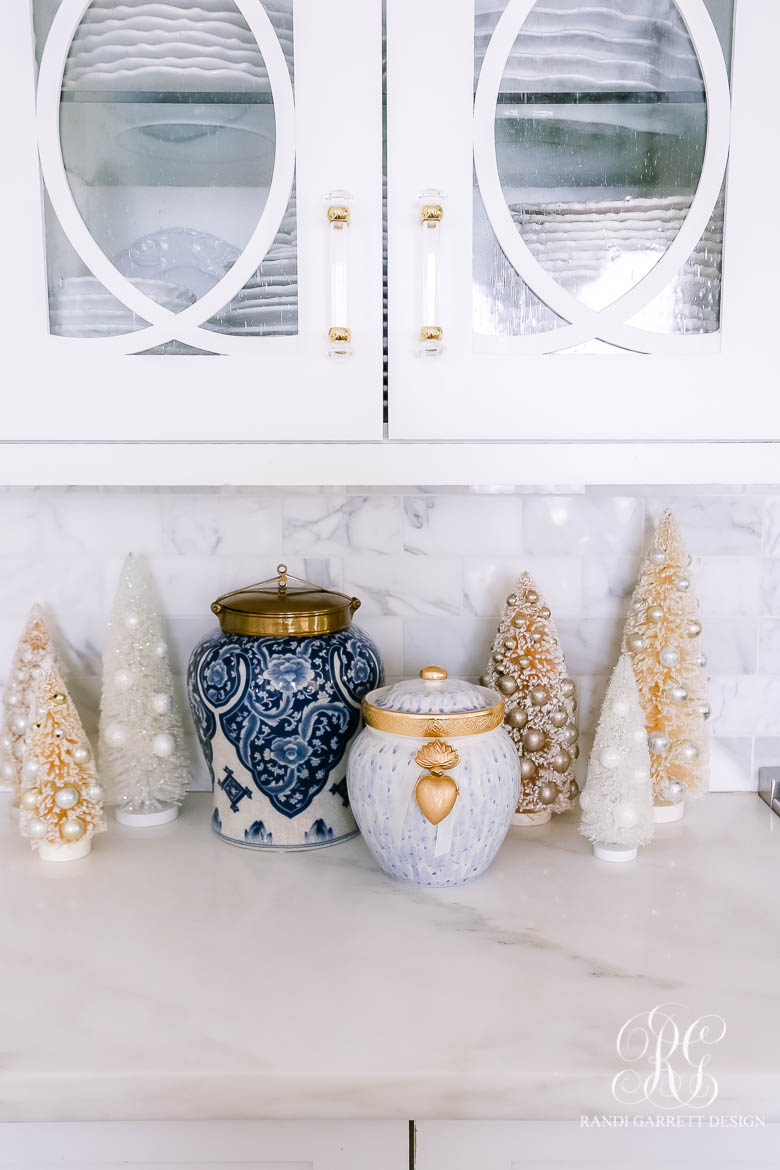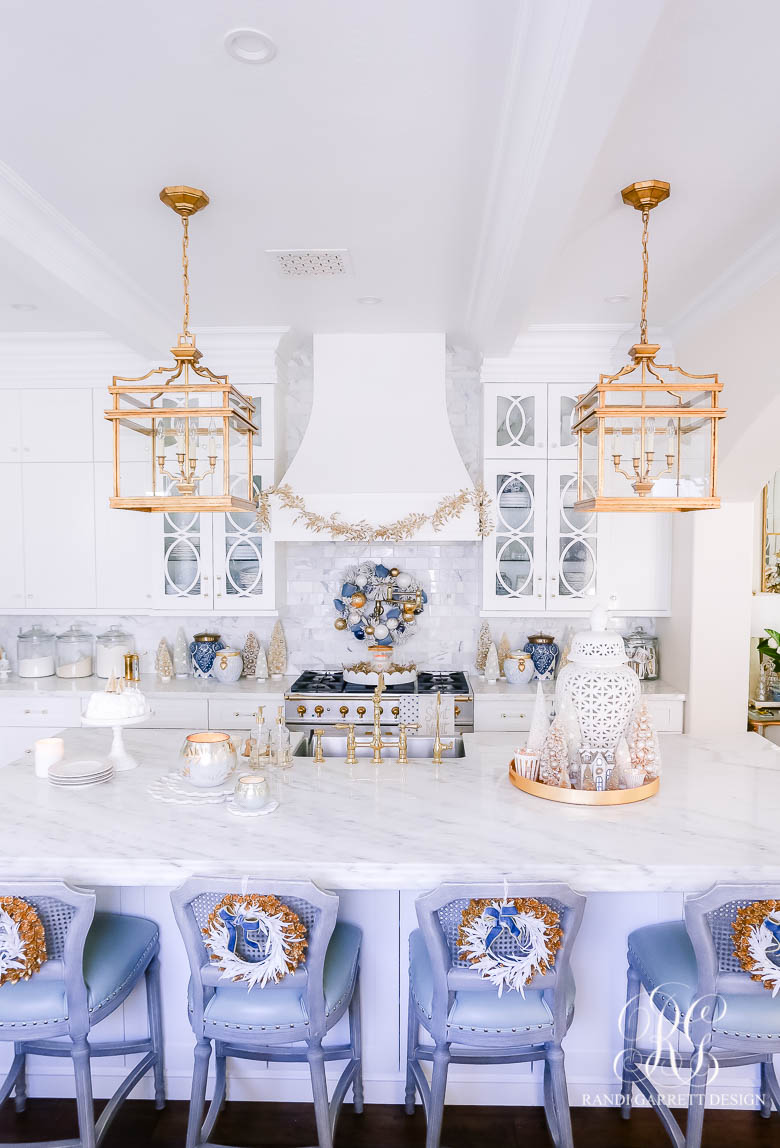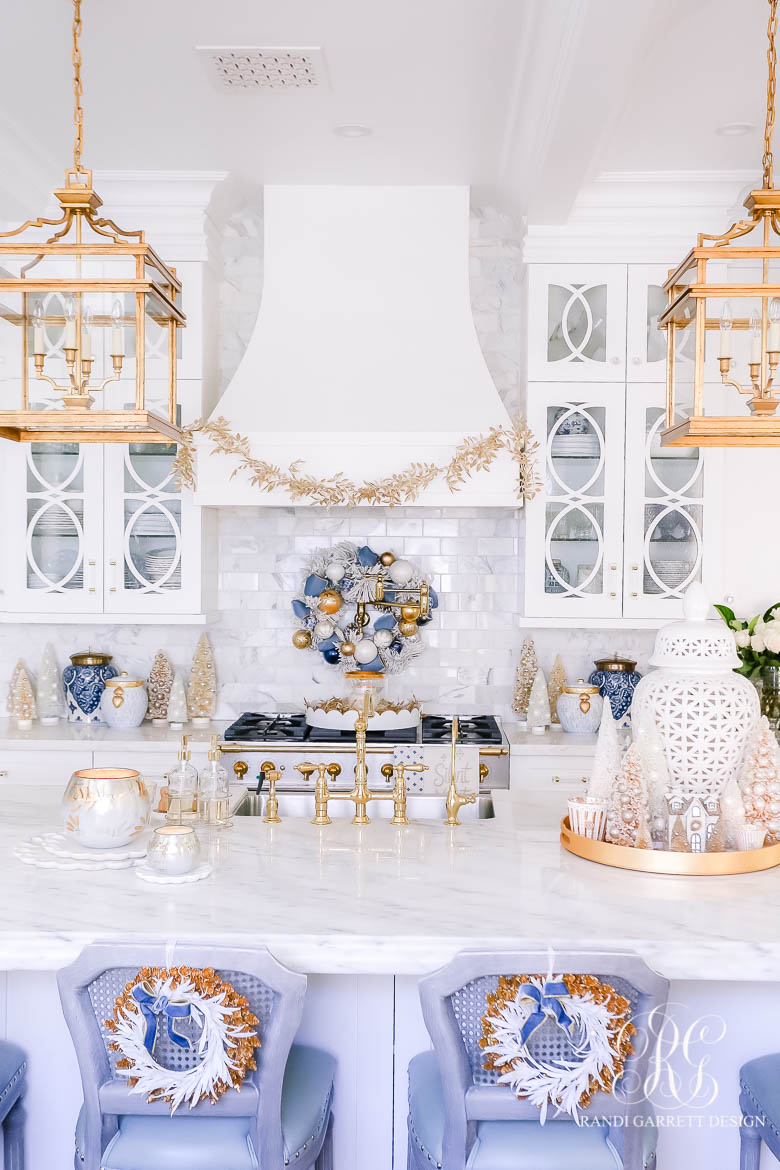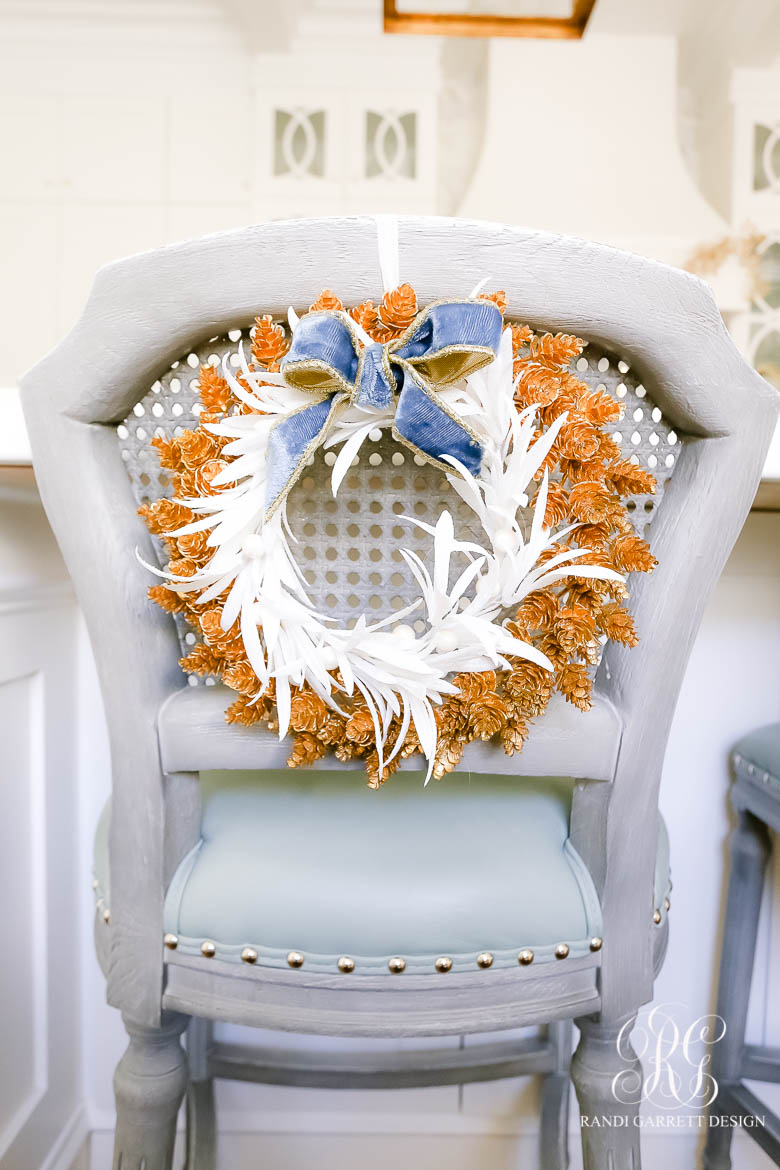 Gold Wreath (similar) | Berry Wreath | Blue Velvet Ribbon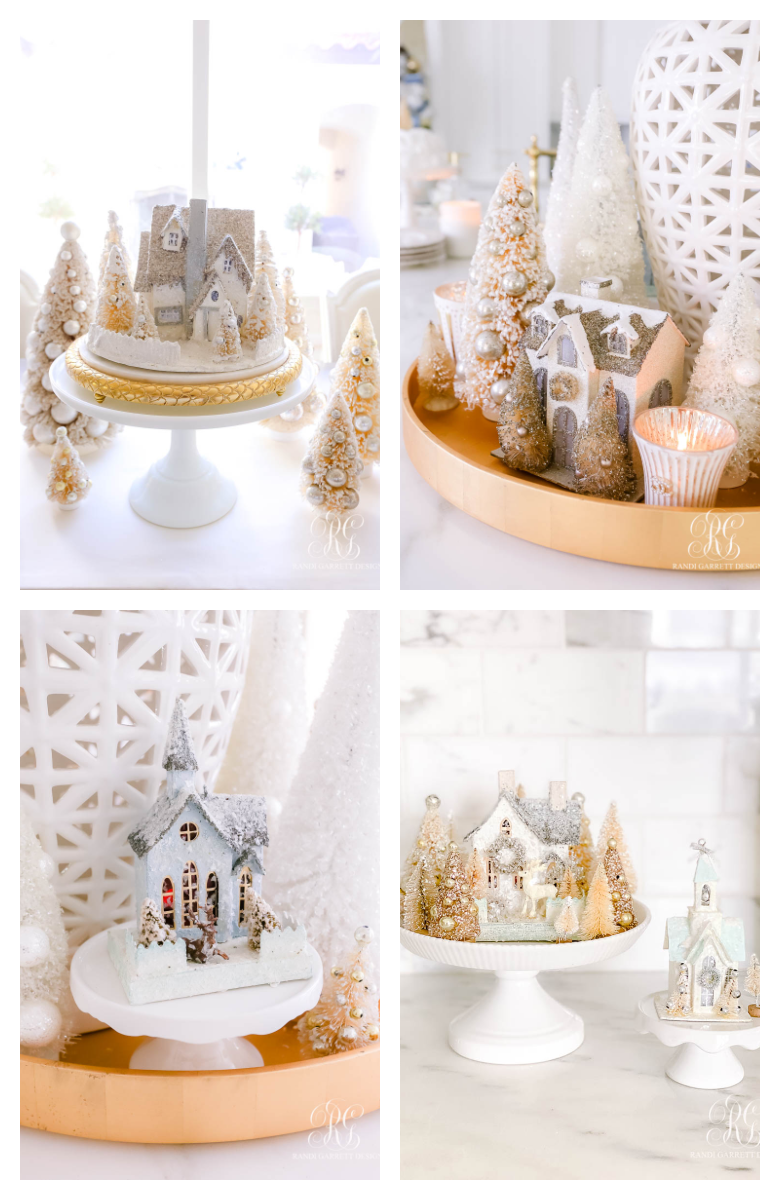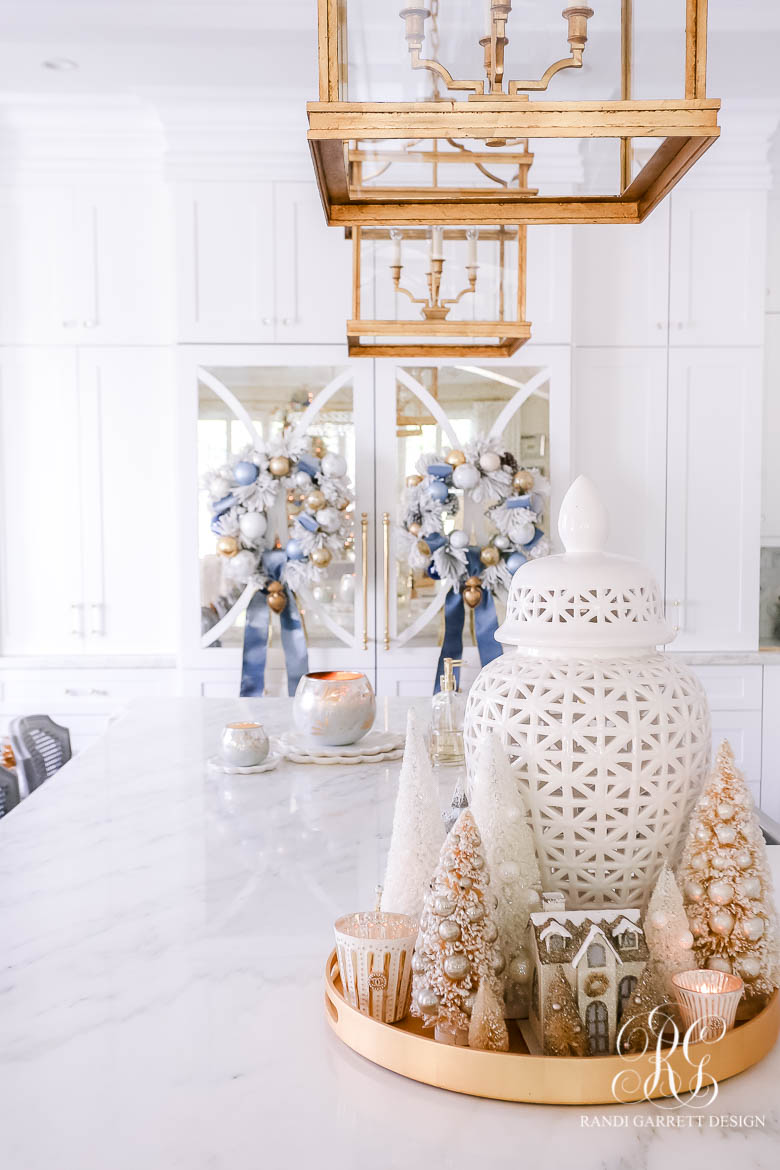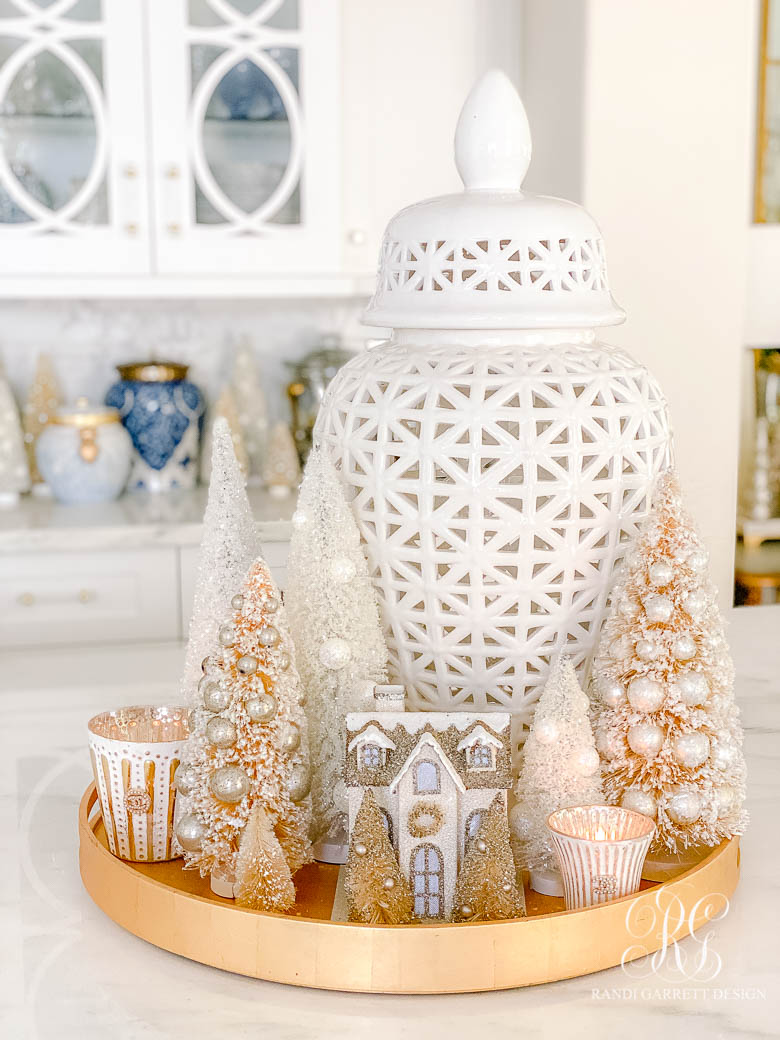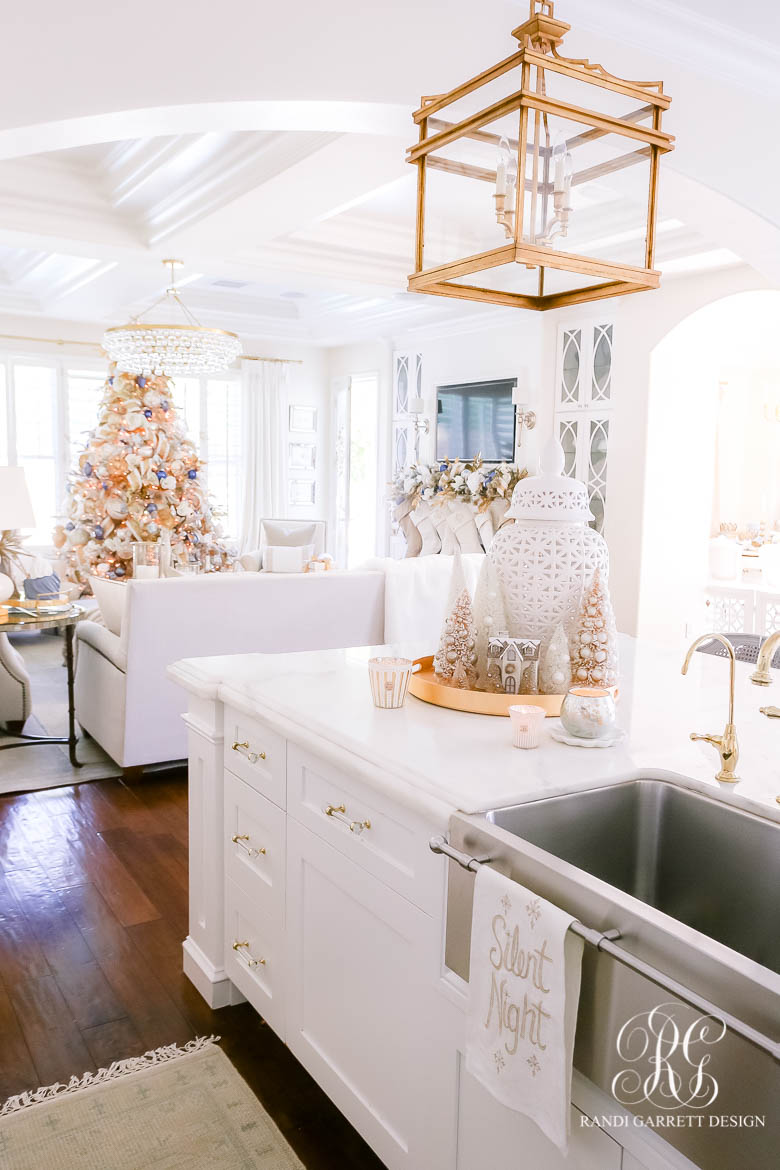 I've been collecting bottle brush Christmas trees and cottages for over a decade. Every year I love to find different ways to display them. This year they are parading down our kitchen countertops amid some of my favorite ginger jars and nestled on our island. They bring a whimsical, magical touch to any room. Every year I add a few more to our collection. I can't wait to show you the rest of them styled in my next home tour.
My Chanel inspired candles are so simple to make and really dress up the room.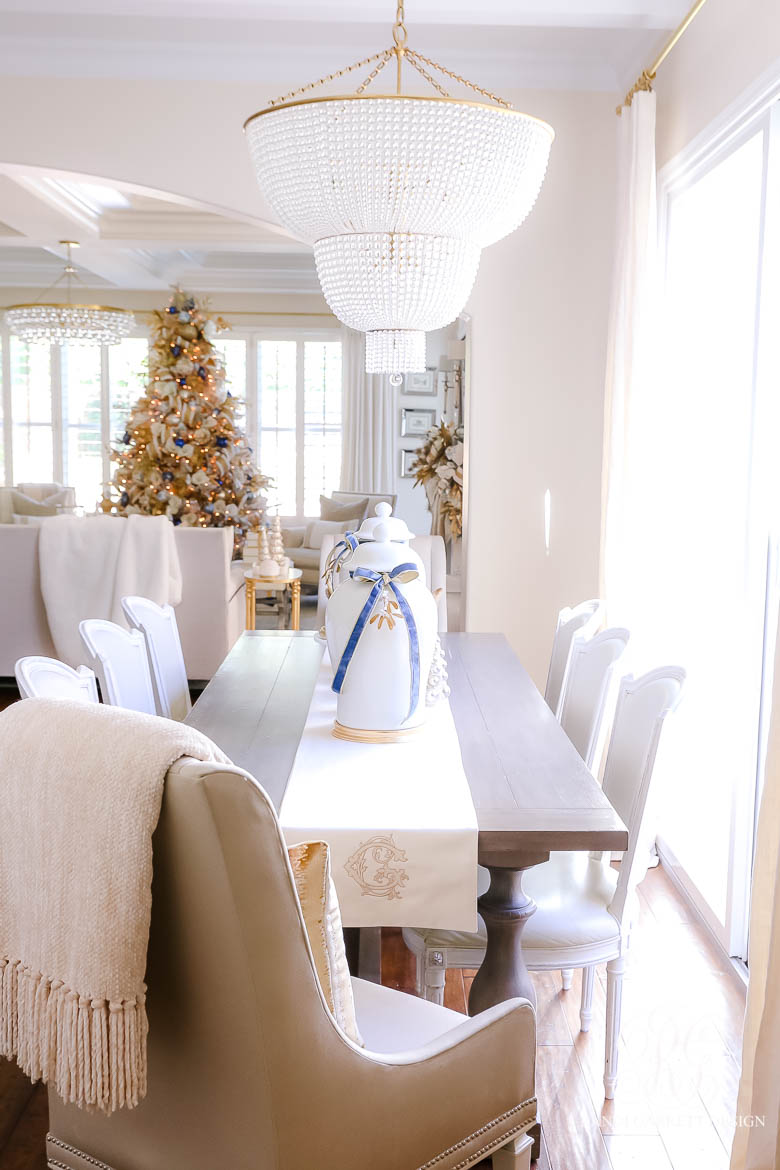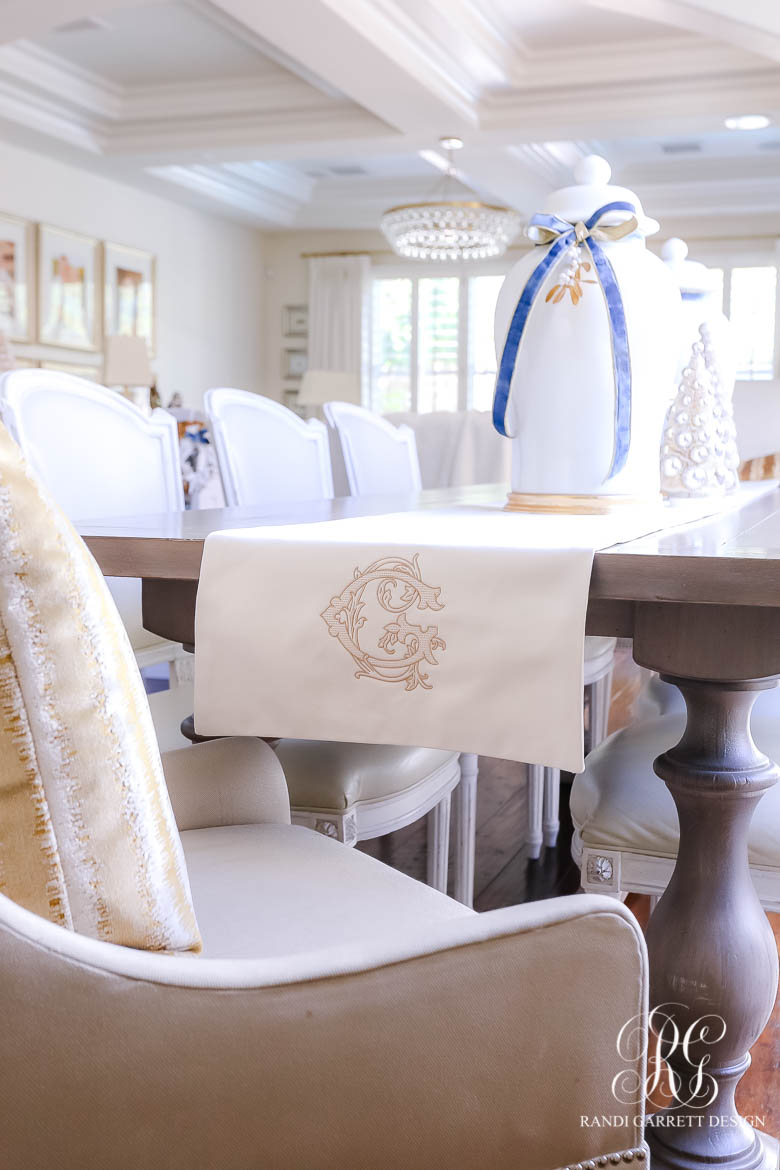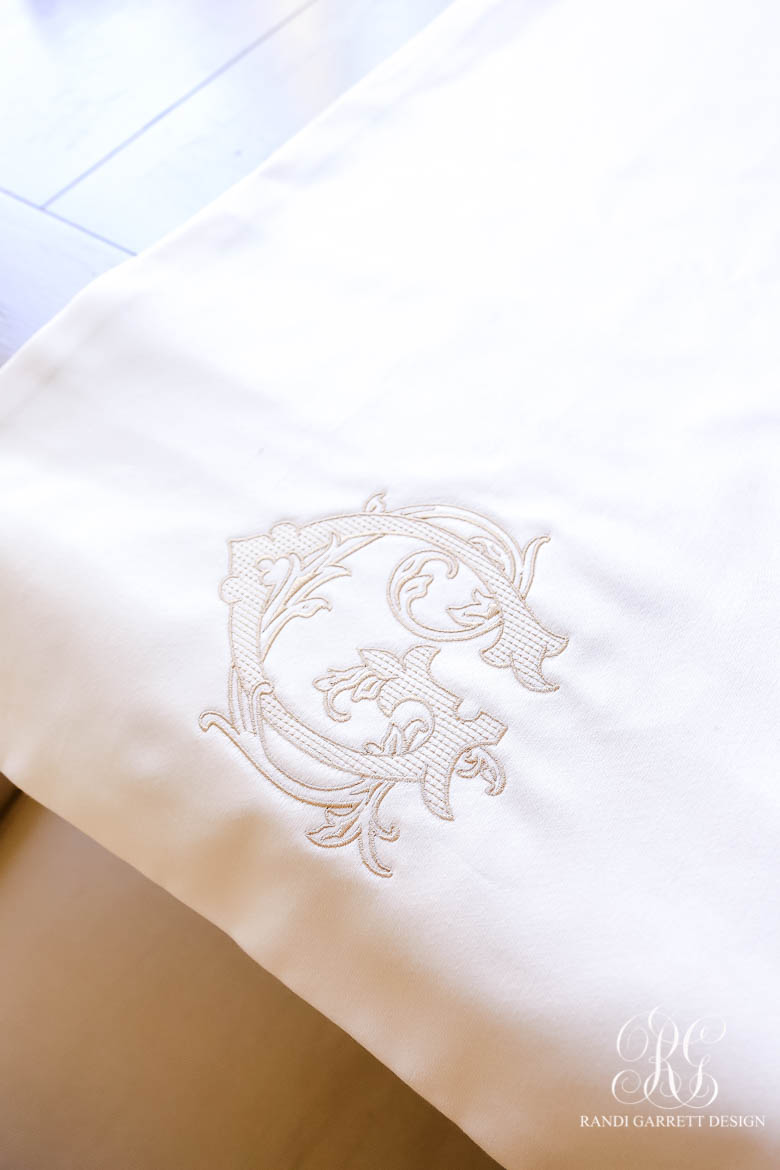 Can you believe this stunning monogramed runner c/o? It is made with a gorgeous cotton satin fabric and is monogramed on both ends with a pretty gold thread. It is simply breathtaking.
My mom put together this charming village scene. I smile every time I look at it.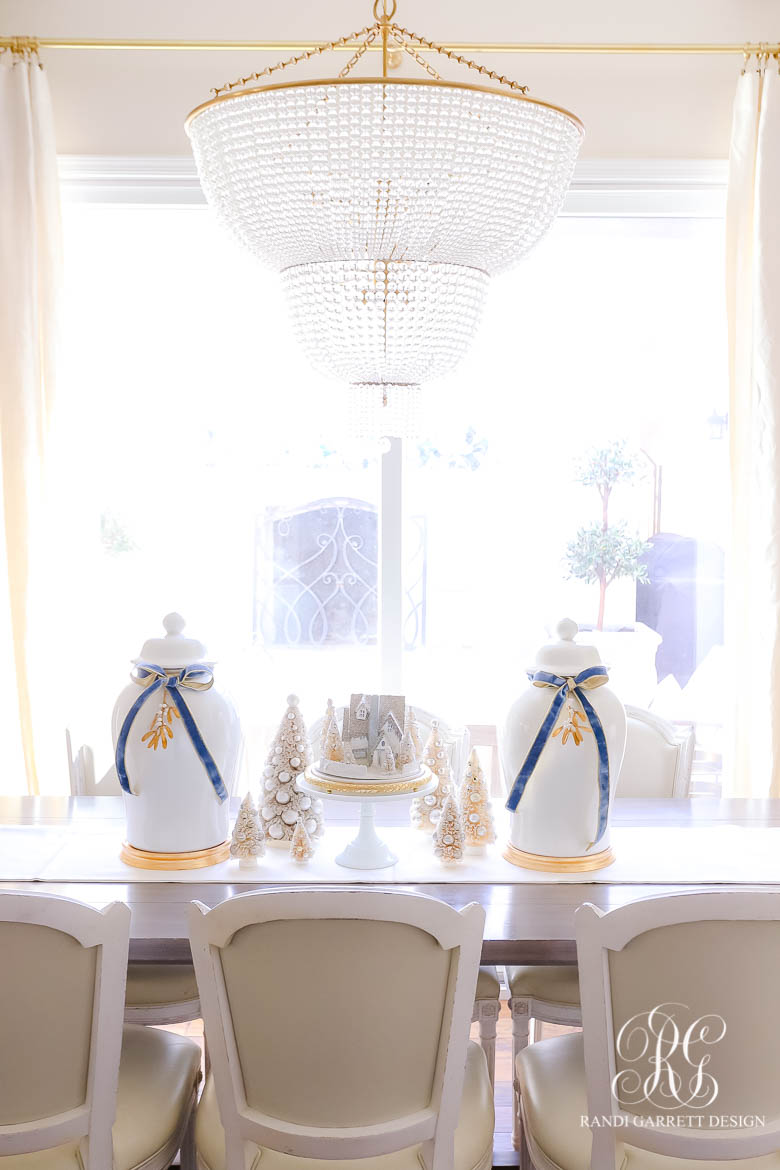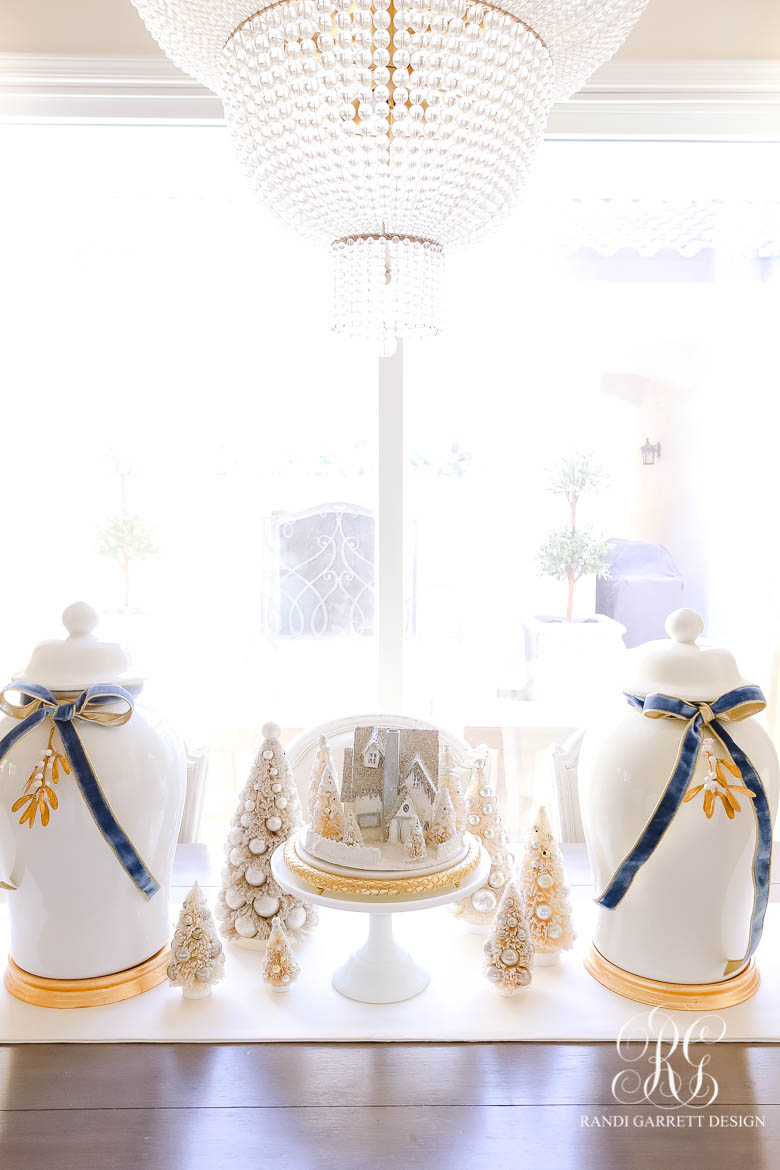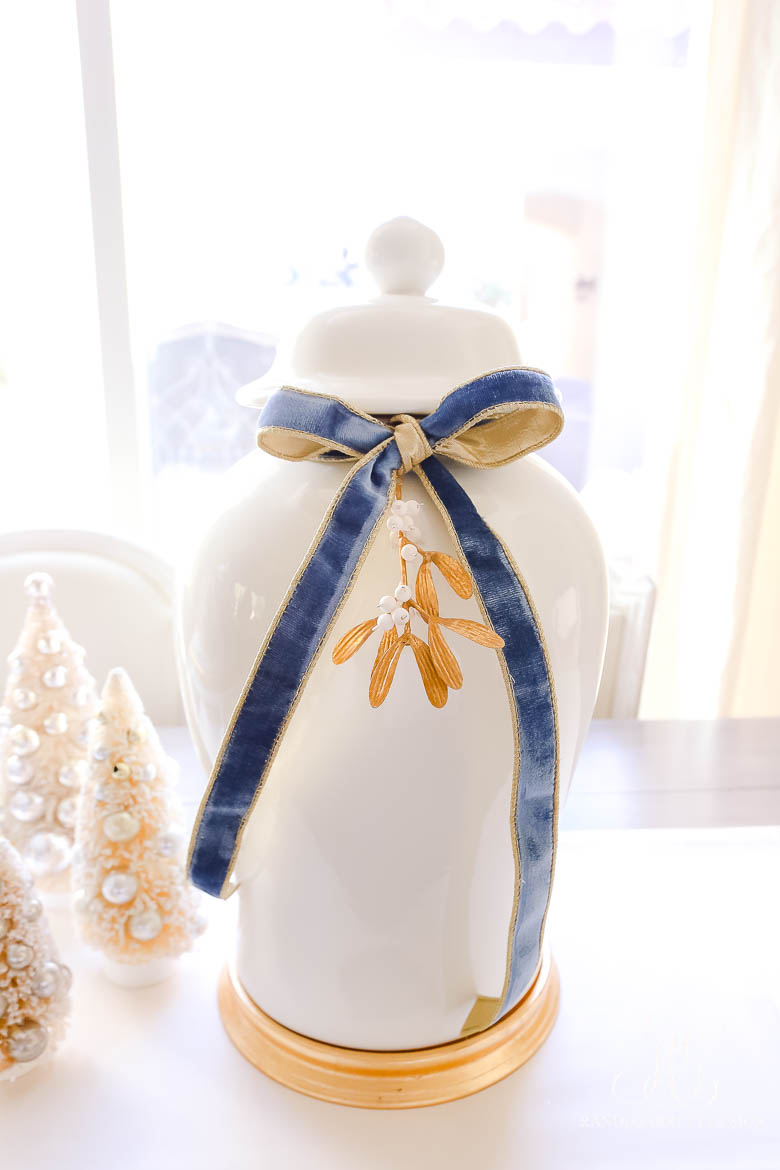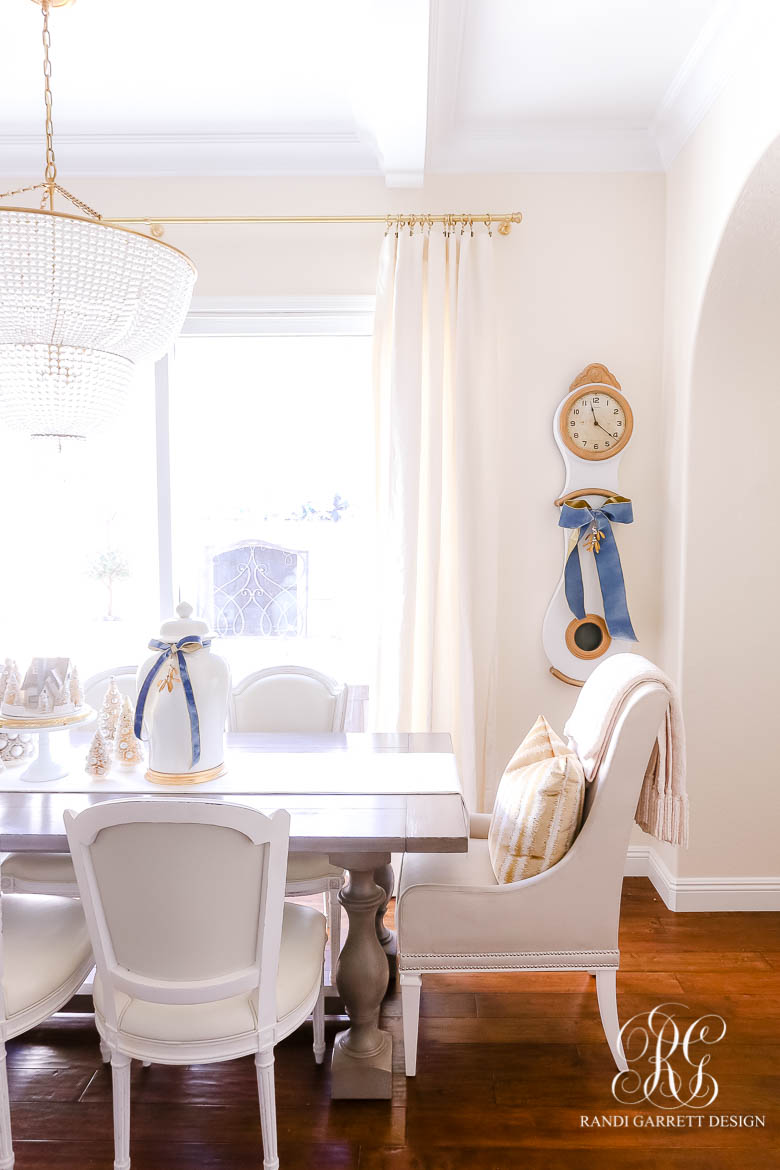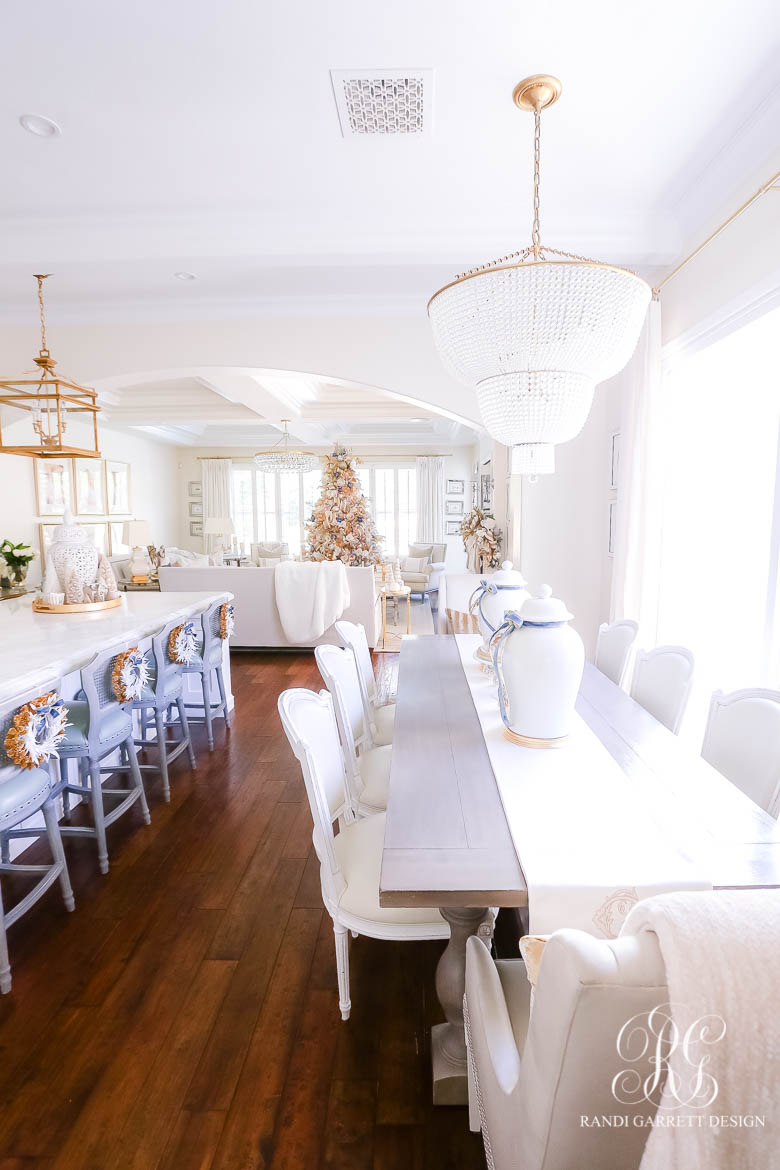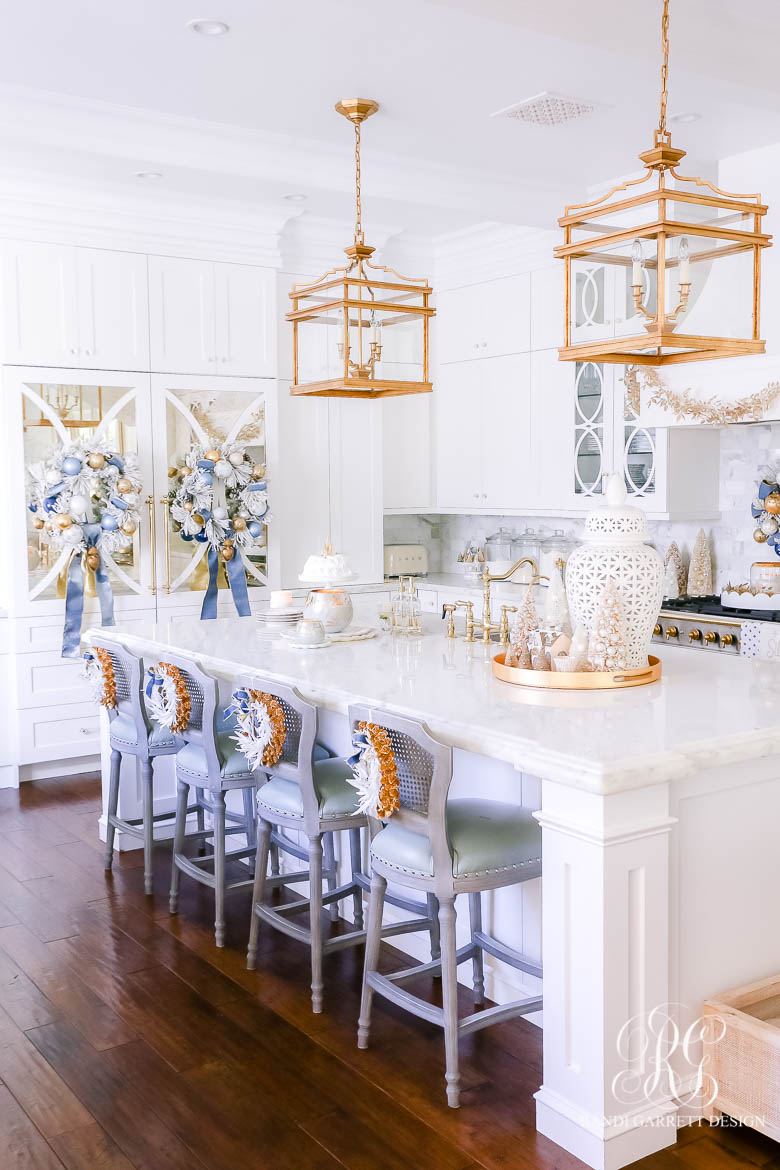 White and Gold Christmas Office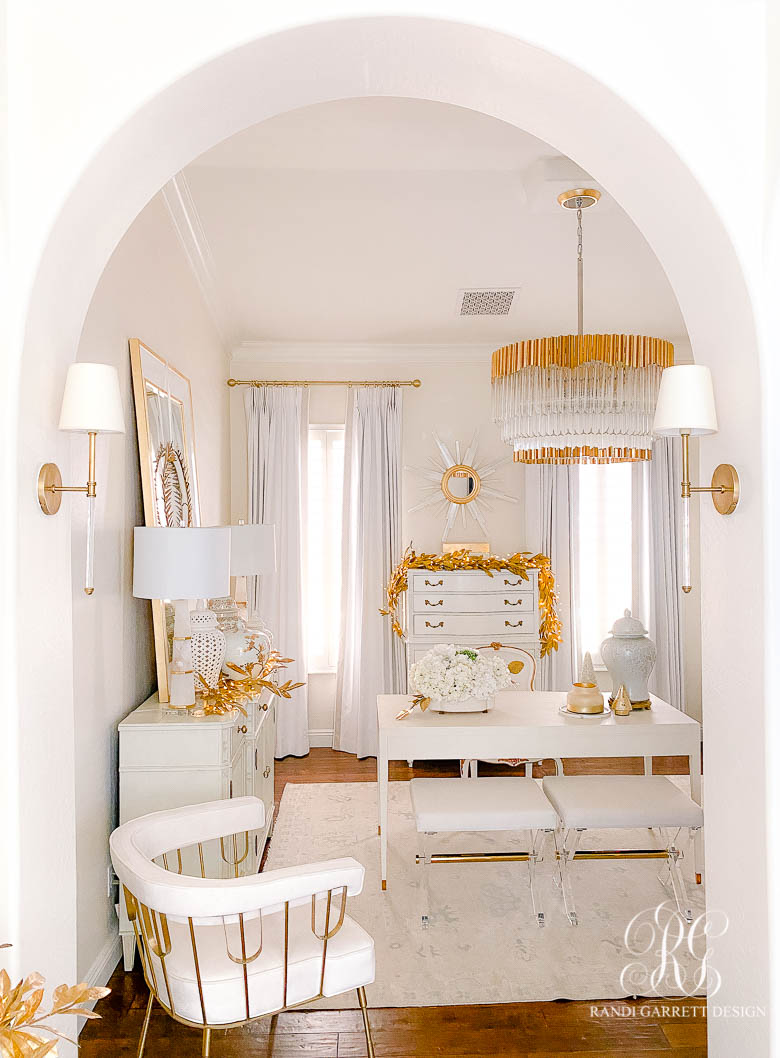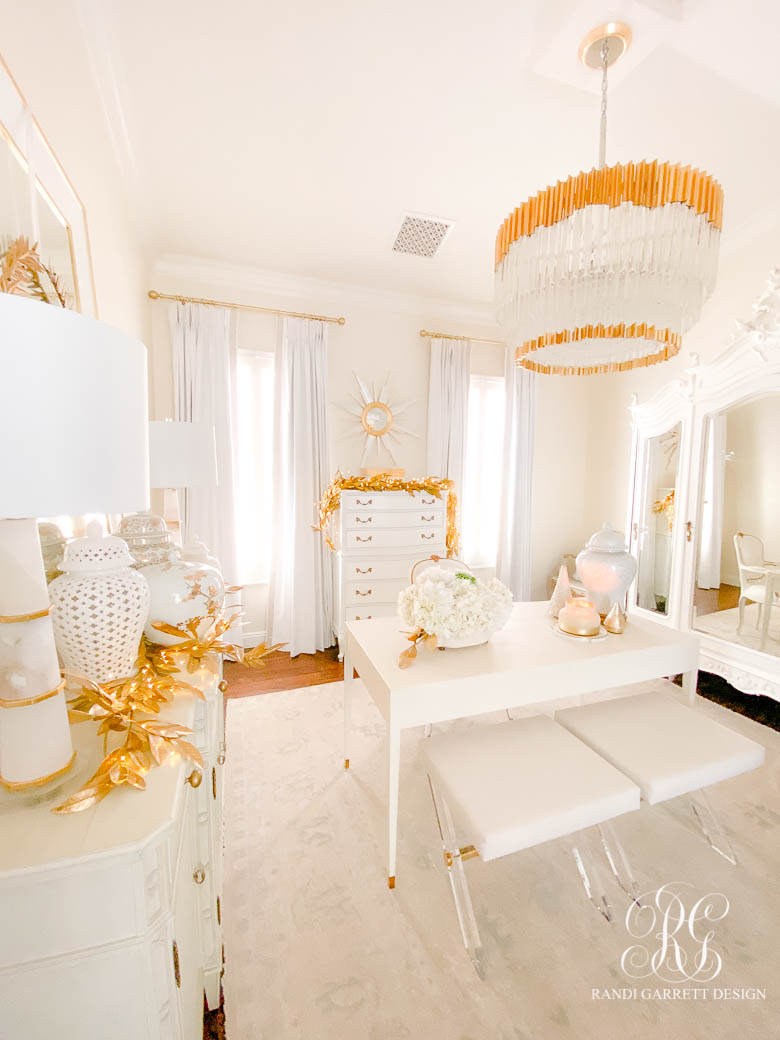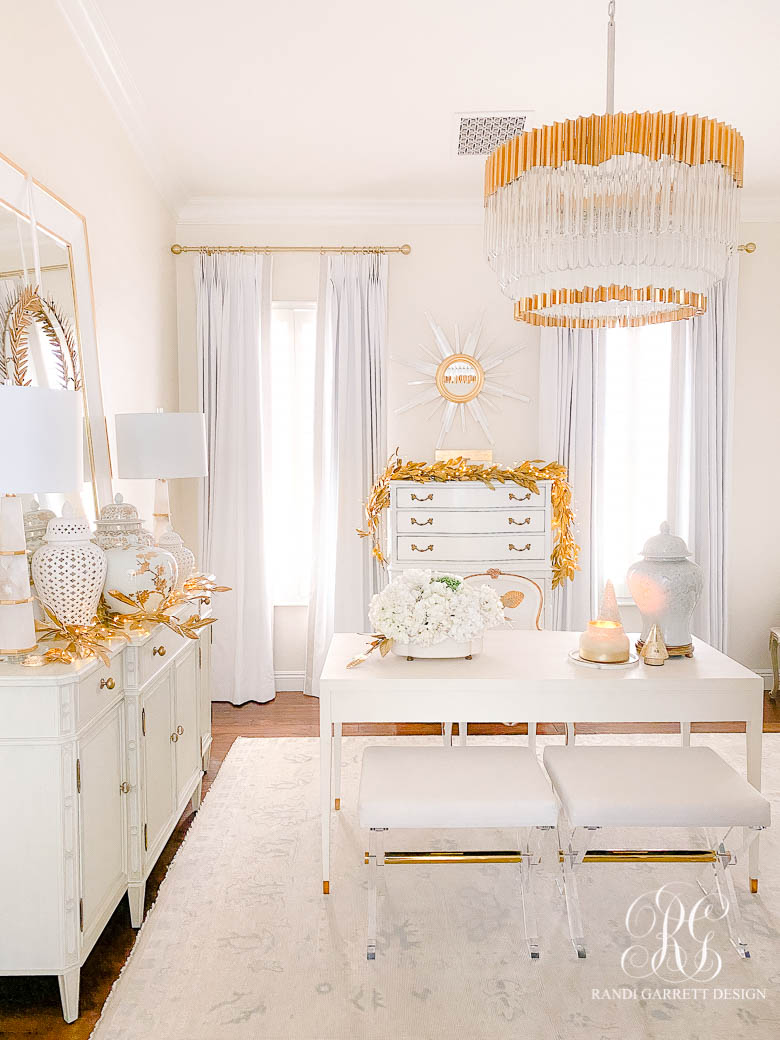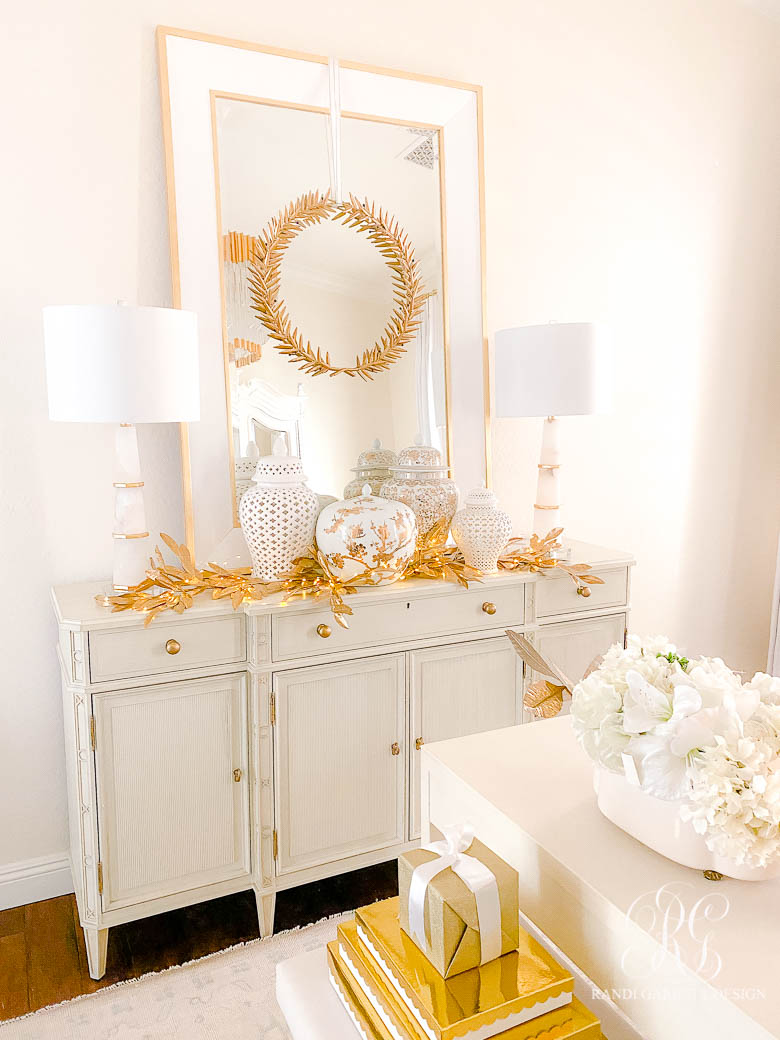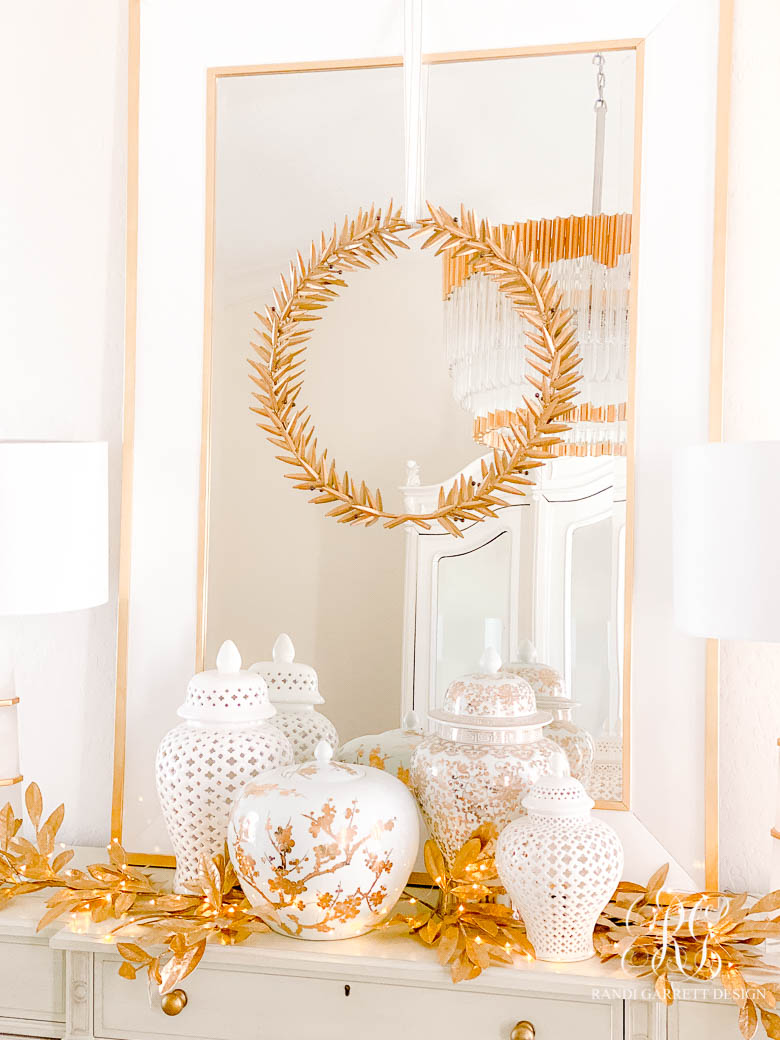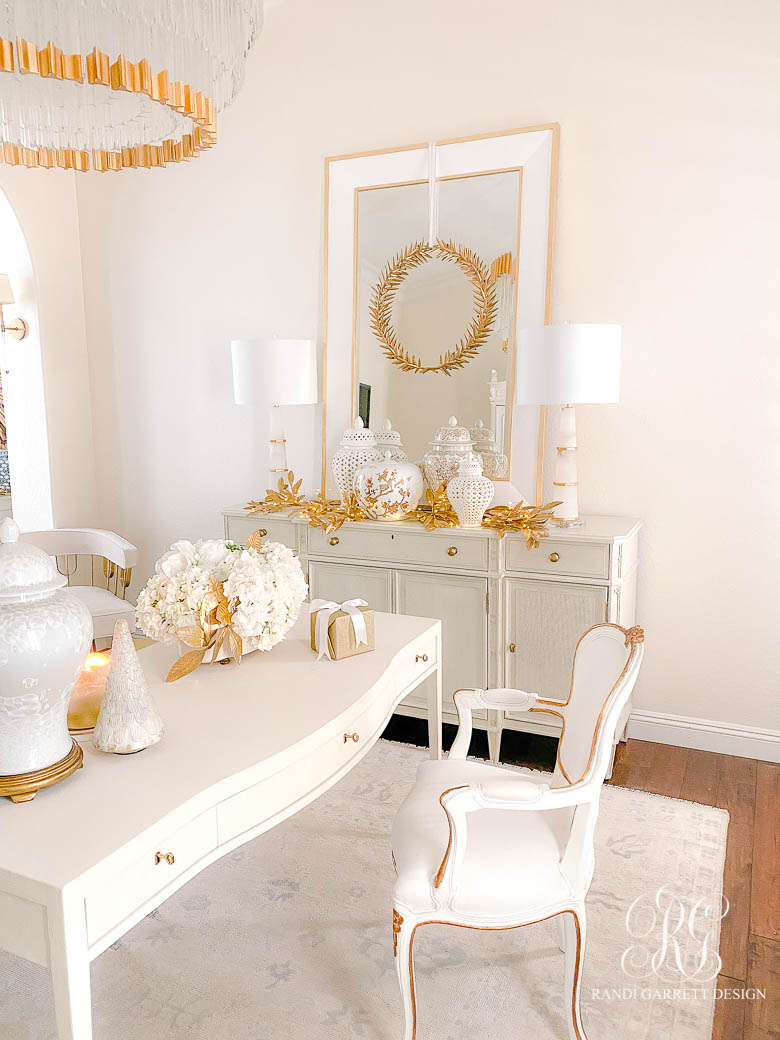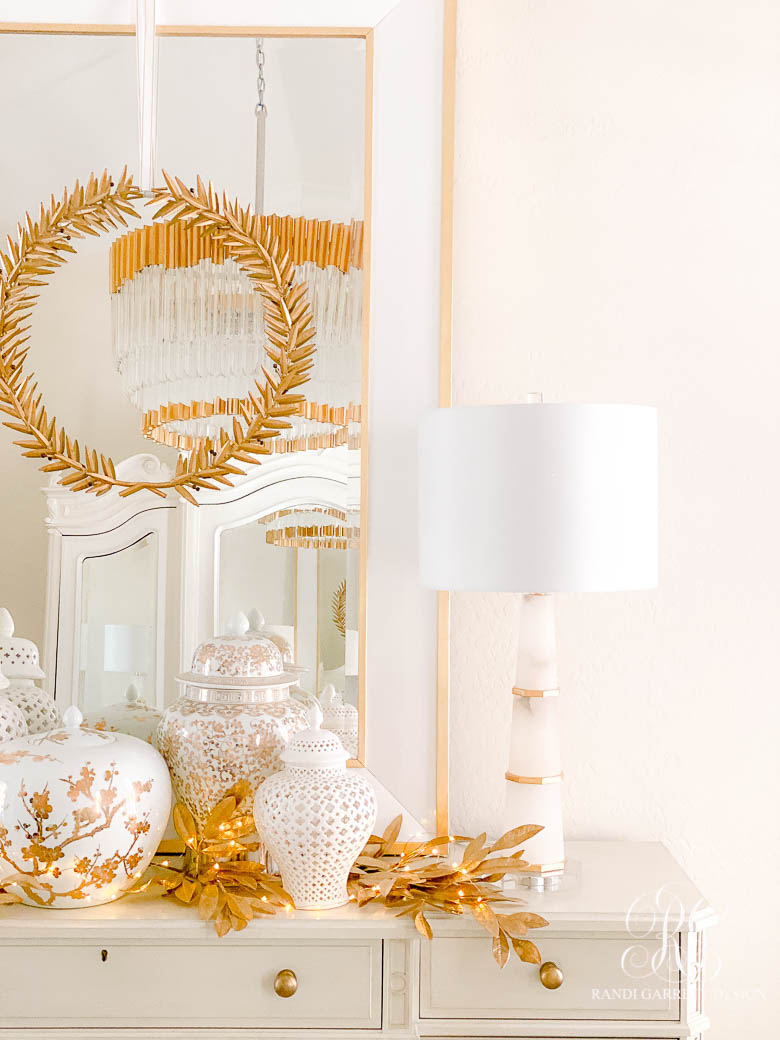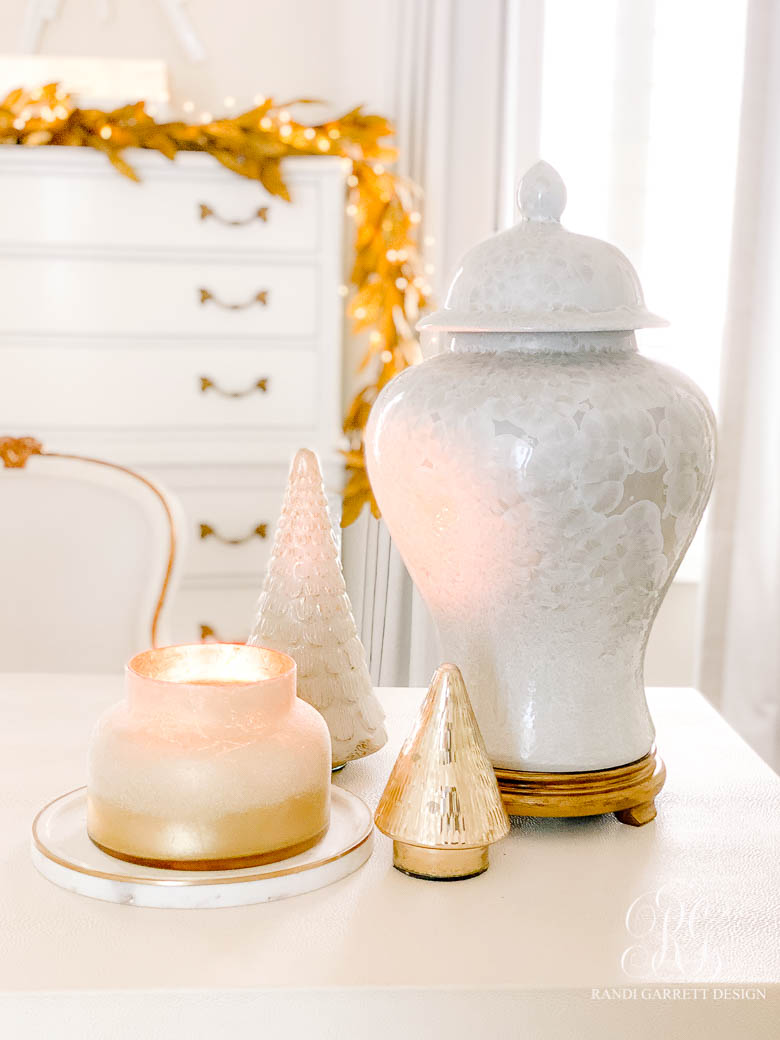 White and Gold Christmas Powder Bath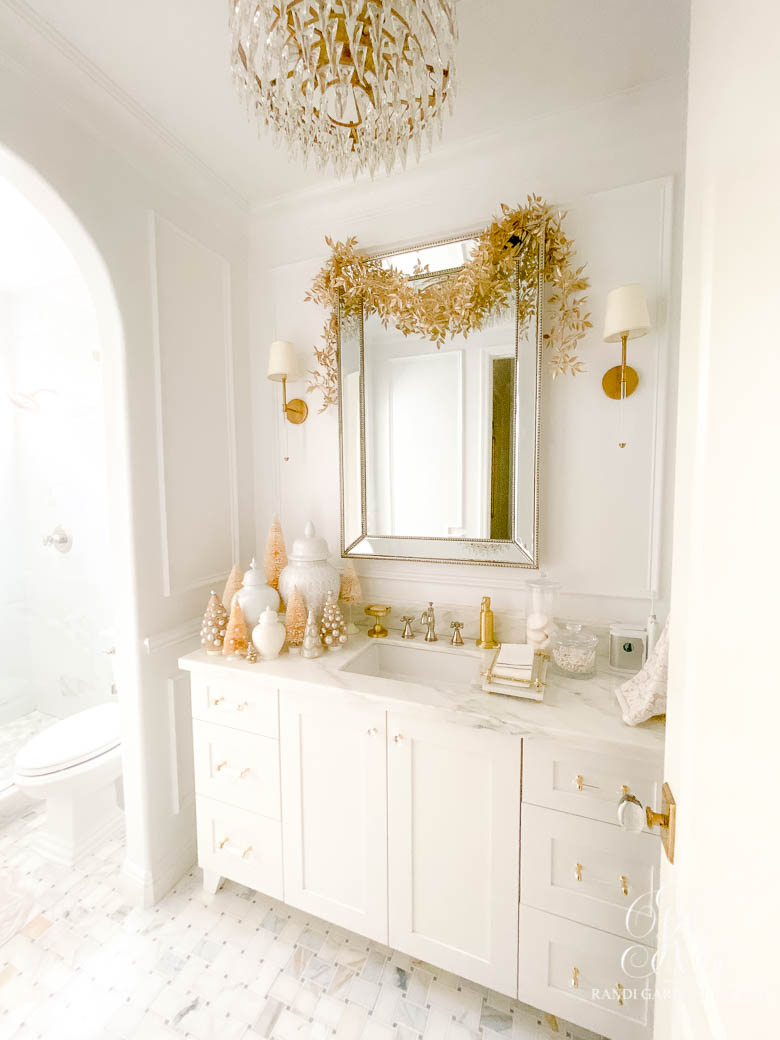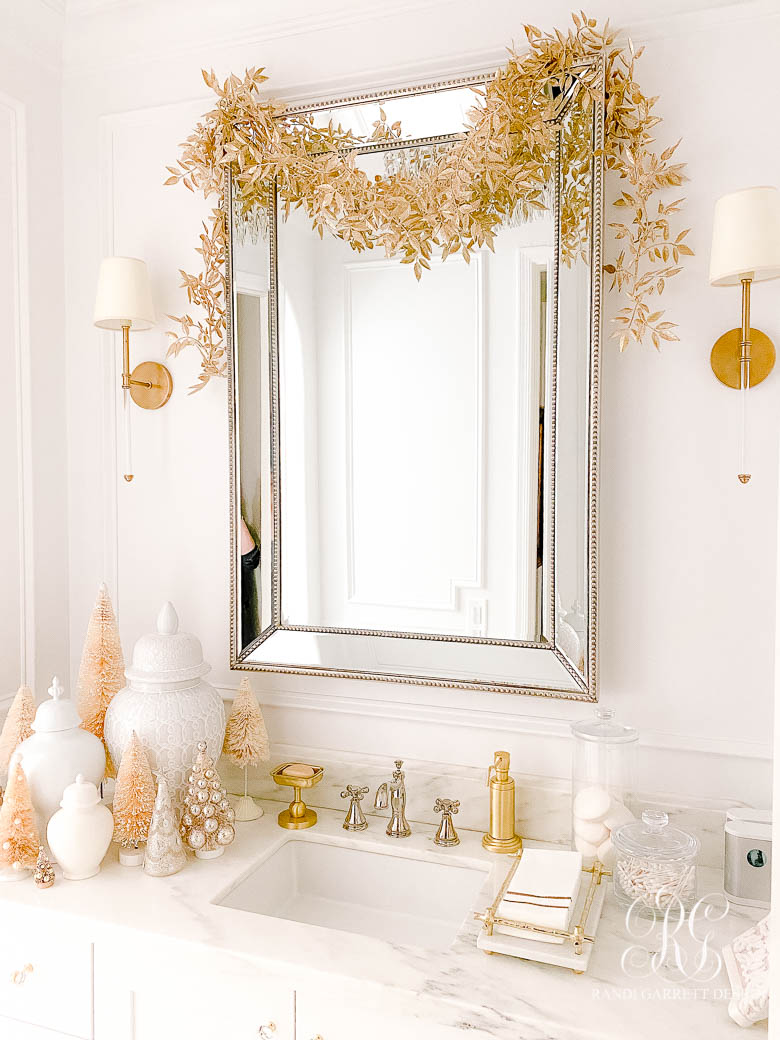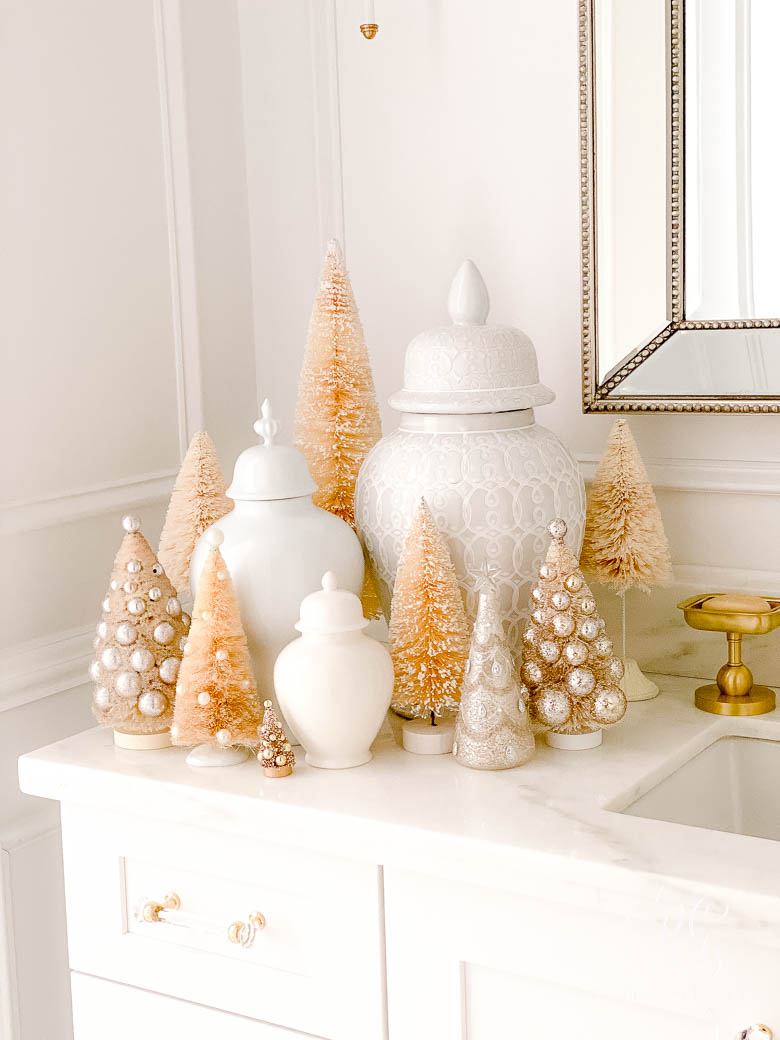 Here's a sneak peek of our Christmas bedroom and dining room. I will be sharing those spaces in just a bit!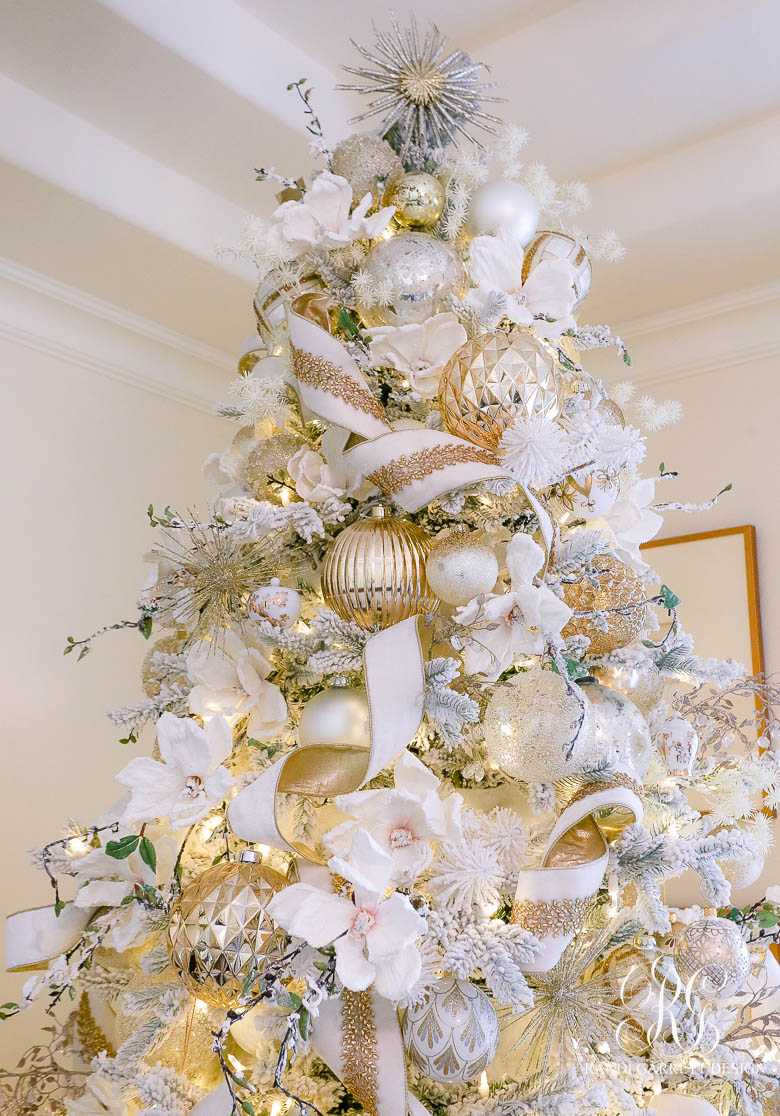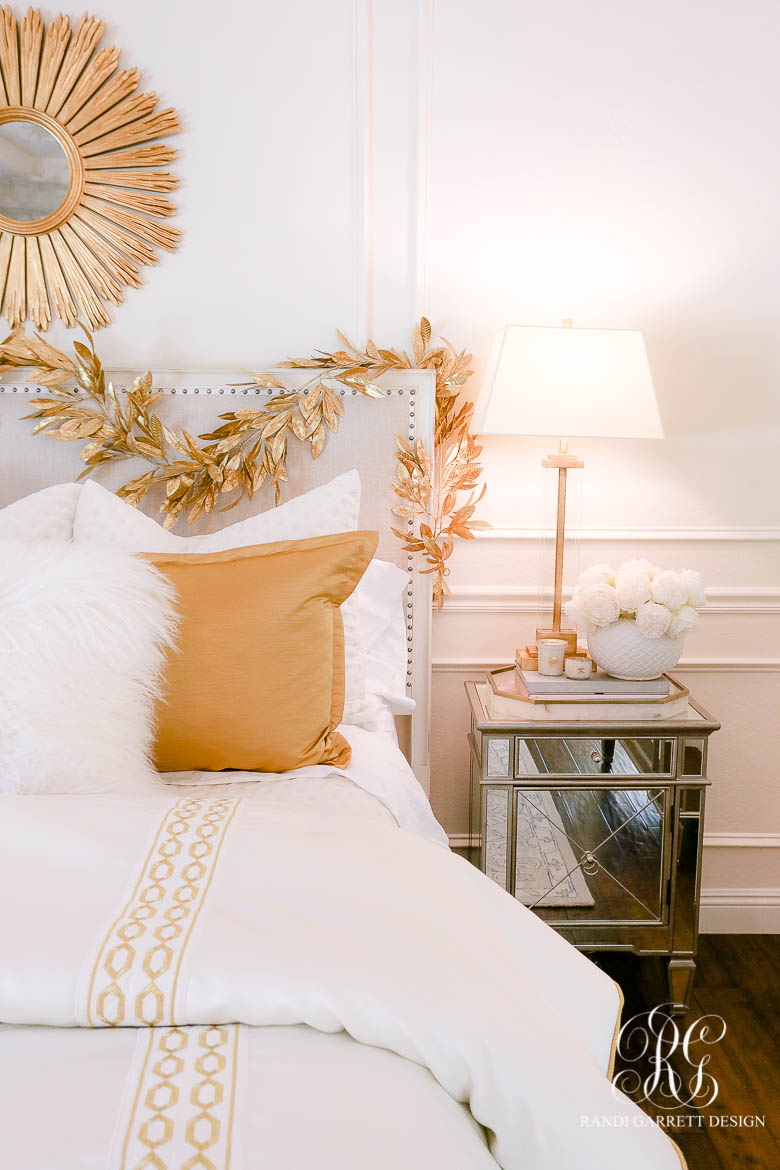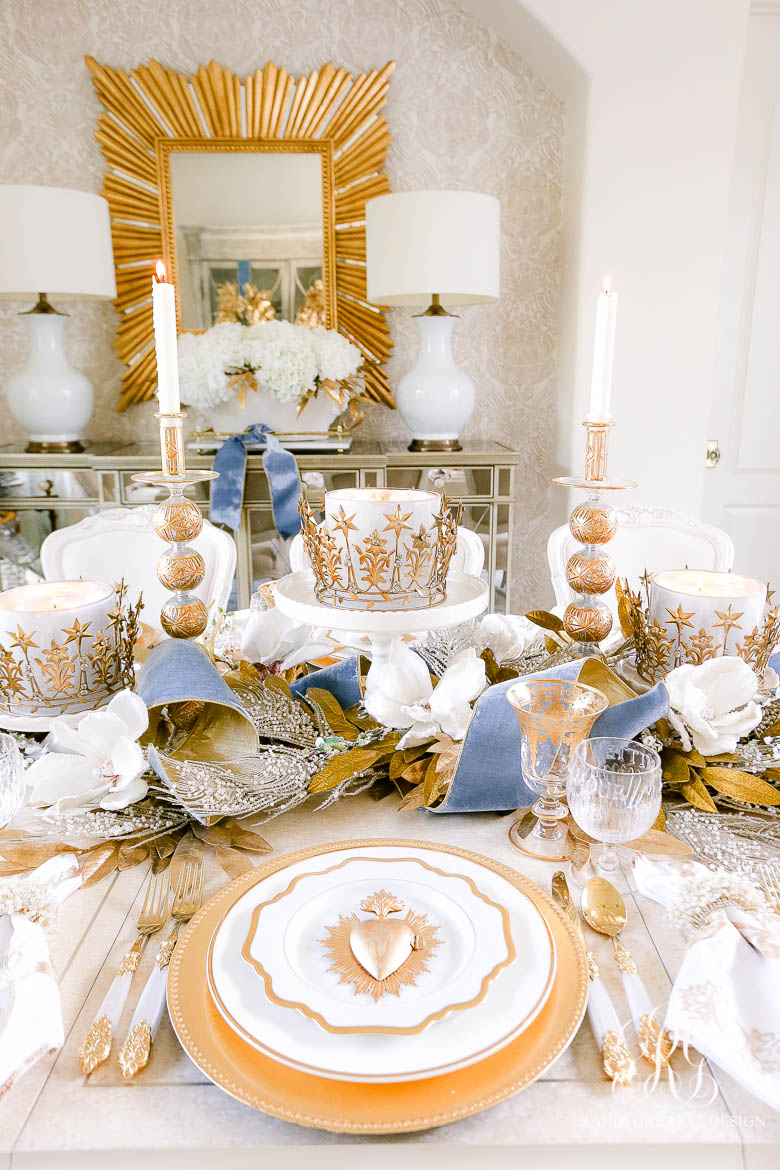 I hope you enjoyed the Christmas Tour and that is inspires you to decorate your home! As special thanks to my sweet mom for helping make our home a magical Christmas wonderland!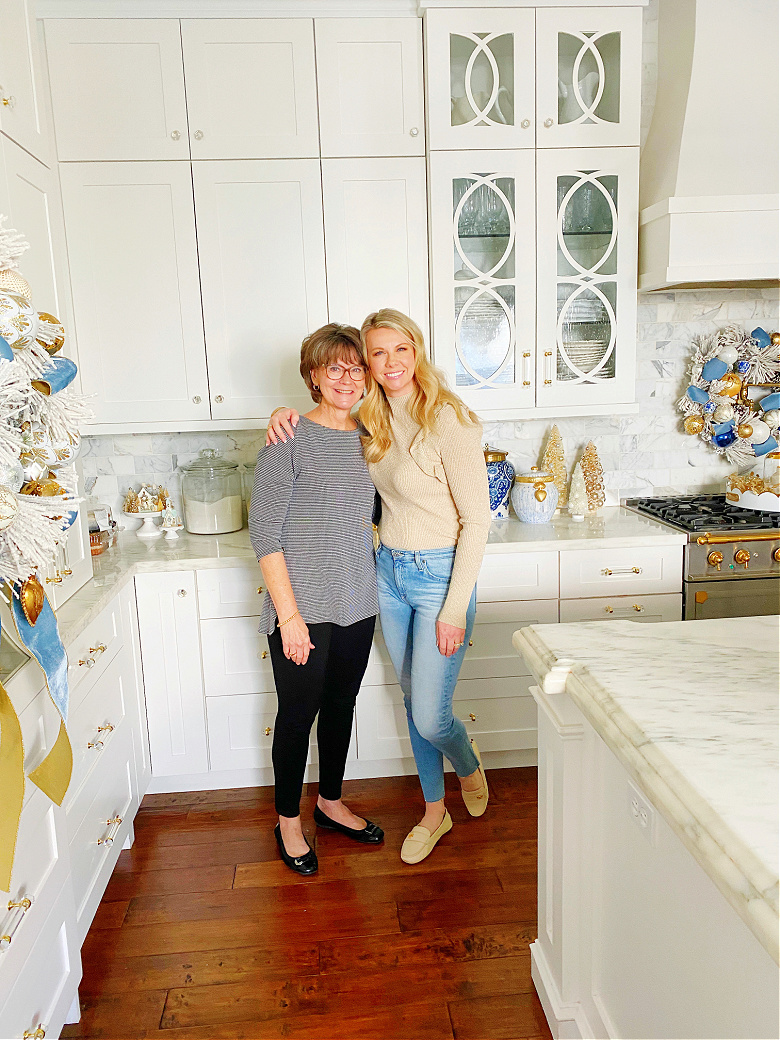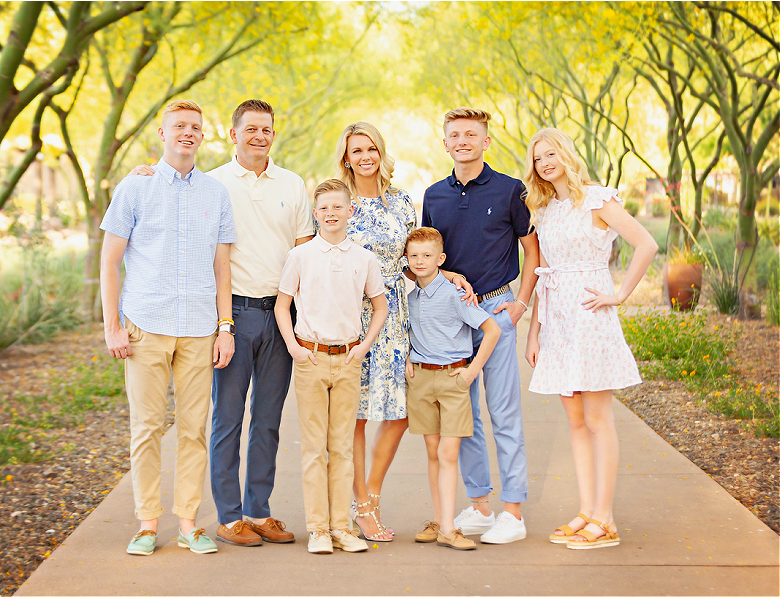 Wishing you all a wonderful Christmas season filled with the love of our Savior. Merry Christmas from our family to your's!